The material we use, our whole life, and the lovely nature, all are God gifted! It should be one of our top priorities that we should keep our living environments clean and should not let the natural resource go wasted! The most vital step we can in this respect is recycling! Recycle everything that comes in touch and has some potential to be reused!
So why not recycle the pallets which are surrounding you and have amazing recycling potential and excellent workable shapes! If you have a source of free pallets that are ready to do pallet projects, then check out these 125 DIY pallet furniture ideas that are all about the refinement and betterment of your home and outdoor spaces where you most like to spend your spare time like garden and patio! The ideas are all about how you can decorate your home with pallets, how you can reclaim the pallets for furniture pieces, and also how you can just target them for home, outdoor and workspace improvements!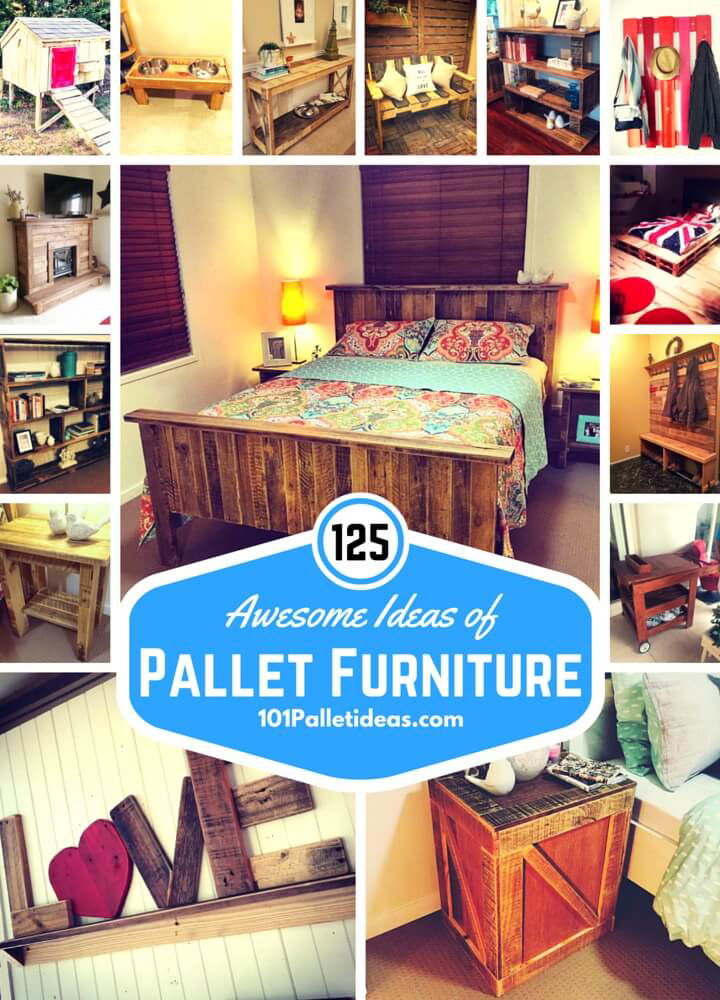 The recycled pallet ideas we have selected are leading ones and are based on innovative and ingenious approaches to make you get some real benefits of pallet wood recycling!
Pallet Bed with Underside Storage: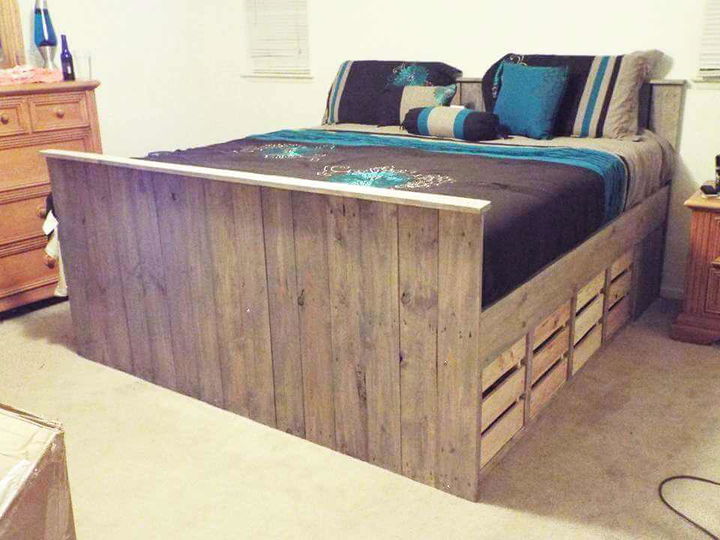 The solid boundary lines make you a prominent face of this remarkable pallet bed with storage! A complete pallet bed frame with all features to look fantastic! The lower part of the pallet bed is what that is going to drop your jaws; crates have been added to the bottom side just to store the bedroom clutter!
Pallet Platform Bed with Lights: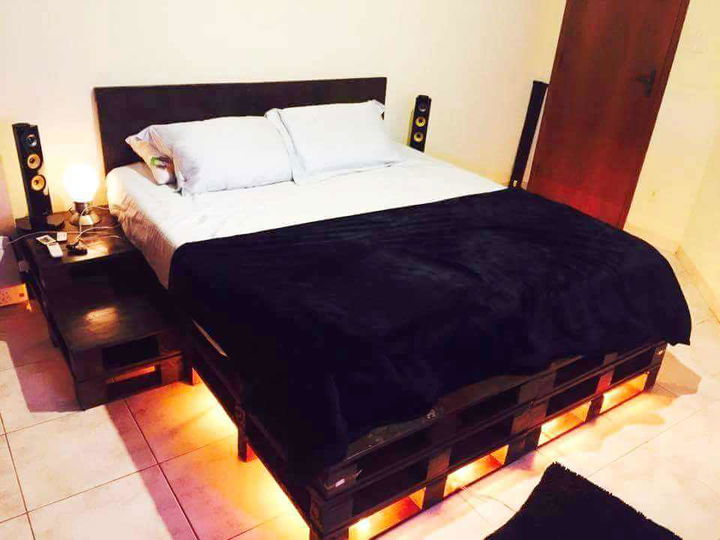 In this modern age, the lights are a common decorative phenomenon and all the rage now to use as festival decors, so why not combine some lights and pallets to gain a lighted platform bed just for free!!!
Pallet Headboard with Solid Black Border: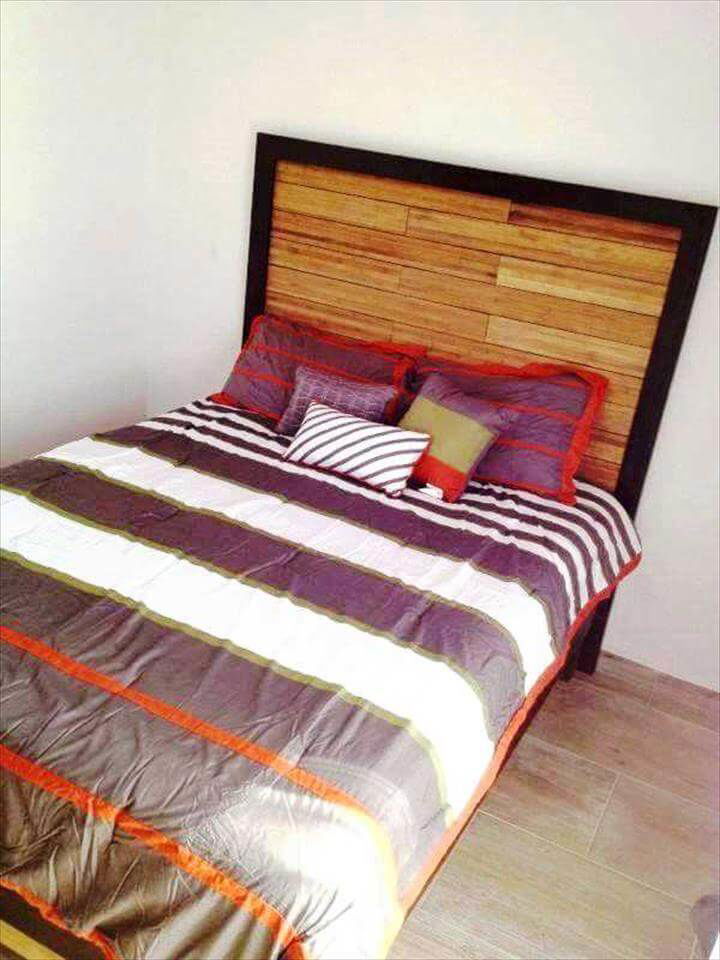 Check out these solid pieces of the pallet headboard, having a clear boundary line and a thick black border that encloses the perfectly packed pallet slats and hence gives a robust and visually pleasing pallet headboard!
White Pallet Platform Double Bed: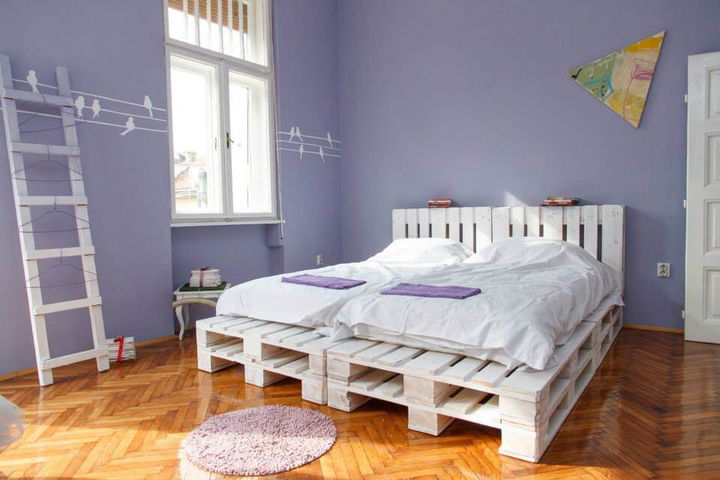 Need to organize your newly build XL bedroom interior? This double pallet layout is what you have to choose. This is all free and just installed or uninstalled by using putting together and separating apart the pallet skids, respectively! No boring cuttings are included here!
Whole Pallet Boards Platform Bed: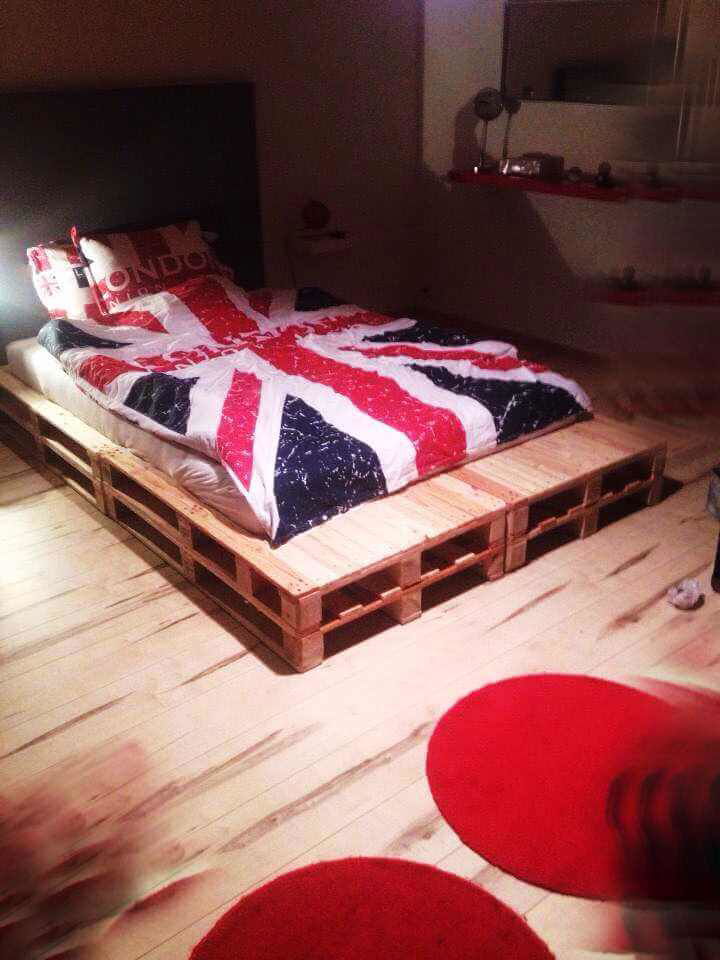 This one is fab enough to make you a fan of it! The solid wooden look and clear-cut boundary lines are what that will make you inspired! Pile up pallet boards and get a raised wooden floor to use as a sturdy pallet wood bed! Put a cushion over and enjoy it!
Accent Wooden Pallet Headboard with Lights: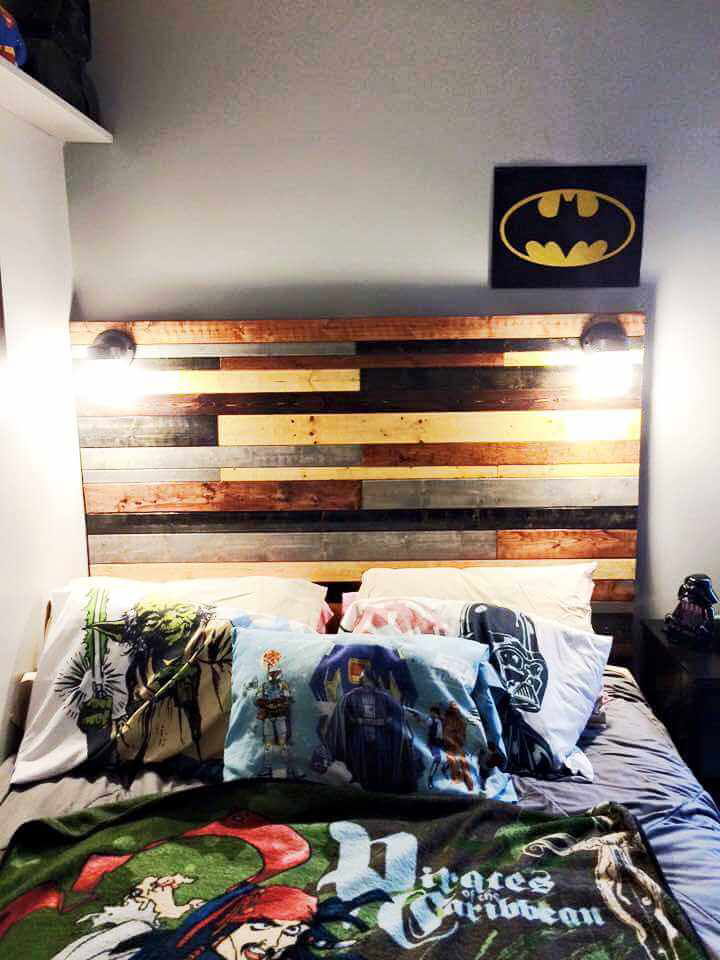 While being on pallet-hunting, you may get pallets having different species having different tones, so you can do some unique pallet projects by combining two other species of pallets that will result in multi-toned wooden crafts just like this precious headboard layout!
Pallet Rainbow Island – Console Table: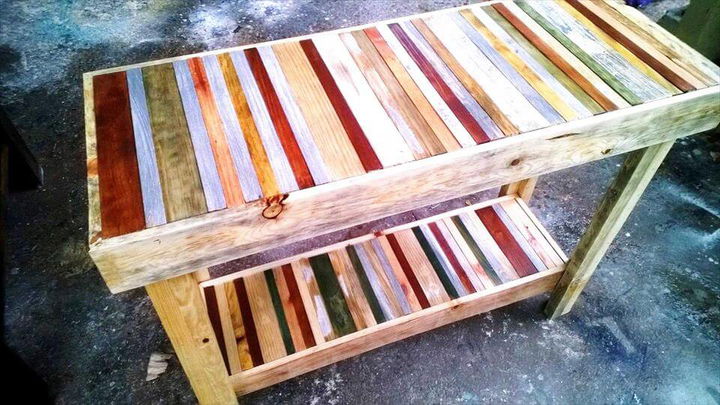 While having the pallets in deconstructed form, you get a good amount of simple, nicely cut straight wooden boards that can be packed again into new dimensions of your targeted furniture crafts! Checkout his layout of the table for perfect elaboration!
DIY Pallet Bar: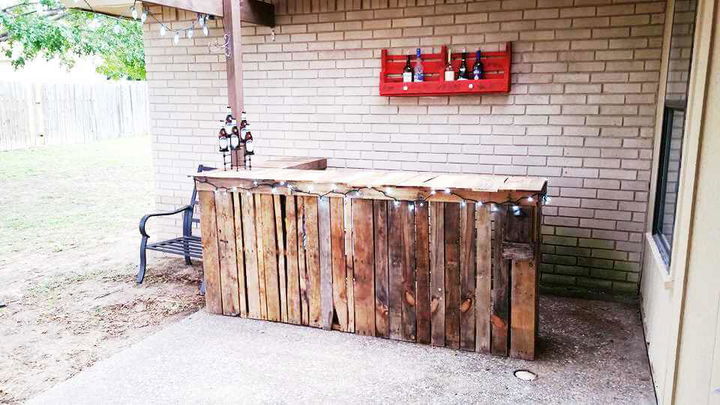 Pack the pallet slats only but in a friendly way to get unique wooden counters that can be employed to serve you in your kitchen or even in your shop or bar area!
Mini Pallet Table with Flat Box like Legs: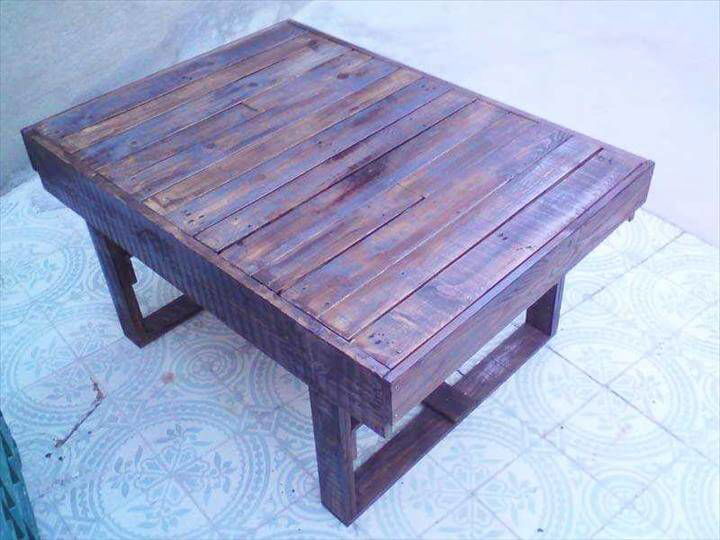 Gain beautiful tables bypassing the pallets into a feasible procedure of deconstruction and reconstruction. This coffee table design with robust flat legs has been build through the same process!
If you are willing to target the pallets for DIY furniture building, then these ideas are just uncountable! There is no limit to try out your creativity in this respect. You can gain pleasurable manifestations of furniture in all possible custom sizes by giving some creative twists or readjustments to shipping pallet skids! Alter the pallets and achieve them into custom boxes sizes and build storage chest, floor cabinets, and nightstands, get them in deconstructed form and design your own occasional design of pallet coffee tables, dining tables, and also an island and console tables.
Target the pallets for improved performance of interior walls and build amazingly functional shelves, organizers, and racks out of them, which can organize and store all clothes to kitchenware to toiletries! Also, design the computer desk in custom dimensions and with custom storage plans and do gain the pallets into pleasurable wall embellishments like the twin-pallet heart sign.

For an enchanting garden atmosphere, you can gain beautiful pot organizers out of pallets, planters, and vertical garden out of pallets!
Pallet Coffee Table with Shelf Underneath: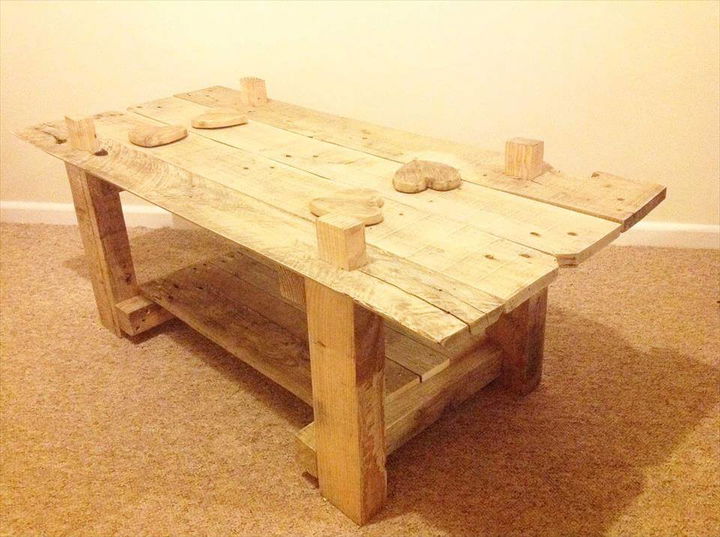 This is a pallet wood coffee table design that looks under construction! The edges legs parts that are popped up on the top are just begging to receive a glass top! The remaining bits and pieces of pallets have been changed into heart-shape coasters!
Pallet Side Table/Nightstand with Wheels: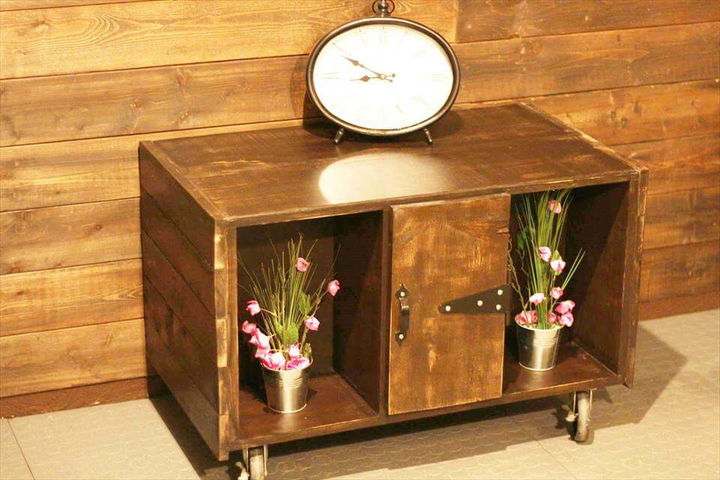 Go handmade with pallets and let your creative imaginations work for you! This beautiful layout of the nightstand has been earned just after a little creative thinking and has been raised on wheels! Again pallets are responsible for his mind-blowing furniture piece!
Pallet Dining Table with Industrial Legs: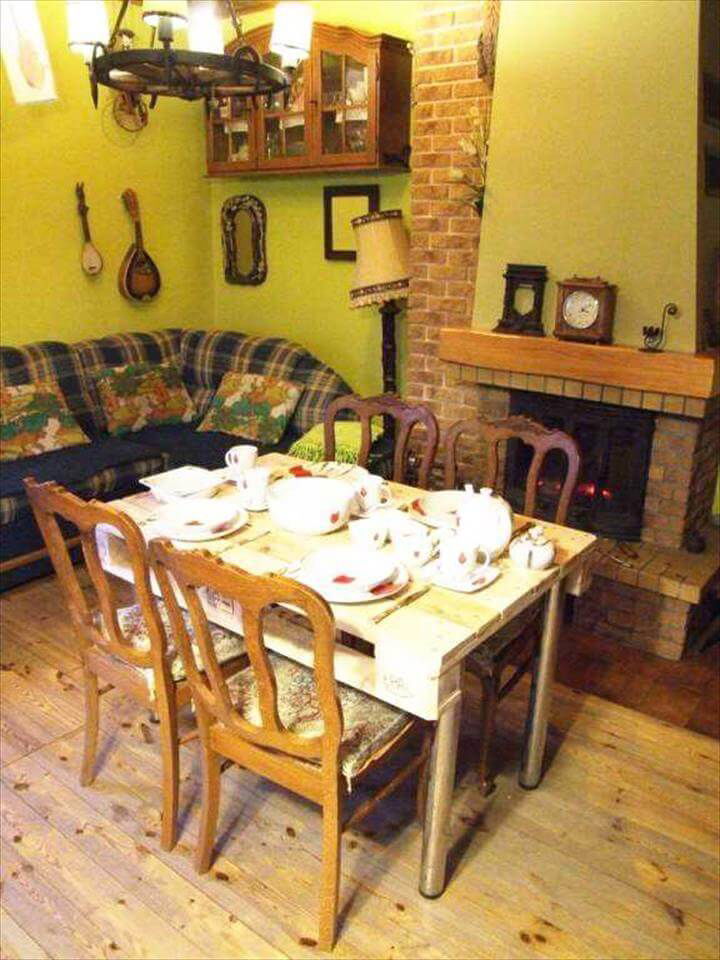 If you are a family lover by the heart, of course, we are all, then to dine together with your family is always a fun-raising task! You can just go for a hit without having a dining table in hand! Recycle and restructure the pallet into beautiful dining tables!
Rustic Pallet Sitting Set: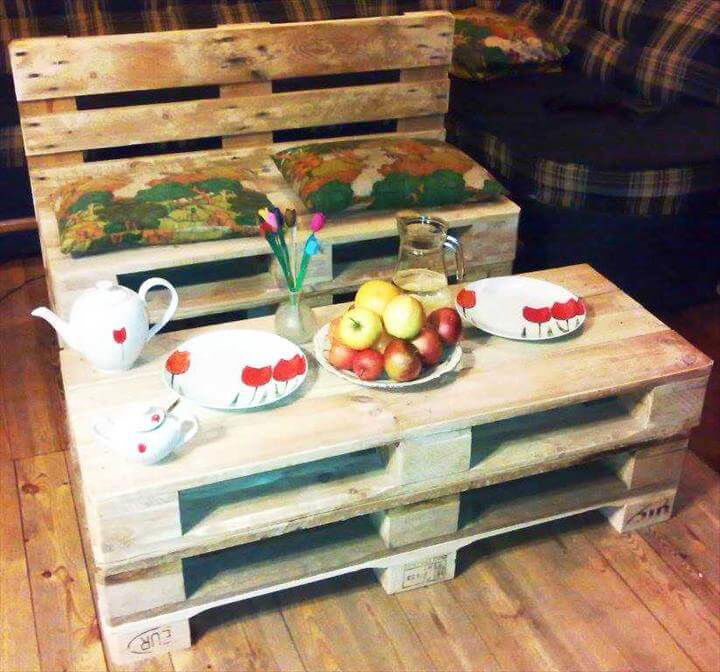 From occasional to individual sitting furniture sets, you can get all through pallet wood recycling! By going handmade with pallets and easy stacking of pallets, this functional sitting set has been fabricated!
EPAL Pallet Computer Desk with Drawers: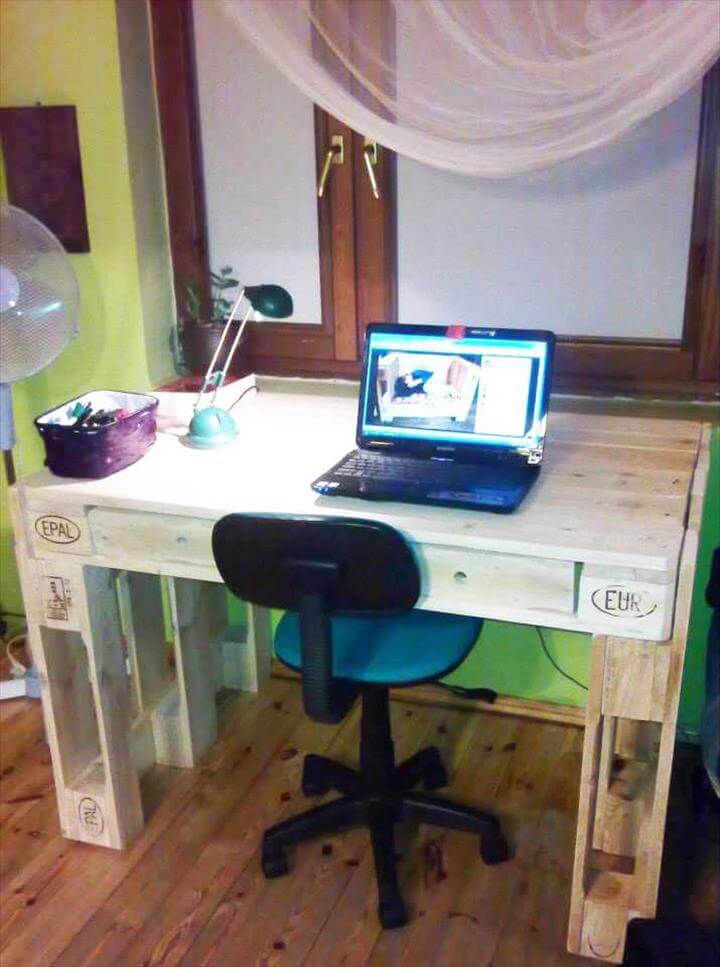 Computer desk and tables are the most prominent and most made pallet crafts! By using a pallet wood medium, you can easily approach some super functional tables or desk designs! Check out this beautiful one made of 3 EURO pallets!
Mini White Pallet Coffee Table with Casters:

let some miniature pallet sizes come on wheels to gain beautiful coffee tables out of them! In this respect, pallet openings just give fantastic space to store your books and magazines!
Red Painted Pallet Wall Hooks: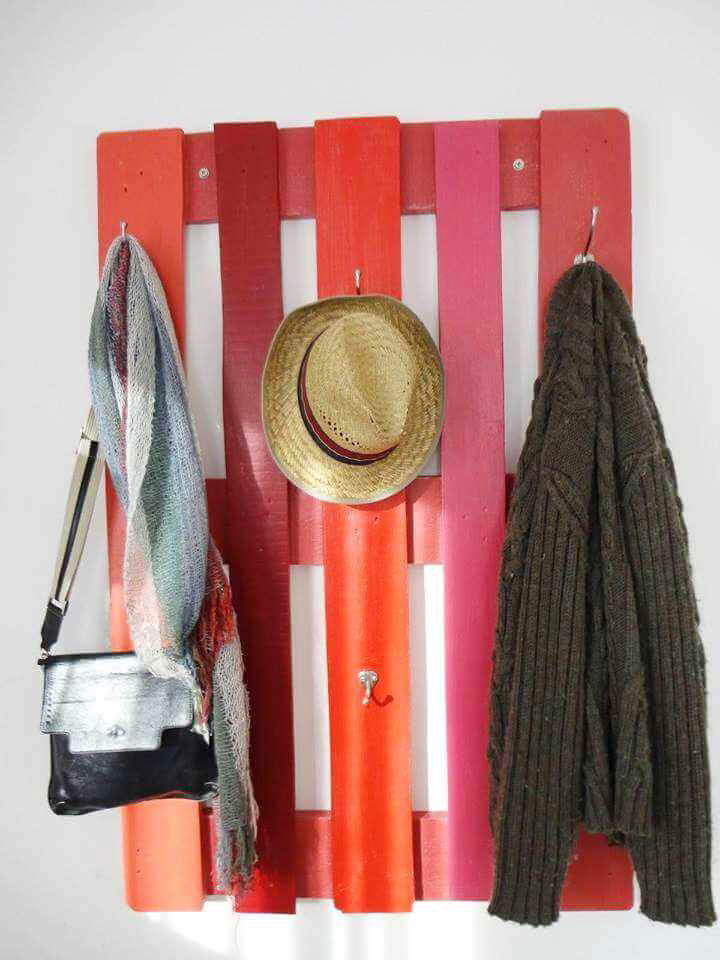 Add some hooks to an accordingly cut down or trimmed down pallet boards and gain beautiful wall organizers, coat racks, and hallway hooks! In this case, the red paint has been used for a prominent look of this wall organizer!
Pallet + Twine Love Wall Art:

Gain beautiful decors out of pallet using nothing but your brainpower. Let this lovely pallet wall art sign be a part of your living room wall decor! Building little wooden boards with pallets, a heart has been cut out, and further beautification has been done using a twine wrap!
Pallet Pot Organizer with Painted Flag: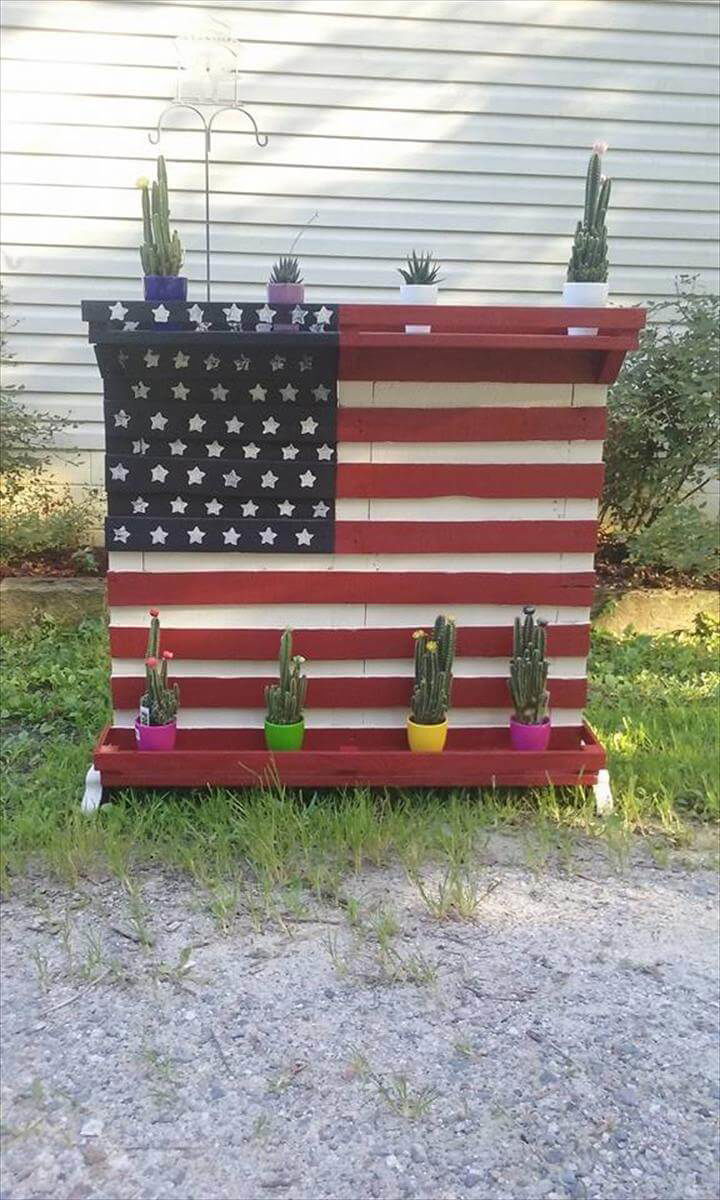 Get the pallets for outdoor and garden improvements! This pot organizer is here to grab your full attention and comes with a painted flag for a jaw-dropping appearance!
Pallet Shelf with Underside Lights: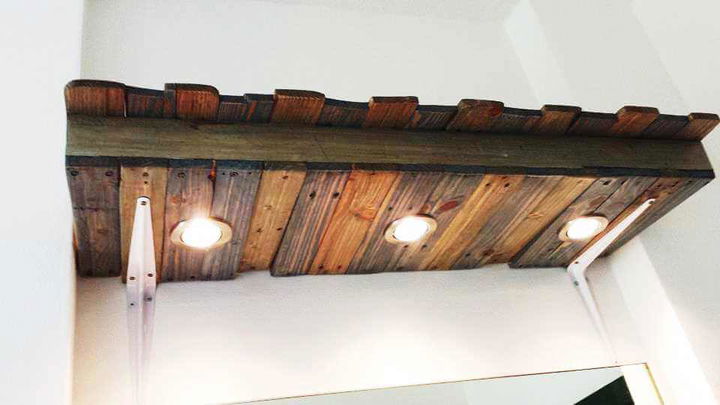 The sky is the limit to recycling the pallets. Amaze your senses by taking a look at this functional shelf design; the great feature is that it is having lights installed to the bottom side of it!
Fancy up the garden or any interior walls with a pallet made decors, the wall hanging pallet planters, and mason jars vases are best to select in this case! For holiday and festival decors, pallet wood provides mind-blowing recipes. The given below lighted pallet tree is the best example here to checkout!
Let your garden gain more respect powerful view, add pallet made wall hanging planters, pallet wheelbarrow planters, and also vertical whole pallet planters to it! You can even do garden fencing projects with pallets, which would be low cost and can provide security and protection to your expensive plants, vegetable gardens, and hard-to-find herb gardens! To resolve the sitting space issues, regain the pallets into a beautiful patio or living room sofas, chairs and benches, a canopy pallet bench, and a red cushioned green pallet corner sofa are the brilliant example here to try out in this regard!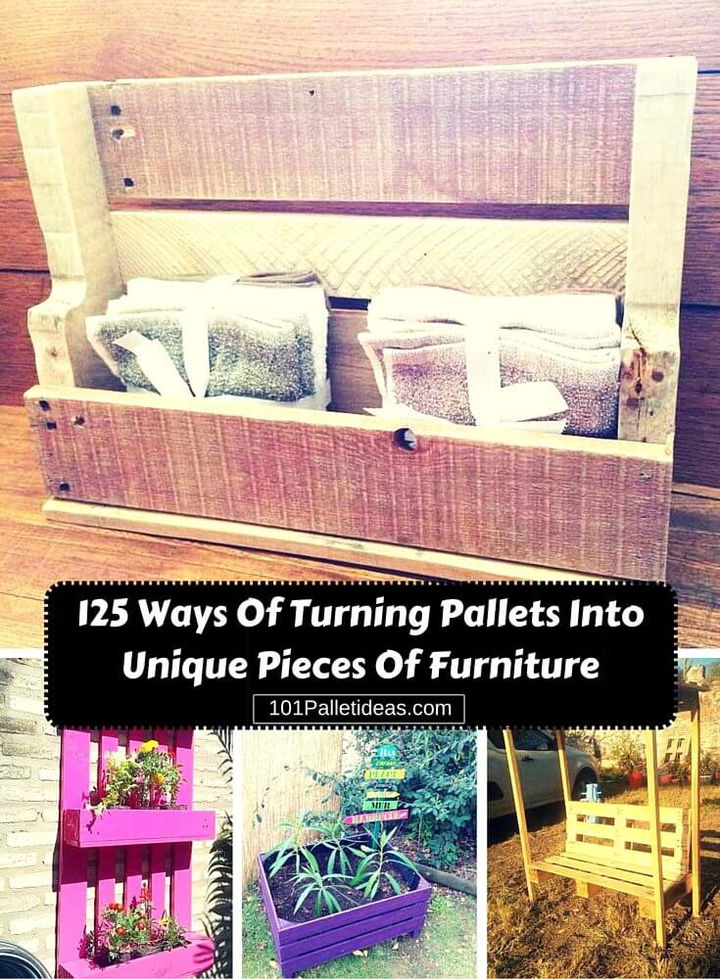 Don???t forget to build art style pallet shelves which not only organize your items of interest with care but also create a mesmerizing display of them!
Pallet Towel Rack: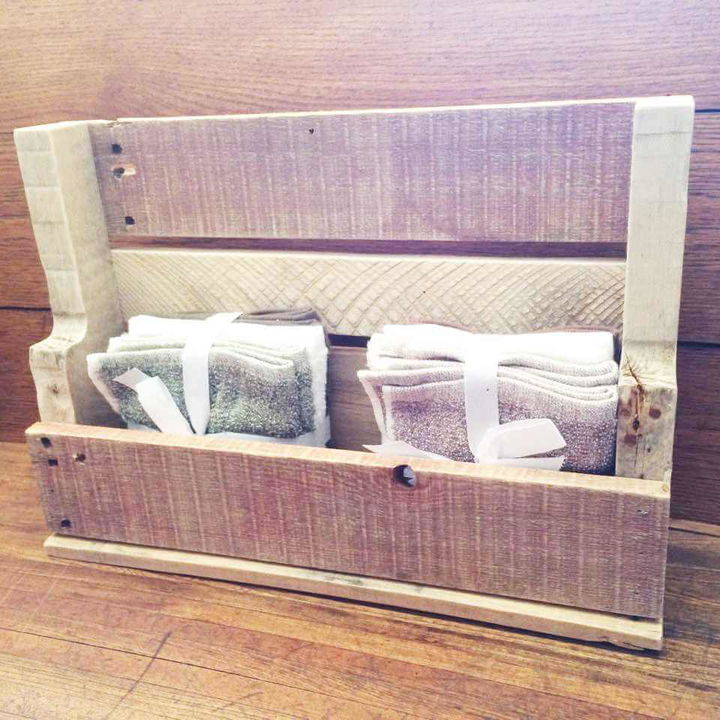 You have built little pallet caddy and shelves which can be hired to organize a bundle of your items of interest! This small wooden organizer separated apart pallet pieces and would rock as a towel organizer on your bathroom wall!
Pink Painted Wall Hanging Pallet Planter: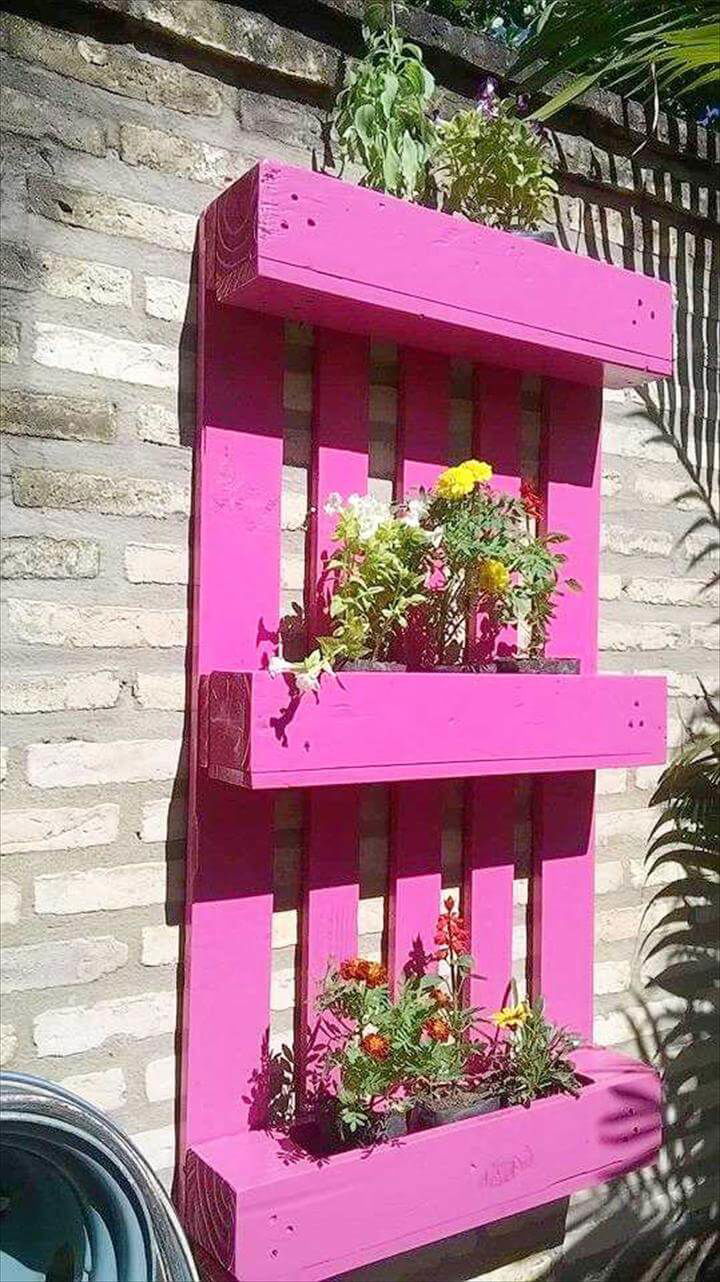 Use extra wood and provide bottoms to hollow dice sections of pallets to get amazing potting shelves out of them. Hence whole pallet boards can be turned into a multi-tiered planter, which would also be fab for wall hanging!
Lighted Pallet Tree Decor: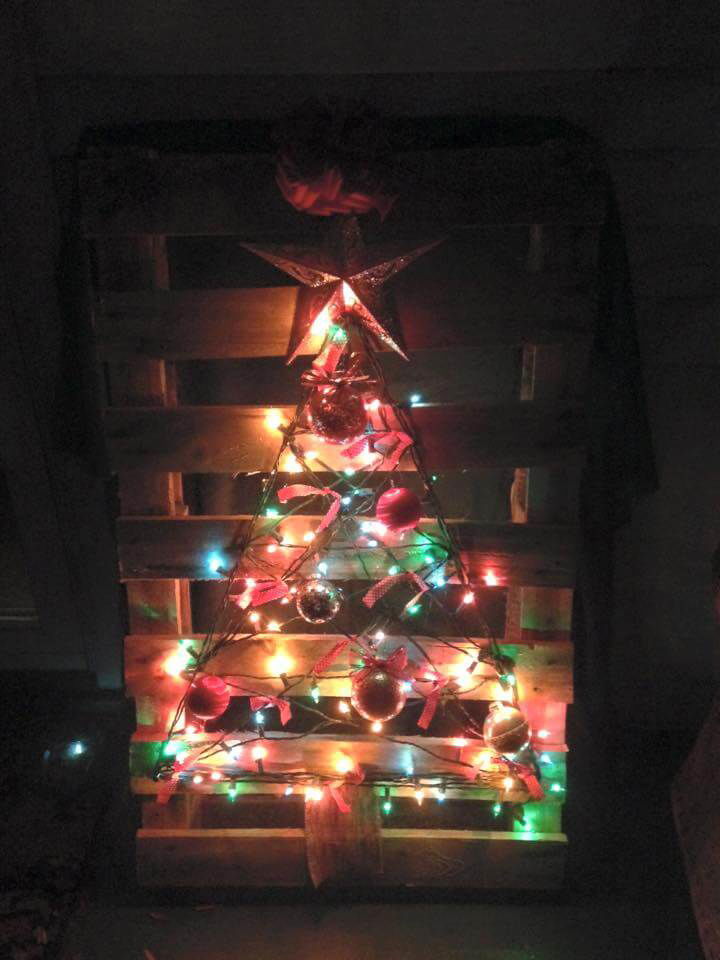 Build holding and festive decors out of pallets, add this tree to your festival decors plans! Start accent tags and LEDs would really create more prominent statements of sets at night!
Pallet and Mason Jar Wall Organizers: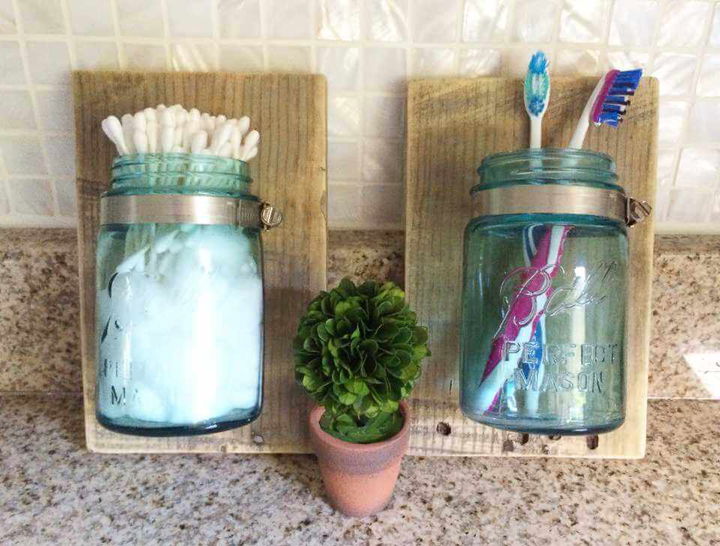 Rummage around to gain some empty glass containers or Mason jars and combine them with little pallet pieces to achieve amazing wall organizers, wall hanging vases, and lights gifts!
Pallet Fence: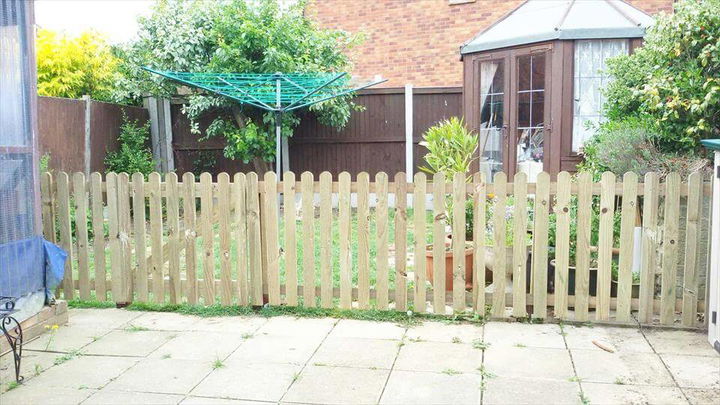 Hire the pallets to install your exterior home or garden space fencing! Tear them apart and built units to fence the whole targeted area! Get help from this fab pallet fence!
Cool Pallet Wheelbarrow: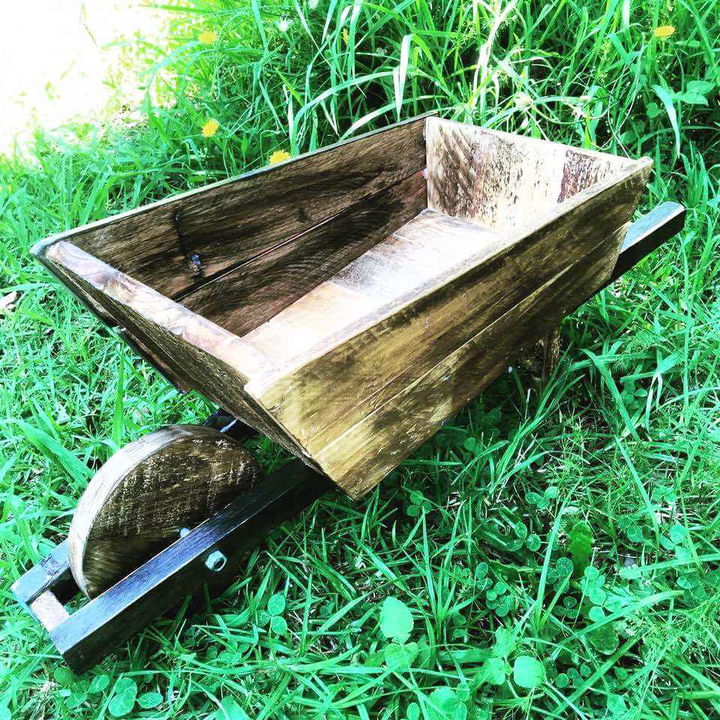 Wheelbarrows are the know garden inhabitants and participate a lot in garden beautification! Build unique wheelbarrow designs out of pallets for free and get some as garden rolling carts or planters!
Painted Pallet Planter: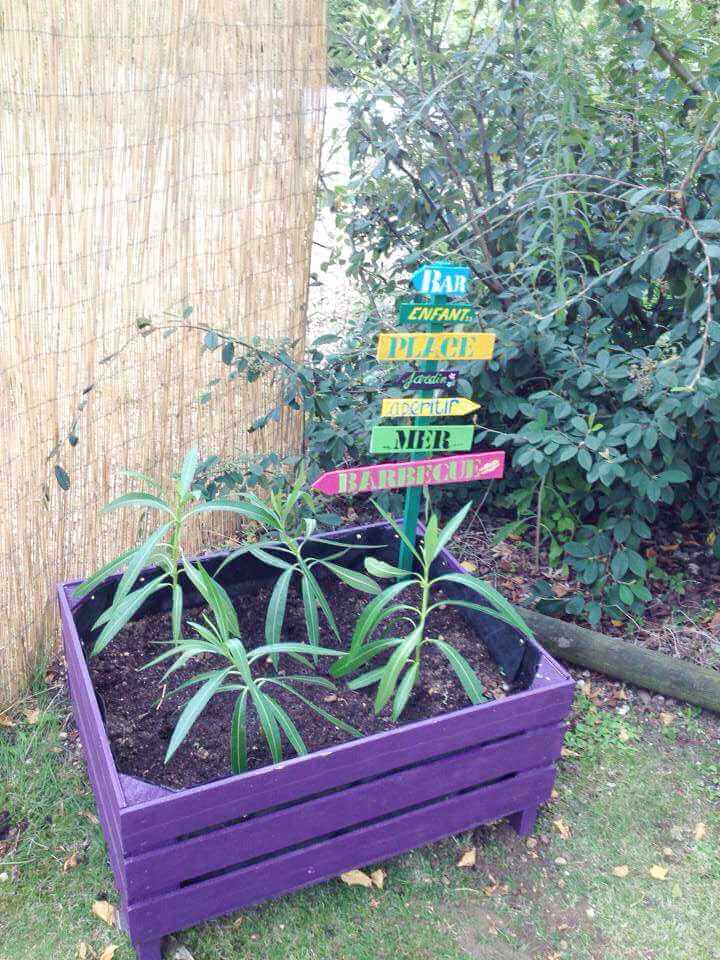 Recycle the apple crates or transform the pallet boards into boxes having custom sizes! Fill the potting soil in and let them serve your garden space as beautiful planters! Add lids to them and earn chest and toy storage boxes out of the same pallet-made boxes!
Wall Mounted Pallet Shelf: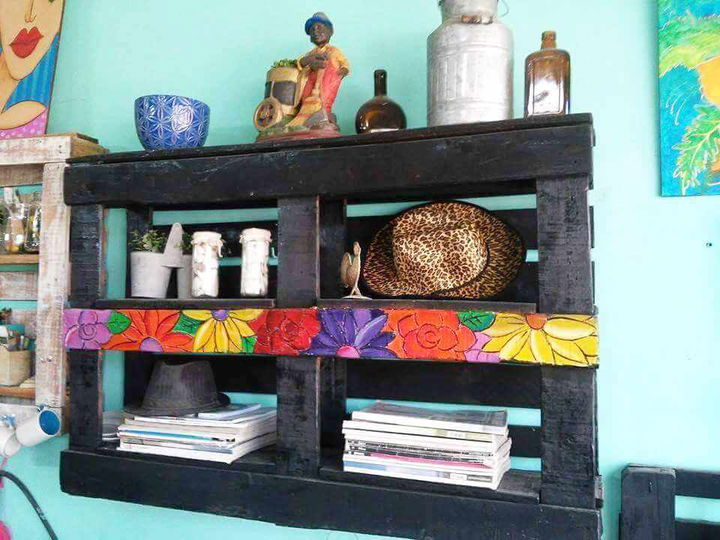 Reclaim the pallet to install amazing shelves or shelving units! Here the well-defined size of the pallet board has been turned into a multipurpose shelf design that can be hired to store and display the items at the same time!
Red & Green Pallet Sectional Sofa: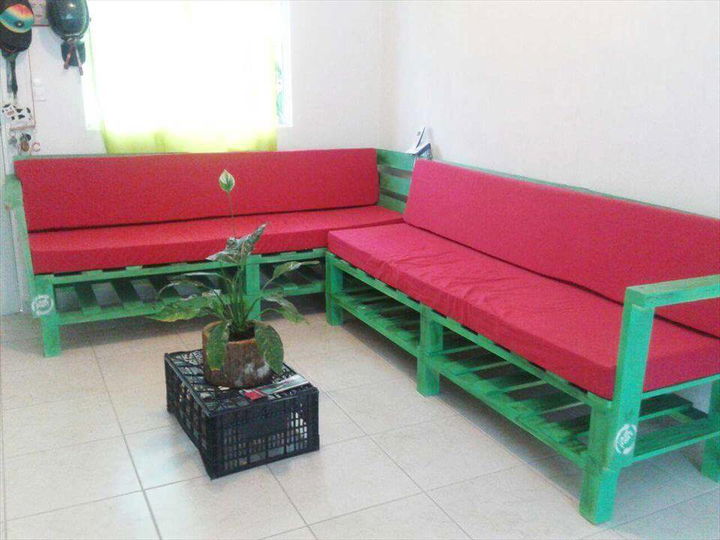 Avail the flexible pallet functioning and build amazing sofas for both outdoor and indoor portions! This fab frame design is ready to go to your living room and would give a perfect sectional fit for sure!
Pallet Bench with Shelter: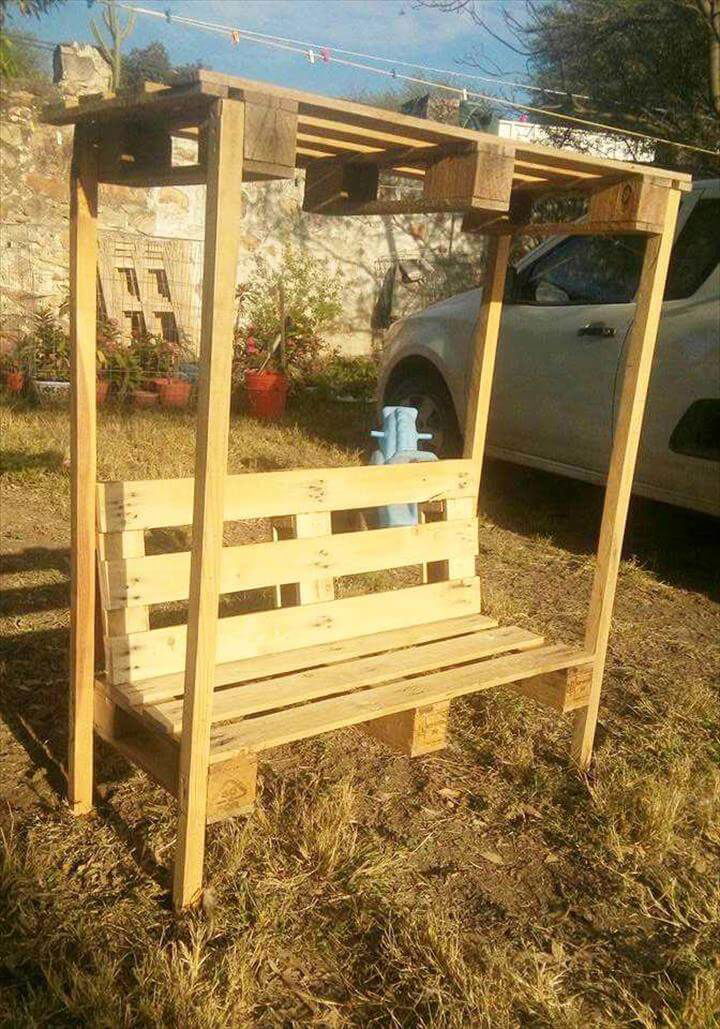 Build each unique piece of furniture you are having in your imaginations! This functional bench with canopy is a mind-blowing and super creative version of the bench! This comes with a roof and hence will protect against sun and rainwater!
Let us encircle here some beautiful achievements that have been done all to enjoy the outdoors! Build friendly benches for your outdoor and paint them in several different shades if you want to give colors to a specific outdoor area! Build an amazing patio, garden, and gazebo sofa sets out of pallets through simple stacking of them. Check out the ideas below to grab more tips and tricks! Build dual-functional pallet benches, pallet garden swings, and also the super comfortable outdoor loungers or poolside chairs, which are always a pleasure to sit on and to catch some rays and scenery all around!
Use pallets for old furniture refurbishing and repairing. A chair with a metal base is a good example here! Build pallet fireplaces and media consoles, and just with great ease, they put your life on a more functional track without getting expensive!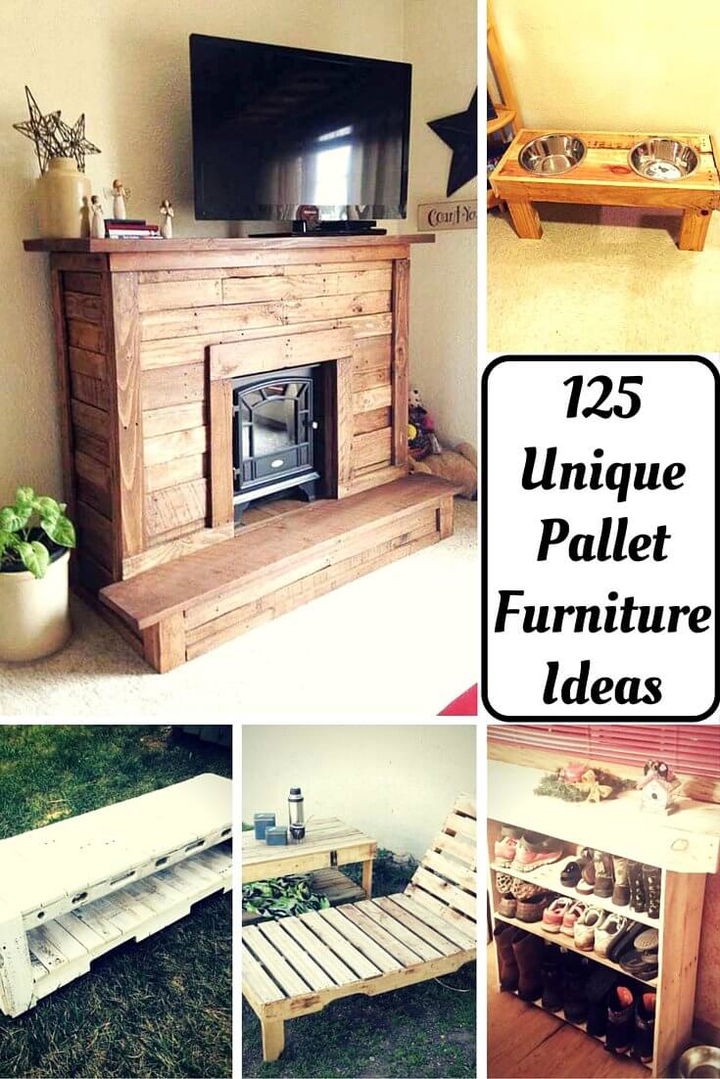 Let the pallets manage and organize your messy collection of things by getting converted into the chest drawers, dresser tables, and shoe racks! Once you start working on pallets, there will never be ending ideas for you to try out every weekend!
Pallet Rainbow Bench with Storage Box: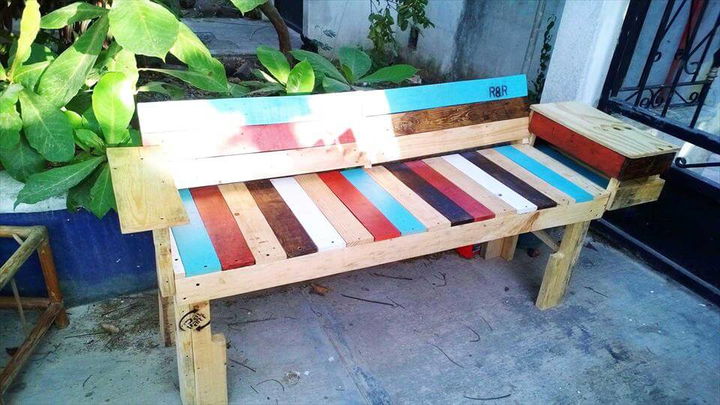 Please your aesthetic senses by putting a glance at this rainbow bench design! Installed by creative and tight packing of painted pallet planks, has a box at one end to hide or store some personal tools!
Pallet Garden Swing: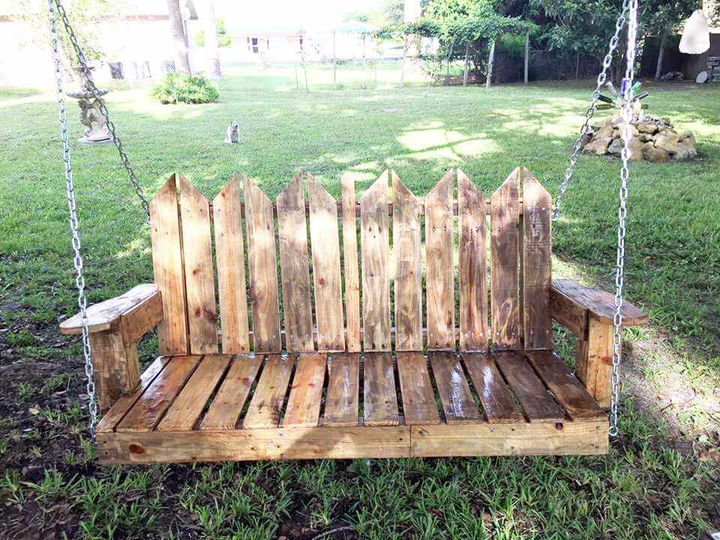 Pallet-made seats can also be hanged with some aloft supports to obtain them into beautiful pallet swing like this bench swing, having a patterned backrest for a glorious eye-catching look!
Pallet Porch Sitting Set: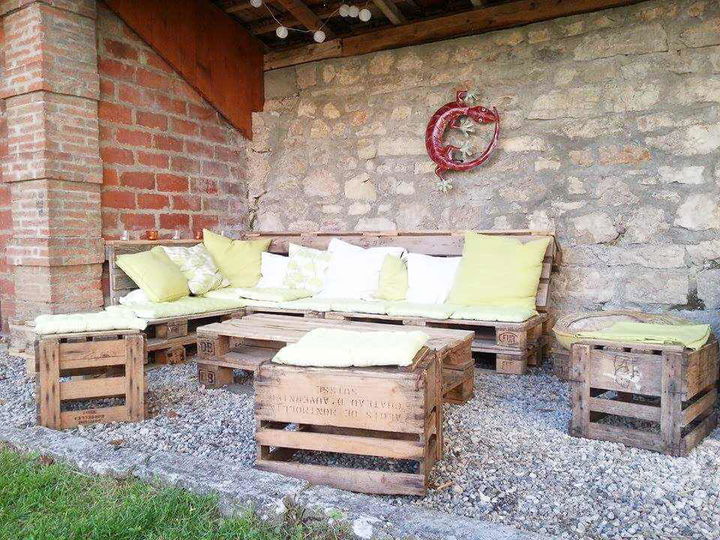 Have you ever thought that pallets can make amazing porch or pallet patio furniture sets for you? If not yet, then this set is here to boggle your mind! An amazing sectional sofa with a coffee table and multiple cushioned seats would be best to create a big family gathering for longer gossips!
Distressed White Pallet Media Stand: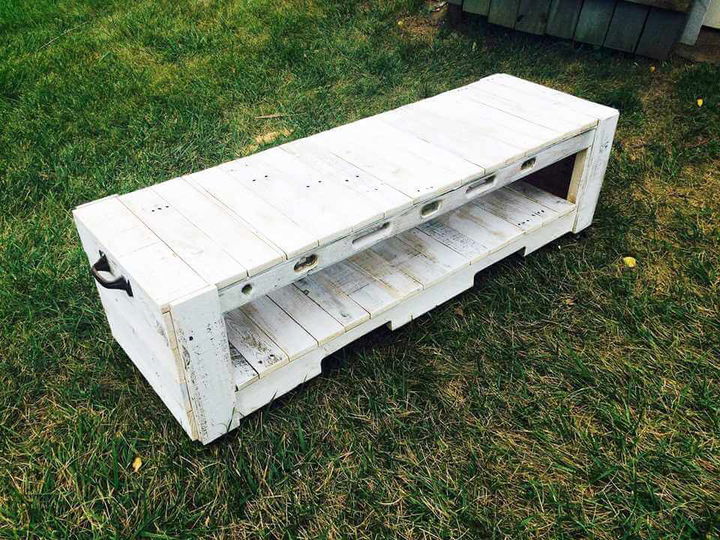 Restructure the pallets into this compact size of the bench, which can also make a beautiful media console if placed in your living or media room as it comes with a shelf underneath, which can be targeted for respective media storage!
Pallet Poolside Sitting Set/Lounger: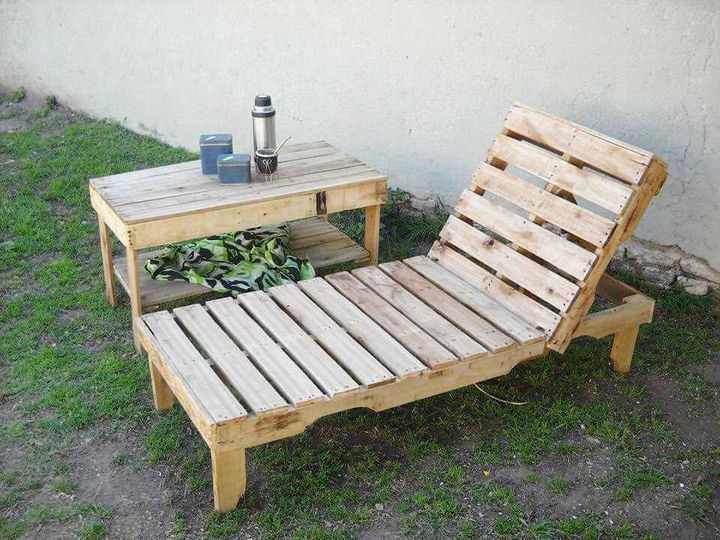 Build amazing outdoor and poolside furniture out of pallets, make some creative modification into original pallet boards, and gain beautiful loungers out of them as shown here, raised on short but stable wooden legs!
Metal Old Frame Pallet Chair: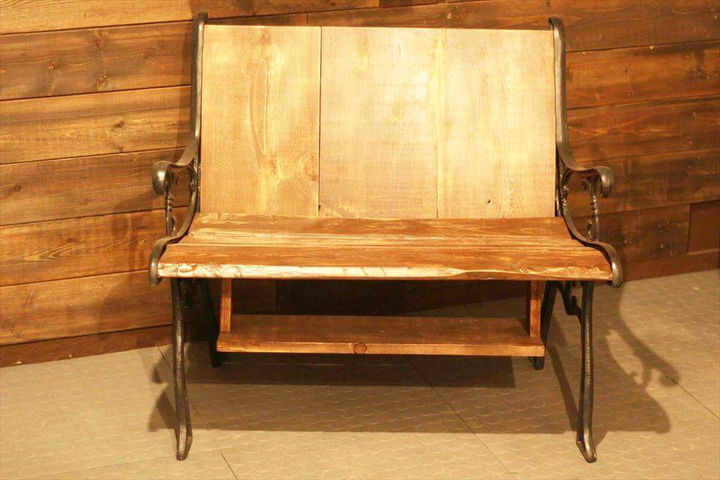 Pallet wood provides excellent tips to refurbish your old furniture pieces. Here a crumbled metal frame has been regained into a beautiful chair by getting repaired with pallets!
Sturdy Wooden Dog Bowls: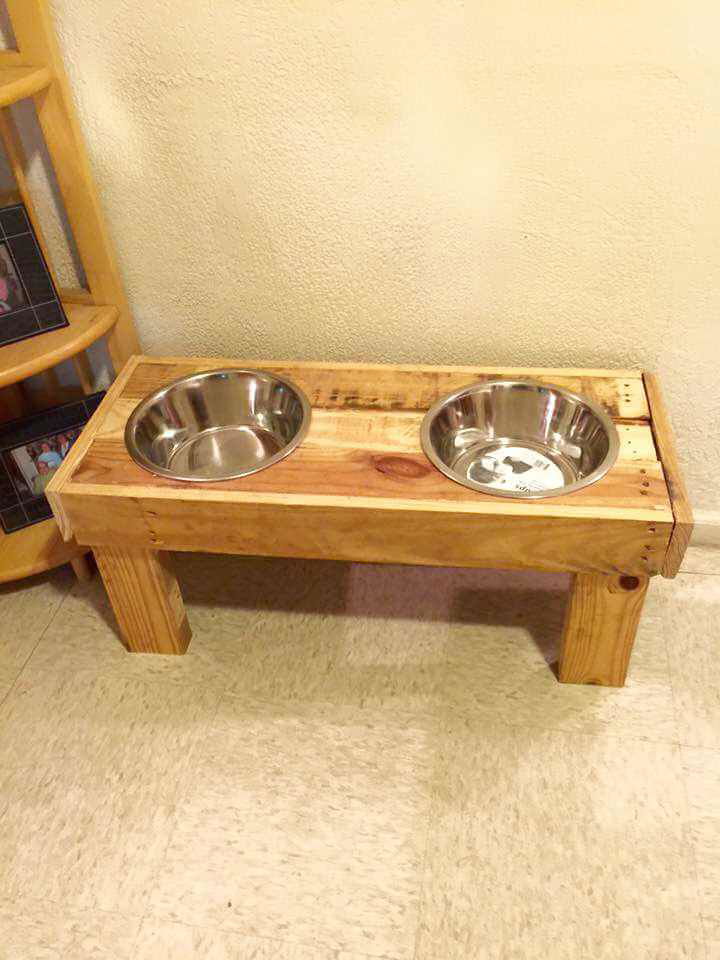 Enjoy cool pallet stuff by packing the pallets into new dimensions! Get this dog bowl stand, a perfect no-cost feeding station to feed your cats or dogs!
Pallet Fireplace/Media Console: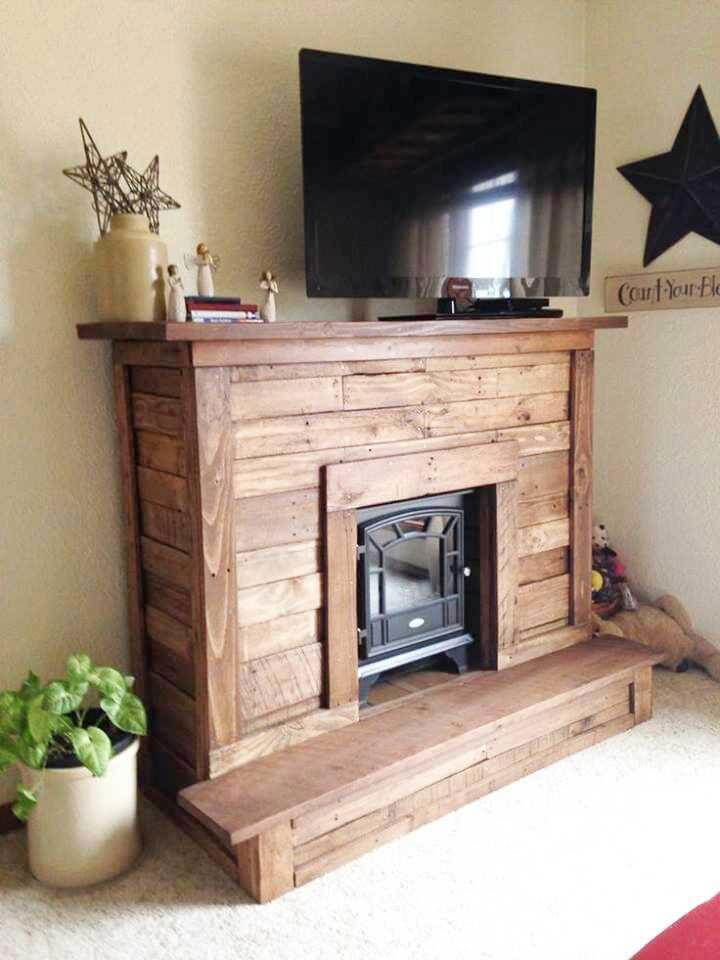 Think out of the box and plan the pallets for some more significant innovative projects like to install a fireplace out of them! You can gain excellent tips from this given layout of a pallet-made fireplace, which also serves as a media console at the same time!
Rustic Pallet Shoe Rack: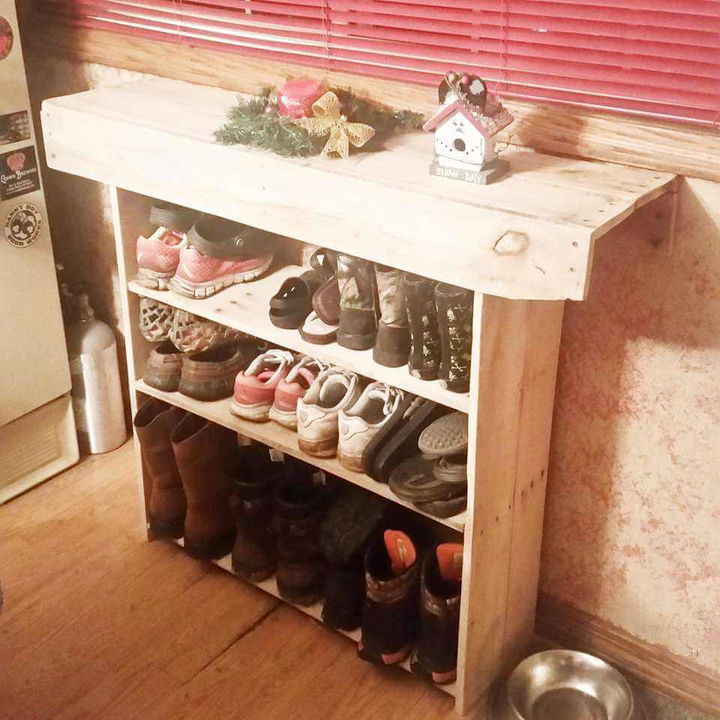 Let the pallets organize your home clutters and messy piles of things in a significant way! To let the shoe storage an enjoyable activity for you, you can simply build this shoe rack, having a pleasing layout, and would also be convenient to display entryway decors!
Pallet Sideboard/Dresser/Cabinet: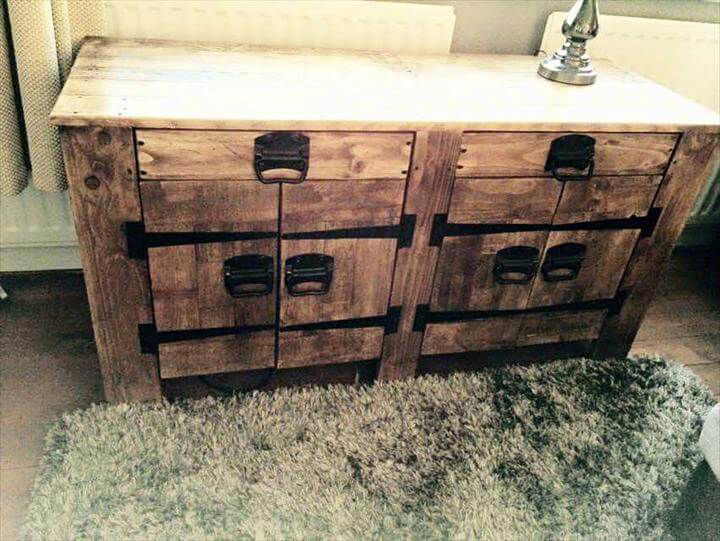 Get unique pallet furniture plans here to build sideboards, dressers, and cabinets out of pallets! By copying the same construction method but with large scale implementation, one can also target the wardrobes, cupboards, closets, and bigger shoe racks out of pallets!
Pallet ideas are dominant everywhere when we talk about the modern recycling trend! Innovative approaches to recycle the pallets have so reached that you can get almost everything out of them that you need to get your life comfortable and functional as well! The amazing things are that neither you are bound to anything, nor there are any restrictions, build every furniture item in custom design and dimensions having in your need list!
Let us elaborate on it through the given examples here. Tryout the media unit, having attached a cupboard or cabinet. It is an intelligent project to do with pallets! Manage your pet protection issues through pallets and let them build awesome pet houses, cages, and pet beds for you! Learn the basics to dismantle the pallets and build anything with those individual pallet lengths! Restructure the pallets and gain beautiful outdoor benches and Adirondack chairs to style up your patio, garden, and backyard! You can also try these dog house plans for a new dog house for your pets.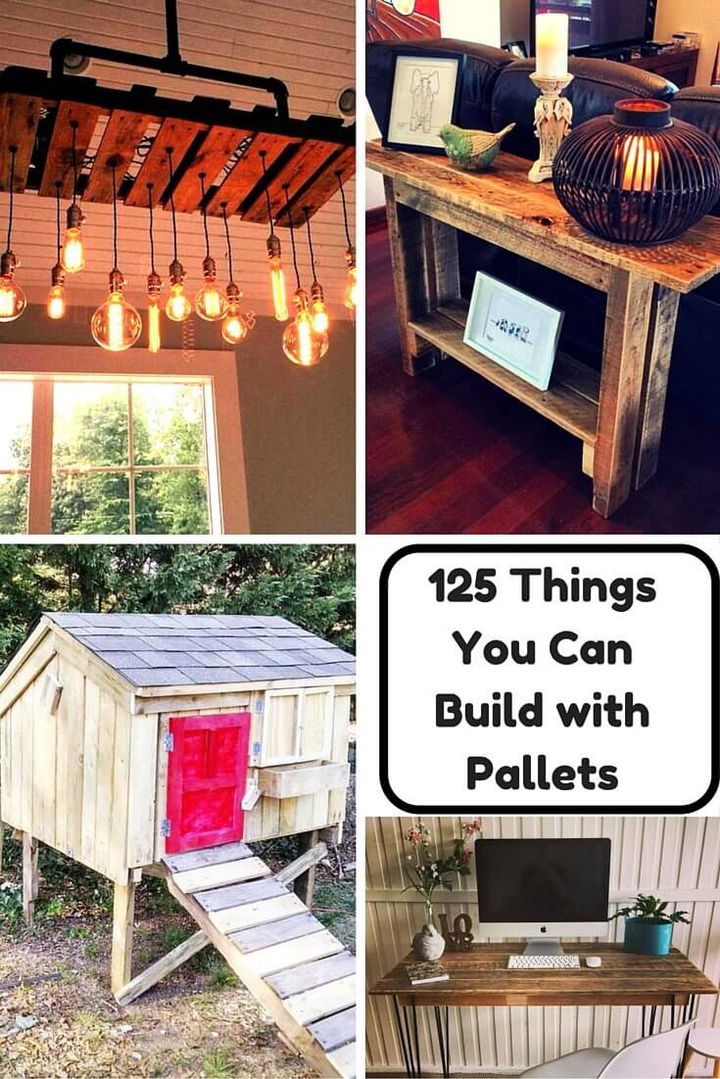 Build precious dining sets, indoor lighting systems, and diverse different kinds of supporting and entertaining types of tables with pallets! Visit the ideas below to enhance your creative imaginations!
Pallet Media Center with Attached Cabinet: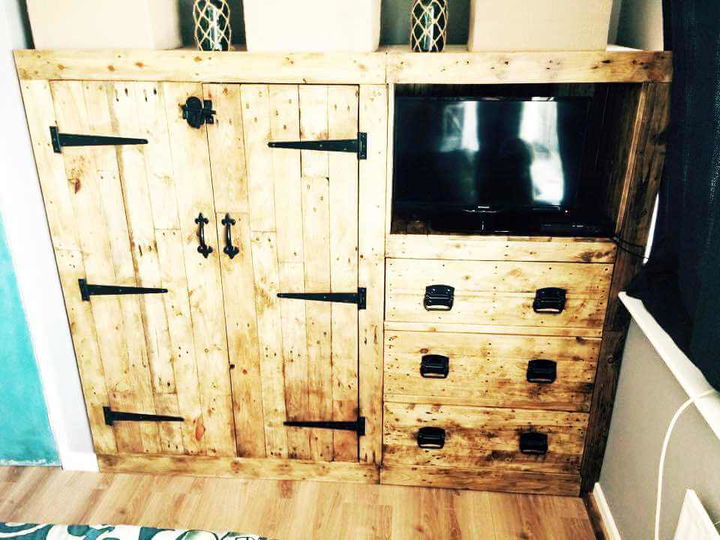 A media stand is always in your priority list of crafts while making the choices about living room or media room furniture! What about this one? A crazy larger layout is having lots of drawers, an attached cupboard, and also a separate display section for your screen, LCD, or TV! You will be amazed to know that whole functional design is a pure pallet-wood construction!
Pallet Chicken Coop with Chevron Roof: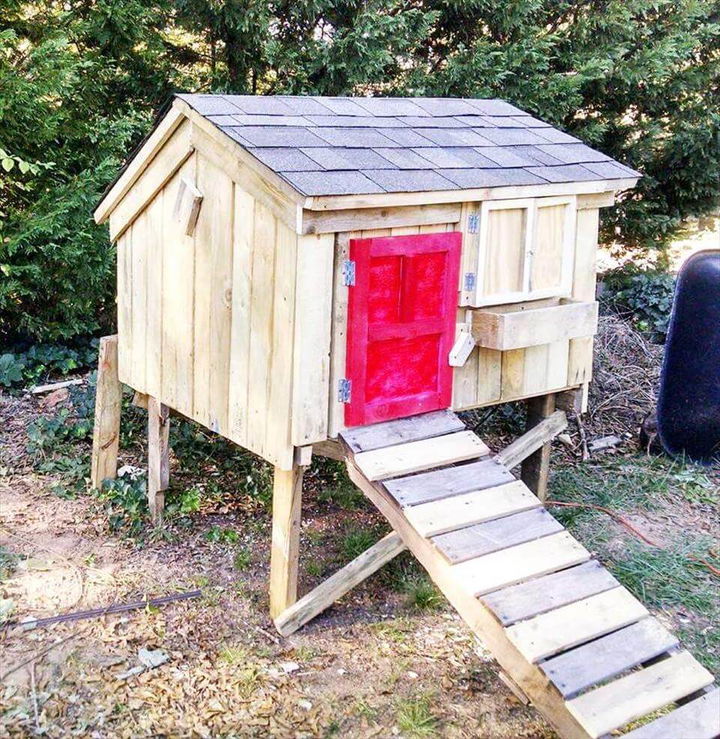 Are you having a pet-loving heart? Build low-cost cages, rabbit houses, chicken coops, and dog houses with pallets! This chevron chicken coop also has a pure pallet wood composition and is as functional and sturdy as you want!
Wooden Adirondack Pallet Chair: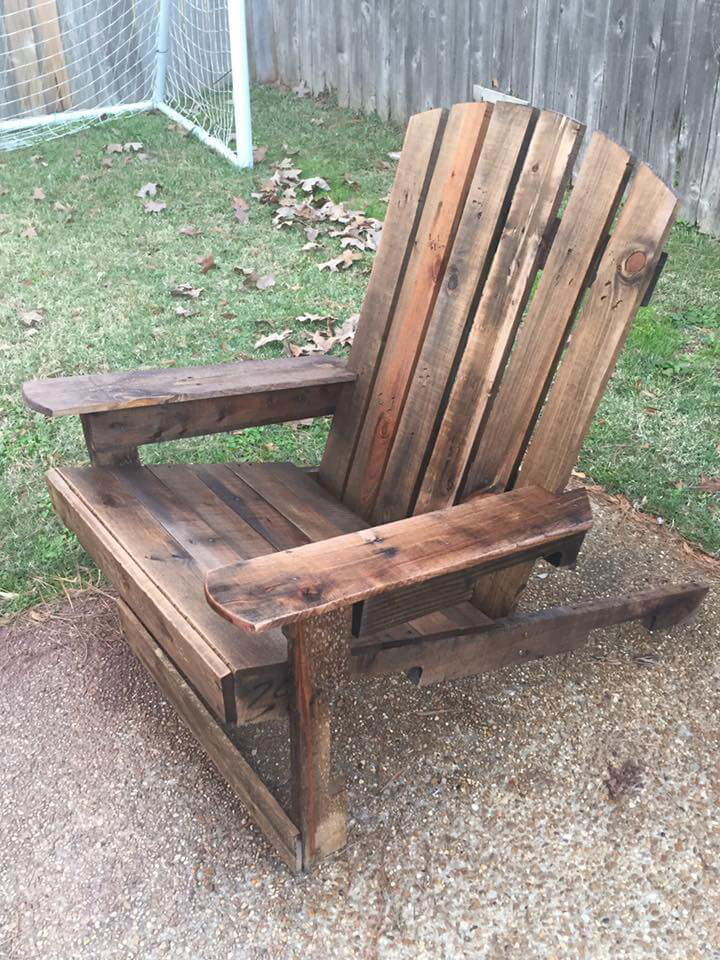 For a better outdoor view, we always love to adapt some comfortable sitting furniture items like this Adirondack chair. Now you can approach heavy-duty wooden Adirondack chairs through pallet wood medium, which would be free of cost!
8 People Pallet Dining Set: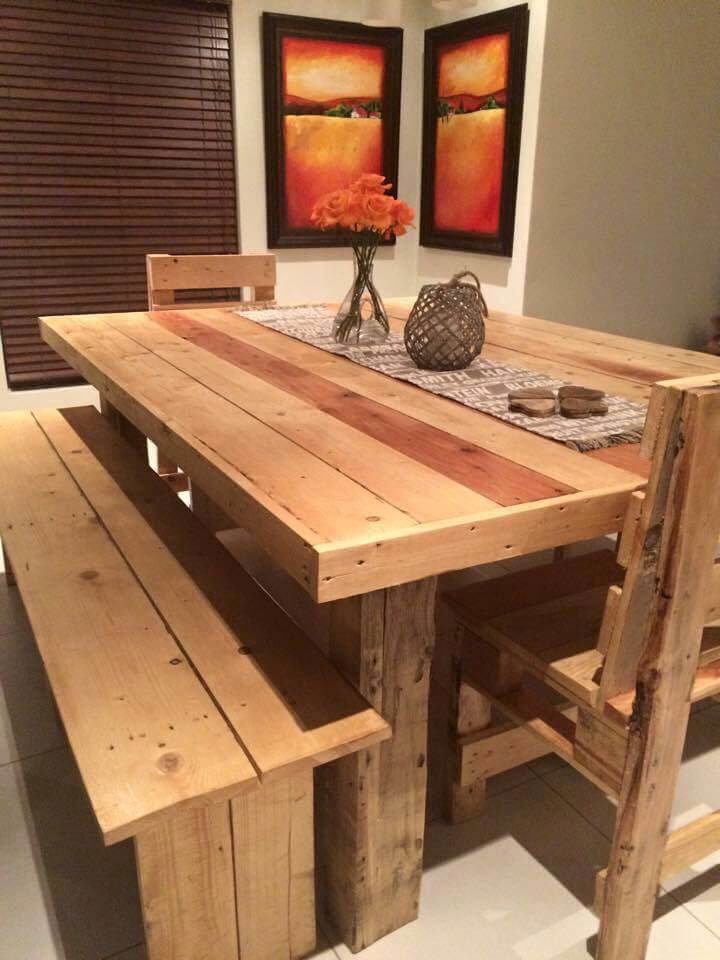 Pack the pallet slats and build massive-duty wooden slabs that can be adapted as heavy-duty wooden tabletops. Here same has been done to make this occasional dining table layout! Removed pallet wooden slats have also been targeted to build the benches and dining chairs to sit around the dining table, and hence a full set has been got for free!
Pallet and Mason Jars Wall Vases: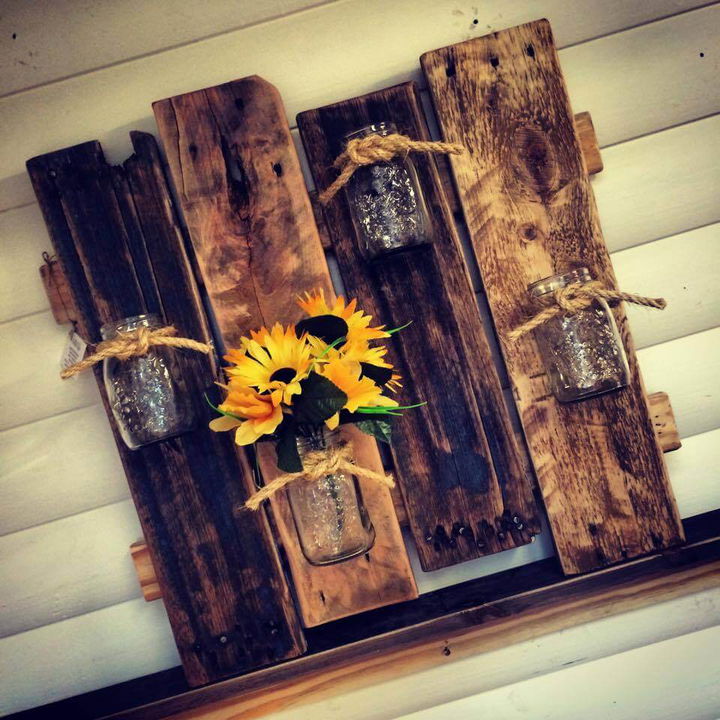 Here it comes, the rustic vase holder or organizer, Mason jars serve here as precious vases while rustic pallet slats give the sturdy wooden holding board! Nautical rope loops have been used as heavy-duty fasteners to hold the Mason jars in hanging position!
Behind Sofa Table Made of Pallets: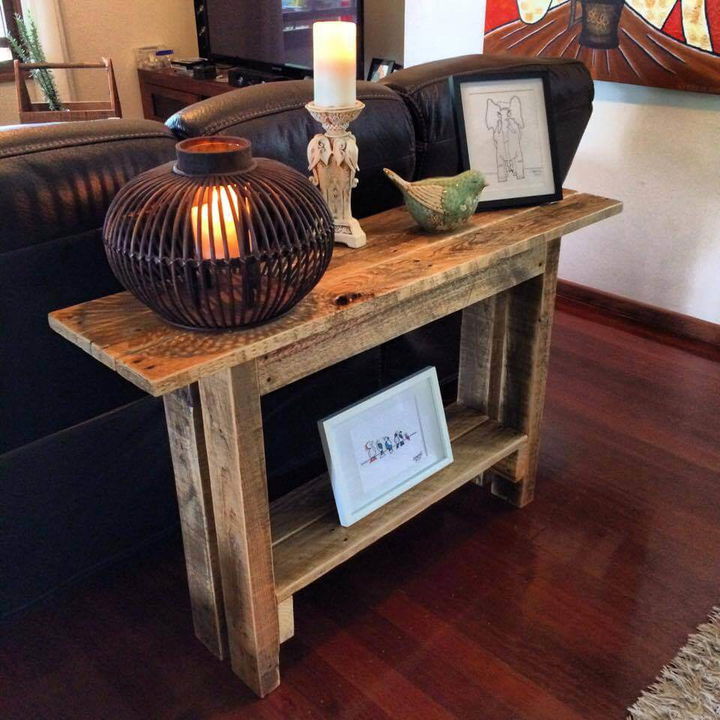 Reestablish the pallets into amazing wooden furniture beauties like this behind the sofa table made of only a few straight pallet boards! It would also make a perfect entryway or hallway table and comes with a lower shelf panel to display a bit more items of you!
Wide Pallet Bookshelf: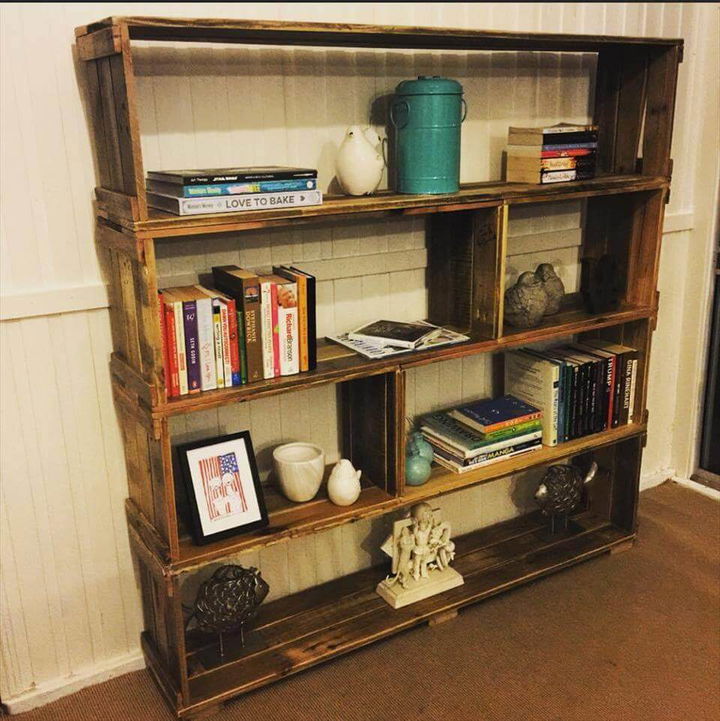 Here is one more stylish achievement done with pallets, an extra-large pallet bookshelf. The entire layout is a functional remake of rustic pallet boards and is zero in cost prize!
Metal + Mason Jars + Metal Pipe Chandelier: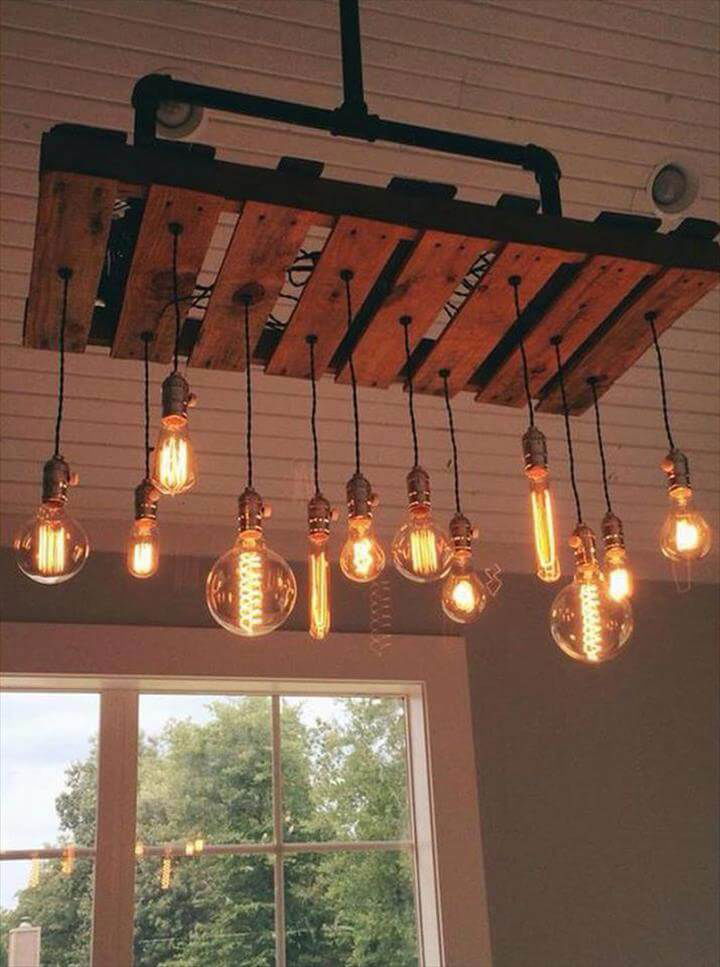 Here a beautiful chandelier has been build using pallets and some other scrapped away materials like metal pipes and old glass containers! Check out the plan and do the same to get instant fab lighting for any of your living areas!
Pallet Coffee Table and Media Stand:

Here is what the clean fittings of removed pallet planks can do, a charming statement coffee table design having a hollow inside for storage purposes, and has been raised on wheels for a scratch free-rolling movement!
Pallet Computer Desk with Hairpin Metal Legs: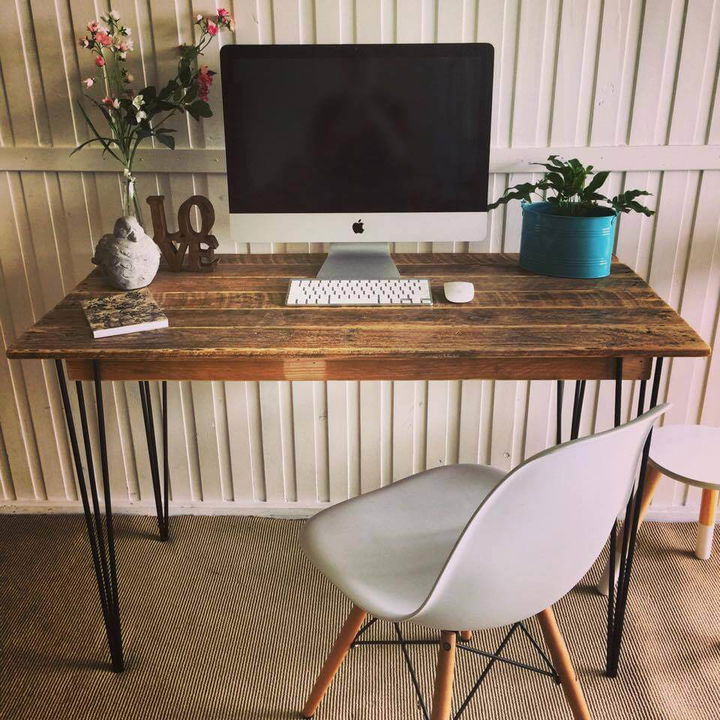 Facilitate your home offices by getting awesome furniture crafts out of pallets. This rustic computer desk is also what you can beautifully plan at home using only pulled apart straight pallet boards! It comes on three post-metal hairpin legs made of steel scrap!
Amazing pallet works and their modern recycling strategies are just creating a big list of pallet fans. Now pallets have become an interesting topic to discuss among the DIYers! Take a look at inspiring DIY pallet projects from DIY blogs, with step-by-step instructions. Transform pallets into furniture! No matter whatever you plan to improve your home, they all can be brought to completion pallets!
Keep your home uncluttered by installing pallet racking systems, storage units, and wall organizers! Here are amazing pallet sofa ideas which are friendly to both indoor and outdoor environments and hence you can organize any patio, garden, backyard, and even the living room with them! Visit the given ideas below to get awesome recommendations! Find some great tricks here to convert the pallets into awesome mini or big table designs that make half of the total interior furniture!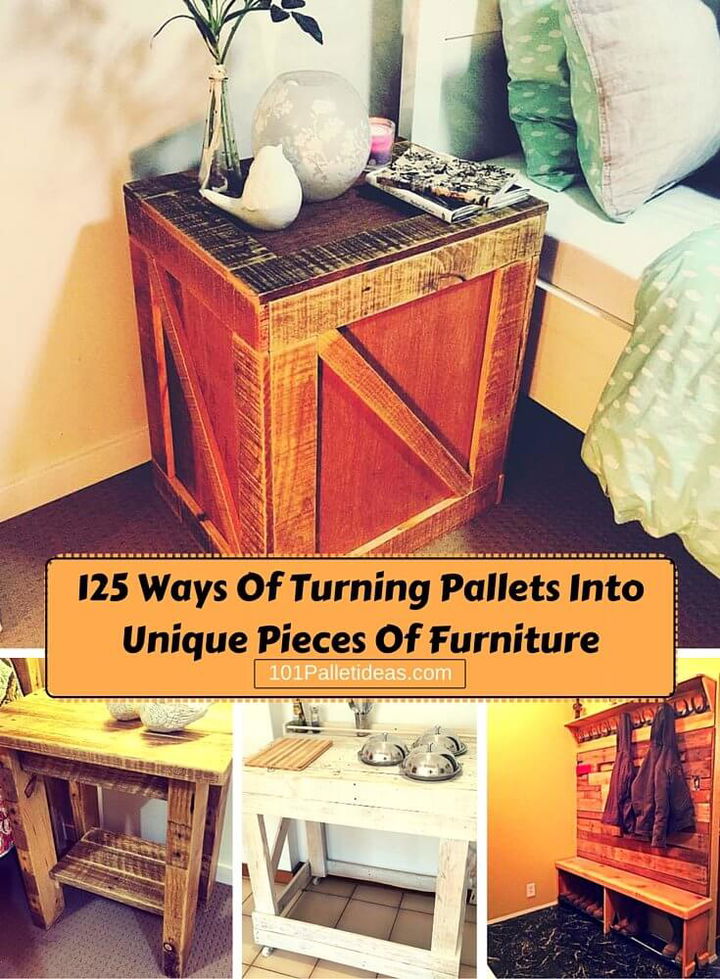 Let the pallet build bewitching wall art pieces for you. A love wall shelf is a little sample here! Also, build the media stands, shop counters, and awesome kitchen counters and islands out of pallets! Take and visit and browse the samples for them!
Pallet Patio Sofa Set: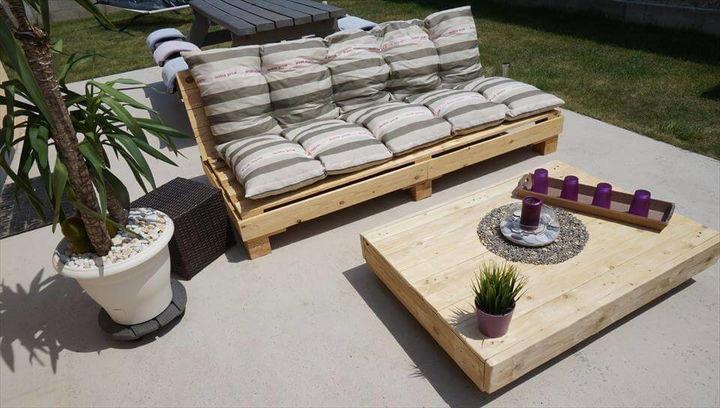 Now brilliant sofa design is all on your fingertips. Just stack some pallets to gain beautiful sofa frames and hence the sitting sets for the patio and living room to enjoy the lovely weather and the company of your beloved ones!
Pallet Hall Tree with Horseshoe Hooks: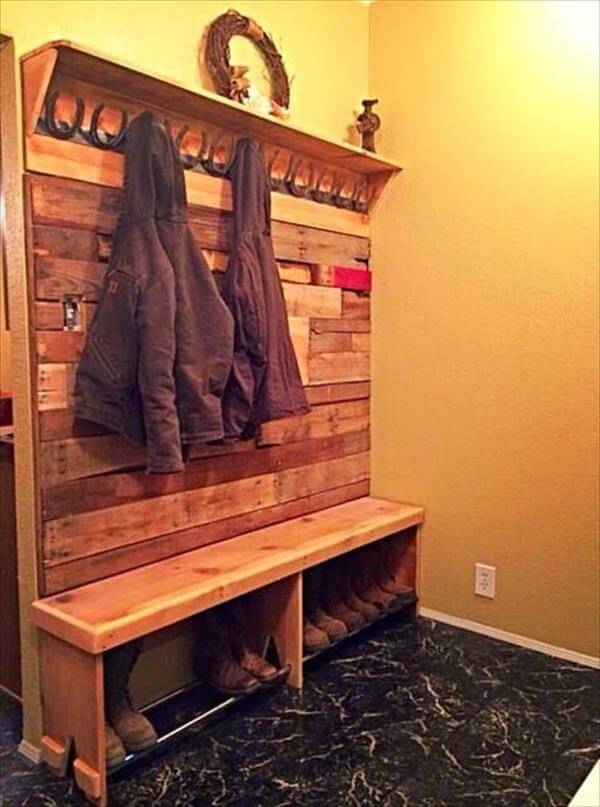 While making an entry to your home, an entryway or hallway organizer is always what you need to stop by as you hang coat there and also feel lightweight by hanging the ties, handbags, and scarf there! Let the pallets give some stable entry organizer and hallway trees, check out the given design having horseshoes hanging hooks and a shoe rack!
Pallet Kitchen Island/Trolley: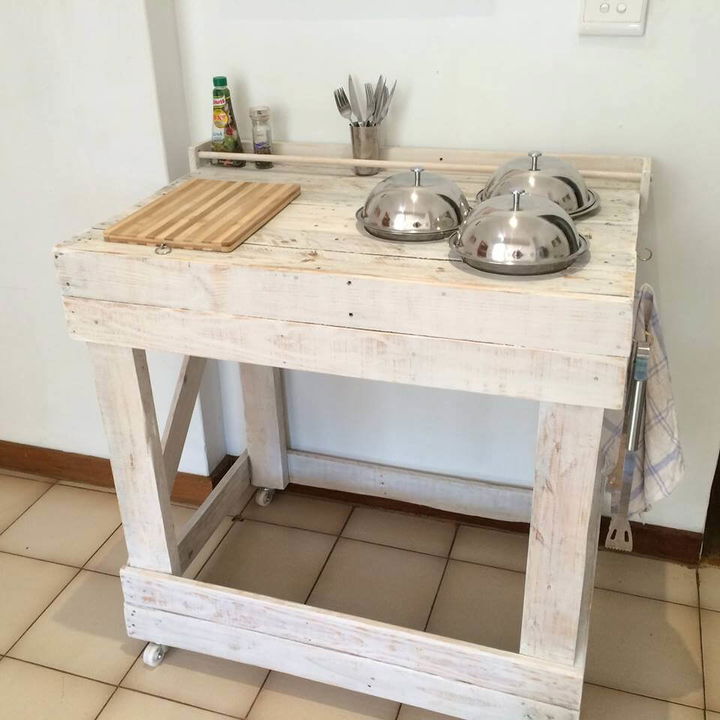 Try out this dual-functional pallet furniture craft. It can play a beautiful role in the functional kitchen island and that of a trolley at the same time! A distressed white look has been creating using thin whitewash coats!
Pallet Love Wall Art/Shelf:

Gain an artful look of interior walls by mounting self-designed art pieces like this pallet love wall shelf, beautiful piece of pallet made wall art to create bigger statements of interior wall decors! Pull the pallet boards apart and copy this lovely inspiration now!
Pallet Living Room Table Set: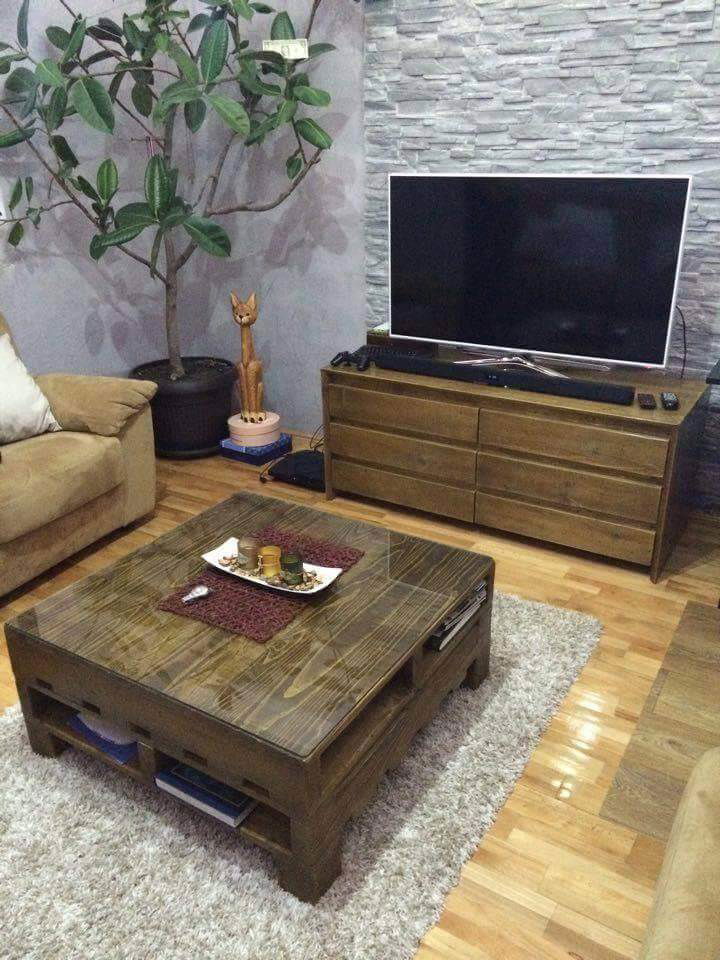 Every different and most expensive kind of furniture can be designed with pallets. Here a media console and a coffee table has been designed for a cozier living room interior and look stunning in their natural pure rustic look!
Pallet Nightstand: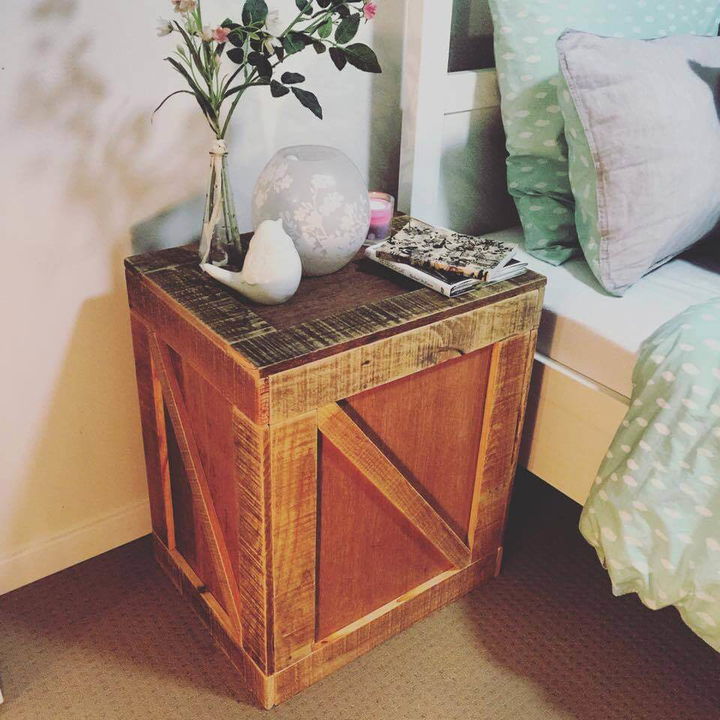 Get amazing results of the simple repacking of removed pallet planks. Here this mini nightstand table has been built with removed pallet slats, a basic concern of bedroom interior, and a nightstand always helps a sleeping person as it can organize all your material and conveniences!
Pallet Nightstand with Shelf Underneath: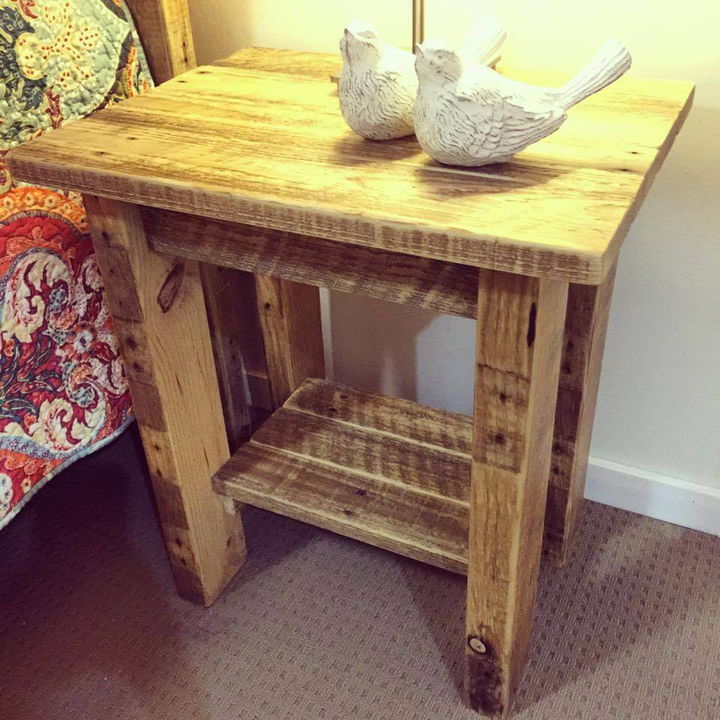 Restructure the pallets and gain precious mini models of a table like this side table or nightstand, having sturdy dimensions and also a shelf underneath to gain more storage space for your items!
Pallet Outdoor Bench and Chair Set: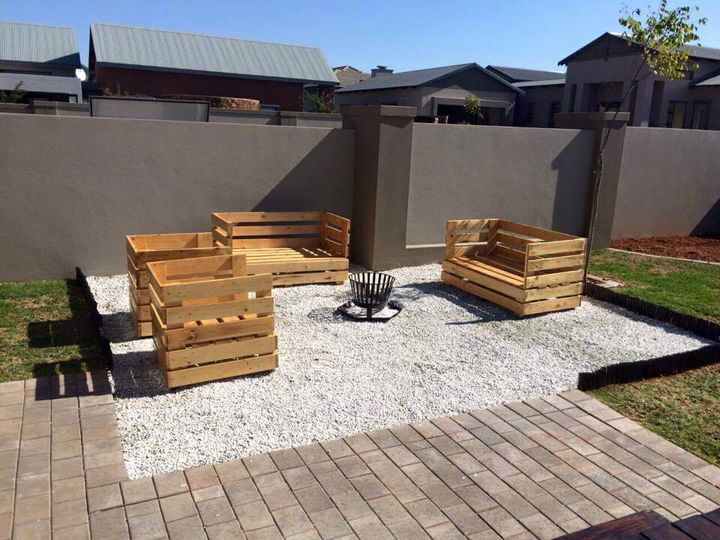 Pallets are helpful for furniture building. These super comfortable patio sitting sets has also proudly made with pallets, and hence you can organize any outdoor using pallet furniture ideas!
Glass Paneled Pallet Shop Counter/Showcase: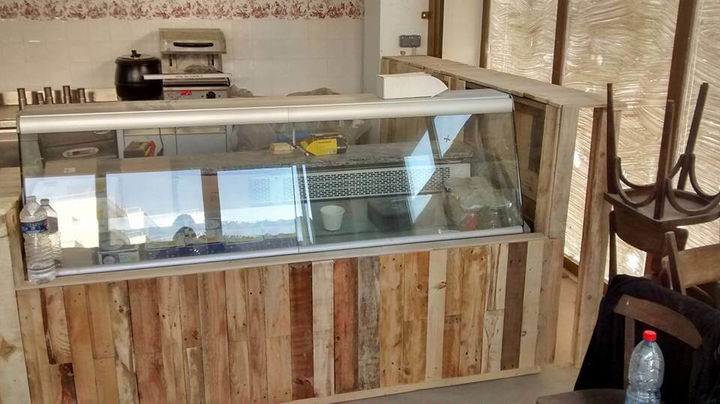 Grab pallet ideas to organize a shop here. A brilliant shop counter has been created having paneled glass front, look rally adorable, and is also zero in cost prize!
Pallet Patio set: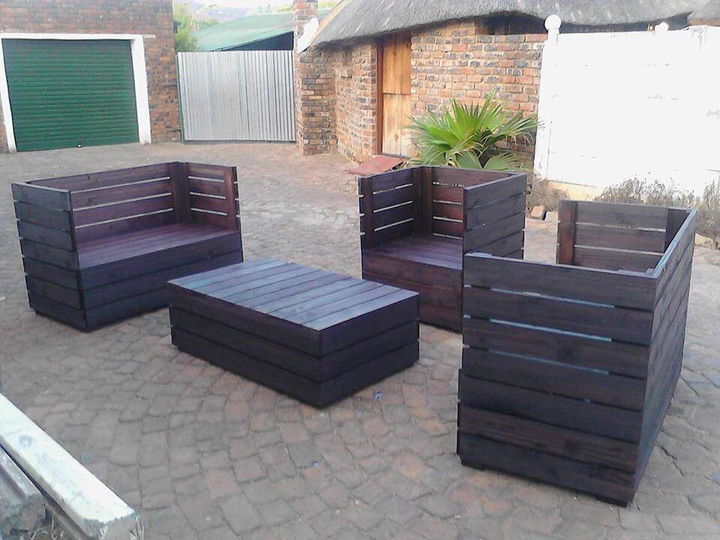 Check out the marvelous achievements have done through simple slatted arrangements of pallets, a whole patio furniture set having two benches, a chair, and a coffee table! Enjoy the sunny outdoor with pallet-made sets and go for longer conversations and gossips there!
Control the whole management of your home through a free pallet wood medium! Live a better life by going with the recycling of pallets and let the pallets build anything for you that you need for a brilliant performance of your home! Built trolleys out of a pallet and let them transfer your food items and storage gods! Avoid expensive purchases of media stands and approach them for free using pallet wood medium!
Repurpose the pallets and get awesome cabinets, cupboards, wardrobes, and sideboards out of them and resolve all your storage issues with pallets! Readjust the pallet boards a little and get all smaller or big supporting types of tables for your home like the coffee table, dining table, nightstand, and side table! You can also get the stuff to adorn the coffee or dining tables out of pallets like tea lights and flower vases and cutlery organizers!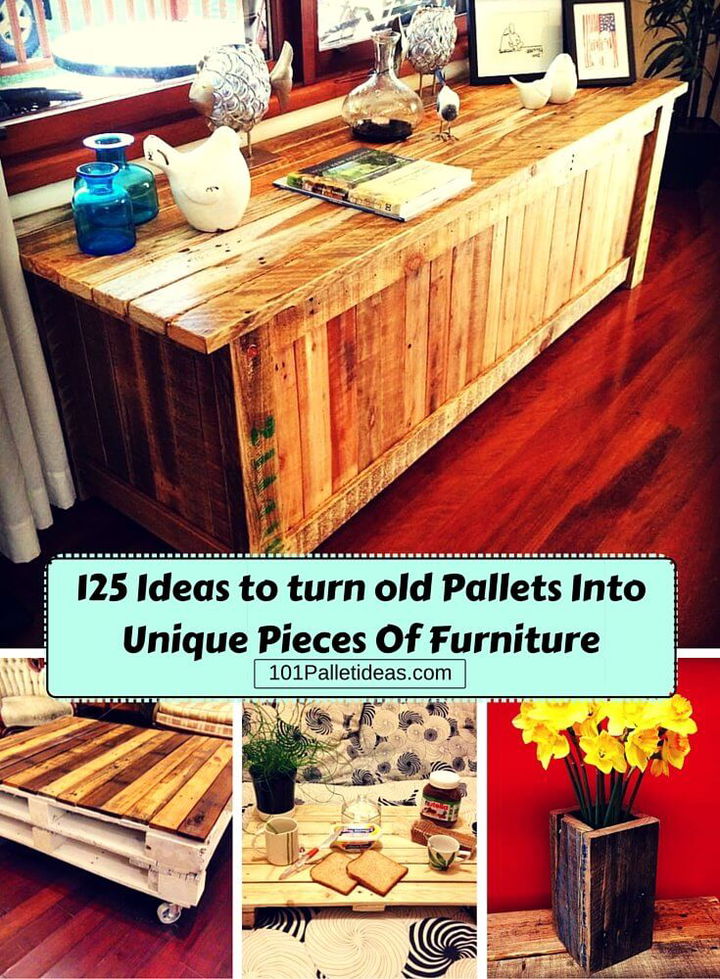 Also, install mind-boggling shelving schemes with pallets and get low-cost mannered ways to organize store, and display your items of interest! Browse the showcased collection here and let yourself be more creative to recycle the pallets!
Pallet Trolley with Front on Wheels: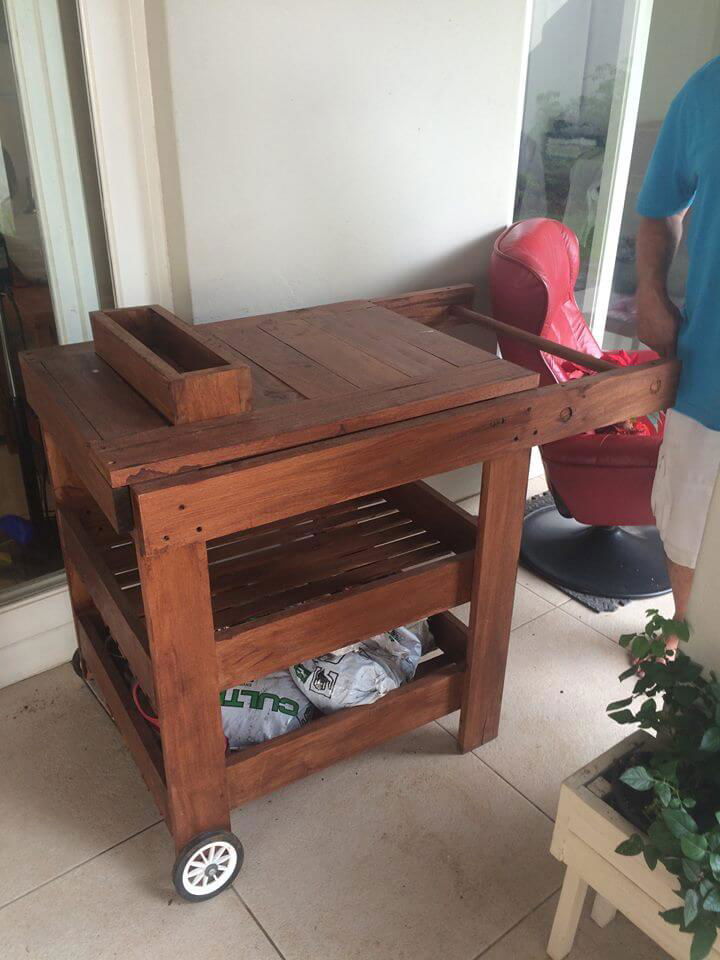 Do you have some clever furniture ideas in mind? Yield them practically using pallets, built this rare design of wooden trolley using pallets having a front on wheels while the back comes with stable legs and a handle! Built-in shelves would come in handy to store the bundle of your items that are to transfer!
Art Style Pallet TV Stand: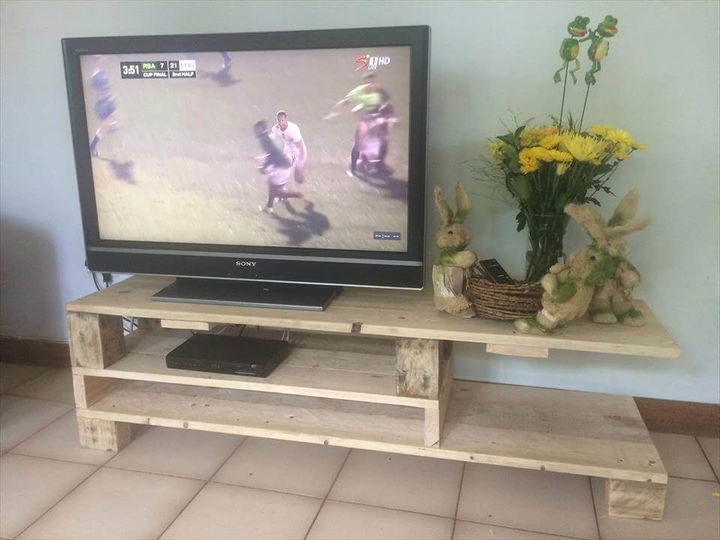 Pack some modified shapes of pallet boards and gain this unique TV stand having amazing compact spacing to store your media and items of interest! This is what you can do through the simple stacking of pallets!
Pallet Sideboard/Window Side Table: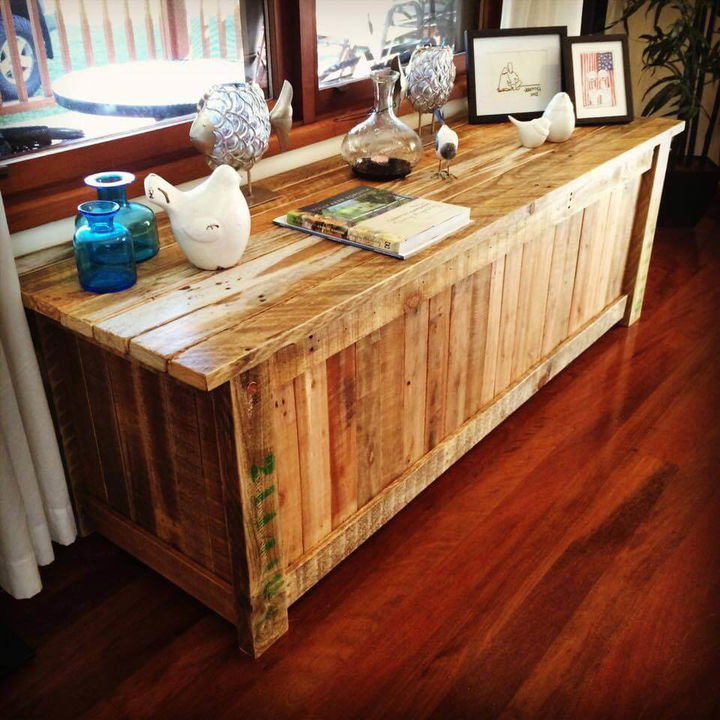 Accomplish all your furniture desires out of pallets and build what you need in custom size like this sturdy window-side table! Pulled apart straight pallet boards are again responsible for this adorable sturdy wooden table!
Pallet Breakfast Tray: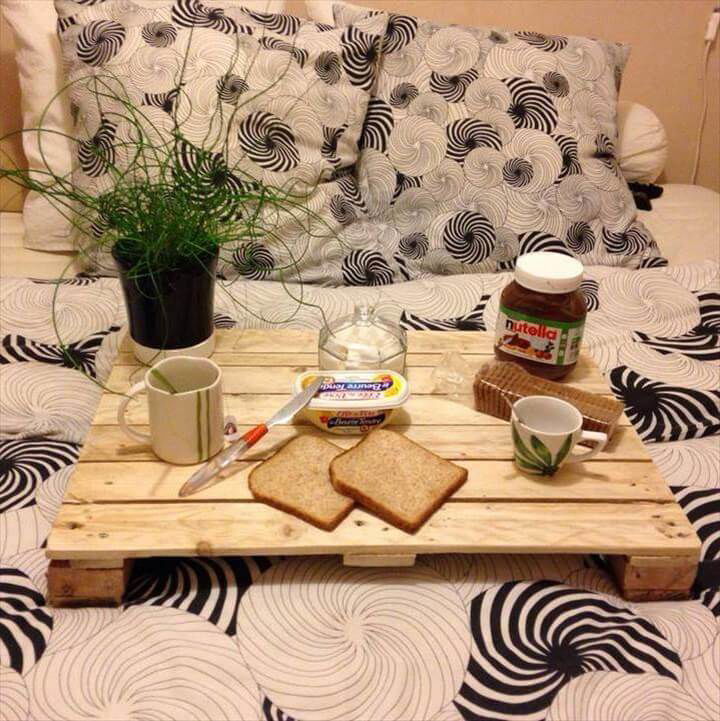 There are ready-made sturdy wooden trays in pallet boards, and all you need to do is extract them by doing little modifications! This is a whole pallet board adapted as a breakfast tray!
Wooden Decorative Vase Made of Pallets:
4786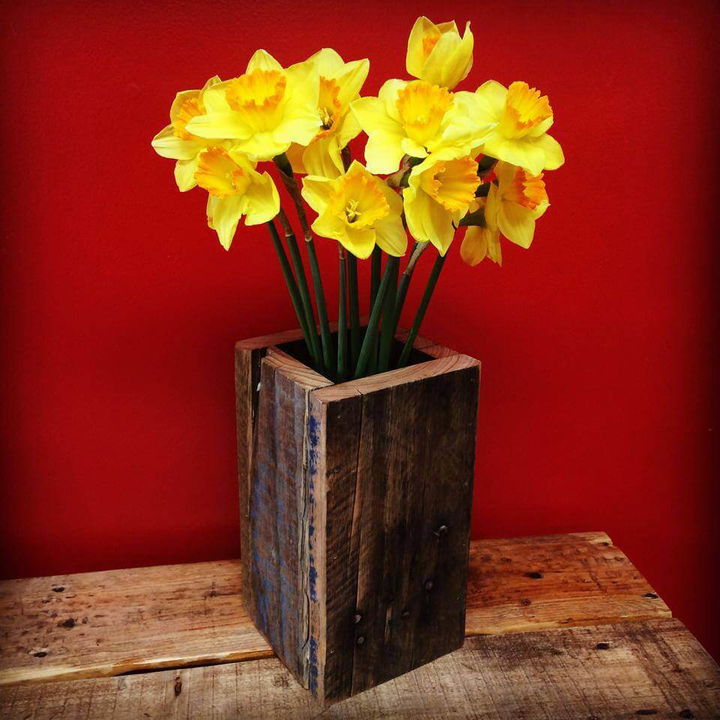 Create mini to big wooden boxes by integrating the pallet plans and let them serve you as amazing vases, planters, and also as table organizers! Check out this faux flower centerpiece made of pallets and would be adorable to plan for table decors!
Pallet Coffee Table with Metal Wheels: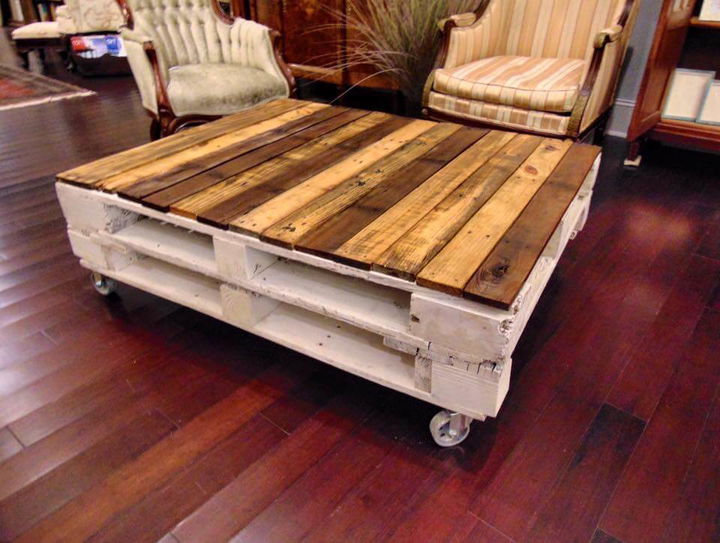 Don't need to modify pallets. Use their original shapes to build some highly sturdy and functional kinds of furniture like this precious coffee table with a milky white base but with a rustic wooden brown top!
Pallet Occasional Dining Set: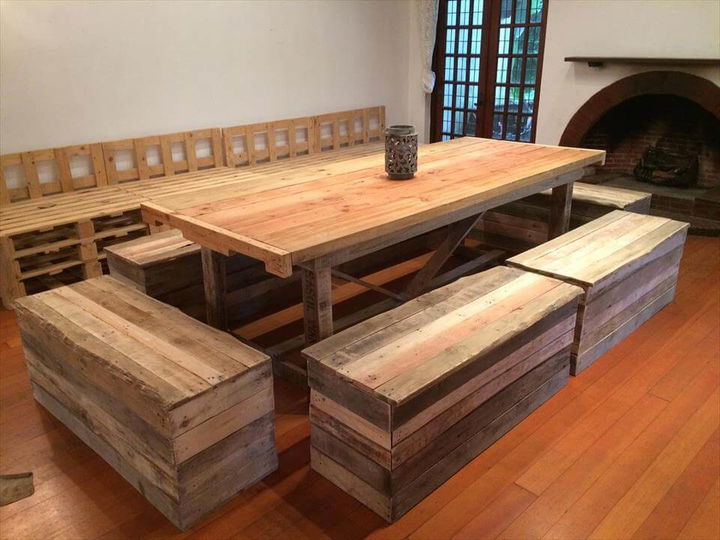 All you need is to have an extra creative mind. The creative pallet-recycling plans would be there for you. As per the demand of the dining room, this glam dining set has been designed using nothing but flat wooden pallet planks! This dining set is capable of providing a dining space to almost 10-12 people and hence would also be awesome for occasional use!
Pallet Pet Feeders: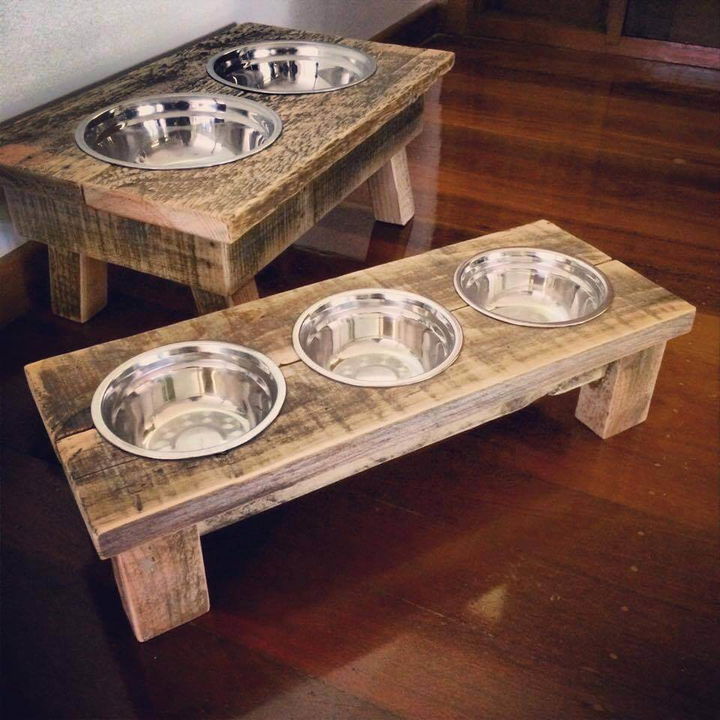 Handle your pet-keeping issues with pallets, build a dog house, pet playing setups, pet beds, and also brilliant feeding stands and systems like these wooden pallet dog bowls!
Nightstand Made of Pallets:

A nightstand is enough to make your sleep conveniently all night as it can hold all those materials that can support you during the night session. Approach brilliant wooden nightstands now through pallet wood medium!
Cool Pallet Side Table: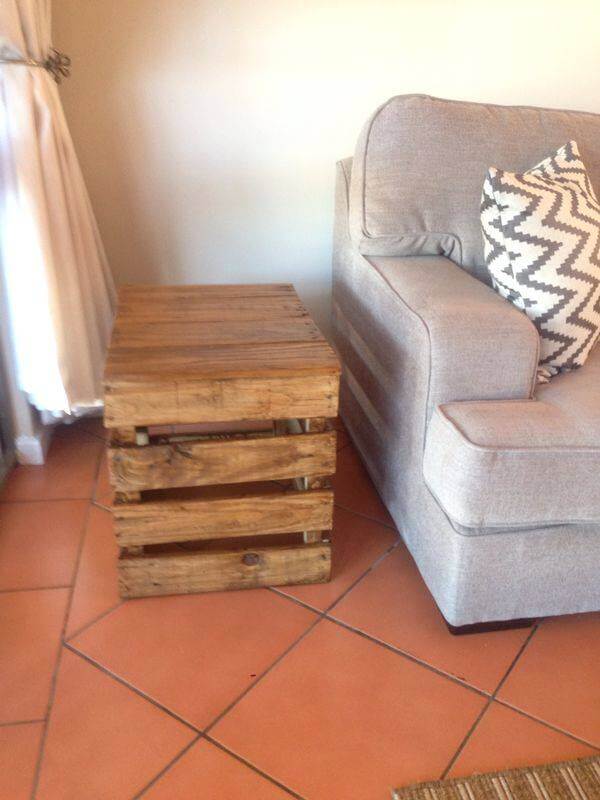 The most amazing free source of wood around you is the pallets. Avail them for free furniture building like this sturdy wooden side table design, built like a thick cube using individual pallet lengths!
From the internet to social media, there is a big noise to listen to pallet-made products! Is the pallet wood is a wonderful wood for a stylish and feasible construction of furniture? We are here with another great episode of pallet wood recycling tips and have also brought some practical inspiration about each unique and innovative type of recycling of pallets!
Make all your furniture dreams come true with pallets! Build custom sturdy pallet bed frame designs which are most expensive to purchase from a furniture market, here you can get all king-size, toddler, or queen sizes for free! Give a functional boost and visual boost to your interior walls, install art style living room display shelves, study room bookshelves, kitchen utensil shelves, a storage rack out of pallets, get inspired by given inspirations! Also, build stunning types of tables from coffee table to decorative consoles to study or computer tables with pallets! The practical layouts of about these ideas have been provided, which speak volumes about feasible pallet furniture constructions!
Complete Bed Made of Pallets: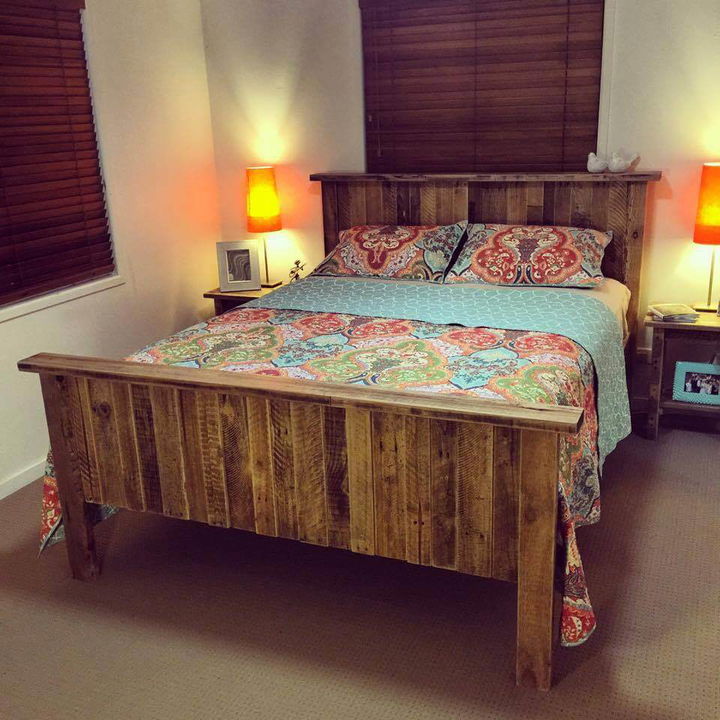 You can even install adorable wooden bed frames using pallets. A complete demonstration is given here of fab pallet architecture in the shape of this low-cost rustic wooden bed frame! Pallets are here to rock your bedroom!
DIY Art Style Pallet Bookshelf: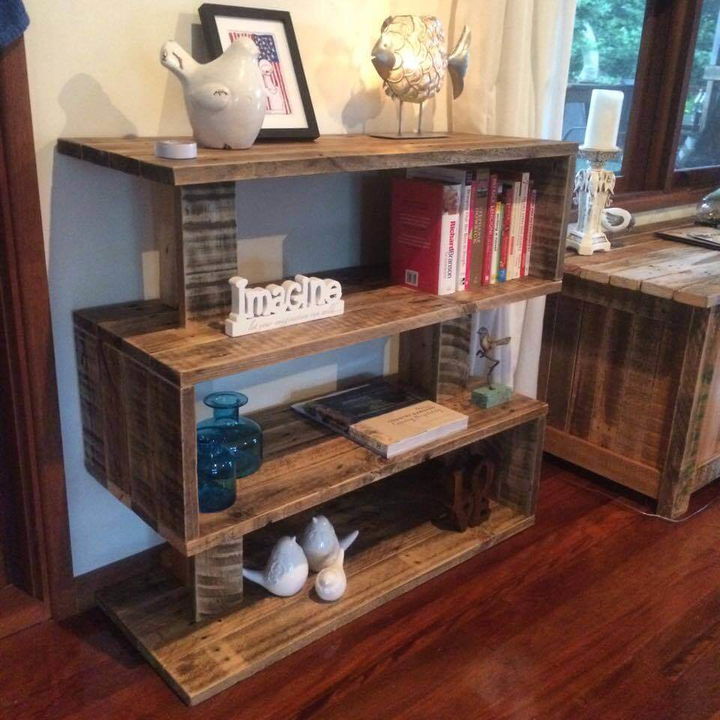 Interior shelving units, display units, and storage units are a confirmed need of every dwelling to look uncluttered, stylish, and functional as well! All types of these units can brilliantly be made using pallets! This art-style pallet bookshelf is what you always need to style up your living spaces and take good care of your books!
Low-Cost Sturdy Pallet Bar: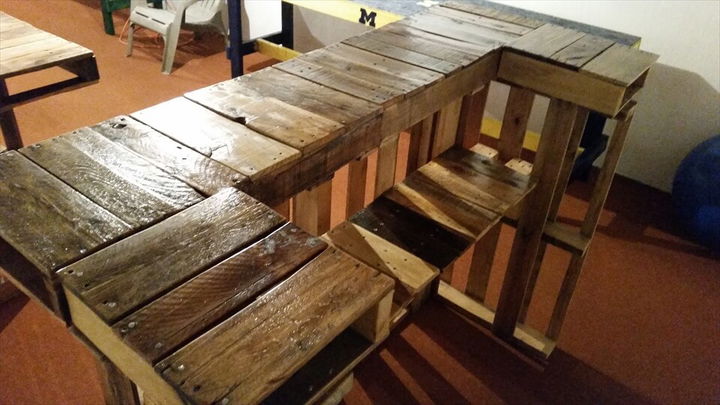 This is here a beautiful bar, having a whole design made of trimmed down and modified sizes of pallets! It gets an extra functional behavior from a built-in shelf level that will help organize the beverage bottles and glasses!
Shabby Chic White Mini Pallet Coffee Table: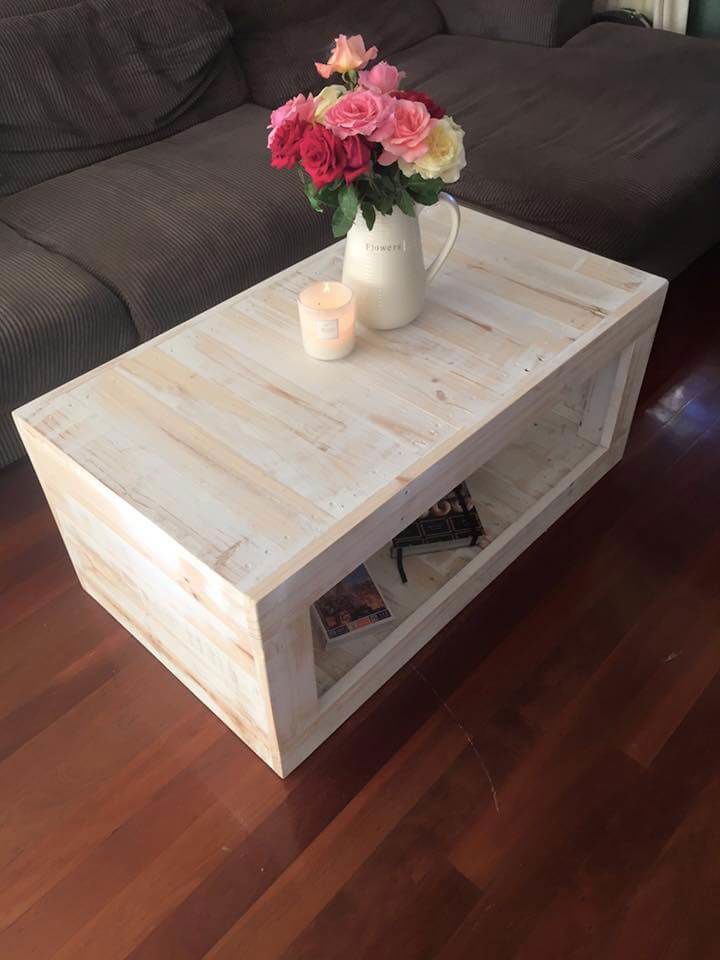 Precious small piece of coffee table inspired by a crate shape gives ample storage space underneath and has been distressed with white paint for a shabby chic look! It would be amazing for interiors inspired by beach decors!
Pallet Bar Chairs: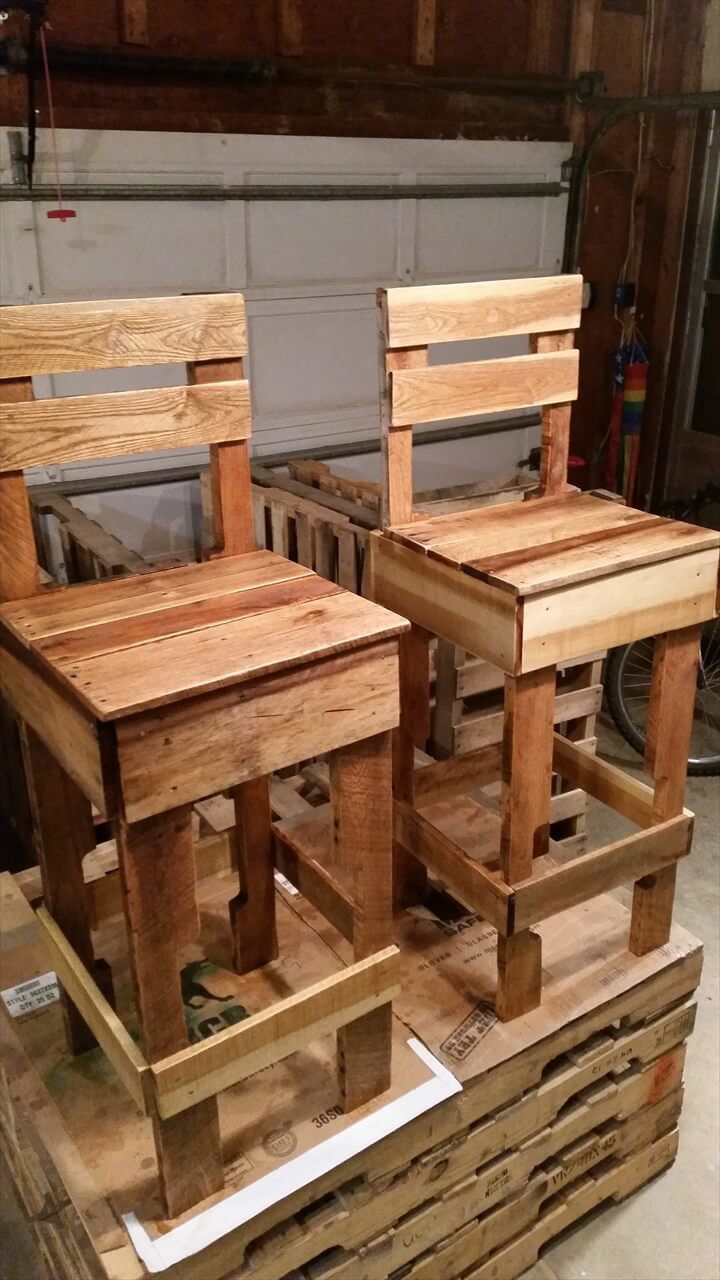 These are what we call the perfect chair to enjoy drinks in the bar! The raised berths allow a convenient type of sitting with your elbows on the bar counter! Have installed backrest to make you feel secure from the back!
Pallet Photo Collages Wall Organizers:

Pallet picture collage organizer, if you love art paintings and mural frames, then these wall hanging pallet display units would make a better choice to organize your decors, antique art pieces, and picture frames!
Multi-Functional Pallet Shelf: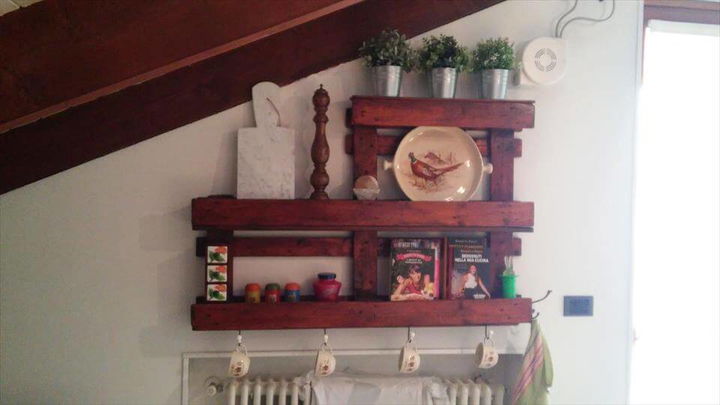 This art style display shelf has been achieved through the creative intermingling of trimmed down pallet sizes! From kitchen to living room walls, it can display the respective items of decors very well!
Pallet Coffee Mug Rack: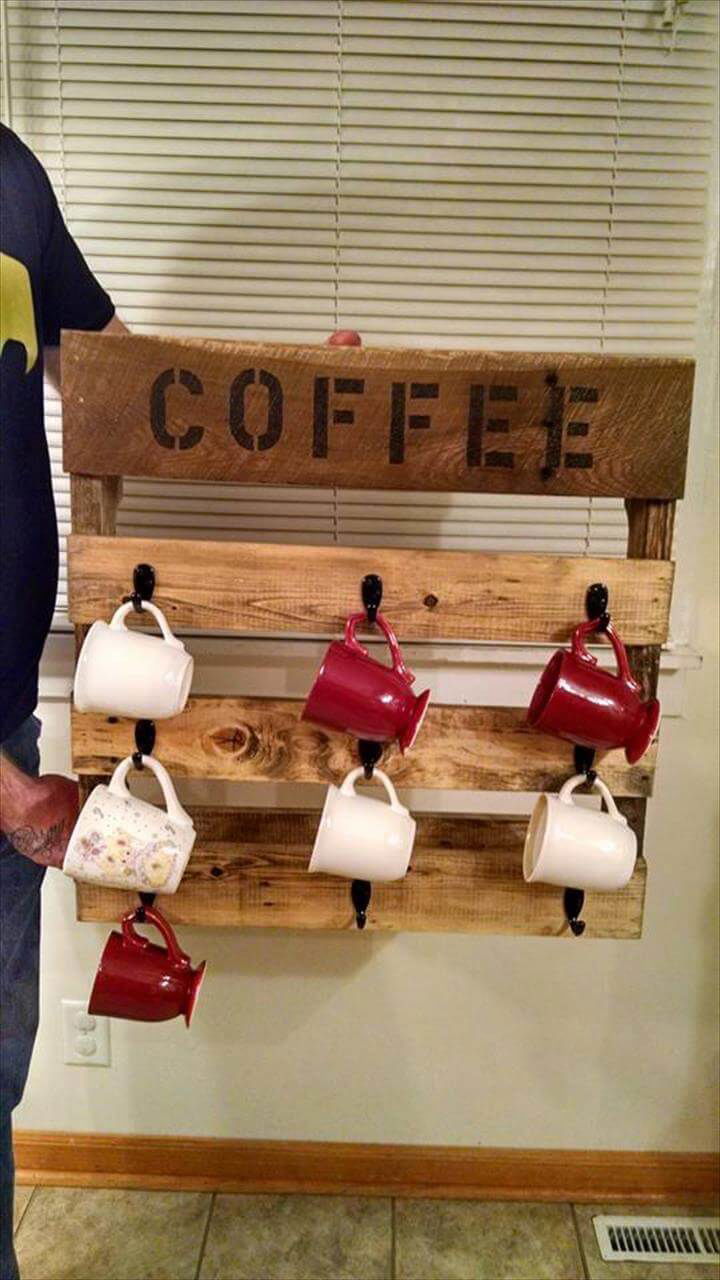 Remove the chocks from a mini pallet board and repurpose the resting frame to install a beautiful coffee mug rack. All you need is to fix the lasting metal hooks on that wooden frame! Here is a practical inspiration that has also been personalized with custom overwritten letters!
Pallet Study/Computer Desk: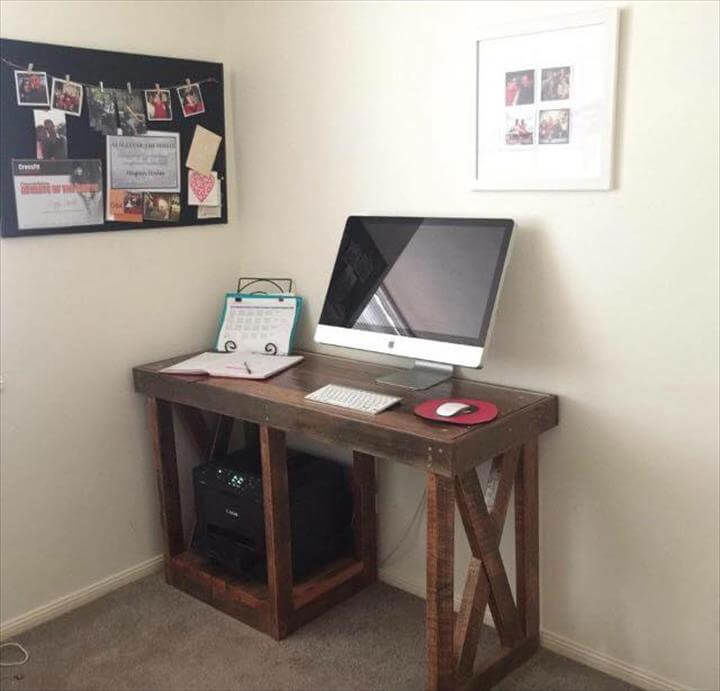 To do your assignments and some remaining office tasks, it demands a separate home office or a little workspace. This pallet-made desk can do this for you for free! Restructure some modified pallet boards into dimensions of this desk and add it to your study room or home office!
Pallet Dear Head Wall Art: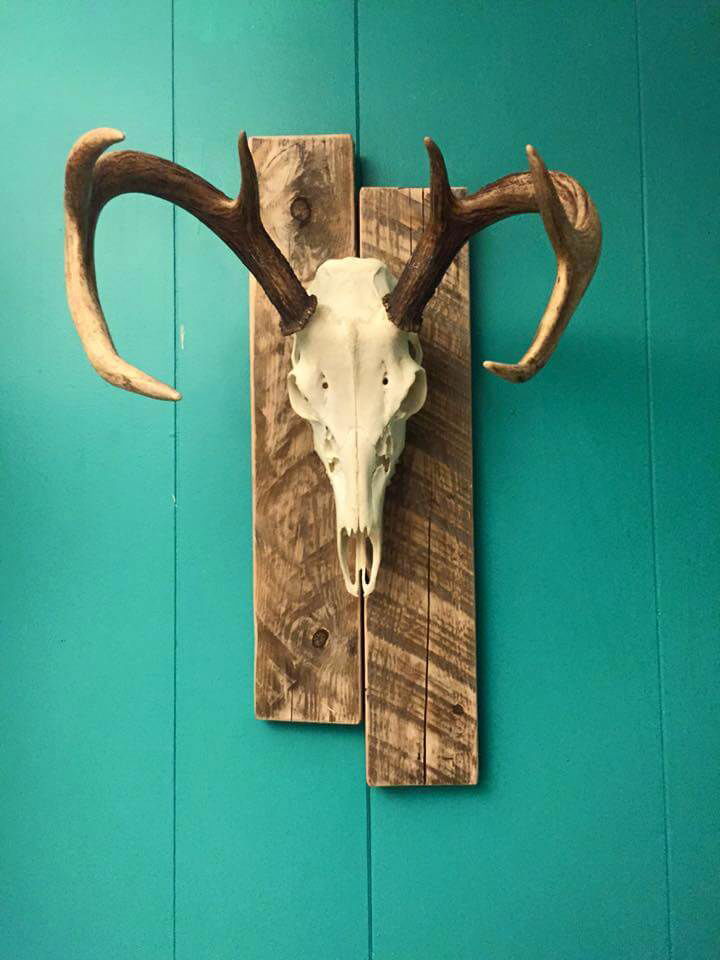 Here a sterling and cool pallet inspiration for those who are passionate about interior wall art! Let the pallet build for you awesome wall hanging frames to display different types of decors, even this deer head decor!
There are different types of tables we use for each home and other special locations of the home. There are bundles of creative pallet suggestions to get them all for free! Build decorative console tables out of pallets for a dignified foyer position and also for hallway accent and decors! Let the pallet improve your kitchen, build functional hutches to kitchen islands and also from kitchen utensil racks to kitchen crochet cabinets with pallets, watch the given previews to get a more intense concept about constructions! Modern concepts of pallet wood recycling encircle almost everything you may use at home for routine functional tasks! Build amazing boxes and chests to neatly store the stuff and items you like and care about! Repurpose the pallet to build awesome wall dividers and bigger sliding gates or doors and also get awesome plans of a pallet to provide a separate house and sleeping beds to your pets! You can even build the awesome pet feeder with pallets to give your pet-keeping hobby a big helping hand!
Pallet Hallway Console: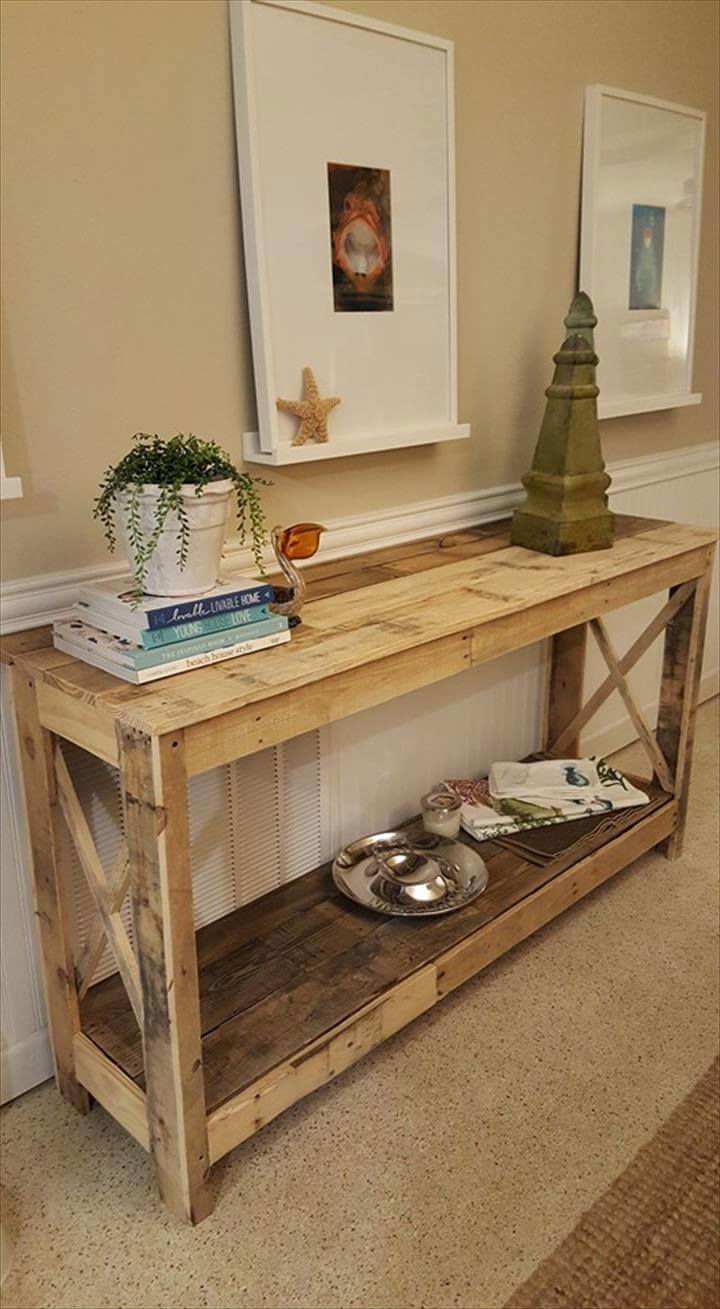 Need something free and special for decorative statements of hallway or entryway? This pallet console would make an awesome choice! Having a built-in pallet shelf and a flat top to organize a variety of your items with the amazing display!
DIY Pallet Pet Feeder:

Pallet wood offers a big help to handle your pet-care issues! This brilliant pallet pet feeder would help your dog and cats to eat conveniently and in a neat way! This precious stand has been made of discarded pallet boards!
Elegant Stained Pallet Console: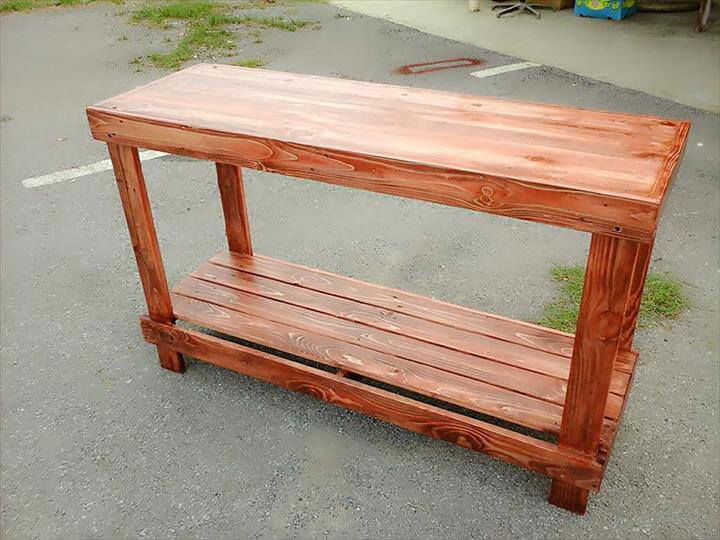 Check out one more creative conversion of pallets; pallets have been repacked in newer dimensions after a complete deconstruction to yield this sophisticated wooden model of a console table, which will also rock as a foyer table!
Pallet Kitchen Island: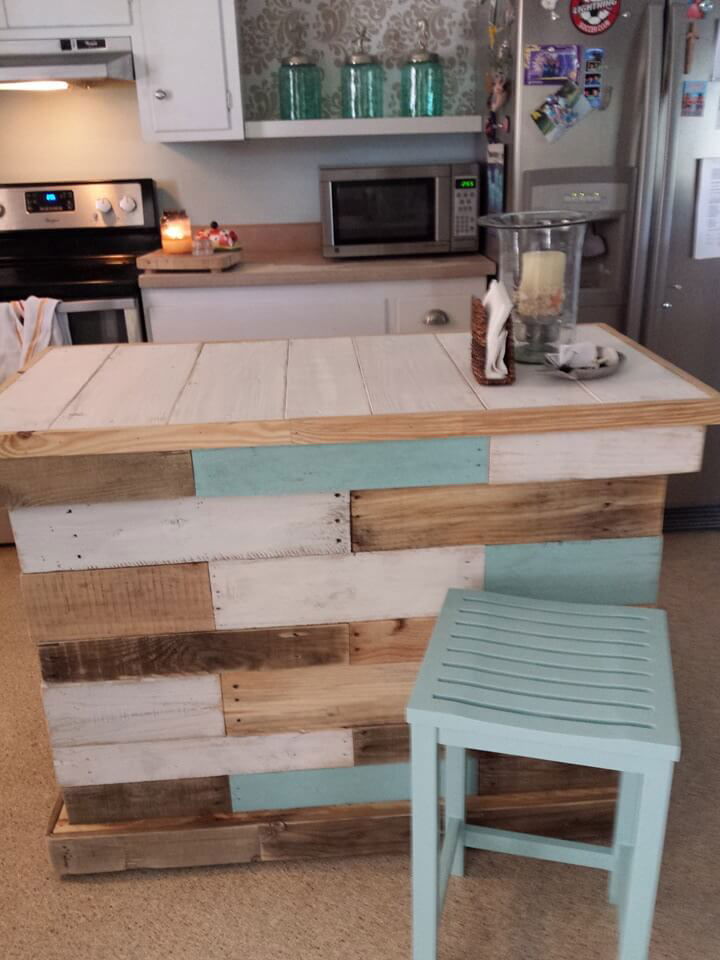 Solid kitchen island, an insanely clever remake of pallets to help you in food-cooking! For a charming visual, the wood has been packed gracefully on modern lines, and this results in amazing patterns on side-walls! Using white and aqua paint, the patterned sides have been brought to distinction!
Mini Pallet Jewelry Box: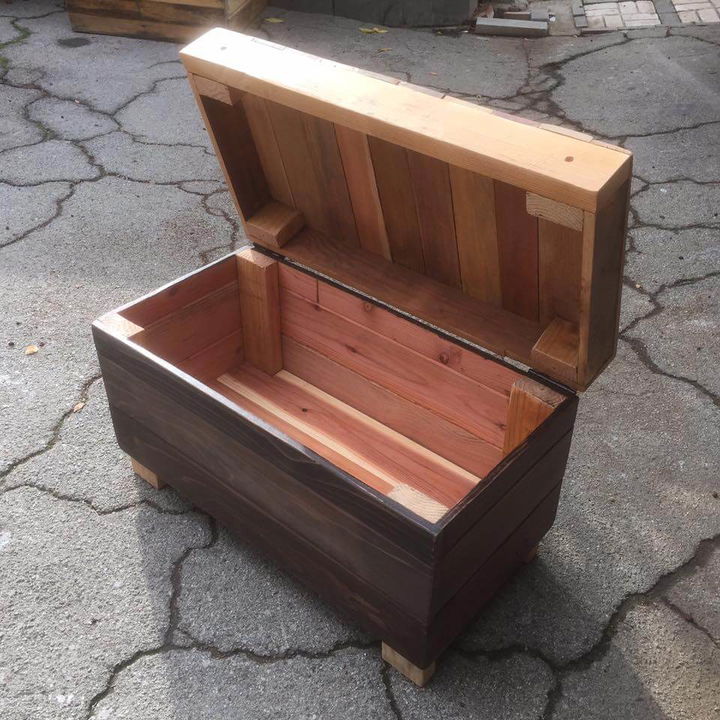 Secure your items of jewelry you cherish a lot in this pallet-made box! Entire construction work has been done by flat packing of trimmed down straight pallet boards! It can also be used as a pallet chest!
Pallet Kitchen Utensil Cabinet: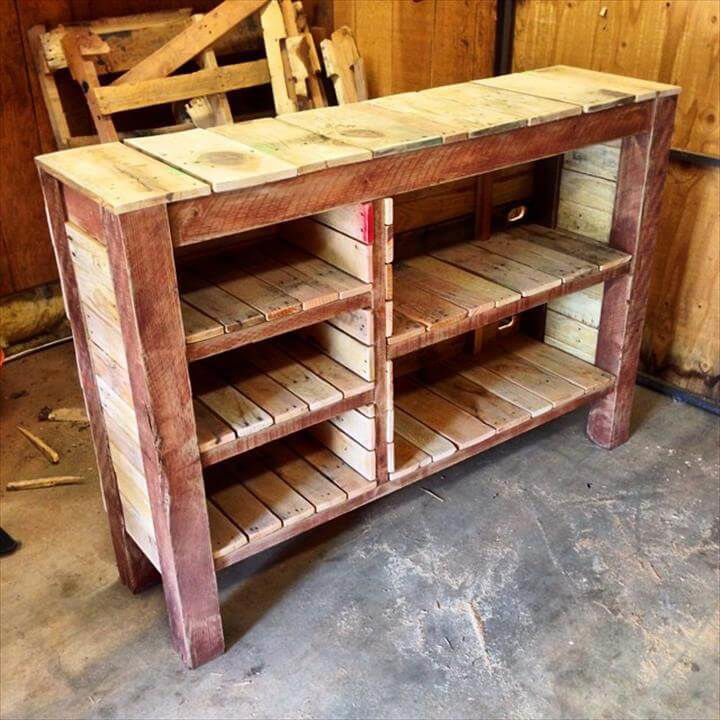 Solve your interior storage space issues with the recycling of pallets. Pallets are becoming a favorite to install ingenious racks and storage units like a chest of drawers, utensil cabinets, and cupboard! This one will make a functional kitchen utensil cabinet if you secure the storage compartments of t with chicken wire doors!
Awesome Pallet Kitchen Hutch: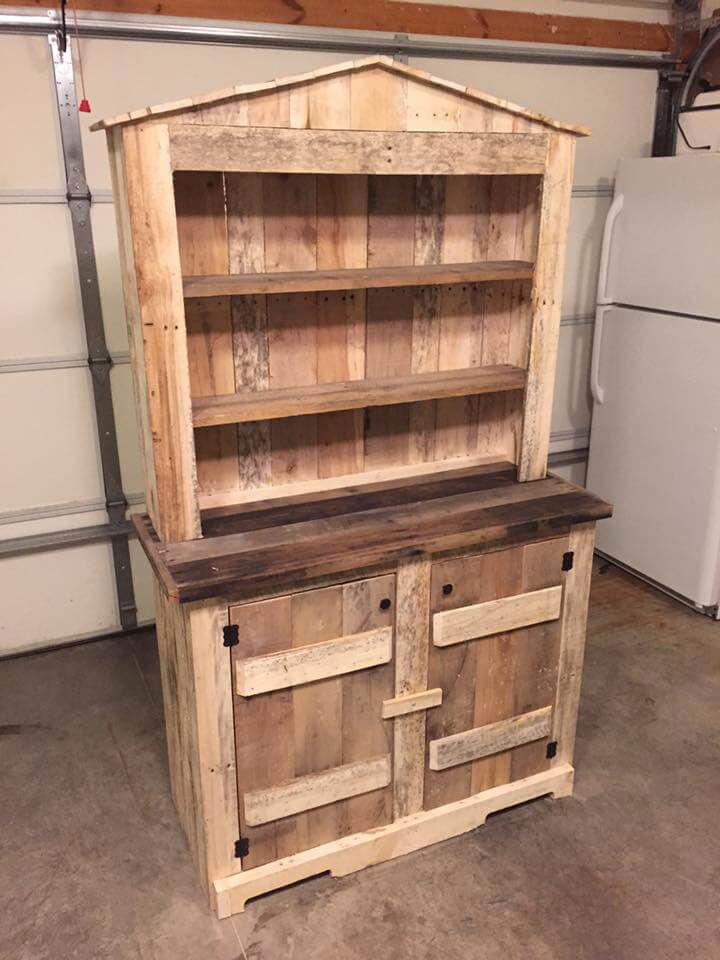 Put together the pallet-made cabinets and shelving units and build awesome hutches in your kitchen. This inspiration is all about how you can further creative furniture articles out of already made pallet furniture items!
Pallet Dog/Cat Bed: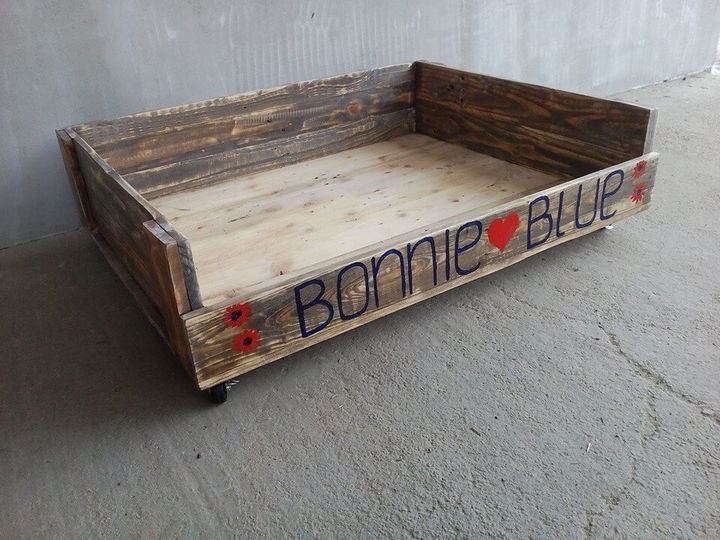 Build a simple tray or create like shapes or that of small or big boxes to use them in multiple different ways! This given wooden tray is a dog bed built at the zero-cost price!
Rustic Pallet Platform Bed with Headboard: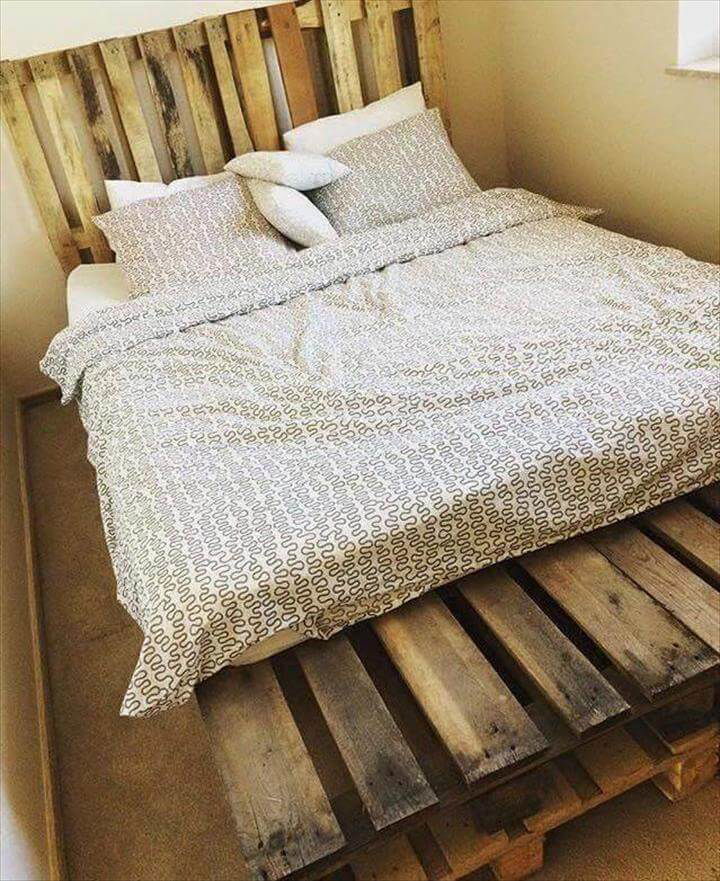 The easy accumulation of pallets can result in amazing beds! This functional platform bed with rustic statements has been all done through easy stacking of pallets! It comes with a foam cushion for a soft, cozy feel of comfort!
White Pallet Sliding Gate/Room Divider:

Pallet boards installed to build awesome bigger wooden walls that can be used as rolling gates and office or room divider! Here is a precious example of it, finished with white paint for a charming milky visual!
We will elaborate here some more concepts of pallet wood recycling, which are all about interior and exterior improvements of your home! The first thing you can do through easy stacking of pallets is to build custom sitting sofa sets for your patio to front porch and also from garden to cozier living rooms! This is the easiest project you can do with pallets!
Pallet wood can help you to gain functional statements of interior or exterior wall; you can build awesome wall hooks, entryway organizers, and those of wall art frames! Build custom storage units out of pallets is something that has amazing innovative concepts, and we have brought some custom model of storage units here to make it all clear to you! You can combine pallets with other useless types of wood or metal to gain more stable models of furniture. A pallet spool chair and coffee table with metal pipe legs are beautiful examples here!
Pallet Corner Sofa Set: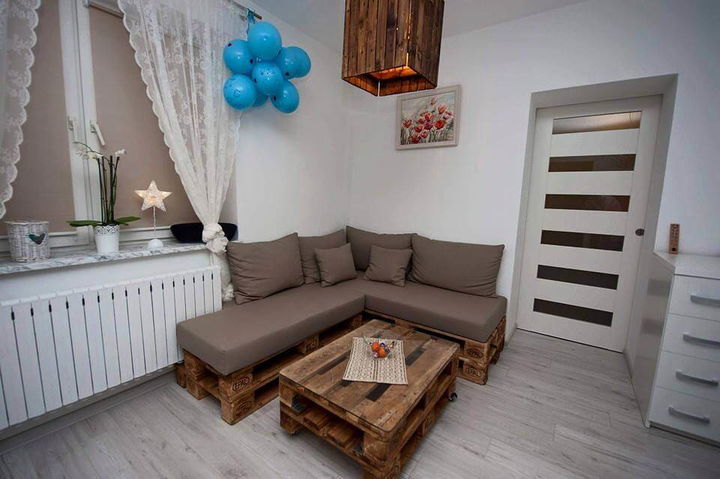 Get comfy seats out of some well-organized piles of pallets. This pallet sectional sofa is made of stacked pallets trimmed down to specific sizes! 2 Pallet boards have been accumulated to yield a rustic yet modern pallet coffee table!
Pallet Hanging Planter Stand: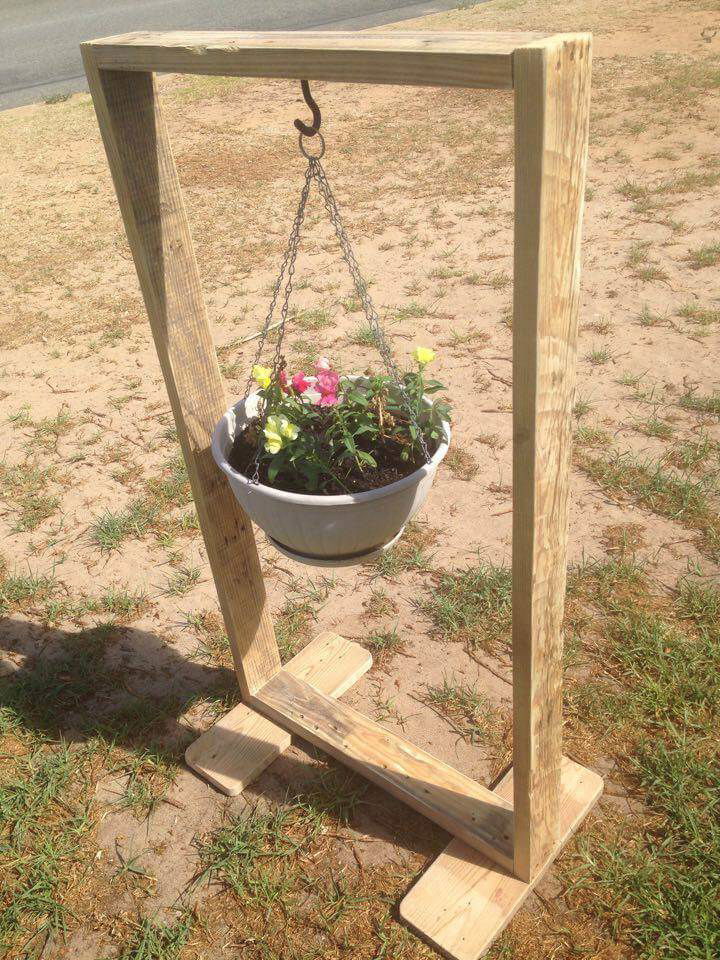 Here is a beautiful planter accent to put in your garden space! Double up the fun and decors of your garden by placing this centerpiece there! Having a swing like the pallet-made frame in which a planter basket is hanging through a fixed hook!
Pallet Bookshelves/Organizers: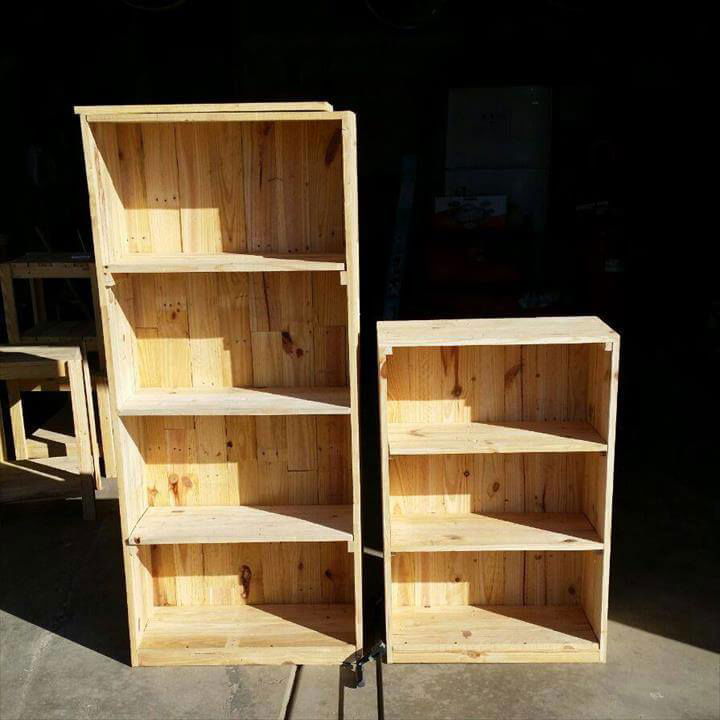 Rebuild the pallets into custom display or storage units! Here are two pallet-made storage towers that can either be given a wall mount or can serve as individual standing units or bookshelves!
Pallet + Spool Wheel Chair: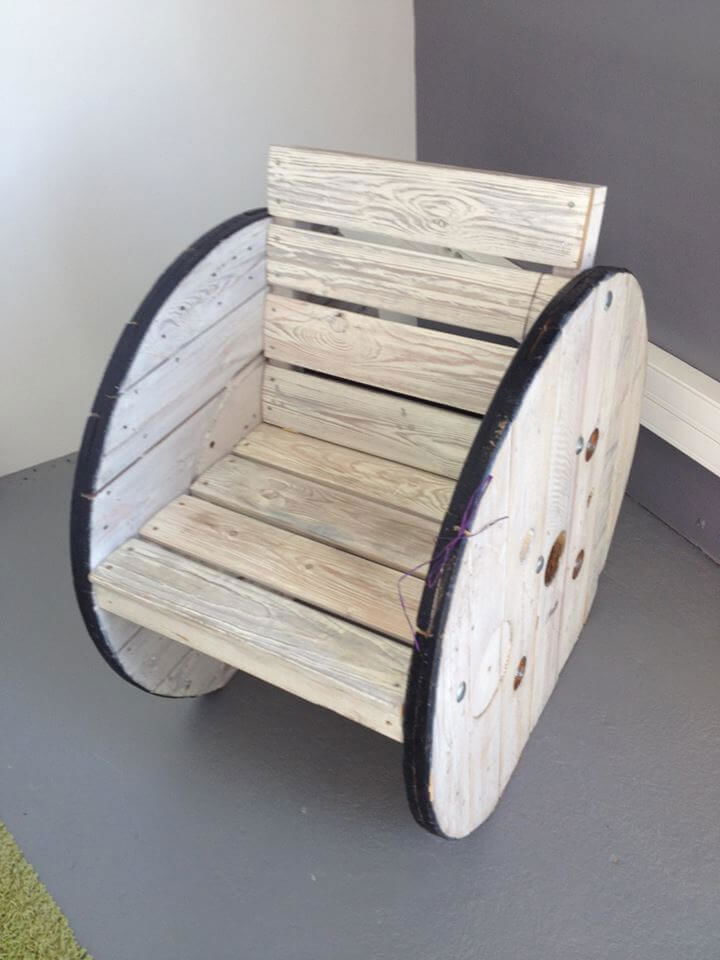 One can also treat the pallets with various other materials to get extra sturdy and functional crafts! Here two retired types of wooden pallets and cable spools have been combined to get a stunning model of the chair! Distressed white appearance has been created using a whitewash!
Pallet Storage Tower: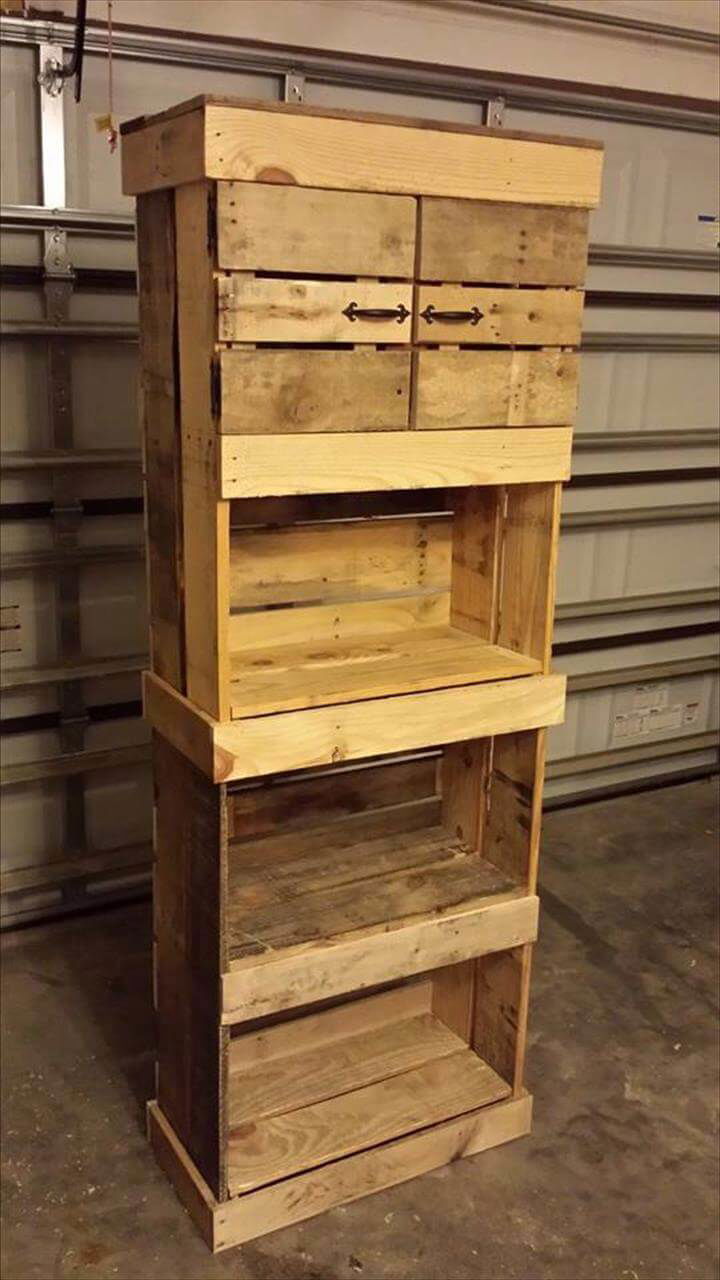 This is a custom storage tower built from ingenious integration of pallet slats! Having this three storage compartments while 4th one is secured with additional wooden doors. Perfect to use for any type of storage!
Pallet Table with Metal Pipe Legs: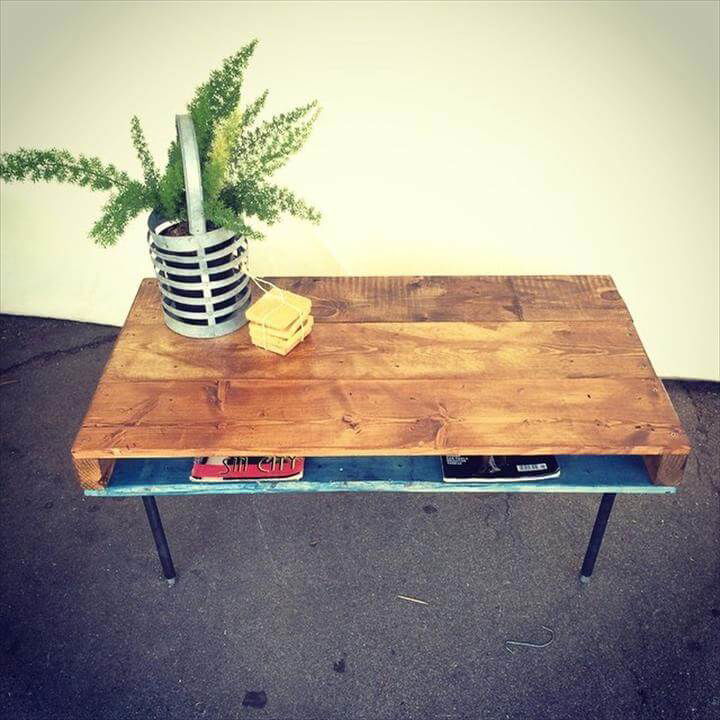 Finish custom selected pallet boards with custom legs like metallic or wood-made ones to get practical tables for home! Here a pallet board has been finished with custom metal pipe legs to yield a table and also provides inside storage space!
Wooden Pallet Bench: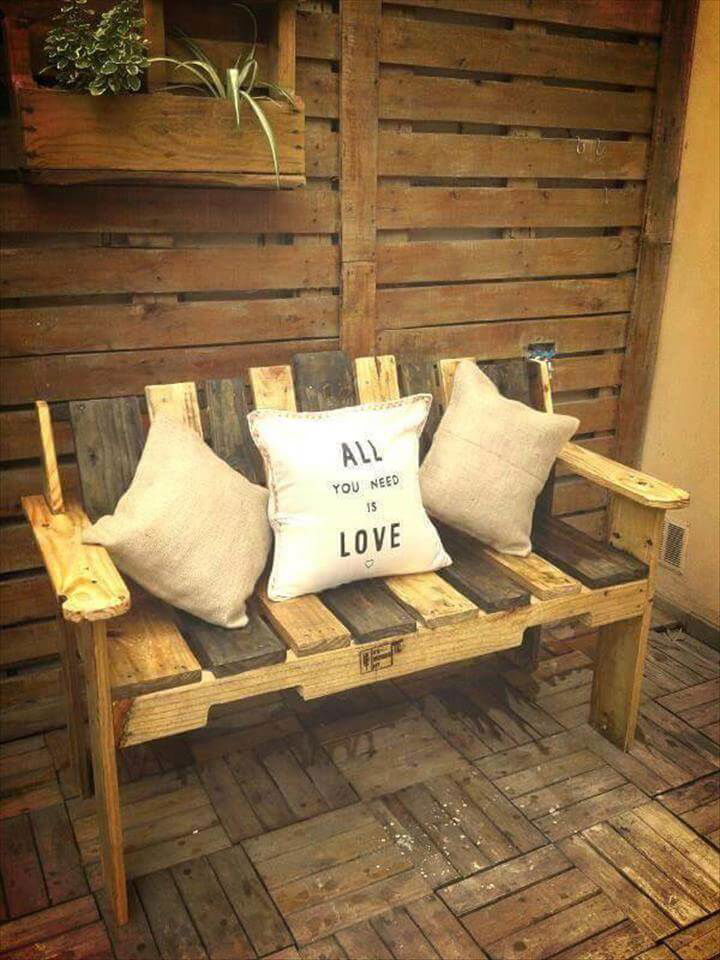 Pallet wood is also providing awesome plans to build custom seats and benches! This precious wooden bench is what you always wish to place in your garden at the patio or front porch area!
No-Cost Pallet Bed: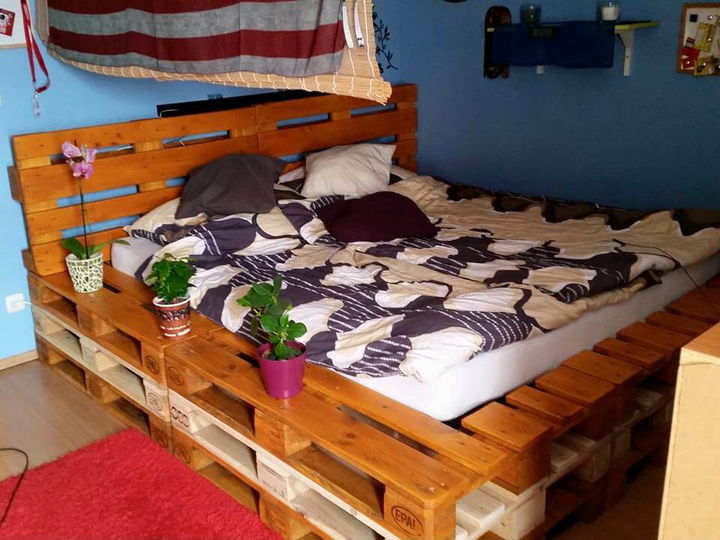 Pile up the pallets in an organized way and get sizzling bed frames for your newly built bedroom and to enjoy your dreaming nights! Here EPAL pallet boards have been stacked to give three layers of a kind size bed. Some of the modified boards have been positioned vertically to install precious wooden headboards!
Pallet Porch Sofa Set: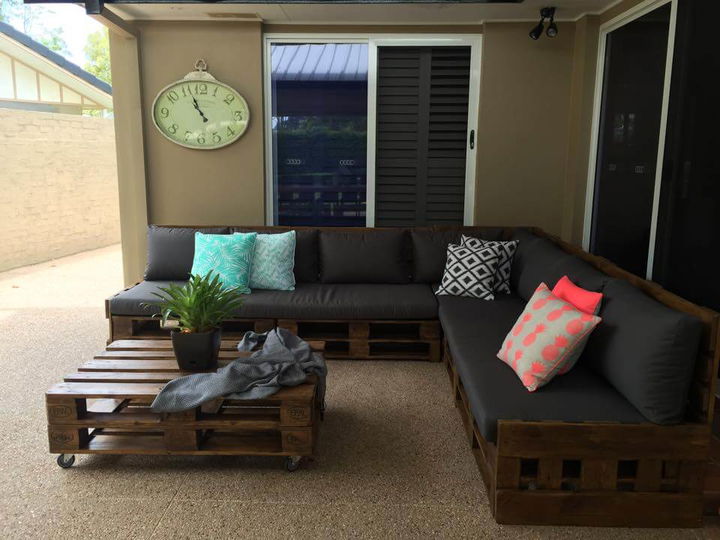 Get a brilliant stylish wooden sofa out of the easy gathering of pallets. Here a brilliant sectional sofa set has been installed to gain a sophisticated and sitting friendly front porch area! Foam cushions and pillows have been placed over for a soft and cozy feel of sitting comfort!
Pallet Coat Rack with Chalkboard: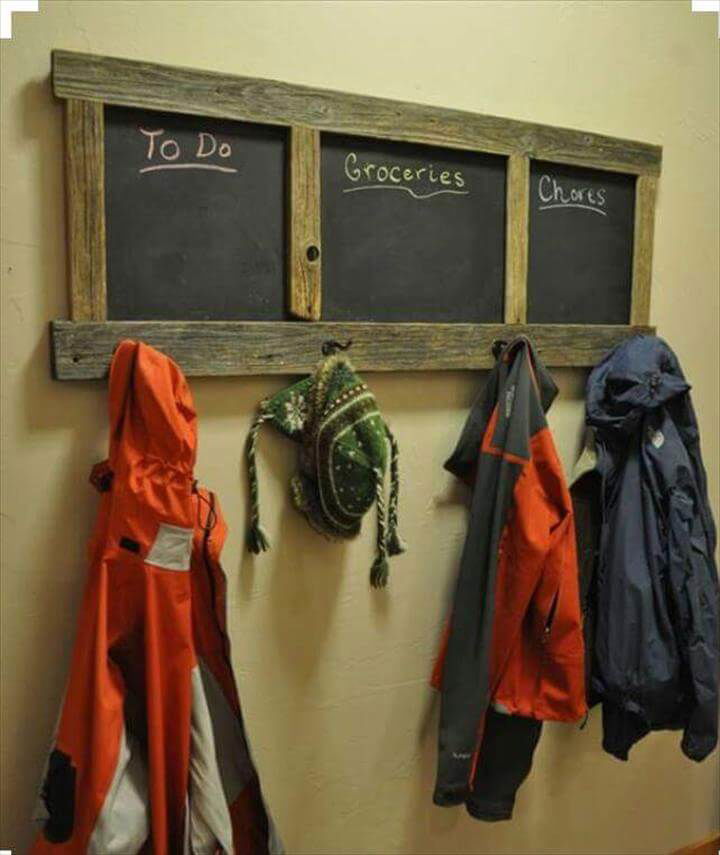 Here are amazing wall hooks with an inside fitted chalkboard! The wooden frame has been constructed using pulled apart pieces of pallets while hardware hooks have been mounted on lower assorted wooden lengths! You can easily write the names of items you are to organize on this rack!
A home may only get functional if you have loaded some highly useful and practical models of furniture inside of it! If a home is functional, it also looks beautiful at the same time, so it???s time to get your home functional without making those expensive furniture purchases. This is all possible through DIY, and for furniture, building pallets are always free and doable medium! Time to get creative on your fingertips, browse the given ideas, and learn about many clever options you can decide to reclaim pallets!
Do some engineering with pallets to build awesome storage units and cabinets like the given grand corner cabinet! Allow your interior walls to get some antique expressions with a pallet made art pieces and mirrors and display the rusticity of pallets in your bedroom by making sturdy headboards out of pallets! Get several benefits of every single pallet part. The wooden cube votives are an interesting example here designed with removed pallet dices!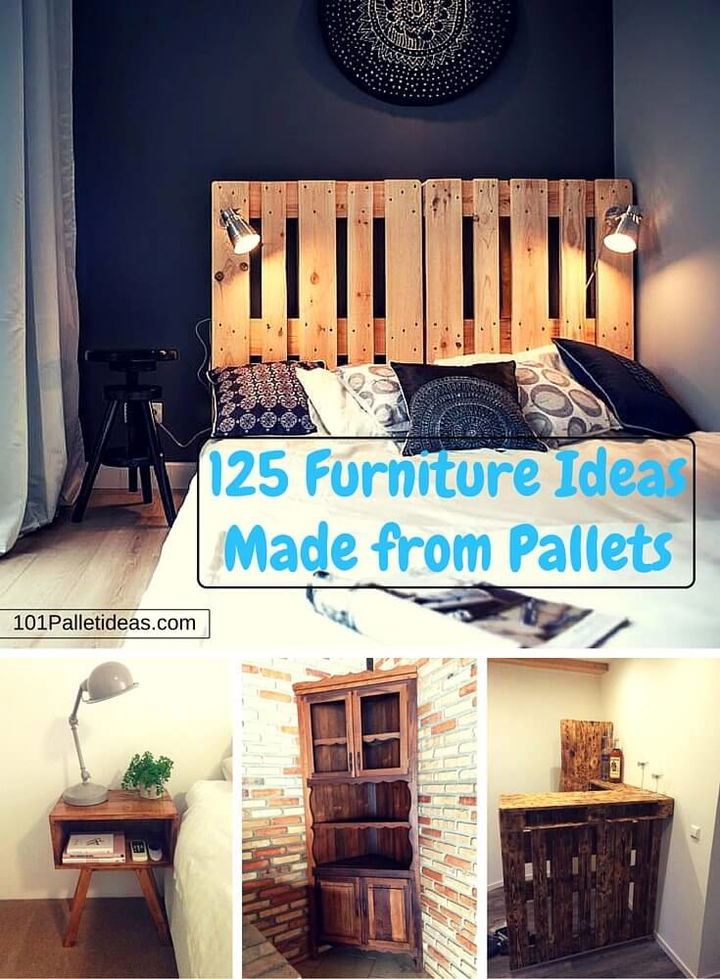 Build awesome bars, side tables, nightstands, custom coffee tables with pallets, and just personalize them by adding custom storage features, patterns, and tags. Painting, wood-burning, and staining are amazing processes to do while intending to gain a unique look at easy pallet projects!
Grand Pallet Corner Cabinet: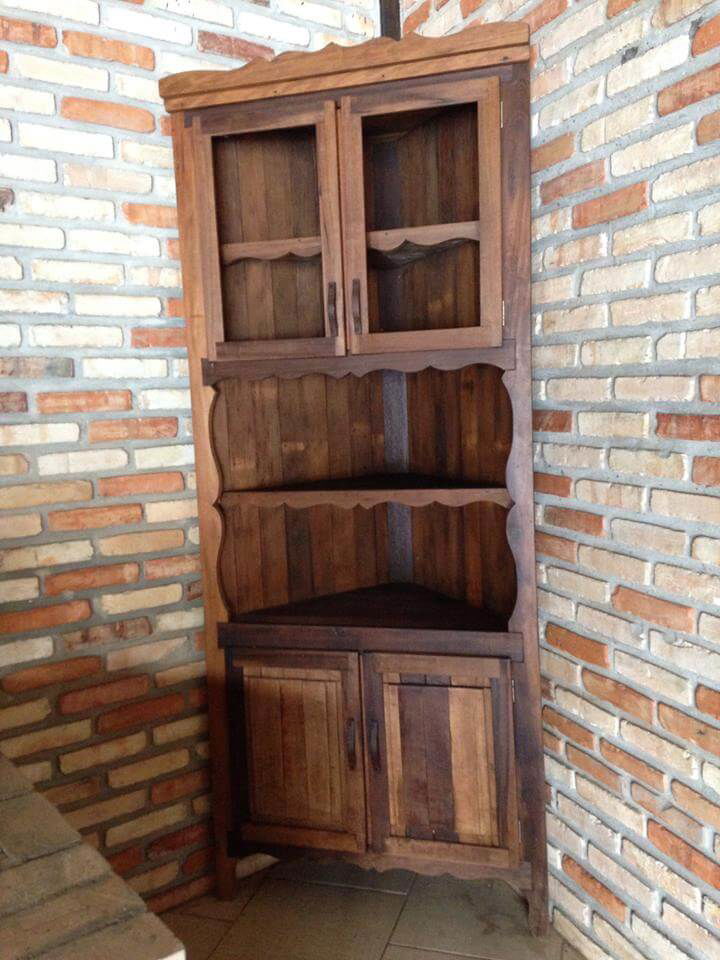 Say hello to this grand corner storage plan, a project done by creative recycling of pallets! Have a storage shelving section between two cabinet storage sections! Displayed in an artful visual and is really what you need to display and organize your decors and even the utensils!
Pallet Bathroom Wall Mirror: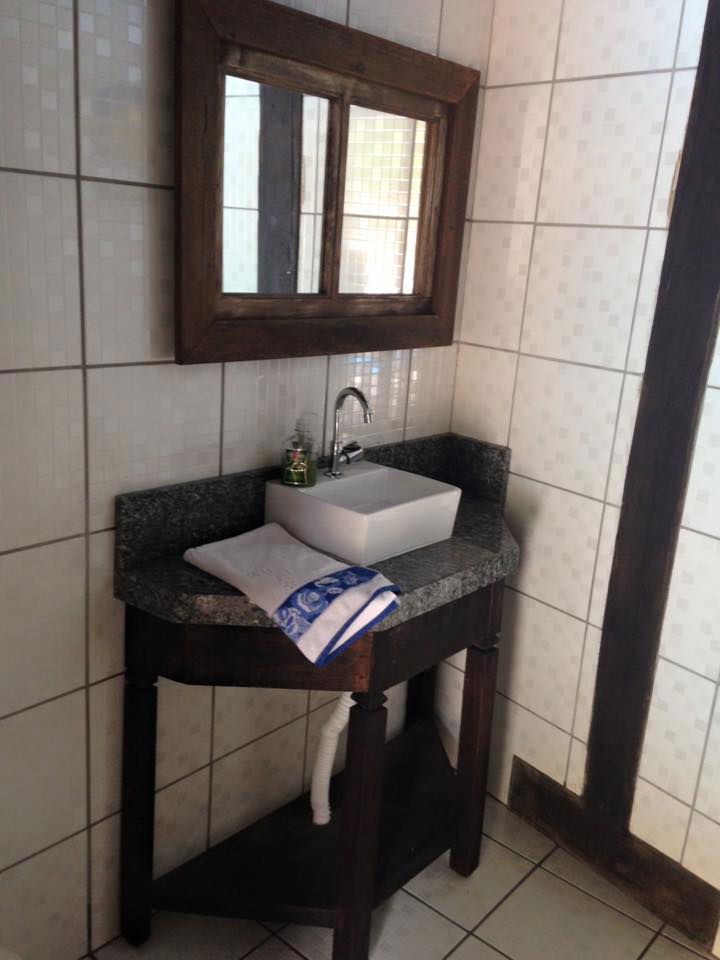 A mix of modern and rustic is what that is going through trends, each home lover who wants his home consistently be upgraded is sure to be known of this fact! Why not let the rusticity of pallet do this for you? This bathroom mirror is a good example here!
Pallet Bar with Storage Cabinet: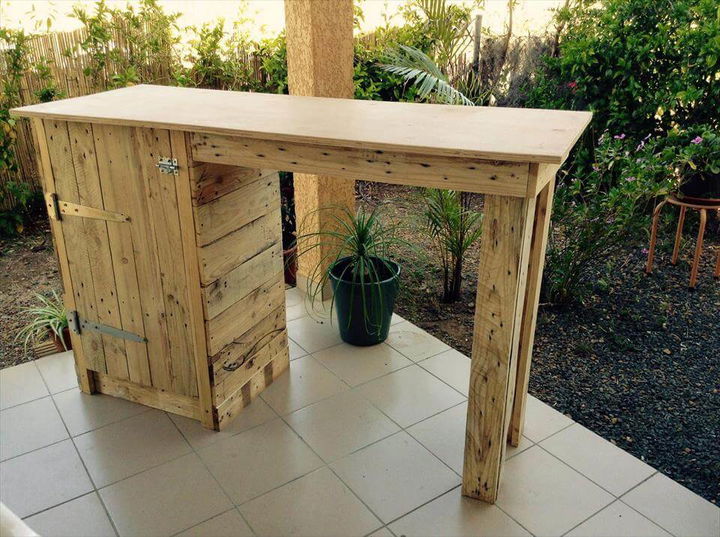 Amazed? This is a stunning bar having a storage cabinet at the very left side that also plays the role of sturdy legs! Purely handmade and is having 100% pallet composition! The flat surface and sturdy layout can everyone a big fan of this bar!
Stenciled Pallet Coffee Table:
5188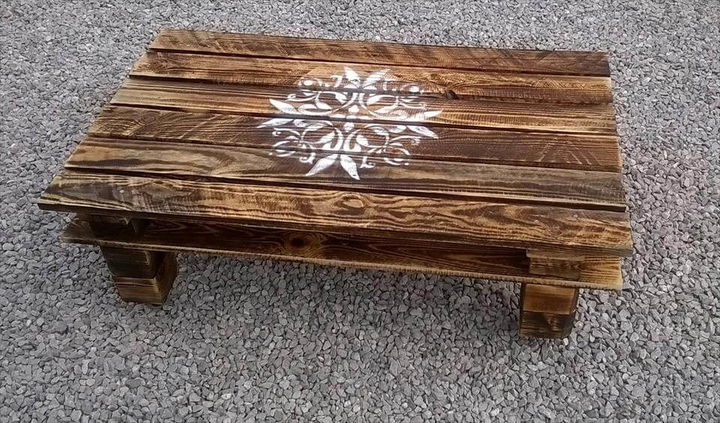 This is what you can please yours and can even provide a decorative touch to all of your sitting plans, a fantastic stenciled pallet coffee table design made of a single pallet board!
Pallet Headboard with Sharp Focus Reading Lights:
5189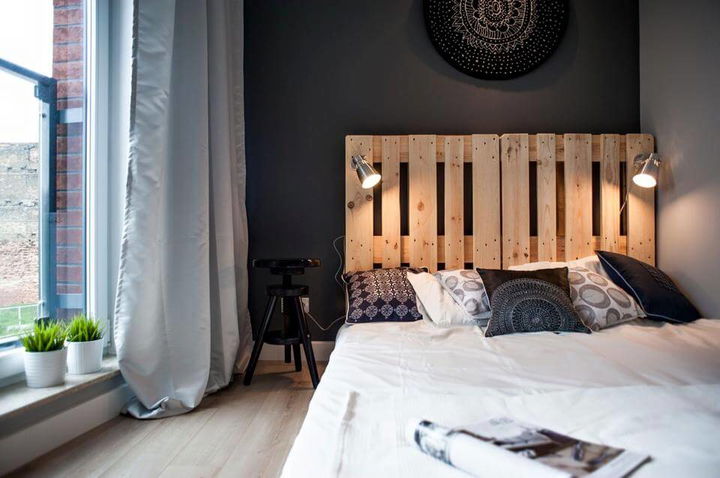 Build a little vertical wooden wall using trimmed down and modified shipping skids and just manage it to serve as a precious wooden headboard to add a fanciful background to your bed! Sharp focus light ave has been fixed to the headboard to read books at night!
Rustic Pallet Headboard:

A project of rustic pallet boards, a precious rustic headboard is all here with its precious artistic look to give a precious head to your bed! All you need to collect some pallet boards or discarded slats of them having different wood tones!
Home Candle Decor Made of Pallet Dices: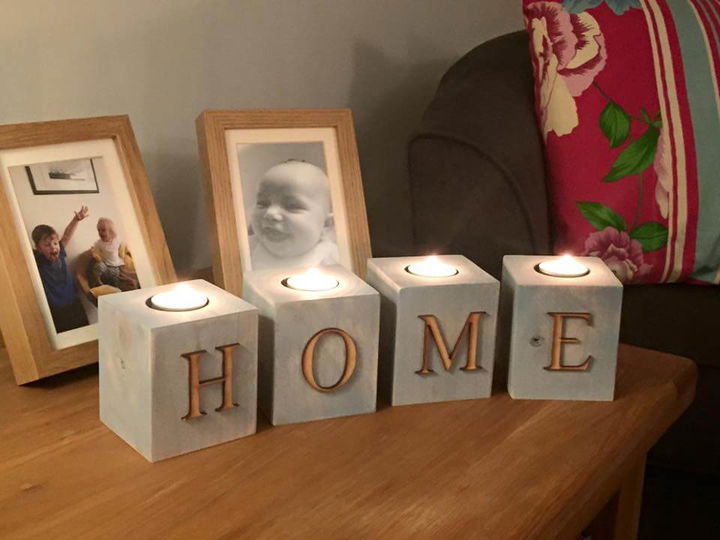 Here are precious cube-shaped candle holders having inscribed or carved out the letter of the word "HOME"! These are the removed pallet dices that have been modified to be converted into these assuming candle holders, perfect for shelving decors, and would also be awesome to use as tealights!
Pallet Nightstand with Storage: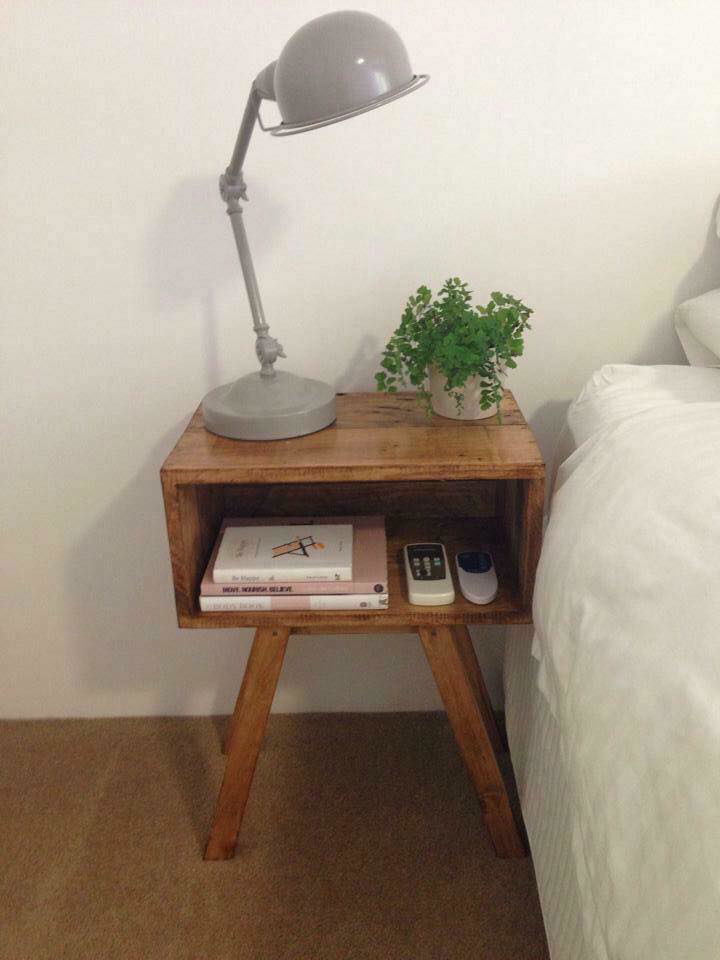 Rebuild pallets to gain a crate or box and just raise it on some fanciful legs for a precious nightstand or side table out of it! Try out this beautiful suggestion here to make your bedsides functional!
Ultra-Rustic Pallet Outdoor Dining Set: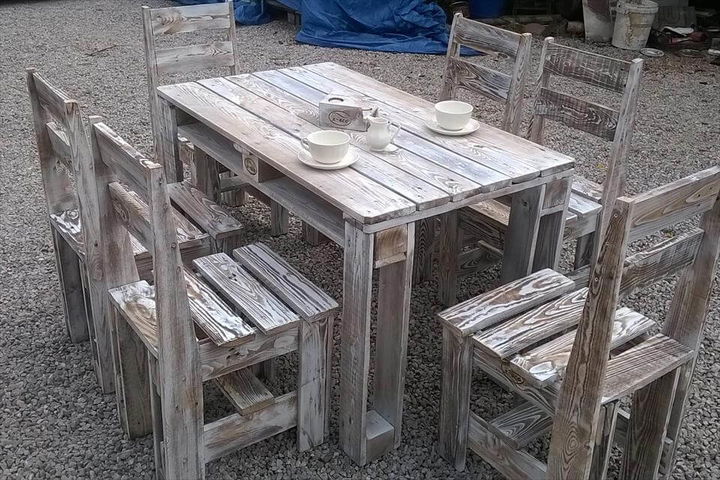 Willing to organize summer night dinners at your patio? Get this free dining set to get your family at one place at night to have fun, a free set made of pallets, and can be painted in any accent color for a modern display!
Pallet Corner Bar Counter: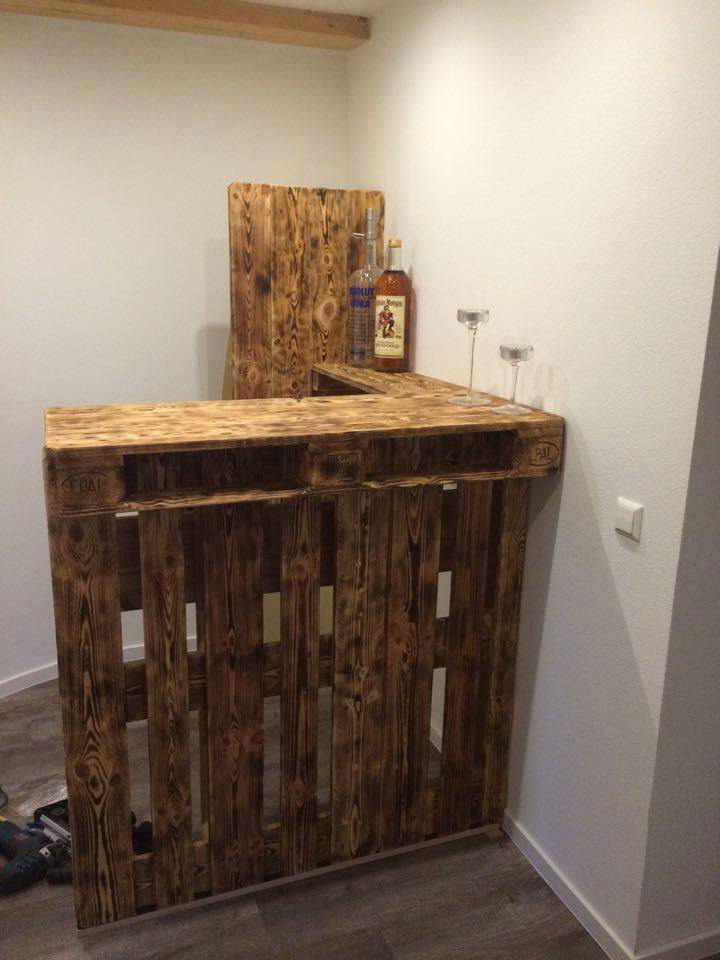 Restructure the pallets to build free custom furniture for your work-spaces, shops, and offices! This perfect custom-built wooden model of the bar is ready to go into your bar shop! It has been burned and scorched a little for a mid-century inspired furniture display!
Follow easy stacking pallet rules and bring custom sectional, U-shape, and all other kinds of sofa sets to organize all the sitting-friendly home locations with them! You can even adorn the kid's room for custom pallet cushioned seats and daybeds! Create a charming visual of blank wall areas by creating pallet wall art pieces and even the wooden pallet clocks! Rebuild pallets and gain fanciful garden decors, just like given succulent planter!
Just make a little effort and get highly practical pieces of tables out of pallets like console tables, accent tables, and media stands!
Provide care to your pet friend using free pallets, build pet houses, beds, and bowl stands with pallets, and gives your pet-keeping hobby a big helping hand! Get the pallets to mix up with other useless types of wood and achieve more stable designs of furniture for your home!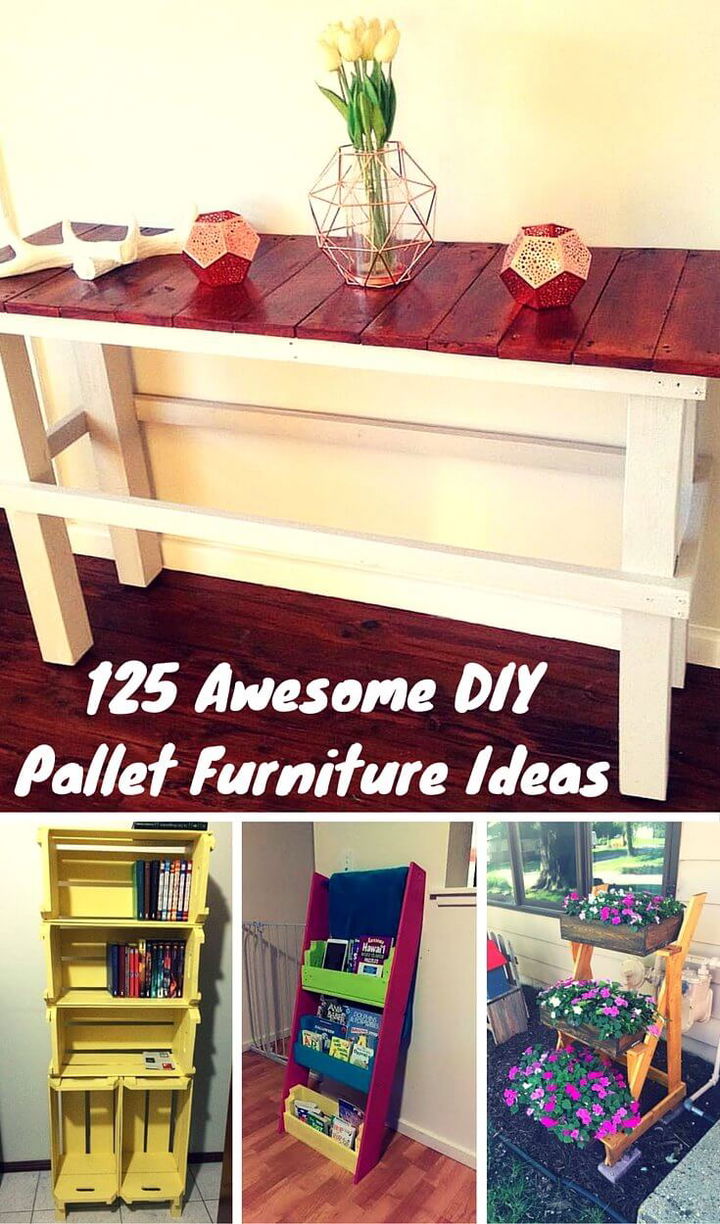 Get the very new suggestions here and recycle the pallets for custom free designs of furniture you always need to manage a sophisticated ambiance of your home!
Pallet Patio Sofa Set: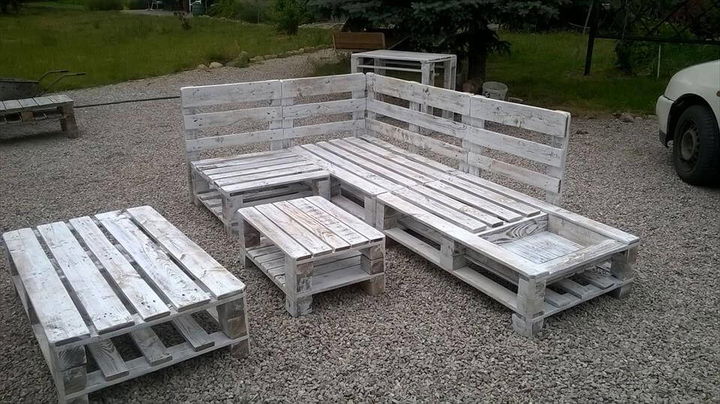 Thousands of unique pallet furniture crafts have been enlisted, but there is still room to add unique pallet made products as your creative imaginations have just no limit! This custom made sofa is what that is a wholly unique piece of pallet wood recycling; just watch closely. It has a planter at the end!
Round Pallet Wall Clock: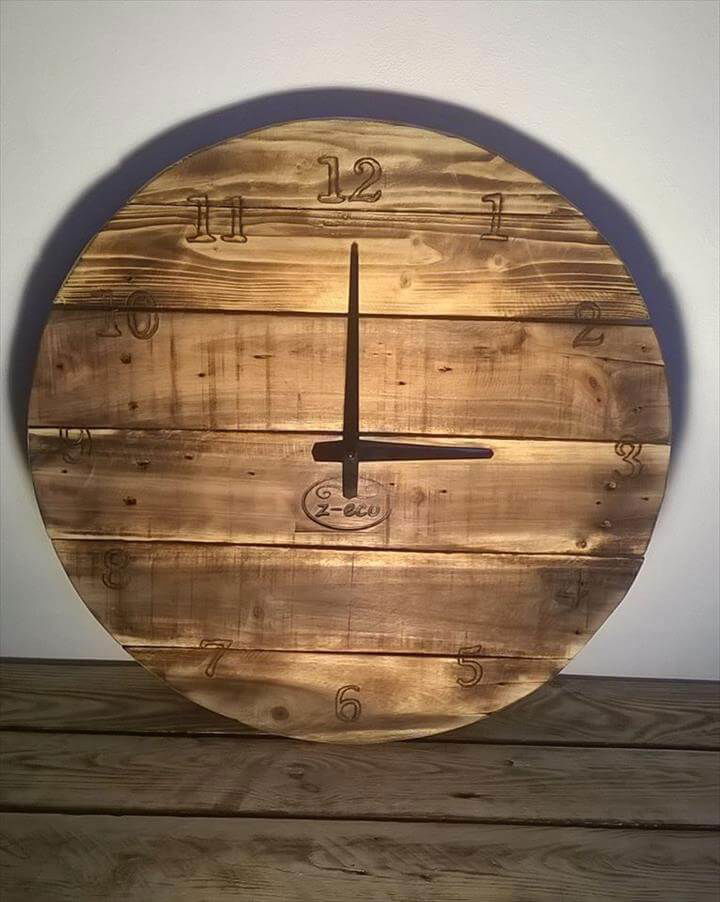 Pack the pallets flat and cut a round shape out of them for an accent charming wall clock to build out of it! Display the numerals in your favorite style as you can inscribe them on wood, can use the metal-made hardware numerals, and can also use the roman numerals! Just install the quartz clock system and get beautiful wall clocks out of pallets!
Pallet Succulent Planter: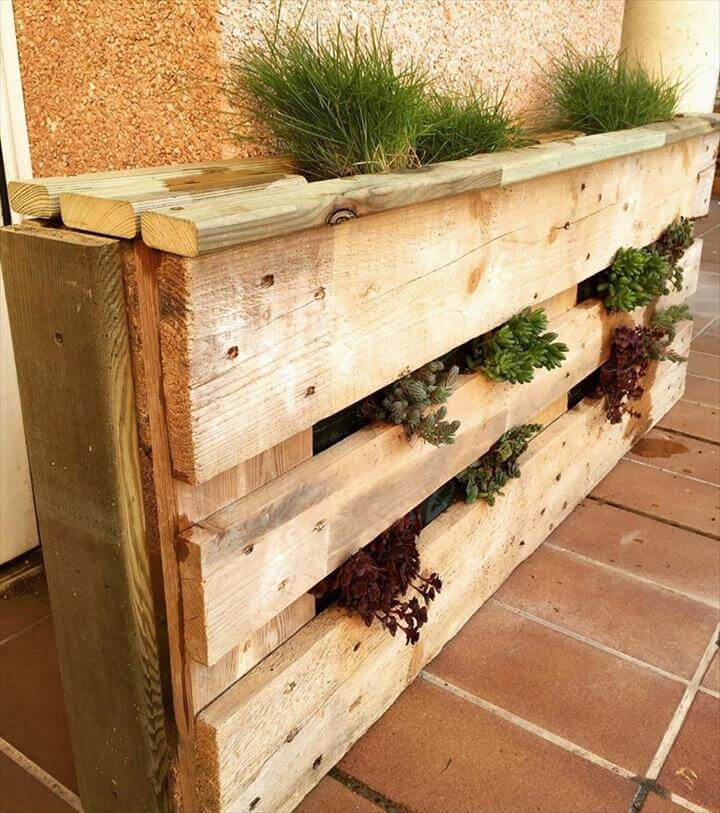 Have you ever thought that you can start potting in pallets? They are damn good to build vertical gardens, planters, and raised flower beds. Here a vertical succulent planter to grab your attention. It is something that a rare amount of people can see and can start thinking about!
Cat House Made of Pallet: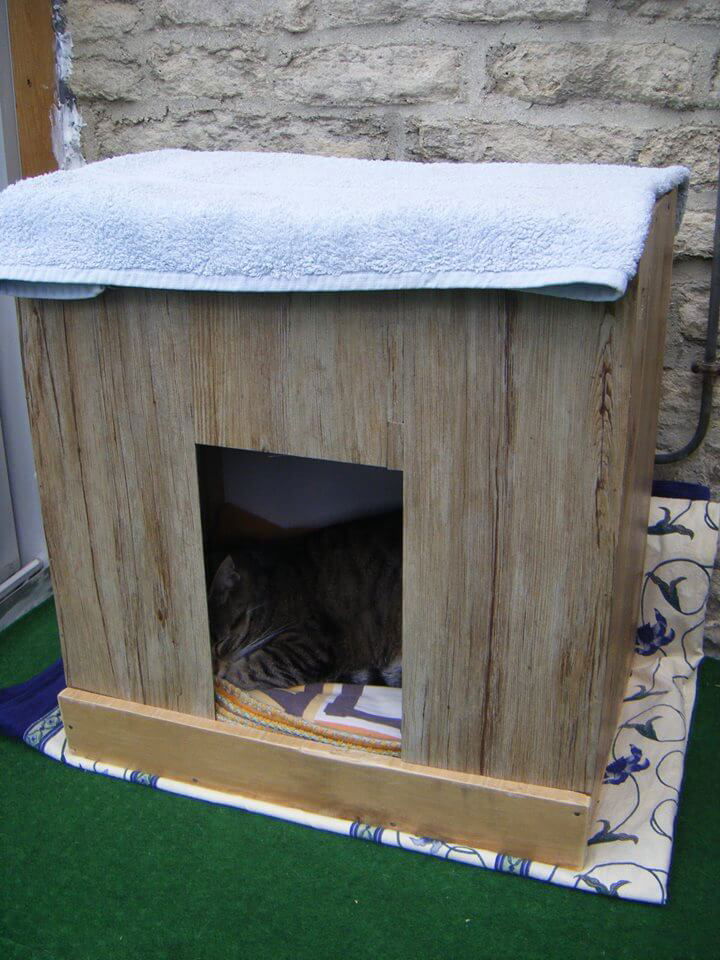 Earn beautiful houses and sleeping beds for your pet friends by modifying the pallets in a clever way! This cat house with the fine architect is has been planned with dismantled pallet boars and would please your furry friend!
Yellow Painted Pallet Cushioned Seat for Kids: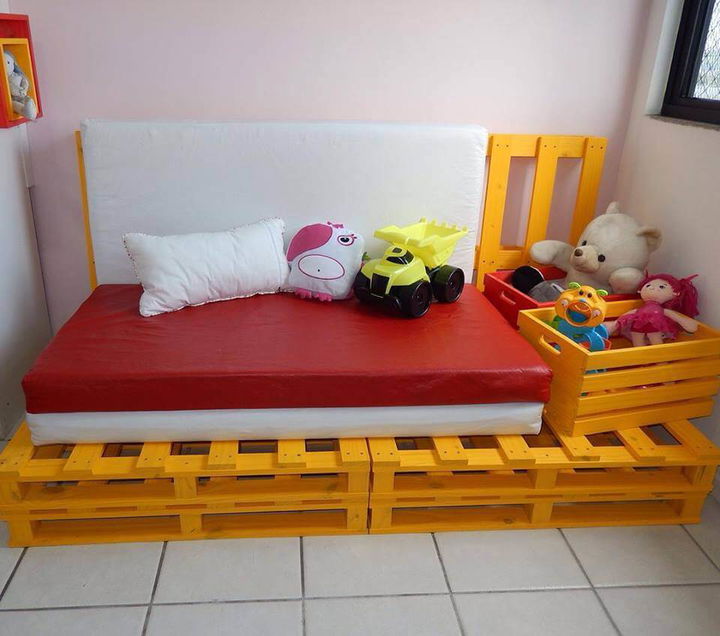 Let the pallets give some respect to the kid's room. Here a beautiful larger cushioned seat has been installed through the easy accumulation of yellow pallet boards. Empty wood crates serve as toy boxes; hence an entire room has been spiced up with old and retired types of wood!
Upcycled Pallet Console: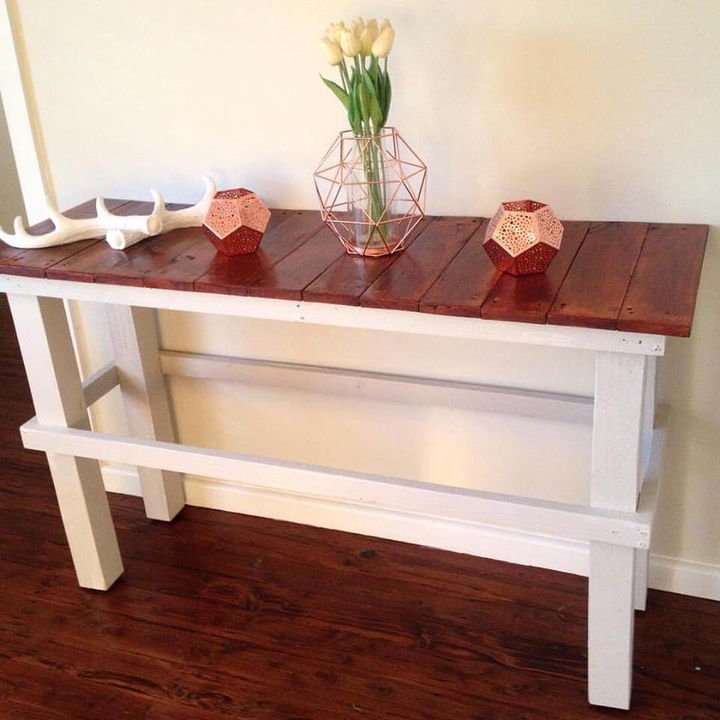 Let the ingenious pallet ideas broaden your imaginations about making the things recycled!! One again, a fanciful work has been done with pallet slats that result in this console having a milk-honey theme! Given an antler and a lilies vase finish for amazing decor statements!
Zero-Cost Pallet Bed: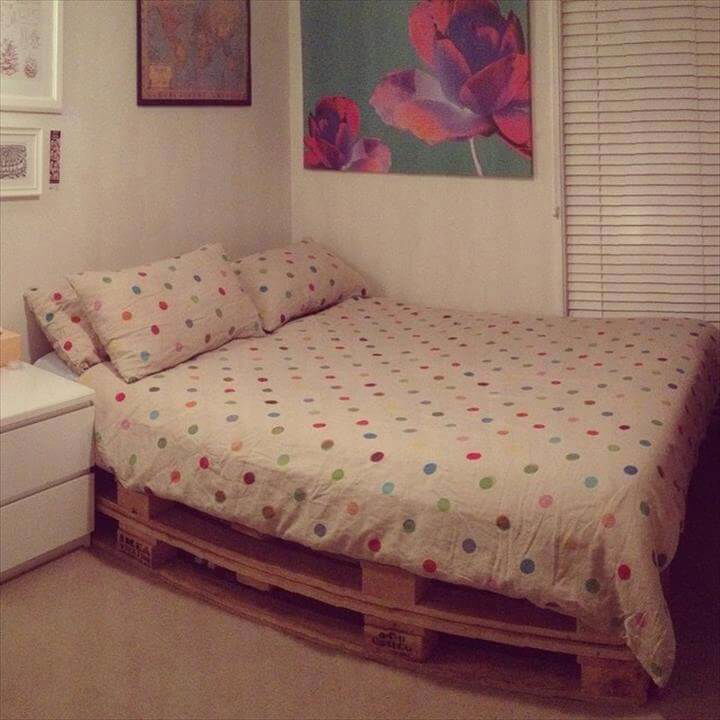 Pack uncut pallets flat and get lasting more extended frames of bed in your own selected dimensions, just a good stock of free pallets can avoid making those expensive purchases of beds!
Pallet and Spool kids' Chair: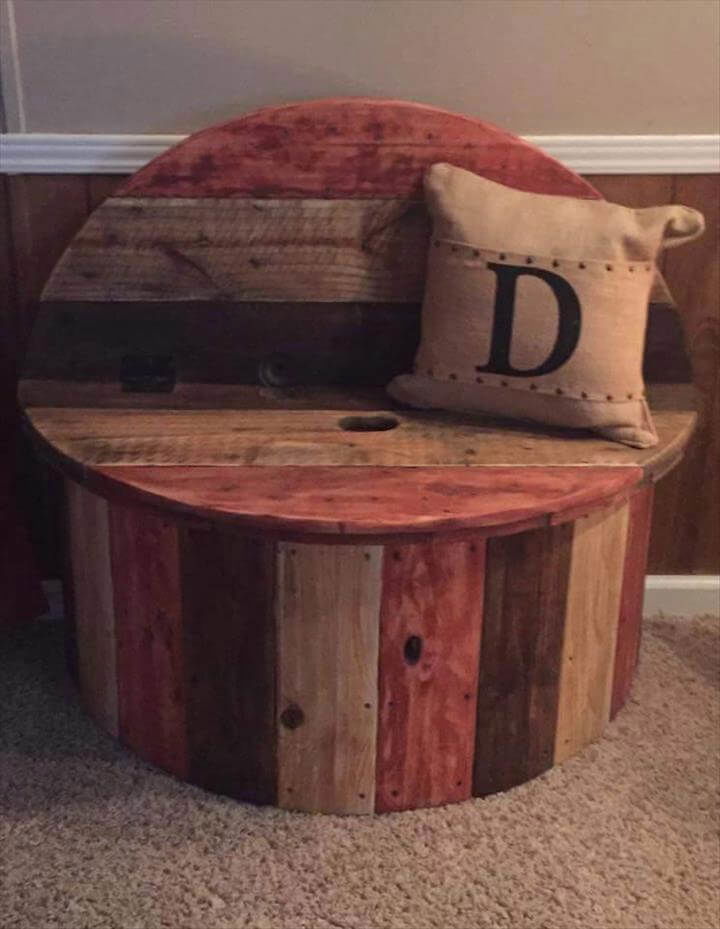 Let the old things gain a modern functional life, here a spool wheel and some pallet planks have been joined creatively to yield this no-cost wooden chair, perfect for kids to have fun!
Wooden Pallet Cat Bed: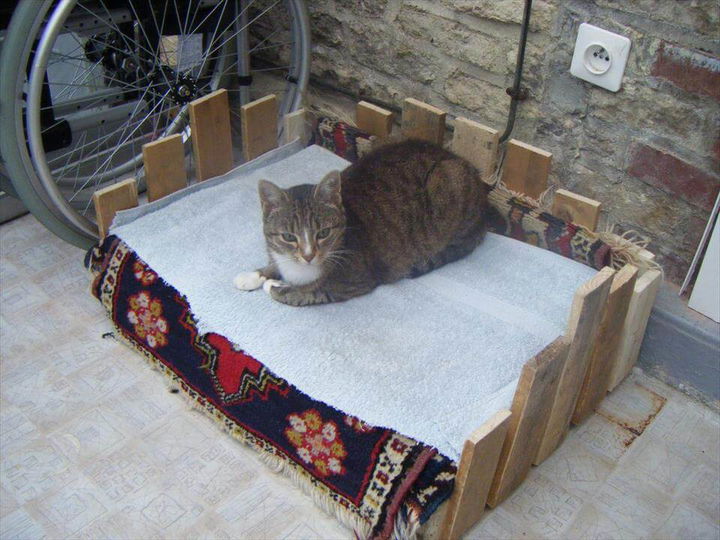 Even the pallet scrap can be reused in ingenious ways. This charming cat bed is made of scrapped way pallet lengths and comes with artistic boundaries all around.
Pallet Bed with Headboard: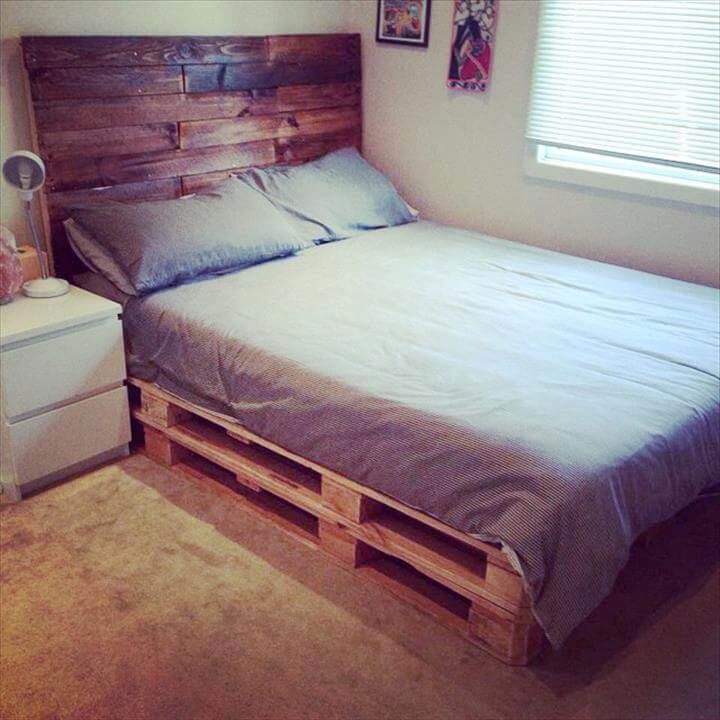 The Pallet boards are highly comfortable to manage for bed constructions, gather them, or just pile them to targeted dimensions of your bed and let cushion or foamy mattress build the comfortable top layer!!
Pallet Bookshelf Unit: Creative in Crate Style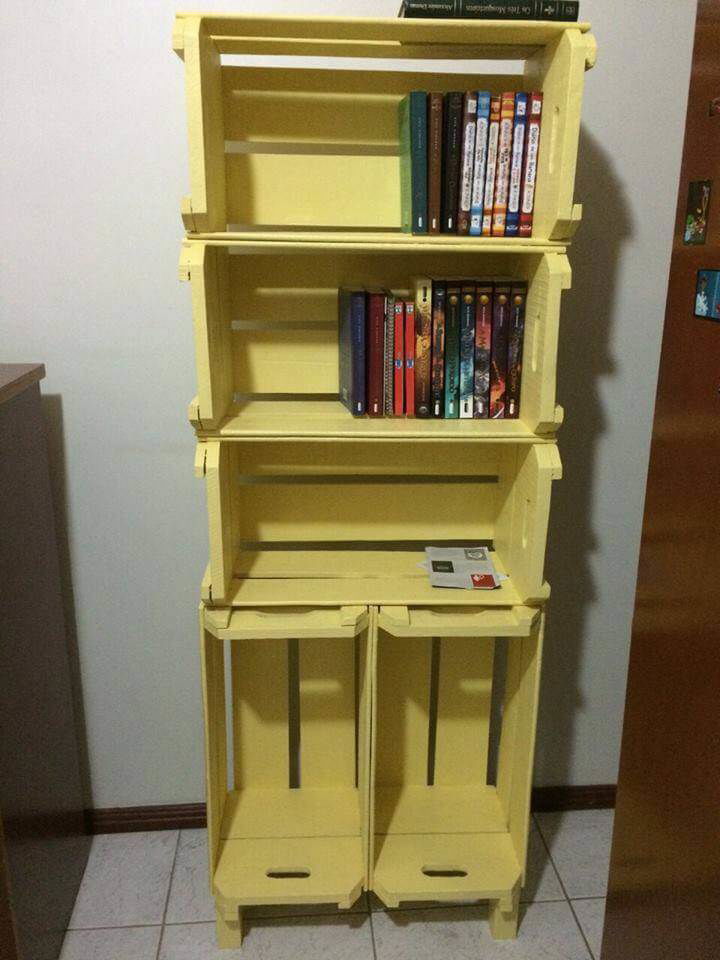 Rummage around to collect all possible old kinds of wood in your home! Empty applied to create can also be remarkable for modern bookshelf construction. Here is a pretty cool yellow-painted model of it that can be given a functional task of an organizer!
Pallet Ladder Style Shelf Organizer: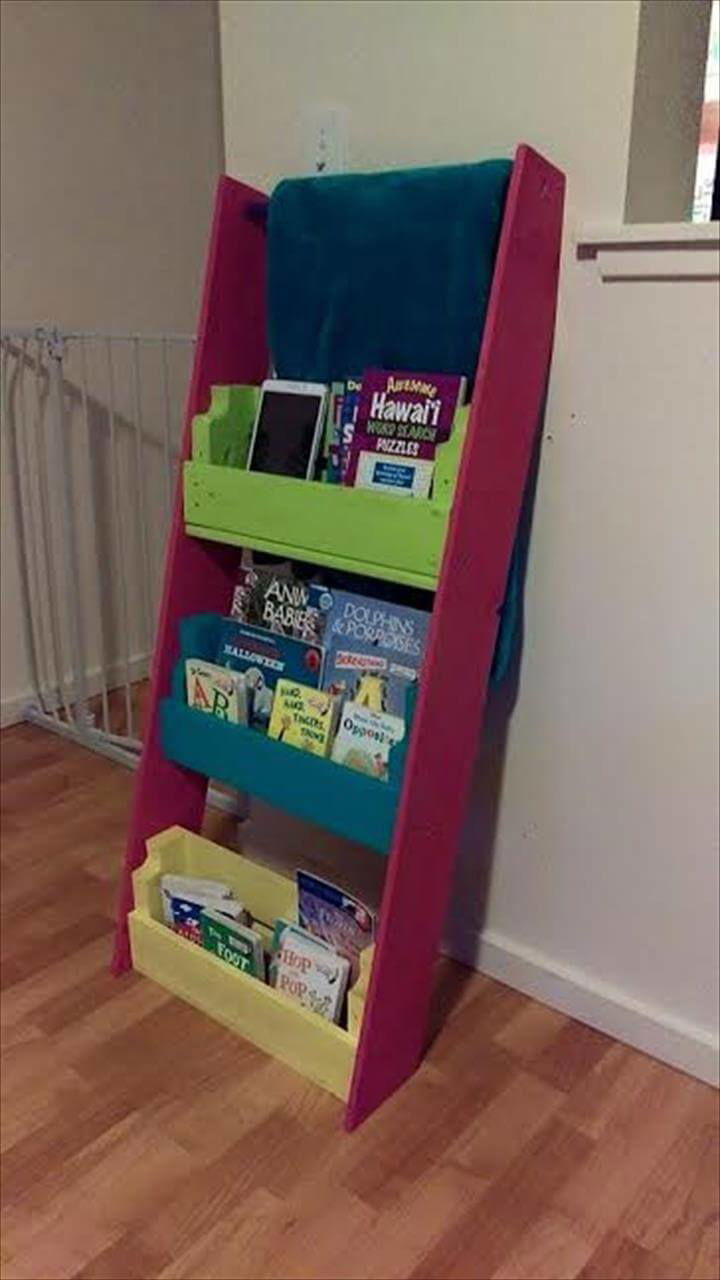 Here another mini pallet shelves painted differently to build a stunning bookshelf with a towel rack system at the top! There are edged cuts to legs for stable standing, and multi-colored appearance speaks for the integrity and charming visual of the model!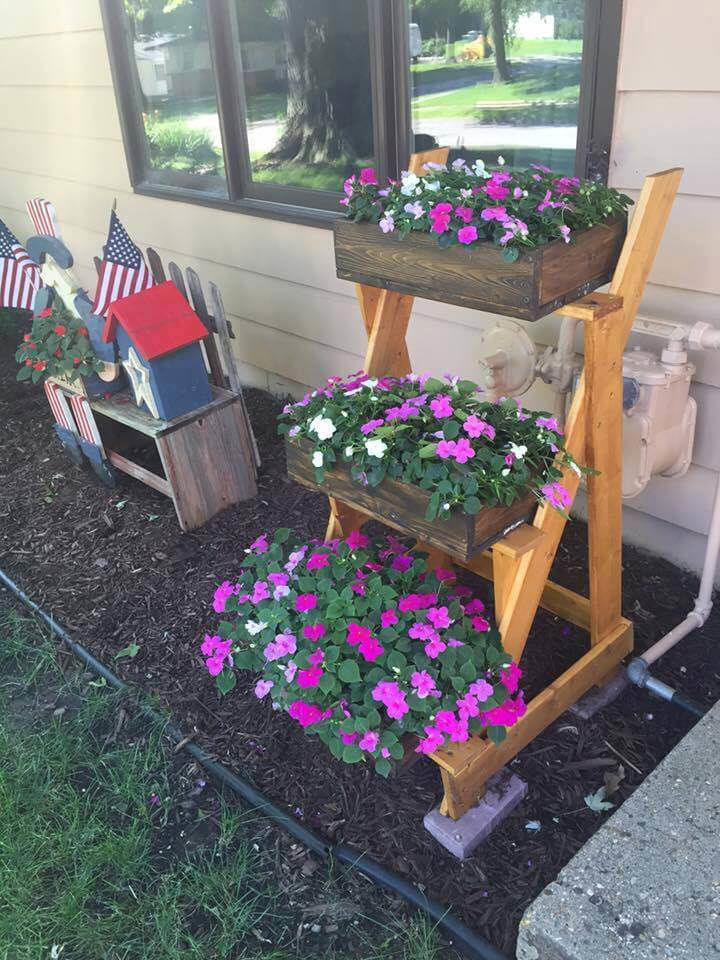 Do some rare projects with pallet to give your green space a functional boost; let this adorable three-tiered planter be a part of your garden accent for further signification, having three potting levels which can manage to pot different species of flowers!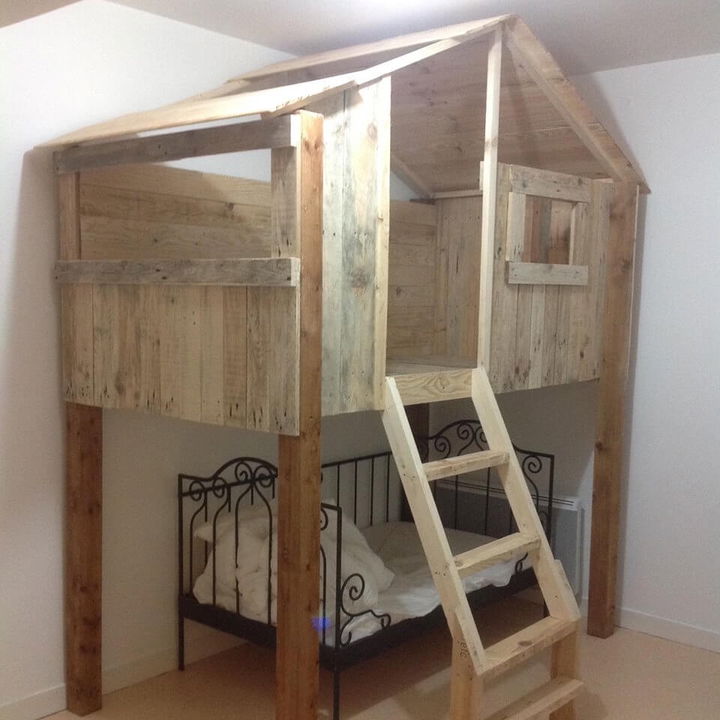 Here is a fab wooden pallet playhouse for kids raised to bedroom ceiling and comes with a stair to reach to higher stories! Chevron top is what that makes it dignified and visually attractive! This is what you can do with a pallet while intending to double up the kid's room sleeping or playing space!