It typically goes for bundles of expenditures when we just start organizing a newly constructed home or its outdoor! Getting the all the routines tasks done in an elegant manner, the basic furniture pieces always get our first priority! Hopefully, pallets are really going well in meeting the furniture needs of home lovers without causing a big load to their pockets or wallets! To let you know that how to get awesome furniture out of pallets and much more to serve the essential home purposes, we have collected these special 30+ DIY pallet ideas that will explore all the latest trends and techniques to you about DIY pallet furniture building, so you will find yourself expert after a complete roundup of these pallet projects!
Finish single pallet skids with custom short legs, may be with reclaimed ones, and gain custom low benches and pallet coffee table, cushion them and paint them to raise the comfort and visual of them! Build the art style furniture by going creative with alignments of pallet slats, the diagonal stripe patterned rainbow coffee table is a great example here! Pack the pallet slats for beautiful racks like then given nail polish rack with shelves fenced with wooden dowel sticks for more security!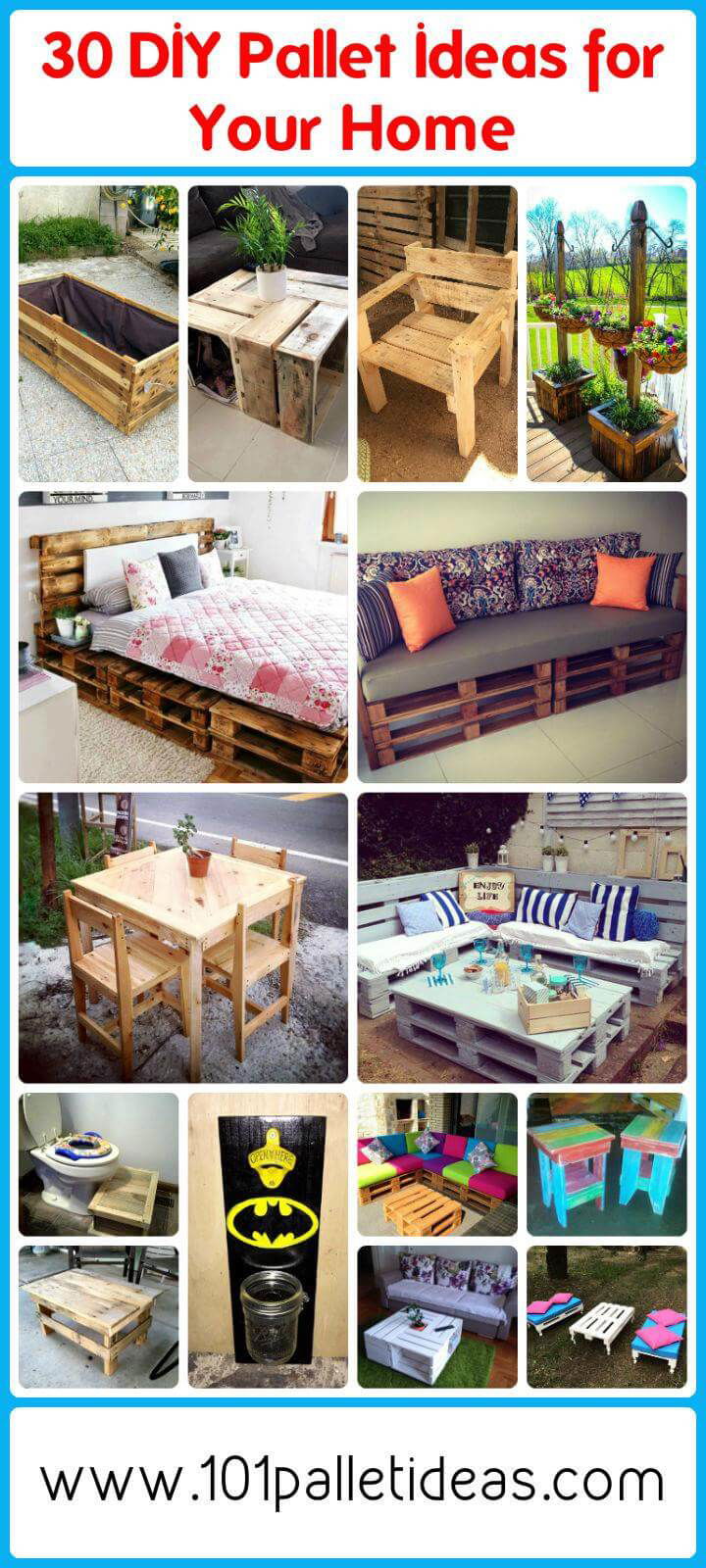 Stack pallets for immediate sectional sofa, custom benches and seats and let the individual skids come on wheels or on custom legs for delicious coffee tables! Compose the pallet slats to build almost anything related to furniture like the finely built kitchen here and the custom toilet seat foot rest for the kids! Be genius in your thinking and also gain the stylish outdoor loungers and put together single pallet slats also for awesome decorative wall shelves!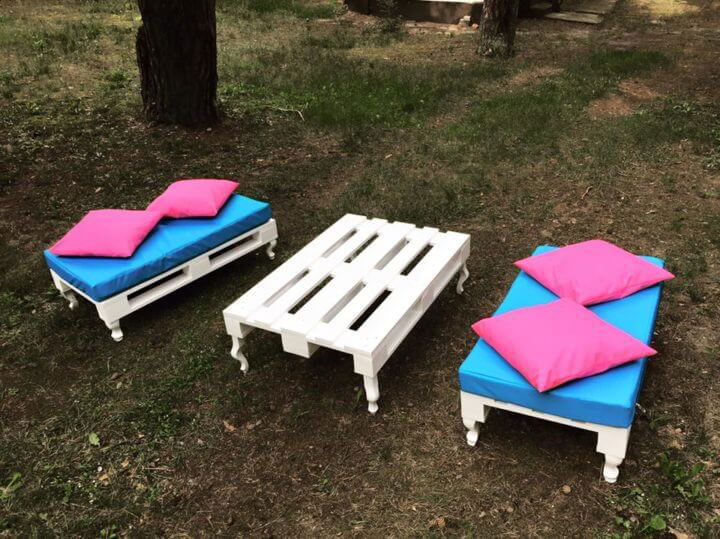 Finish the single pallet boards with custom short legs like here old short table legs have been reclaimed, and get amazing outdoor sofa set out of them, just make two of modified pallet cushioned for amazing benches!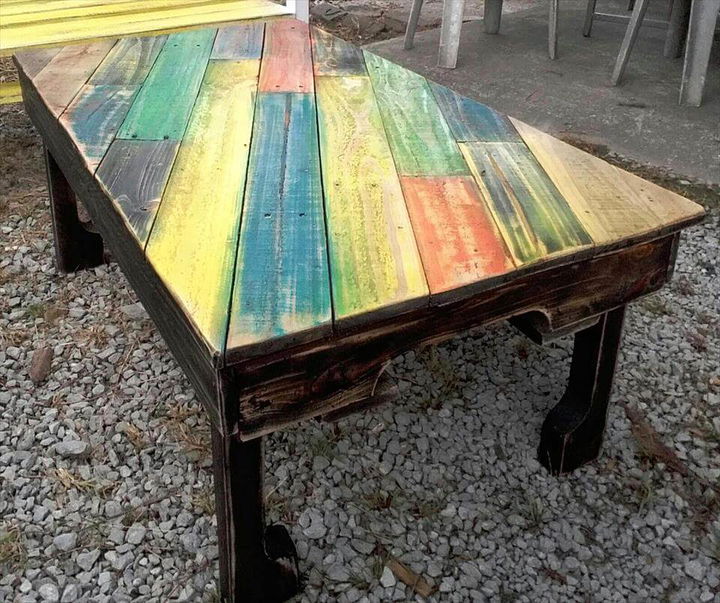 This is here a total creative restoration of pallets, separated deck boards build diagonal stripe patterned roof of table, removed stringer board have been used as legs and also as side cross supports! Top comes with a distressed rainbow look while base is having alluring black tone!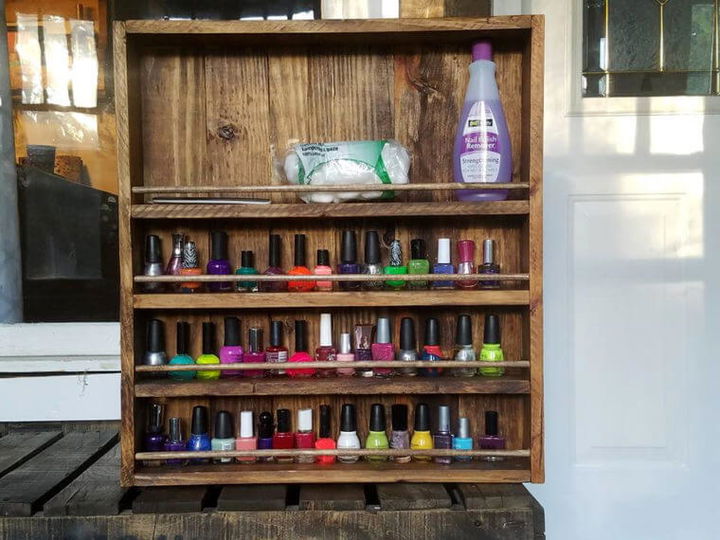 What you would like to say it? A caddy, an organizer or a beautiful shelving unit, here it has been got as a nail polish rack, composed of resized and gritted pallet wood lengths and wooden dowel sticks have been installed in front of shelves as fence to secure the nail polish bottles more!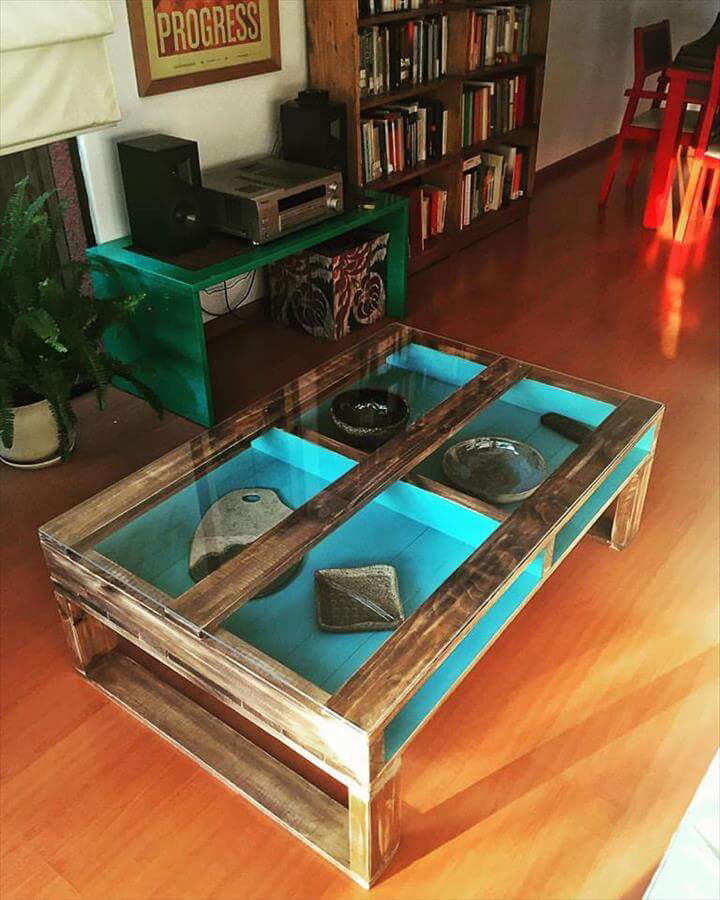 The coffee tables come in a variety of shapes and designs from the pallets and so is this one coming with a base shelving area covered with the slatted glass sheet and gives a very shabby chic look to inspire many decors.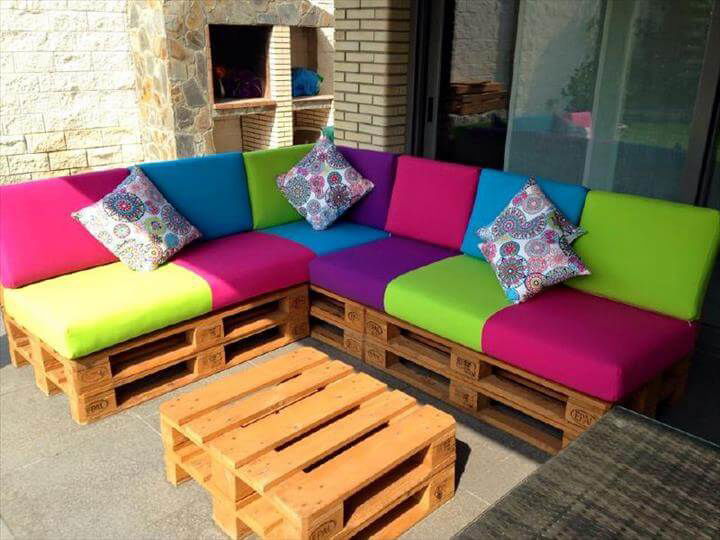 Some seating plans are really very easy and feasible to yield from the pallet as we can use the pallet skids to shape them up like this one with a sectional sofa and a coffee table in the center.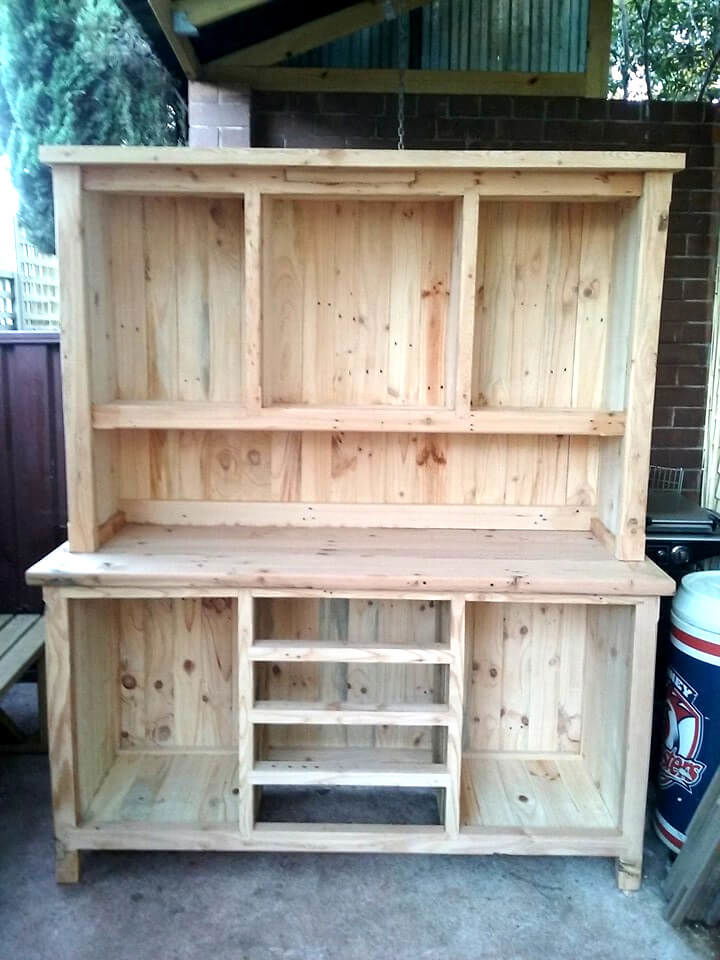 Kitchens of the house need most of the storage and organizing work and this pallet made pantry with shelves and cabinets would hold and hide loads of your kitchen apparatus on it and give a neat and tidy kitchen to cook in.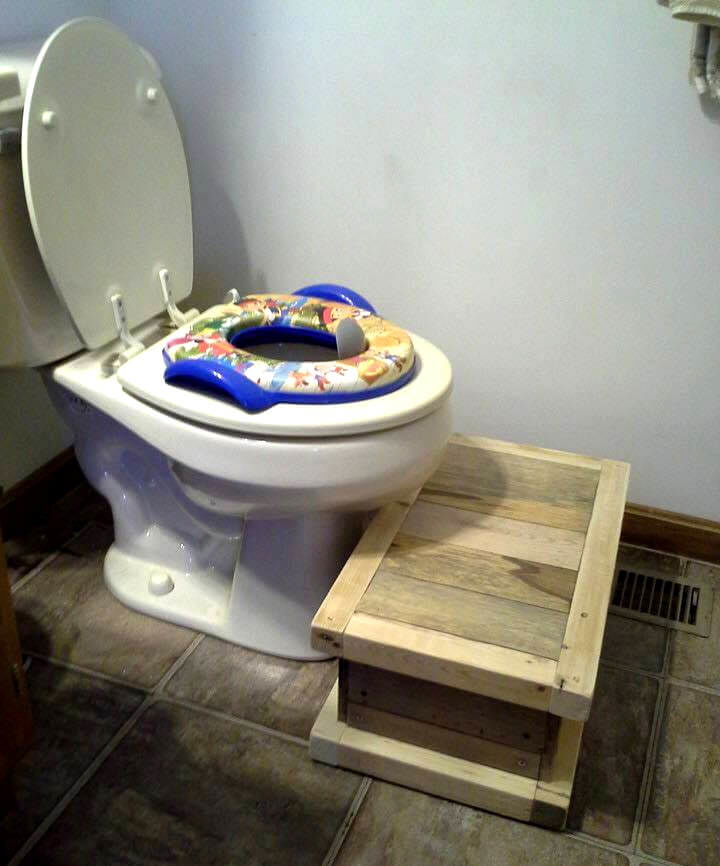 Sometimes the kids ding it really tough to each the toilet seat so to let them experience some ease and comfort you can make this pallet made stool step so that they can easily sit on the seat.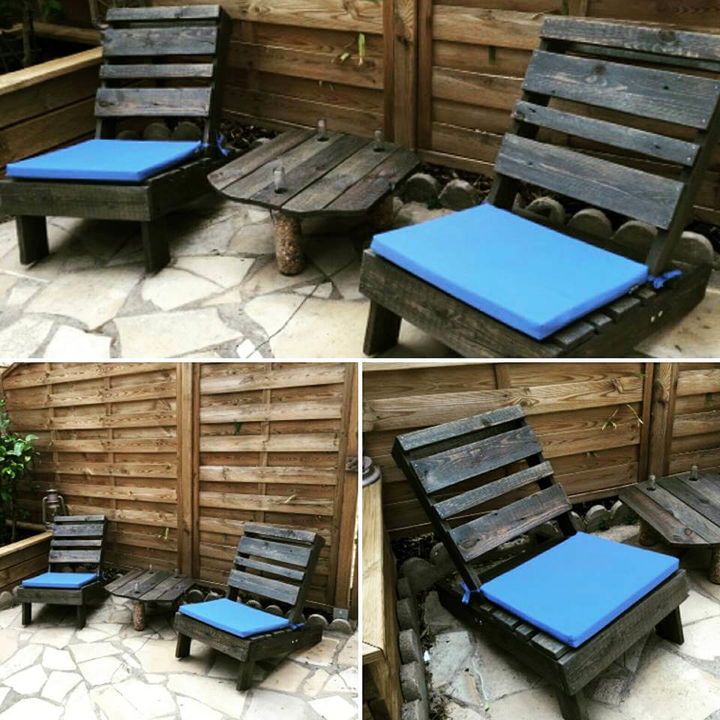 These Adirondack style arm less chairs are something really fascinating for the outdoors like the garden and the patio spaces with a cute and tiny table  too and the black stain make them look really stunning and rustic in sight.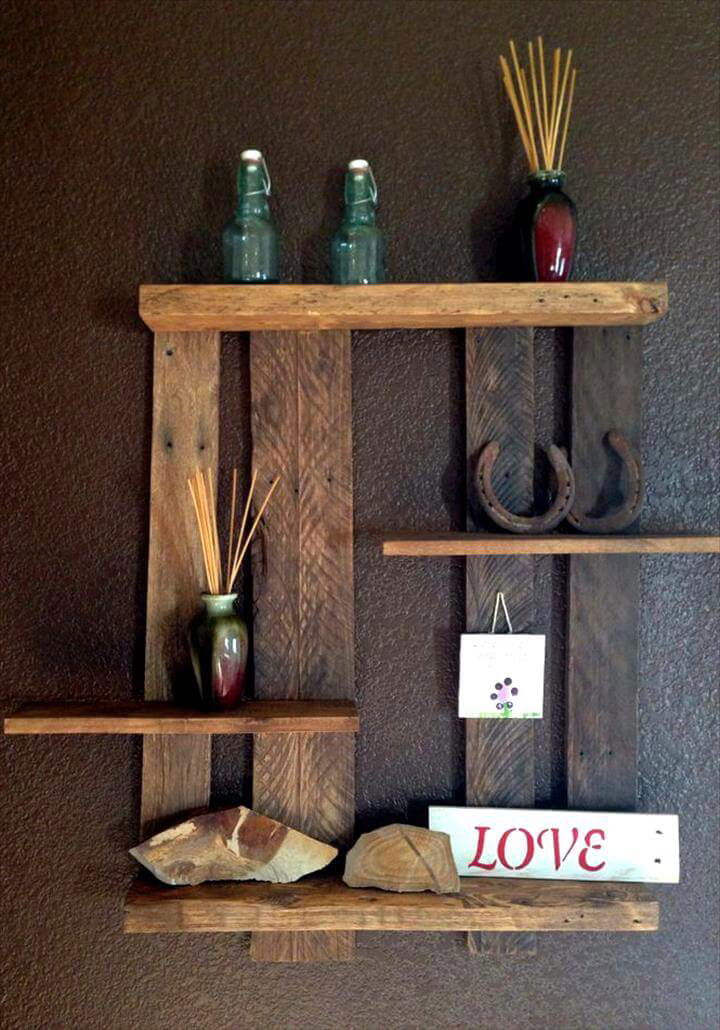 The shelves are the most simple and easy items to be build from the pallets as this one has been installed using a few long pallet slats and a few small pallet pieces on which you can hold loads of your decor and utility stuff.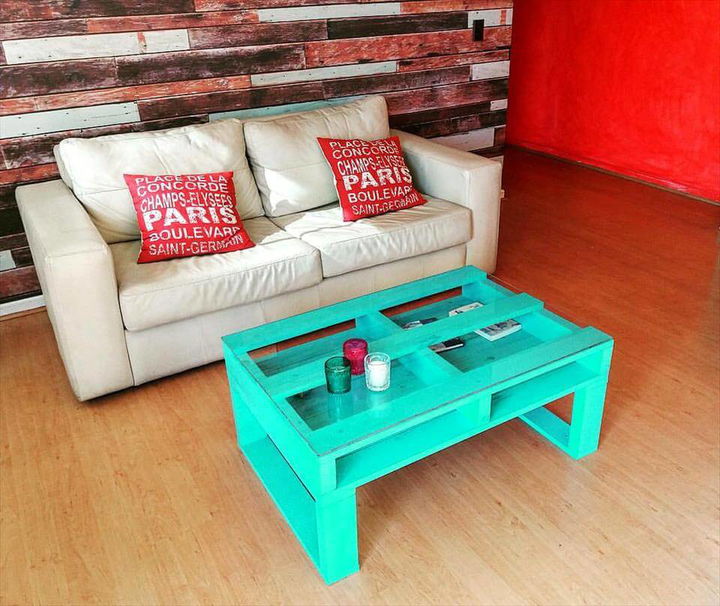 This gorgeous and stylish coffee table piece would fit a contemporary living being a very impressive center piece and to you wonder it has been build from the cheap pallet slats with a glass sheet and turquoise stain finish.