People running out of budget can excel their lives through DIY for sure! It is the handiest way to get the material and stuff you are in dire need of without causing any further load on our pocket! DIY furniture is now enjoying the extreme value of popularity and one the majorly used material that has given so much creative width to the entire DIY world is the pallet wood! Pallets, if used in a productive way, can incredibly boost up the performance of your home and you can also access the ongoing trends of pallet furniture happily by going with 100% pallet wood medium!
Today! We will through some light on some genius achievements done with pallet wood which are here given as DIY pallet coffee table ideas, all these ideas point towards the most ingenious and innovative approaches to pallet wood furniture that yield to a different table design each time! Coffee table has so much participation to our lives, that's why we are sharing here this low-cost coffee table ideas and DIY Pallet sofa ideas for your outdoor and living room to not to miss out this elegant piece of furniture due to a shortage of money and also as your hobby to make handy projects!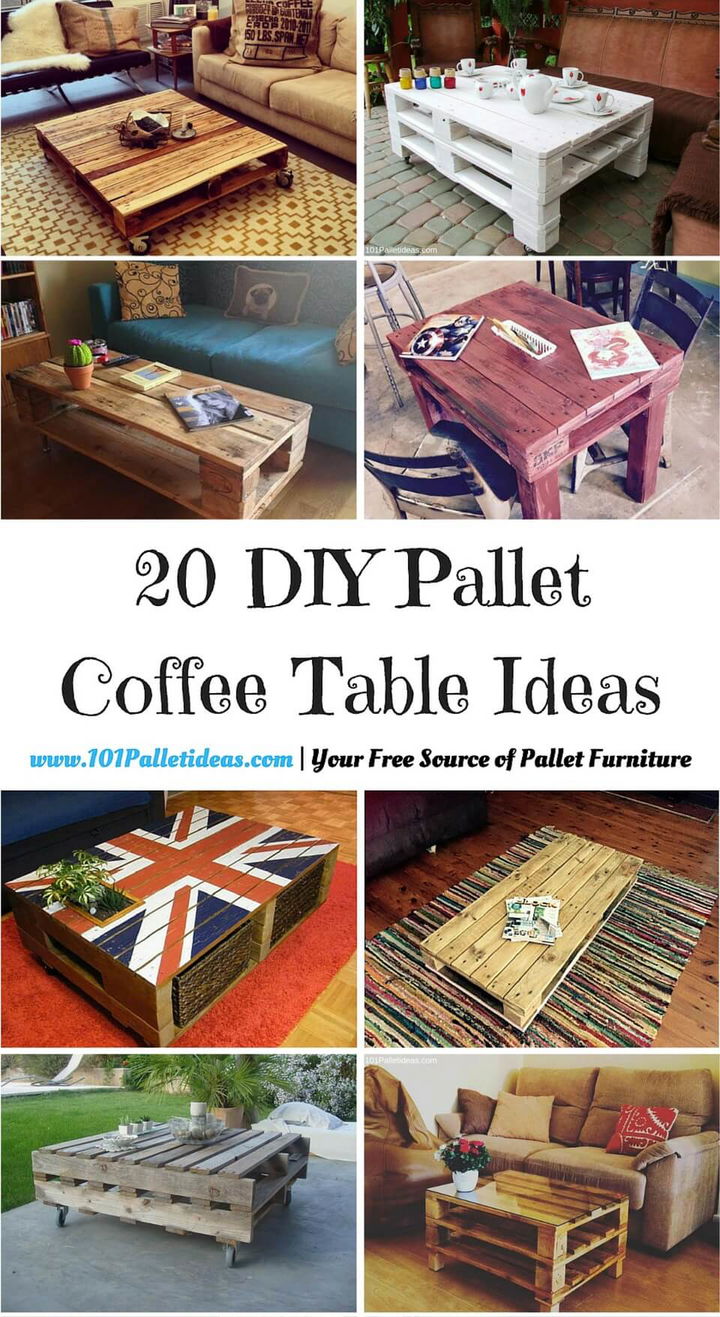 Chic White Pallet Patio Coffee Table: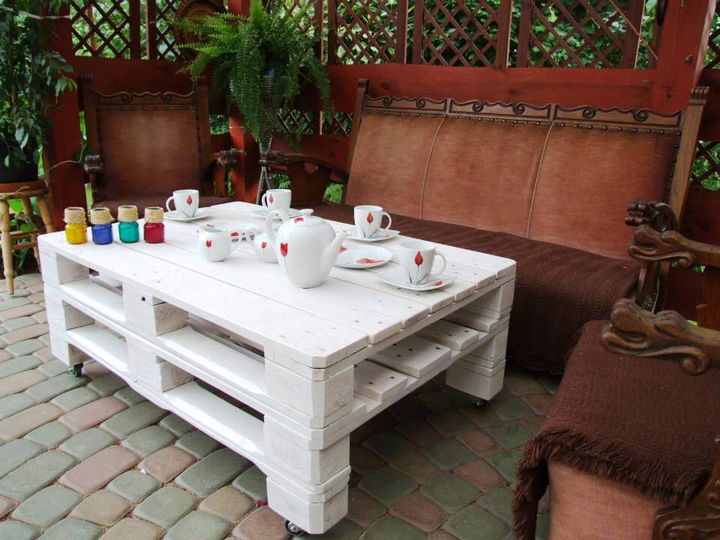 2 Tiered Pallet Coffee Table: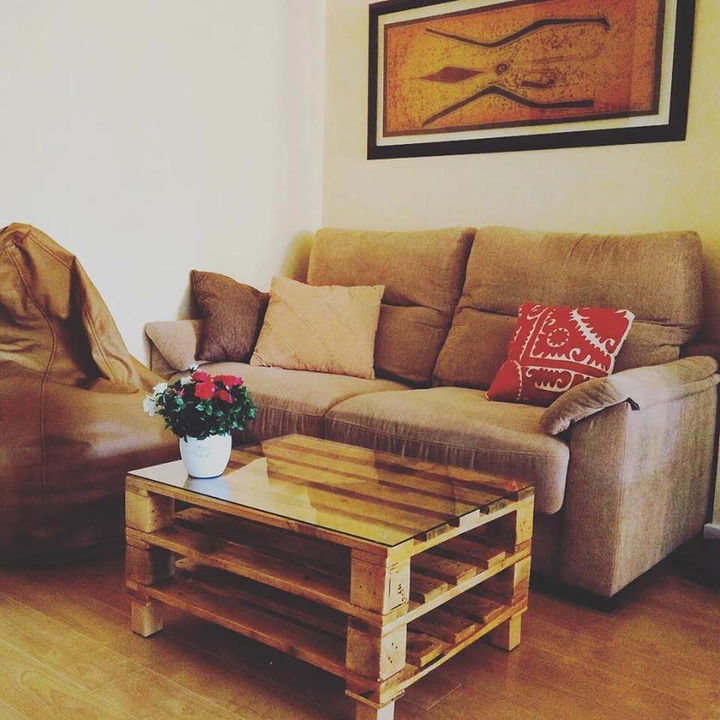 Union Jack Pallet Coffee Table: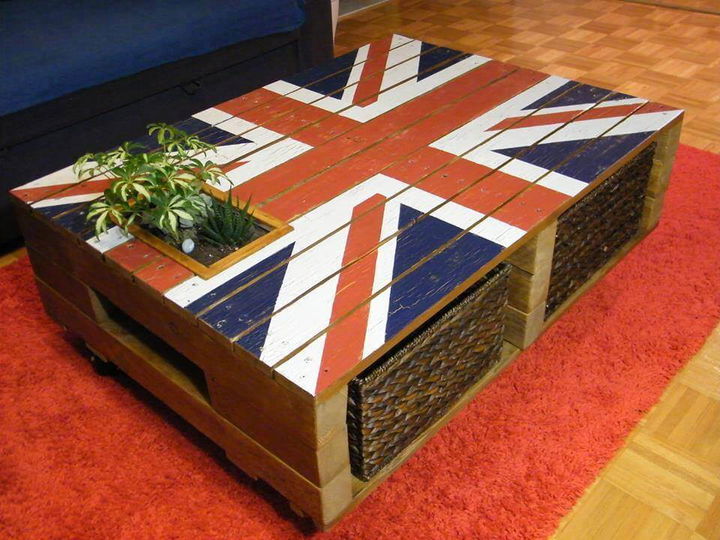 Green Pallet Coffee Table with Hairpin Metal Legs!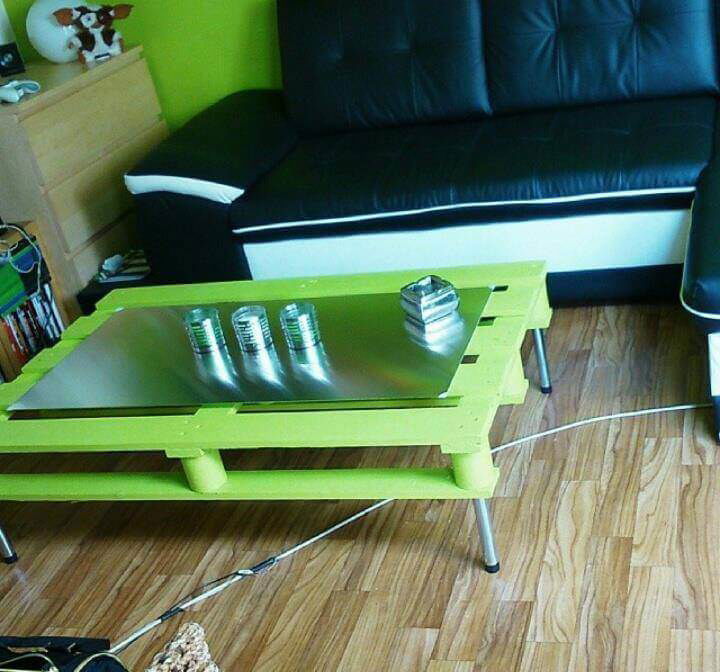 There are so many custom options and techniques to regain the pallet boards into amusing coffee table designs! For instant access to a coffee table design, the size of a pallet boards matters a lot! If you are having a size in accord to standard coffee table top dimensions, then only provide some legs to it and start using it as a conversation starter in your living room! Stack the pallet boards to gain a Pallet coffee table with tiered shelving levels, also treat the pallet boards with metal for more stable and long-living manifestations of coffee tables with cozy design statements!
For a custom solid design, you can simply tear the pallets apart and can build the respective layout of coffee table by putting those separated apart or individual slats together in a creative way!
White Double Decker Pallet Coffee Table: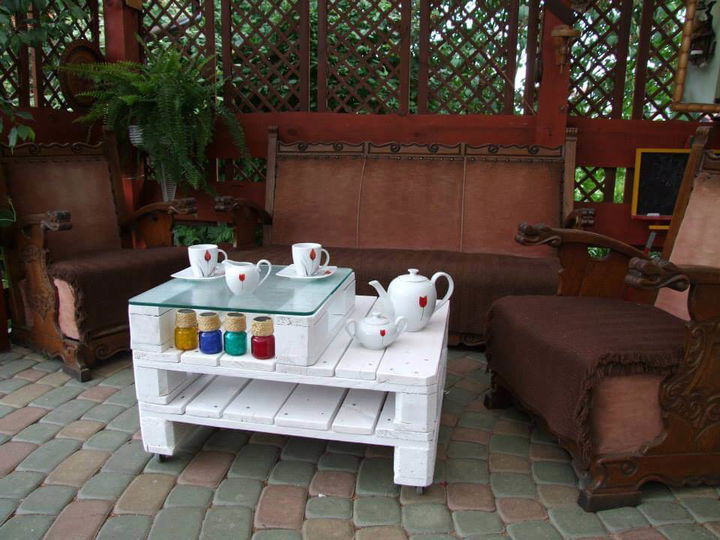 Mini Pallet Coffee Table: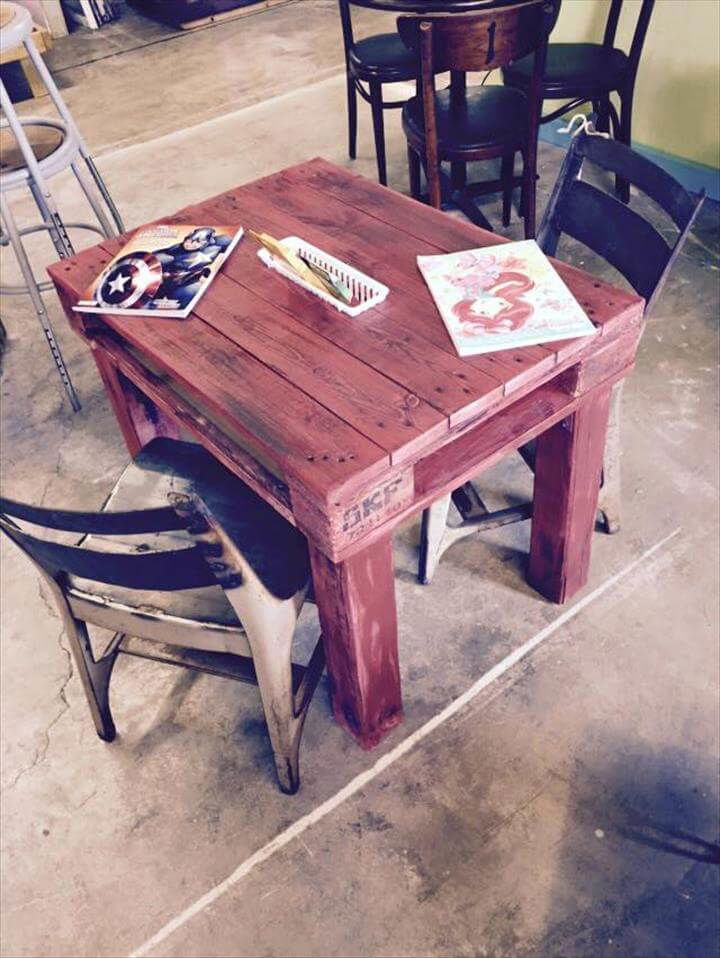 Blue Painted Lunger Pallet Coffee Table: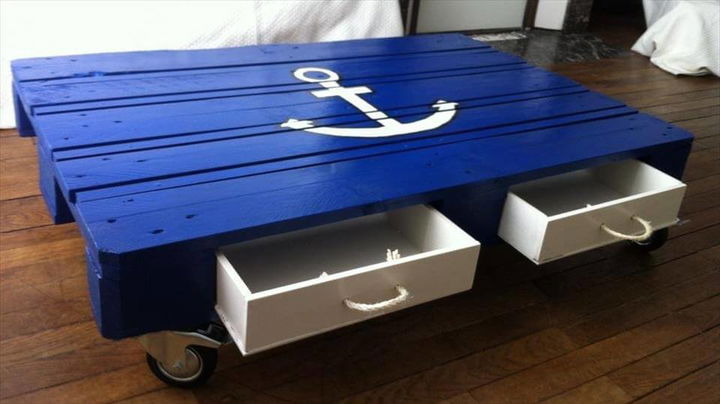 Pallet Metal Grill Coffee Table: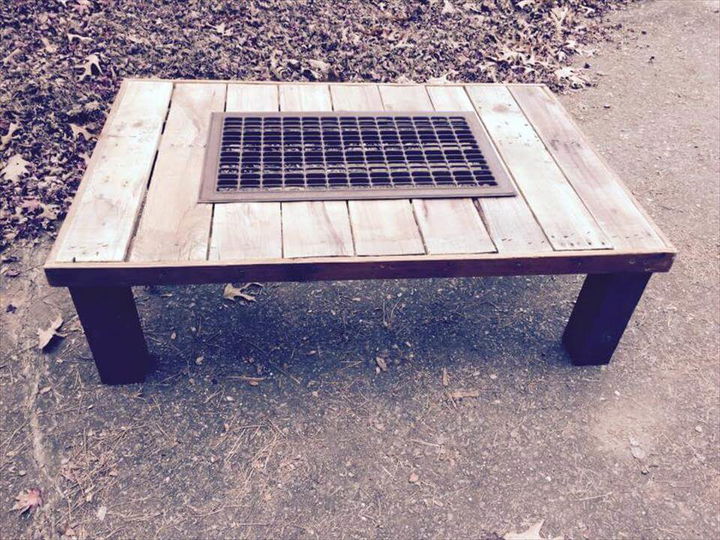 While being busy in a living room or patio conversations, the diy table is always in arm your arm-reach! It also plays a big role when you come across to serve the refreshments to your seated members! This role of a coffee table is really very supporting for seated members and guests of you! In case of pallet-made coffee tables, their supporting character gains a more utilitarian width as pockets in pallets gives further ways to gain some friendly storage options!
This openings and cubbies just make it easier to hide the inactive icons or items of your sitting plan and you can also place your mobile phones, newspapers, TV remotes and some personal tools inside to feel easy and light weight! One can also put the drawers in these already made pockets to get more secured storage features in his finally finished coffee table design!
Vintage Outdoor Pallet Coffee Table: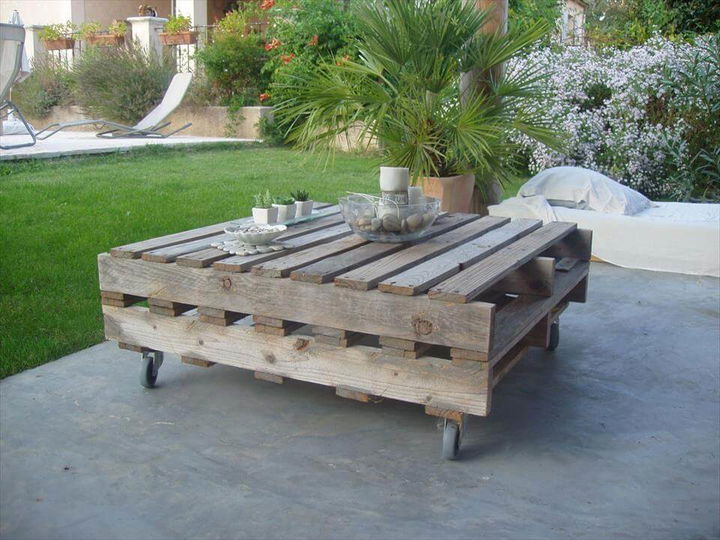 Small Pallet Coffee Table with Wheels: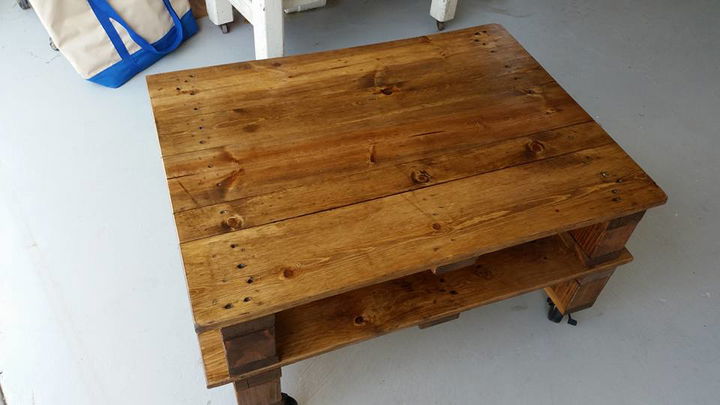 Pallet Coffee Table with Round Wooden Legs: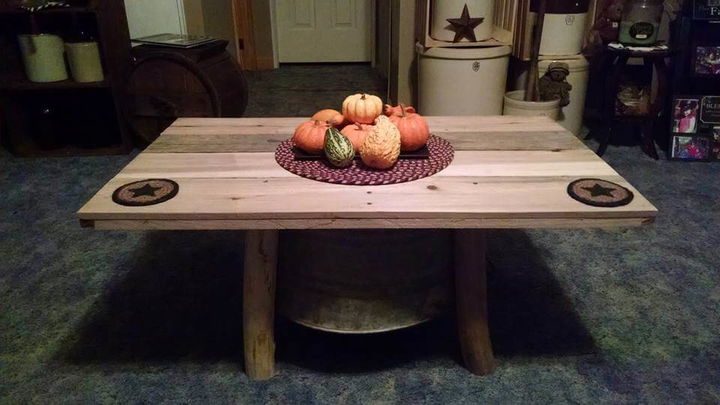 Large Pallet Low Coffee Table for Living Room: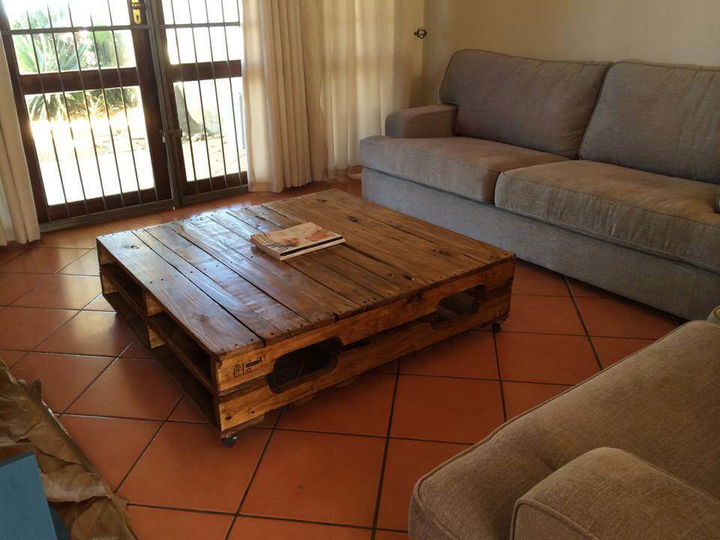 These pallet-made coffee tables also provide various customization options! In respect to your interior style of decors, you can create the according appearance of these coffee tables like modern chic, vintage, antique, mid century inspired, shabby chic, country style and also farmhouse styled!
To finish the you targeted design accordingly you can give various treatments like you can burn the wood for a antique scorched look, can cover the wood with an alluring paint shade to give it modern style statements and can also use the stain or varnish coats to beautify wood tone more and also for weather and water proofing!
Different matte finishes can also be planned using the paint or stain to gain a more colorful appearance with peak-value focal stimulation! Just take a roundup of given table designs and feed your brain with lots of tricks to finish your coffee table design nicely and perfectly!
Pallet Coffee Table with Storage: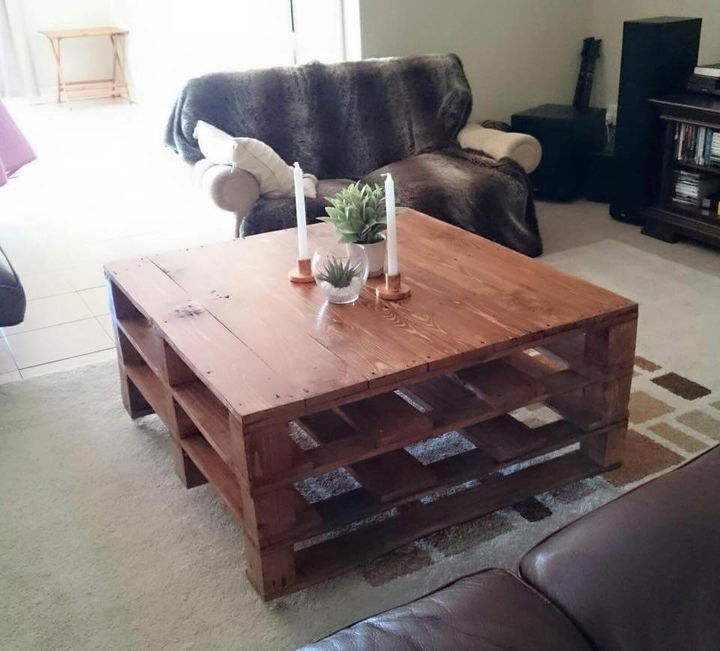 Pallet Coffee Table with Short Hairpin Legs:

Beefy Pallet Coffee Table: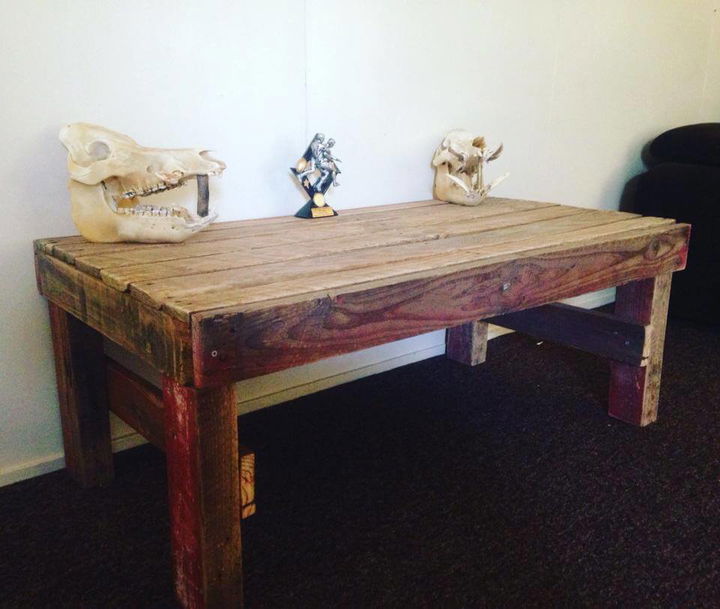 Ultra Rustic Pallet Coffee Table: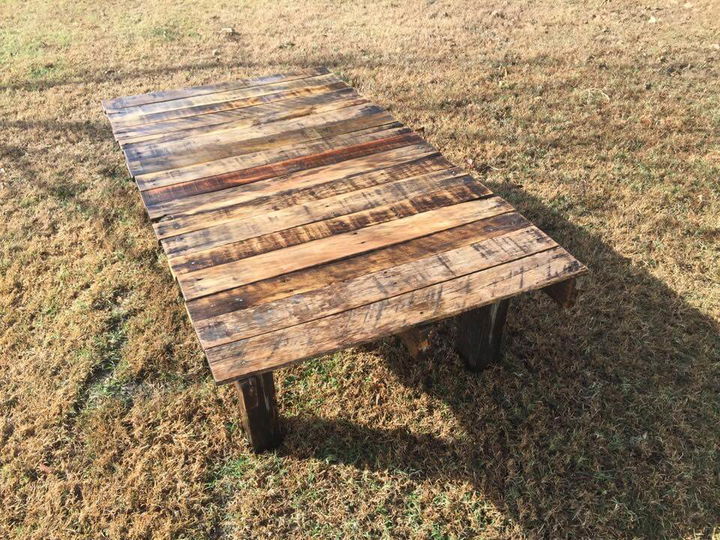 There are some additional ways to give the final precious touch to these durable wooden coffee tables! For an air of modern furniture elegance the glass tops are always rocking, can beautifully be placed and fixed over these tables! Just for a metal touch you can choose the metal legs like hairpin metal legs with single or multiple posts! Accent metal touch can also be given using metal bars for trimming of tabletop!
You can also make you design speak by giving them custom emotions by using personally liked symbols, art shapes, signs and much more! A brilliant example here is the lunger pallet coffee table painted in blue for a beach theme! The coffee table with painted flag is also a brilliant sample here to manifest your love for your county through your handmade items!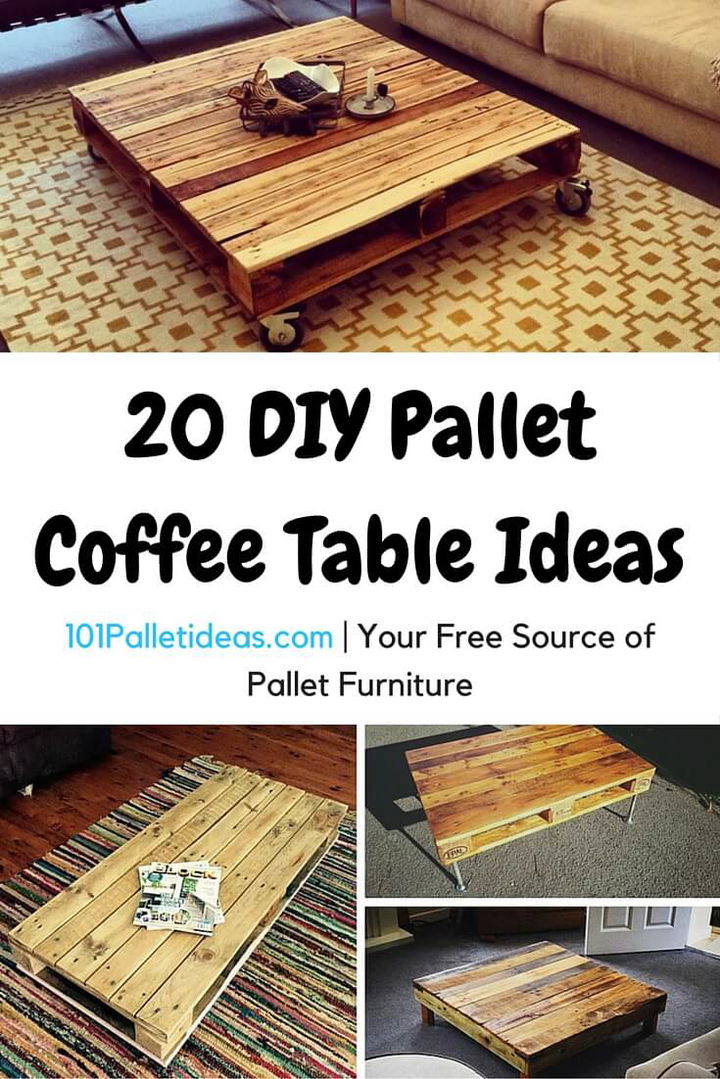 You can also add the mid side boxes or planters to tables and can even create pallet coffee tables with fireplace to enjoy the chilly evenings!
One Pallet Coffee Table with Metal Pipe Legs: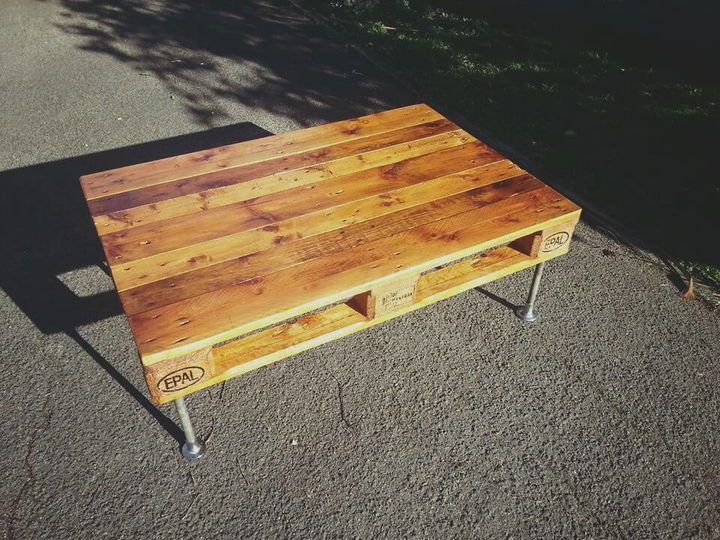 Sqaure Pallet Coffee table with Short Legs: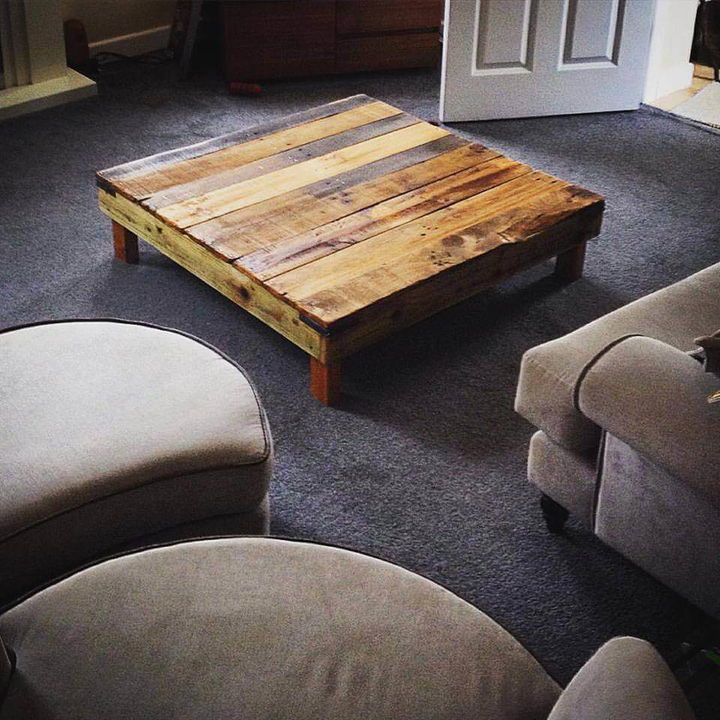 Low Pallet Long Coffee Table: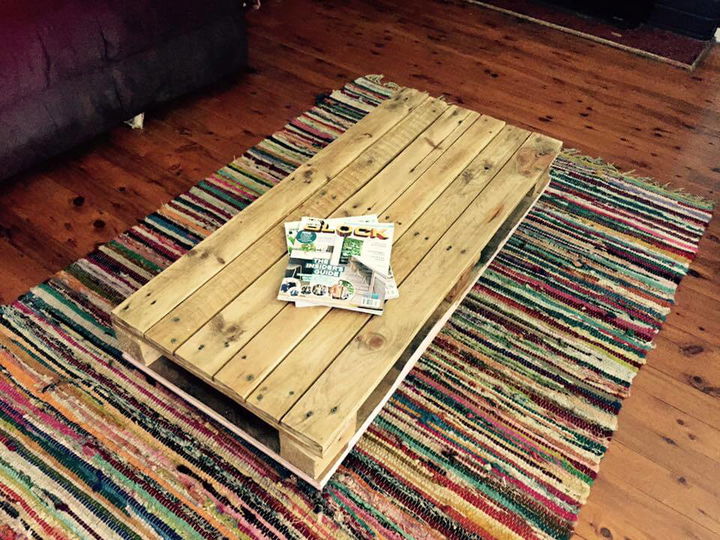 Low Pallet Sqaure Coffee Table on Wheels: