Swank pallet ideas are here to make you cognizant of creative ever recycling of pallets! Discover here very new pallet recoveries into adorable furniture and some bigger achievements done in modern world of recycling by using pallets! Comprehend yourself with great pallet furniture stories and get yourself creative than ever before! Here we have brought some spectacular DIY pallet patio sitting furniture plans and sofa ideas with bigger dramatic and eye-catching statements of decors!
After taking a roundup and you will find a super creative pallet furniture designer and an ingenious furniture setter in yourself and you will also know about some great strategies to make the wood more endured and visually pleasing! Ideas are all about to reuse the pallets in both assembled and disassembled forms for patio furniture, pallet deck and garden furniture! All the suggestion to setup the whole pallets for amazing sofas and couches are clear-cut, well defined and beginner-friendly and there is nothing to worry about the budget too, all is free here except the comfy cushions which will always be of your choice!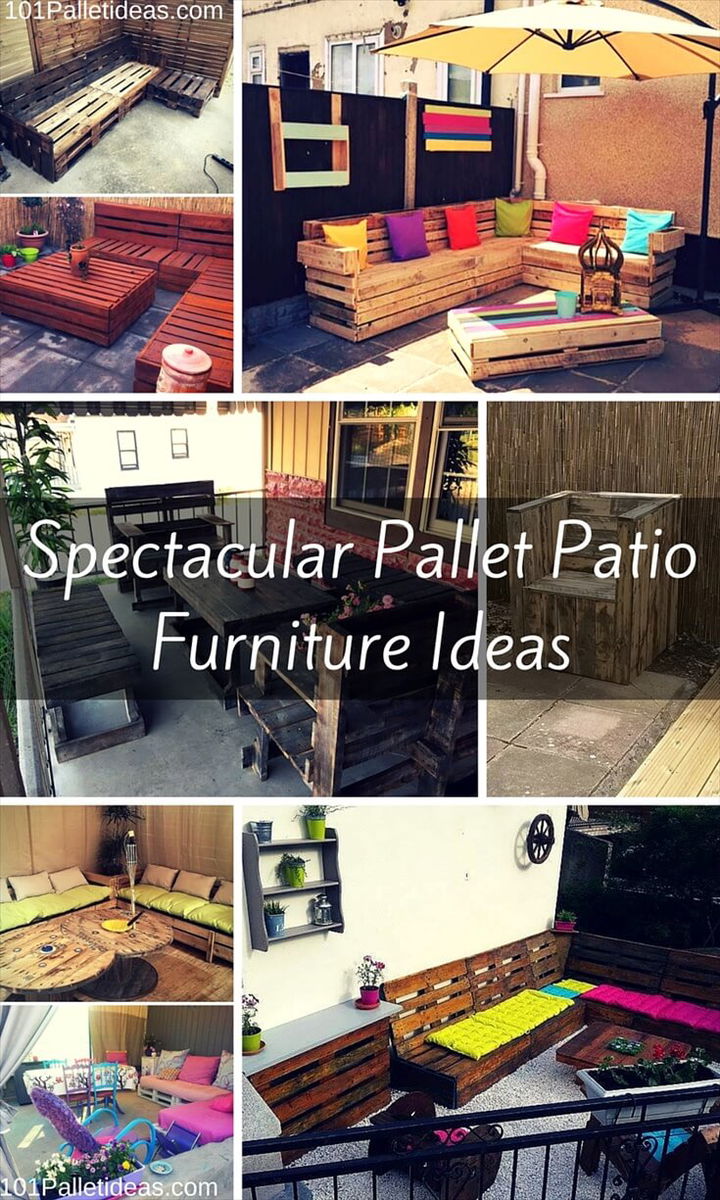 After trying these ideas one by one you will soon latch on to what is going on and you will feel yourself more precise and creative after each try! Simple stacking, aligning and fixing the pallets is required here to go for any of these easy to built pallet sofa ideas and couches that are for nothing but to rock your indoor and outdoor world!
Pallet Balcony or Terrace Set: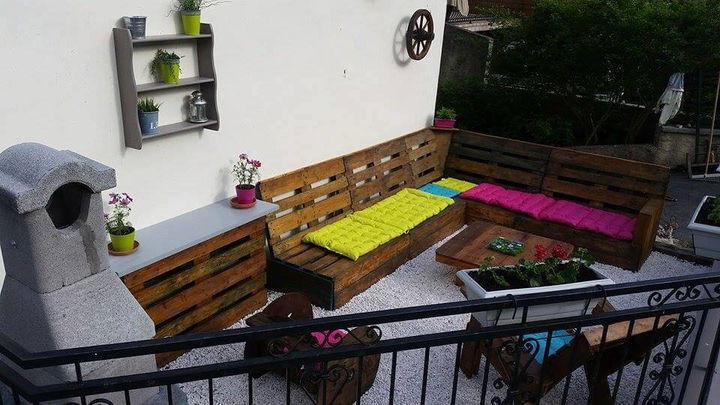 Pallet Patio L-Sofa with Hanging Parasol: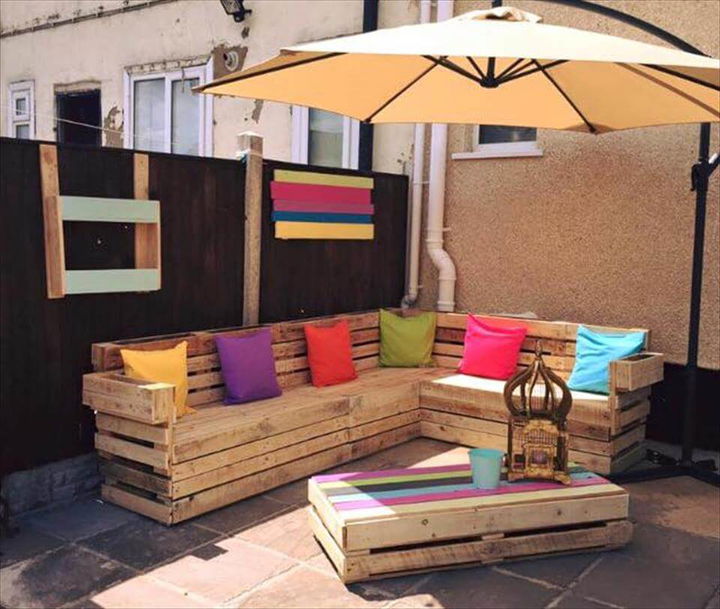 Pallet Corner Settee For Your Reed Fenced Garden: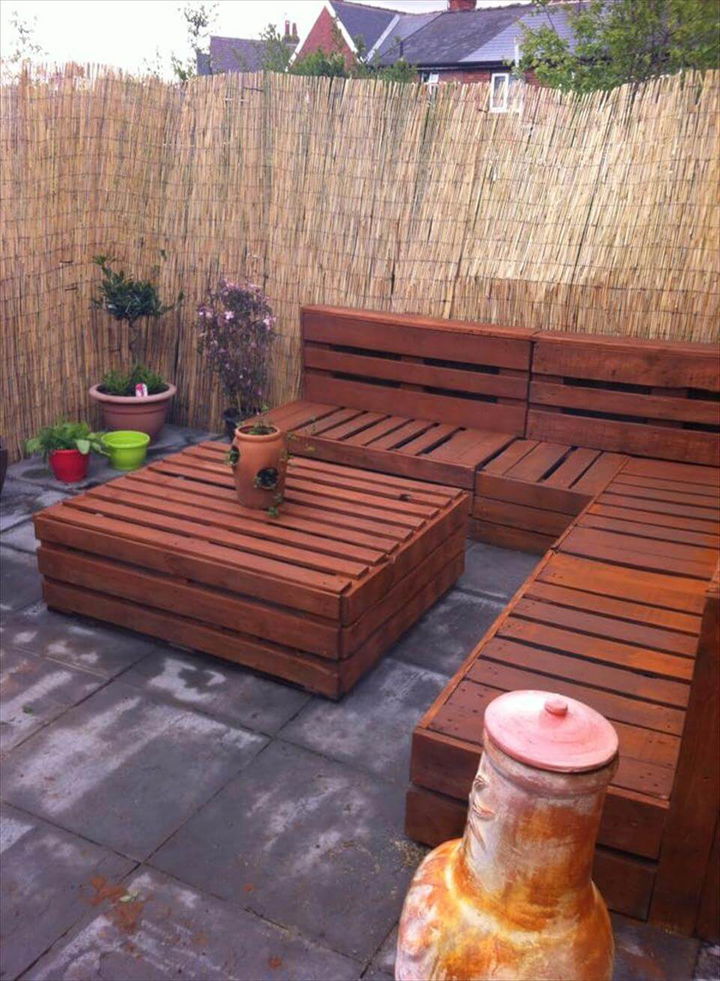 Pallet Sitting Plans and Planters for Carpeted Patios: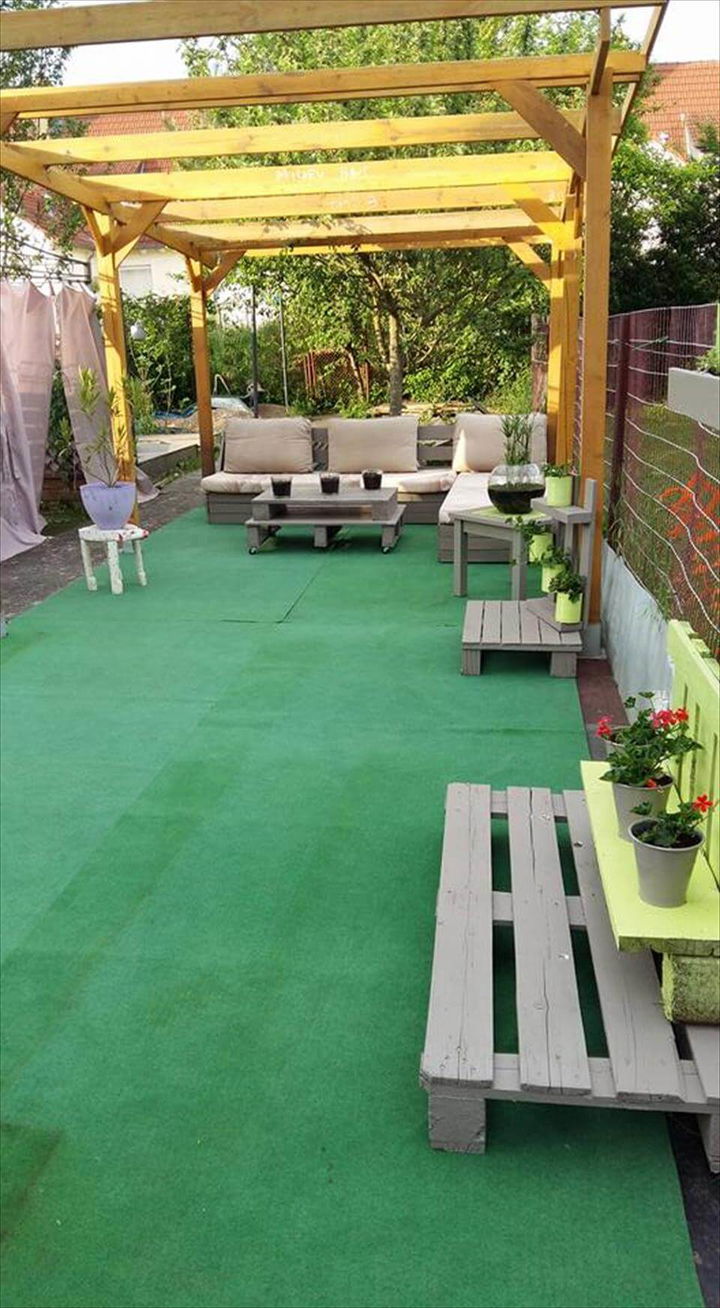 Built-to-Last Pallet Garden Bench & Chair: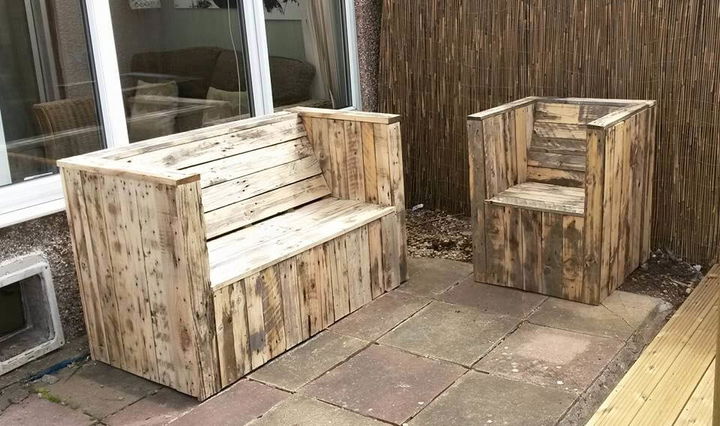 Stacked Pallet Indoor Sectional Sofa with Mattress: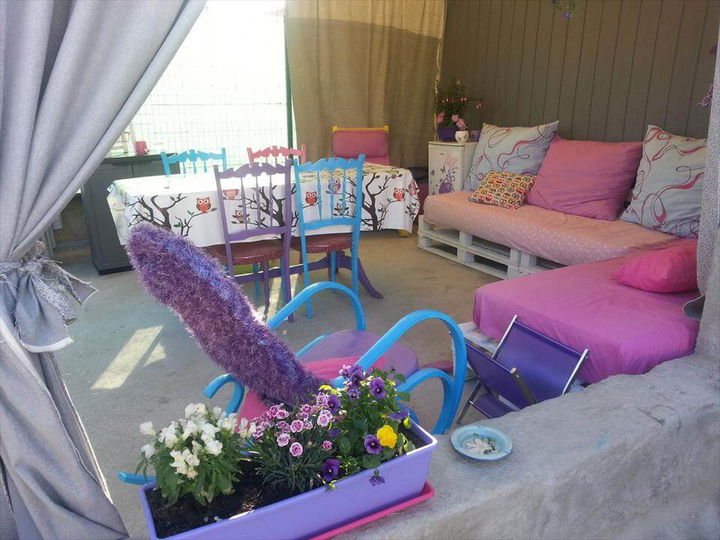 Whole Pallet Rustic Couch Frame: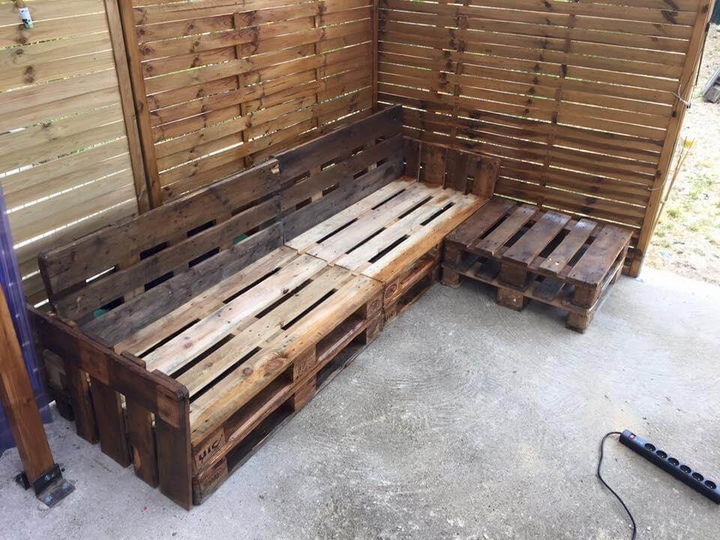 Instructions about Whole Pallet Installations:
Modify the pallets or trim them down to according sizes, you can also stack the whole pallets to get sturdier frames for L-shape, sectional, U-shape and simple straight multi-seater sofas! Increase the number of pallets to be stacked to get higher berth sections raised to more comfortable height levels!
How to Recondition the Pallets:
Give a complete soapy wash to whole stock of pallets, this will remove the gunk layer, then give a sand the selected pallet well for an alluring bright appeal! Use electrical sanders or simple sandpapers to create the brand-new wood tone of wood!
How to Get Comfortable Backrests:
For backrest section, adjust the pallets over the installed row of pallets through an angle, add the back wooden supports and use the latest hardware to hold it tight in position! If you are don't want reclining or angled back then you can build it with countless different possibilities, get more help from the given inspiration below!
Upholstering:
To sit back comfortably in your pallet sectional sofa and chairs, you should definitely have to replace the angularity and hardness with comfy seats, this is only possible through upholstering of your installed whole pallet furniture frames! Make them deeply tufted or add the cushions of your choice, addition of foamy mattress will also add high value comfort to your rustic seats! Budget may vary choice to choice, so select any of these ways that goes friendly to budget!
Assembly & Finishing:
First, you need to hold all the parts in place! Metal angled brackets, Steel plats, carriage bolts and nuts, screws and nails can be for this purpose! Go and search for the latest hardware to get better results! If you want to make your heavier pallet-made couches move by a single person only then raise them on rolling wheels it will not cost your bigger for sure!
As well as we are concerned with the appeal, you can create any minimalist modern chic, countryside, vintage inspired, shabby chic and farmhouse styled look by going with paint and stain! Stain will also be a clever choice if you want to make your design withstand the outdoor weather! Wood oil, wax and sealants and varnish can also help you to create water proofing to your finally finished products along with charming luster and shine on the wooden surfaces!
Pallet and Reed Fence Patio L-Bench: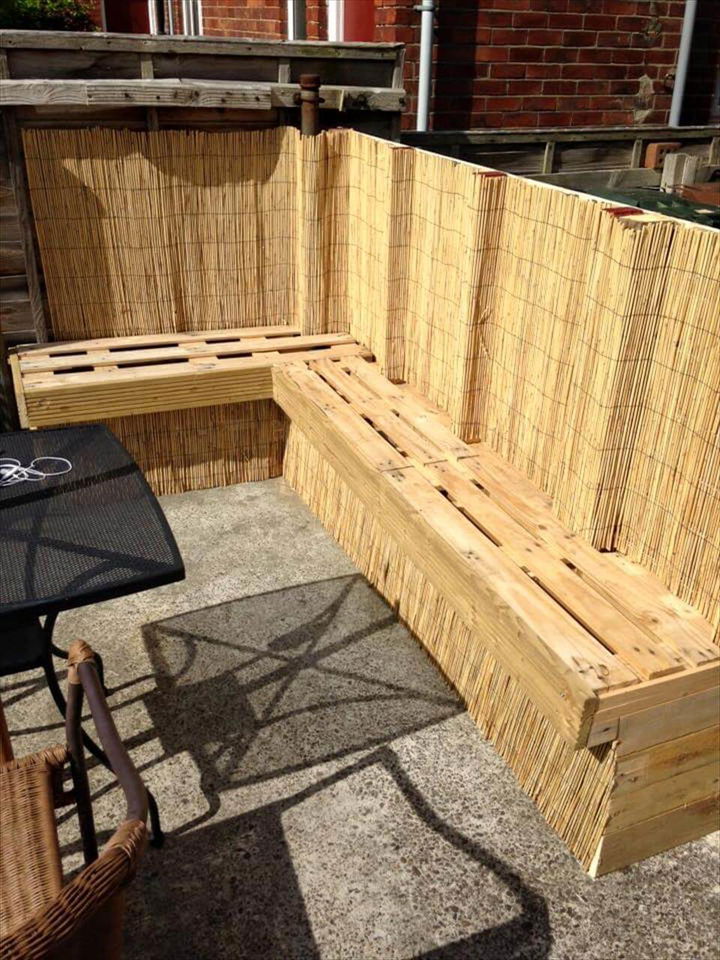 Pallet Sectional Patio Set with Cable Spool Coffee Table: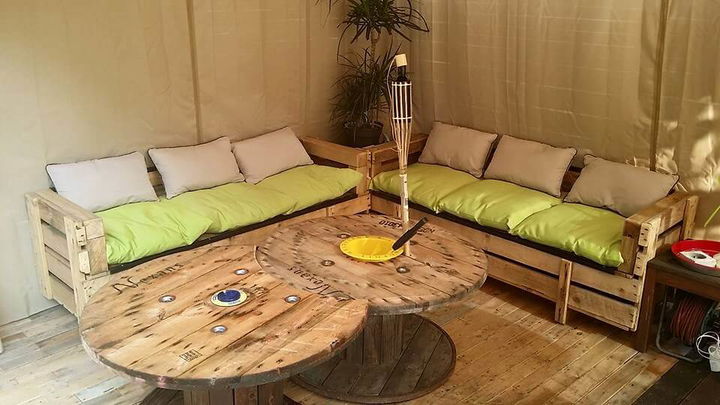 Pallet Garden Sofa Set with Spool Side Table Parasol: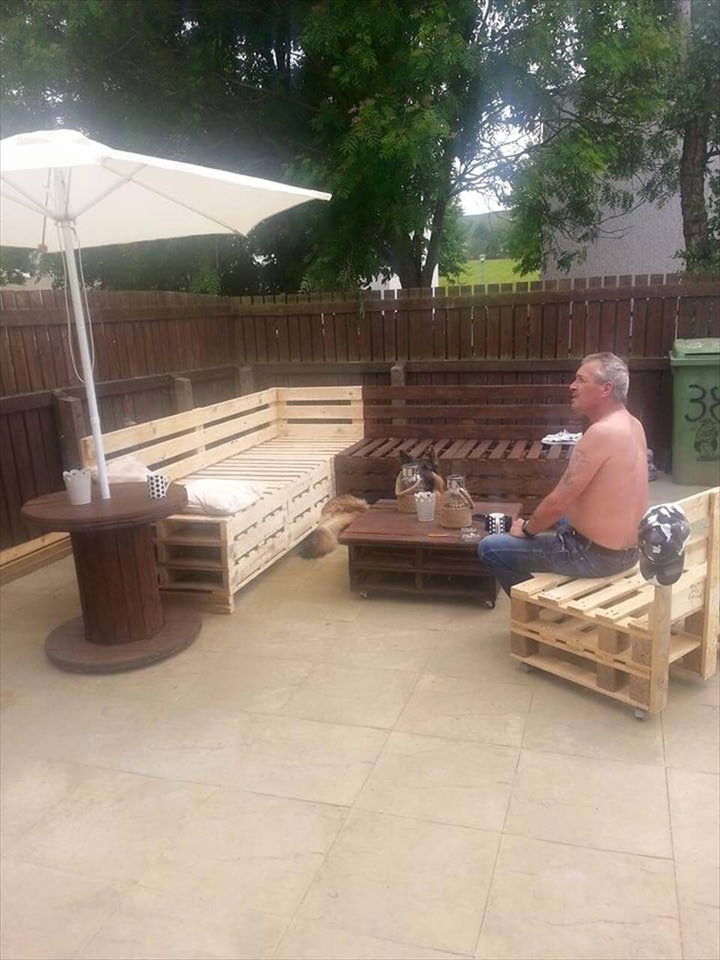 Rustic Pallet Porch Sitting Furniture Set: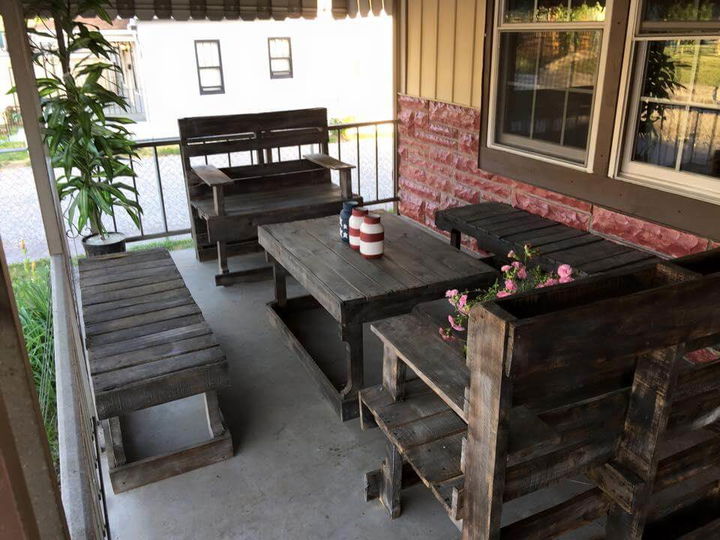 Pallet Section Sitting Unit for Paved Outdoors: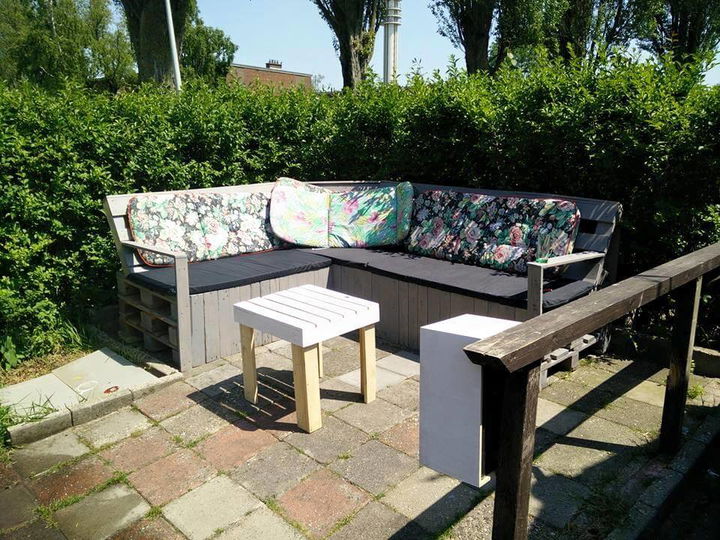 Country Styled Beefy Pallet Patio Sofa Set: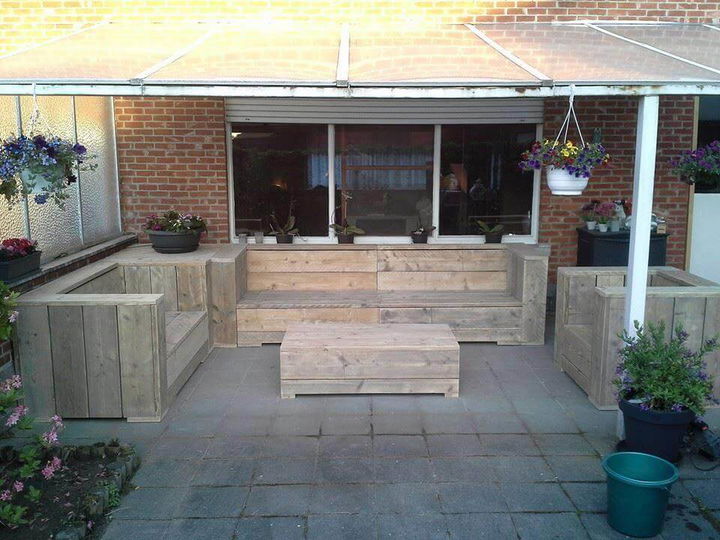 King-Sized Pallet Sofa with Divided Sitting Sections: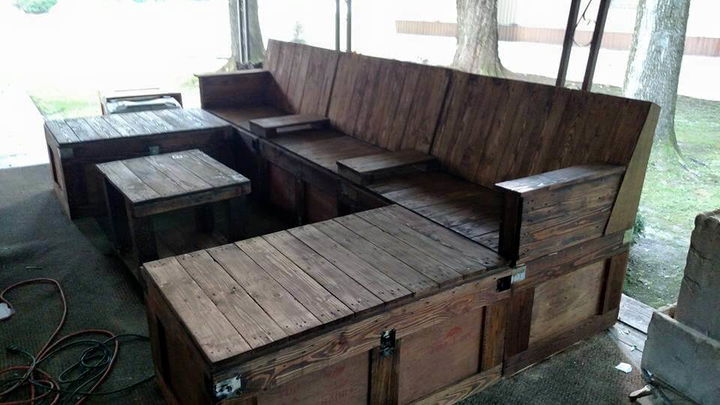 Pallet Sofa Tutorials:
and here are unique planters from pallets: