You'll get the great practical advice in these 100 DIY pallet bed frame ideas! These pallet bed ideas get you inspired by wooden pallets creativity and pallet wood recycling! No matter, if you want a king-size bed, a simple toddler pallet bed or a creative rustic platform bed, amusing bed swings, summer afternoon daybeds, pallet bed with storage, or a pallet bed with wheels.
Pallets have been around for so many years and are mostly used for storing, packing, and shipping of different goods, from food grains to heavier machinery and even for the bigger stocks of medicines. Recently these pallet boards have become much more than just those of wooden packing skids as the retired pallets have now become a popular topic for DIY and people are making extra brilliant uses of them in pallet furniture constructions and wooden home decor designs.
Free Pallets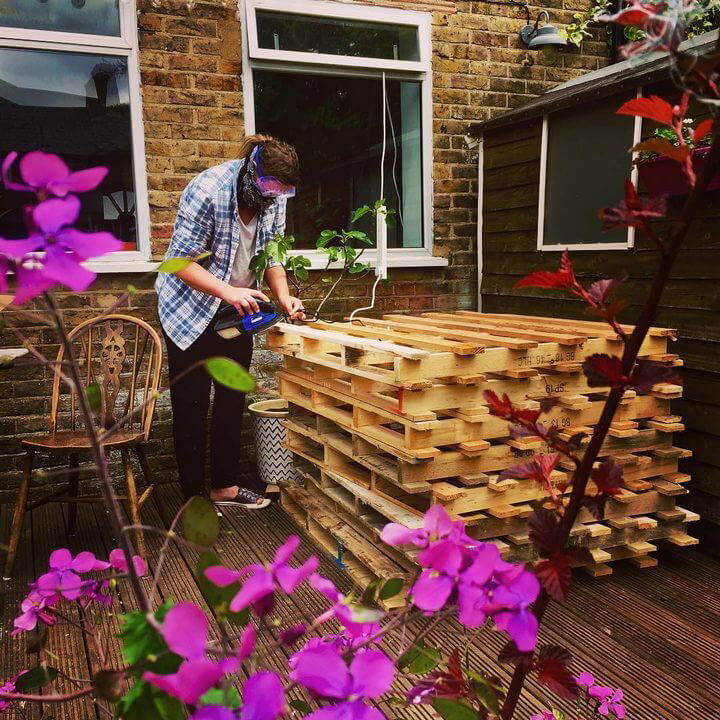 A bed, in particular, is the most functional piece of modern home furniture and can mostly be seen in family rooms, guest rooms, and most commonly in our master bedroom. It should always be visually pleasing, comfortable, and functional, for sure! However, this most wanted piece of cozier home furniture can be built in endless styles with these pallet projects!
Are you want to start pallet wood projects today? then try to find free pallets near me on google or Facebook and or try to get wooden pallets for sale!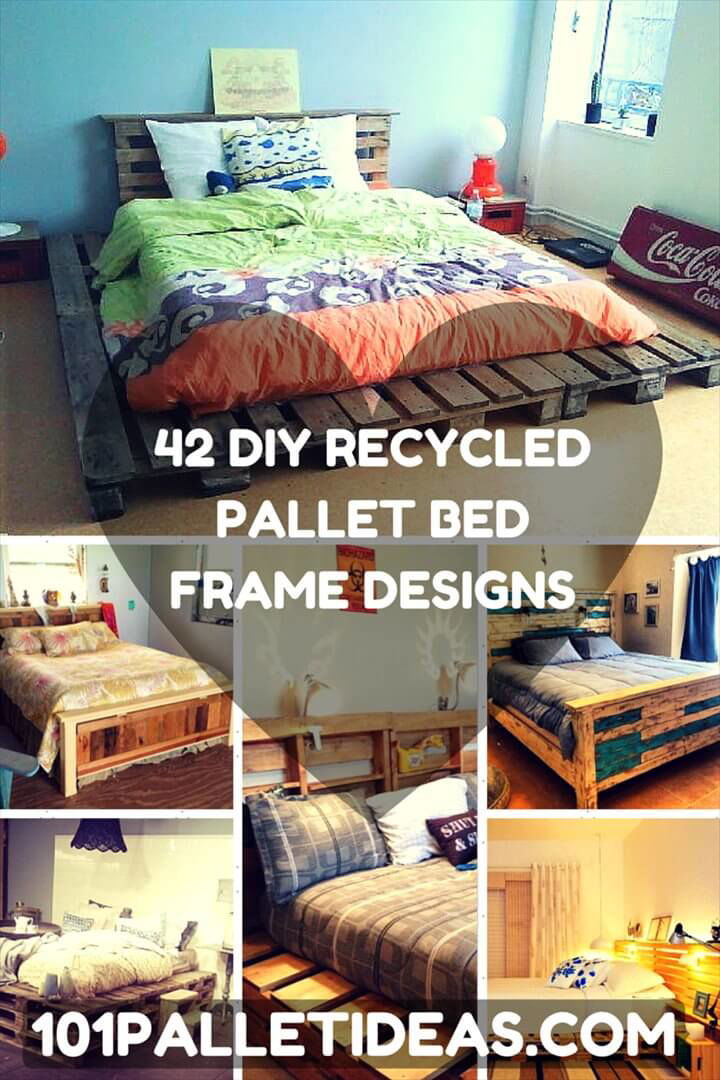 DIY Pallet Bed with Lights: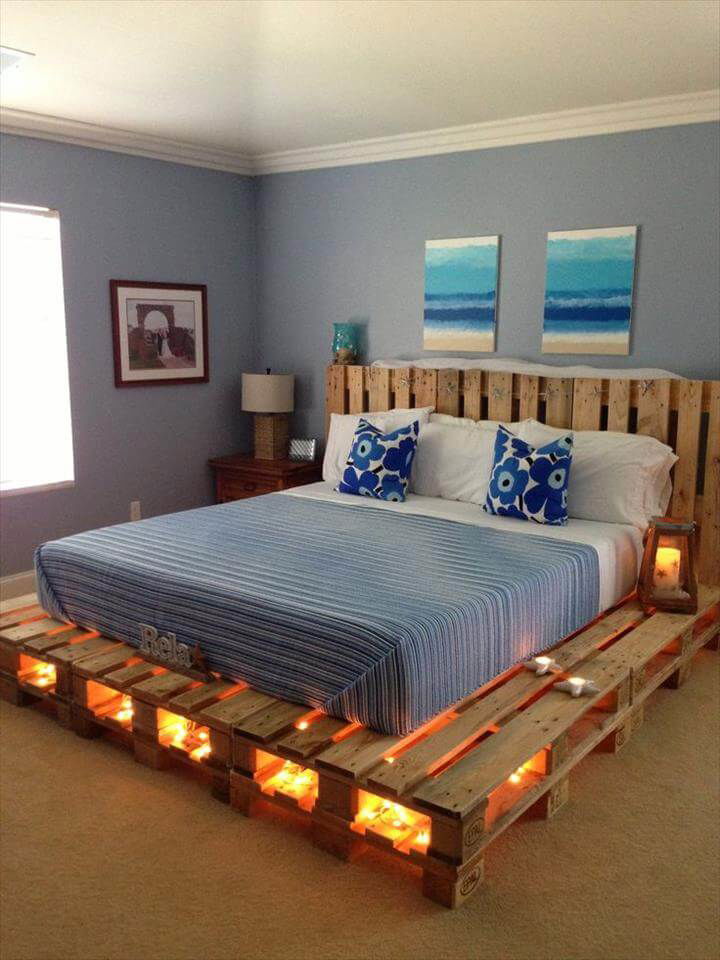 Pallets are a go-to choice for all wishing to build their own furniture. Plan them to achieve your bedding goals. Start by building this pallet bed lights, achieved with simple flat arrangements of pallets. in features, it comes with lights and with a nice headboard made of pallets too.
White Pallet Platform Bed with Storage: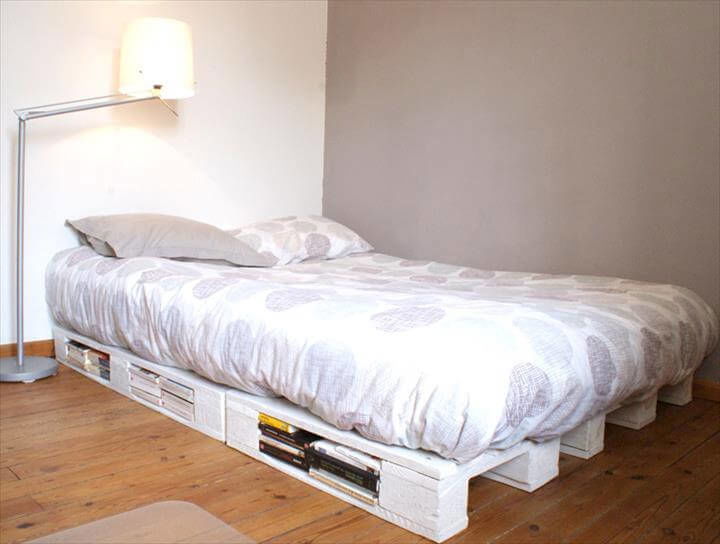 The already built shapes of pallets have been benefited smartly here. Look at the graceful design of the platform bed, provides side cubbies for storing books. Paint the pallets to match your room color scheme and lay flat on the floor with a luxurious mattress on them. Put a lamp on the sides, will assist in reading the books at night.
Pallet Bed Frame: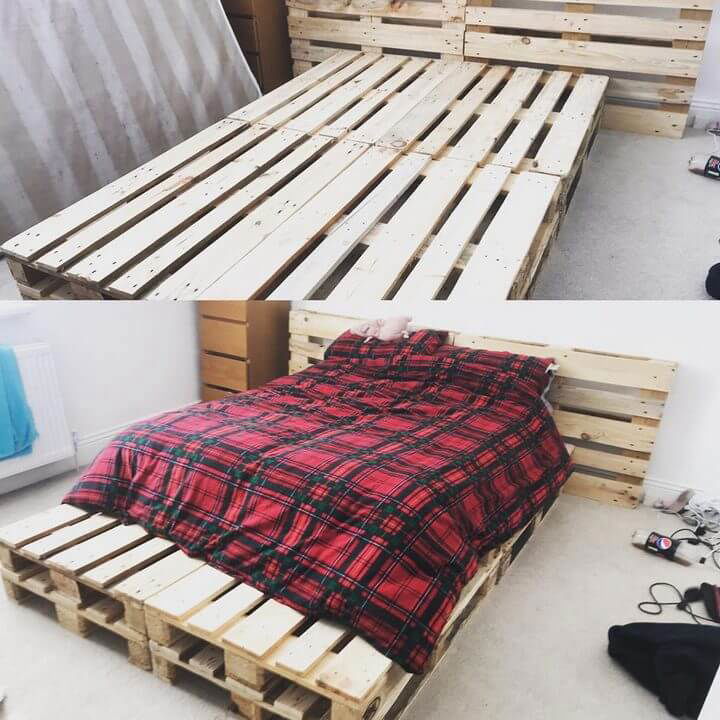 Update a recently build bedroom space with this made-to-last pallet bed. Almost 10 pallets of the same size are talking about in building this sturdy bed. Setting this bed up is a child's play, and you need some pallets and bed mattresses to whip up this fantastic bed frame.
Wooden Pallet Platform Bed: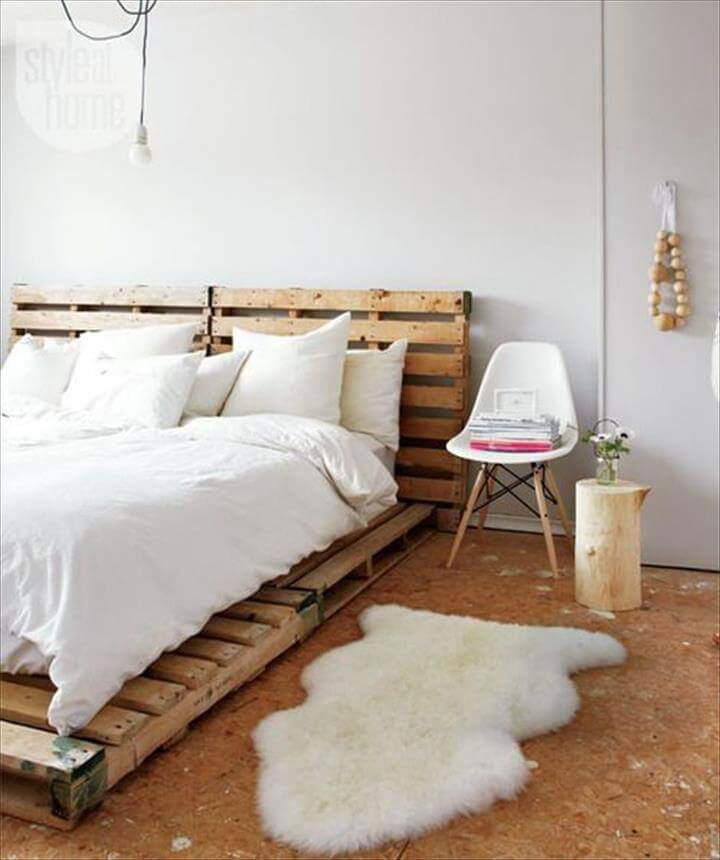 Get the daily dose of sleeping comfort by building this platform bed, will be there for you even in the last 30 minutes or less. The pretty rustic look goes fab with the white foam mattress. Put the pallets flat on the floor to get the design made. Live the bedding luxury with pallets now for free. Set up a pallet behind as a headboard.
Pallet Kids Bed Design: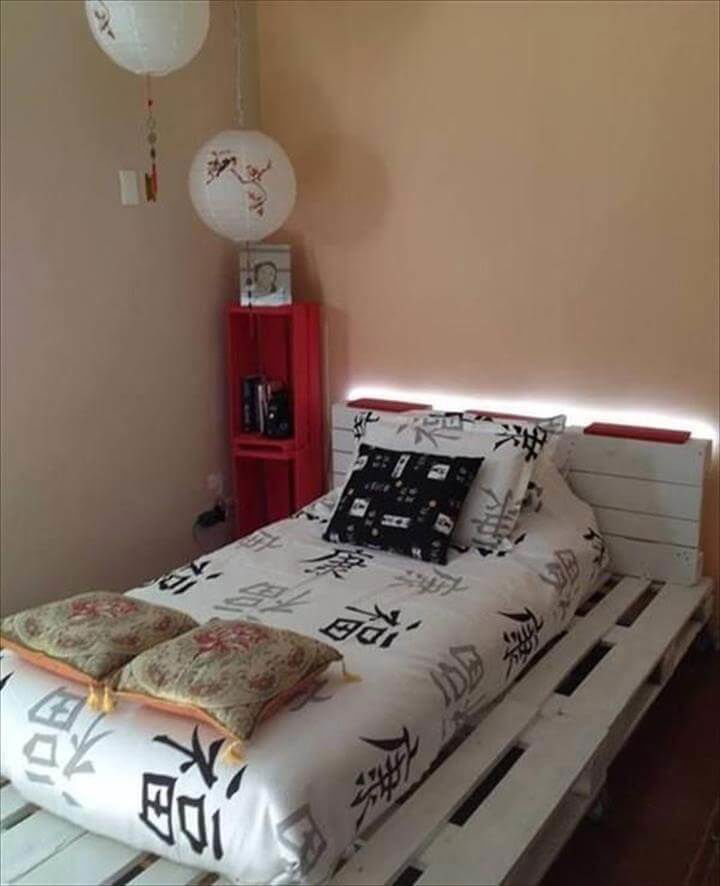 Give your minimalist bedroom a hint of farmhouse chic by building this no-cost rustic pallet bed. The design is made to fit best in the kids' bedrooms. The lighted pallet headboard gives amazing effects to the entire bedroom. Make this bed using white painted pallets, and don't forget to add the paper lanterns above it and 2 crate nightstand inside.
Pallet Daybed with Wheels: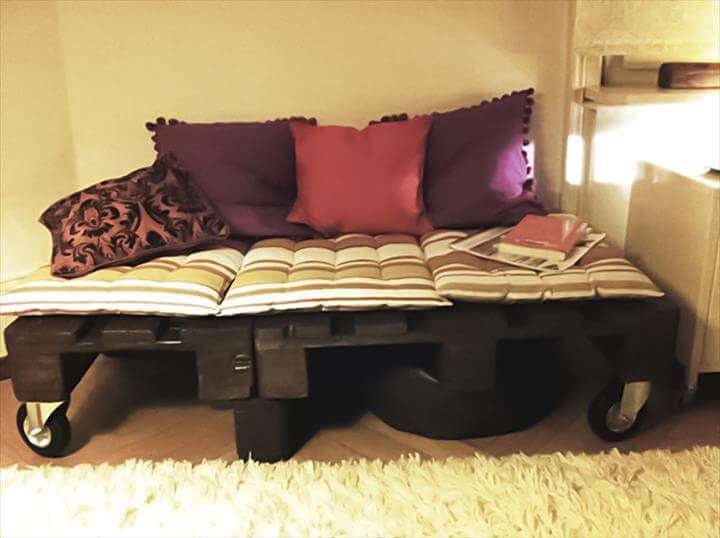 Here is how the pallets start to raise your bedding fun and comfort. Make this rolling pallet bed with your own choice of pallets, always easy to work with. The pretty rustic bed design looks amazing on the wheels. Achieve it using small and big sizes of pallets and quality rolling wheels.
Beefy Wooden Pallet Bed: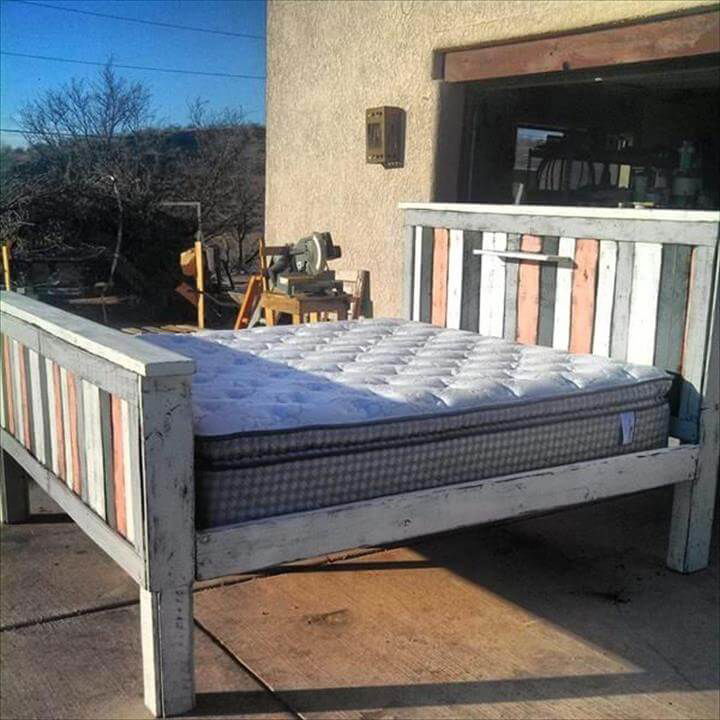 You will end discarding pallets after peeking into features of this sturdy modern bed design. Both headboard and footboard feature a variety of wood slat colors and tones, the feature that makes the design unique and prominent. The bed is sturdy enough to live for years to come.
Super Easy Pallet Bed Plan: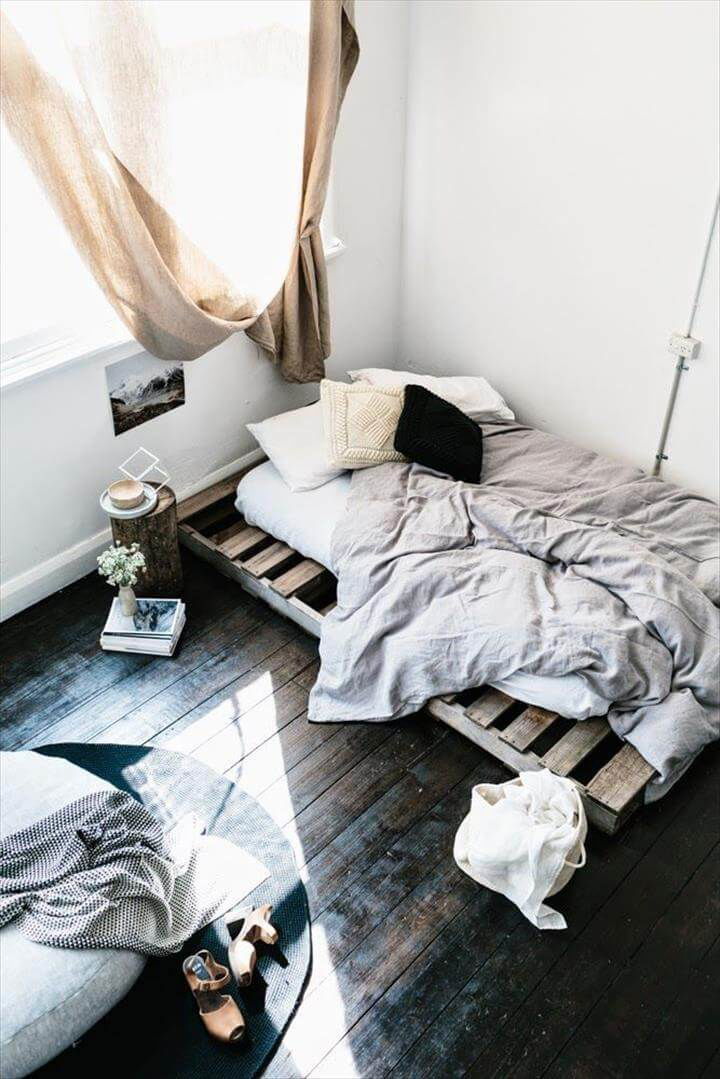 Accomplish your bed space needs using even a single but giant size of pallets. The idea is to set the bed in the corner of your bed to gain an instant beautiful bed. Start reading your books on it by putting a mattress. Opt for this bed design to give your bed a rustic glam touch. Many of us are living in big cities, having different interior home spaces, which may be extra-large or shorter! Just in case, if you want the best fit of a bed to your specific bedroom area, such a manufactured and custom dimensioned bed design may be much expensive and pricey a lot!
The good news is that you can go with any size of bed frame using these pallet furniture ideas that suit best to your bedroom space and can also add various custom options like storage, lights, and headboards to give a functional boost to your hand-built wooden bed designs. How to make a pallet bed step by step? Try our DIY bed frame ideas to get one for your bed.
Platform Pallet Bed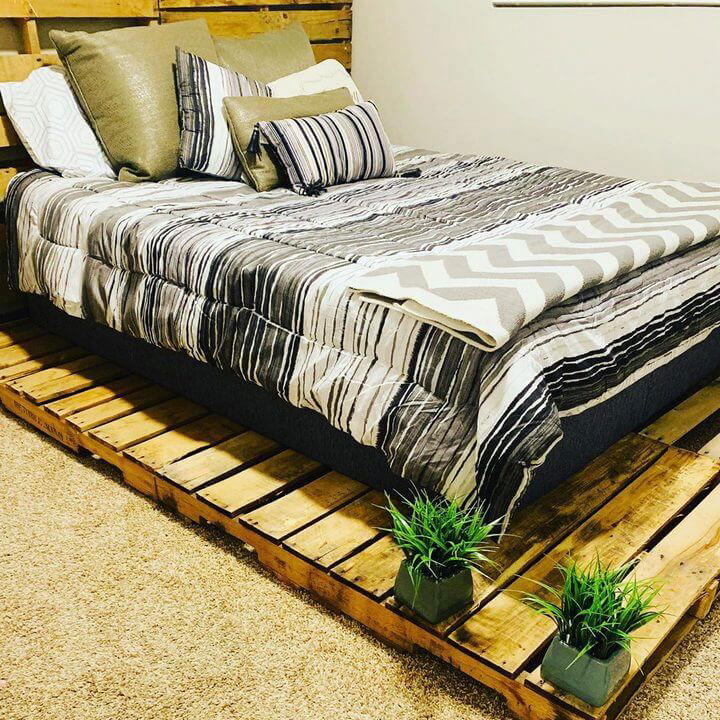 Ease your insomnia by getting this quick, stable, and stylish bed. Let the equal sizes of pallets come flat evenly on the floor, covering your decided bed space. So, you will get an instant beautiful bed design that will only need a mattress. This setting will also be great when you want to add additionally elevated and extended floors around your beds to place some greenery and other decors.
Cheap Pallet Bed Construction: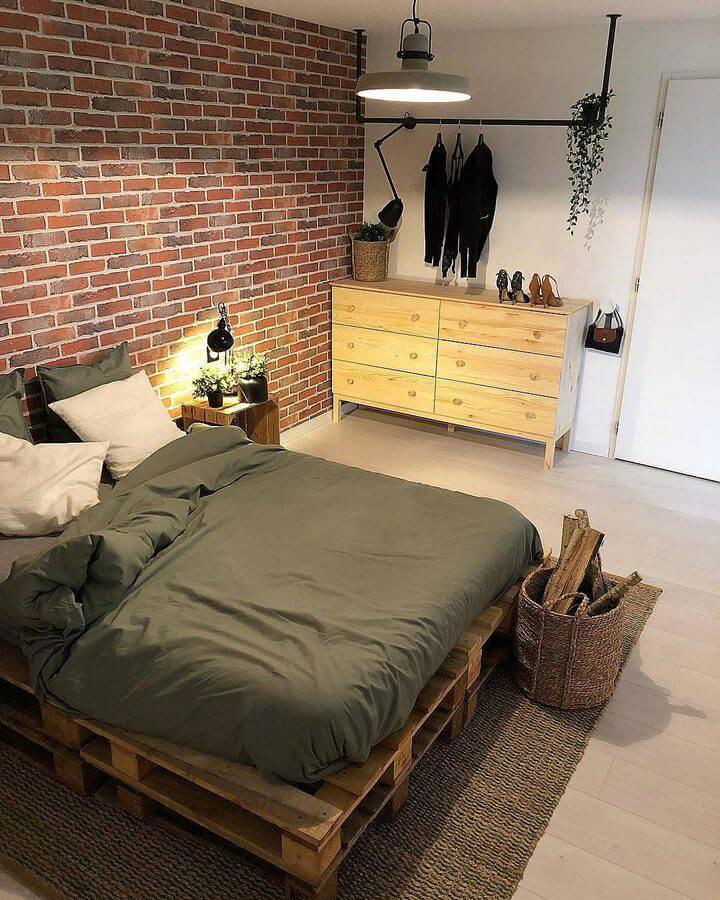 Get here instructions to build the cheapest but sturdiest bed of your life. The design is much achievable by stacking a few pallets having equal sizes and dimensions. The whole bed will cost you the price of the mattress only. Furthermore, put a crate in the sides as a storage-friendly nightstand.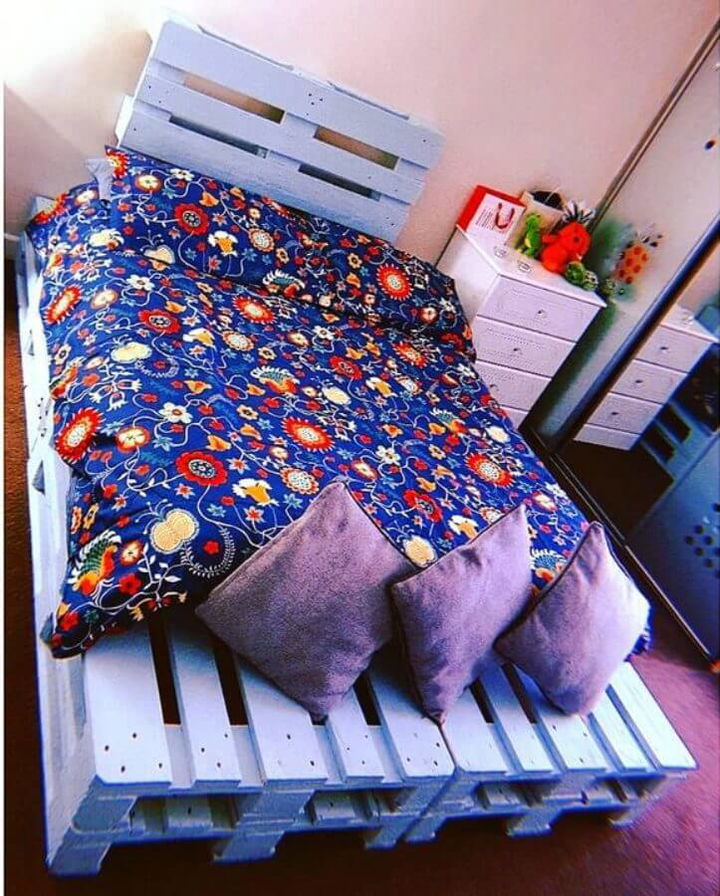 A perfect twin bed for kids room painted in light blue color and is loaded with a comfy cushion. A creative tribute to pallet wood recycling. It will make your way easy to luxurious bedding while being short on a budget. Pallets are mostly the overlooked material but not from now for those lacking in bedding space.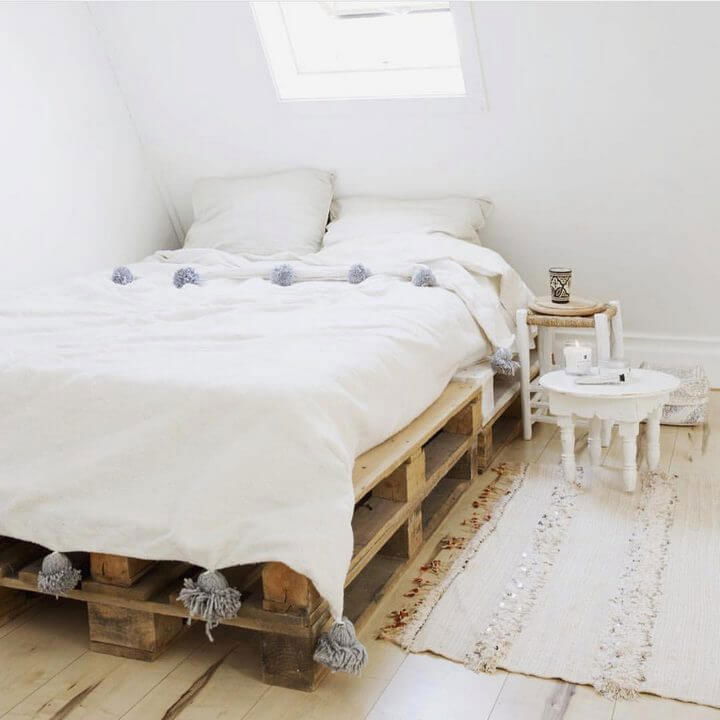 Are you a big fan of rustic living? Then start living it from your bedroom by owing this bed. The design is storage-friendly, cost-effective, and totally hand-built. The instant beautiful stacks of pallets make this stylish raised bed, comfy enough to get a quality sleep every day. Paint the pallets or stuff lights inside for more cool effects.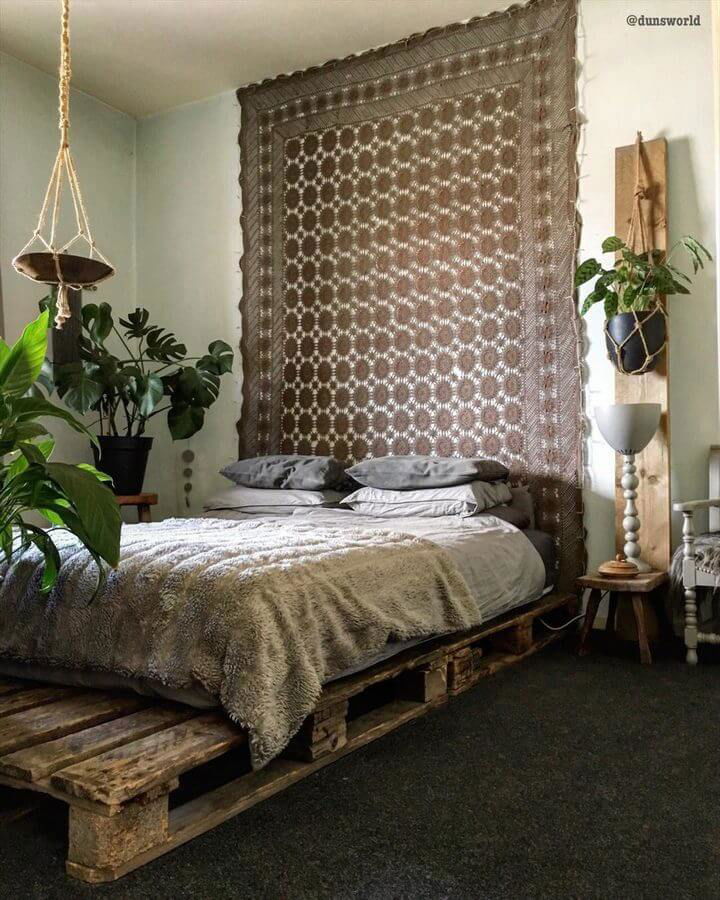 Are you on a mission to build an antique bedroom? Then live those past days again by building this super rustic pallet bed. The construction is all about putting a mattress on large pallet skids put together, making a gorgeous bed. The headboard is raised to the ceiling and impresses with its patterned appeal. Use a vertical pallet plant to hold a hanging macram?? plant holder insides.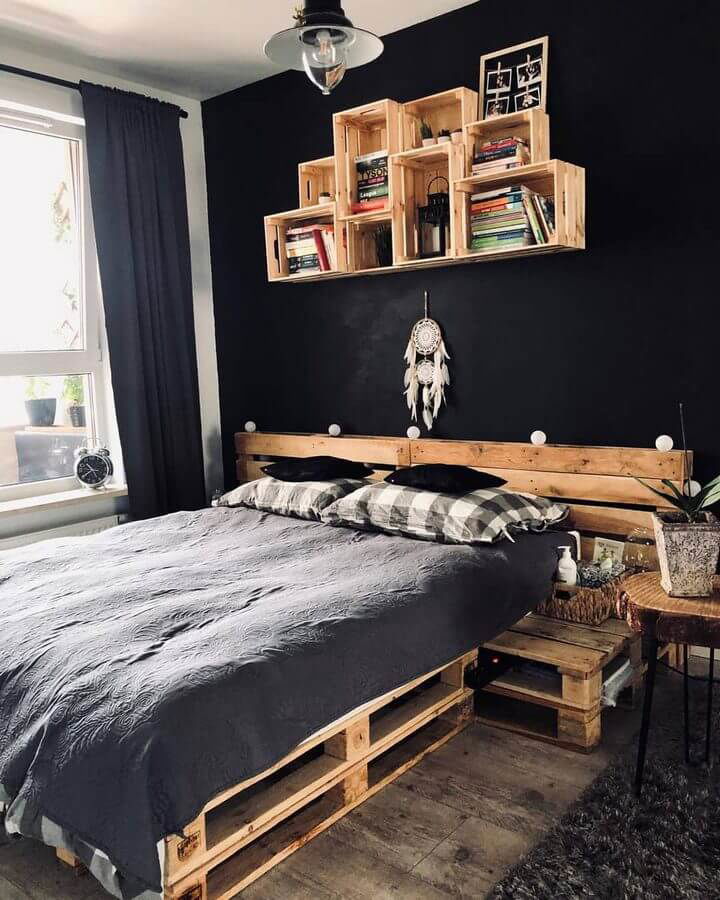 Not owning a bed due to higher prices is more an excuse. Look at this phenomenal design of a wooden bed, cool enough to make you say a big wow with amazement. Stack the pallets straight for the bedding area and arrange them like a bench for the back headboard and nightstand on each side. Install lights to the headboard, and don't forget to install the wall-mounted assorted crate display or storage shelves.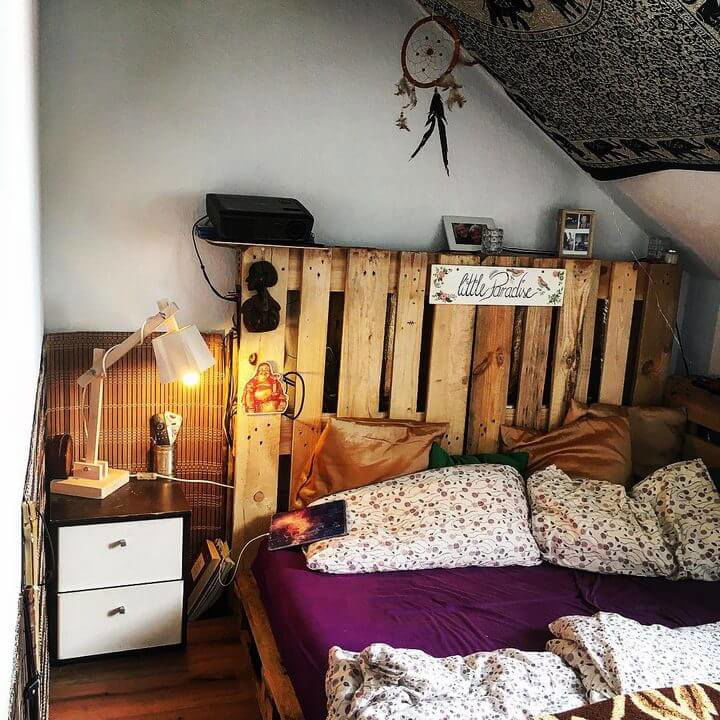 The coolest bedding hack, a stylishly beautiful wooden bed made of pallets brought in an L-shape. The headboard behind is spruced up more with rustic charms, and you can load some great mural frames too over the headboard for a great display. One of the best wooden pallet bed ever made.
Wood Pallets Bed: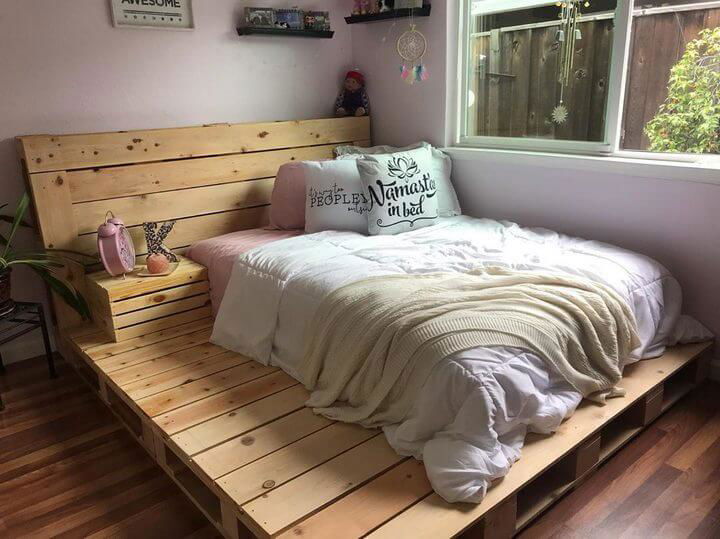 Strive for fineness, uniqueness, and sharpness of furniture? Then this design of pallet bed has all to hold your attention. Put flat the pallets for fine flat arrangements gaining a uniform bedding space. Use a pallet for an accented head of the bed, the headboard, and opt for little crates to add as nightstands.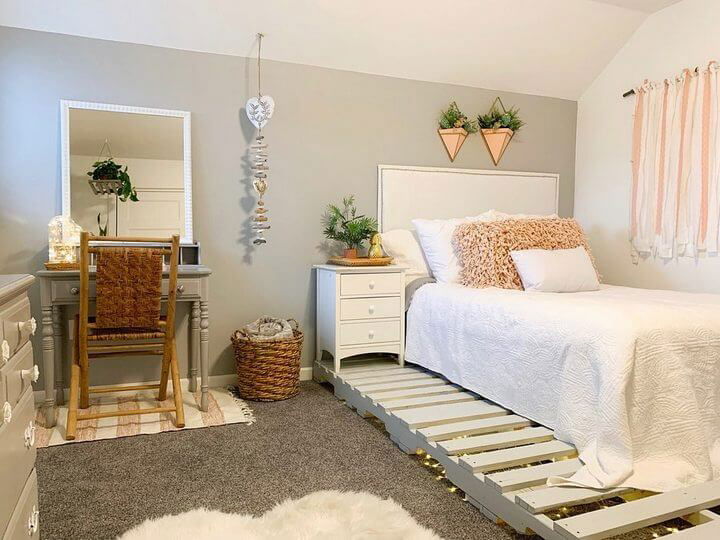 Make your way to luxurious and modern bedding using the free pallets. The feasible wooden structures can be packed to gain a wooden platform of any size, which will be your bed. Build this white painted pallet bed for a shabby chic or modern chic interior. A little touch of greenery and elegant design of the headboard brings a big wow factor to the design.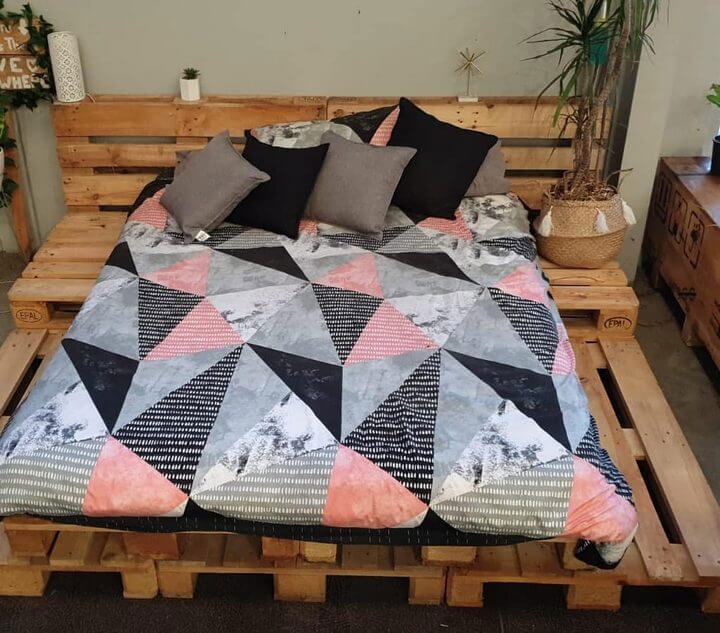 Recycle pallets to build the night luxury, the bed. A bed is most expensive in a home furniture list. An in the DIY department, it can be made by spending a few bucks. Head over to free pallets and build this design of the platform bed. It features a blank tone of wood along with a magnetizing design structure, having built-in nightstands.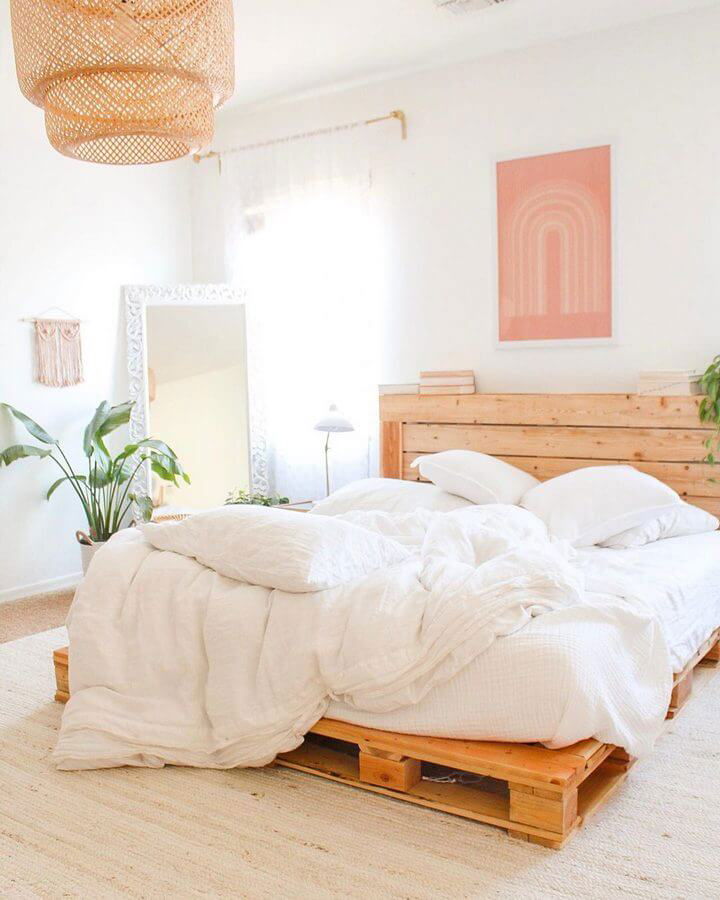 You will be in appreciation of this bed after looking at the fine dimensions. The design is made to last and is to get for all rustic to farmhouse style to modern bedrooms. Pack the elegant pallet skids like EURO or EPAL pallets to achieve this most bizarre-looking bed design. Simple straight L-shape pallet bed, offering cool built-in cubbies for storage too.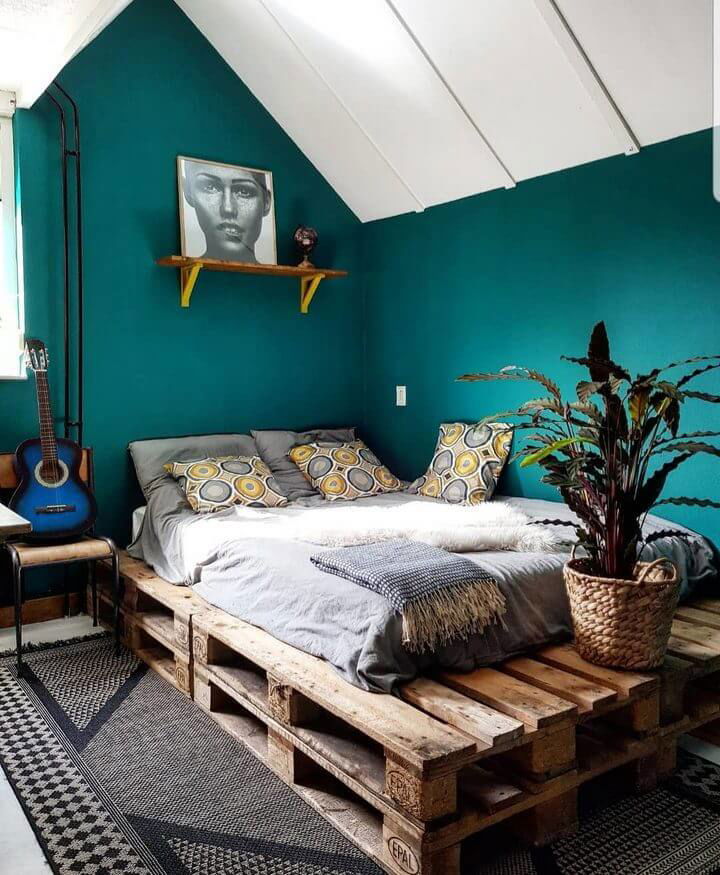 Styling up your bedding space not always need bigger investments. A big wow factor can be brought there by doing creative recycling projects, too, like this pallet bed. It will amaze bedroom audiences with its straightforward design and is a must to get bed design while wishing to feature antiqueness in your bedroom. Make it with EPAL pallets.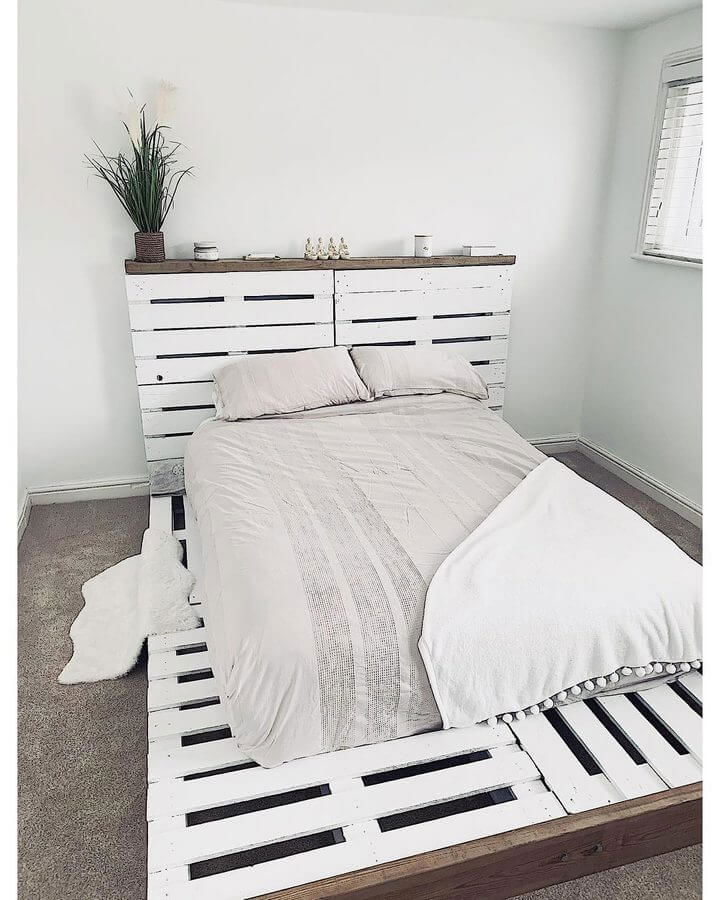 Honestly speaking, this bed design is going to be favorite of all the guests and friends entering your bedroom. The white painted design with rustic slat trimming, perfect for a chic farmhouse interior. Pack the pallets for building beds, use wood slats to keep them in place. Here 2 vertical pallets combined with a top rustic slat build the headboard.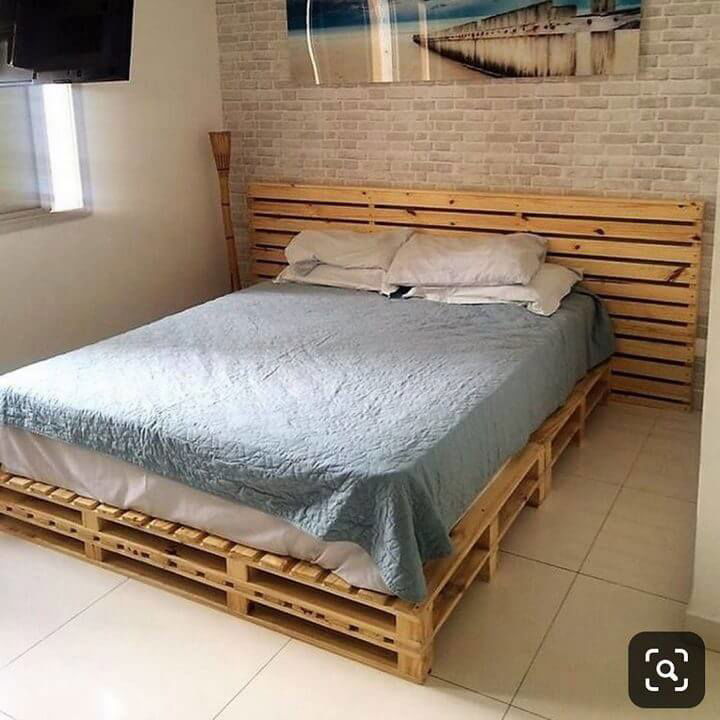 A modern wooden platform bed that fits the entire space elegantly. The slatted pallet headboard goes the wall to the wall and gives a charming background to bed along with cool display space. Again pack flat healthy-looking pallets in kind, twin, or double bed size to make this bed in the size of choice.
Pallet Bed on Wheels:

Is decluttering your bedroom is demanding to get a bed with built-in storage? Then opt for this storage-friendly pallet bed design, comes on wheels to be touch to move. Stack clone sizes of pallets up to 2 levels and build this robust wooden pallet bed with built-in cubbies. A leftover pallet will be enough to use as a headboard.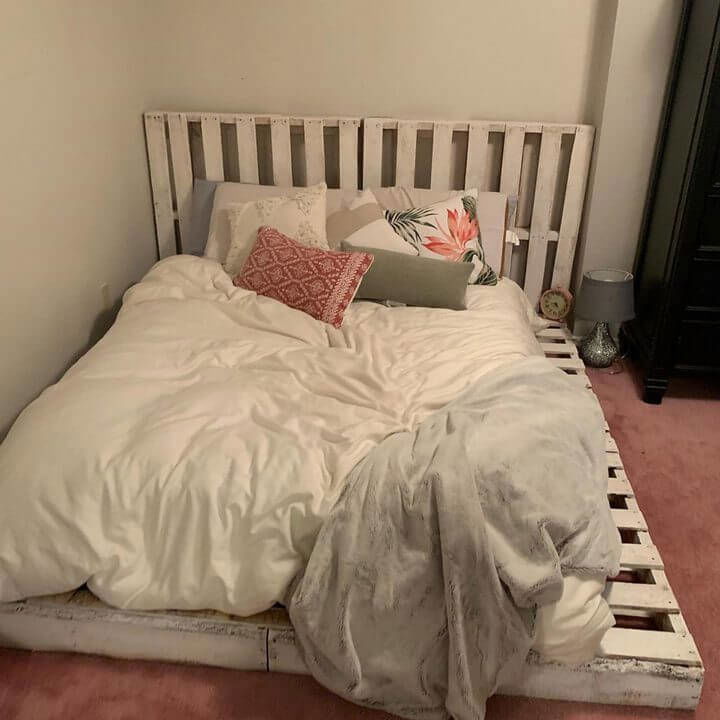 It is all a matter of not being guided properly that pallets are considered to be waste by many of us. Actually, they are magical, readymade wooden skids, always there for instant beautiful DIY furniture construction. They are much doable and ideal for building no-cost beds. Overcome your bed space issues by using a few pallets, copy the given design in 10 minutes.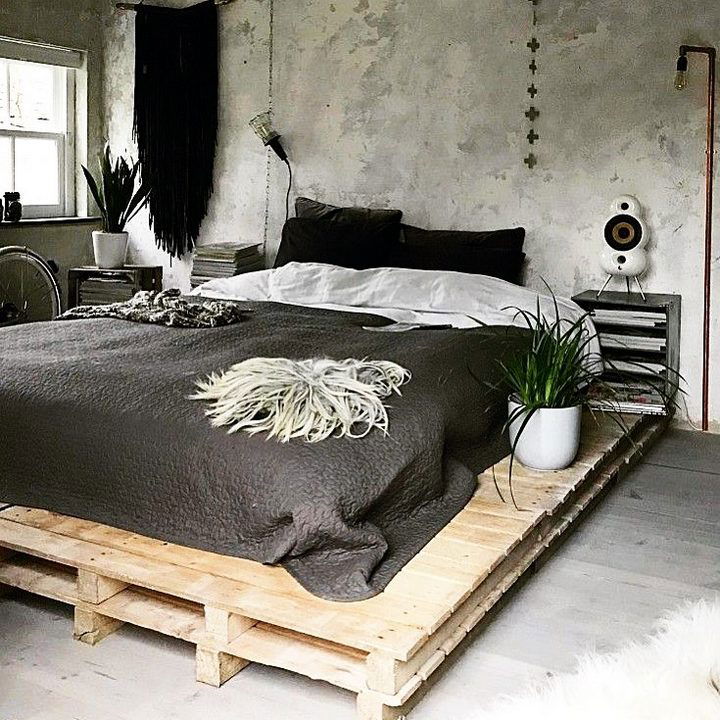 Recycling of pallets can really make you get this, a luxurious pallet platform bed, evenly flat and elegant. The design is built to fit the bed space according to settings, and it gives extra space all around to display pots, planters, and even to hold the nightstands. Install reading lights to easily read the books at night.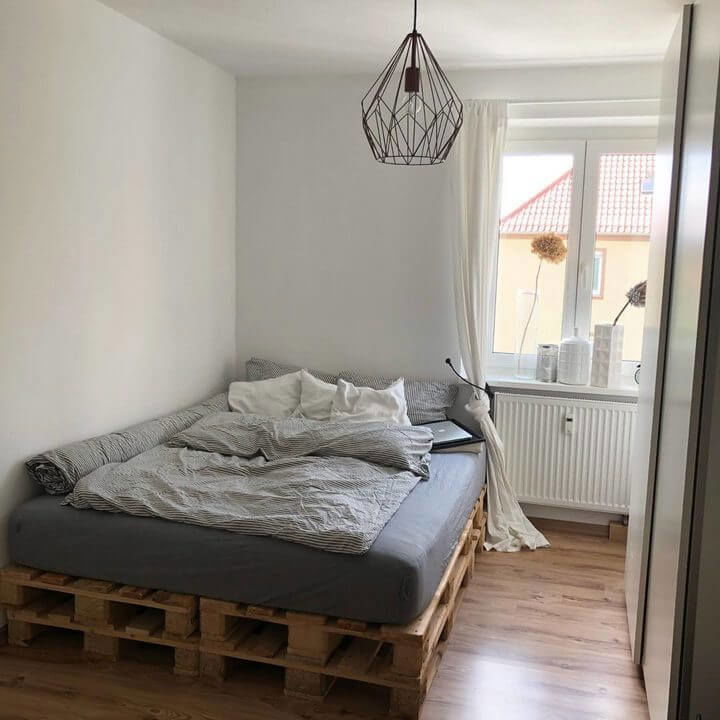 If you talk about building a bed out of pallets, then a kid can build one quite in an expert way. Look at this creative repurposing of wood pallets, helping to build a robust wooden bed. The design is simply flat, and a looks like a stack of pallet under a thick bed mattress. Use this pallet setting to build instant daybeds too.

Use this pallet bed as both as a sleeping space and also as a daybed. Set the pallets on the removed pallet chocks or dices to whip up this gorgeous wooden daybed and night bed design. 2 big pallets, pallet dices, and a comfy mattress all you need to make it.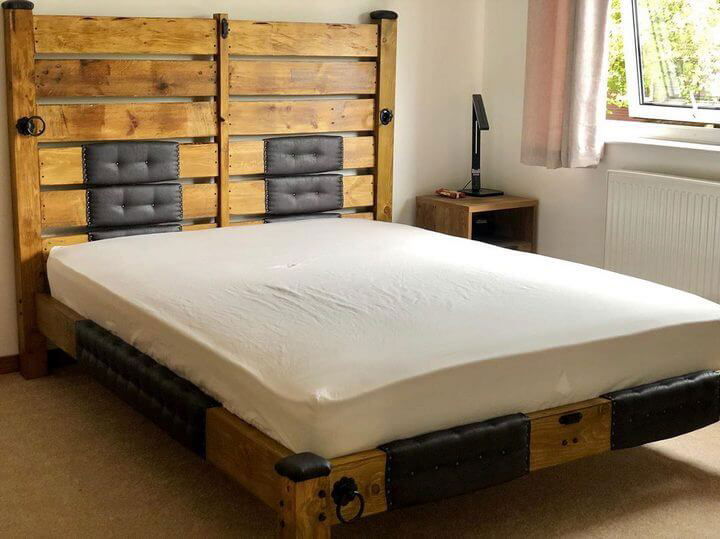 This one will surely grab one's attention having great lust for modern epic furniture. The design is too beautiful to make one say, wow. Get the headboard and frame of the bed a little padded to boost the visual grace of the bed. Add some antique accents for making the design a bit more rustic too.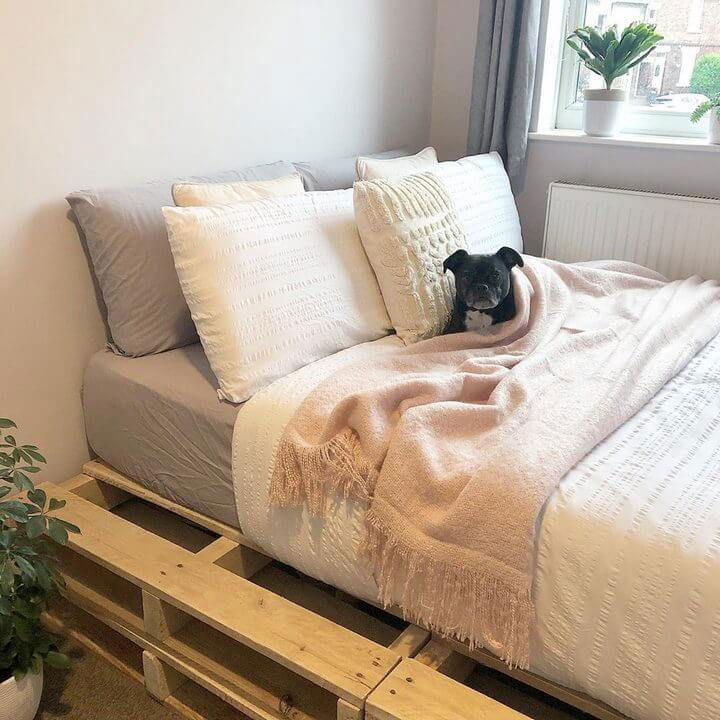 Setting up and building a bed was never so easier before. Simple pile up the free pallets and build lasting longer wooden beds of choice. The design is much achievable even with a mini stock of pallets. The EPAL or EURO pallets will be ideal candidates for this pallet bed project.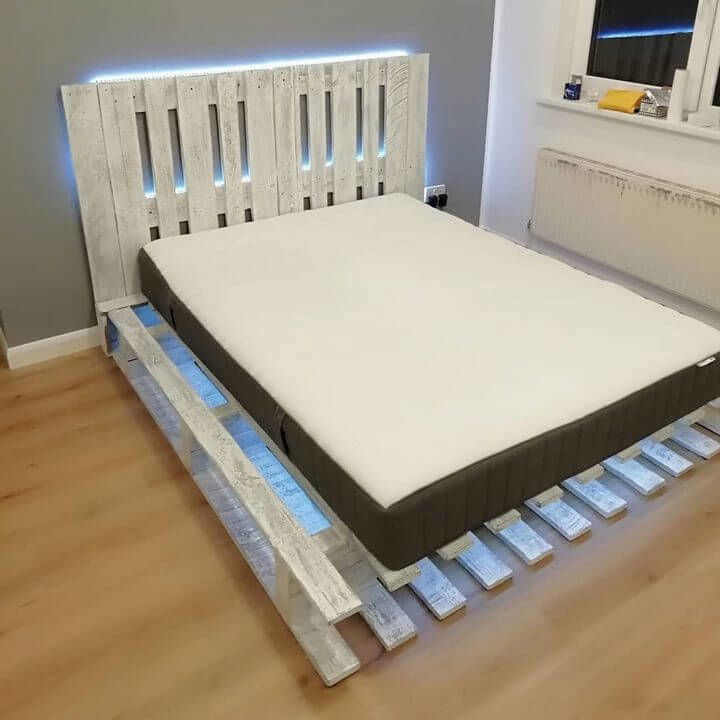 Create a subtle lighted manifestation of your bedroom with the wooden grace and slatted appeal of this bed. Install lights for the added visual charm and simply bring the pallets into L-shape to whip up this fascinating design of a wooden pallet bed. The whole bed will cost you next to nothing.
Pallet Daybed: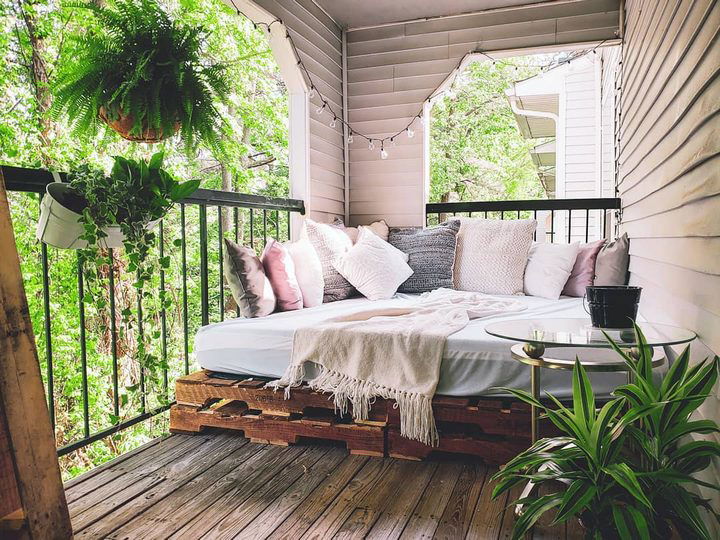 Enjoy the afternoon napping, book reading, daydreaming, and even the couple sitting on the luxurious wooden daybed comes with a zero price tag. The evenly flat arrangements of pallets have been topped up with a foam mattress to gain this epic wooden pallet bed, will be a great addition to one's patio or deck area.
Pallet Bed for Kids: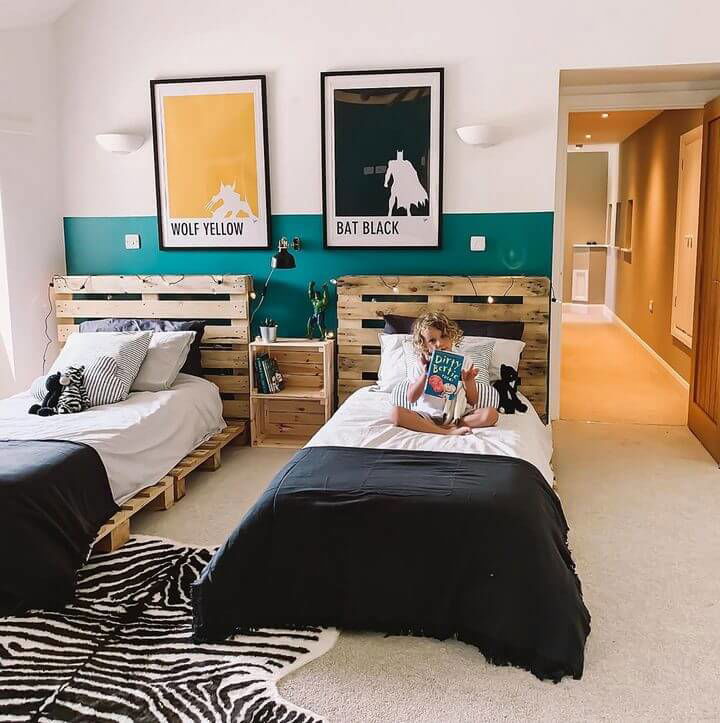 Why should adults have all the pallet fun, make the cozy, stylish, and stable kids beds too out of recycled pallets. Look at the kids' bedroom setting done with free pallets and wood crates. Set up the pallets into L-shape while finishing with comfy bed mattresses to gain twin beds. Finish the beds with a combined central wood crate nightstand. Install reading lights and lamps at the end.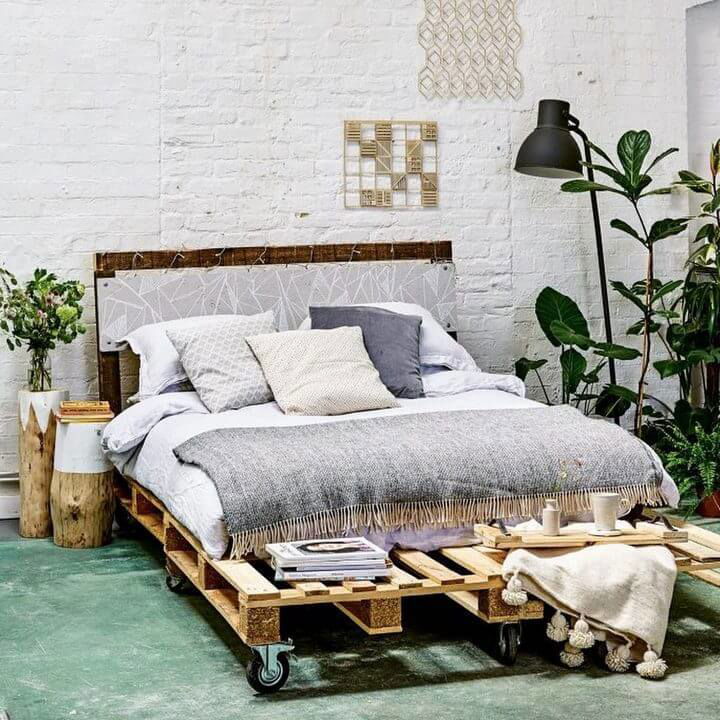 Get a natural sleep on this natural bed set in a bedroom decorated on a natural theme. Combine 2 wood pallets using recommended hardware and finish each pallet skid with wheels to get this platform rolling bed made. It comes with a decorative headboard that beautifies it more.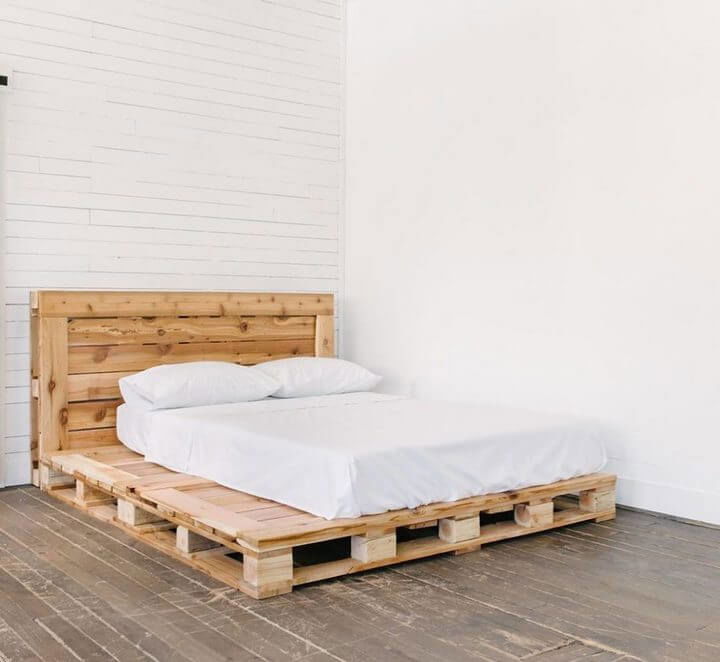 Getting free bedroom furniture will make every home person happier. So, get your pallet wood recycling praised by whipping up this sophisticated and fine-looking wooden bed. The accurate dimensions and evenly flat surfaces make the design a bit more special. The design is solid and will last for years to come.
Pallet Bed with Headboard: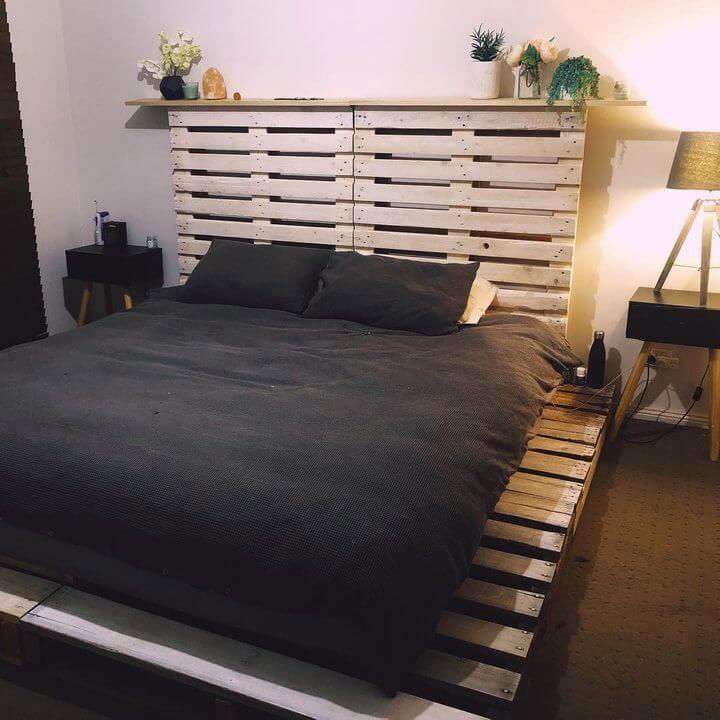 The wooden beds with headboards always get your first priority, and they are quite something and easy to build with free pallets. A combination of 2 vertical pallets with tops combined with a flat wooden shelving board, will make a lovely decorative headboard like in this pallet bed. Lay the pallets down evenly on the floor to make the bed.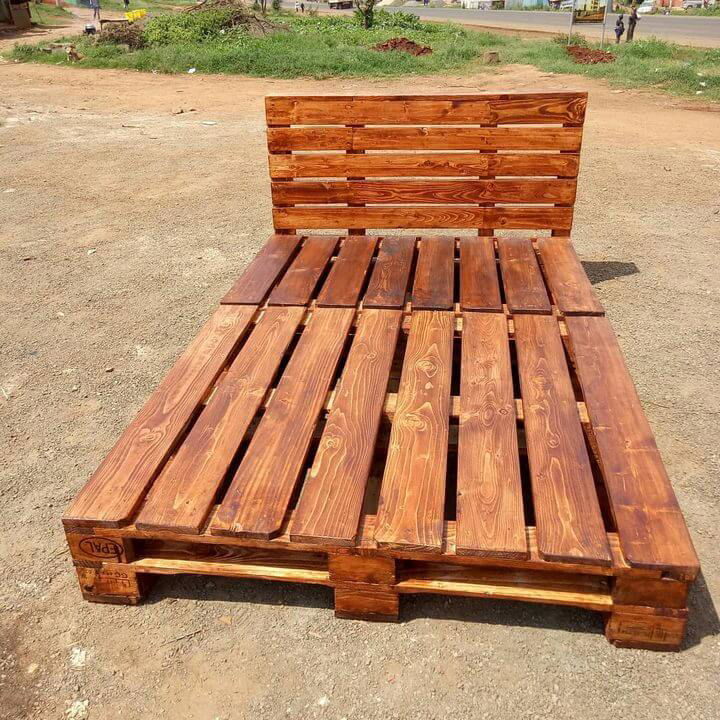 This wooden bed is well stained and can withstand even the harsh weather conditions without serious damage to surface skin. You need 5 pallets to build this beauty, the sweet wooden pallet bed with headboard will surely gain your attention at a very first look.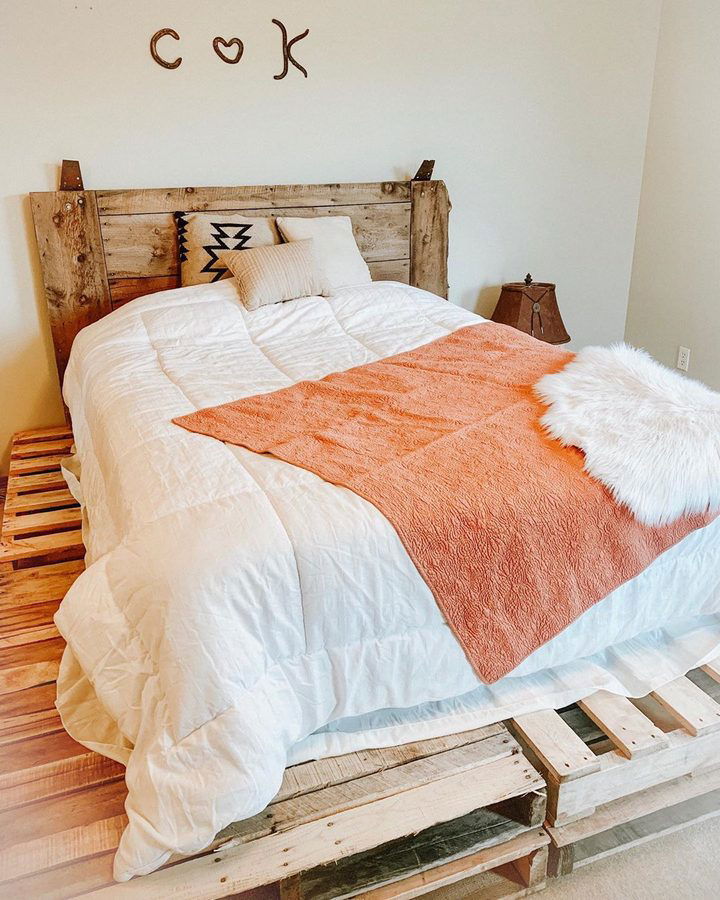 The easiest way to build beds out of pallets is to build a simple and stronger platform with pallets that you can raise to the desired height level. Make sure those platforms are providing space for the mattress. Place the side of the pallet by the side and also over each other to build this bed.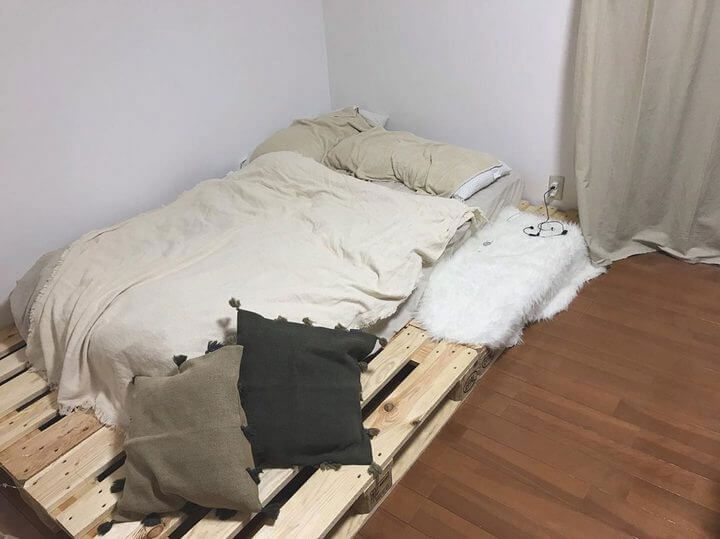 This wooden bed comes with a low pallet platform, but you can add more pallet layers to raise it up to any higher level. Finish the completed bed with your favorite mattress or cushion. You can make a mattress yourself too. A no-cost bed and a smart pallet hack to get instant bed space at any time.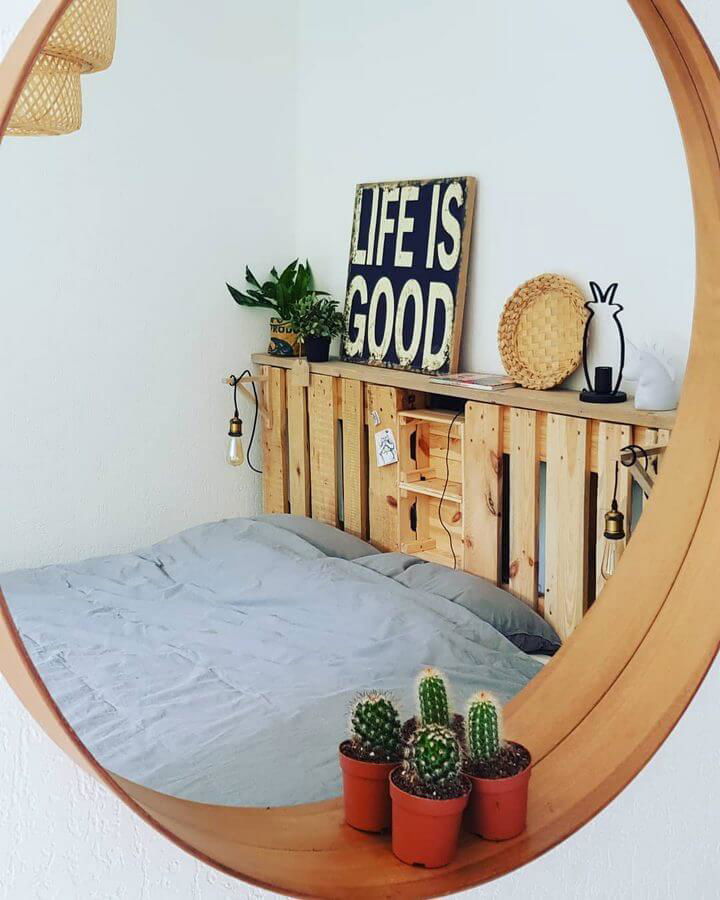 ?? Some epic wood furniture constructions and designs make you say a big wow, and this wooden pallet bed is one of them. In features, it offers a storage-friendly headboard that provides a decorative mantel to display your decors and mural frames. There are mid storage compartments in the headboard made of crates. Reading lights have also been installed.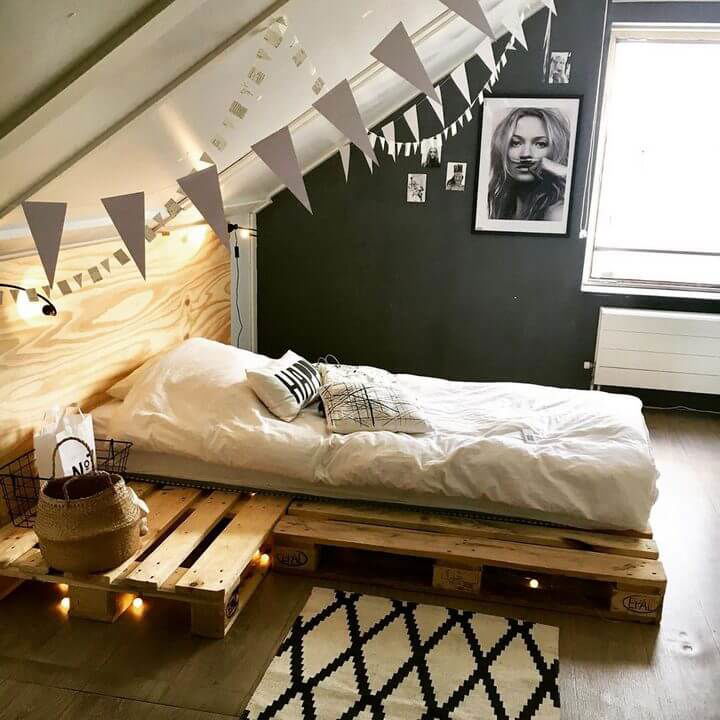 Duplicate this another festive design of a wooden bed that provides extended arms as low nightstands. Build this wooden pallet bed out of EPAL Pallets and let the headboard come with a fab touch of plywood. Fill the inside of the bed with custom LED lights to get the bed looks modern at night.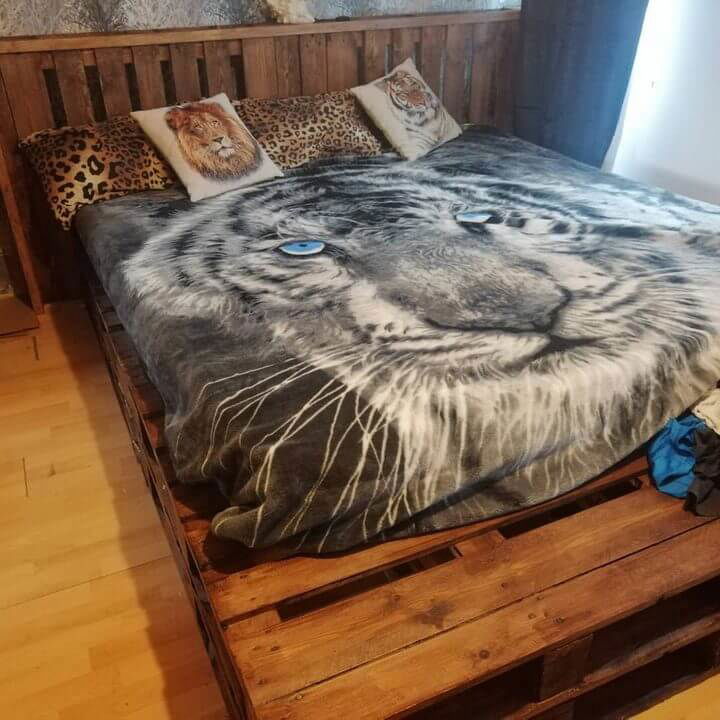 Stack pallets and then put them in side-by-side arrangements to whip up this grand model of the wooden bed. The design provides a large wooden platform that is more in size than the bed mattress. Build a vertical pallet wall too for making the grand headboard for a grand bed.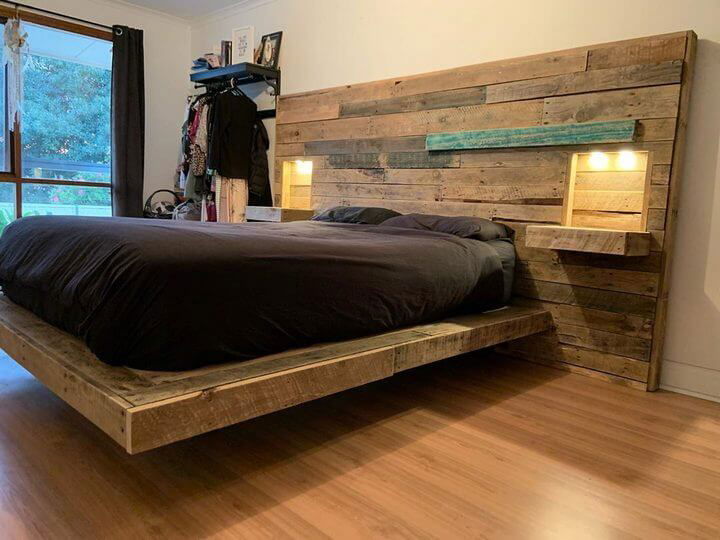 One can really do wonders with pallets and building this floating wooden bed is one of them. There is a grand headboard wall made of pallet wood planks, feature various wood tons, and come with built-in lights and nightstand shelves. Cover pallets using extra wood to build this floating bed.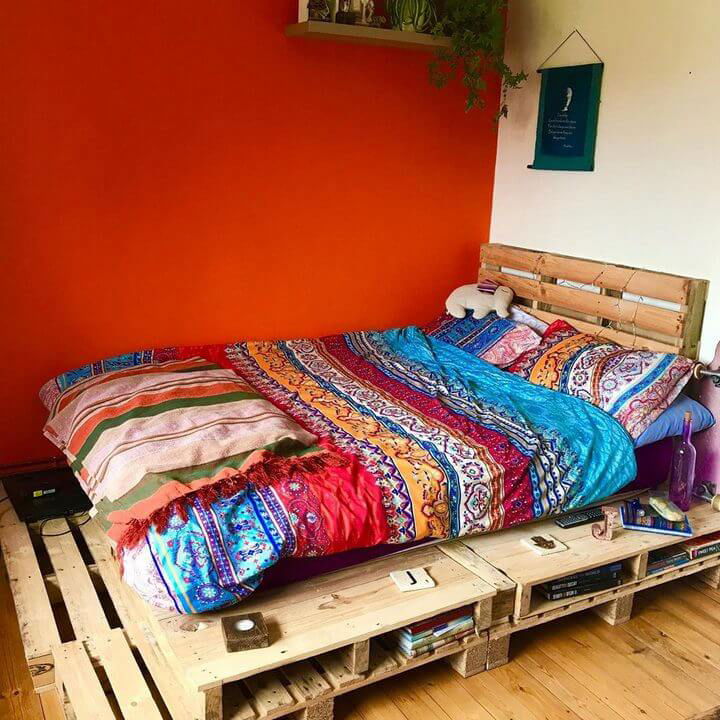 Are you looking for a graceful design of wooden beds to make with pallets? Then do grace up your newly built bedroom with this superior hand-built model of a wooden bed. The design is storage-friendly, and construction is all about the easy stacking of pallets. A great way to reuse old pallets.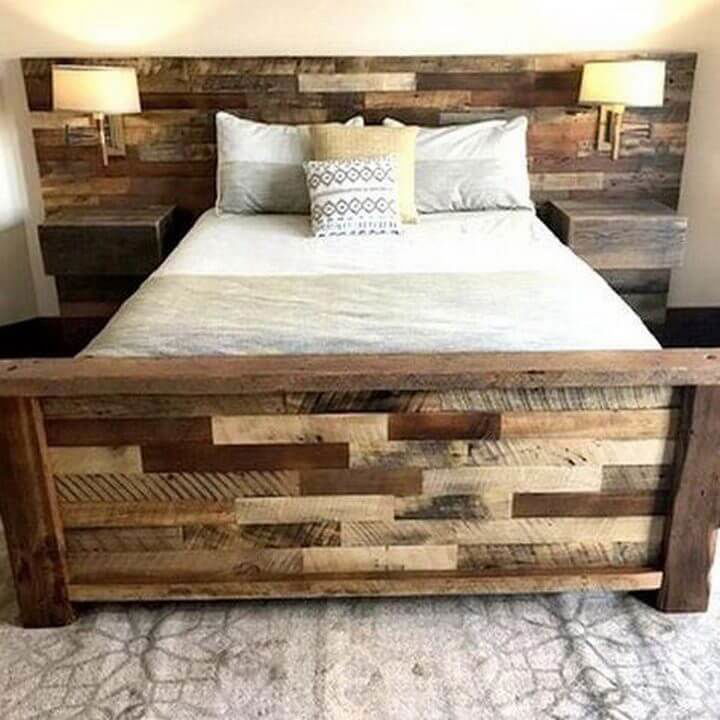 One can build an outstanding wooden pallet bed out of uncut pallets, but you can build a more amazing and outstanding looking model using the dismantled pallets. The design just has fine dimensions and features various different tons of wood. Build each part of the bed with individual pallet planks, even the floating nightstands.
Pallet Bed with LED Lights: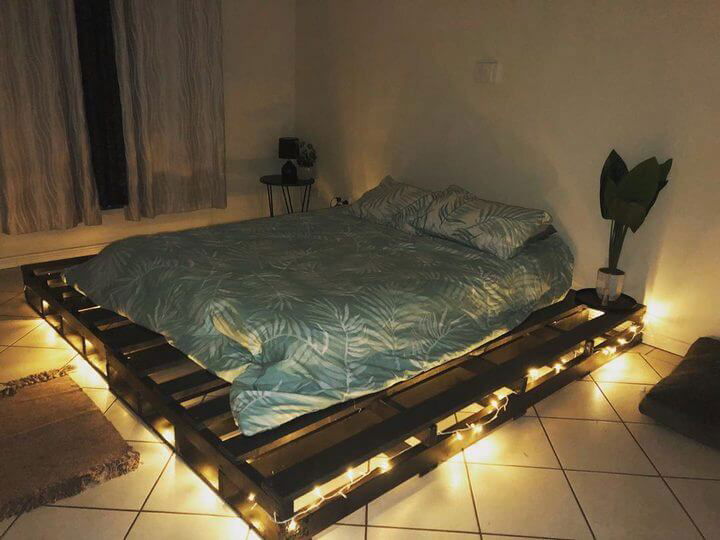 Transform your bedroom into mini heaven by adding this lighted pallet bed. Put the wooden skids flat on the floor with the crazy lights in them and gain a big wooden illuminated wooden platform to put your mattress on. The big sie of this bed allows space to put your pots and planters inside.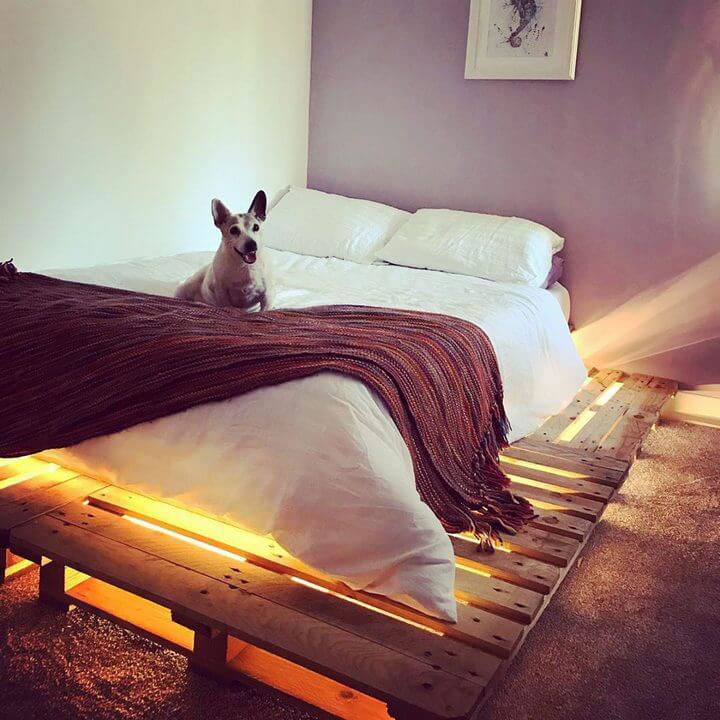 There are too many variations you can give to your wooden pallet beds. Install different color lights underside your beds and get a variety of lighted wooden beds in no time. Put together the wooden pallets and add the LED lights inside pallets, will emit the lights through the pallet wood spacing.
Pallet Bed with Storage Box: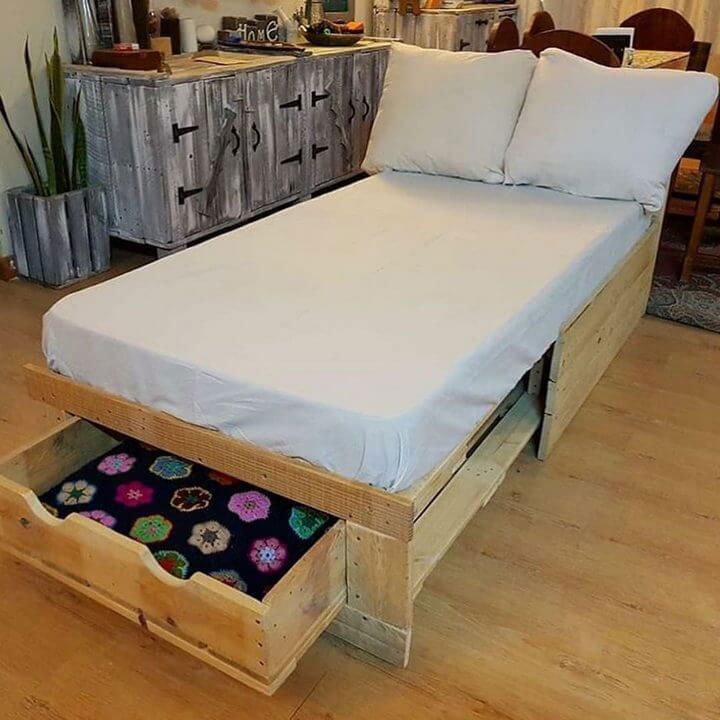 Looking for a special design of a wooden pallet that will organize the messy bedroom? Then do organize your spaces with this handsome twin pallet bed that comes with a built-in drawer or box. It will hold all your bedroom concerns beautifully and will be a pleasure to build too.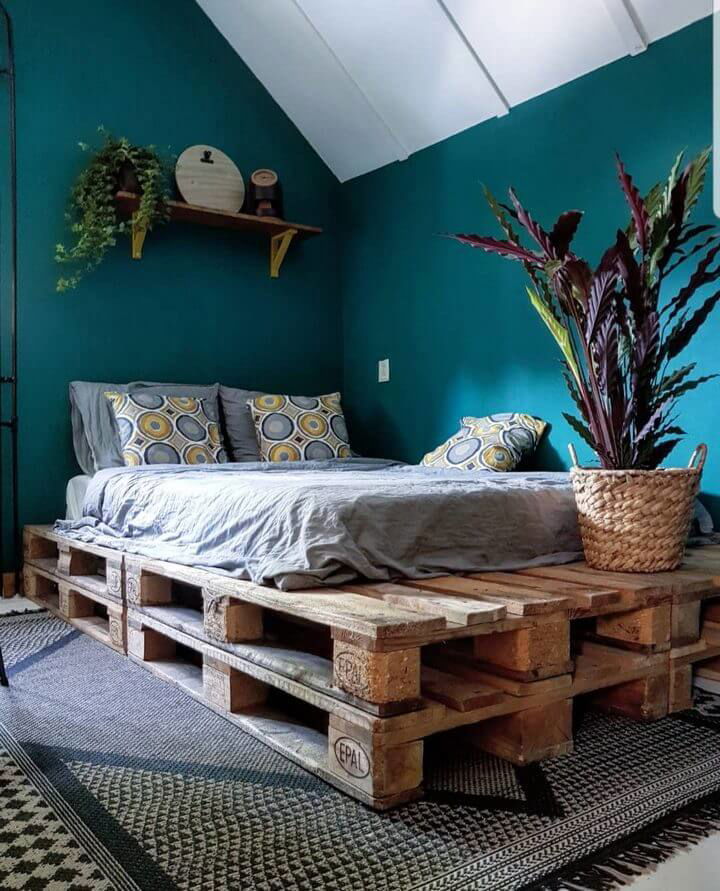 Play with your instincts in numerous different ways creating lovely wooden furniture like this wooden pallet bed that is rustic and will whip up super quickly. Put together skids of pallets making a wooden platform and then make them hold a nice bed mattress. One of the best DIY Pallet Bed ever made.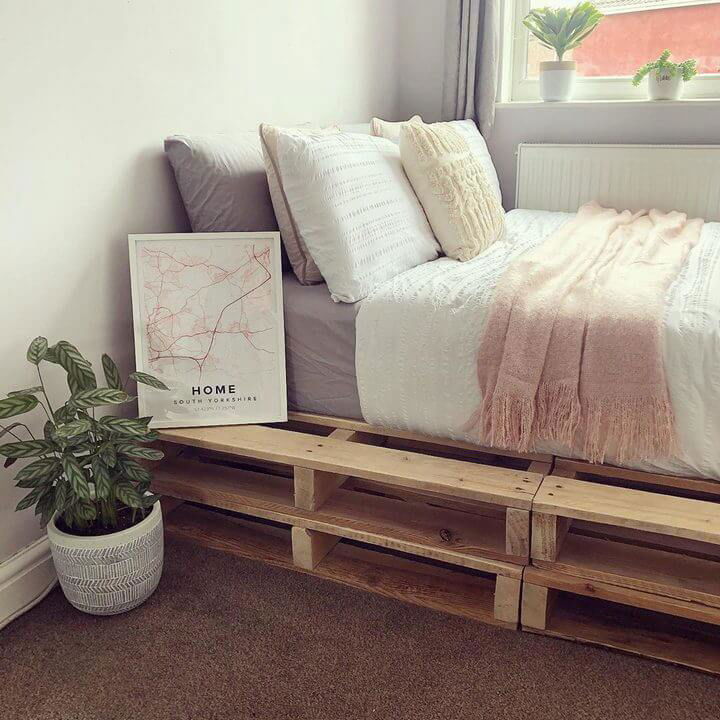 Why pay for the commercial beds as you can build the same luxurious ones at home for free. Just organize the pallet piles flat and then put a mattress on them to make a lovely wooden pallet bed. Use the zip ties to assemble the pallets you have piled up for the bed. Building this bed will simply cost you nothing.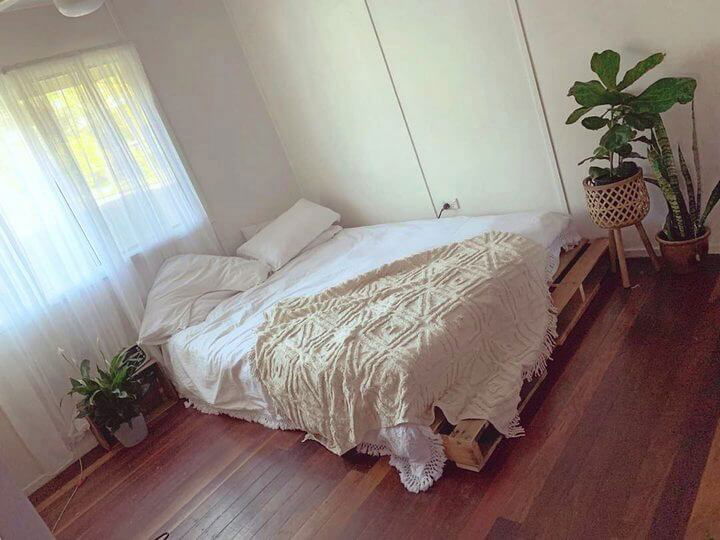 Let the pallets help you sleep comfortably along with creating a royal appeal of your newly built bedroom. The idea is to build this instant beautiful wooden pallet bed, which will complete in minutes. The total cost of this bed is equal to the cost price of the bed mattress.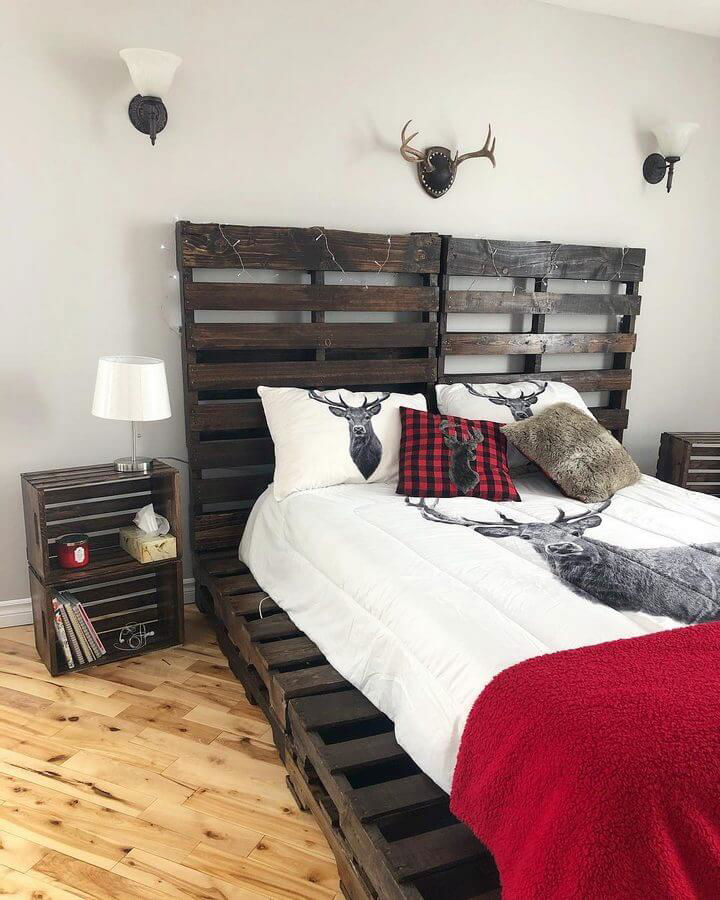 Load more antiqueness in your already vintage inspired bedroom by installing this rustic wooden bedroom. A total pallet wood creation comes with a large mattress area and provides a tall headboard made of 2 vertical pallets. Stain the wood dark for a great appeal. Finish the headboard with LED lights.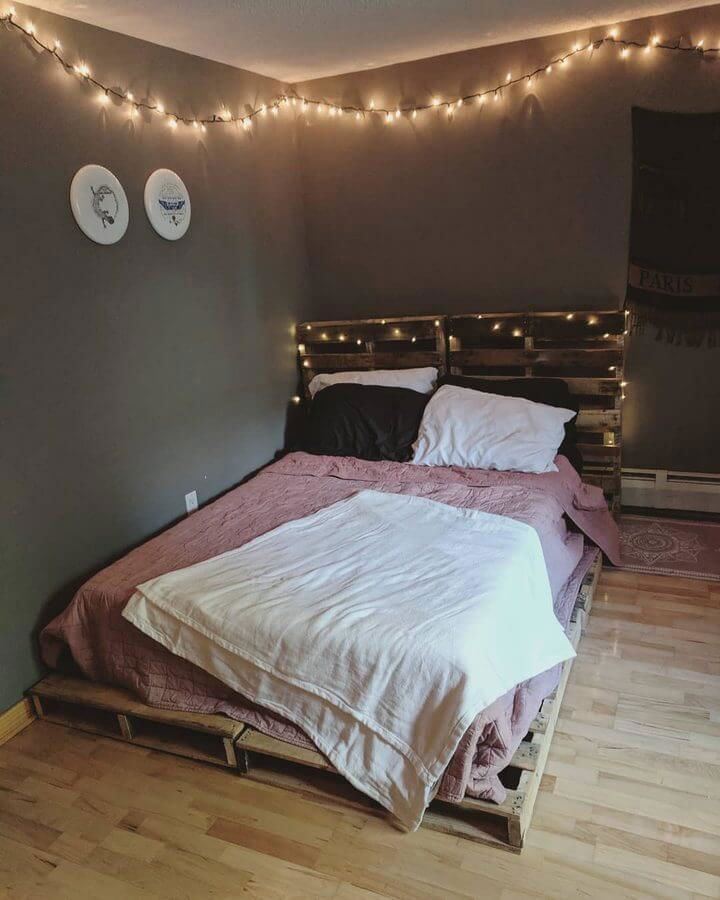 So, you have not started recycling the pallets yet? Then look at this bed with lighted headboard, a smart pallet wood recovery. Put the pallets together in side by side arrangements and cover the decided bedding area while making this lovely wooden bed. Even a kid can build it with great ease.
Wooden Pallet Bed Frame with Headboard: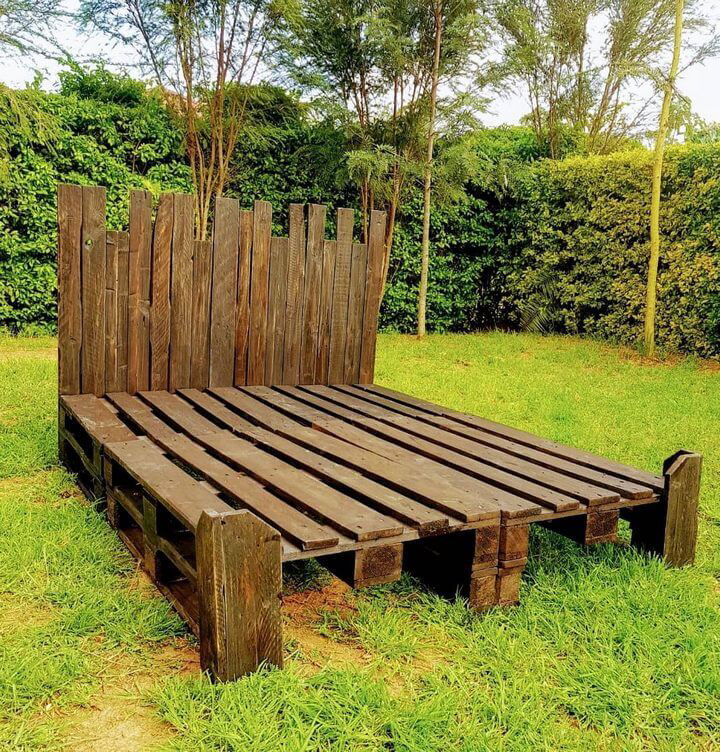 Building a bed out of pallets is considerably easy, and it is all about simply piling of the pallet skids. Clone this elegant looking bed for the guest bedroom, and you can build more instantly with a free stock of pallets. This project confirms a big functional role of pallets even after their shipping duties.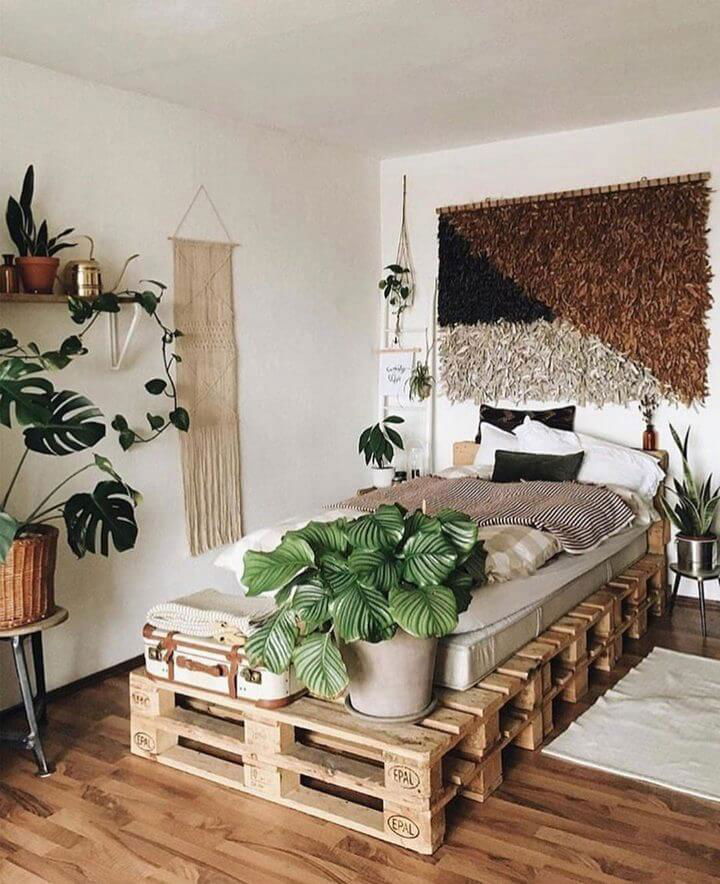 Have you stocked the EPAL pallets in your garage, shed or home trash store? Instead of piling them load them over each up to 2 rows gaining an evenly flat design of the bed. Use a skid to install a matching headboard and hence accomplish your bedding space needs for free. The design gives space for a planter and end bed chest too.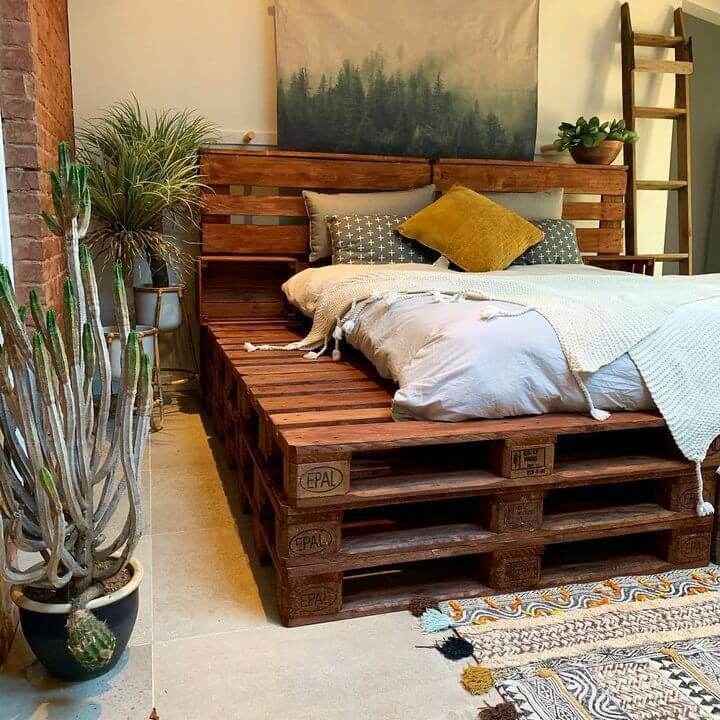 Improve your day to day life with pallets. Take a start by building this elegant design of bed, a stylishly modern wooden bed gained after super easy arrangements of pallets. In addition, use extra pallets and wood crates to install the storage-friendly headboard. Place the planters over the headboard for a little green touch.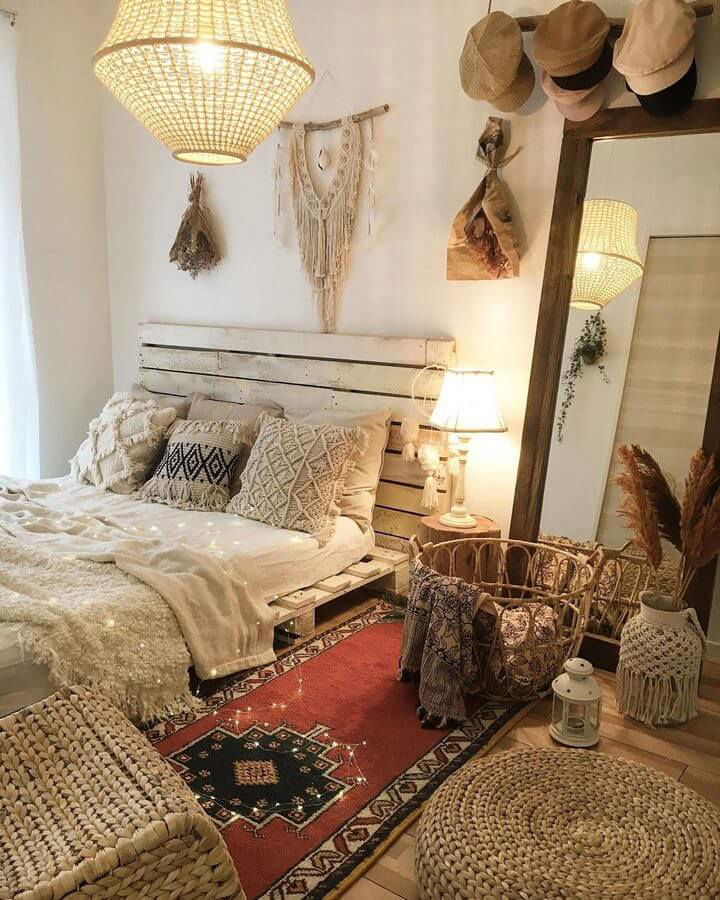 Wishing to build a bed for a shabby chic bedroom? Then take advantage of the rusticity of wood pallets and build this shabby chic wooden pallet bed. Put the distressed white pallets flat to build the bed, and next add the final pallet vertically as a headboard.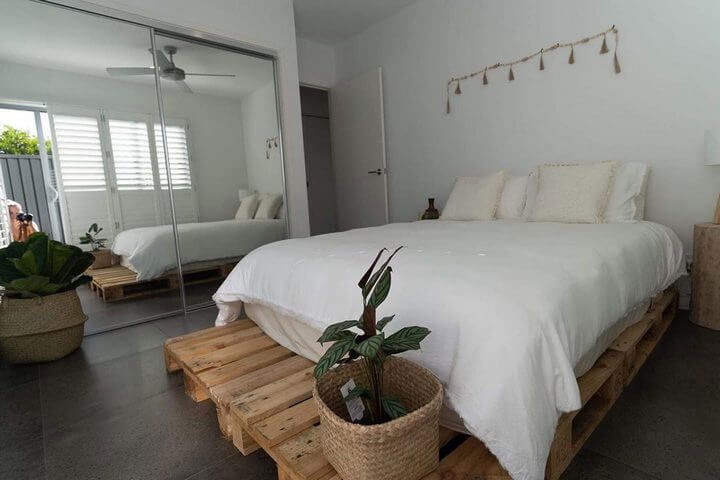 There is no secret to whipping up luxury beds while dealing with pallets. The readymade pallet shapes are to take as pre-fabricated panels and arrange them nicely flat to get the beds made quickly. So, if you are having stock of pallets, then you should not worry about the bedding space.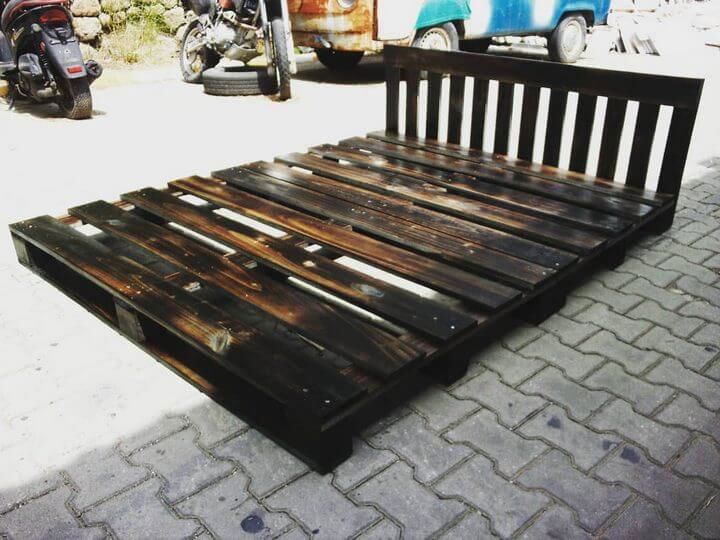 Satisfy your love for the antique furniture by building this elegant flat wooden bed. Build with 1 large or with 2 medium pallets, and it comes with a nice headboard having a slatted design to impress. Give a rustic stain finish to your completed bed to get a bizarre rustic visual.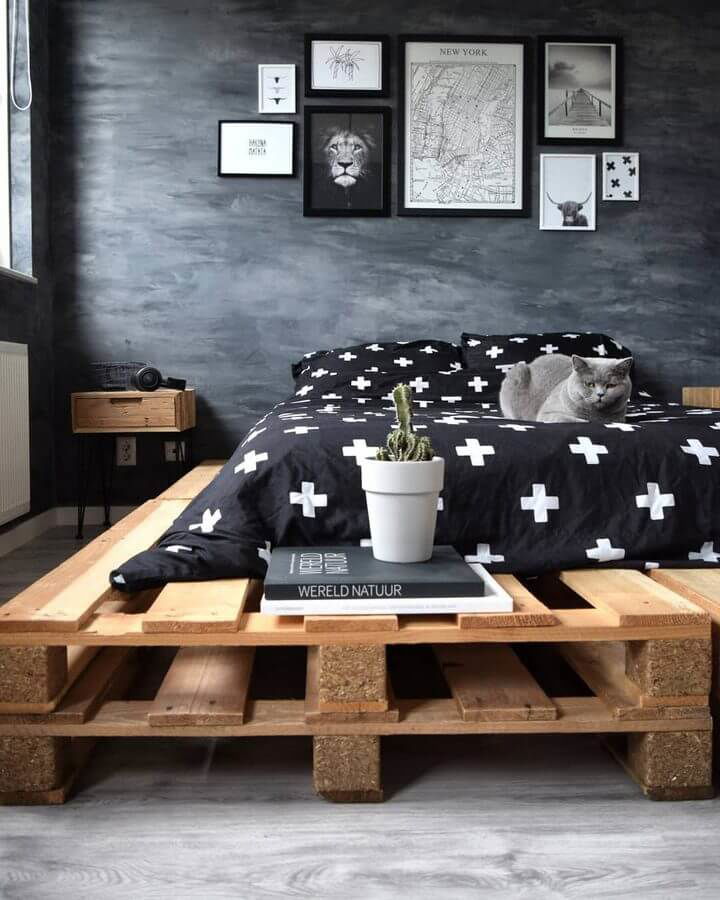 Lacking bed space in guest rooms? No need to worry about while having pallets are here. Build a raised wooden platform using free pallets, EPAL will be ideal, and then finish them up with a thick foam mattress. This wooden pallet bed comes with a thick foam mattress and is too beautiful to give as a gift.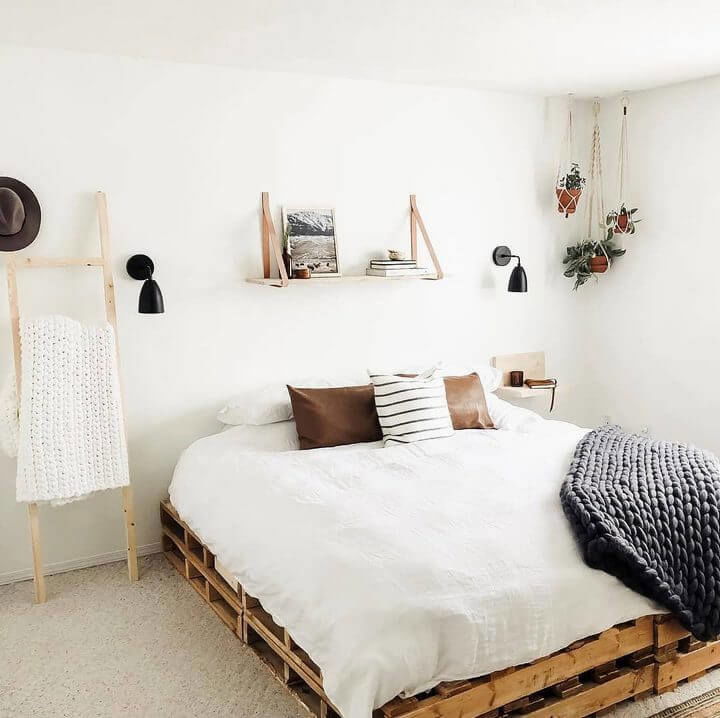 Check out here what you can do amazing and wondrous with simple flat arrangements of pallets. The graceful design of the bed. an ideal layout of rustic wooden bed to build for a shabby chic room interior. Again, the piling of pallets is going to rock to meet your bedding space needs.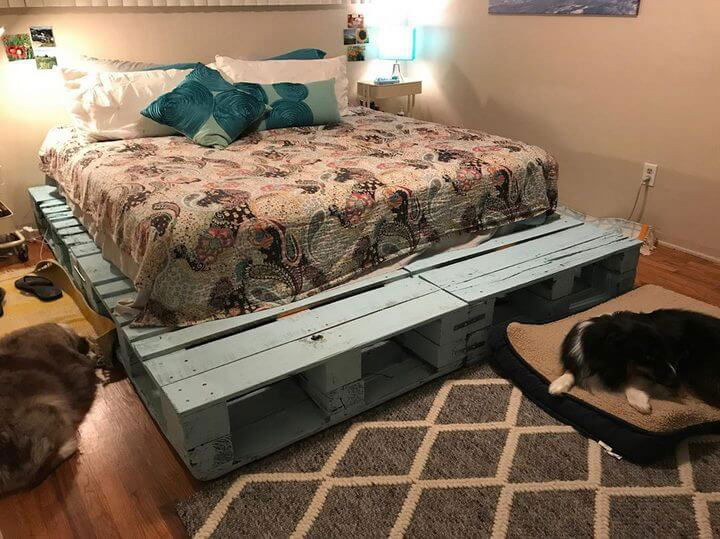 This antique wooden pallet bed is to make with painted and distressed pallets. Combine pallets with durable hardware to get the raised wooden bed platform. Finish with up with mattress of choice, even with leftover one.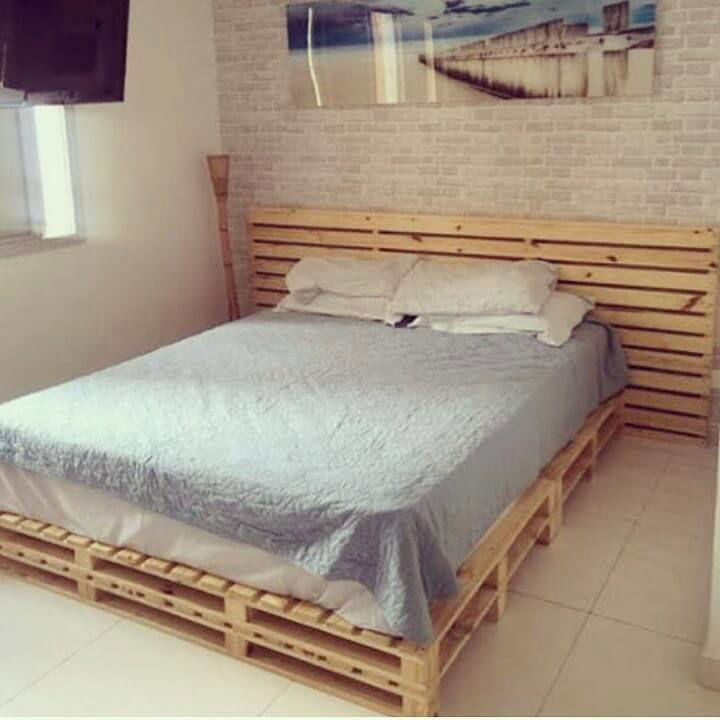 This bed is too beautiful to make everyone say " What a Beauty". A large headboard, evenly flat-packed pallet skids and the bed mattress that comes to the bed nicely, are the main features of this pallet bed design. There is nothing complicated in construction. The design is simple and straightforward. ??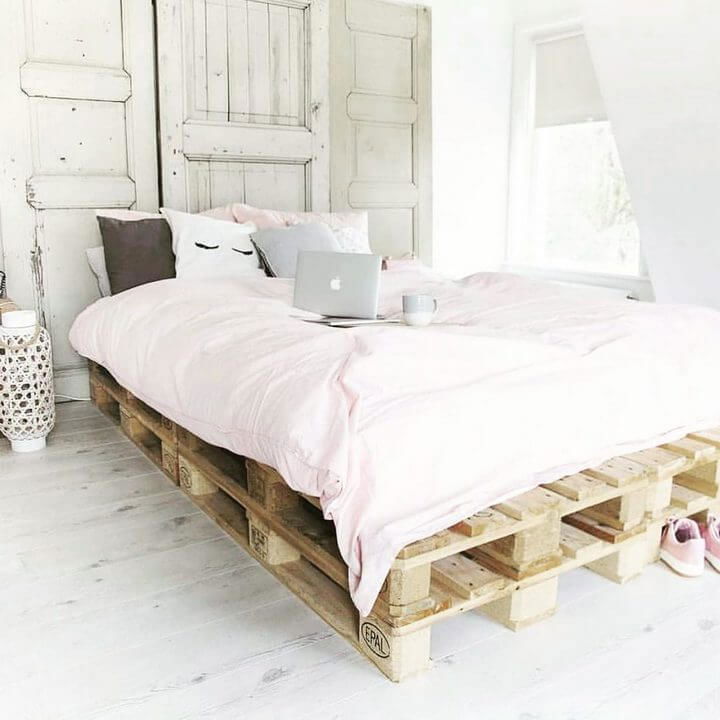 Put a full stop to your bed space issues by accumulating pallets. They are super easy to arrange for an instant gorgeous bed anywhere in or out of the home.?? They are super easy to pile up for building a quick platform to hold the bed mattress. Add leftover pallets vertically behind as accent headboards if necessary.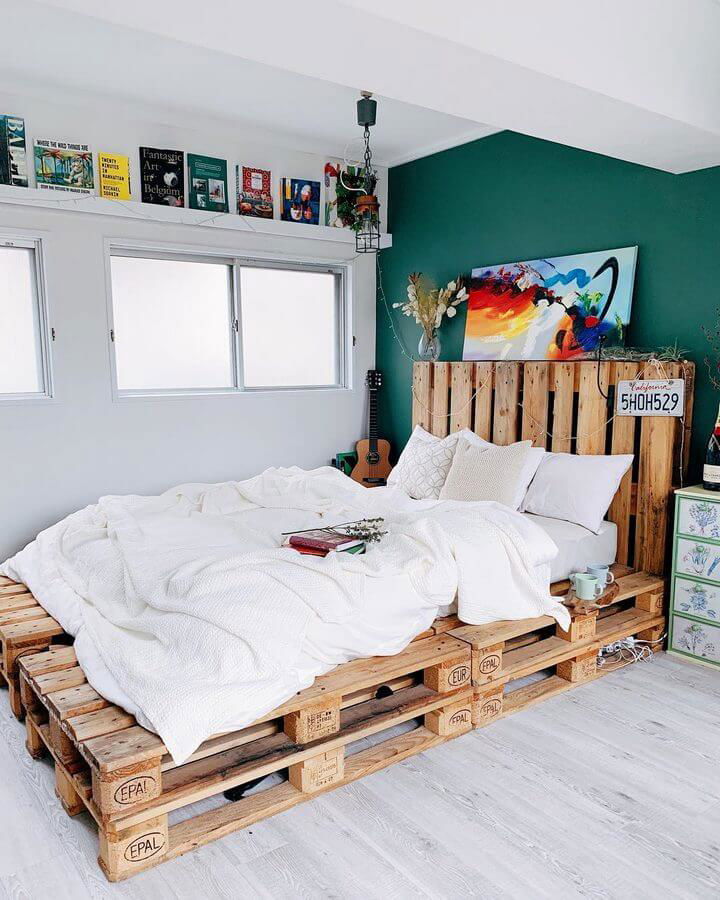 Pallet beds have gained so much popularity around the globe. Now, they are to choose modern bedrooms too. Look at this easy stockpiling of pallets appearing as a mind-blowing wooden bed. It comes with a fine-looking headboard giving space to display your art and mural frames quite nicely.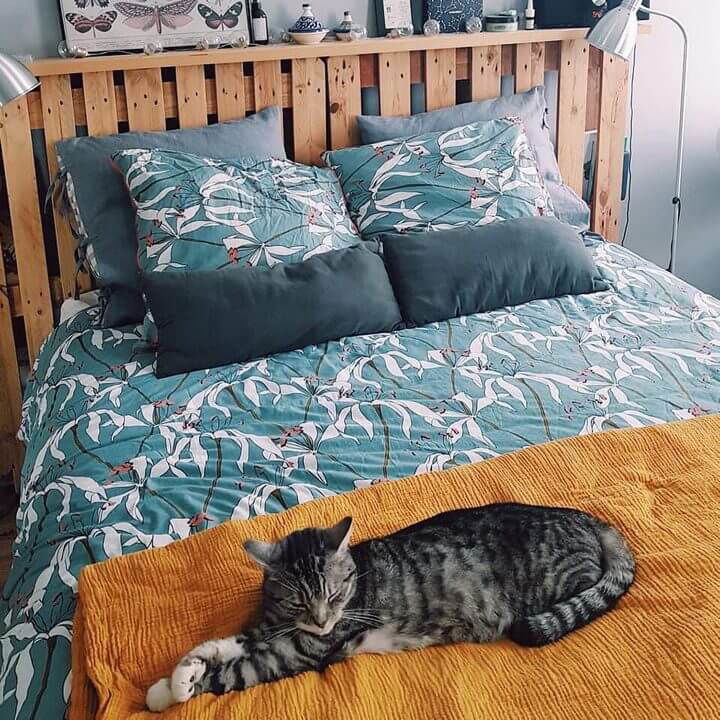 Get the perfect zzzz on this comfy wooden bed, an easy pallet achievement. It appears in a blank tone of the wood, will go well in both rustic and modern bedrooms. The headboard is also a wood pallet, thick enough to serve as a shelf and decorative mantle. Put lights on both sides of the bed to enjoy book reading at night.
Here we have shown some cool and smart demonstrations of DIY pallet bed plans that gracefully glow at night due to the creative addition of LED lights to bottom and headboard panels! It is just a timeless way to have as many beds as you want, floor the pallets up and stack them to a certain height level and you are done!
Rustic Pallet Bed Frame with Lights: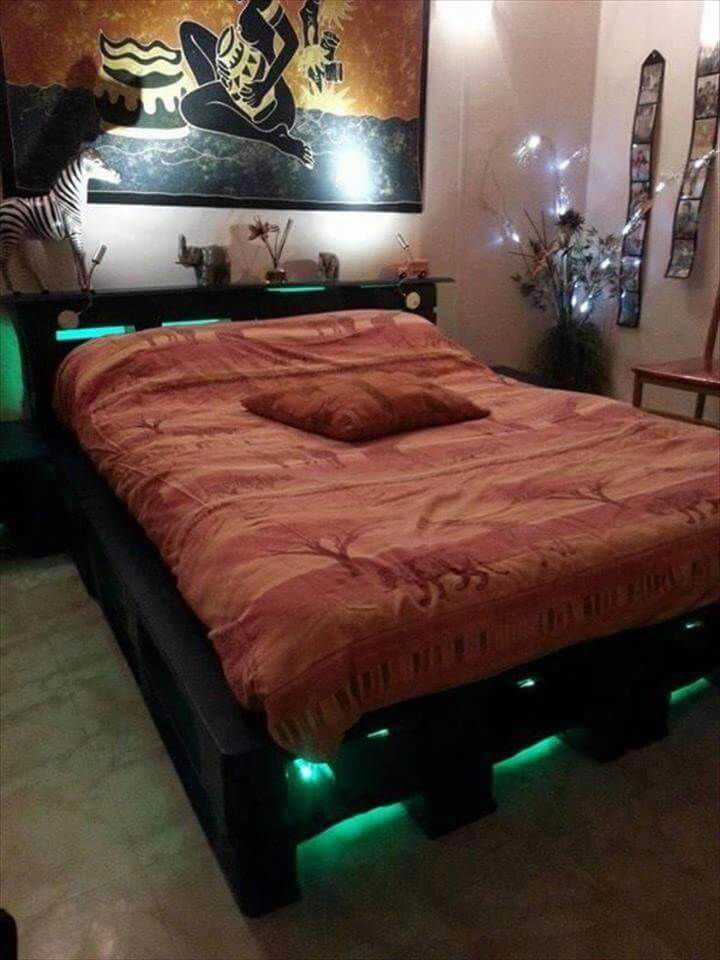 Free Pallet Platform Bed Plan: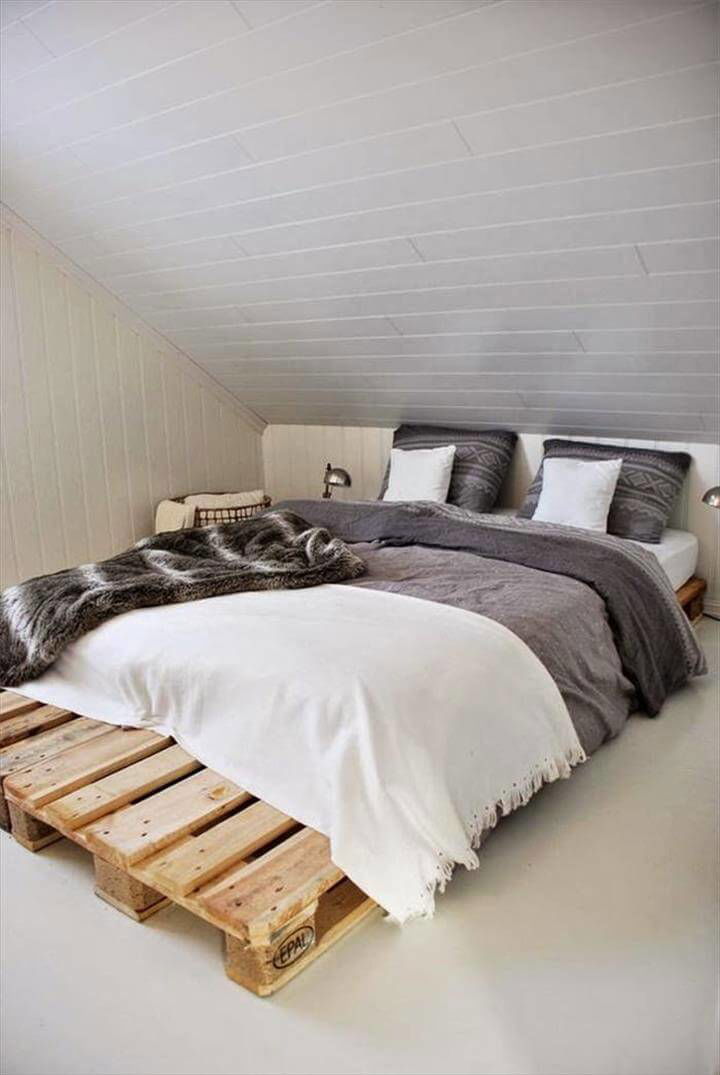 Creative Pallet Shabby Chic Bed: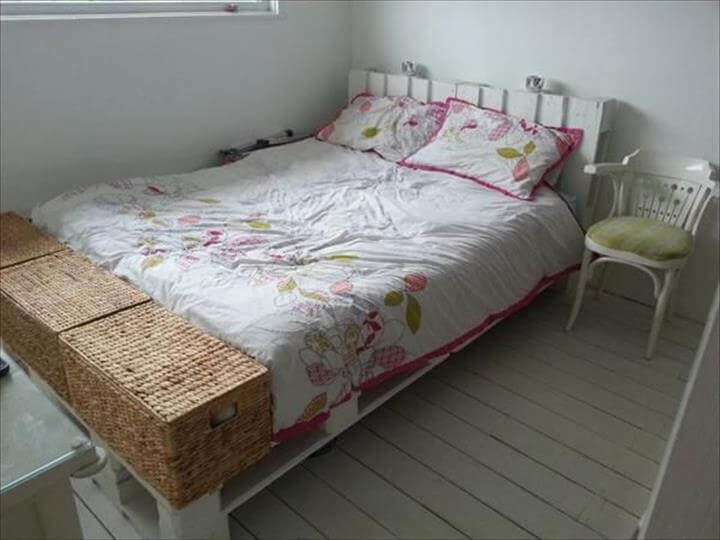 DIY Pallet Bed with Shoe Storage: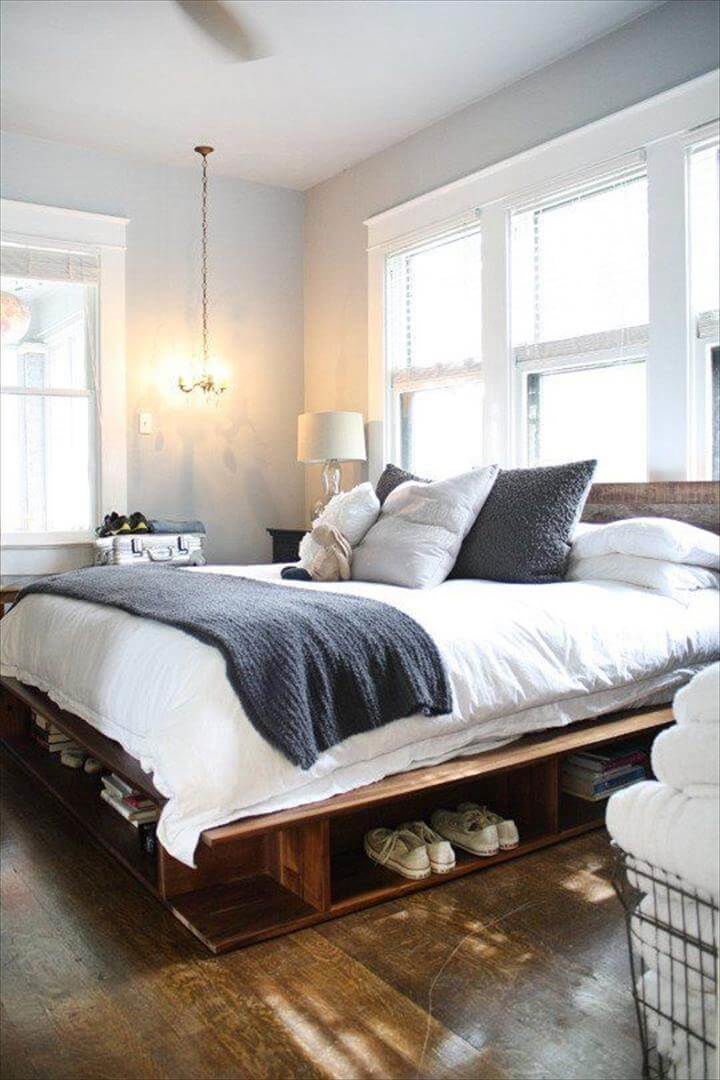 Elegant White Pallet Bed with Storage: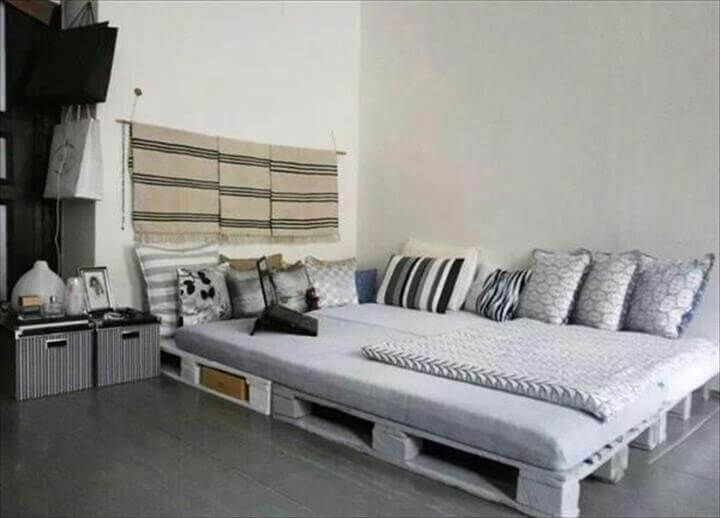 Free Vintage Bed Made of Pallets: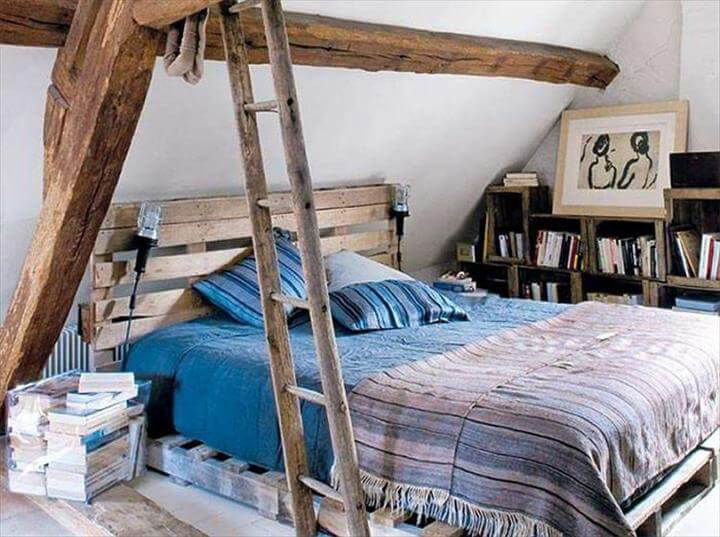 Easy-to-Install Pallet Modern Platform Bed: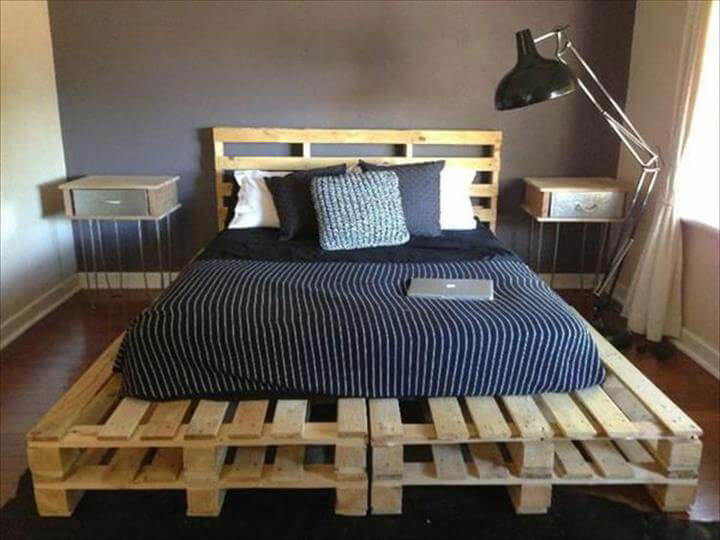 Try to install the pallets in their original rectangular shapes to get a cozier platform bed frame! If you want to create a custom look or version of your bed, then dismantle the pallet boards to get a big collection of separated and removed slats and then plan whatever you want with them as they will be used as a unit for either construction of your DIY bed frame!
How to build a bed frame using Free Pallets?
Pallet boards come in different wood tones and wooden natures which may be based on their past condition under which those pallets have been treated so they may be just like new wood, rustic and weathered with patina or some time ultra-rustic or in between! You can give your priority to shipping areas to get any wood nature of pallets as there is always an abundance of retired pallet skids and you can choose your favorite one with great ease! And the good news which is above all is that pallets are free to get and hopefully will always be!!!
Handy Pallet Bed Frame: DIY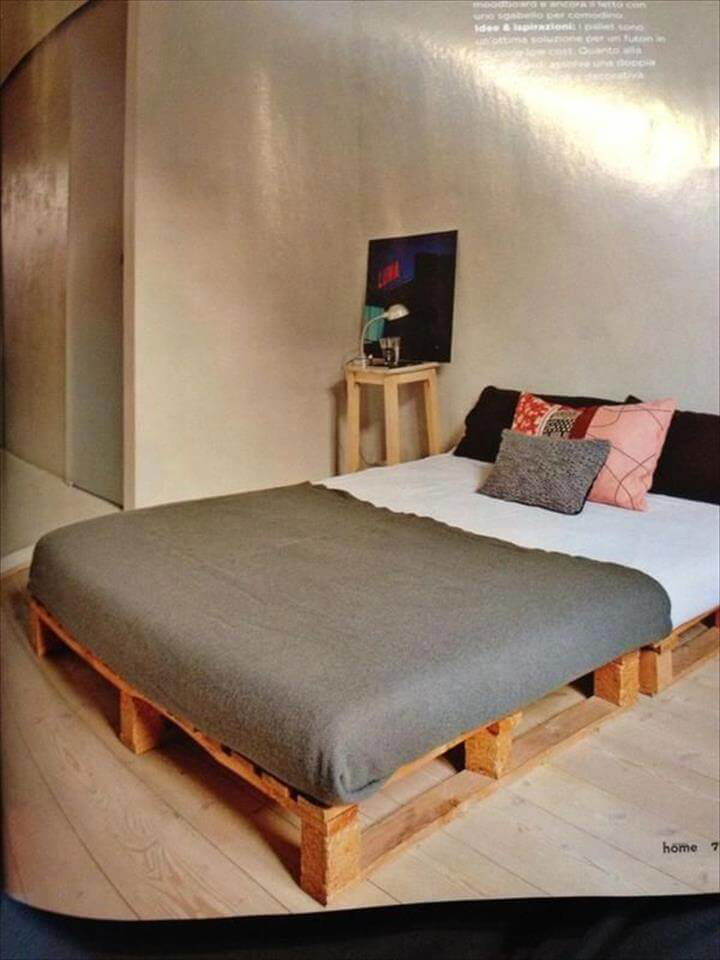 No-Cost Pallet Platform Bed Design: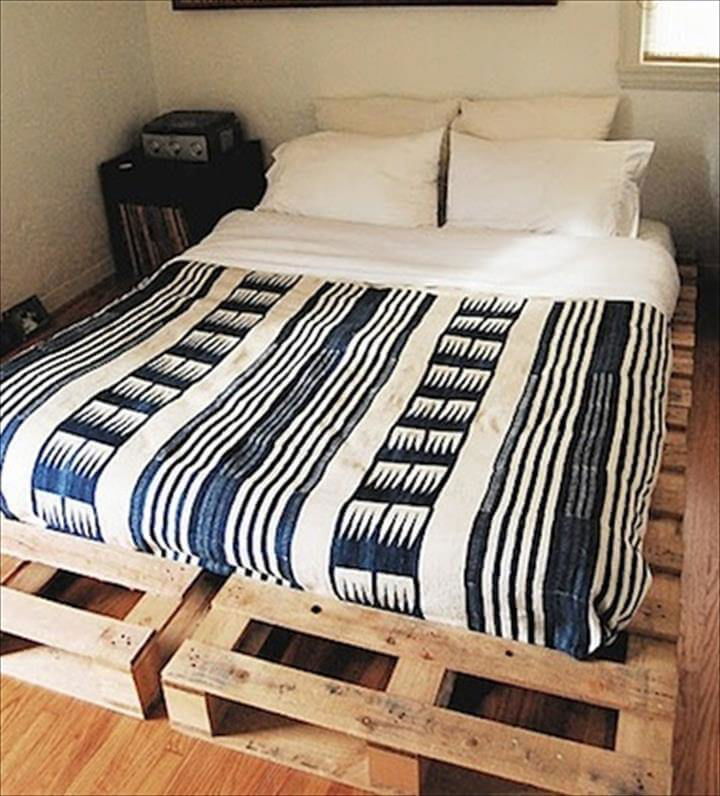 Chic Wooden Pallet Platform Bed: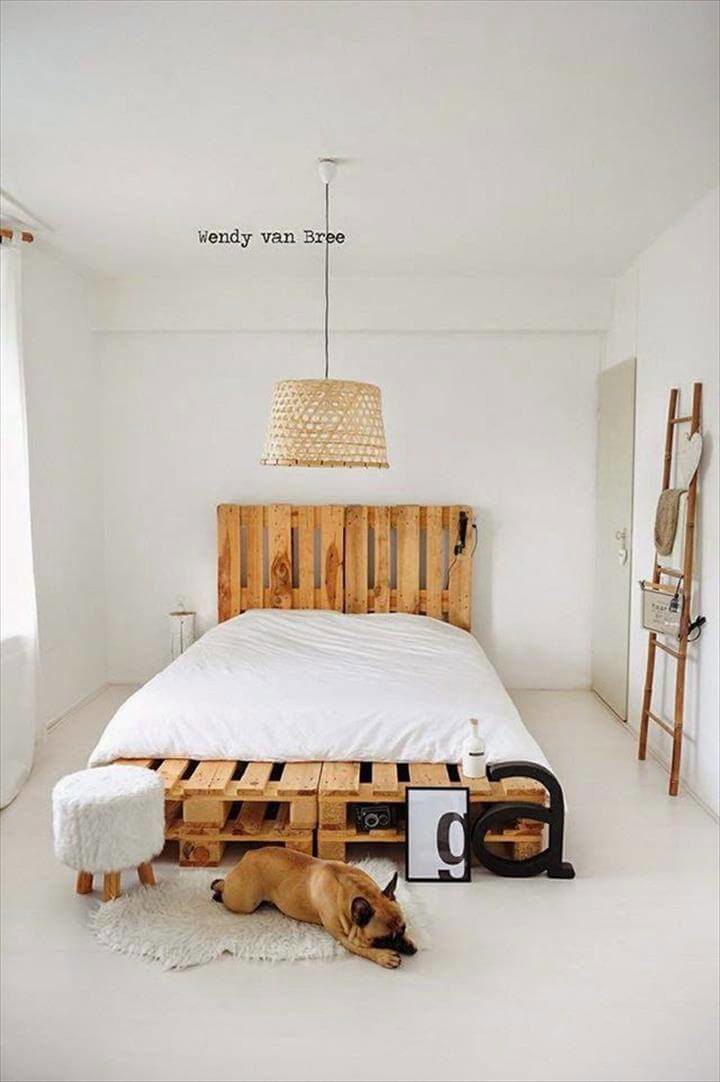 Super Easy Pallet Platform Bed: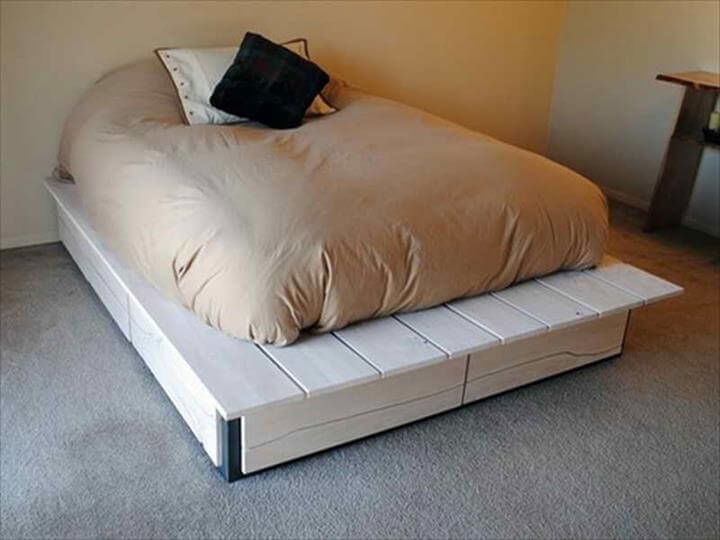 Reclaimed Pallet Bed with Storage: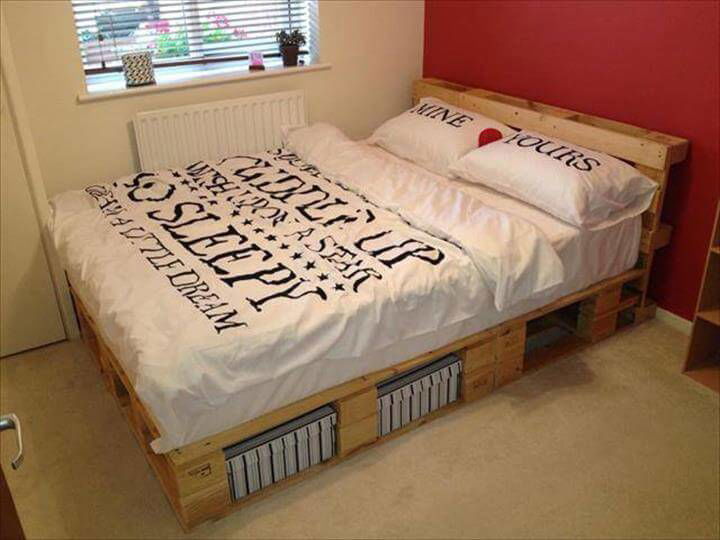 Modern White Pallet Platform Bed: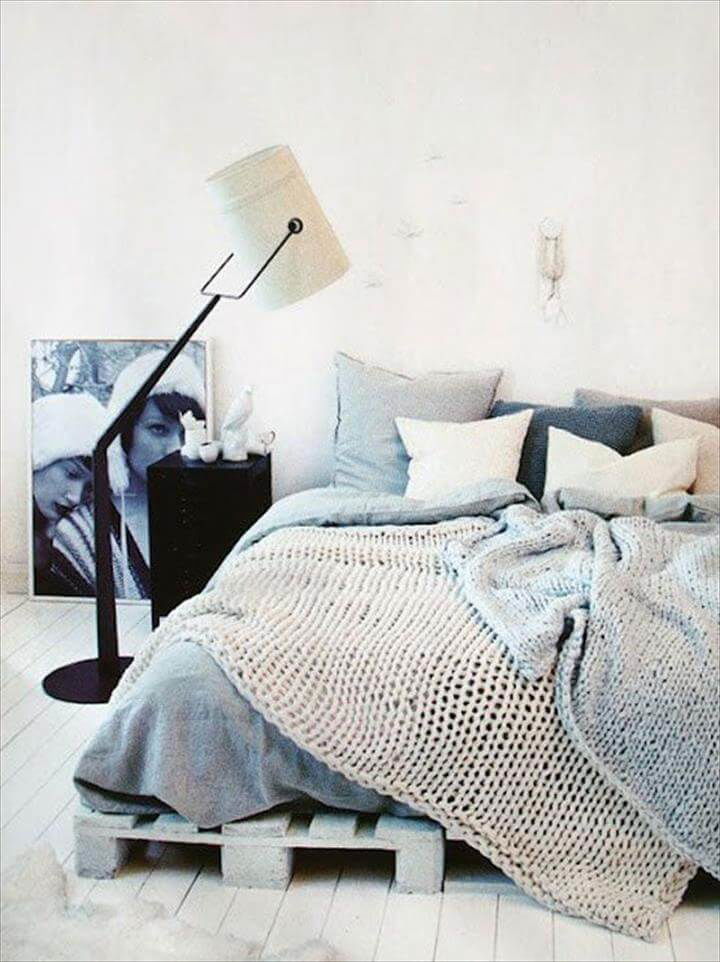 Creative Pallet Baby Bed: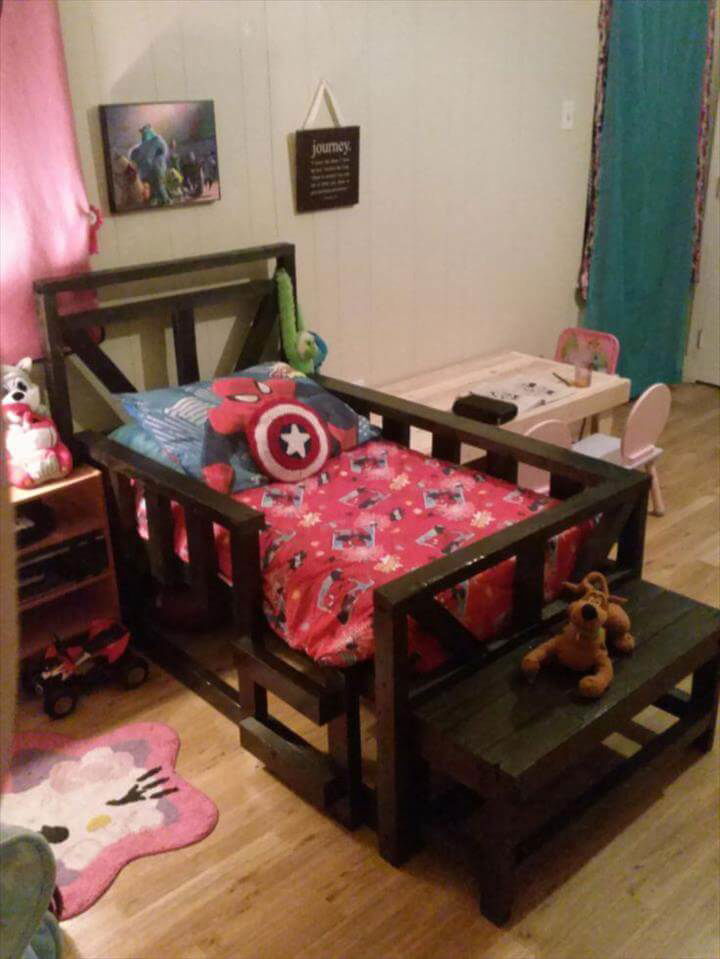 As you are reclaiming the pallets for interior uses here so you must be clever while selecting the pallets! To analyze the conditions under which pallet has been used, go ahead if some pallets with heat-treated tag, come to your eyes and avoid the pallets which are chemically treated as they may injurious to health!
If selected pallets are containing a great gunk layer over the wood grains then you must have to clean it first for a gorgeous shiny and bright wood look, Prepare a soapy solution by mixing the soap or detergent with water and wash the pallets with it, let them dried over the night and then start your framework with them!
Try to build a DIY pallet bed:
We all know that pallets are the shipping skids used to provide safety and protective coverage to heavier shipping deliveries or you can say that they bear a lot of weight over them, this may cause some splinter to be popped up over their wooden surface! So it would be better than you and all your under course pallet skids to get the more smooth and splinter-free flow of their wooden surfaces!
Rustic Extra Wide Pallet Platform Bed: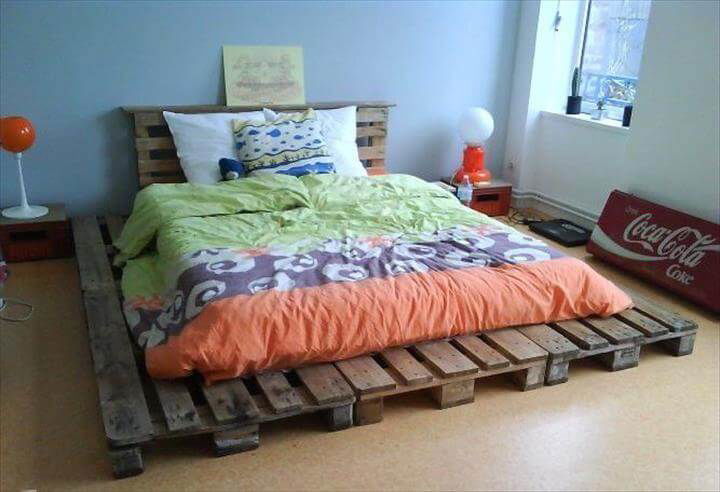 ??Distressed Green Pallet Platform Bed: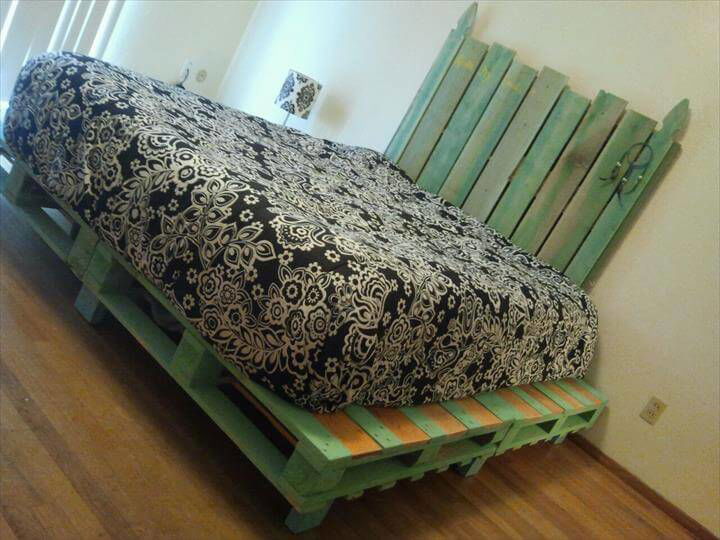 Cozy Pallet Beds with Storage: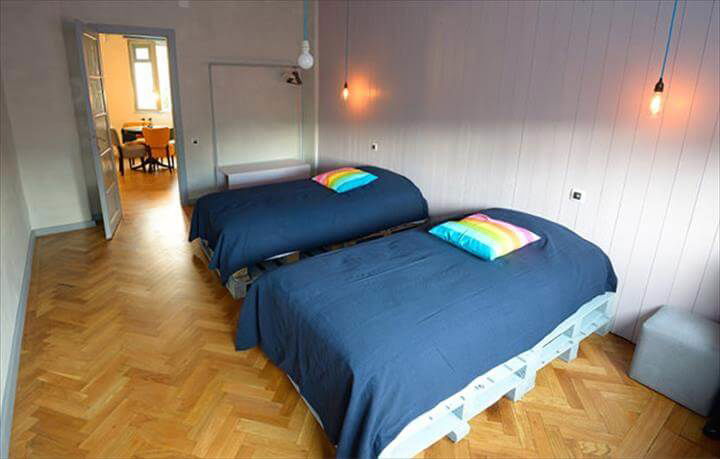 Rolling Pallet Bed with Cart Wheels: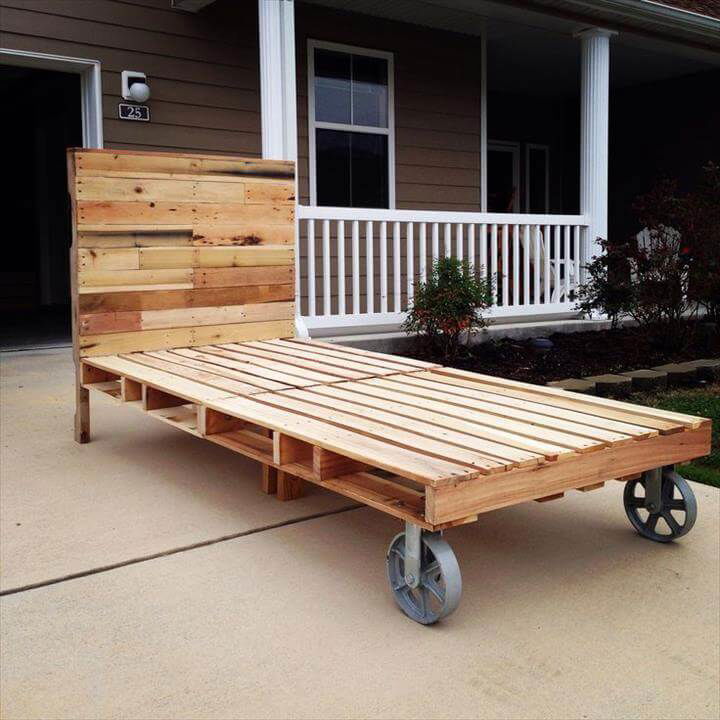 Pallet Toddler Twin Beds: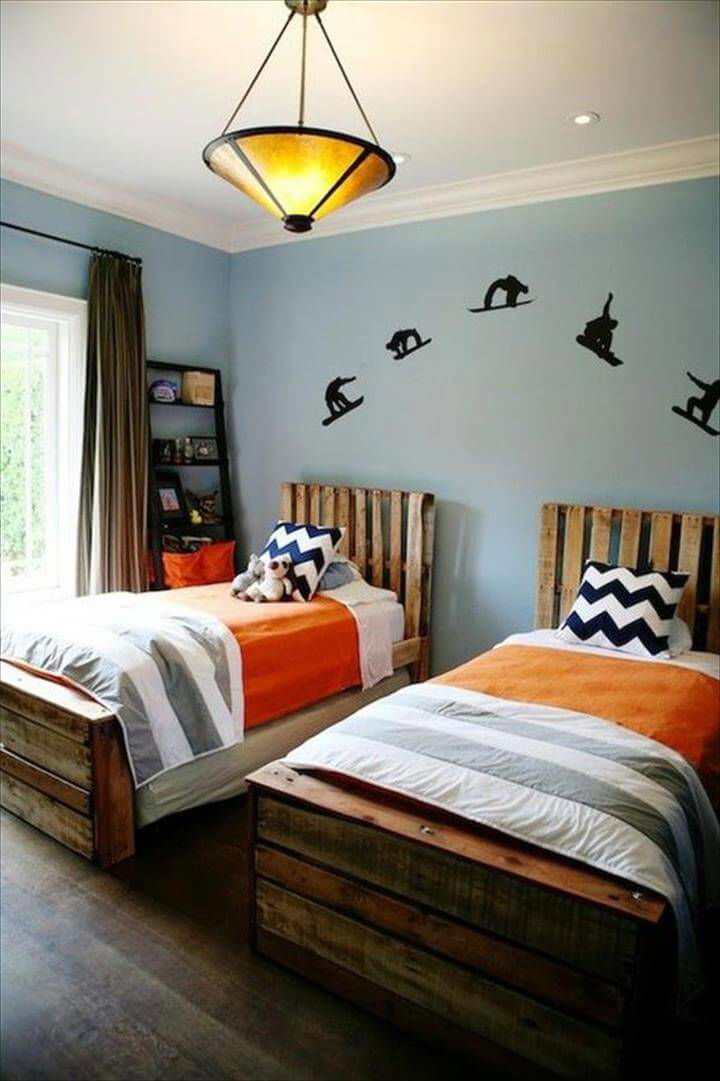 Black Stained Pallet Bed: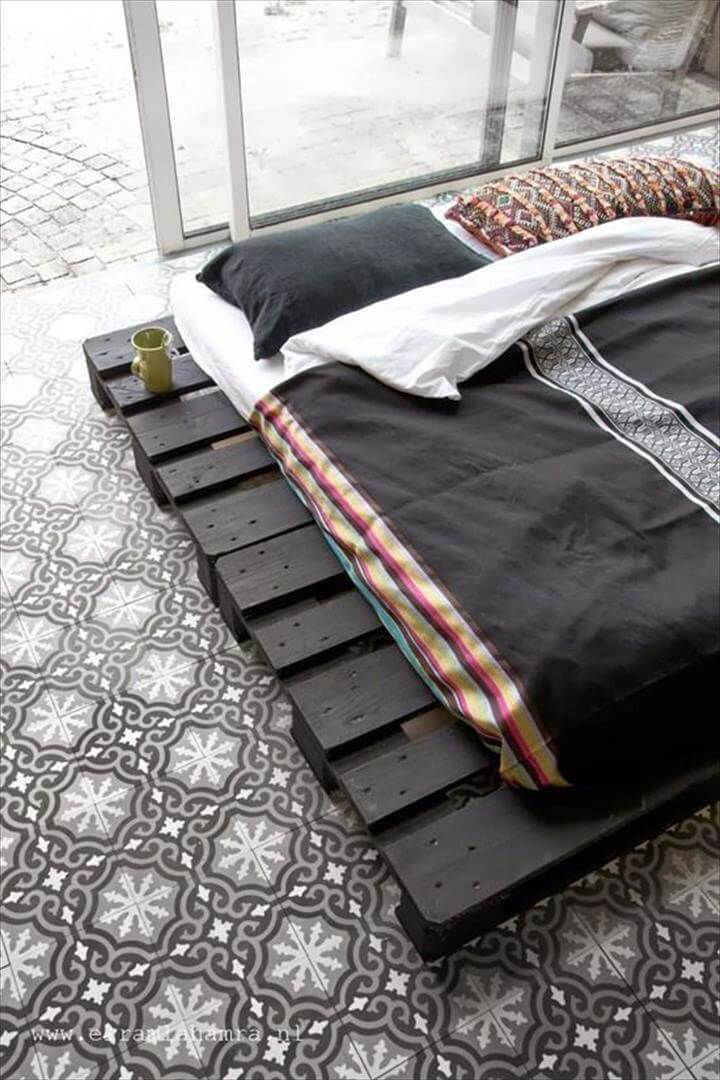 Upcycled Pallet Bed with Decorative Headboard: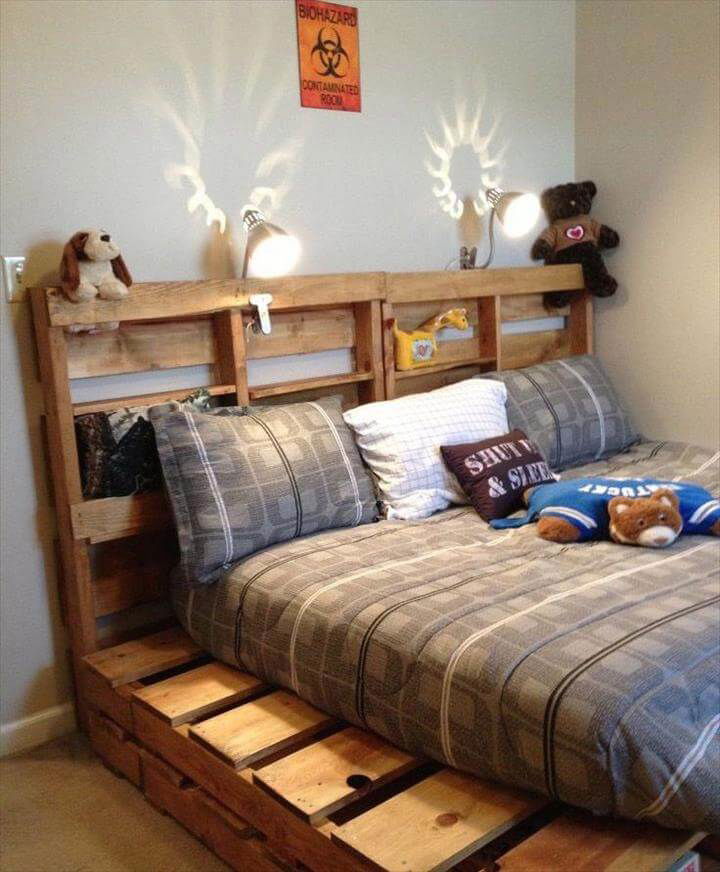 Now if you want to give a first-rate or first-class comfort to your installed shapes or designs of pallet bed frames then make them upholstered, padded or cushioned! Mattresses will be amazing to enjoy luxury sitting or sleeping comfort and would be significant ones! This is the only thing in all these pallet projects of bed for which you will have to pay!
The fabulous result of throwing a piece of the mattress on you recently made pallet bed, will be gorgeous looking luxury bed built to last and in custom dimensions for best fit to your master bedroom area! Also, add some pillows to double up the fun of your handmade pallet bed!
People with low incomes can avail these no-cost pallet beds to lower down their furniture expenditures that always disturb a lot! Do try these swank and super easy-to-build pallet bed designs to add more comfort and fun to your real life! Try given free bed frame plans to build your bed using 100% free wooden pallets!
Rustic Pallet Queen Size Bed Frame: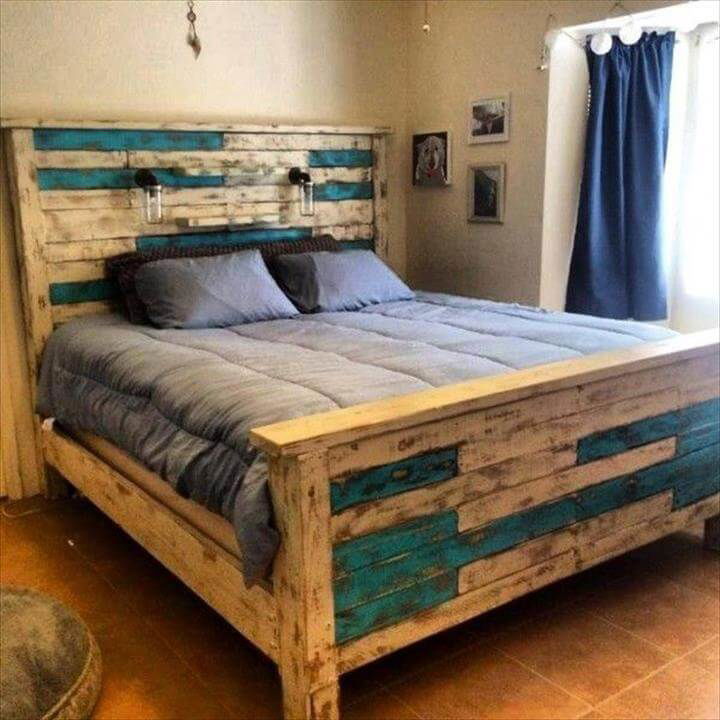 Handmade King Size Pallet Bed: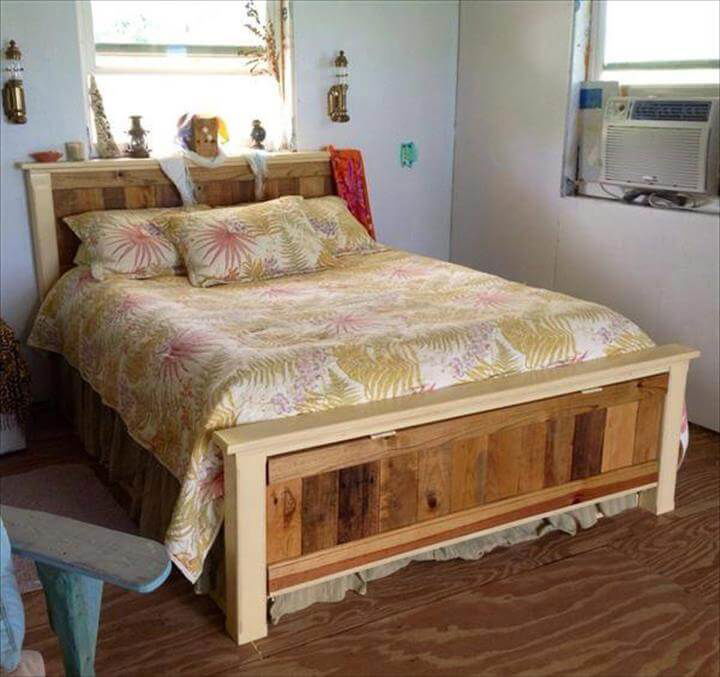 Free Hand-Built Scorched Pallet Bed: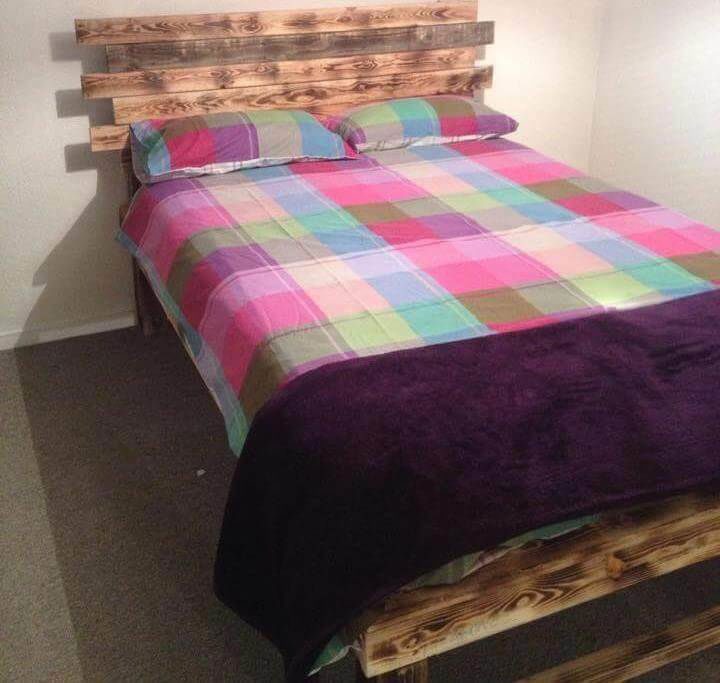 Blue Painted Rustic Pallet Bed: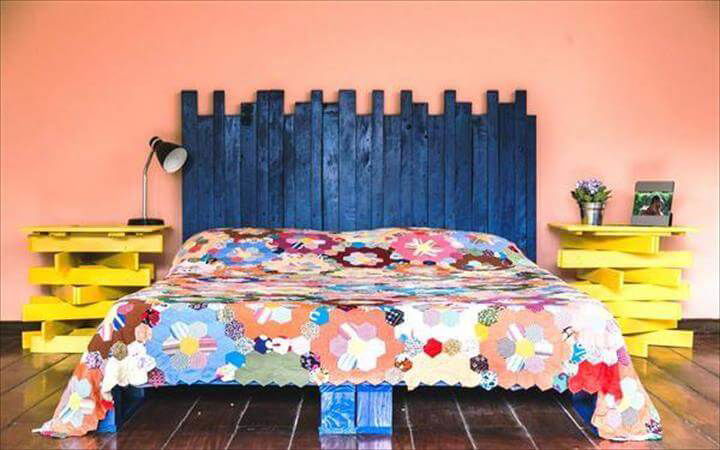 DIY: Creatively Installed Raised Pallet Bed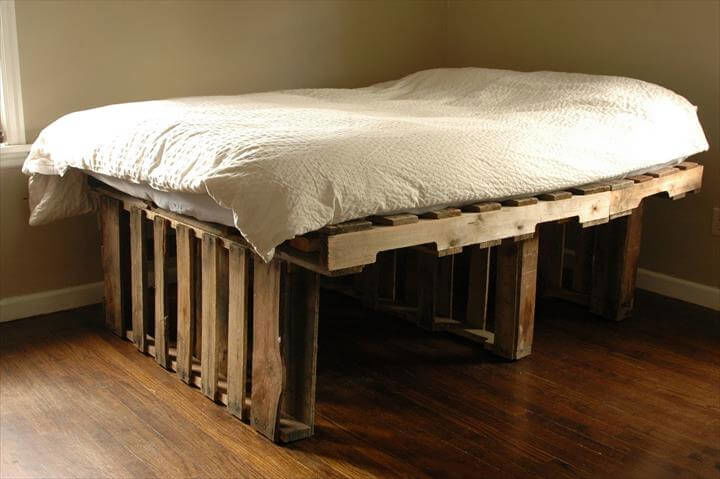 Stacked Pallet Bed with Lighted Headboard: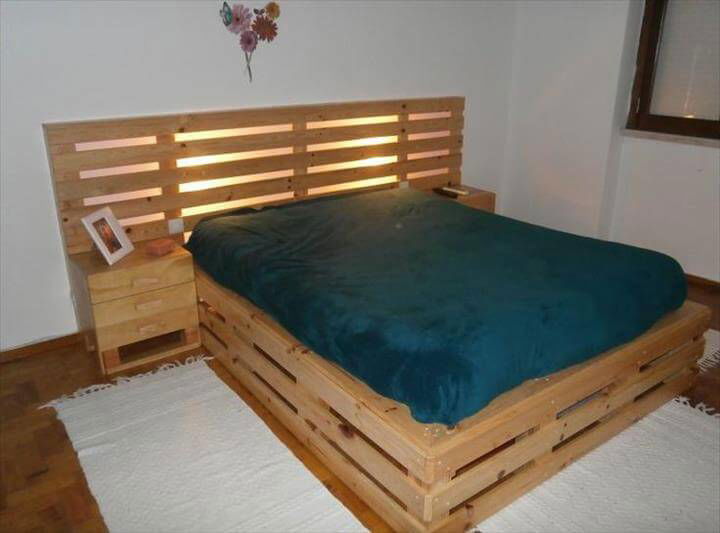 Built-to-Last Pallet Platform Bed: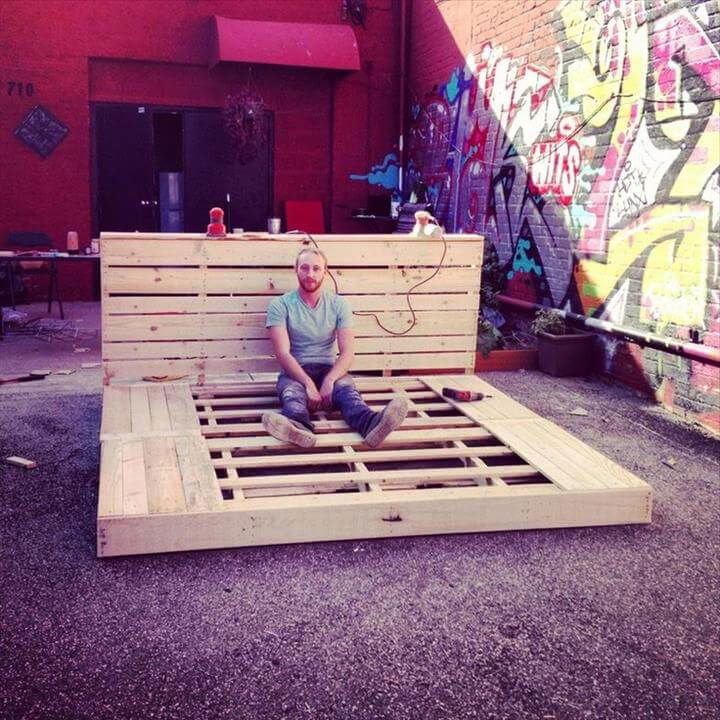 Just align the shipping skids creatively to get simple yet sturdy pallet platform beds or construction all separately like side rails, sleeping section, headboard, and footboard for a cozy bed frame, both options will rock!
For both these styles of pallet beds, you need perfect hardware for a lasting assemblage and to keep the pieces together strongly! L-brackets, nails, bolts, and nuts, angled iron brackets would be perfect for unbeatable assembly of parts. Hot glue will be fantastic to meet your adhesive needs and will give the inner strength to used pallet boards!
You can also finish these amusing beds with oil, wax, and polyurethane or even with some popular sealants to create more stability or to add weather and waterproofing to them!
Do try these options to put more strength and durability in your final finished products and enjoy them for the whole life without any damage in shape or to avoid weathering and fading!
Shabby Chic White Platform Bed Plan: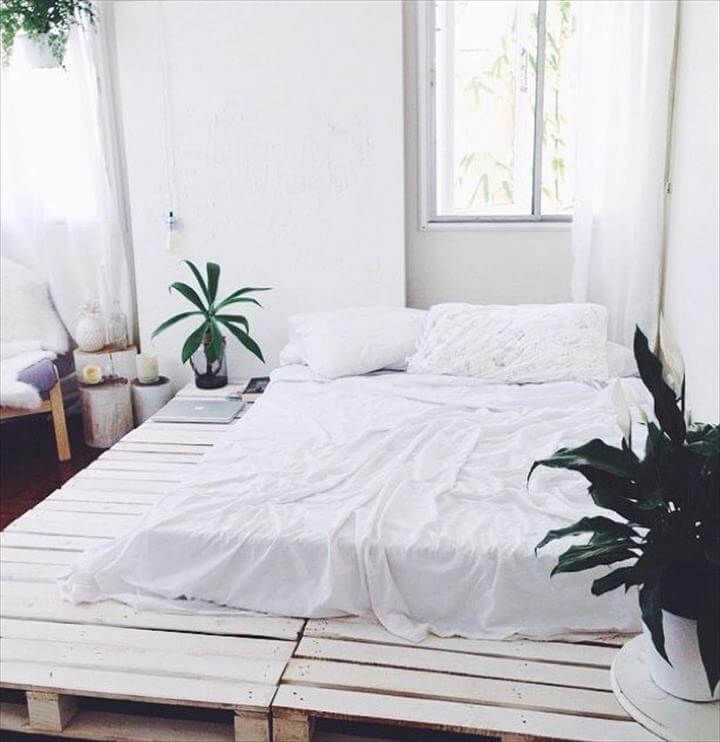 Mid Century Inspired Raised Pallet Bed: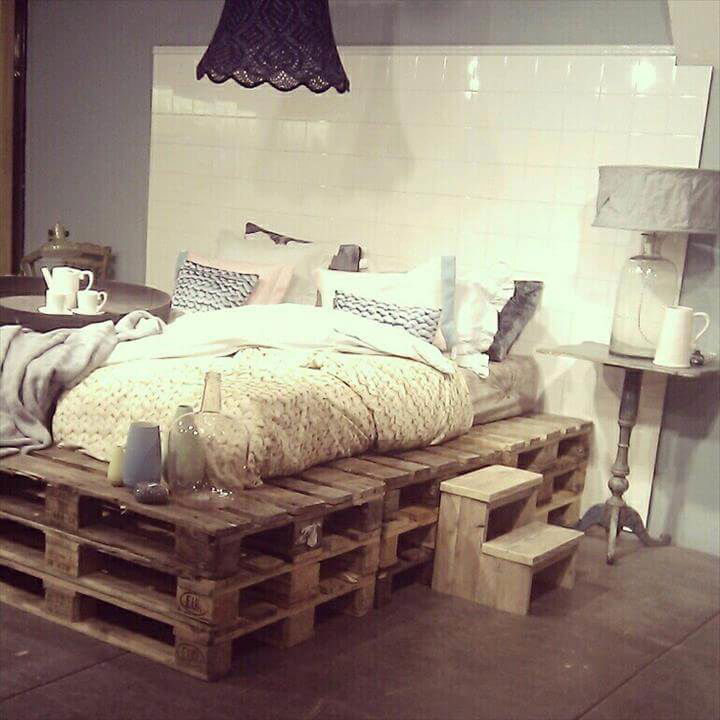 Lasting Pallet Bed with Headboard & Footboard: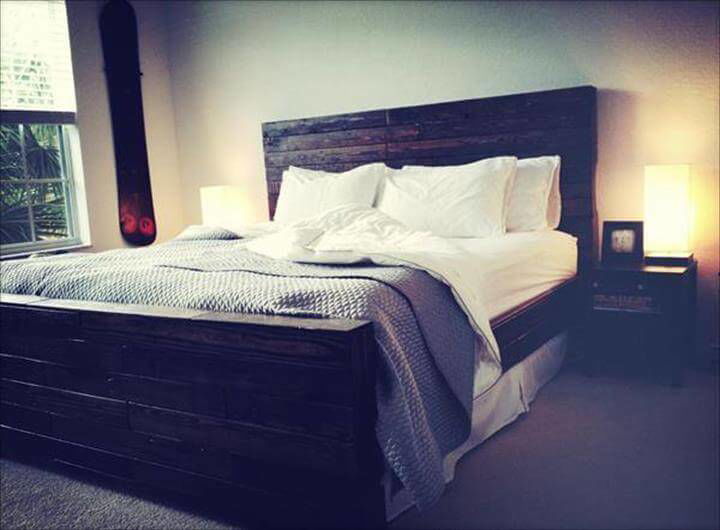 Pallet Bed with Storage and Lighted Headboard: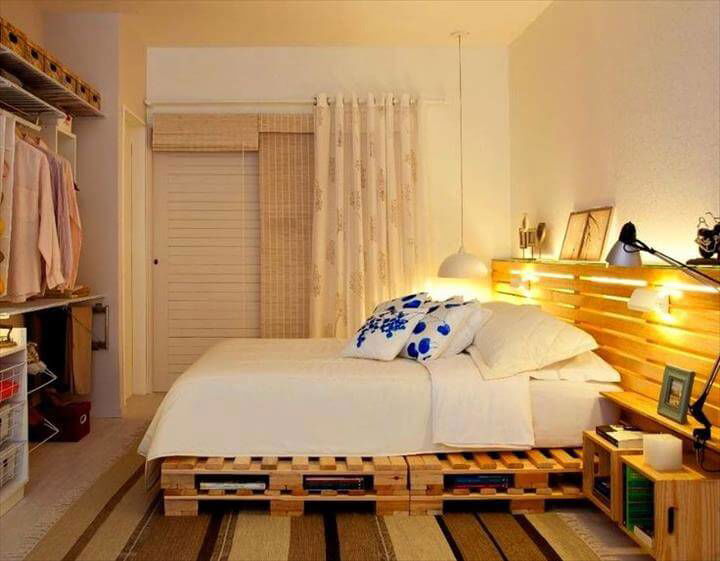 Platform Pallet Bed with Headboard Accent Wall: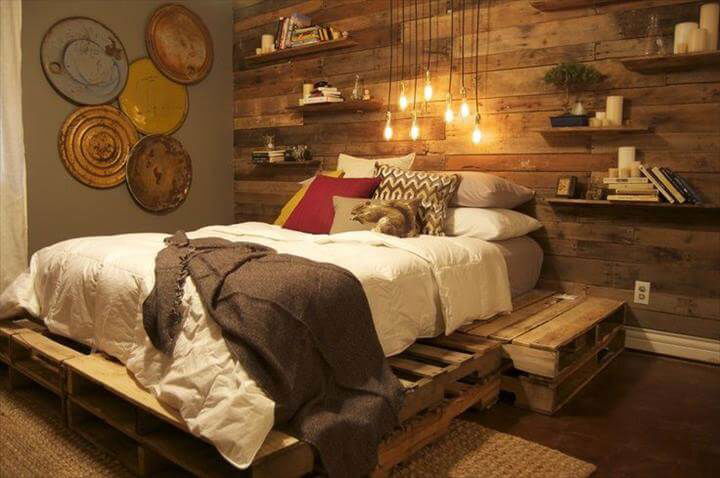 Easy-to-Install Pallet Platform Bed: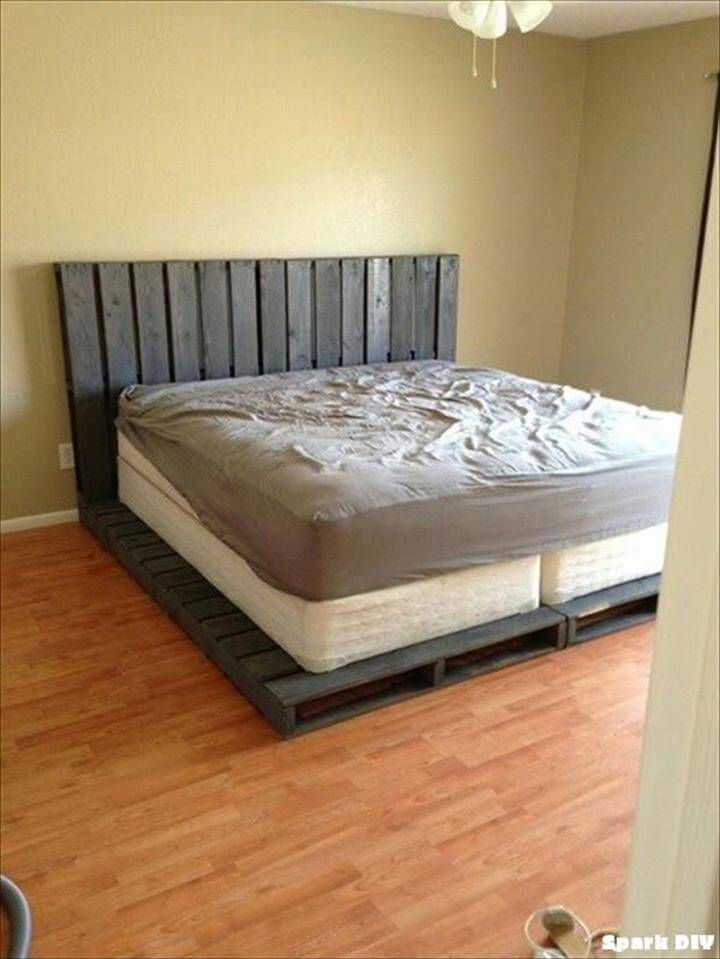 Shabby Chic Pallet Bed with Crate Storage: