Pallets Recycling is taking over Pinterest! People are doing great pallet projects with pallet wood and are making such original furniture, easy crafts, and things out of them that you have thought about before! They are not just to left to rot away or to use as wooden fuel for home stoves, outdoor fir-pits, and living room fireplaces! They are much more than just retired or jobless wooden pallet skids and have great stamina to be recycled repeatedly! Pallet projects and creative pallet furniture have just revolutionized the world and have provided some ways to live better even if your life is going through some financial crises! Along with plenty of home, office, garden, and workplaces improvement projects, one can also build almost cost-free furniture pieces with recycled pallets in retro style, modern chic style, vintage, and shabby chic style, and stability and sturdiness would be guaranteed!
Due to amazing uses of pallets for furniture, home decor, and other projects people are being attracted to wood pallet recycling, upcycling and reclaimed and there are so many searches on the internet for pallet furniture projects every day! Everybody wants to use pallets now but there is a great number of people that really want to know where to get wooden pallets for free? It is majorly asked a question and now we are going to reveal the hidden secrets and answers for it!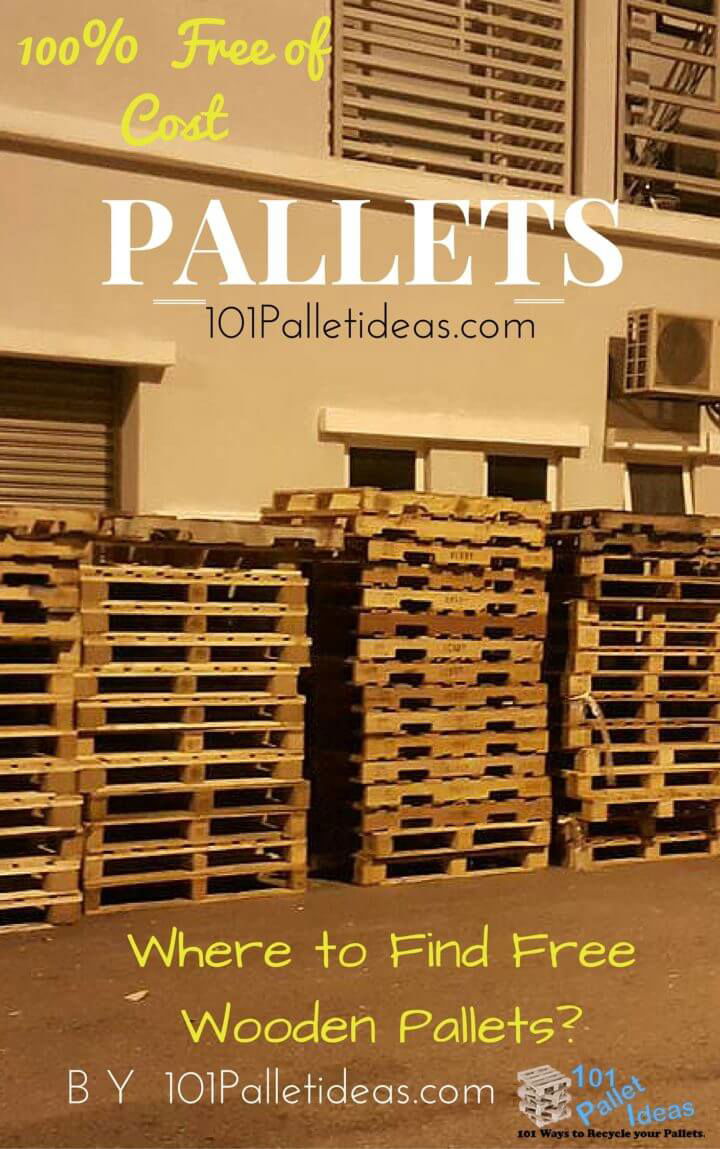 Visit the Pet Supplies and Food Stores:
Pet food is mostly delivered with the help of pallets that are used for safety and secured coverage! After the reception, pallets are treated as nothing else but a waste! So one can take a little visit of such pet supplies and food stores to get his hands onto a sturdy, good looking and numerous different sizes of pallets for custom and personal projects at home, is they are not fully free? then no need to worry about it the owner will charge you really a little bit just next to nothing!
Make some Deals with Hardware and Furniture Equipment Stores:
Pallets really travel great and ensure the safe delivery of shipping goods and types of equipment! Most of the hardware material and furniture equipment that has been imported has also been delivered to local stores through pallets! A store owner has really nothing to do with these pallets that come to them as just safety skids and become useless for them after delivery of their relevant material, so one make some deals with the store owners to get a required supply of pallets by spending a few bucks! You will also meet some owners that will just request you to take those pallets to your home for free as they are just to throw them out and you are doing this job for them indeed!
Make Some Local Visits and pick up pallets for free: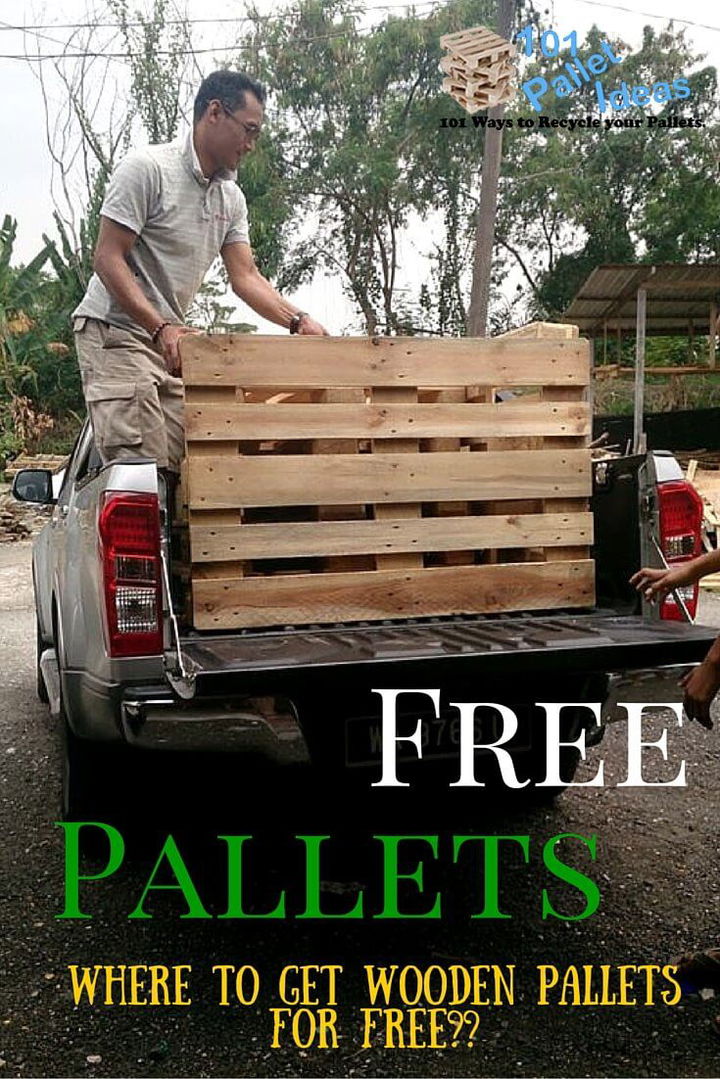 Pallets also come to your place or in the neighborhood for safe deliveries of various home appliances such as TVs and refrigerators and washing machines! So, your neighbor, for whom pallet recycling is really a strange thing and never come to his eyes, will throw them to into local dumpsters, on discarded material piles, scrap material heaps and also on junky yards, so one can visit these places to get really a good supply of pallets on a budget! Some garden, lawn, and nursery owners also ask to get their stuff delivered through pallets so such a garden and nurseries owners can also be enlisted and contacted for some cost-effective pallet deals!
Contact Newspaper Companies:
Shipments of documentations and other newspaper stuff I come on pallets and it would good news if you have a news company located in the neighborhood or near to your home! Just give contact them if they have nothing to do with pallets and want really to get rid of them so don't waste any time pick up pallets for free!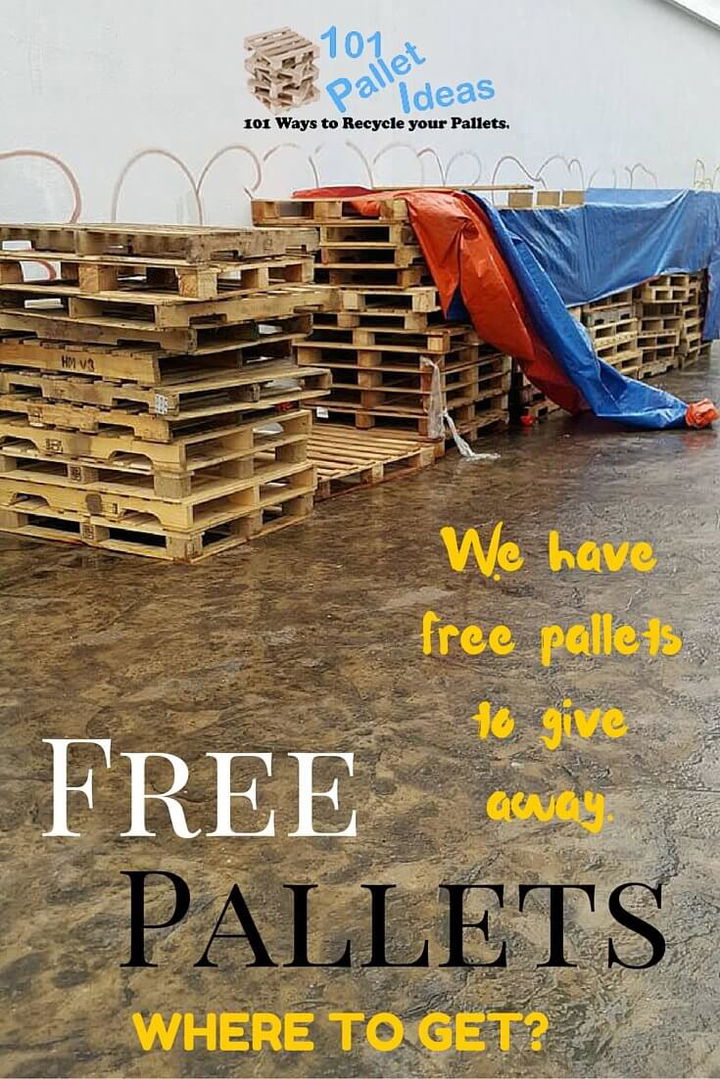 Build a Friendly Relation with House Builders and Construction Supervisors:
The construction site is another big source of pallet supply, mostly the housebuilders and construction supervisors who take bigger construction projects, can be contacted to get some ways to get a bunch of pallets as shipments of construction material are majorly received also on pallets! Just try to build a friendly relation and ask them for some budget-friendly pallet deals, they can even give it to you so free pallets near me!
Be in Touch with Those Small Businesses:
Small businesses mostly use the stuff on a short scale and due to lack of money, the owners sell their waste material to earn a few bucks more! On the other hand, large businesses really take it seriously to reuse or recycle their old materials and not expose them to the public or to local sales! So keep all the small businesses located in your area, in touch and let the pallets keep on coming to your home inflow for diverse different home improvement projects and furniture constructions! Just build up your social circle and take the persons in especially those who are just in touch with pallets in any way!
New Shopping Malls or Stores Openings:
There are always some important announcements about the openings of new restaurants, shopping malls, and departmental stores in every area, just keep yourself well aware of such announcements and just reach that place to grab some pallets as all shopping malls or stores material shipments are received and delivered on pallets! Store and shopping mall owners just remain busy in interior organizations and have no time to think about something else! So if you ask them for pallets, they can really give it free to you as they only need to do at that time, is to get rid of waste material to avoid messy conditions!
Check for Craigslist Listings:
Craigslist is an advertisement website having different categories and you can simply brow it to check for some pallet deals! You can also check it for new updates and listing on a regular basis to pick up some hot and cost-effective pallet deals! It may also be very possible you find a pallet listing with zero price tag!
Browse the Internet for Pallet Search:
One can browse a bunch of social media sites such as Facebook and Twitter and also some other search engines for some amazing and friendly pallet deals! The Internet can really connect you to some respectable DIY and pallet dealers which can charge a little for larger pallet supplies and you can also get some unused pallets from those dealers!
Tips:
Learn to Make a Request:
Just be courteous and polite while being in conversation with those shops and shopping mall owners! Impress and motivate them with your pallet wood projects, like with a pallet coffee table, garden bench or with a pallet pet or chicken house, it really your projects and struggle then it is sure that their behavior will be cooperative! Also note the timings when those targeted persons are on rest, as it would be not safe to talk to them in their busiest hours and they can simply refuse it due to the burden of their work at that time! So always go to them in their free time when they have a lot of free time to listen to you, early in the morning and or evening would be the best timings to go ahead and free pallets near me!
Try to Think Small:
Manage the regular pallet supply through small businesses as large businesses have already some alternatives to reuse their waste material or pallets! Small businesses really can't afford it to reuse those pallets again and this simply results in throwing of pallets into dumpsters! So one can really offer some money to grab pallets from those small businesses to make them interested in pallet deals! Try to find those pallet recycling near me!
Try to Build a Relationship:
If you really find a house builder or a construction supervisor just try to build a relationship with him! Just ask for a pallet in a friendly manner and also get the phone numbers to keep always them in touch! If they really agree to give pallets to you then also send them some pictures of your finally finished pallet-made projects to impress them with what extra brilliant you have created out of their junk and discarded material! Just motivate them and we are sure that they will like to give you some more pallets with a smile on their faces and this will also make them feel proud that the material they are offering, is being used brilliantly for the real advantages and benefits that are possible!
Use the Internet to Develop Online Relationships:
Browse the people having the material you are in need of exchange the emails and contact numbers to develop a stronger relationship! Craigslist may be the very first choice but Facebook and other social media sites have also an abundance of such people but you have to find them through a little search and browsing! The power of the interior can really make you get with a lot of persons that really deal in pallets or feel it a pleasure to give them for nothing!
Also!!
We've shared here a Google Map, Where you can see addresses of People Who want to give away their wooden pallets!! Enjoy and Share!
We have a bonus for you here!
Now you would be able also to locate the exact people that want to go for some pallet deals! Map and contact numbers and emails have been provided to connect with any who is near your home! Here comes the list of persons that want to give their pallets for free or with little charges on them!

---
Get Free Pallets Near Me On These Addresses:
1:
If you need some 60X60 inches 260 pc beefy pallets then contact the given numbers and emails!
323-622-1920
2:
If one is really interested to get a bunch of total 40 pallets for free then contacting details are given below!
(078) 286-3345
Price: Ask Steve Isley
3:
People in Montlouis-Sur-Loire in France can avail of this bigger opportunity, if there is anyone who wants to have a big stock of pallets, can go to this industry with the name "Conneui" located in "Montlouis-Sur-Loire" , all you get for free from this company!
4:
If there is any DIYer who really loves to get and recycle free pallets, truck volumes of pallets are available in different sizes! Interested people can connect by email to their site to know about the pallet volumes available! Timings to contact are Monday-Friday (8 am-5 pm) central time.
(256) 724-6144
mike@etarecycling.com
Price: Free
5:
Contact to this ecological wooden house and bioclimatic construction company located in the Marais Poitevin in France. Pallets and other wooden boards are available here in bigger quantity for those creative recyclers and upcycles!
Here are contacts to get connected:
marjolaine@kanopy.fr
Price: Free
6:
Here is another wood recycling community that is offering pallets for free or at cheaper rates! It is located in a former council depot in Bilton Grange positioned on a residential street set back behind a block of flats off a roundabout at the junction with Diadem Grove. This community stays opened Monday to Friday between 8:30 am and 4:30 pm and on Saturdays between 9:00 am and 2:00 pm and remains closed at Sunday and Bank Holidays! Pallets in different sizes are available and if one can really go to this place, he can enter from the front entrance and can also contact them on site
Here are the contact details:(747) 311-8746
7:
Here is the person that wants to sell each pallet piece for 2$, pallets have only used once and new practically, sizes of the pallets are 34" x 46". Interest people can contact through the given details:
(717) 615-0558
ronmoss99@gmail.com
Price: 2$
8:
Here is an equipment dealer company located in South Alabama! They receive pallets on regular bases and really looking for some ways to dispose of them!
If some want to get these pallets then here are the contact details:
251) 341-1844
jdodson@beardequipment.com
Price: Free
9:
Here is a person with the name Ranjith from 97p Stores Limited. This company is also looking to dispose of pallets on the following addresses:66 Broadway, WestEaling, United Kingdom.
51 Bridge Street, Pinner, United Kingdom.
(779) 450-2771
Price: Free
10:
Here is a company that is offering Euro pallets in different size range! As Euro pallets are more expensive so the price for each piece has been set £2.00.
People who are interested to make a deal can contact from 10:00 am to 5:00 pm weekdays and 11:00 am to 3: pm on Saturday! These people only deliver in Leicestershire and shipping fee depends on area postcode!
Address:
Unit 6
62-66 Friday Street
Leicester LE1 3BW
United Kingdom
(0116) 2511483
collections@justwoodleicestershire.org.uk
Price: £2.00 and more
11:
Here is a person who is offering 1000 pallets of different sizes for free!
Interested people can get more details through the following contact details:
Address:
2139 kaliewa street
honolulu, HI 96819
United States
(808) 782-1010 / (808) 271-0464
rssltd@yahoo.com
Price: Free
Anyone who can have a small or good amount Wooden Pallets and want to get rid of them or give away or sell then Don't hesitate to share your Address here ( Contact Us ) and inform us.
Buy Pallets from Company and Individuals:
Parts Manager
Have up to 55+ wooden pallets for sale and crates to be picked up, different conditions.
Price is listed for lo:
Address:
4501 4th Avenue, Rock Island, IL, United States
309-786-3281
tmcguire@qcgpg.com
Price: $55
Pallets in Malta
We have up to 1000+ wooden pallets for sale of different dimensions:
1200x3000mm
1200×1200 dimensions
Price is listed:
Address:
Gharghur Road, Birkirkara, Malta
(356) 992-4038
andre@makaw.com.mt
Price: $5
Pallets in Norfolk:
We are a company of repair/reuse all of the wooden pallets for sale, We sell all type of wooden pallets to all distributors and individual people. We are in Newfolk, Va.
So we have some type of pallets like Euro pallets, small and big and block pallets.
Price is listed:
Address:
2608 Wyoming Avenue, Norfolk, VA 23513, United States
(757) 339-6630
theresaguffey65@gmail.com
Price: $3
Pallets in Leicester:
We have a range of different wood pallets for sale, Euro pallets are more expensive and also each pallet price at £2.00.
You can call from 10: am to 5: pm on weekdays and 11 to 3: PM on Saturday.
Price is listed:
Address:
Unit 6 – 62-66 Friday Street – Leicester LE1 3BW – United Kingdom
(0116) 2511483
collections@justwoodleicestershire.org.uk
Price: $3
Pallets in Lancaster:
We have a lot of wooden pallets for sale size 34″ x 46″ looking totally new, Just used one time.
So I sell 2$ each. Thanks
Price is listed:
Address:
2482 Horseshoe Road – PA 17601 Lancaster – United Kingdom
(717) 615-0558
ronmoss99@gmail.com
Price: $2
---
Anyone who has a small or good amount Wooden Pallets and wants to give away for free or sell them, then Don't hesitate to share your Address here ( Pallets To Sell or Free ) and inform us.