As the world is growing with a great number of genius people so everyday there are more genius ways and techniques to see that help us to turn the useless and rustic pallets into pallet furniture! You can get crafty with pallets for getting everyday furniture stuff, highly utilitarian wooden objects, garden and interior wall decors and one can also go creative with pallets for low-cost improvements and landscaping of his pallet outdoor furniture! Examples always help for a comprehensive understanding of anything under discussion, so we are having here these 20 DIY pallet ideas as most ingenious and practical examples of pallet wood recycling that will encircle all to improve your indoor or outdoor with pallets for free!
Get your hands onto free pallets and clone the given planter bench, provide sitting along with a garden like atmosphere, mix the pallets creatively with old metal pipes and install the low-cost bedroom closets and wardrobes and you can even stack a bunch of pallets, painted in custom colors, for instant sofa sets or sitting plans which may come in handy to boost up the indoor or outdoor sitting space!


Take the pallets into pieces and integrate single pallet slats to build stylish king or queen headboards, the amazing wooden playhouses and also the robust indoor bar units with raised wooden platform! Plan pallets also for making robust toddler beds and also the highly stable XL dining tables, some highly creative DIY pallet projects are given below!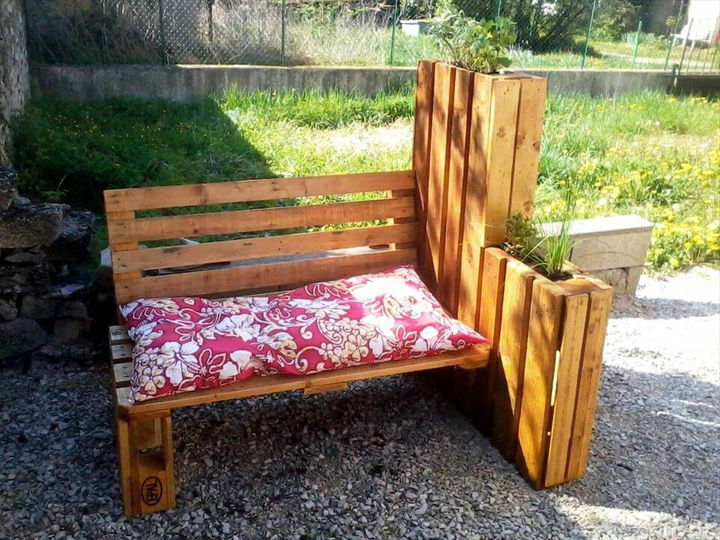 Look at this very unique stuff made of pallets, a robust bench with planters built in the armrest, would be a great addition to any particular outdoor area you want to give a natural touch!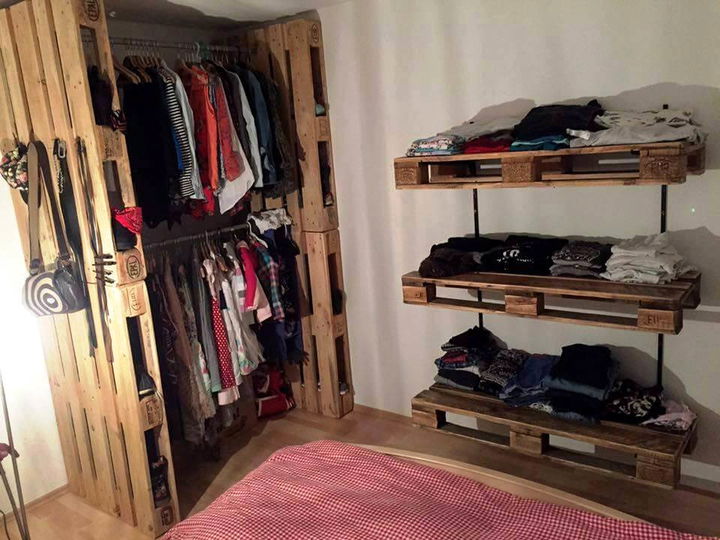 Install custom wardrobes and closets with pallets, will help you to organize all your fashion-wear, here you can see the custom cloth organizer and a wardrobe made of uncut pallet boards and metal rods reclaimed from home!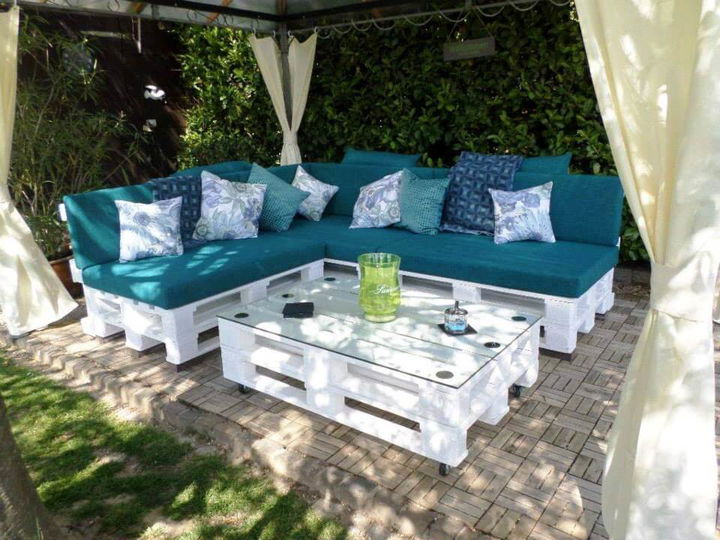 Make you outdoor living much better by getting help from pallets, here is a custom pallet sitting set which can be placed over any paved outdoor or in your green space for spare time sitting and fun affairs! Perfect L-shape lounge made of white painted stacked pallets while front coffee table has been raised on wheels and has been finished with glass top!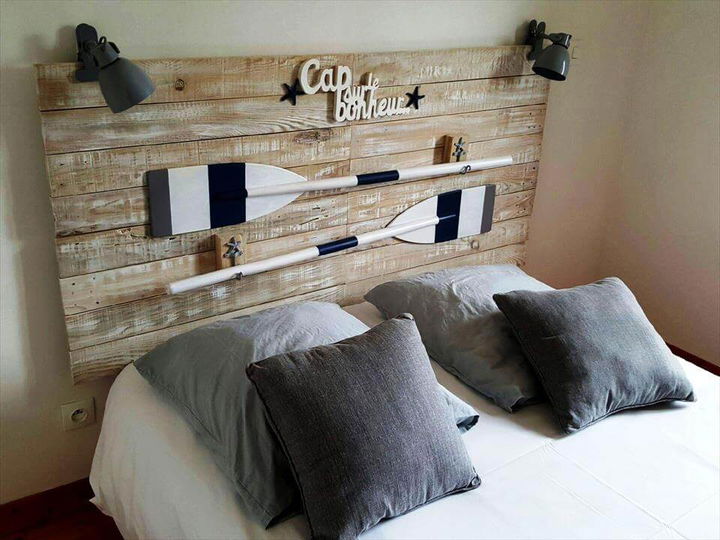 Here longer separated pallet lengths cut into equal sizes, have been put together for a precious rustic wooden pallet headboard, comes with precisely mounted oars, custom accents, wooden name letters and also with reading lights, so is all inspired of coastal decors!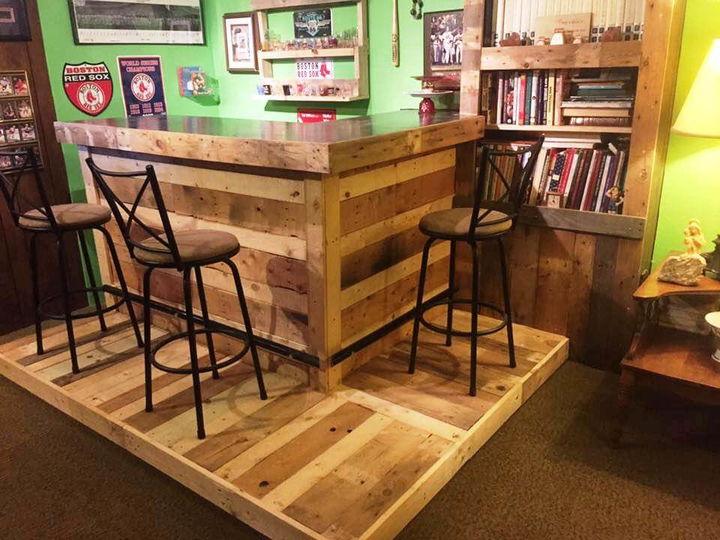 Clone this pallet project if you are willing to install an indoor bar at an ever low-cost price! Here both wooden bar platform and bar table has been made of pallets!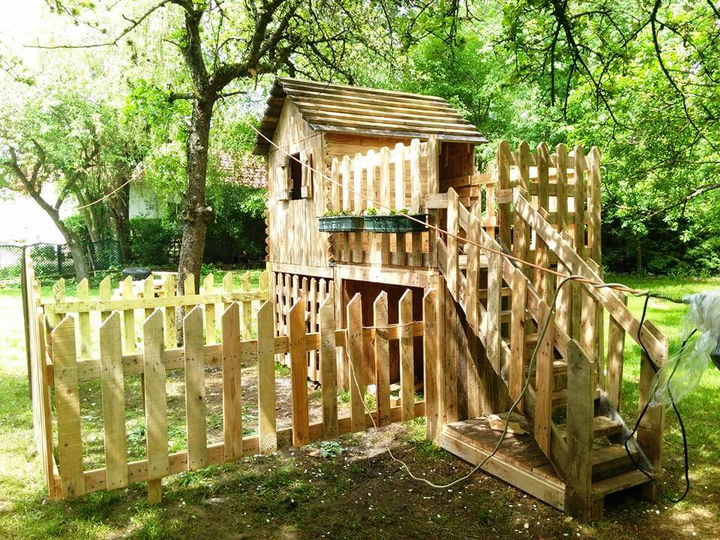 Perfect double story playhouse, made of dismantled pallets, here only the custom cut pallet slats have been planed to build each part of this robust wooden residence like the stairs, the wooden fence all around, the room and the chevron roof!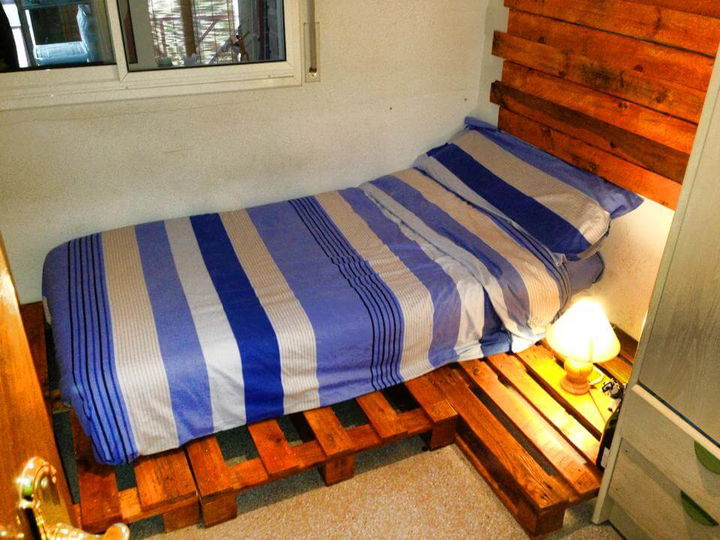 Organize your newly built bedrooms by using both uncut and dismantled pallet skids, here skids of pallets have been put flat over the floor for an instant platform bed that also provides a nightstand, at the same time the single pallets lengths have been mounted on the background wall for an accent wooden headboard wall!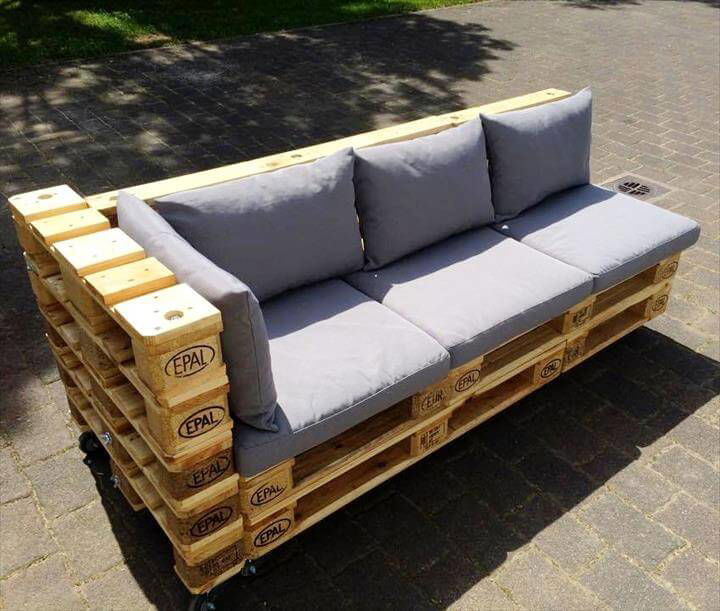 Get inspired of this all fantastic furniture creation done with Euro pallets, a brilliant pallet 3 seater cushioned for a enjoyable soft feel of sitting! Hardware rolls have been added that makes this bulky wooden seat convenient to drag and push!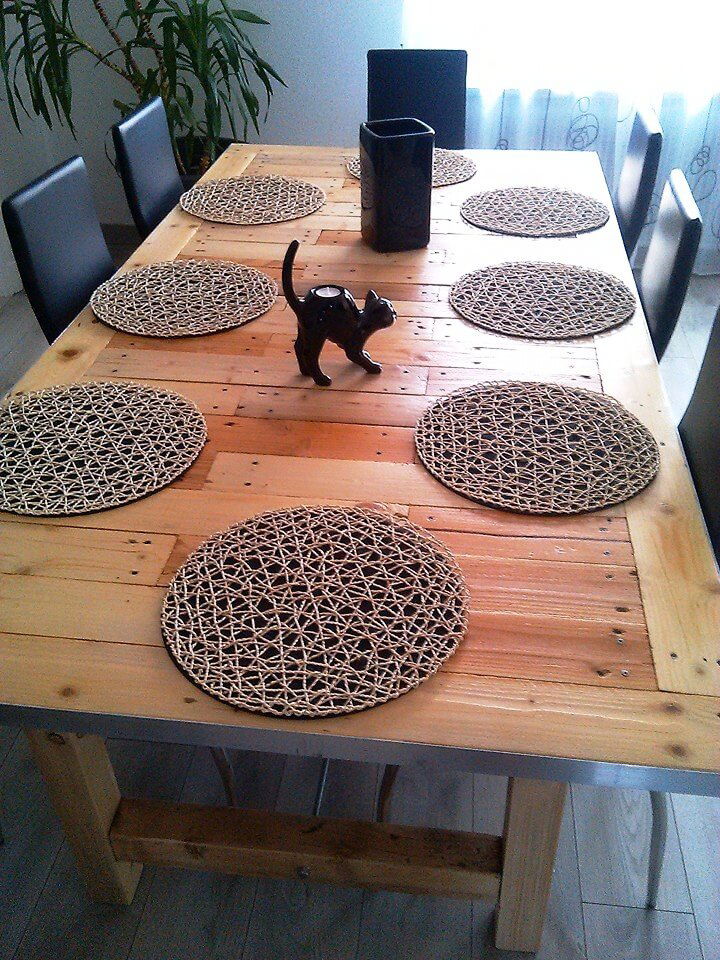 Craft this 8 people robust dining table with pallets, wholly composed of resized single pallet lengths and comes with sides that have been reinforced using metal bars!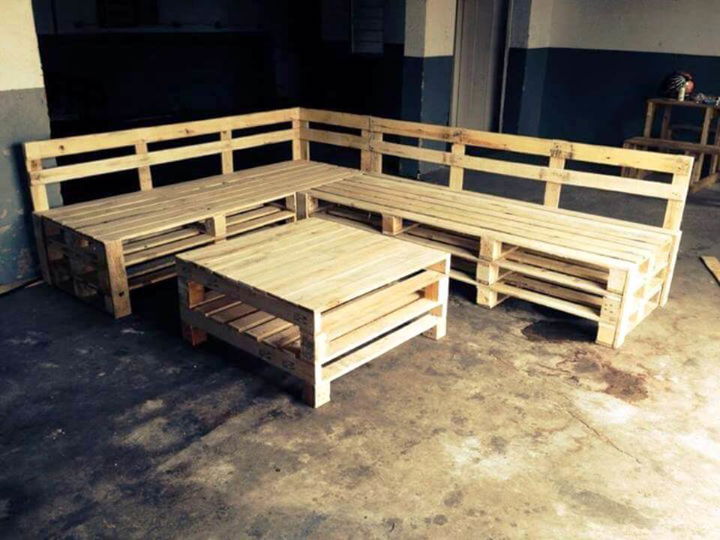 Lasting wooden frame for an L-shape sitting set, built with both dismantled and uncut pallet boards, will come in handy to organize any particular outdoor or indoor area for spare time sitting, beverage parties and for never ending gossips bites!
Mount the single pallet boards on a wall area for a beautiful organizer or pot holder, finish the same single pallet skid with hardware rolls or with custom wood/metal legs for instant low-height coffee tables as they are having sizes mostly exactly equal to standard tabletops!
Moreover, you can stack pallets for immediate berth position of a sofa, of a outdoor bench and also of occasional sitting plan and then can add more pallet vertically as backrests, an ideal way to reuse pallets for amazing patio sitting sets, lounge sitting sets, garden sofa sets and for sturdy terrace furniture, checkout some ingenious pallet furniture ideas given below!
Use pallet remains to craft the items of the primary need like the given mailbox holder and also pack again the separated apart pieces of pallets for robust furniture construction, given block style outdoor bench is a perfect example of it! All the ideas are very new and latest so you can hack them to surprise your neighbors and friends!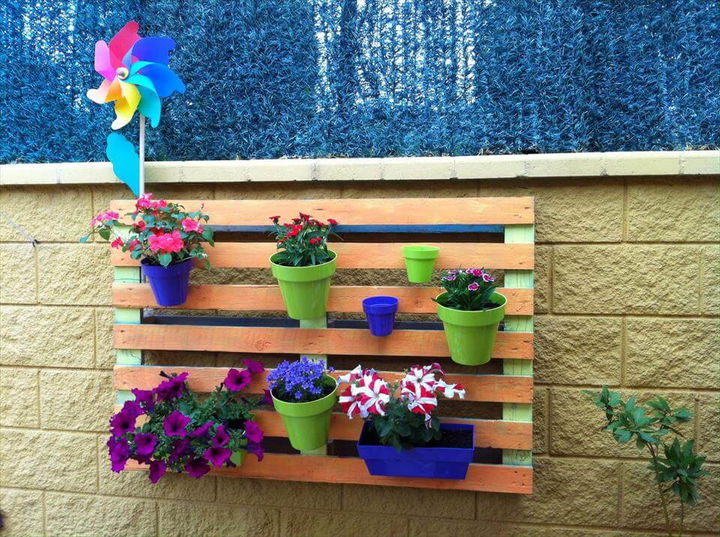 Mount the single pallet boards over a wall area using right kind of hardware and use it as a wall organizer or pot holder like shown in this inspiration!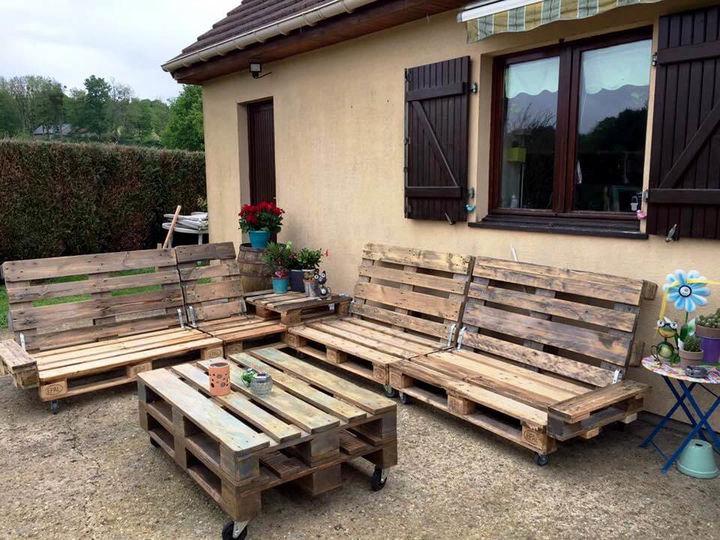 Rustic wooden sitting set built from retired and timeworn pallet skids, uncut pallet boards have been gained in stable L-shapes and raised on wheels for lasting seats while a simple gathering of 2 pallets provides the necessary coffee table!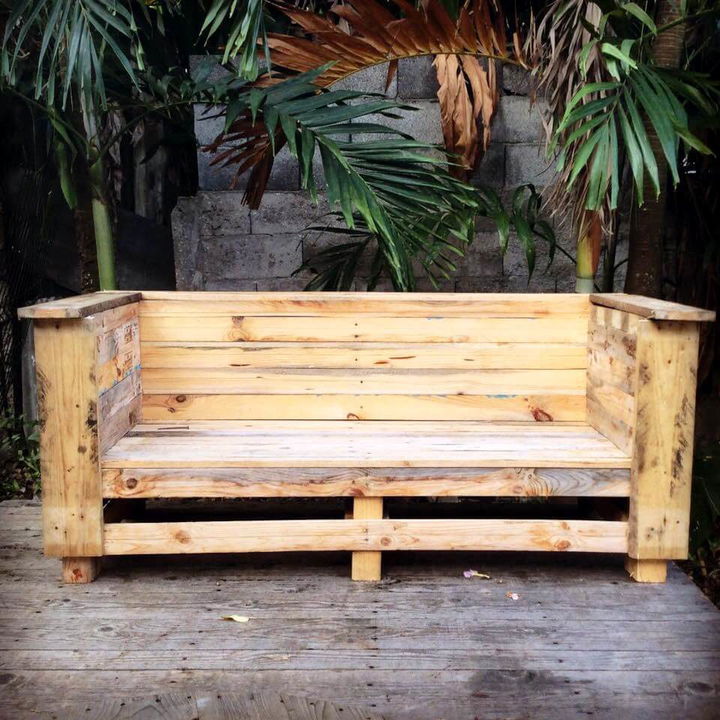 Robust wooden bench built in block style, perfect to employ as a permanent seat for any outdoor sitting point, stands on 6 shorter wooden legs!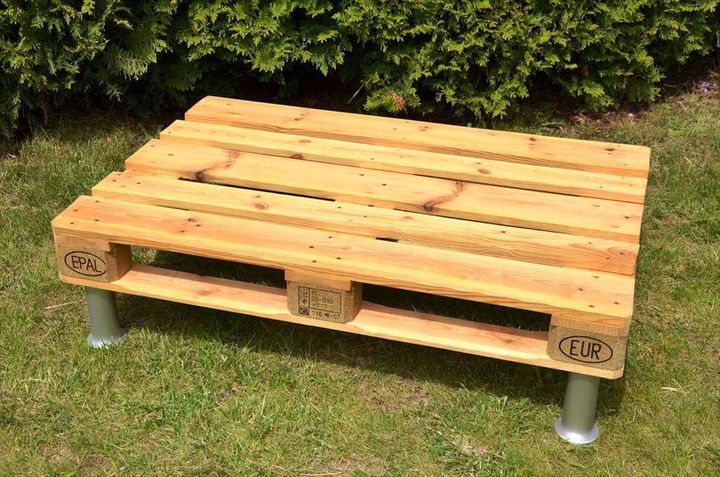 Building a pallet coffee table is not a big hassle, just finish a single pallet skid with custom legs or wheels to gain a stylish coffee table, here a single Euro pallet skid has been finished with short metal legs for a low but cozy coffee table output!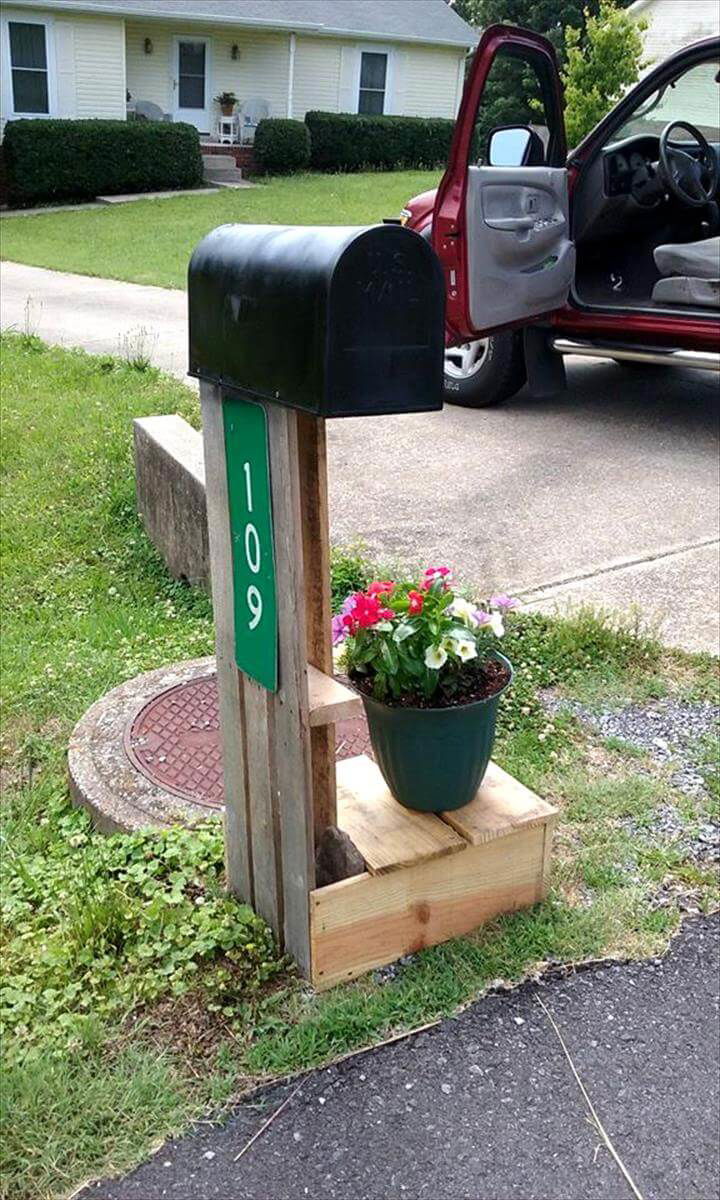 Put together the scrap pieces of pallets together again for some functional objects you can use in routines just like this fancy mailbox holder built with pallet leftovers!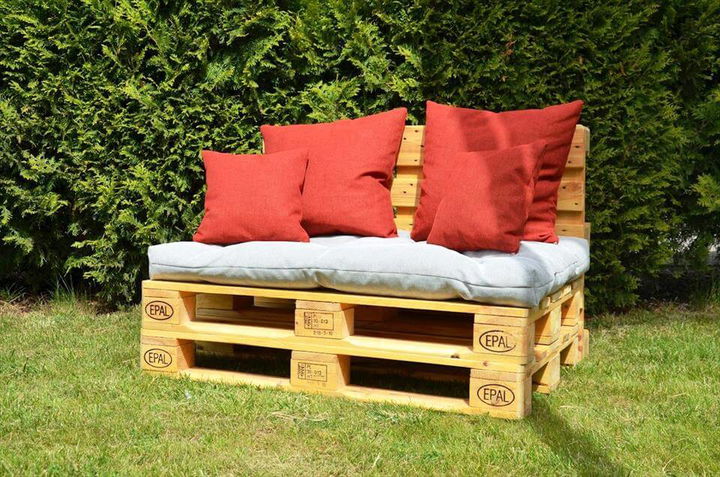 Grab 3 Euro pallets only to clone this highly stable garden sitting bench or seat, the construction is highly simple, stack 2 pallets for berth and put 1 behind of this 2 pallet-stack at a right angle, that's it!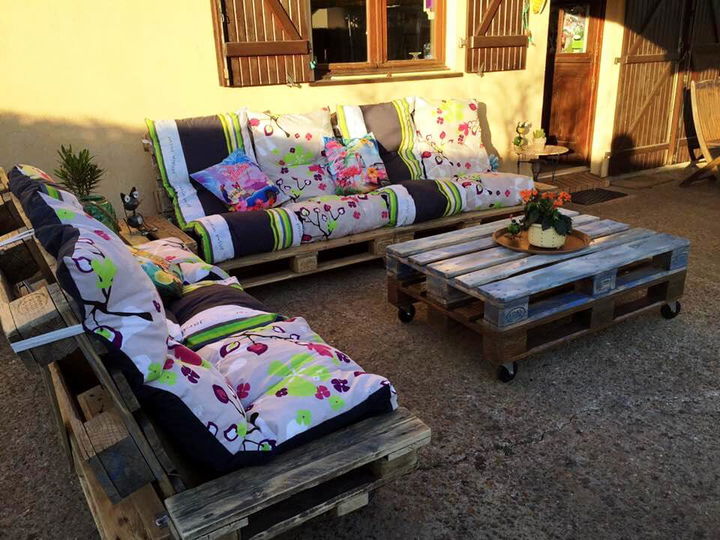 Pallets can be found in abundance lying useless here and there in the surrounding areas, get them for again some functional uses like to build this amazing sitting set, perfect for a garden, for a patio and also for a newly built deck!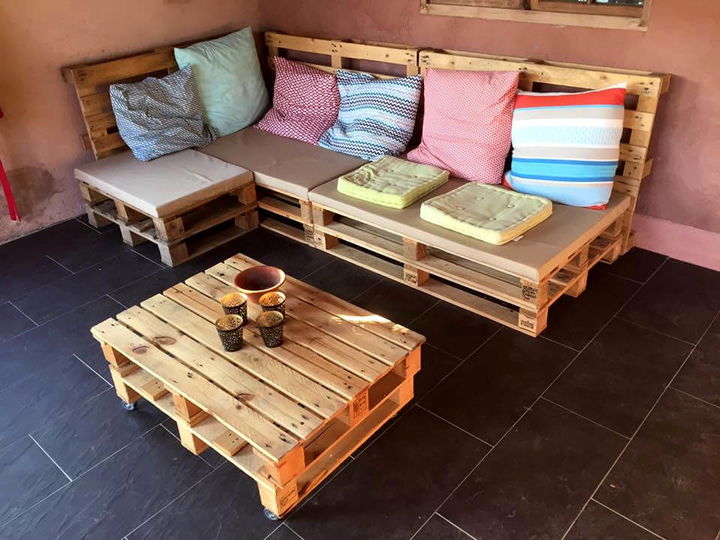 By quick stacking of both large and mini pallets, this sophisticated pallet sectional sofa set has been earned, coffee table made of 2 pallets, comes on wheels here to look stylish! A throw of pillows and foam mattresses to seats, make the entire sitting sofa a big pleasure to sit on!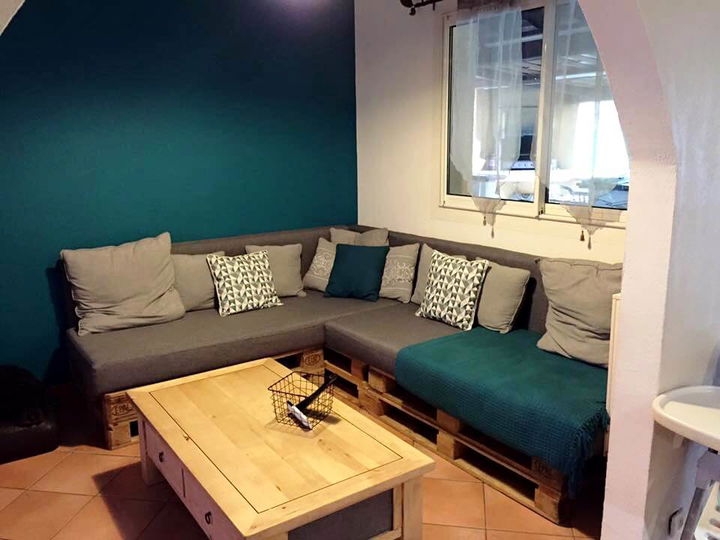 Precise stockpiling of pallets may even result into fantastic living room furniture, here entire sectional living room sofa is made of uncut pallets stacked upto 2 layers and come with a final soft and highly dense mattress overlay!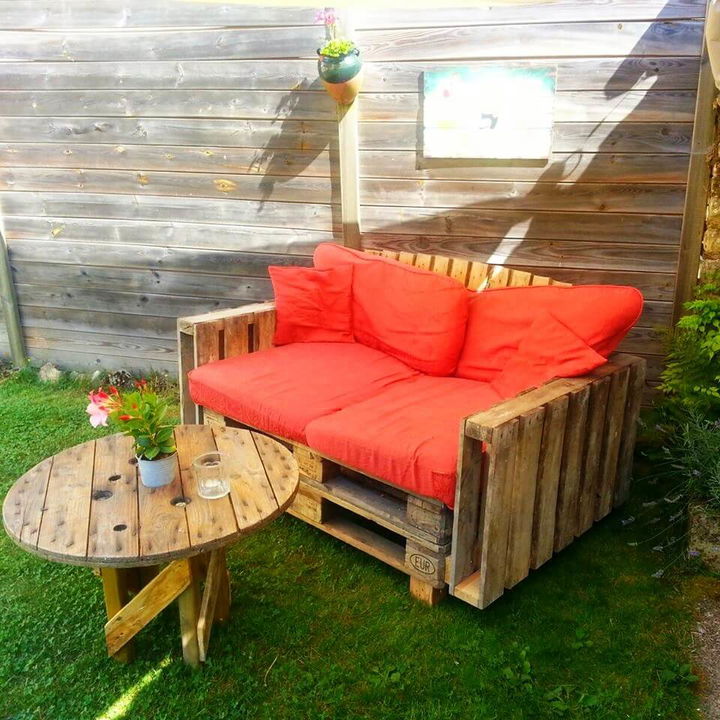 This pallet garden furniture set is all special for a couple or for 2 fast friends, 5 pallets have been jointed together for the lasting 2 seater cushioned in red while a removed spool wheel has been raised on a custom base made of pallet slats for a round top coffee table!