People often look confused making the calculations about how much they will have to spend to get their outdoor entertaining! If this is also happening to you then we are with good news, will suddenly make you relaxed, you can develop your outdoor furniture for free for a happy living in pure and open climates, always heal you when you are tired or feeling sad!
We'll recommend you to DIY some pallets for healthy outdoor life experience at no-cost budget plan! Want to know really how it will work by recycling those rustic pallets? Just focus a little on these DIY pallet outdoor furniture ideas, will not make your life but every day you want to spend in pleasure! All these pallet ideas give a homey person a complete head-to-tail to organize his patio with pallets, how to make his paved outdoors or newly built deck enjoyable with pallets and also how to recycle pallets for bigger garden improvements! We are going to reveal all for you with the help of this latest hack of pallet furniture ideas!

You can choose from a bundle of suggestions about how you want to organize a special outdoor locations of your home, you can get the pallet-made loungers, the stacked pallet sitting sets which can be installed in a couple of minutes and also custom occasional sitting sets one can demand while need to entertain a big gathering of people! DIY Pallet Sofa Ideas will explore all for an outdoor-addict to develop his outdoor in the way he likes it!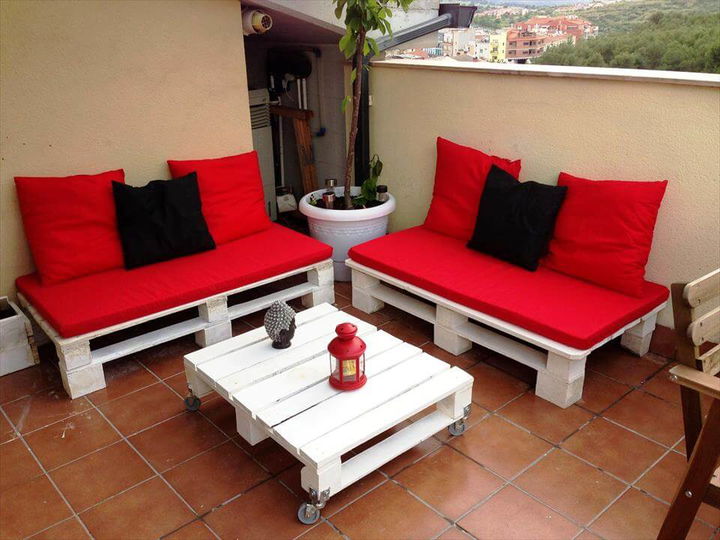 For seats, two single pallets stand on two separated dice sections to gain a cozy height level and 1 pallet comes on wheels for a glam coffee table, here cushions have been selected in red for a nice milk-strawberry theme!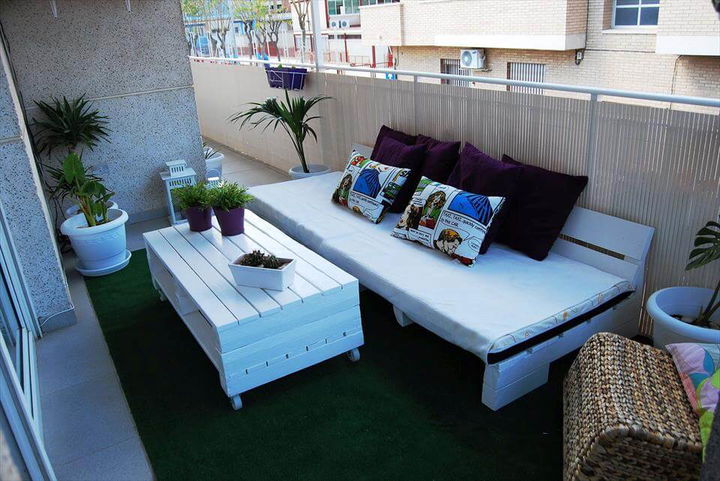 Here a balcony space has been styled up with pallets, organized with a cushioned pallet seat or daybed which has a coffee table in front, here entire set has been painted in white for a better aesthetic appeal!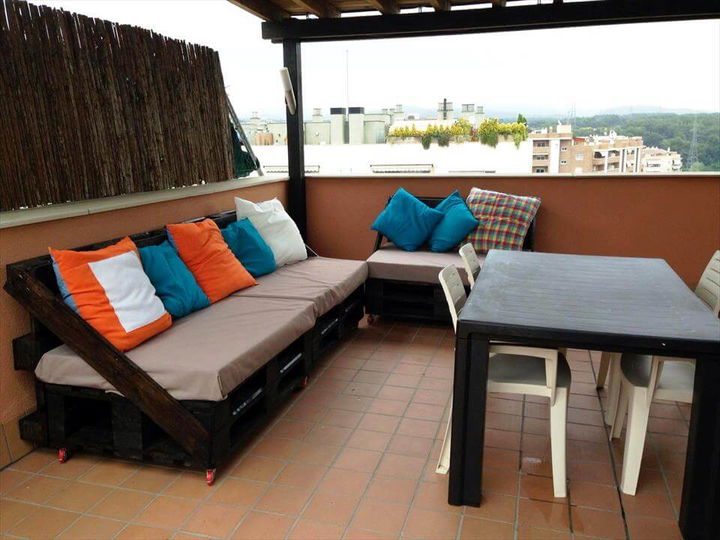 Be a fan of this handcrafted wooden pallet sectional terrace lounge, dignified with a colorful pillow throw, cushioned with highly dense foam cushion! A custom wooden dining table has also been crafted with pallets to enjoy the dinners at terrace!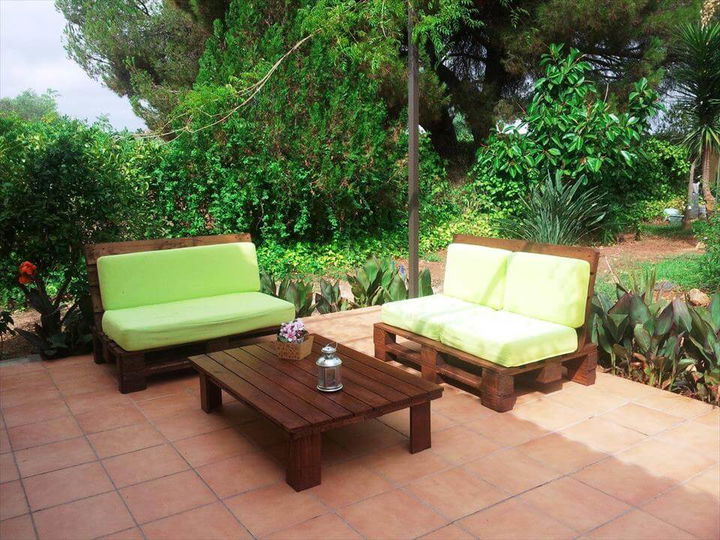 Here is how you can a bring a style to and coziness to your paved patios, go creative with rustic pallet skids and get brilliant sitting sets just like this given one, has 2 green cushioned seats and a central coffee table in possession!
Stack pallets for adorable wooden seats which you can comfy up with colorful mattresses or cushions, here is a nice grey painted cushioned pallet bench to inspire you comes with built in cubbies, can be purposed as storage pockets!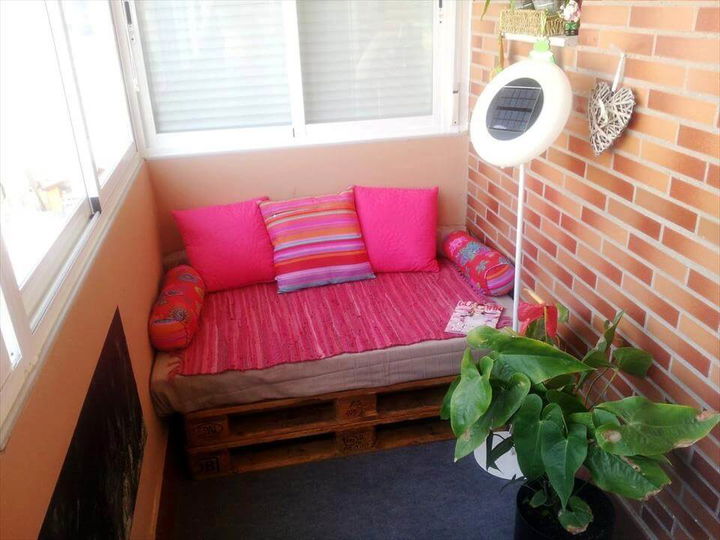 Get the respective sizes of pallets to organize your narrower porch or balcony space, just stack them and finish them with a cushion overlay for instant cozy seats, pallet sofa or daybeds for your balcony or porch area!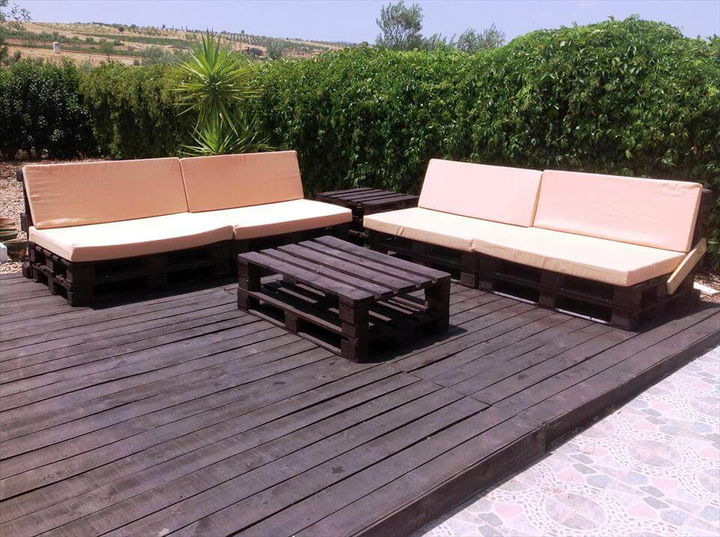 Go handmade with pallets for amazing outdoor improvements, take a look at this fine wooden deck, wholly done with pallets from wooden flooring to cushioned sitting set!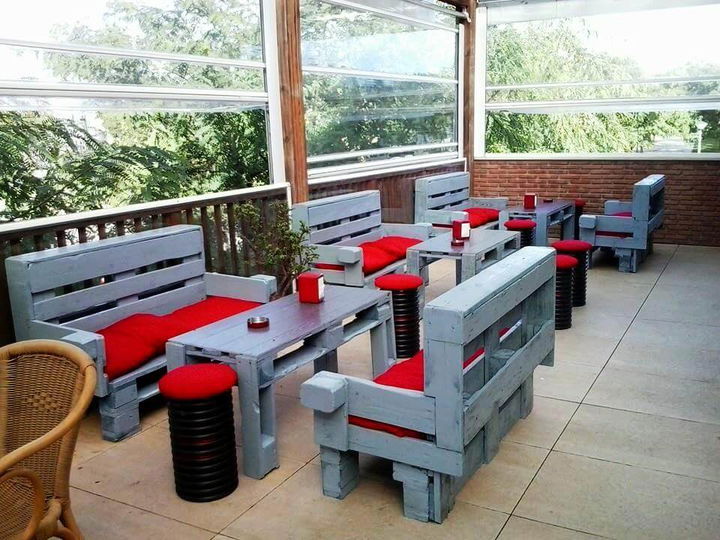 Rebuild pallets for amazing sitting plans or sitting sets which can even be got to organize the customer areas in your coffee shop or restaurant, so here is how you can develop your business spaces also with pallets for free!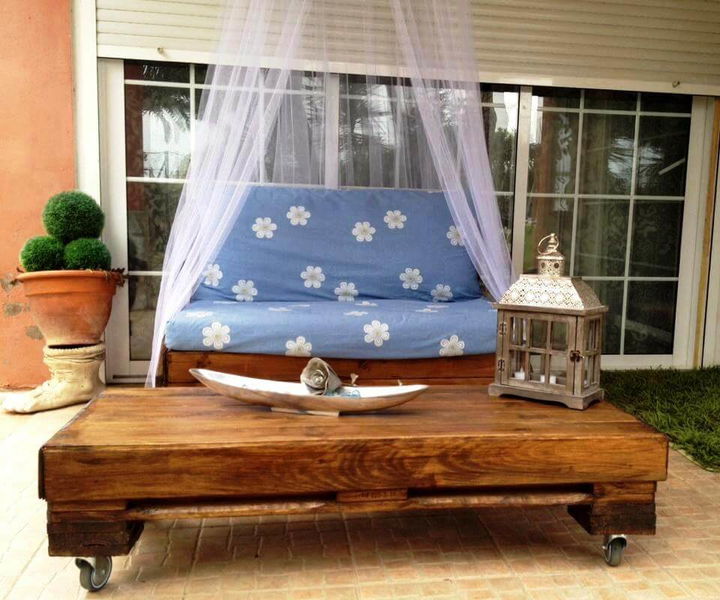 Sit comfortably anywhere at outdoor by using custom stacks of pallets, which can result into amazing sitting furniture and coffee tables as well, here this antique sitting set is a mind-blowing suggestion in this respect!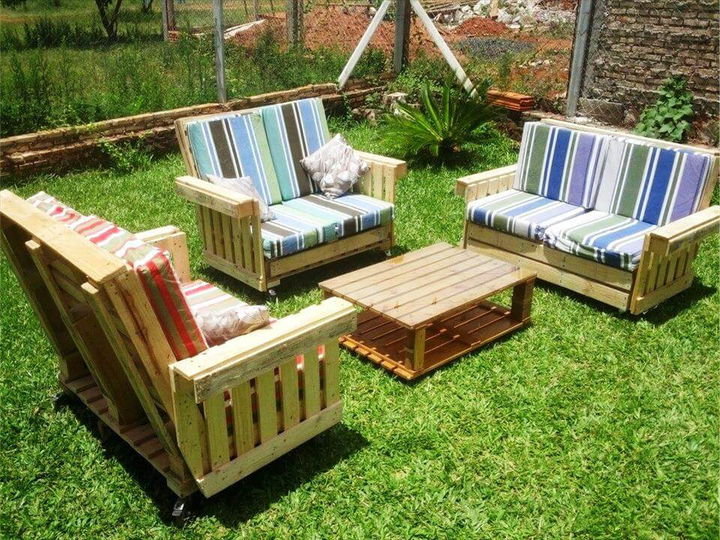 Fulfill your garden sitting desired also in a cost-effective way, here are the pallet garden furniture fully done with pallets, cushioned to give a complete sitting set to enjoy your green space with a couple of friends!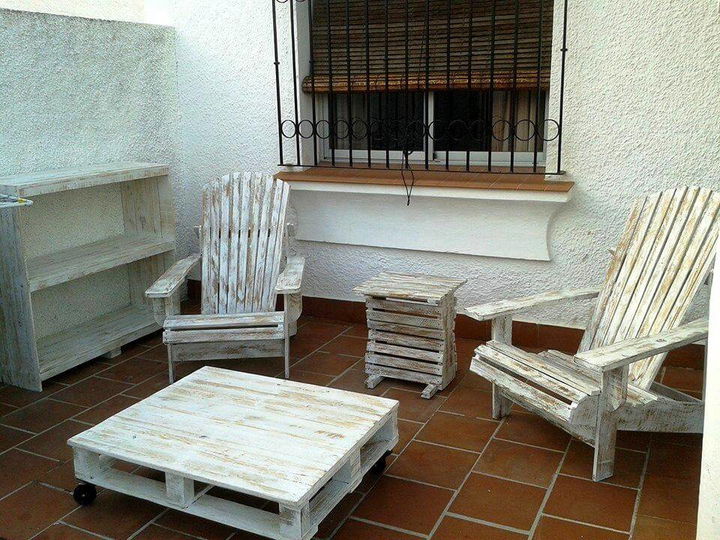 If you love organizing your outdoors, then this Adirondack chairs sitting set is a special gift for you to enjoy the open outdoor climates by sitting in style, pallets can easily be rebuilt for this sturdy pallet Adirondack chair set!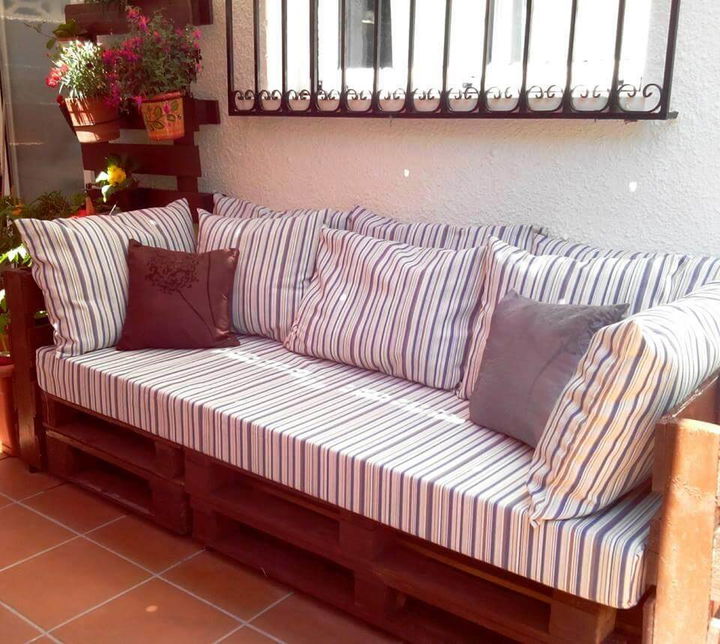 Once again a creative stack of pallets have been gained as a cozy sofa by just providing a cushion over, would be all special for mudroom, balcony or front porch area!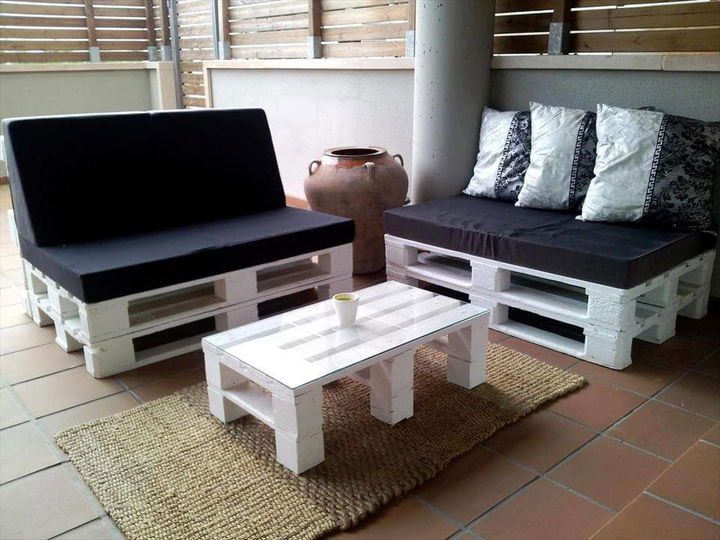 Clone this superb black and white sitting set by using a couple of pallets, would be all amazing to fancy up a paved outdoor or even a garden area!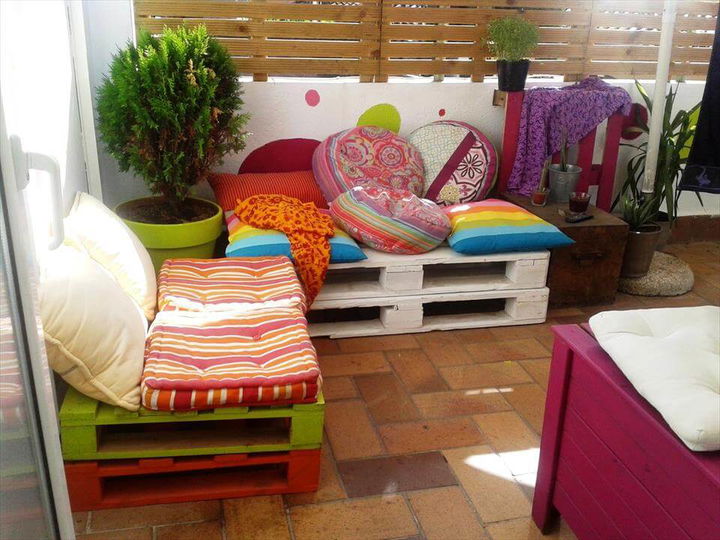 You can simply put the pallet boards on one another for instant sitting sofa frames, then by putting the custom mattress or cushion over you can gain them as super comfortable seats just like this colorful sectional sitting set!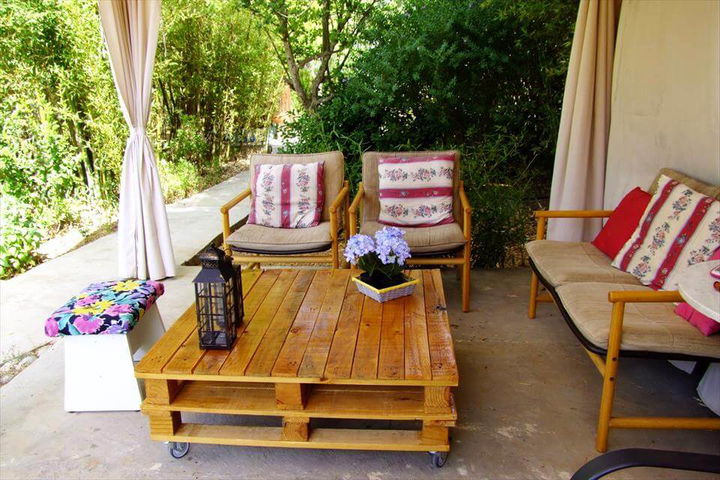 Avail a combination of 2 pallet skids for an enjoyable coffee table, here is a beautiful one raised on wheels, would be all special to create a complete look of any outdoor sitting set!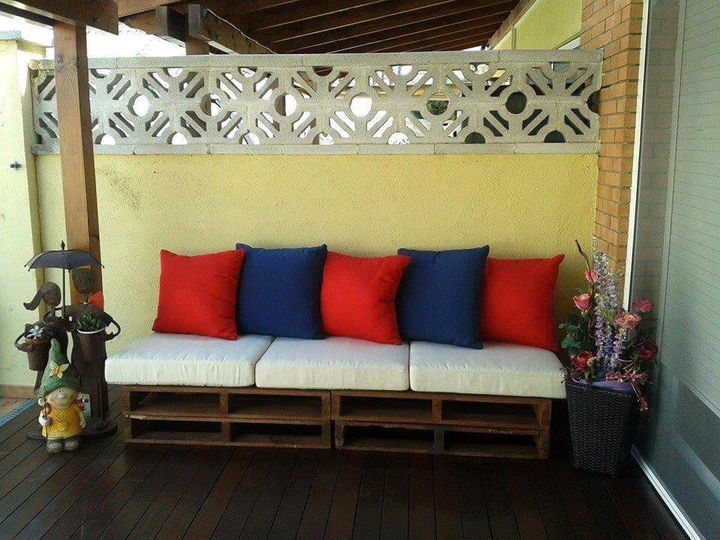 Learn here how simple piles of pallets can be earned as beautiful sitting sets, here a stack of 4 pallets is resulting into cozy 3 seater sofa!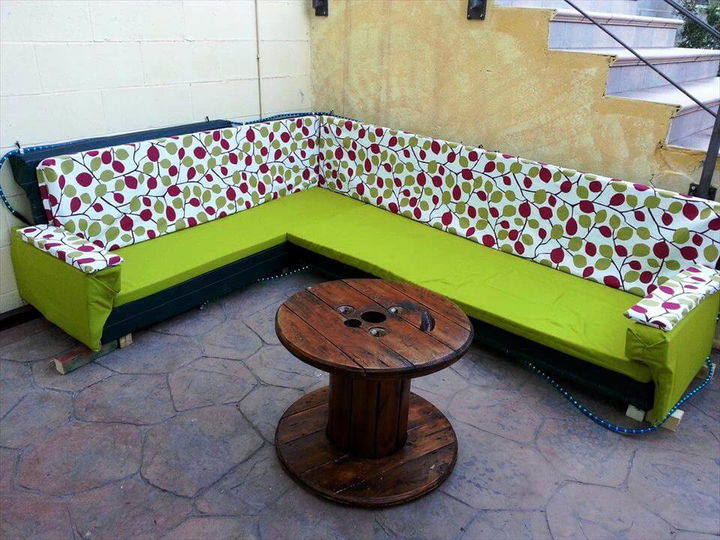 Pallets and a old spool, both have been reclaimed here to organize a patio section for spare time fun and sitting, pallets modified to gain as sectional sofa while an old spool stand vertically as a round top coffee table!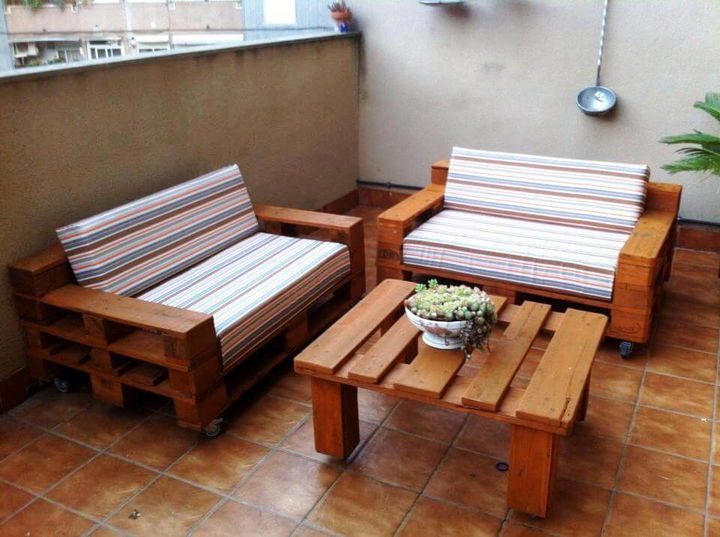 Take use of uncut pallet boards and removed pallet dice sections to clone this lasting and beautiful sitting set, a mini pallet with removed back portions has been finished with custom rolling legs also for a stunning miniature coffee table as you can see!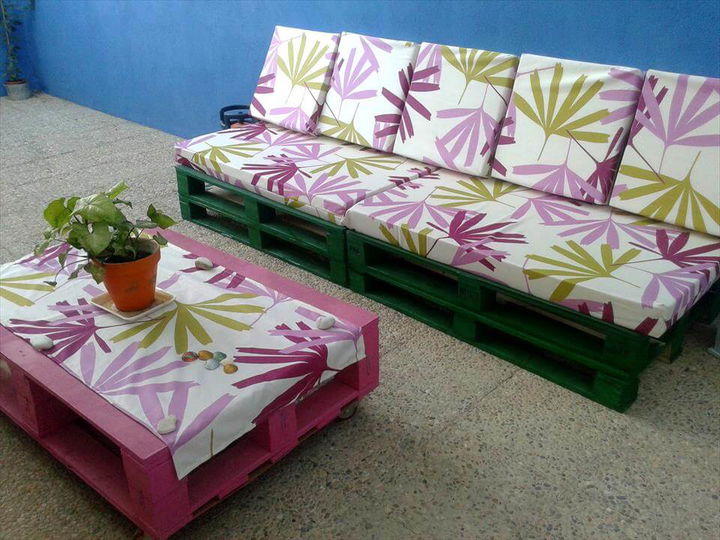 Make the skids of pallets colorful using custom paint coats and just load them over each other for instant seats which can be cushioned to feel all soft while sitting on them, here is a colorful pallet sitting set built to inspire!
Bigger secrets of pallets to style up your outdoor, are going to reveal here finally! Feasible shapes of pallets are the bigger secret for higher outdoor development which can even be done at a zero-cost budget plan! Cut, dismantle or trim down the pallets to get the wooden parts you really need to get for a stylish outdoor furnishing, may a rocker, an Adirondack chair, a custom daybed, an XL bench or wide chair allowing you to take a better view of outdoors nature has built! This special showcase of DIY pallet outdoor furniture ideas is really going to be magical as it will tell you that how you can plan pallets to fancy up a narrower balcony or front porch space and how you can go handmade with pallets to organize those spacious outdoors for family and guest entertainments!
The first preference of all these pallet furniture for sitting is to boost up your sitting space in a cost-effective way, given inspirations also guide you for selecting proper cushions, well-suiting hardware and also about which paint or stain is to use for a vibrant look of pallet-made furniture set!

You will learn how to install the sturdy pallet garden party lounge for summers with pallets only, may come with custom canopies, shelters or parasols, and also about how to go handmade with pallets for custom seats, coffee tables and also for better loungers, often to see at sunny outdoors or at poolsides!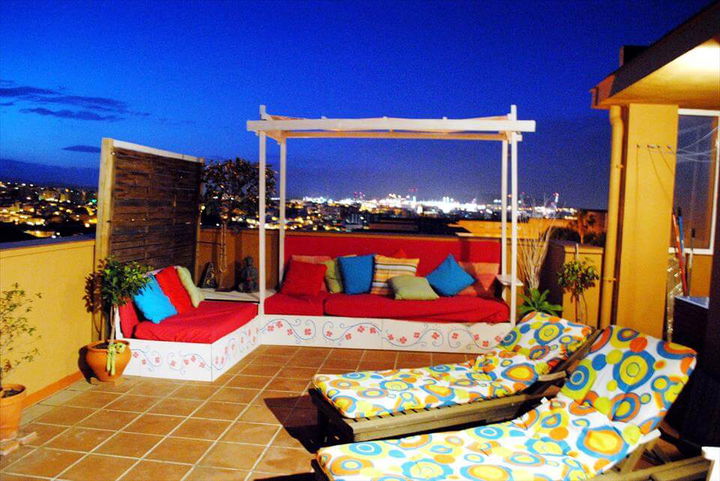 Develop your terrace with pallets for organizing parties, to catch some rays and also for part time sitting affairs, here are pallet-made terrace loungers and sectional pallet sitting sofa with shelter to show you how to do it in a super budget-friendly way!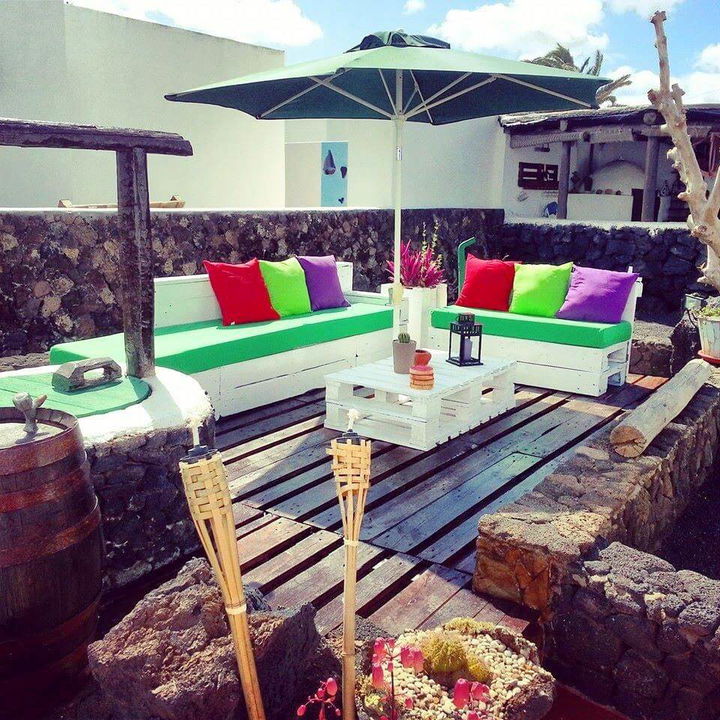 Pick the pallets also to install awesome sitting spots in summers to enjoy plenty of breezes, here is a damn gorgeous sitting set made of white painted pallets and comes with green cushions and colorful pillows, also has a central coffee table! A parasol has been added to avoid the sun-heat!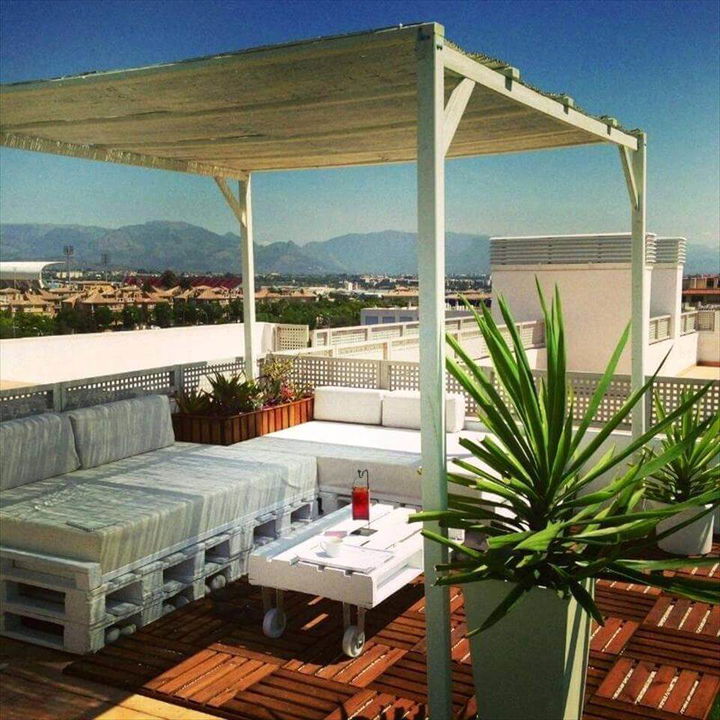 Peek into the creative details of this well-built terrace, has all been done using retired pallet skids, some old wood has been reclaimed here to install a fab shelter for sun-protection! Here coffee table comes on large white rolls for gorgeously smooth movements!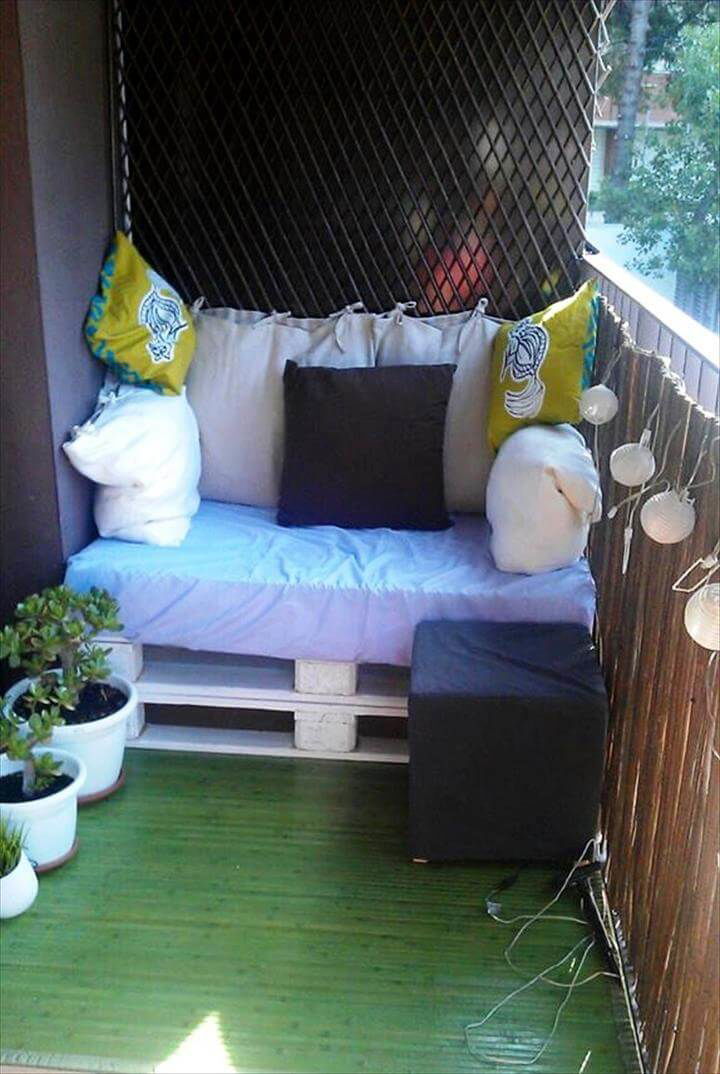 In this inspiration, a stack of 2 pallets has been finished with custom foam mattress for a superb balcony seat, made more comfortable by adding some pillows!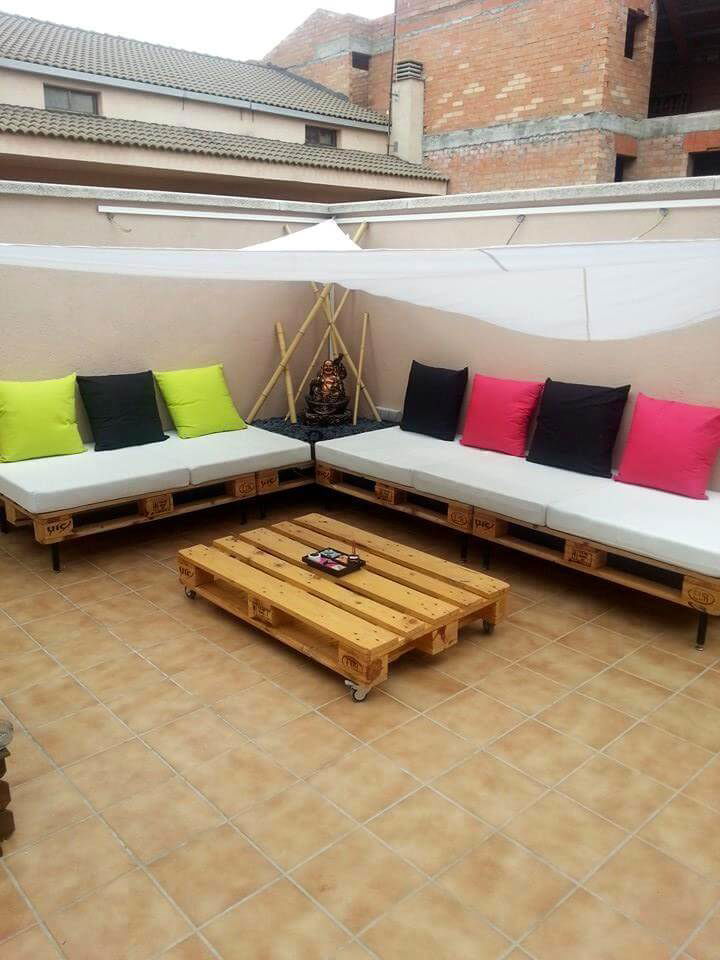 Here single pallet has been finished with short legs and wheels to build patio sofa frame and a coffee table respectively! Few colorful pillows and white foam mattresses over the seats, give a fantastic sofa set just like the manufactured ones!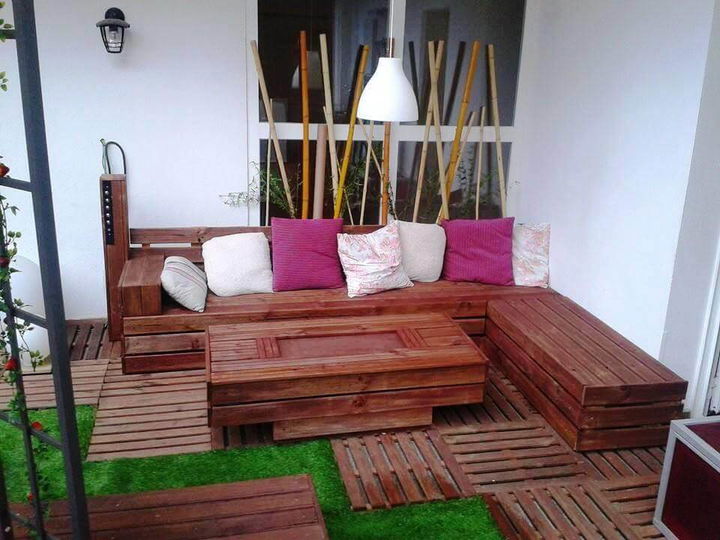 Get here a fantastic concept of pallet wood recycling, here this entire deck has been done with pallets, first of all the wooden floor has been installed using rough pallet boards then dismantled pallets have been used for this lasting block style outdoor sitting set!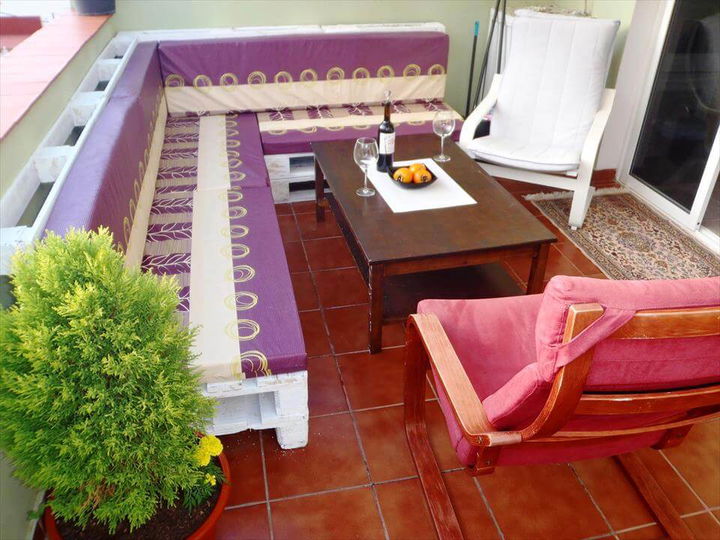 Praise here the larger stack of whole pallet boards, comfy up with a mattress for a stunning sectional sofa, can be utilized as a occasional sitting plan for guest entertainments!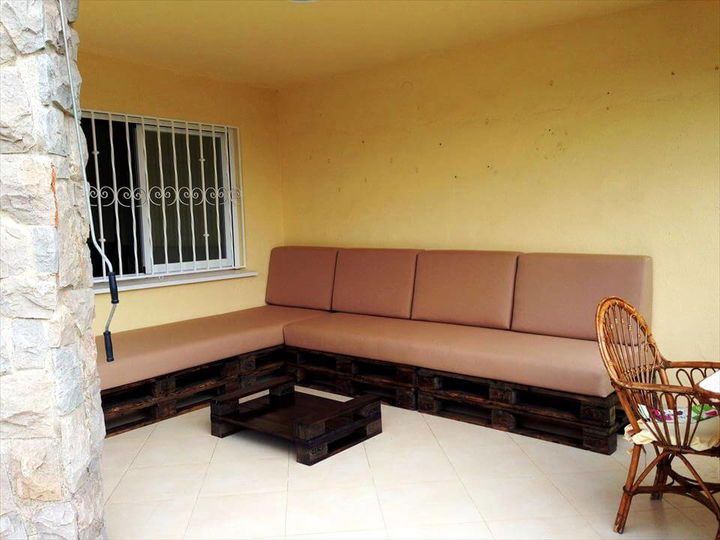 Stack pallets up to layers along the corner wall and then add a foam mattress or cushion for an instant cozy sectional sofa, stack the same 2 or more pallets for a beautiful coffee table too to put in front of this sofa!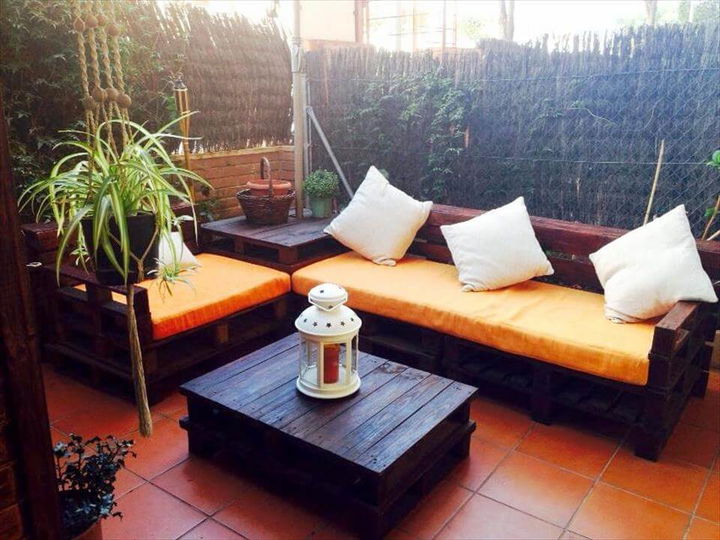 One more lovely sitting sofa set made of pallets, comes with wooden frame installed by packing uncut pallets, here armrests and backrest positions have been built separately! A lovely solid stack of 2 miniature pallets gives a low coffee table that has also been stained in dark brown!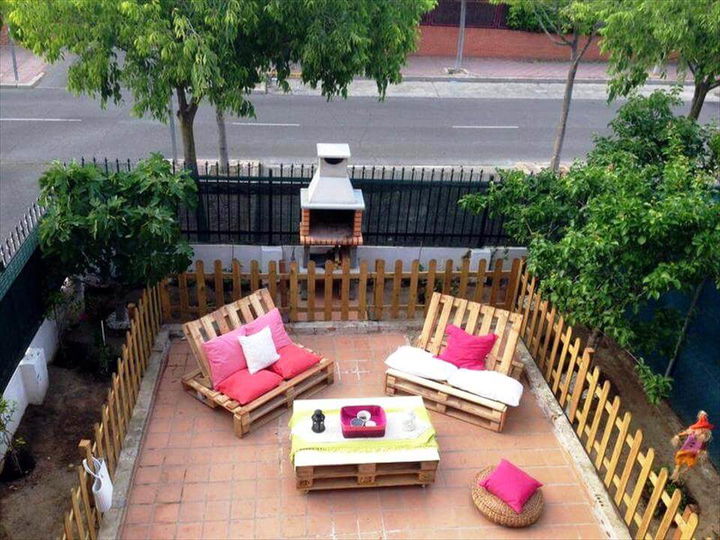 Check this out the precious paved patio done with pallets, entire patio area here has been fenced with pallets and has also been organized with a pallet-made sitting set, use 2 boards for coffee table construction and 3 boards for building each cushioned seat!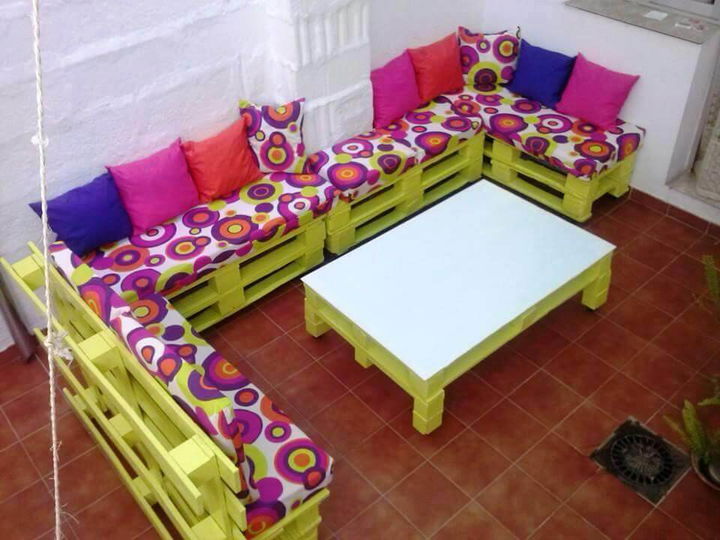 Clone this lovely occasional pallet sitting plan by getting your hands onto a stock of rustic pallets, just keep on adding the pallets until you get the sitting sofa frame of desired length and shape, final cushions and pillows may be of your own choice, get more details from given creative sample!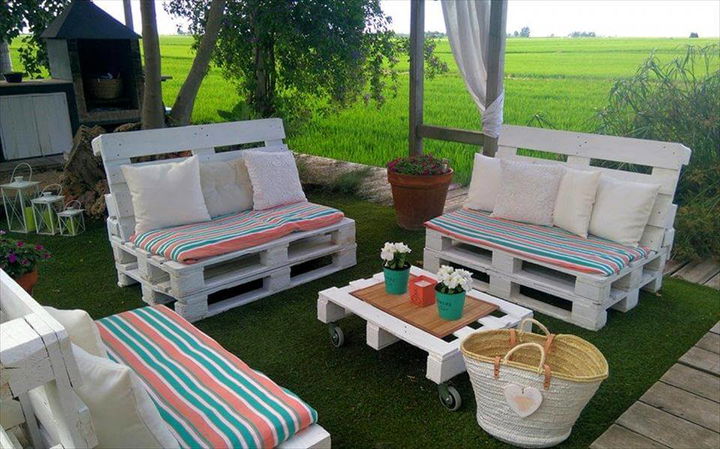 Hire pallets also for no-cost garden wooden furnishings, duplicate this garden sitting set by getting a sufficient stock of pallets in hands!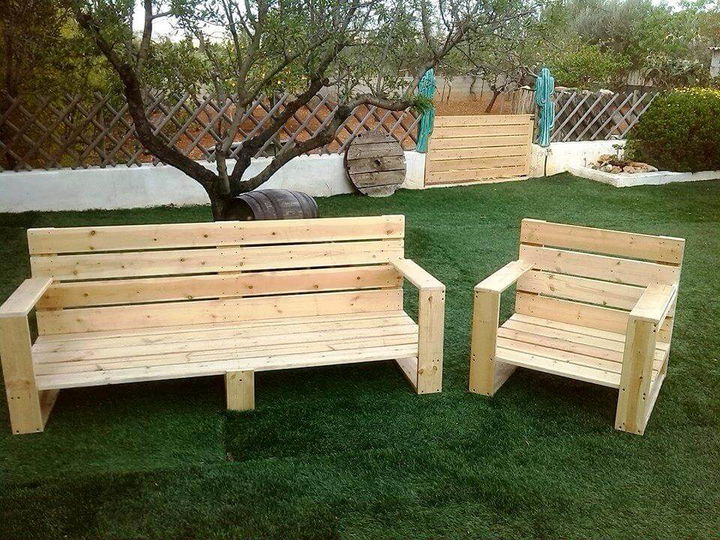 Craft pallets for stunning garden benches and chairs also, here a bench and chair set built in a style, both comes with flat box like legs, the bench is having 3 legs!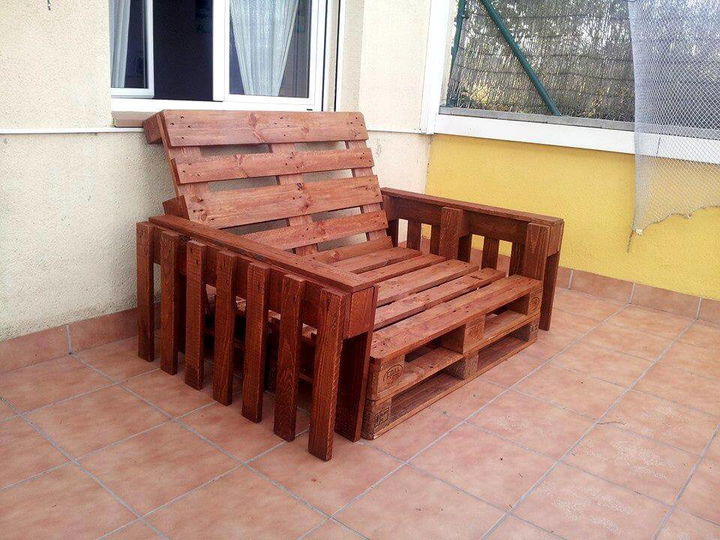 Wide wooden pallet chair made of half-cut and uncut pallet boards, half-cut pallets give the sturdy armrest while uncut pallets have been stacked for a solid wooden berth, 1 pallet board also builds here a angled backrest as you can see!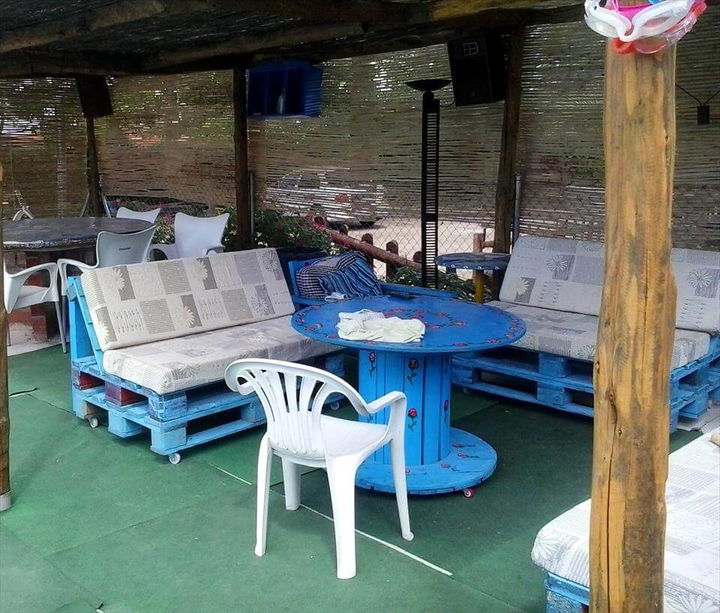 For this super comfortable sitting set, only the rustic pallet boards have been planned, one painted spool stands vertically for a distinguished round top coffee table! Here both seats and coffee table come on heavy duty rolls!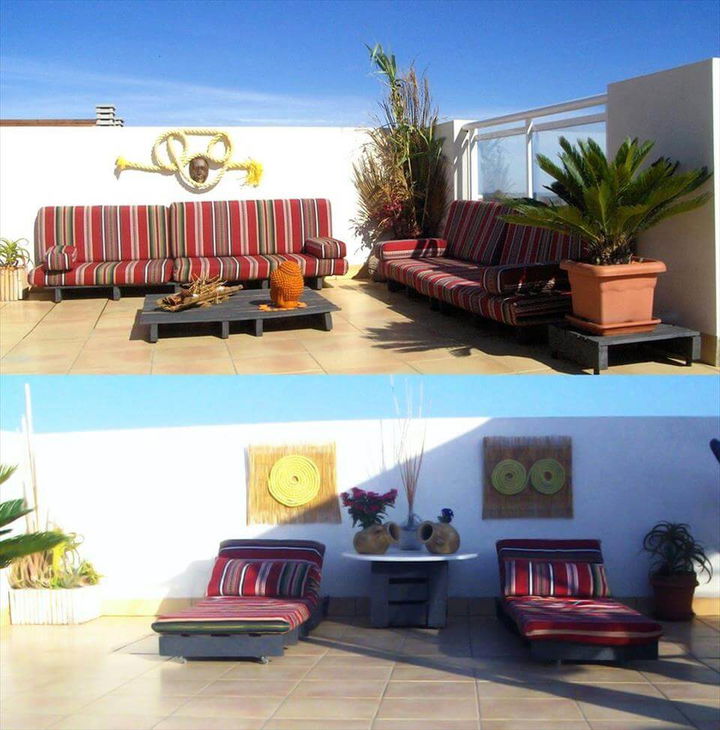 Tryout pallets also for building ever beautiful terrace furniture, to get you inspired, here a sitting set and a cushioned lounger set have been given, really beautiful!!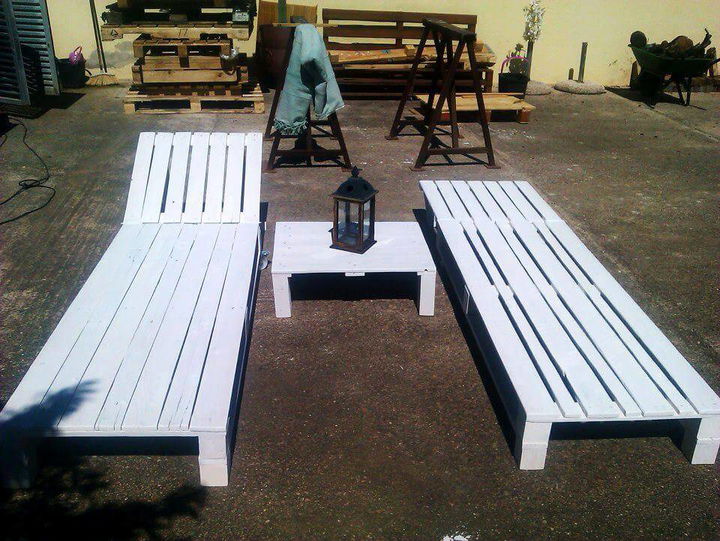 Love this creative pallet idea of building outdoor loungers, you are all free to build them in any dimensions here are 2 robust ones built in XL sizes and comes with lift-up backs!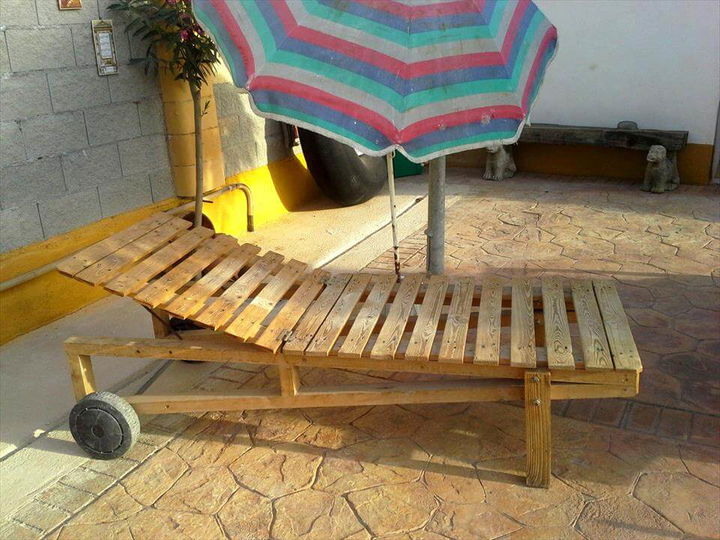 Rustic wooden pallet lounger with rear on wheels while having front supported by two legs installed by using heavy duty nuts and bolts, would be idea to enjoy the sunny outdoors and cool poolsides!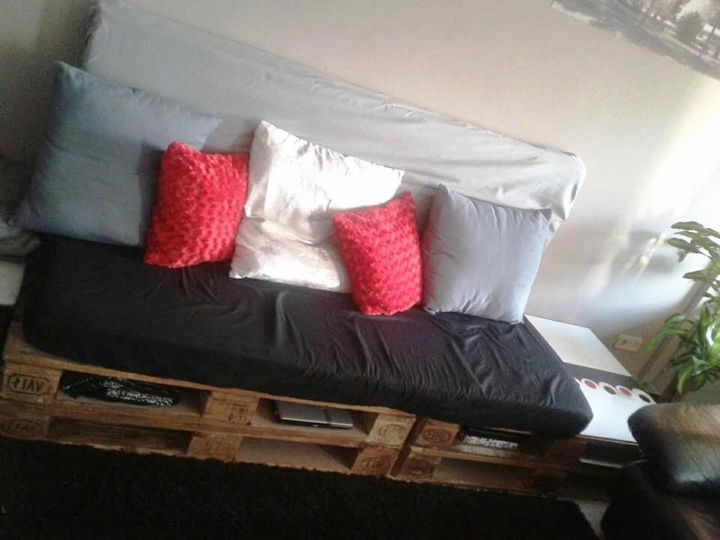 Pile up pallets for instant storage-friendly seats, by simply adding some custom cushions you can get free-of-cost robust wooden sofas like shown here!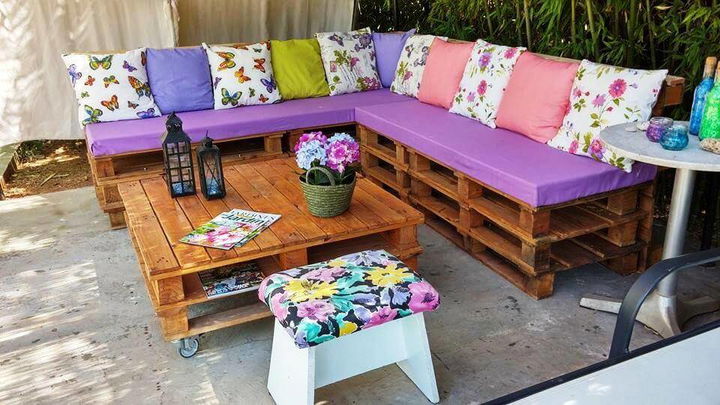 You will definitely love the stacking of pallets after watching this sophisticated sofa set, cushioned in purple! Entirely been installed by piling up uncut pallets!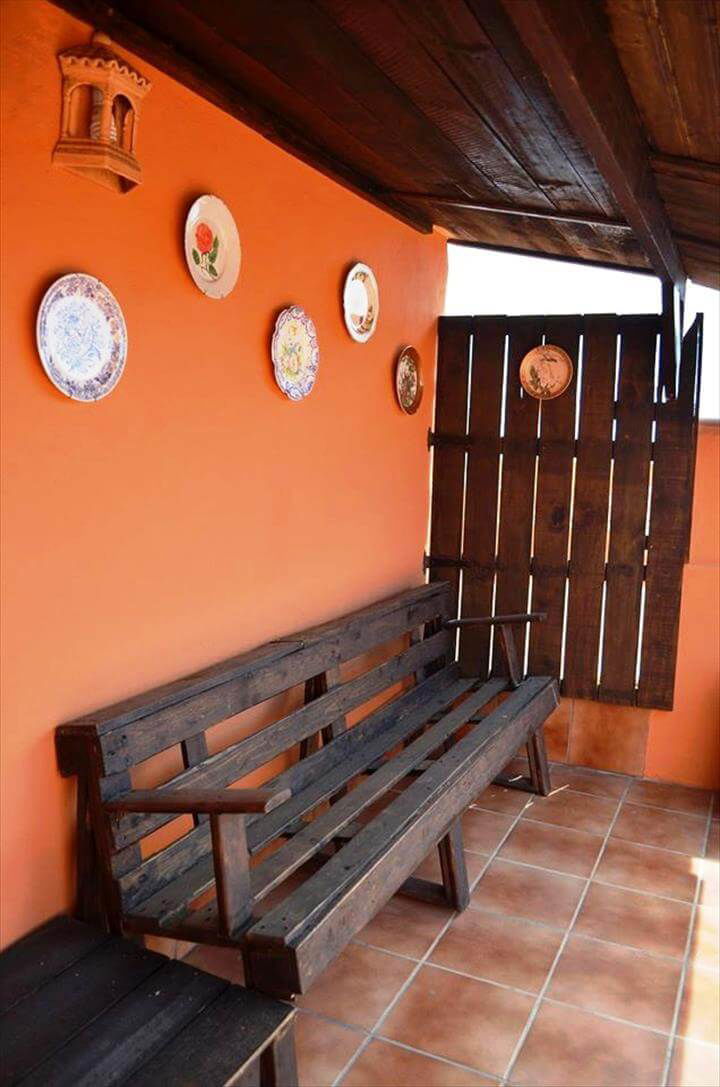 This pallet wood idea would really rock if you are to organize a porch or a paved terrace, an art style large rustic bench and a mini side table have been composed of pallets here, after it the pallets have also been decided to cover the side of this sitting area and also to install the shelter for sun protection!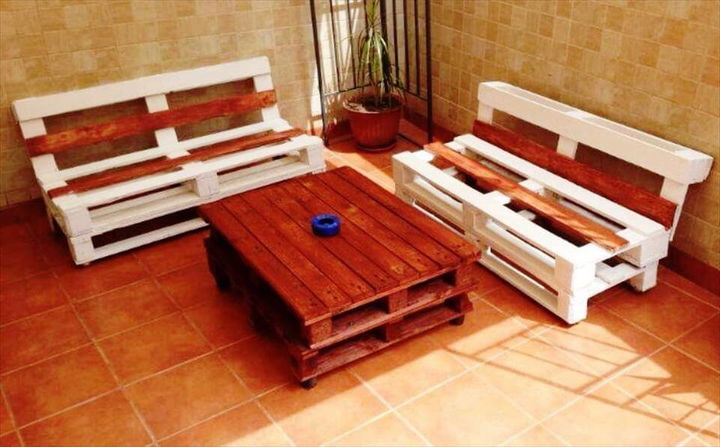 Organize your paved patios for spare time conversations, if you need a sitting set then here is a super cool low-cost pallet-made one, half of the construction is all about instant stacking of pallets!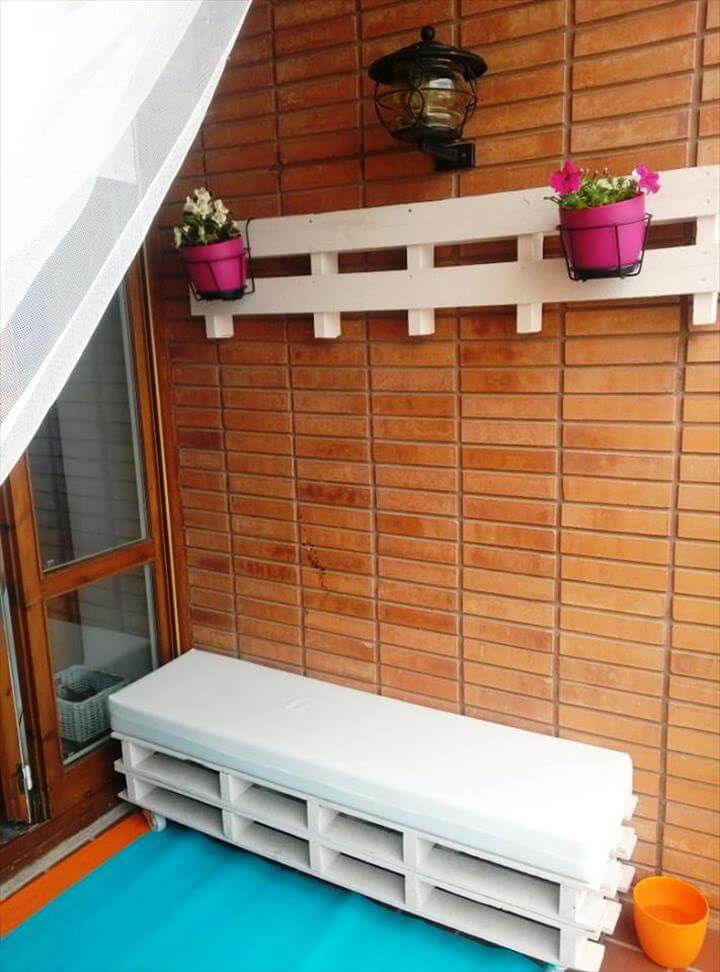 Here a stack of longer pallets have been cushioned and finished with wheels for a rolling bench, a few custom sizes of pallets have also been mounted over the wall as pot holders!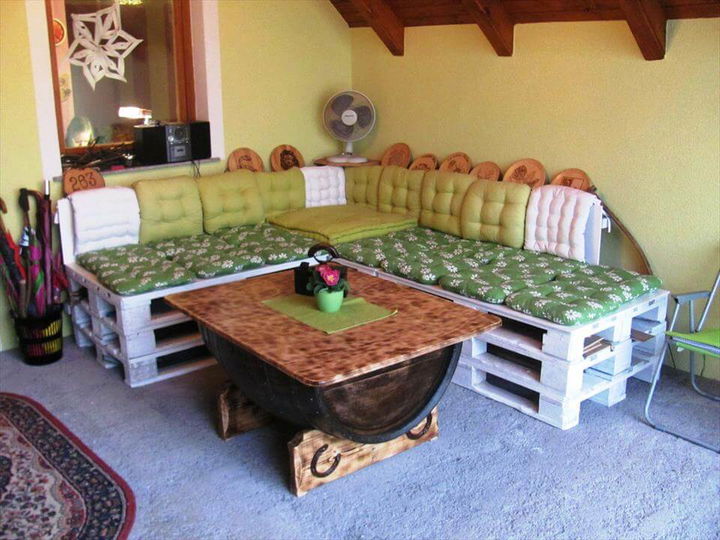 Beautiful white sectional sofa set with custom green cushion, has a central coffee table made of a half-cut barrel that is having a pallet-made top and stands on horseshoe flat wooden legs!
Make these robust wooden benches duplicated if you are willing to gain some permanent sitting spots in your garden or at outdoor, here both of these benches have been done with pallet slats!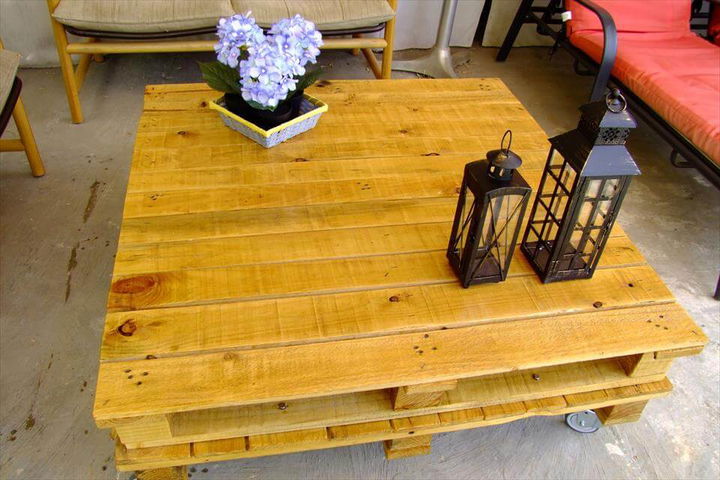 Checkout here the feasibility of shapes of pallets, just put together only 2 pallets for immediate pallet coffee table, addition of caster wheels can be done to make them move fast and also for an industrial vibe!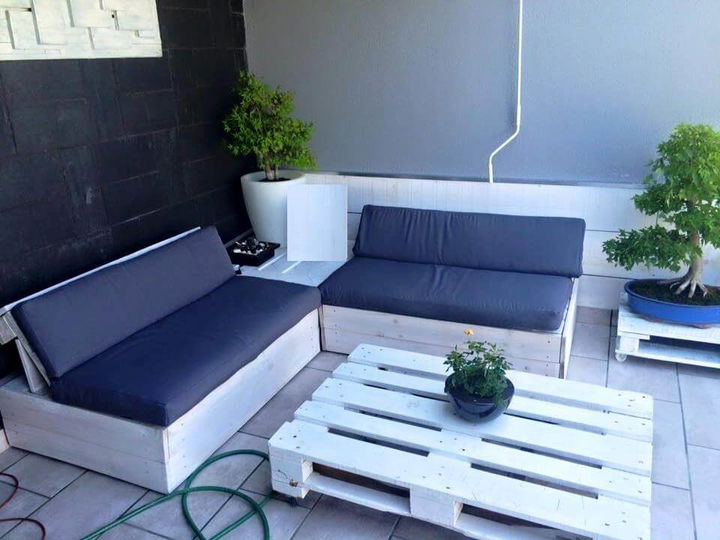 2 beefy block style cushioned seats and a single pallet coffee table on rolls, are the total assets of this sitting set all made of pallets, cushions have been selected in black for a beautiful black & white appearance!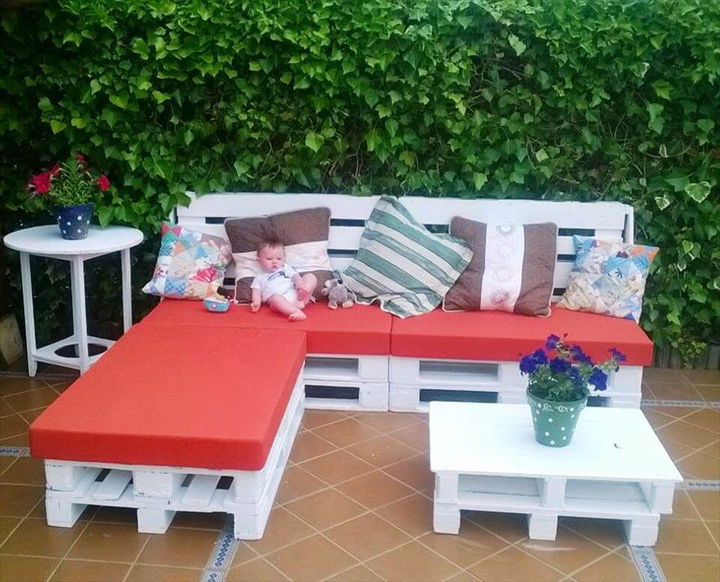 Beautiful L-shape sitting sofa set, all done by going with stacks of 2 pallets, finally the addition of red cushions give a vibrant look to entire white painted seats!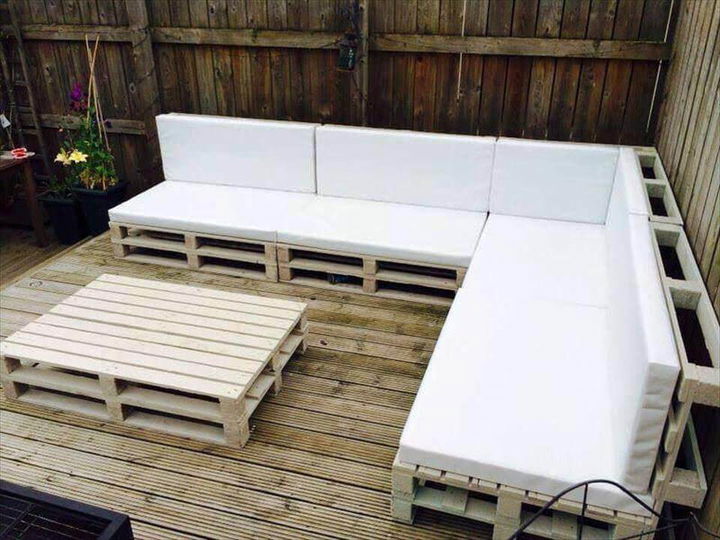 XL pallet sectional sofa, can be employed as a occasional sitting plan for unexpected gatherings of friends or guests, just bring the pallets into L-shape to craft this robust and large sofa set cushioned in white!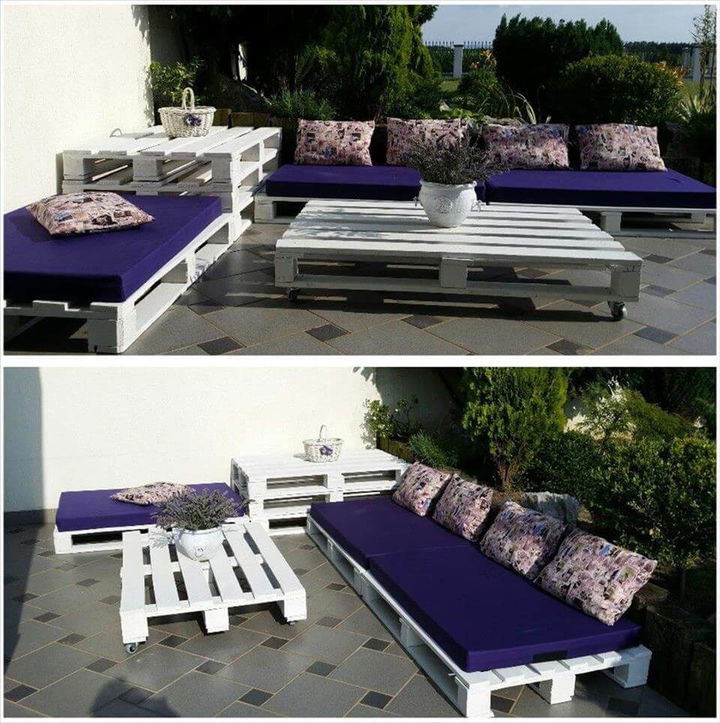 Sophisticated low sitting set done with pallets, white painted single skids of pallets here gives the instant frames for the sofa and one skid comes on wheels for a stylish coffee table, added as a centerpiece to this entire sitting set! No cutting or dismantling of pallets required to clone this awesome outdoor sitting set!
Here are more ideas to organizer your outdoor areas free of cost: