People often look confused making the calculations about how much they will have to spend to get their outdoor entertaining! If this is also happening to you then we are with good news, will suddenly make you relaxed, you can develop your outdoor furniture for free for a happy living in pure and open climates, always heal you when you are tired or feeling sad!
We'll recommend you to DIY some pallets for healthy outdoor life experience at no-cost budget plan! Want to know really how it will work by recycling those rustic pallets? Just focus a little on these DIY pallet outdoor furniture ideas, will not make your life but every day you want to spend in pleasure! All these pallet ideas give a homey person a complete head-to-tail to organize his patio with pallets, how to make his paved outdoors or newly built deck enjoyable with pallets and also how to recycle pallets for bigger garden improvements! We are going to reveal all for you with the help of this latest hack of pallet furniture ideas!

You can choose from a bundle of suggestions about how you want to organize a special outdoor locations of your home, you can get the pallet-made loungers, the stacked pallet sitting sets which can be installed in a couple of minutes and also custom occasional sitting sets one can demand while need to entertain a big gathering of people! DIY Pallet Sofa Ideas will explore all for an outdoor-addict to develop his outdoor in the way he likes it!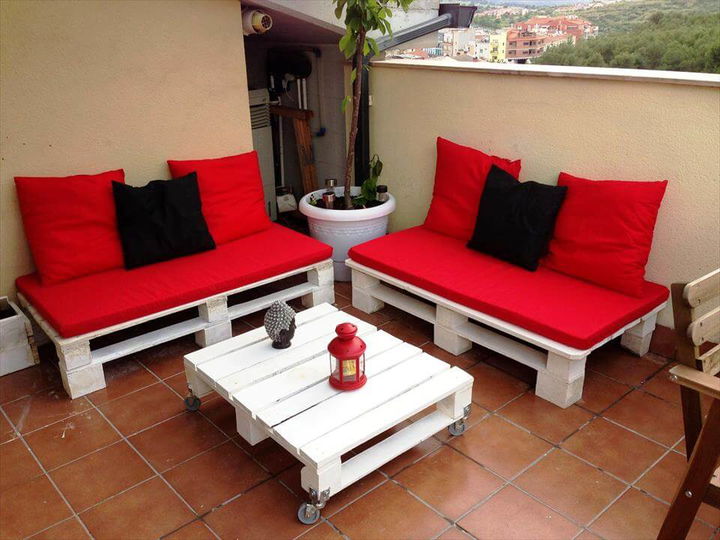 For seats, two single pallets stand on two separated dice sections to gain a cozy height level and 1 pallet comes on wheels for a glam coffee table, here cushions have been selected in red for a nice milk-strawberry theme!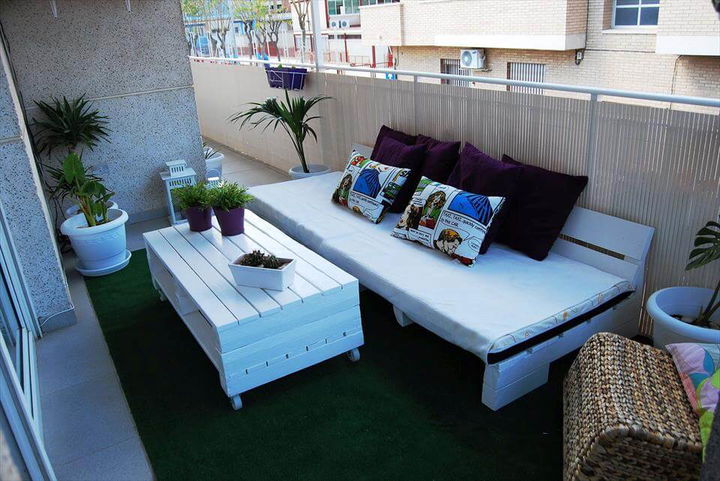 Here a balcony space has been styled up with pallets, organized with a cushioned pallet seat or daybed which has a coffee table in front, here entire set has been painted in white for a better aesthetic appeal!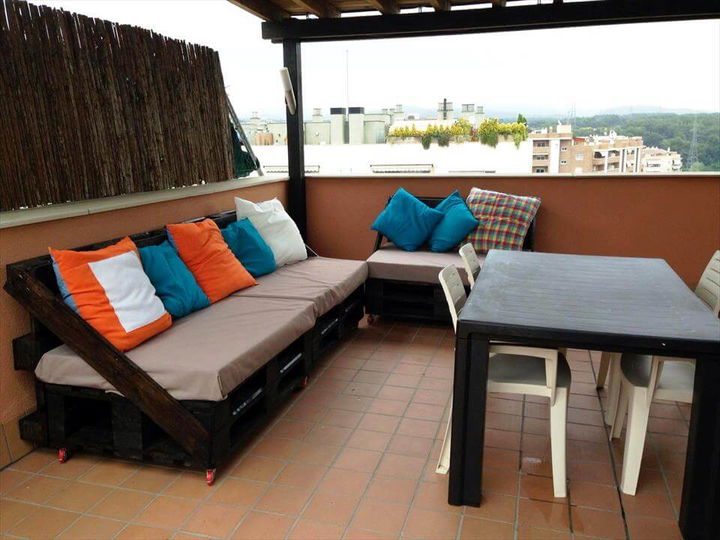 Be a fan of this handcrafted wooden pallet sectional terrace lounge, dignified with a colorful pillow throw, cushioned with highly dense foam cushion! A custom wooden dining table has also been crafted with pallets to enjoy the dinners at terrace!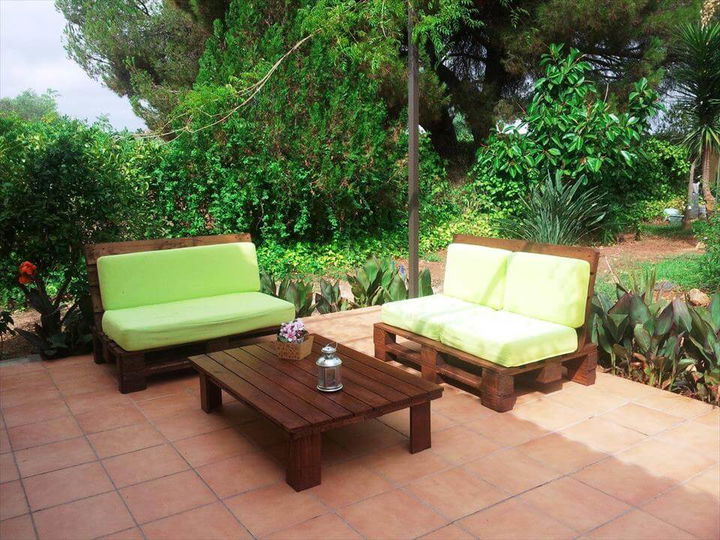 Here is how you can a bring a style to and coziness to your paved patios, go creative with rustic pallet skids and get brilliant sitting sets just like this given one, has 2 green cushioned seats and a central coffee table in possession!
Stack pallets for adorable wooden seats which you can comfy up with colorful mattresses or cushions, here is a nice grey painted cushioned pallet bench to inspire you comes with built in cubbies, can be purposed as storage pockets!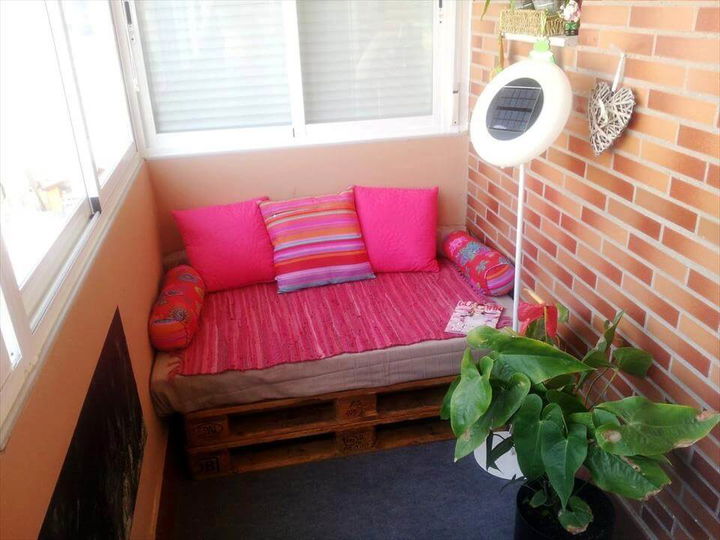 Get the respective sizes of pallets to organize your narrower porch or balcony space, just stack them and finish them with a cushion overlay for instant cozy seats, pallet sofa or daybeds for your balcony or porch area!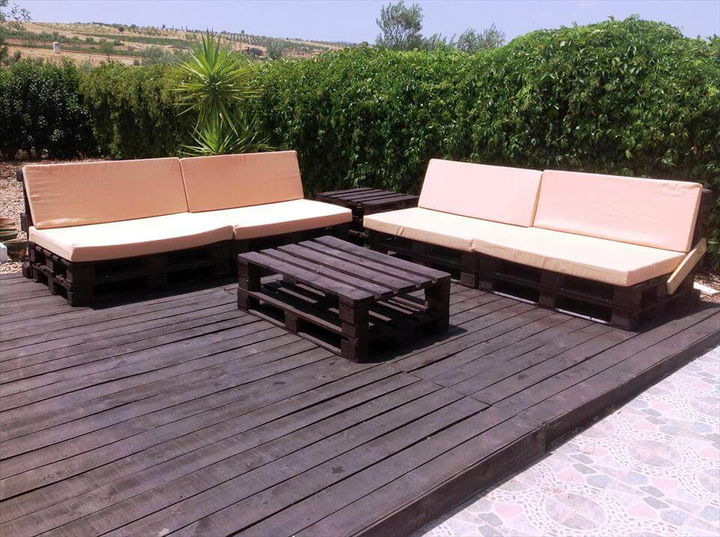 Go handmade with pallets for amazing outdoor improvements, take a look at this fine wooden deck, wholly done with pallets from wooden flooring to cushioned sitting set!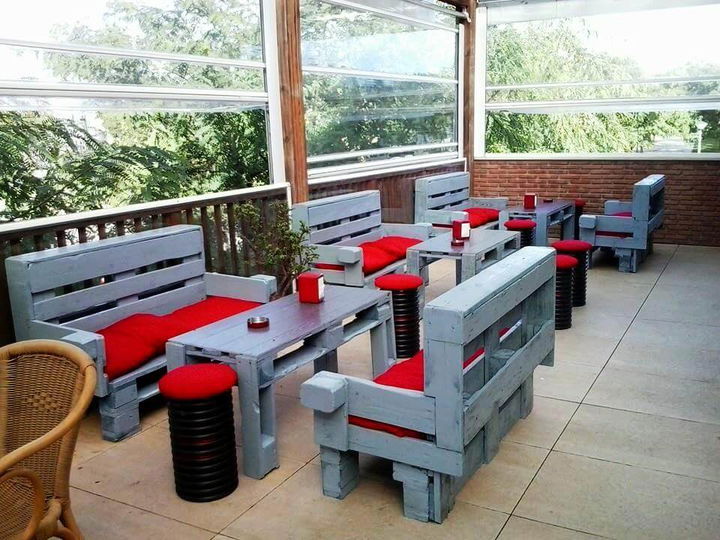 Rebuild pallets for amazing sitting plans or sitting sets which can even be got to organize the customer areas in your coffee shop or restaurant, so here is how you can develop your business spaces also with pallets for free!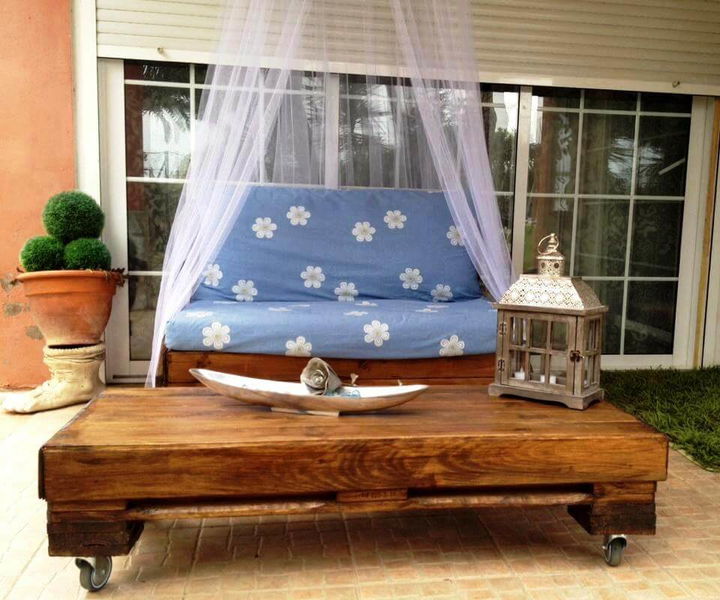 Sit comfortably anywhere at outdoor by using custom stacks of pallets, which can result into amazing sitting furniture and coffee tables as well, here this antique sitting set is a mind-blowing suggestion in this respect!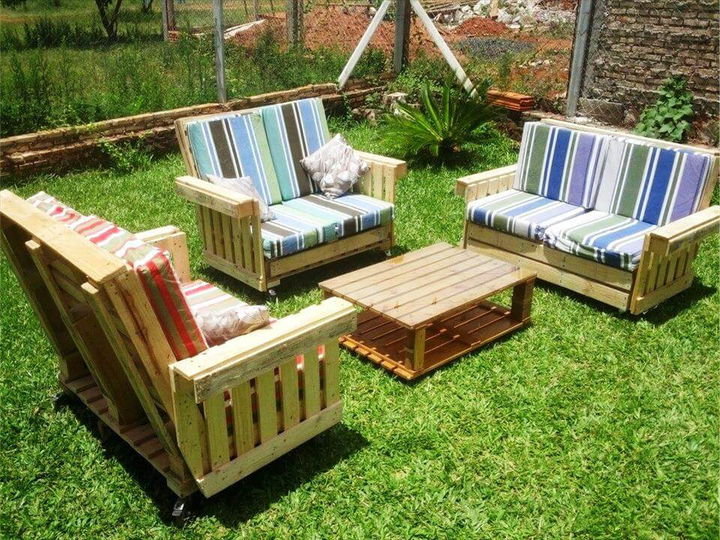 Fulfill your garden sitting desired also in a cost-effective way, here are the pallet garden furniture fully done with pallets, cushioned to give a complete sitting set to enjoy your green space with a couple of friends!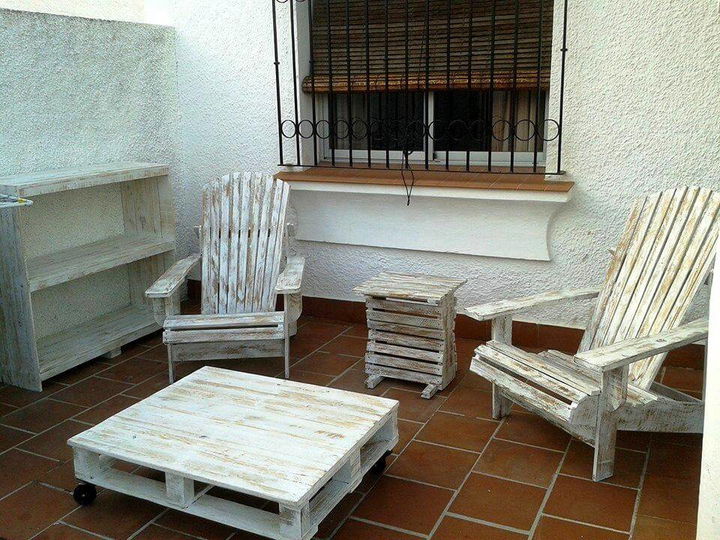 If you love organizing your outdoors, then this Adirondack chairs sitting set is a special gift for you to enjoy the open outdoor climates by sitting in style, pallets can easily be rebuilt for this sturdy pallet Adirondack chair set!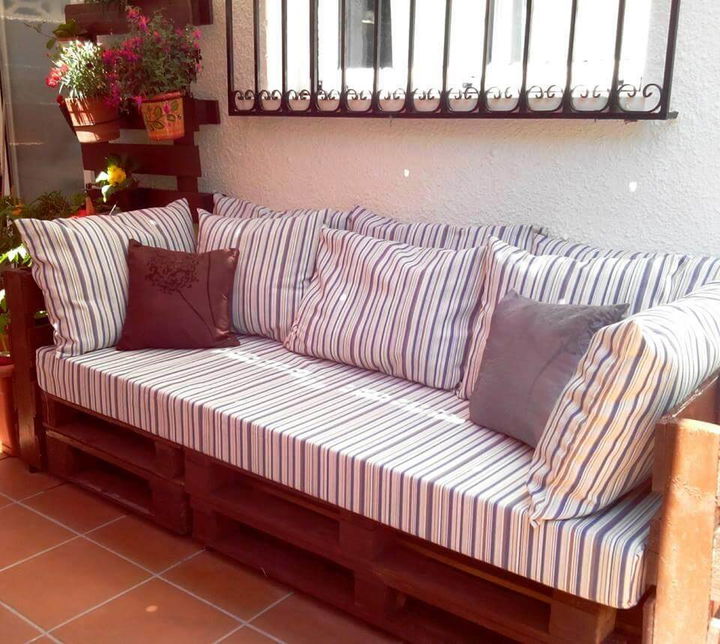 Once again a creative stack of pallets have been gained as a cozy sofa by just providing a cushion over, would be all special for mudroom, balcony or front porch area!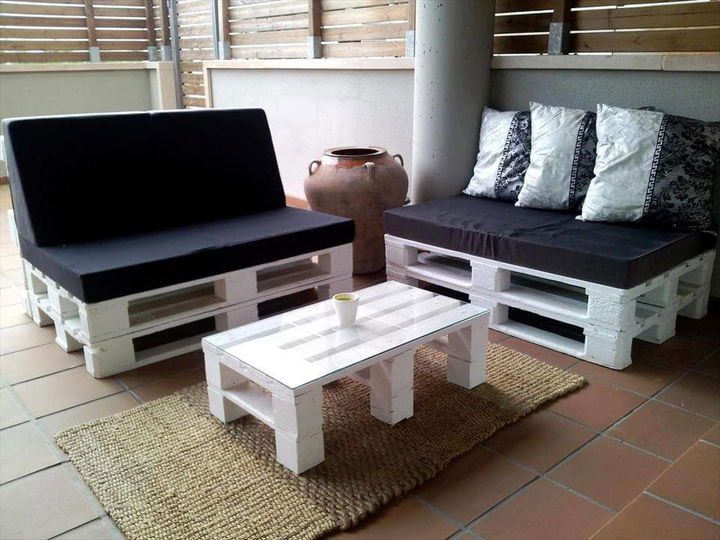 Clone this superb black and white sitting set by using a couple of pallets, would be all amazing to fancy up a paved outdoor or even a garden area!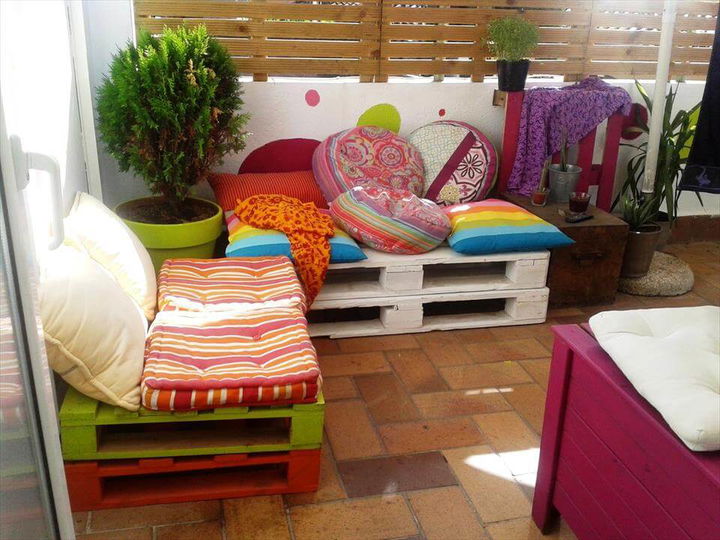 You can simply put the pallet boards on one another for instant sitting sofa frames, then by putting the custom mattress or cushion over you can gain them as super comfortable seats just like this colorful sectional sitting set!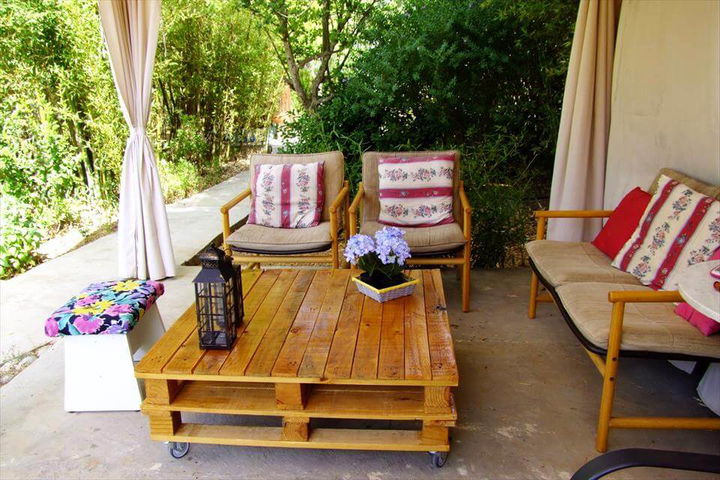 Avail a combination of 2 pallet skids for an enjoyable coffee table, here is a beautiful one raised on wheels, would be all special to create a complete look of any outdoor sitting set!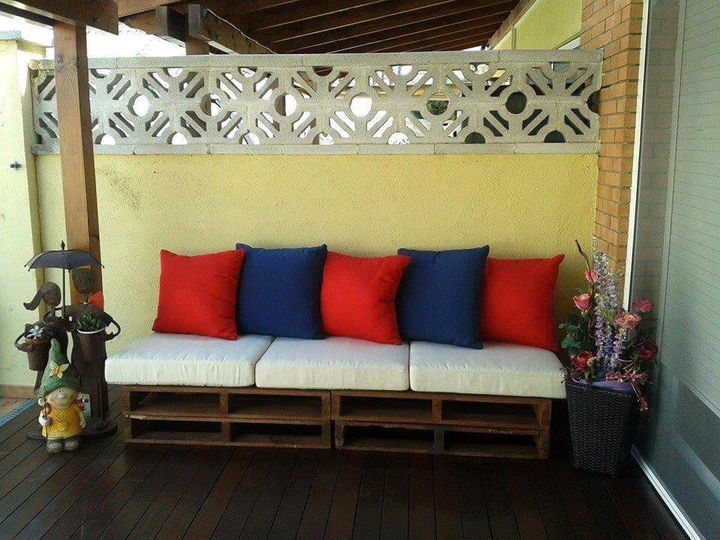 Learn here how simple piles of pallets can be earned as beautiful sitting sets, here a stack of 4 pallets is resulting into cozy 3 seater sofa!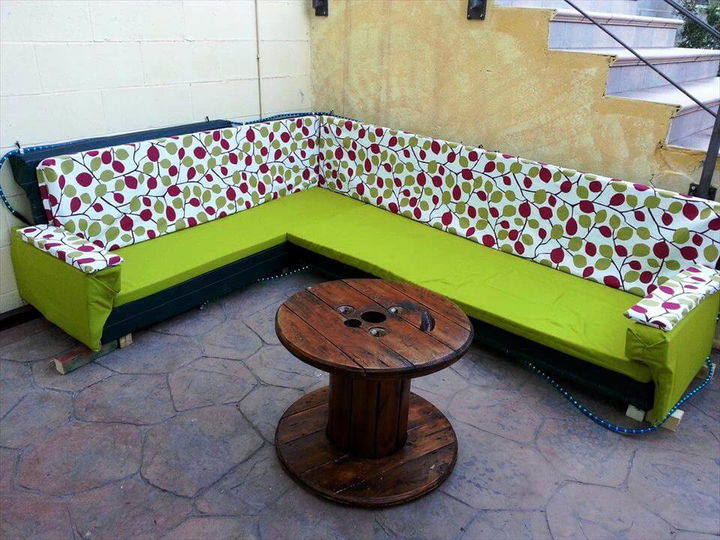 Pallets and a old spool, both have been reclaimed here to organize a patio section for spare time fun and sitting, pallets modified to gain as sectional sofa while an old spool stand vertically as a round top coffee table!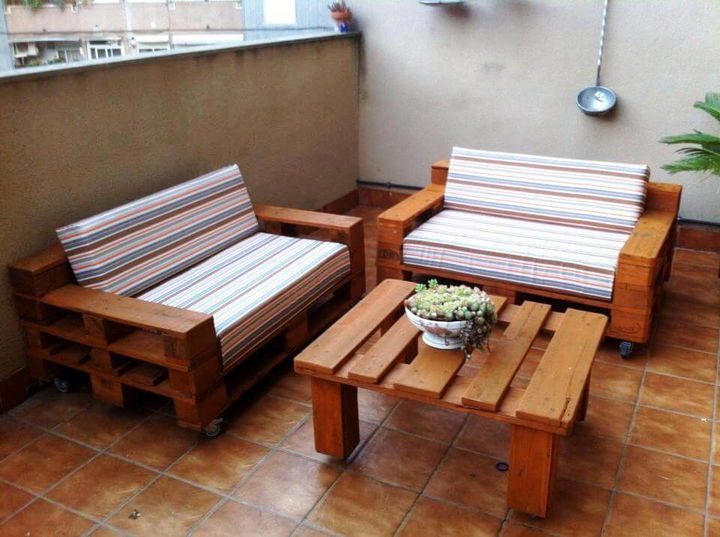 Take use of uncut pallet boards and removed pallet dice sections to clone this lasting and beautiful sitting set, a mini pallet with removed back portions has been finished with custom rolling legs also for a stunning miniature coffee table as you can see!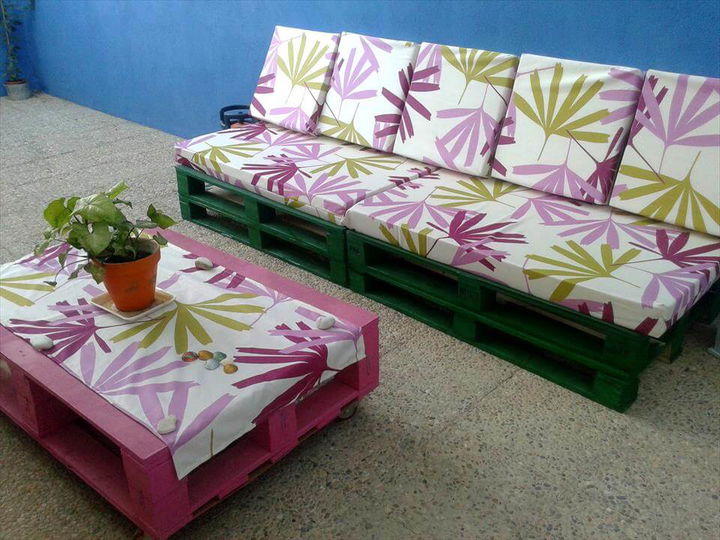 Make the skids of pallets colorful using custom paint coats and just load them over each other for instant seats which can be cushioned to feel all soft while sitting on them, here is a colorful pallet sitting set built to inspire!