The genius pallet ideas for repurposing, upcycling, reclaiming the wooden pallets are mostly lacking. But these DIY Pallet Ideas will put a shine on almost every way to use pallets productively. The final completed products will be a life-changing and can be assigned different functional roles for a superior functional behavior of your home. These pallet ideas inspire you to boost every fun aspect of life with pallets. Moreover, these hacks will make you live the luxury with zero investments. So, browse these 50 Things to Make with Pallets that are guaranteed to be impressive, life-changing, and creative. You will say a big wow by looking at the inventive ways to recycle pallets in lots of different ways. These DIY pallet projects with free step-by-step instructions and tutorials will make you do great indoor and outdoor home improvements on minimal cost prices.
Upgrade your patio with the scalloped pallet planters and build wooden crates with built-in shelves, will make lovely bookshelves and nightstands. Build garden fences, boardwalks, gates, and walkways, will transform your garden into mini heaven. Add up pallets with countertops to gain lovely bars, lemonade stands, and kitchen islands and stencil the pallets or cut in artistic shape to gain lovely wall decor pieces. Build beds, couches, complete sitting sets, and various models of outdoor and poolside chairs with pallets explained nicely in this collection. Just browse all these DIY recycled things to make out of pallets to fall in love with the pallets again.
1. DIY Scalloped Pallet Wood Planter

Perk up your garden or patio space or even an indoor space with this scalloped pallet planter. Make it by putting together a pallet wood board in a fan shape and use extra planks to fill the gaps. After you build the sides, add them all round a rectangular planter base and here you go. Details here charlestoncrafted
2. Rustic Style Pallet Wood Side Table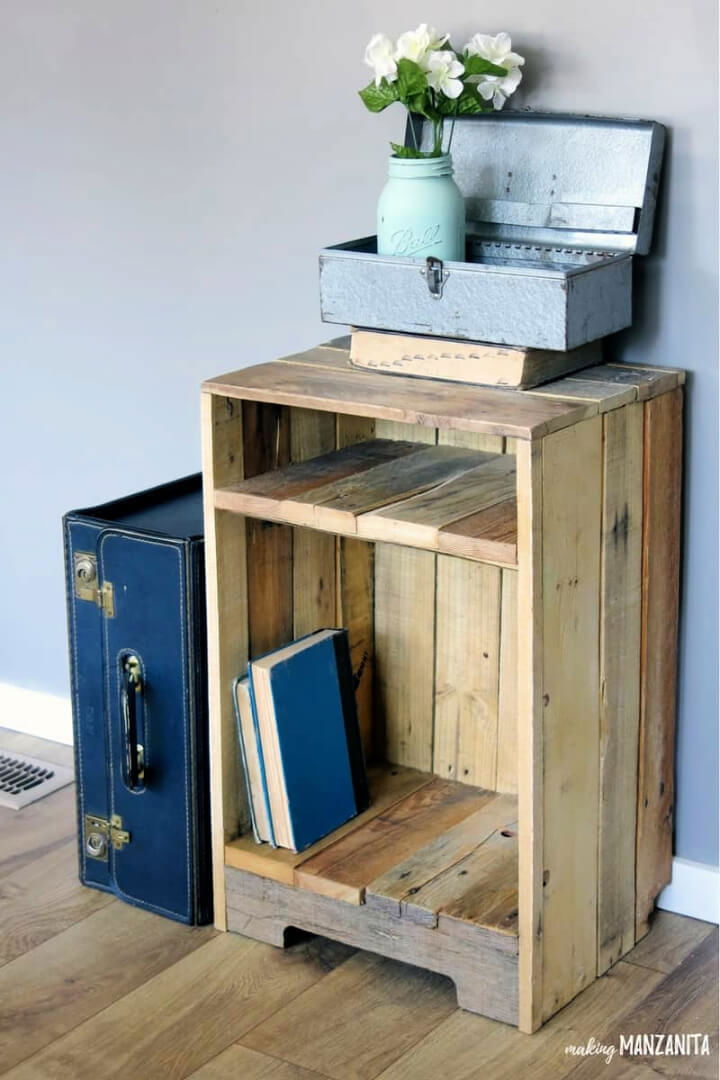 Accomplish your stylish DIY side table with pallet wood. Build this pallet side table with a top shelf, with torn apart pallets. First, build the flat base then add the side walls made of pallet wood planks. A perfect storage-friendly side table got by simple slatted arrangements of pallets. Details here makingmanzanita
3. Bookshelf from Recycled Pallets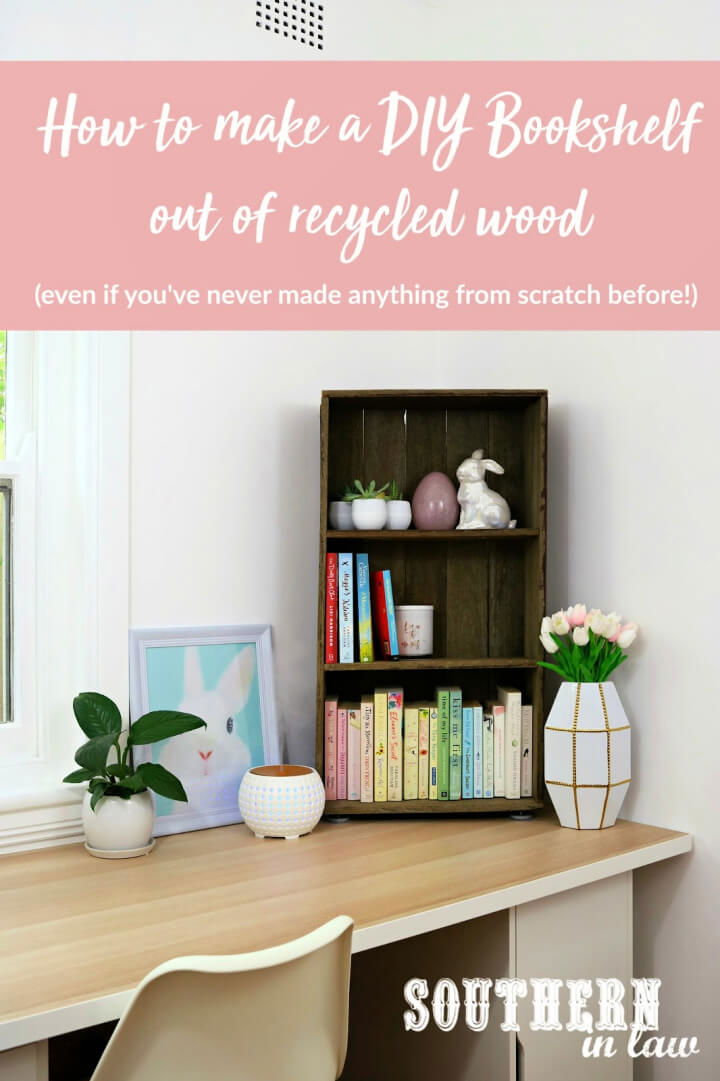 Check out a creative pallet hack to help you stay organized especially in the matter of books. Just build this wooden bookshelf out of pallets. The project is all about building a rectangular crate with pallets and then to add the shelves, should be equally divided. Finish with some kind of soft feet. southerninlaw
4. Pallet Gate and Boardwalk for the Shed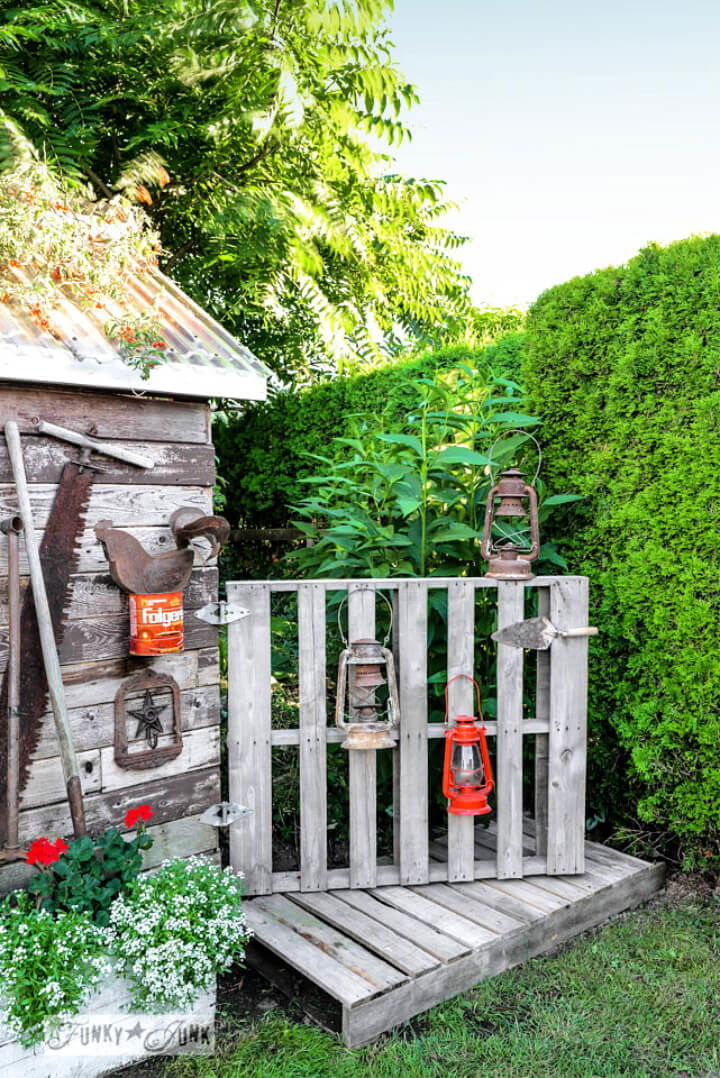 Complete your garden shed by building a boardwalk and gate, will grace up your shed too. It will take only two pallets, one is to hinge to one side of the shed as a gate and just put the other flat on the floor for a boardwalk. Add up the gate with nails hooks to hang some accessories and tools too. funkyjunkinteriors
5. Star with Recycled Pallet Wood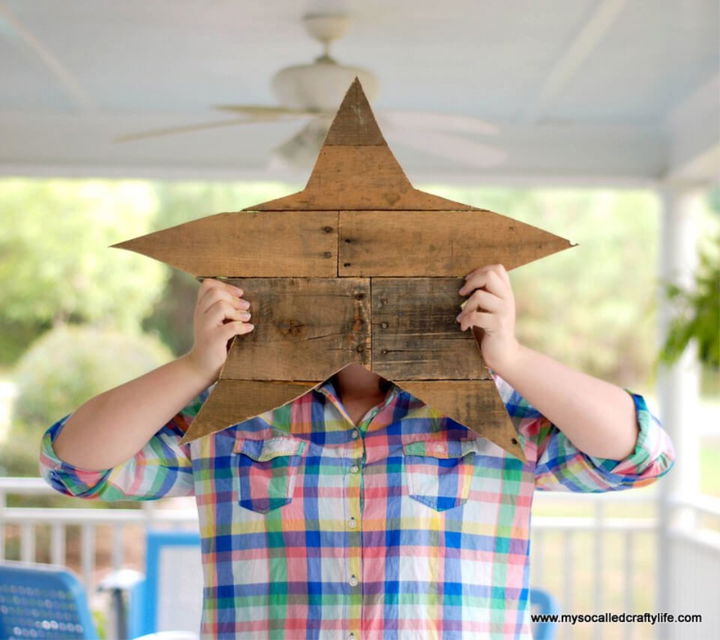 Pallets, mostly available free source of wood, can be used in lots of different ways. Build this start out of a recycled pallet and use it as a logo for your shop, a decorative sign on your wall and also as a quick handmade gift. You need pallet, pencil, band saw or circular saw, brad nails and sawtooth hangers for this pallet wood star. mysocalledcrafty
6. Pallet Shelf for Your Rustic Home

Check out here another quick creation of pallets to cast a rustic theme in your home. Just get a mini pallet, use extra wood to close the bottom side of back dice sections and next hang them on the wall as a pallet shelf. Make it hold your things and accessories and let it display your art frames too. diycandy
7. DIY Weathered Summer Pallet Sign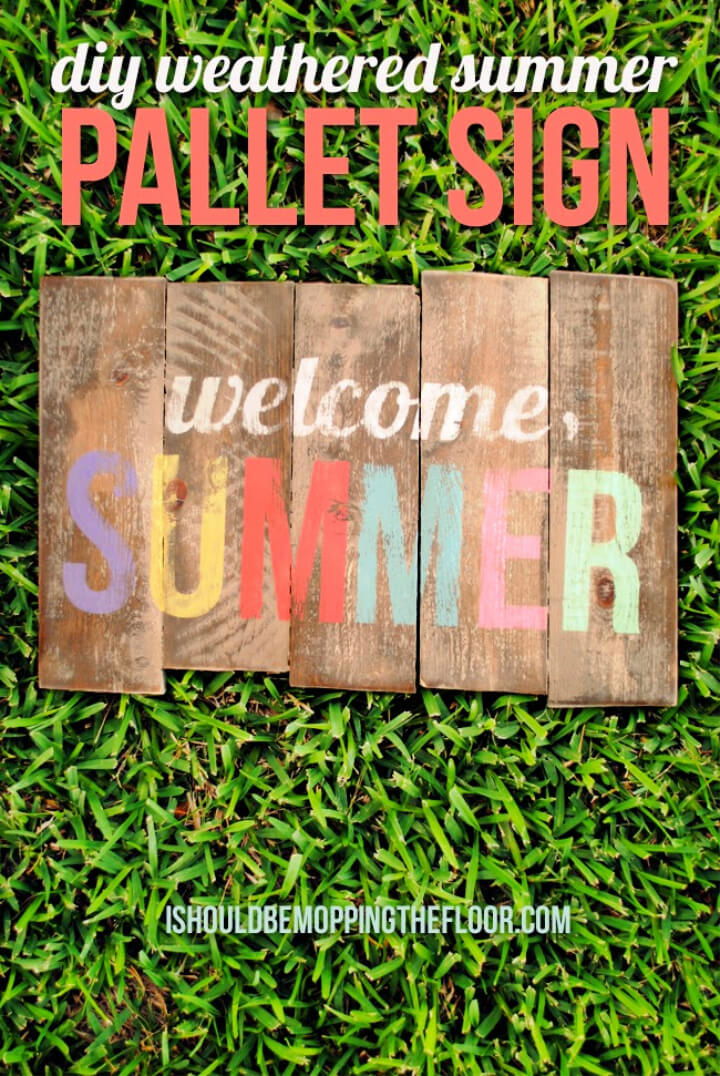 Feel the magic of pallets by looking at this sterling weathered summer sign. Just separated apart the pallet slats using a circular saw. Put a few boards flat and add a backboard to gain some unique pallet signs that you can sand and chalk paint for a lovely background. Next, use a silhouette vinyl letter template to paint the letters. Use acrylic paint in different colors for this project. ishouldbemopping
8. Lemonade Stand from Shipping Pallets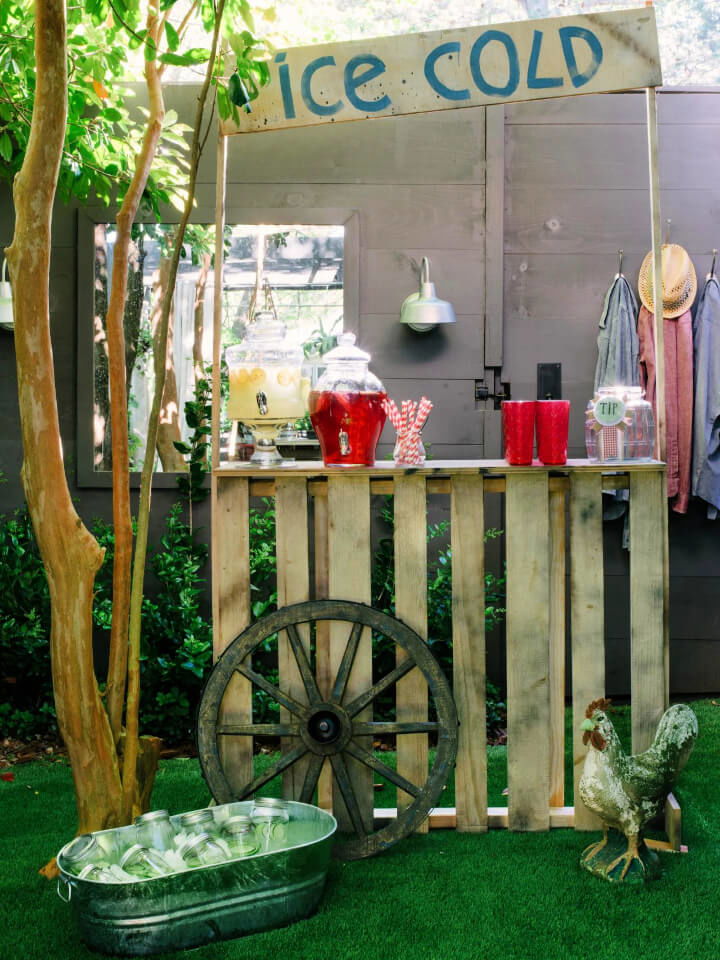 Foster the business abilities of your kids too using pallets. Quickly set up this lemonade stand using pallets and let your kids start selling the lemonade to earn some extra cash. Here you need 3 pallets, scrap wood, white spray paint, and acrylic art paint to make it. diynetwork
9. Make a Shipping Pallet Storage Bin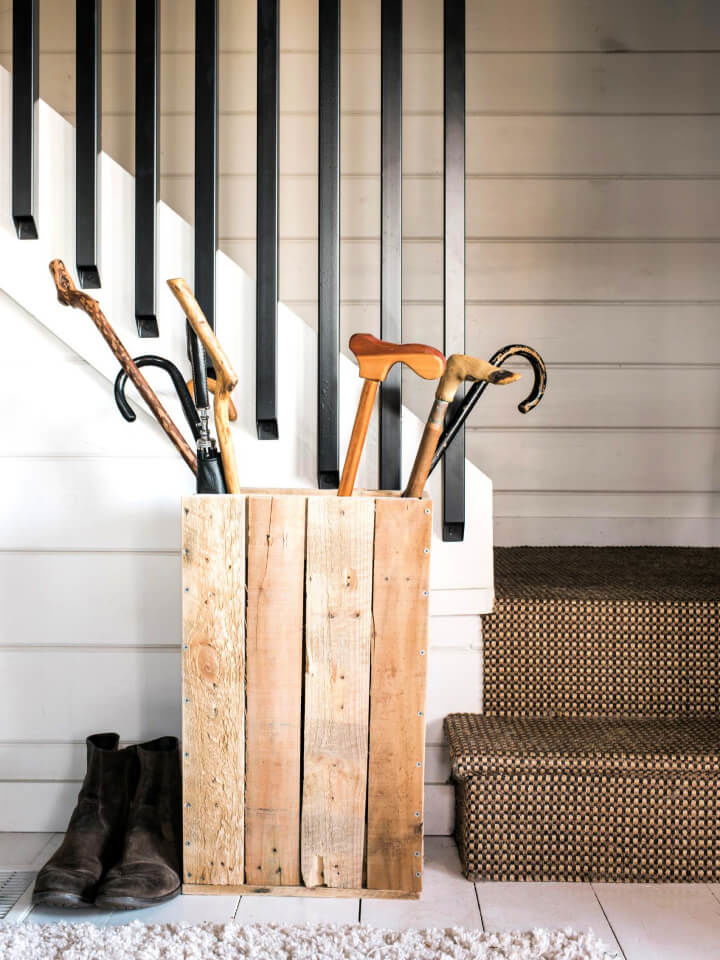 Want to see more pallet uses at the home? Then look at this shipping pallet storage bin. Making of it is pretty simple and quick. Just dismantle your pallets, choose the planks to build sides of the bin. Put together slats and then brace to make side panels, back, and front panels. Assemble them and gain a perfect bin for storing walking sticks and other goods. diynetwork Need some extra storage space? then try build a pallet cabinet to get things organized.
10. Pallet Wood Chalk Board, Shower Wall and Shower Mat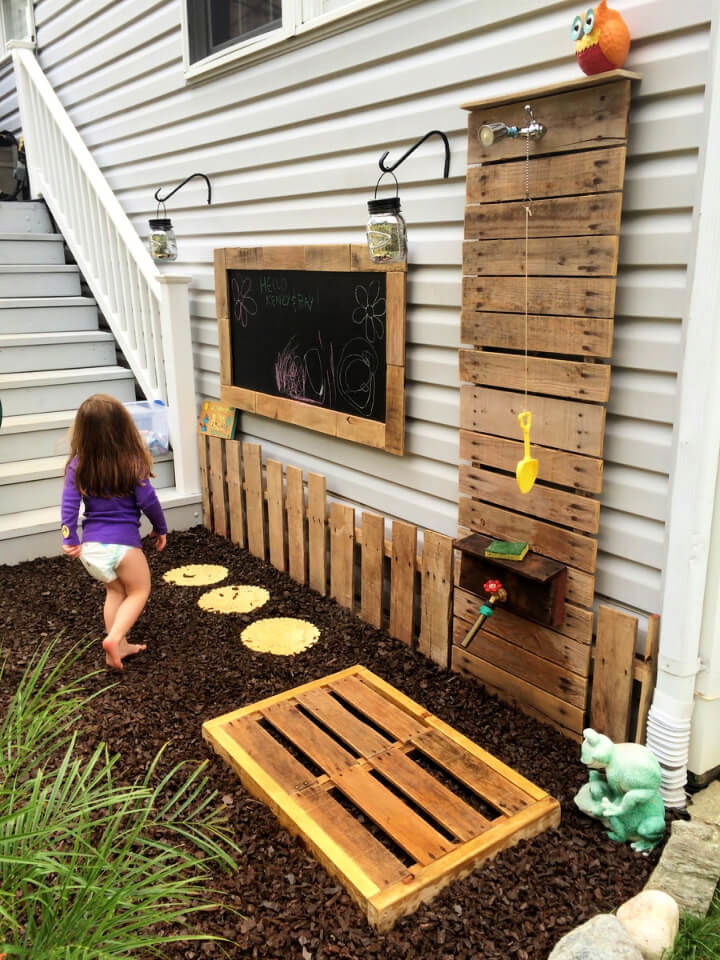 What things to build with pallets? Boost the kids summer fun and entertainments too with pallets. Get here free instructions about how to build an outdoor chalkboard for the kids. Plus, how to setup pallets to build a shower wall and non-slipper wooden shower mat. Use a single pallet as it is, for shower mat. Details here ana white
11. How to Build a Pallet Wood Sofa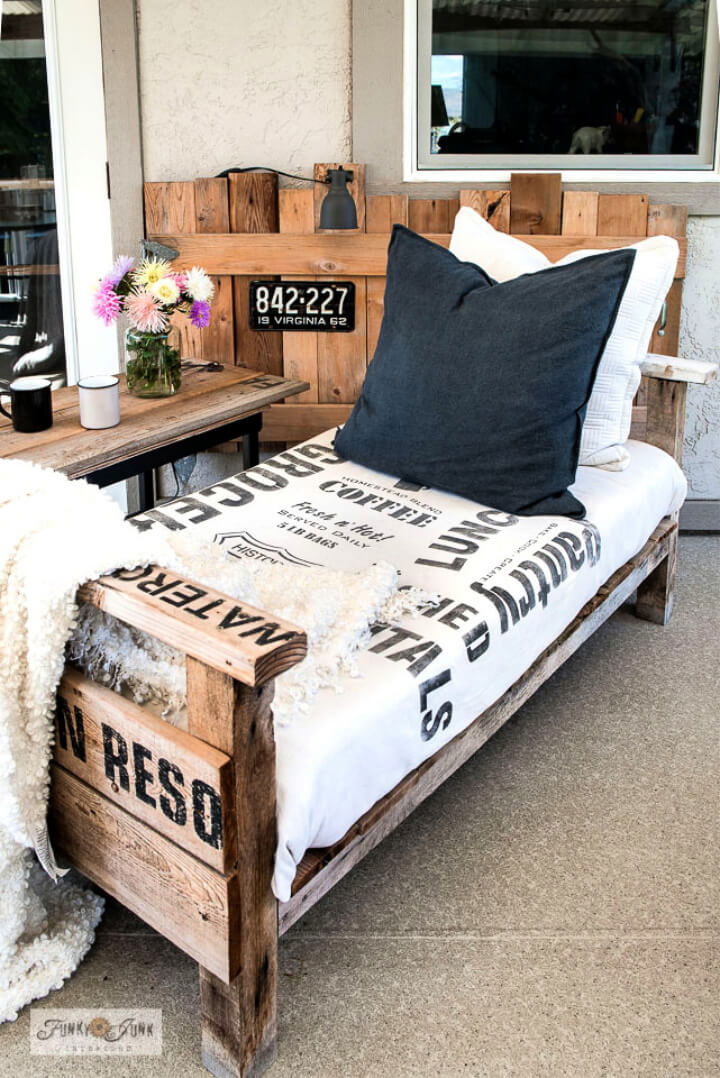 Quickly readjust the pallets to boost your comforts too. This pallet wood sofa will be a real life comfort. It comes with a removable back and will serve as luxurious pallet lounger too. The design is to build manually using discarded pallets, use stronger pallet planks or skids to build legs and other cross braces. Details here funkyjunkinteriors
12. DIY Pallet Headboard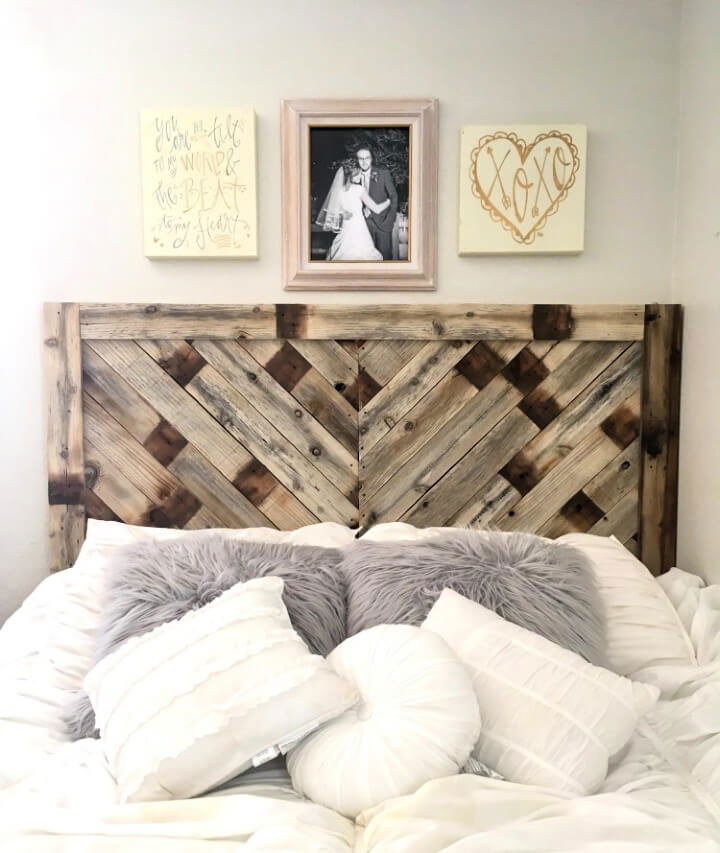 Are you always to be run in the spell of a chevron effect? Then features this herringbone pallet headboard in your master bedroom for an amazing visual grace. Make the frame of the pallet headboard using 1x1s and then fill it up solid chevron alignments of pallets. Build it in any size you want. sixcleversisters
13. Wallet-Friendly DIY Pallet Coffee Table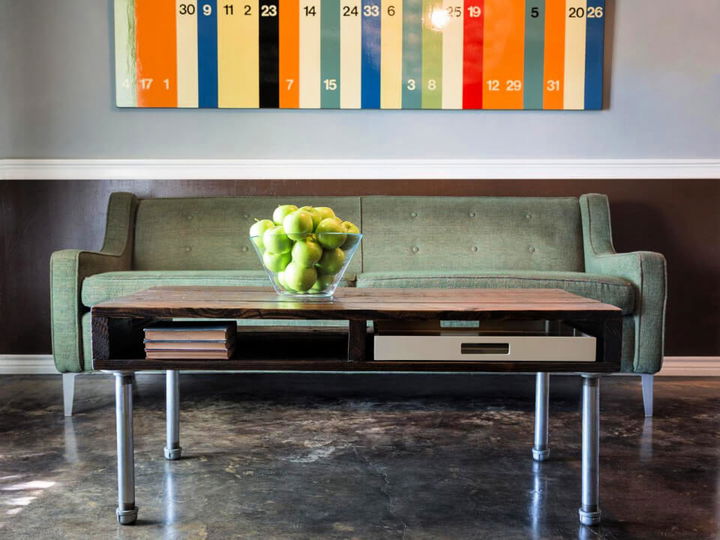 A coffee table may be a masterpiece of furniture in your living room to show off with if selected in an arresting design. Spruce up your living room with the simplicity and industrial elegance of this pallet coffee table. Get a wooden pallet in good condition using stain or varnish, next finish it up with galvanized pipe legs ending with caps and installed with galvanized floor flanges. hgtv
14. DIY Pallet Table for Under $10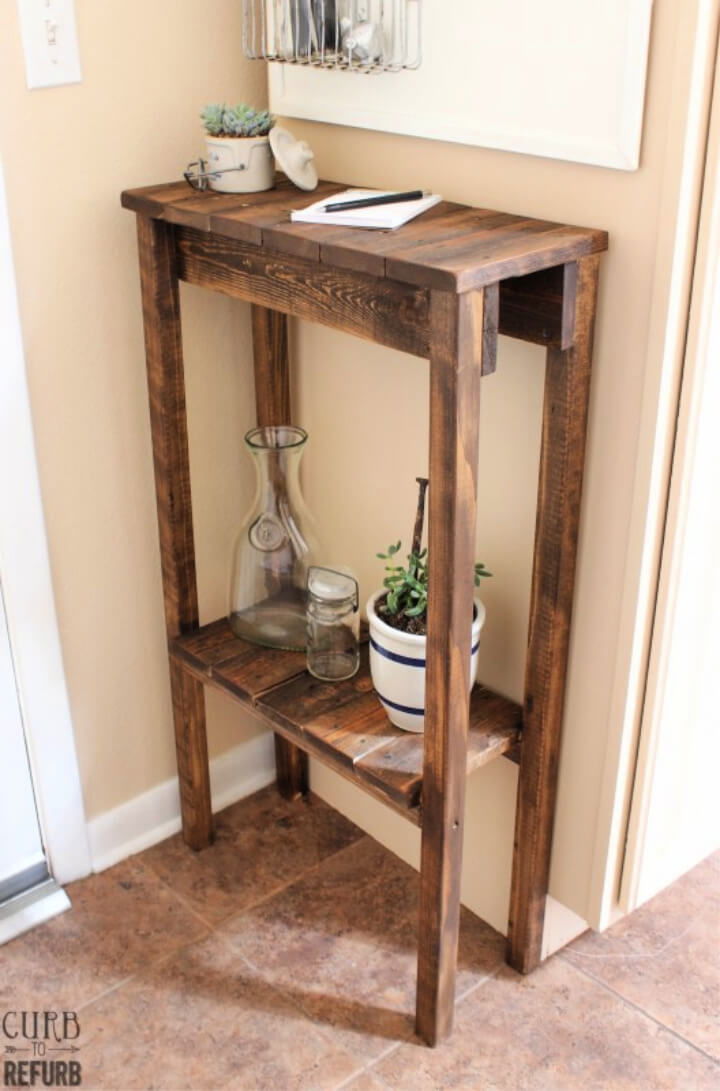 This pallet table is almost 3 feet tall and has the perfect height to serve as a entryway table. Make it by building the frame with 2×2 Douglas Fir posts and start filling the frame with pallet wood. The bottom shelf allows to organize a bunch of extra items. Use this table to feature your art in home. emodelaholic
15. Build a Couch Out of Pallets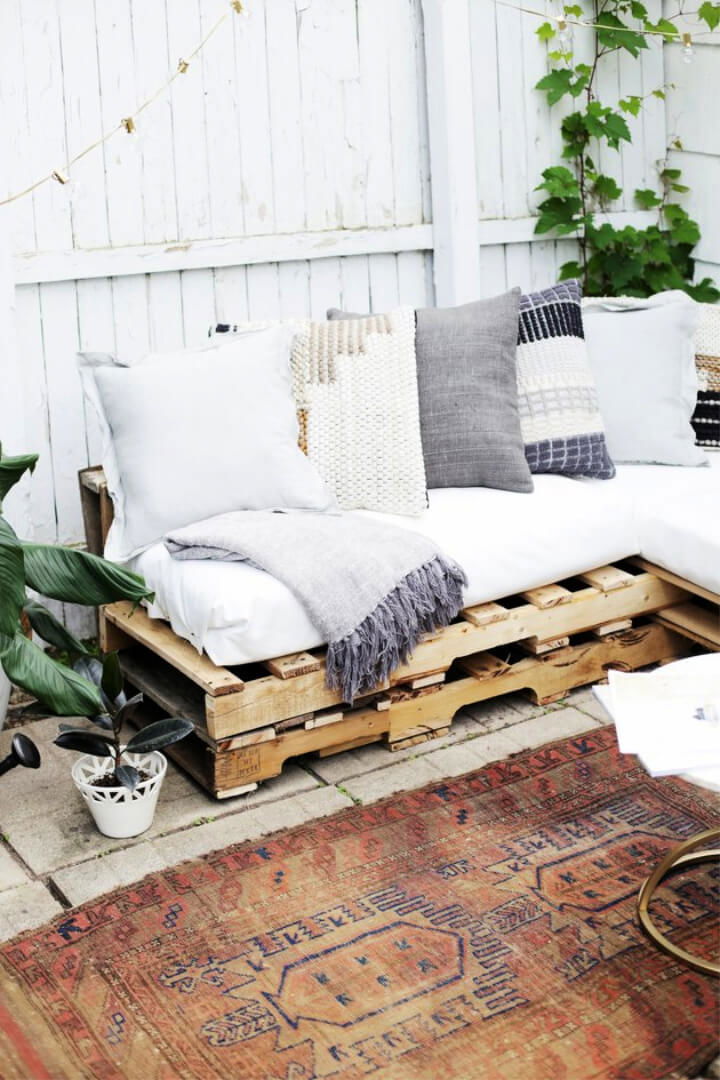 Couches are expensive and are one of the life luxuries. So, bypass the expensive looking sofas and couches using free pallets too. Build this couch out of pallets using pallets and 2x4x8′. Next, you need cushions, fabric, fabric water shield and safety pins to make it nicely padded for a boosted sitting comfort. hunker
16. Huge Front Porch Welcome Sign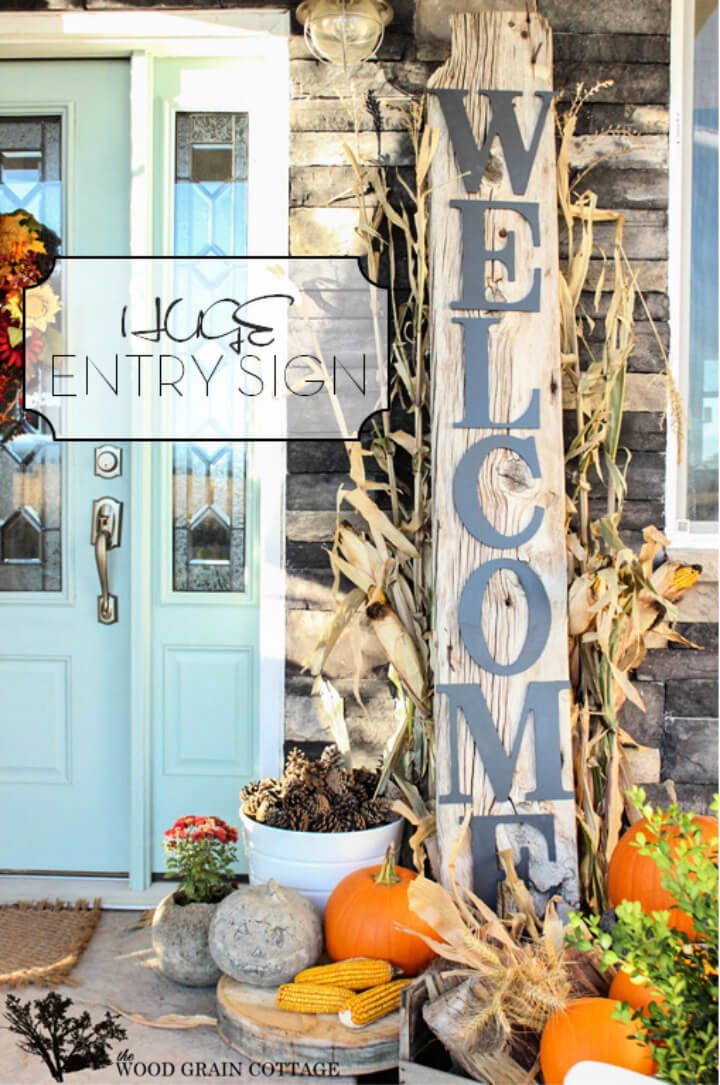 Grace up your porch with this welcoming pallet sign made of a longer length of pallets. Separated apart a long pallet plank, add it up with painted 9.5″ tall "WELCOME" letters and gain this huge front porch welcome sign. This sign is 11" wide x 80″ tall. Details here thewoodgraincottage
17. How to Make Pallet Chair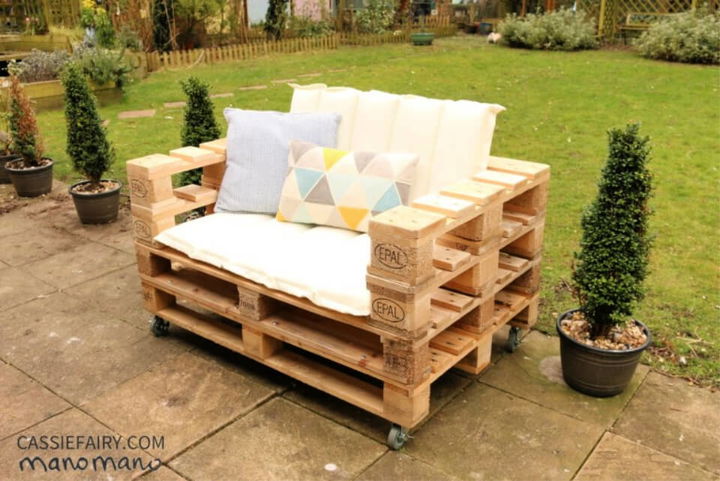 The stability, style and low-cost price tags are the main features of this pallet chair. The credit goes to EPAL pallets for this so enchanting design of chair. You need 4 pallets of 1200mm x 800mm size to quickly build this pallet chair. Assemble with screws and with 50mm M6 bolts and nuts. Finish with cushion. manomano
18. Pallet Bookshelf for Nursery Room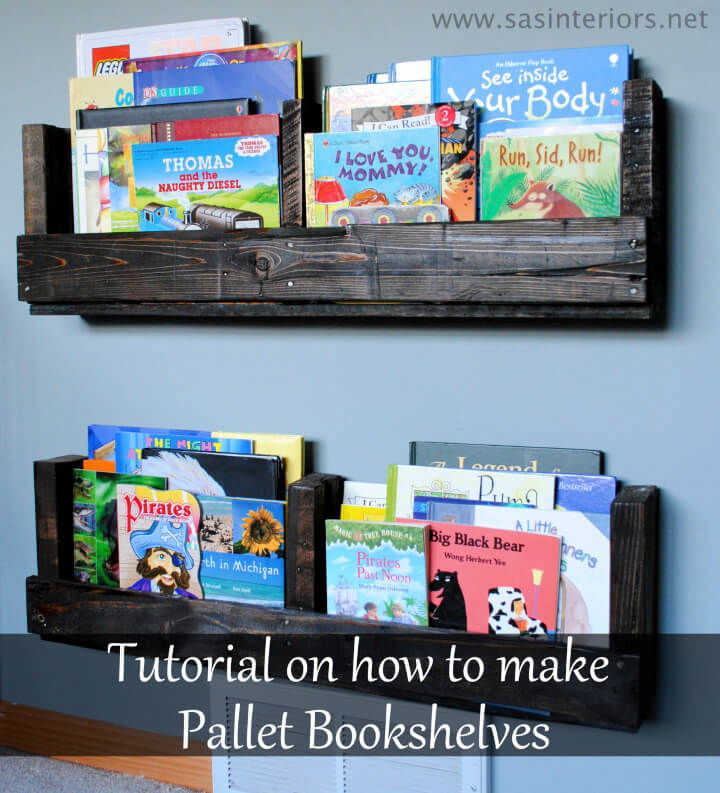 Update your nursery rooms with these wooden pallet bookshelves, will nicely hold the books of your kids. Just pluck part the deck boards out of a pallet from the mid that already built-in pallet ,so check out these easy to build diy bookshelf to to organize your books. Just cut them apart, stain and hang on the wall. Details here jennaburger
19. DIY Vertical Pallet Vegetable and Herb Garden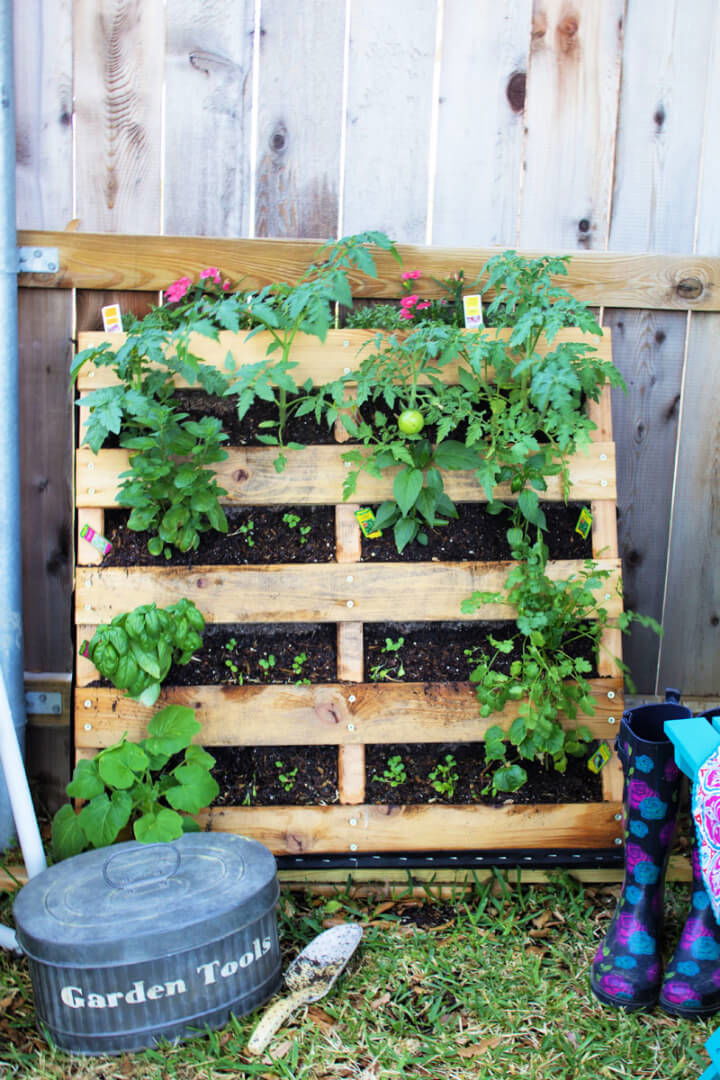 It may sound foolish to you growing herbs without using the garden space. You will find this statement true after looking at this pallet vertical vegetable and herb garden. First just cover the whole back of pallets with landscape fabric, use staple gun to secure fabric in place. Next, you need plastic sheeting, garden soil, L-brackets, herbs and vegetables. worldmarket
20. Portable DIY Folding Pallet Bar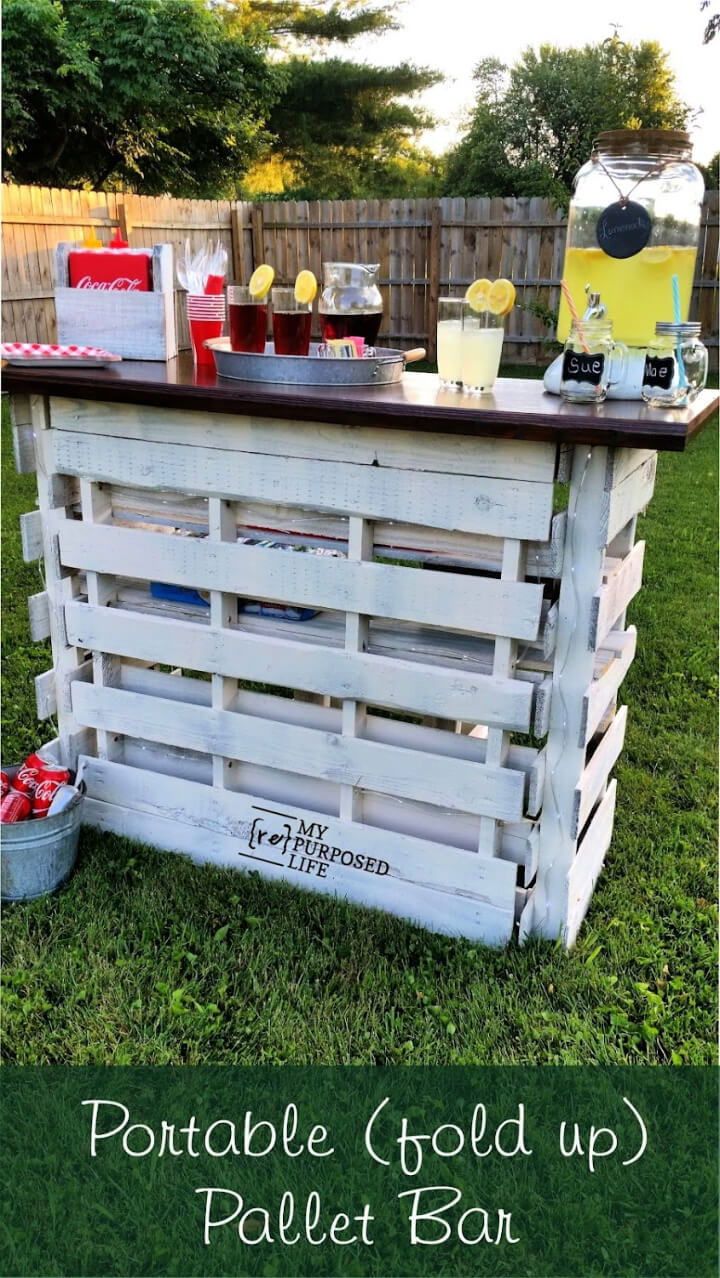 Boost your summer outdoor entertainments with this folding and portable pallet bar. Just grab 2 pallets, make one vertically stand and use halves of 2nd pallets to build sides of the bar. Now finish this vertical bar frame with a flat edged wooden top and add the removable shelves underside. Details here myrepurposedlife
21. DIY Recycled Pallet Wood Clock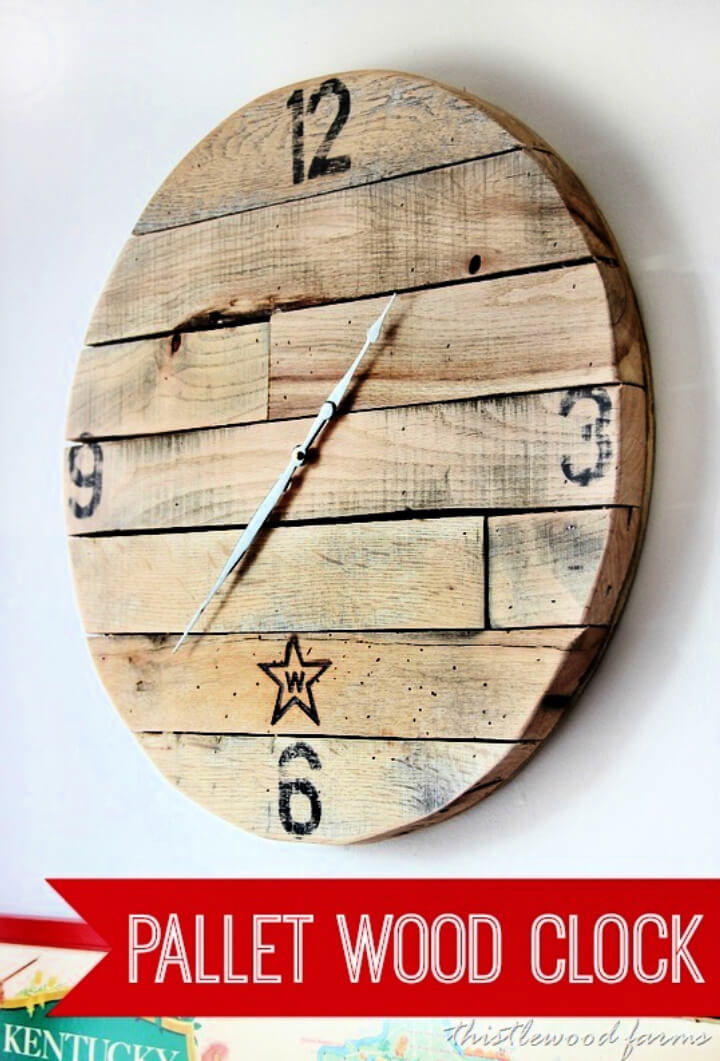 Building a wooden pallet wall clock, is one of the most popular pallet wood projects. Just cut out a big plywood round and just fill it up with the evenly flat arrangements of pallet wood slats to gain a round wall clock. Paint your clock in the way you like and finish with a clock system. thistlewoodfarms
22. Pallet Cooler Stand with 2x4s and Pallet Boards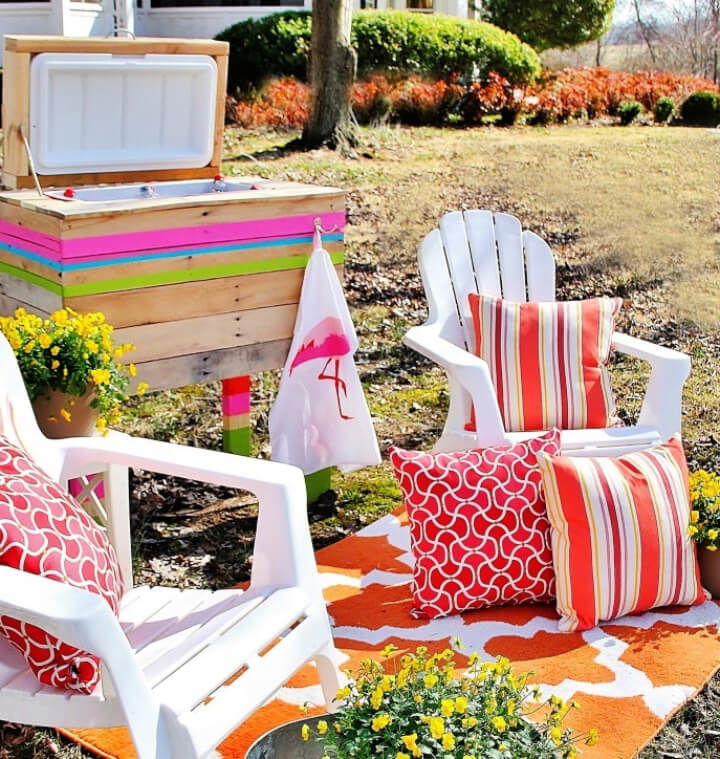 Check out here the best pallet hack, the pallet cooler will allow you to easily manage the fresh cold supply of beverage at any summer outdoor. Another great reuse of pallets for boosting your summer entertainments. Use pallets and 2x4s to build this pallet cooler and stand. Details here ana white
23. Rustic Pallet Wood Storage Chest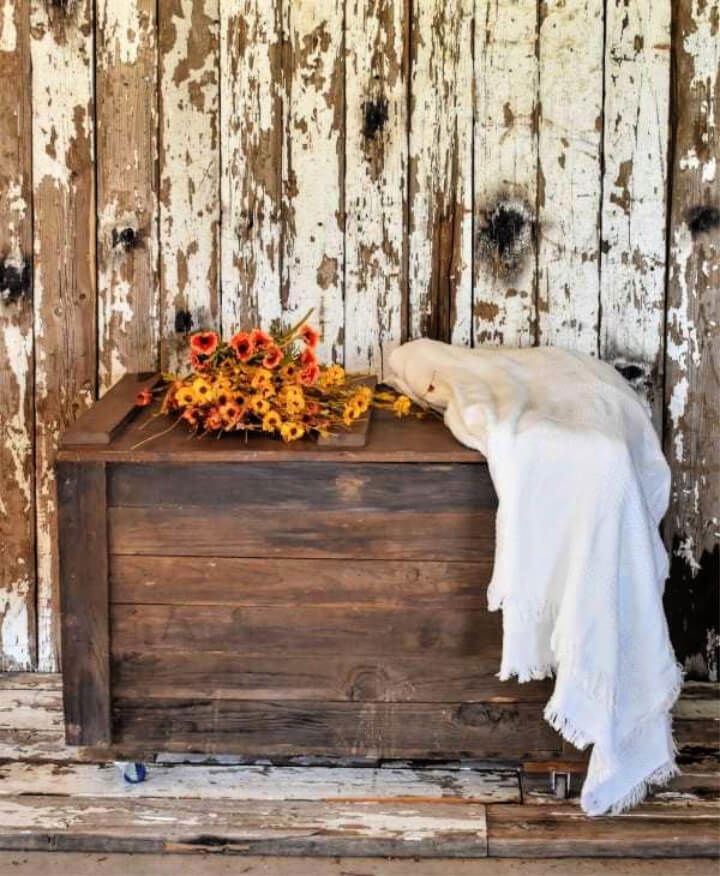 Do you need the highly secured storage options to store those keepsakes, kids expensive toys and father tools? Then do build this rustic pallet wood storage chest, an easy pallet project. Complete this 3.5′ long x 2′ tall and 2′ ¼″ wide design of chest using pallet wood, 1x4s, 1x6s and pallet wood, finish with caster wheels. teediddlydee
24. Turn Pallet Wood Into Picture Frame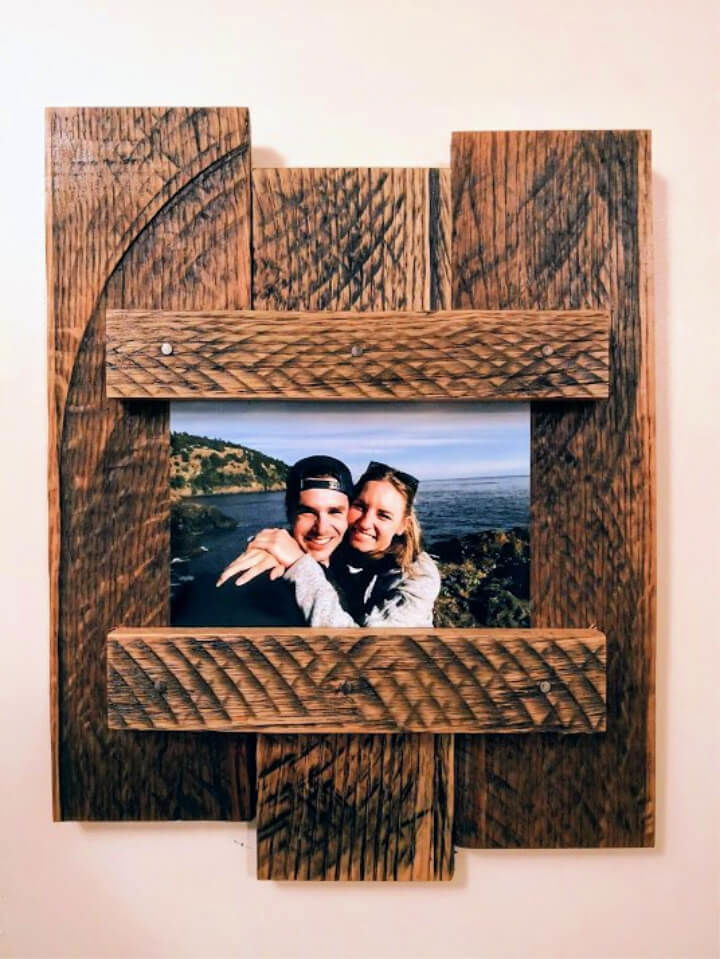 Cast an enchanting rustic decor theme throughout your room by adding this pallet wood picture frame. A better way to add a free vintage frame to your pictures. This hand-built pallet picture frame holds a 4″ x 6″ picture. You need 3 pallet wood lengths of 12" length and 2 lengths having 1 ½″ x 8″ to build it. hometalk
25. Pallet Kitchen Island from Wood Shipping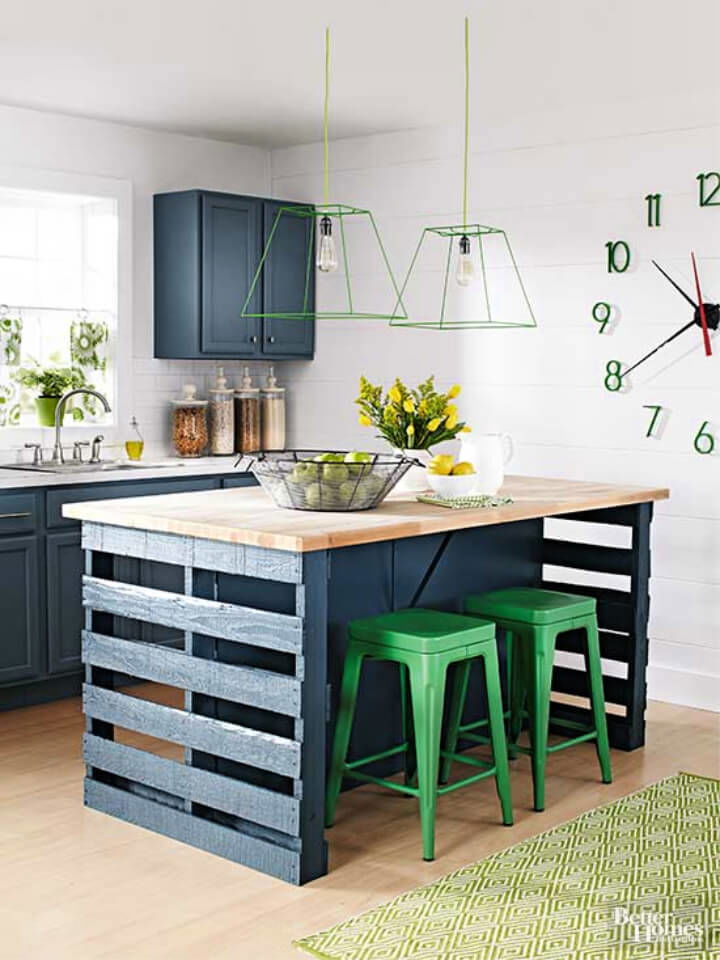 Let the pallets make you live the kitchen afordable too. Build affordable but durable wooden pallet kitchen islands out of 100% shipping pallets. You need 36″ x 36″ pallets, 1×3 and 1×6 poplar boards, 1" thick sheet of MDF and a butcher block counter top to make this kitchen island, will bring a great functional character to your kitchen. bhg
26. Tilt Out Trash Bin Out of Pallets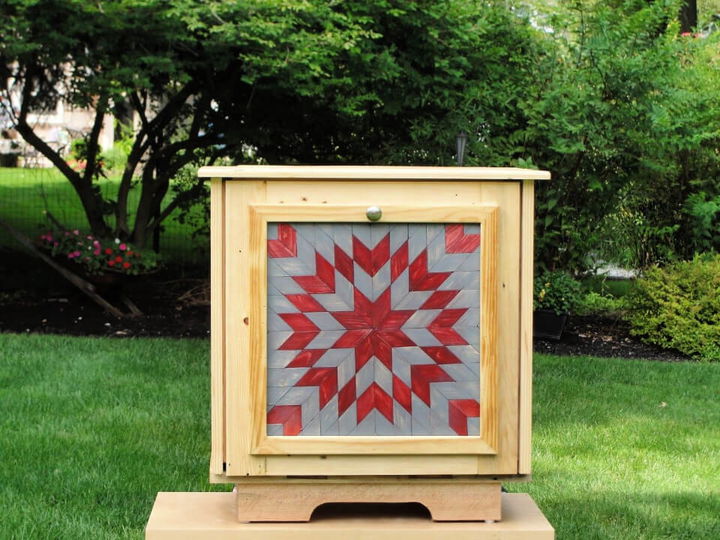 Spice up your home cleaning game with this tilt-out trash bin made of pallets. Build the tilt out trash bin using pallet wood planks and 2x8s. First build the base, then frame and finally add the tilt out component assembled with 90 degree metal brackets. Cut the 125 parallelograms out of scrap pieces to make the decorative front. Next, give paint or stain finish. Attach the plastic trash container to inside of decorative front. hometalk
27. DIY Wood Pallet American Flag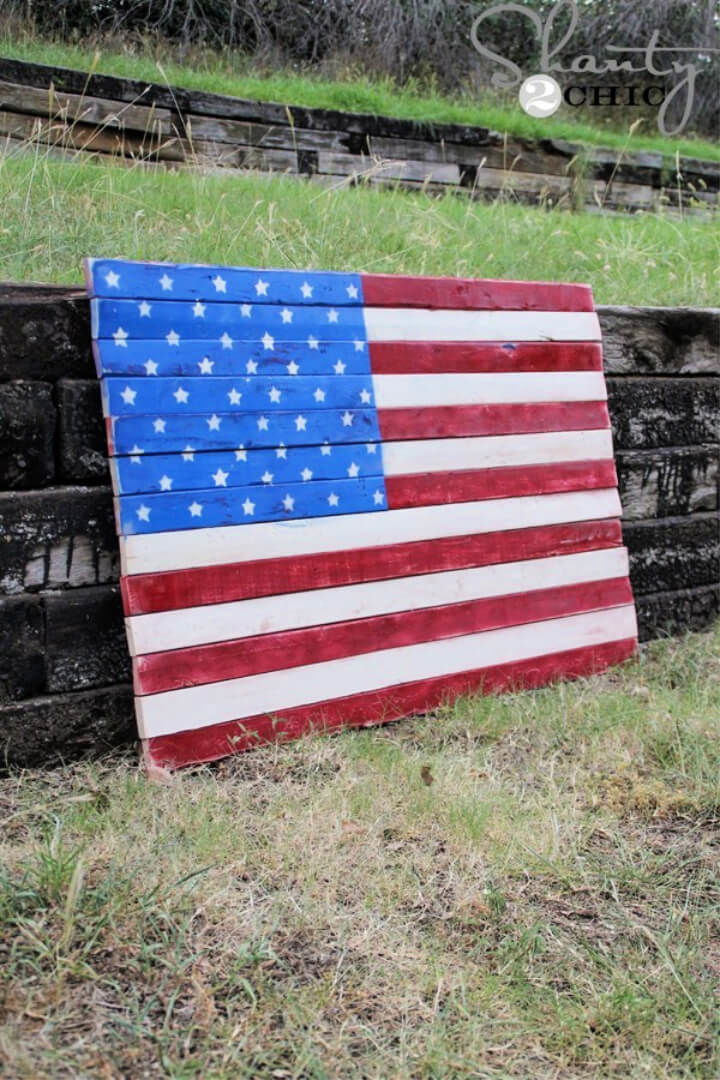 Make also best Independence Day decor out of pallets like this wooden pallet American Flag. A best patriotic decor and a gift to make quickly out of pallets. Put a few pallet planks of same dimensions together flat to gain a wooden board in flag size. Add back braces and then paint it for an American Flag. shanty 2 chic
28. Outdoor Dining Table from Pallets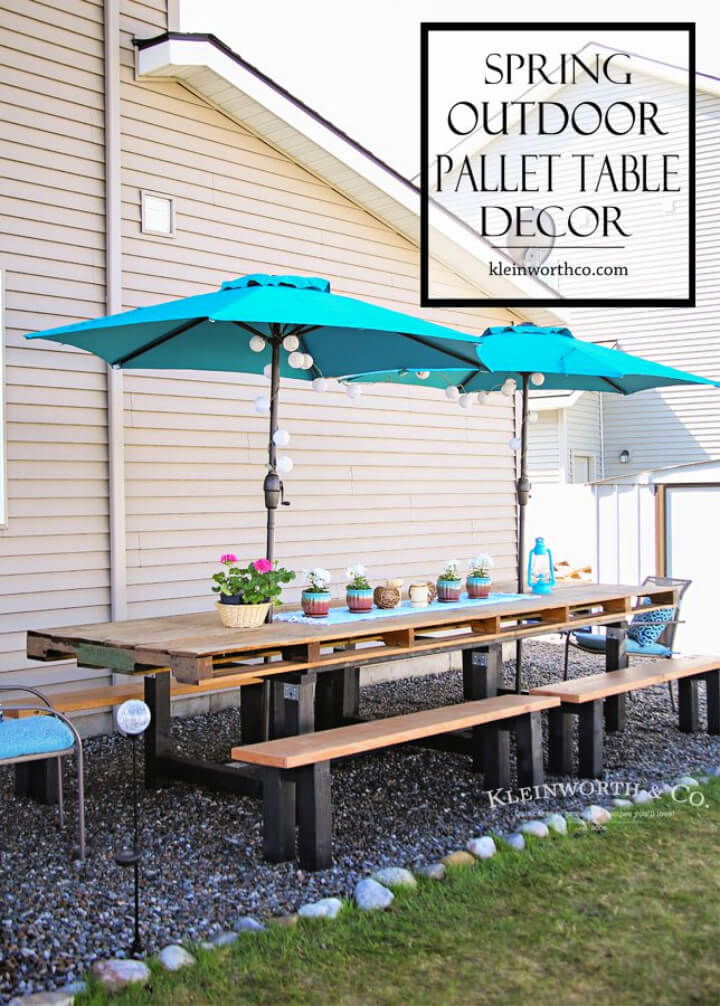 Got the best out of pallets for day and night summer entertainments like this outdoor dining table with parasols fitted in the top. Make this giant dining table out of a 13′ pallet. Build the legs and entire base using 4×4 and 2x4s wood lengths. Accomplish the sitting space needs by adding matching benches. Perfect pallet outdoor furniture plan for summer lunch and dinner parties. kleinworthco
29. Recycled Pallet Planter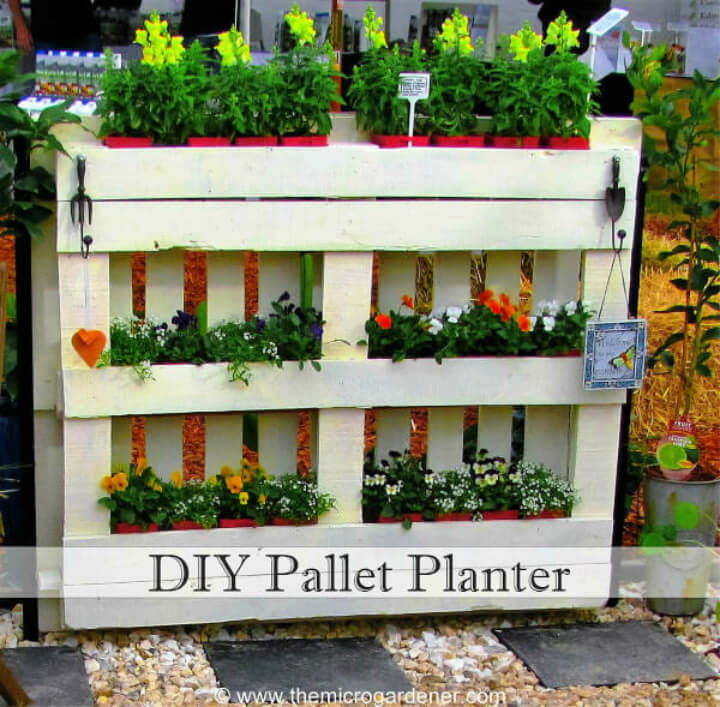 Plan the pallets for planting your herbs, flowers and vegetables too. Build this pallet vertical planter out of a recycled pallet. Here you need a pallet, sand paper, 2 or 3 timber palings, paint and hammer to do this pallet into planter transformation. Add up the finished planter with hook to hang your tools too. themicrogardener
30. How to Build a Pallet Side Table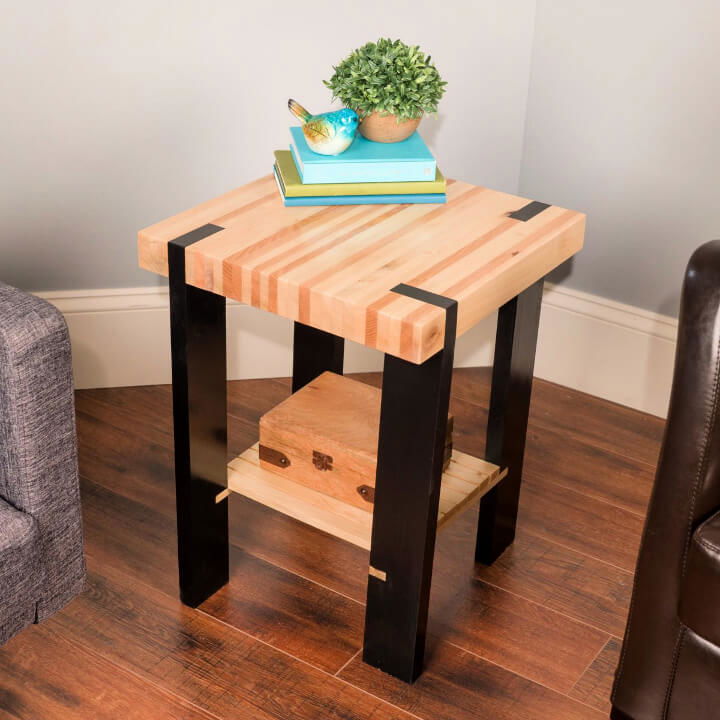 You will fall in love with this modern looking wooden side table made of pallets. In features, it amazes with a butcher-block style top, nicely fitted legs, and with a bottom shelf. The black painted legs bring tons of beauty to design. This intermediate pallet side table project will cost you just $5. The finished size is 16″ x 16″ x 22″. familyhandyman
31. Simple DIY Pallet Bike Rack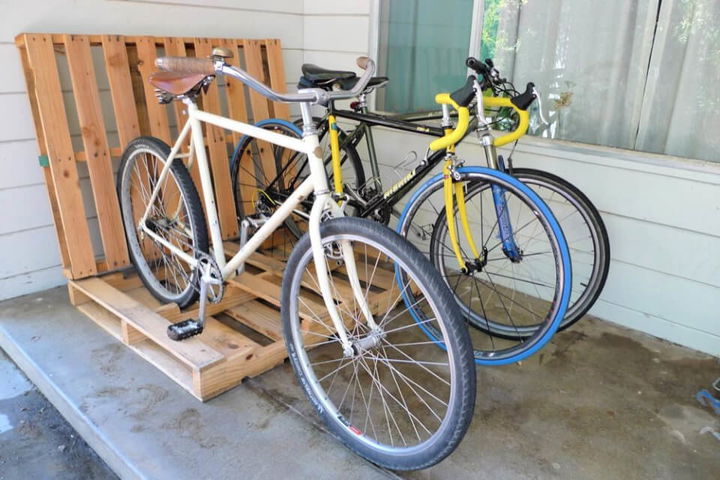 It is always challenging to nicely park your bikes in the garage or in home. The bikes are always at a risk of injurious fall but you can easily come out of bike parking issues using pallet bike rack. Just bring two pallets into L-shape to make this pallet bike rack. Details here instructables
32. Homemade Fordable Pallet Desk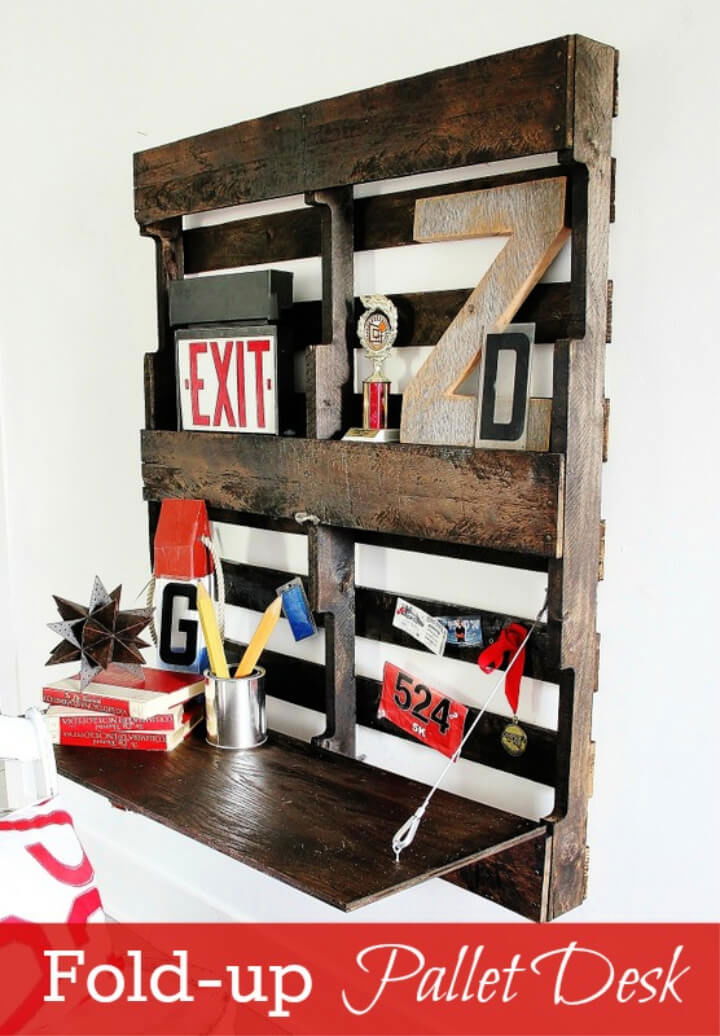 Organize your home office space with this fold able pallet desk. A one pallet project that requires an easy skill level. Just add up a pallet with a folding wood panel, will make the desk top. Support it there in bottom section of a pallet using metal chains. Make the desk top out of plywood. thistlewoodfarms
33. Pallet Sign for Farmhouse Front Porch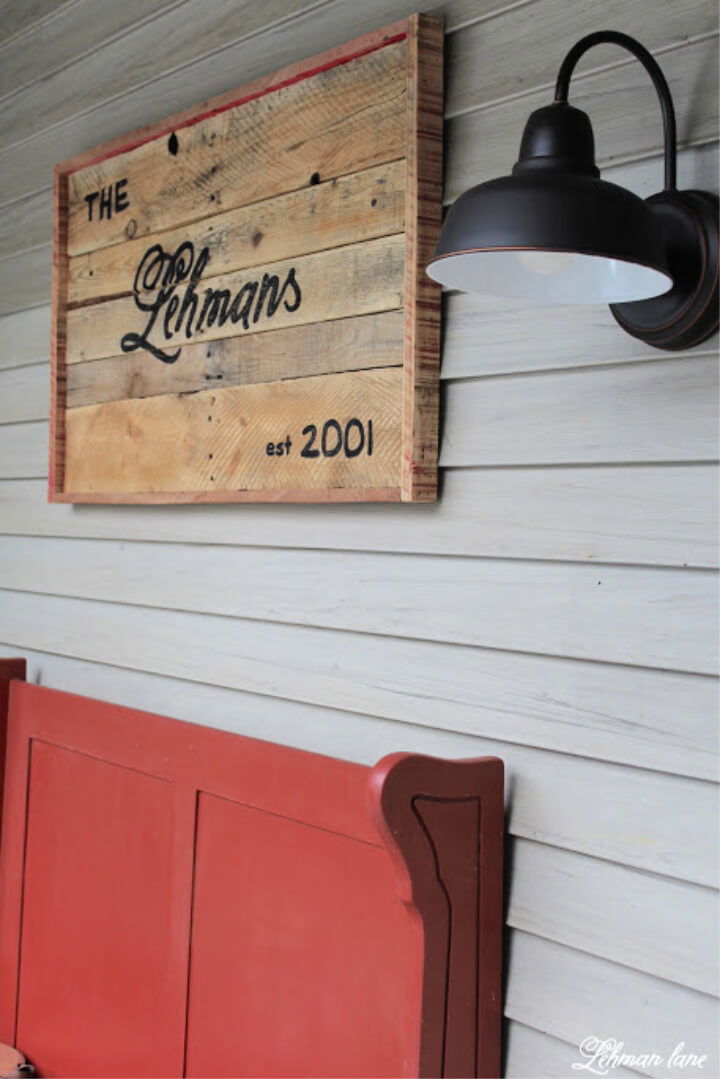 Elevate the look of your front porch with this pallet sign, will be best farmhouse decor there on the wall. Put together 3 planks of pallets cut to same length to shape up a wooden board. Frame it up nice and these use letter templates to write custom words or letters. Stencils and vinyl template will work great too. lehmanlane
34. DIY Pallet Garage Organizer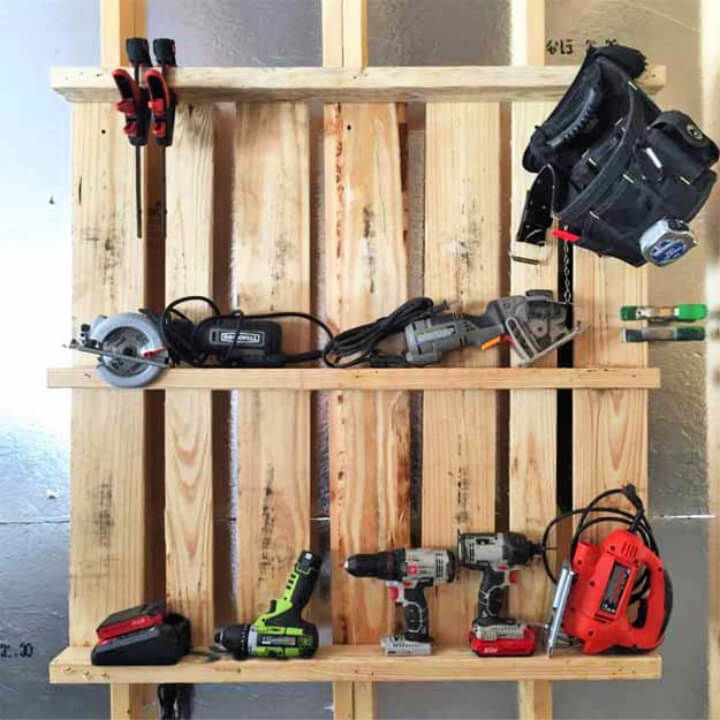 Tidy up your garage with this homemade pallet garage organizer. Just pluck apart the extra slats from the back side of pallets while keeping those back shelving boards. This pallet garage organizer will be ready in a few easy steps. The best to get out of pallets for instant garage organization. theshabbycreek
35. Upcycled Old Pallet Into Colorful Planter Boxes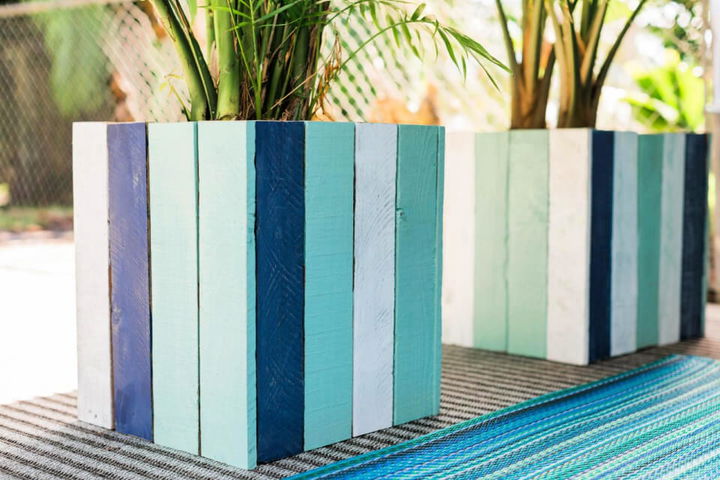 Update your patio and garden decor using these colorful planter boxes. Grab some old pallets and pry them to gain them into a pile of single planks. Use those separated planks to build a slatted wooden box. Paint the boxes in colors you want then fit your pots in them. Details here hgtv
36. DIY Pallet Compost Bin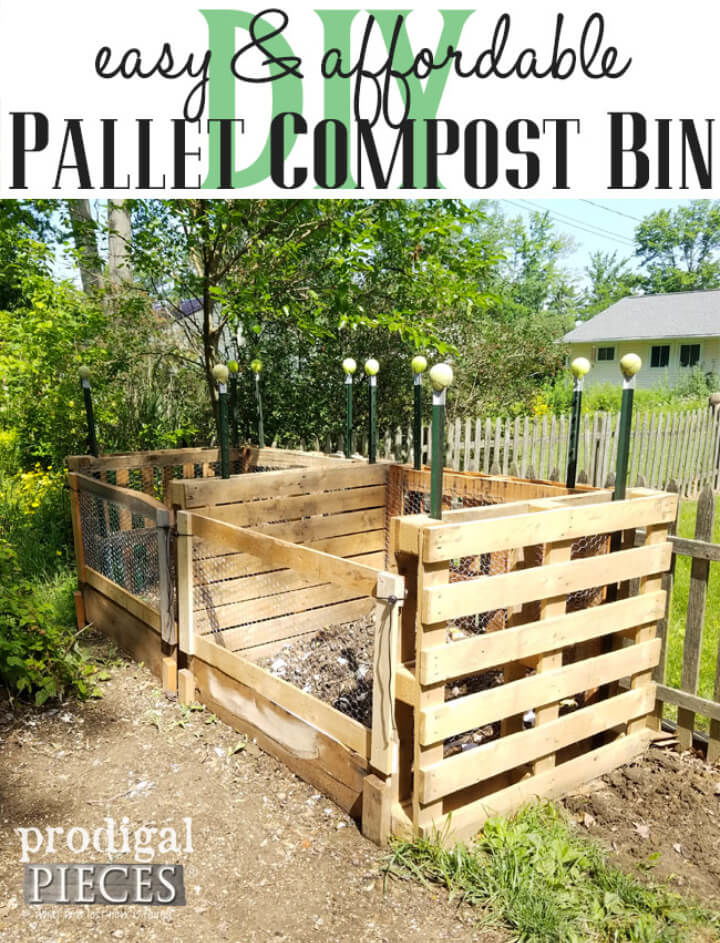 Willing to produce compost out of garden refuse and other organic wastes? Then must build this pallet compost bin out of some free pallets. Build the walls of the compost bin with the uncut pallets. Add the cardboard floors and start covering the entire frame with chicken wire. Don't forget to add front hinged doors. prodigalpieces
37. Recycled Pallets Bed Frame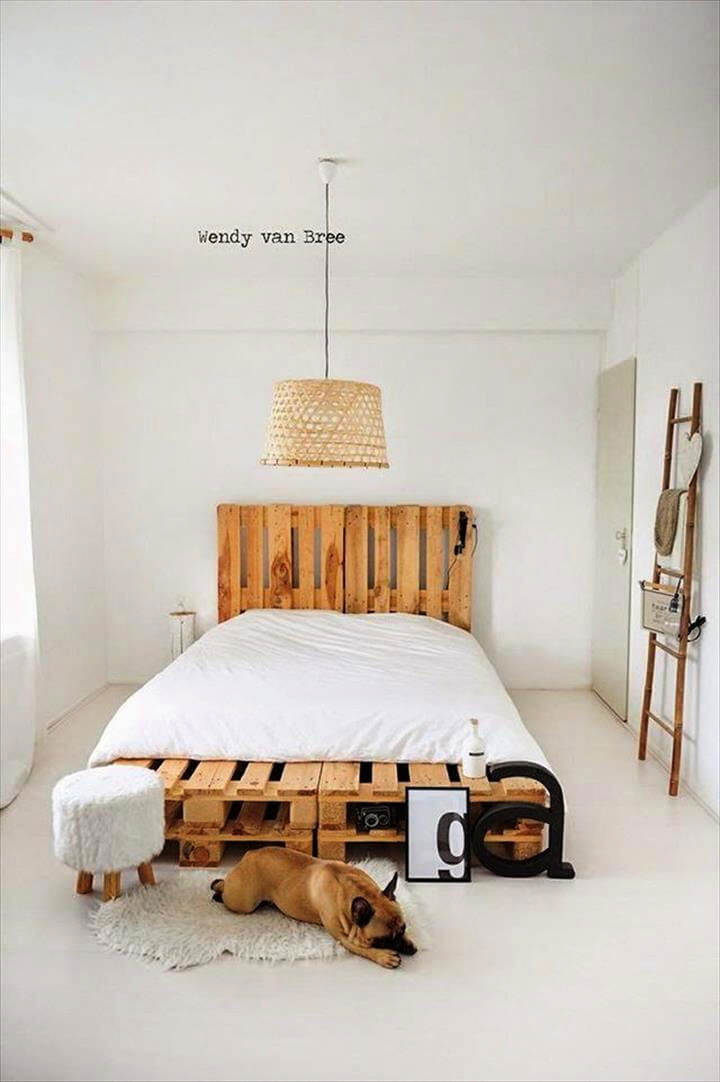 Get bigger pallets and just do simple planning and measurements to build a pallet bed. Check out our pallet bed selection for the very best in unique or custom, handmade pieces from our beds & headboards. After you decide the measurements, do cuttings and then assemble them to gain a platform bed frame. Finish with a bed mattress and add a leftover pallet behind as a matching headboard. thewonderforest
38. Build a Pallet Coffee Table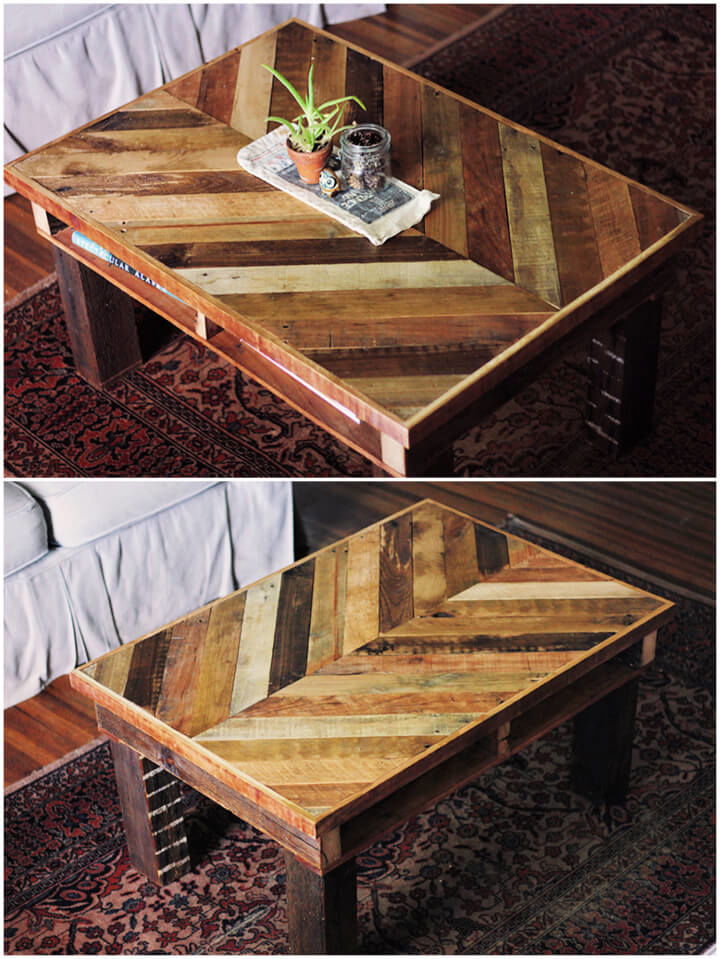 Grab a piece of plywood having size equal to coffee table top. Fill it up solid with pallets put together in a chevron manner. Trim the excess of edges and you will get a perfect chevron top. Finish it up with framing lumber 3×4 legs and gain a fabulous chevron wooden pallet coffee table for your living room. themerrythought
39. Sliding Barn Door from Pallets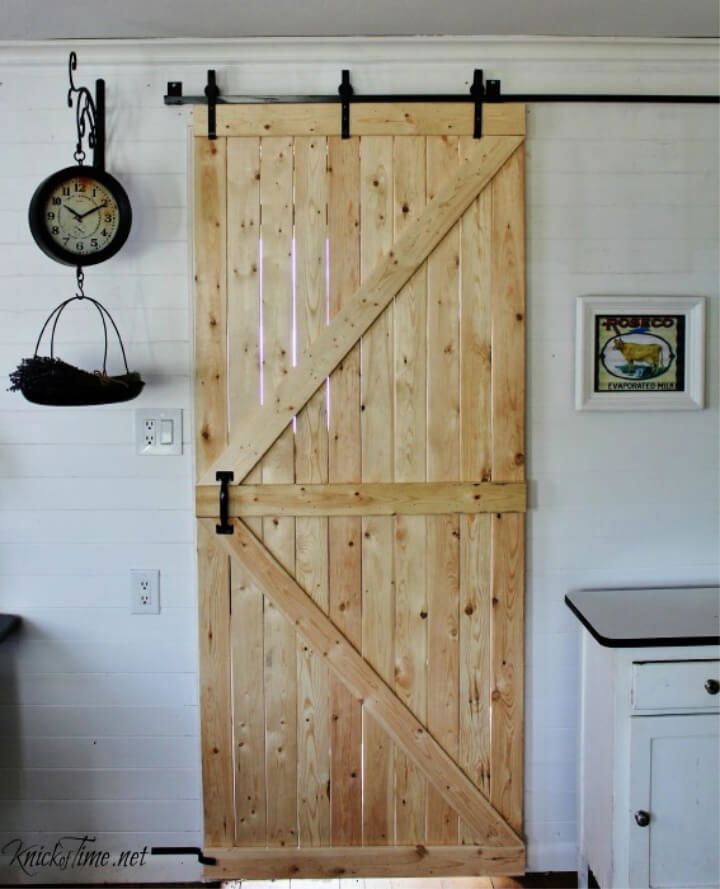 Do you love impressing the guests with unique settings and features of your home? The do build this sliding barn door with pallets, can be added as an impressive new feature to your home. Just build the door to decided size and install it using sliding door hardware. Make your own sliding door mechanism too at home. Details here knickoftime
40. How to Make Pallet Wall Art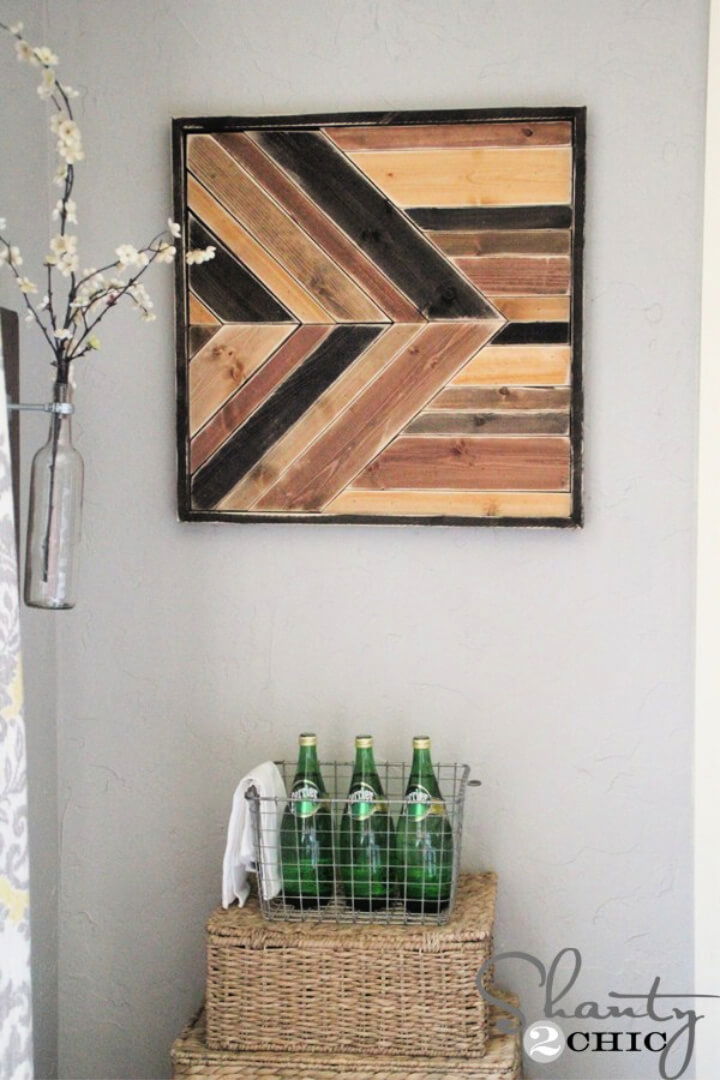 Spruce up your interior home wall with this fascinating chevron pallet wall art. Grab a piece of plywood and then start arranging the torn apart pallet wood slats on it making your art. Finish by adding a lovely frame and then just hang it up on the wall using best hardware hanging systems. Details here shanty 2 chic
41. DIY Pallet Coffee Mug Rack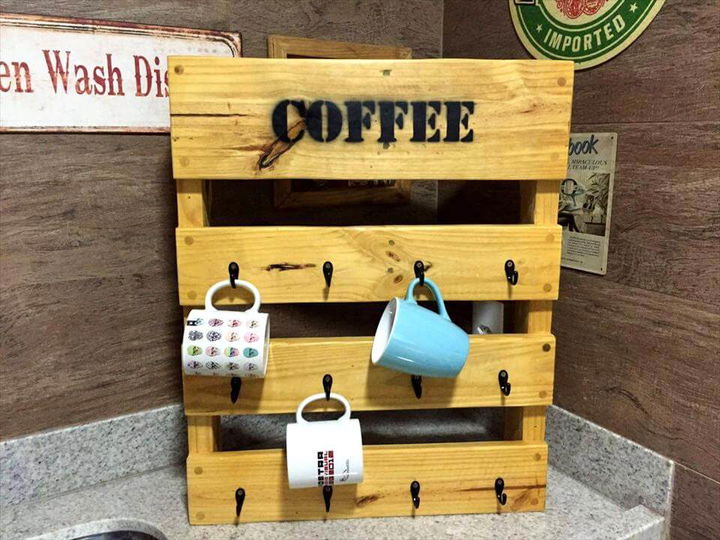 Rock your kitchen with this Wooden Pallet Coffee Mug Rack. Quite inexpensive and quick to build coffee mug organization. You need pallet to build the overall rack, add up horizontal boards of it with hooks and use letters to spell out the "COFFEE" letters on the rack.
42. Outdoor Recycled Pallet Dog Bed

Spice up your pet keeping game with pallets. Just build most of the dog bed out of pallets and they will cost you next to nothing. Bring comfort to your dog with this recycled pallet dog bed, well cushioned for a comfy warm feel. Here you need pallets and a large outdoor cushion to make it.
43. Colorful DIY Garden Bench using Pallets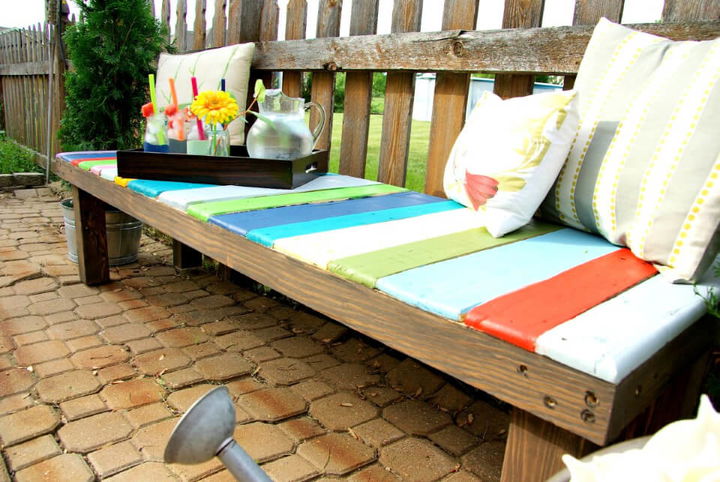 Solve also your garden and outdoor sitting space issue using free pallets. The finished dimensions of this bench are 77″ x 21″ x 18″. First build the bench berth. Make a berth frame and then fill it up solid with cross flat arrangements of pallets. Finish the bench berth with 4x4s wood post legs. Paint each berth board differently and that's it. homedit
44. Book Shelves from Recycled Pallet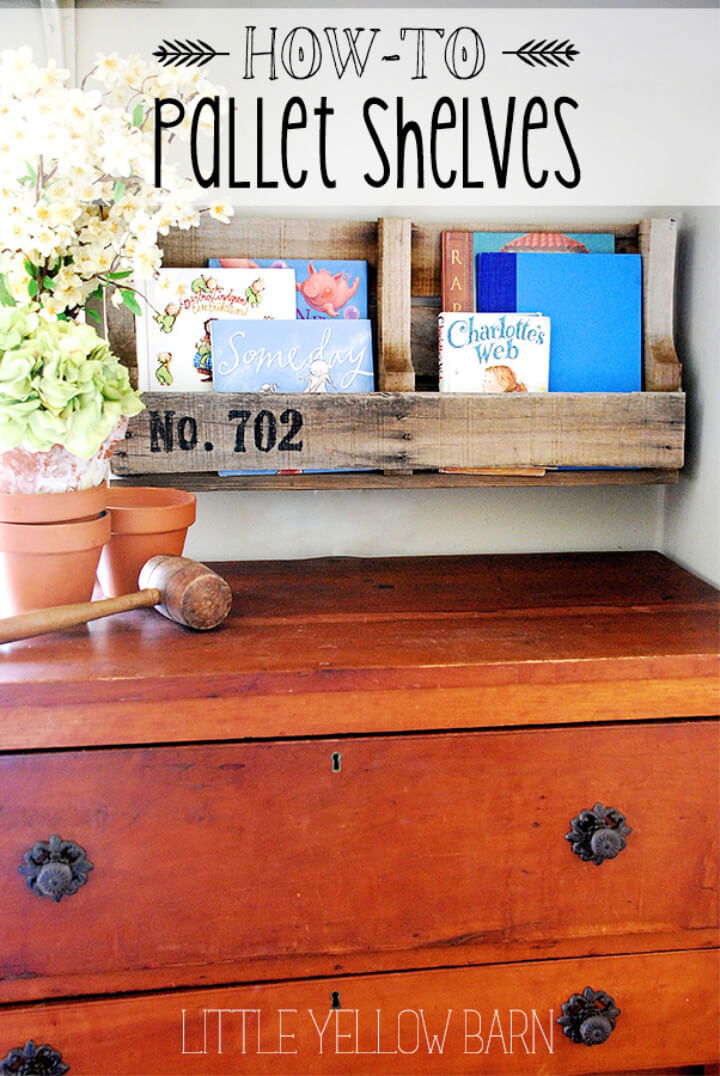 Reuse those free pallets to bring amazing protection to your books too. The idea is to build free wooden bookshelves out of recycled pallets. Just cut down the very bottom parts of a pallets and they will be your readymade wooden bookshelves. They will rock to hold magazines and books. lilluna
45. DIY Pallet Wood Mirror Frame

Adding mirrors to your interior are crucial for modern interior delicacy and elegance. So, opt them with rustic wooden frames for a mix rustic-modern type of decors. Take the pallets into pieces and choose the lengths to be around a long mirror as a durable wood frame. Details here pallet mirror!
46. Make a Serving Tray from Pallet Wood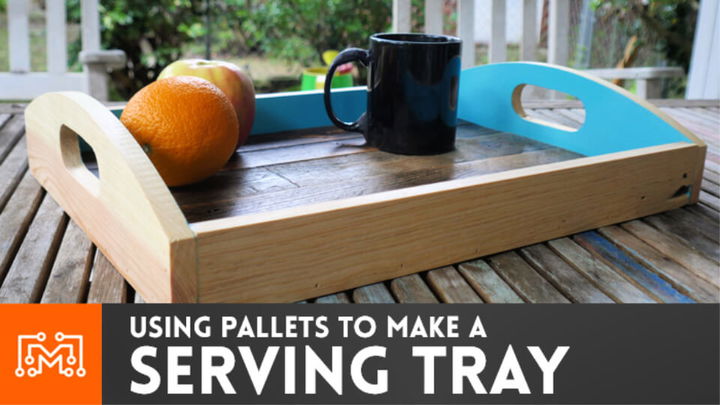 Building wooden trays is one of the hottest trends in pallet wood recycling. Build this pallet wood tray using separated apart pieces of pallets. Put flat single pallet wood slats to make tray bottom, add it up raised sides and finish with arched shorter sides having cut out handles in them. Details here iliketomakestuff
47. DIY Pallet Reading Corner Nook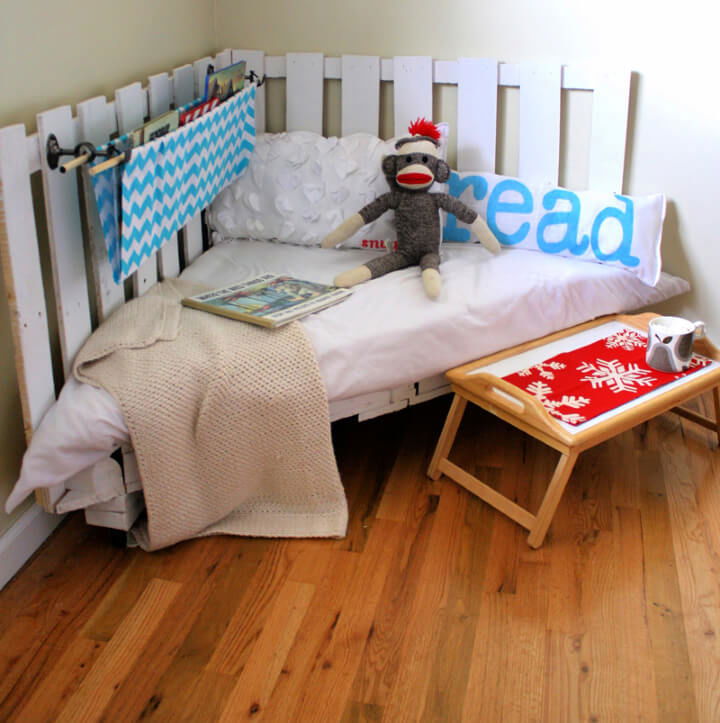 Provide never ending fun to your kids by building this wooden pallet reading corner nook. Just cut a bigger pallet skid in diagonally and take one triangle to build this corner nook. Use leftover slats to build the back L-shape fence style backrest. Cushion the seat and that's it. handimania
48. Adorable DIY Wooden Pallet Side Table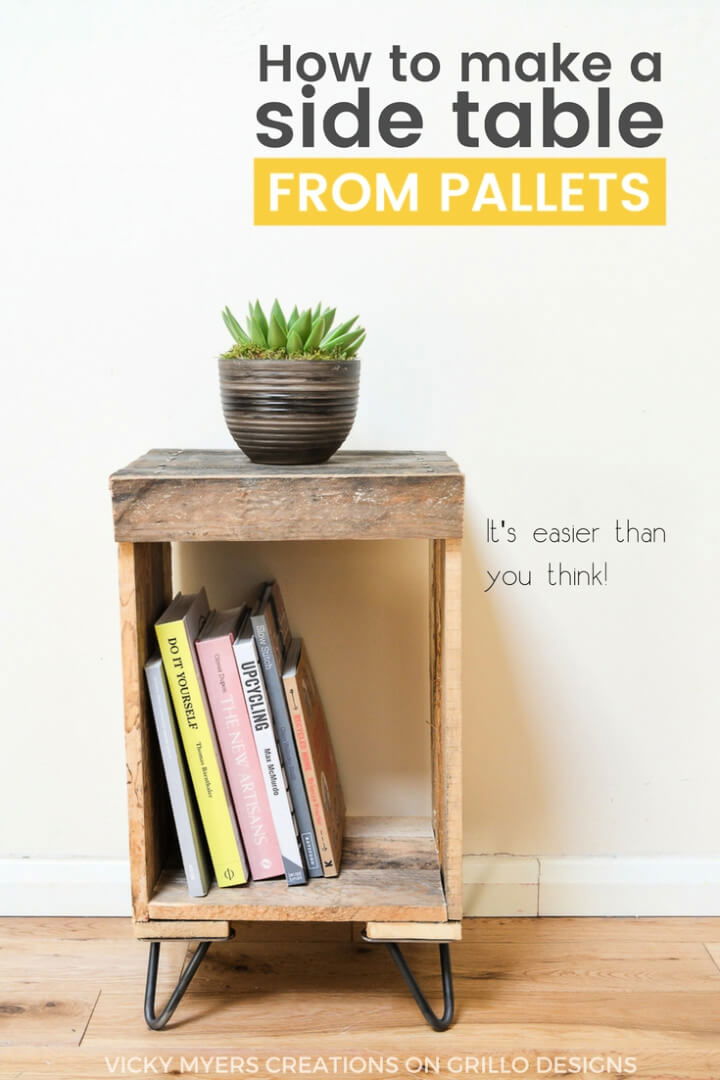 This project is all about to build a bigger crate out of pallets. Dismantle the pallets and choose the planks to build an instant wooden crate. Finish the crate with short metal hairpin legs and gain a lovely wooden side table. It will nicely hold your night lamp and will nicely store your books too. Details here grillo designs
49. Easy DIY Pallet Planter Box

Take your patio and outdoor decors to next level by adding this wooden pallet planter box. Paint it in outdoor colors of choice for an enchanting appeal. Quickly cut the separated apart pallet slats to build a box, add a solid bottom with short legs and here you go. Details here nickpower
50. Trun Pallets Into a Storage Bin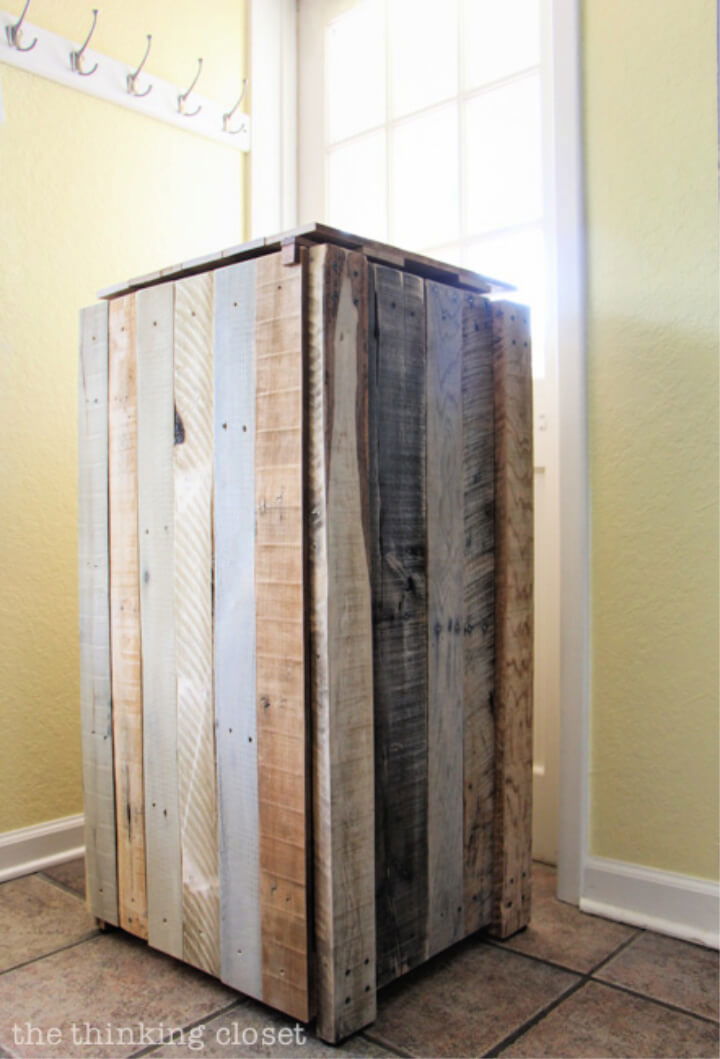 Let the pallets spice up your home cleaning routines. Build this pallet storage bin and it will serve long due to hardwood nature. You need a pallet, 2"x4"x8′, 1.5" x 1", 4 hinges and wood screws to build this wooden bin. It also comes with a lid having a handle. Details here thinkingcloset
Conclusion:
These Recycled Pallet Ideas are the cheaper life hacks to live the luxury at no-cost. These pallet projects show you to build all from outstanding furniture to fabulous home and garden decor to bigger entertainment centers for free. With minimal woodworking skills in hands, you can try out all these pallet ideas, based on ultimate recycling creativity. Moreover, these pallet ideas will also encourage you to recycle pallets that are to see in dozens of scrap materials piles, junkyards, and something even on the roads.
I hope, you would love this pallet wood uses!!! happy woodworking 🙂