We all love to breathe in fresh and open environments it does not keep our lungs and whole body sound and healthy but also changes our mood from sad to a happy one! The natural outdoor climates possess the incredible healing powers that cause instant relaxation to any fatigued or tired person! So are you having a special outdoor spot to reenergize yourself? Are you really missing a fine outdoor location to start the never-ending family and friend conversations? If yes, then we recommend you to do this DIY pallet deck with shelter project, best and free way to develop your outdoor site of home!
Here if you count for the incredible different uses of pallets to install this deck, you will really find yourself in a big amazement! Here pallet boards and then well sanded and resized pallet slats have been put flat to install the accent deck flooring, then old wood logs have been reclaimed to serve as lasting pillars to deck shelter and shelter! Finally, the uncut pallet boards have been fixed to the front side of the deck as accent fence walls as they also serve as flawless planters there at the same time!
This is something amazing has done with pallets, a perfect party special deck, have the fixed seats and sofas and also comes with a fine shelter will protect you from getting roasted by the hot sun!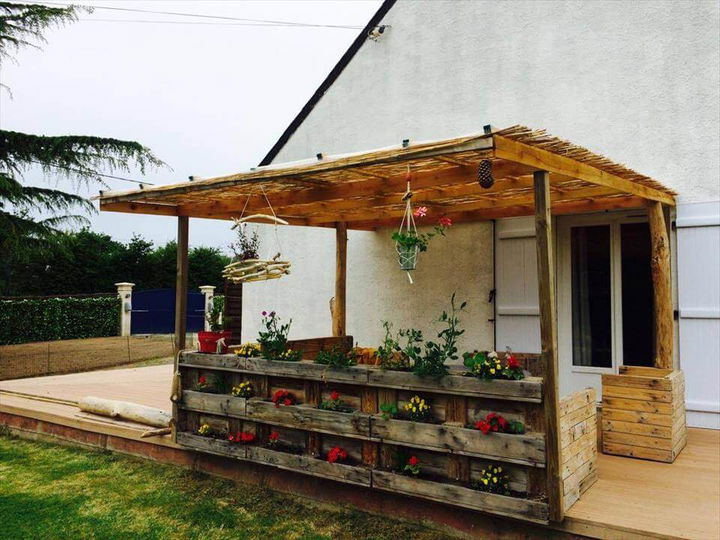 The achievement has have been done with dismantled and whole pallet skids, some pallets also stand vertically with amazing potting pockets built, serve as both a fence wall and a sensational garden wall there, so here is how the natural garnishing of the deck has been done!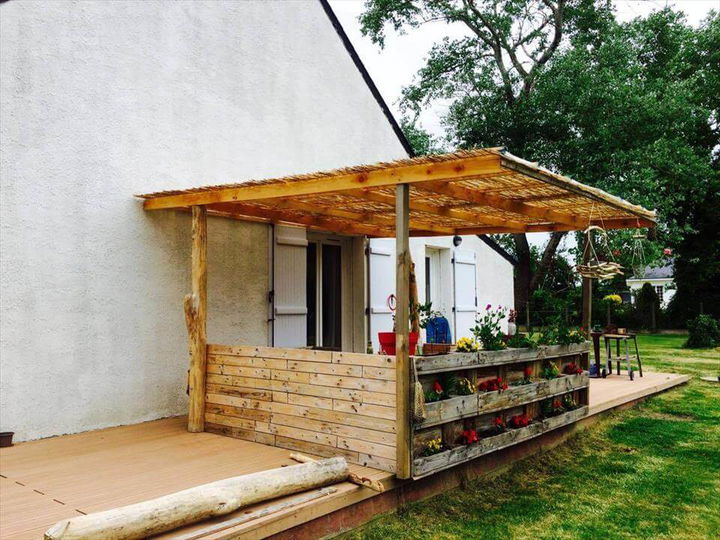 Custom seats and fence walls have been done using plucked apart pallet straight lengths, resized and refitted accordingly! The old long wood logs have been selected here as roof pillars and longer wooden beams build up the stylish roof covered with the straw mat for a gorgeous look!
Made by Arthur Kervran