Pallets are solid built wooden skids often hired for easy transportation of materials around the shops, stores and the warehouses! Pallet skids just makes it possible to deliver the stuff without a damage and hence are also employed for safe ship deliveries! After a short journey, they are mostly taken to landfills which results into a big wood waste! However, as these skids are too sturdy to recycle, so this wood waste can be reduced through recycling and to develop a creative sense about easy recycling of pallets, we have brought here these 15 top DIY pallet projects which are too good to develop or improve a home in a budget-friendly way!
Organize your fun outdoor locations like the deck and poolside with pallets, the precious given chaise lounge and outdoor loungers can be made with pallets to enjoy these spaces with an ever exciting sitting experience!
For interior wall accents, one can hire the pallets to build decorative walls for big decorative statements like the given planter wall, dignified with candle lights!
Hire pallets also to establish custom buildings at your outdoor like sheds and barns and also amazing pallet playhouses for kids! Building precious and featured outdoor cabins and delightful decks are also the amazing ways to increase the resale value and living space of home without getting expensive!
If getting furniture is your first preference, then building lasting wooden beds is also what you can please you a lot, the given king bed and loft bed for toddlers, are awesome samples here! Boost also the sitting space of your home, by building pallet seats, custom sofa sets and chairs with pallets!
Also enhance the security of your garden and home by building robust wooden gates and doors with pallets! Pallet wood Ideas are really never ending!
Hire the pallets to install respective room furniture, the listed nightstand with two drawers and cool pallet kitchen cabinets are best examples here to boost your creative sense!
Pallet Chaise Lunge with Side Table: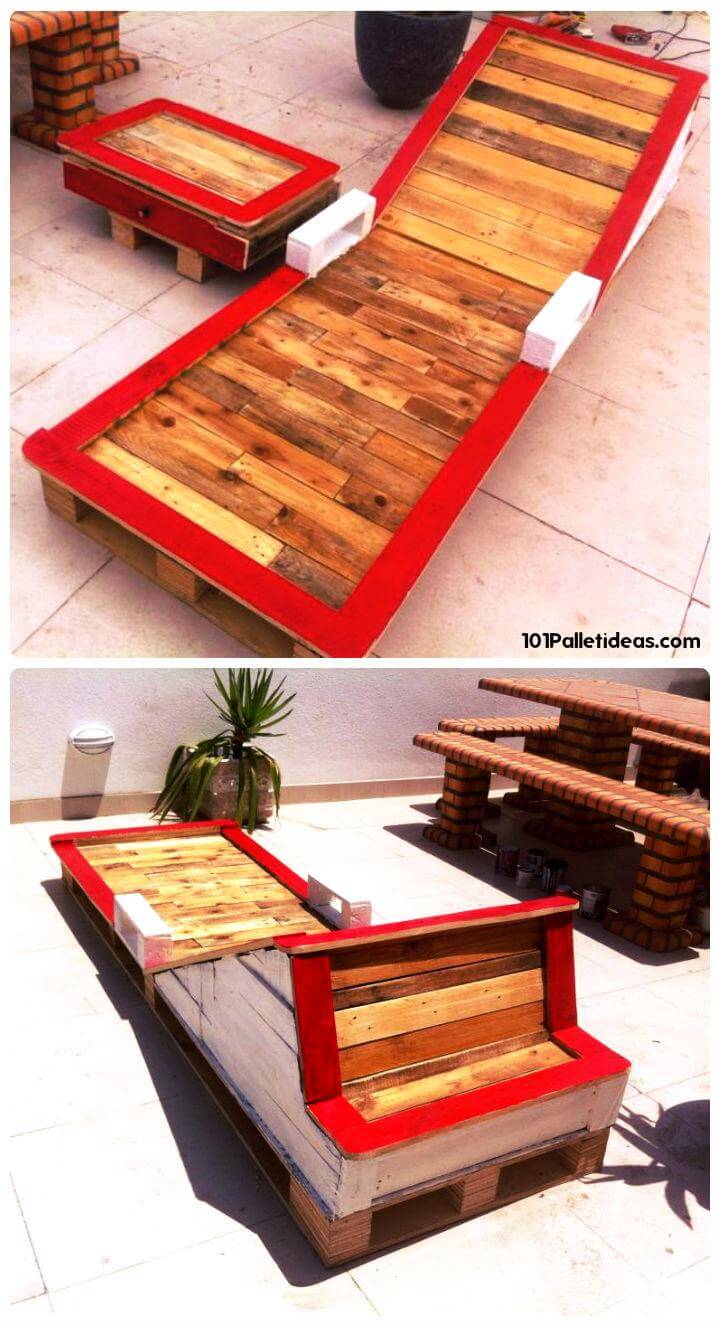 Here something precious and beautiful has been made for the outdoor lovers, a graceful wooden pallet chaise lounge, having a tilted and a little elevated backrest! Painted in white a little and comes with red outlines, two armrests makes the sitting a bit more convenient, there is a also a pallet-made side that will help you to organize you conveniences!
Wooden Pallet Accent Planter Wall with Candle Lights: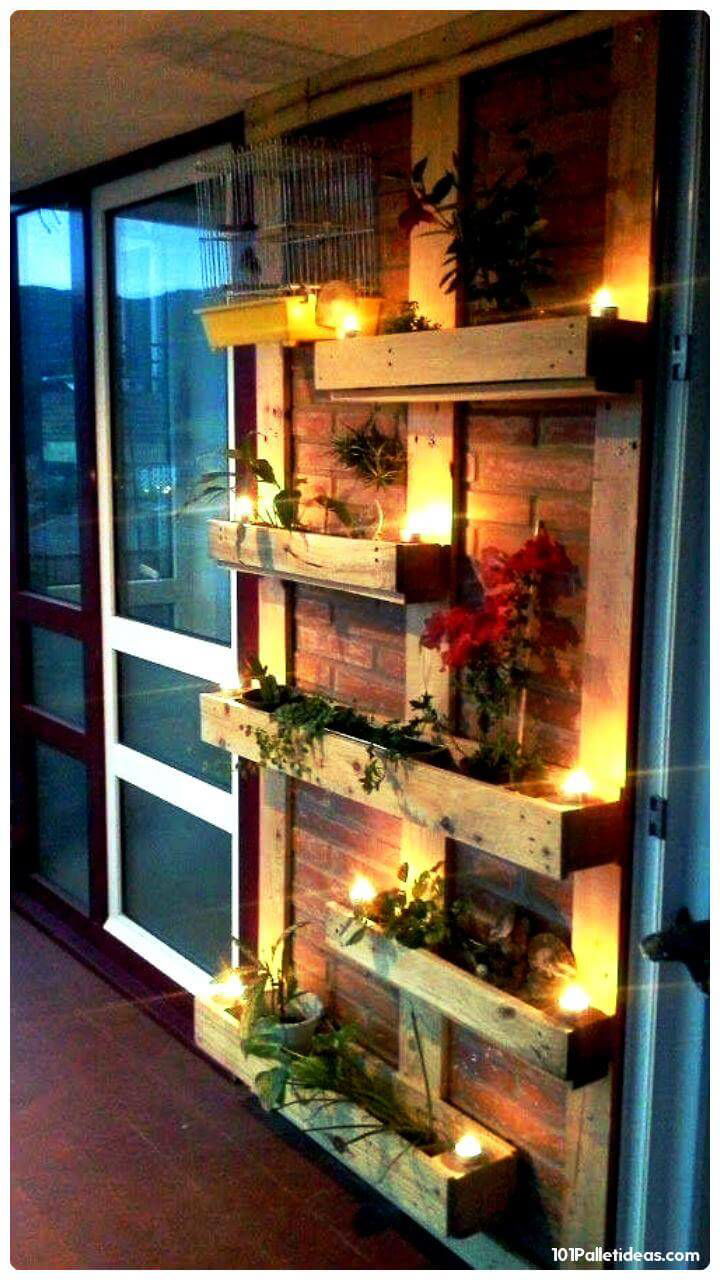 For a garden like air to your interiors, we are having here this marvelous pallet idea, the beautiful accent planter wall, beautifully installed to wall area and is having multiple cubbies hanging over, can be employed as planter wall and also as a beauty station! Antique appearance and impact here has been magnified with the addition of candle lights!
Pallet Cabin and Parasol Deck Done with Pallets: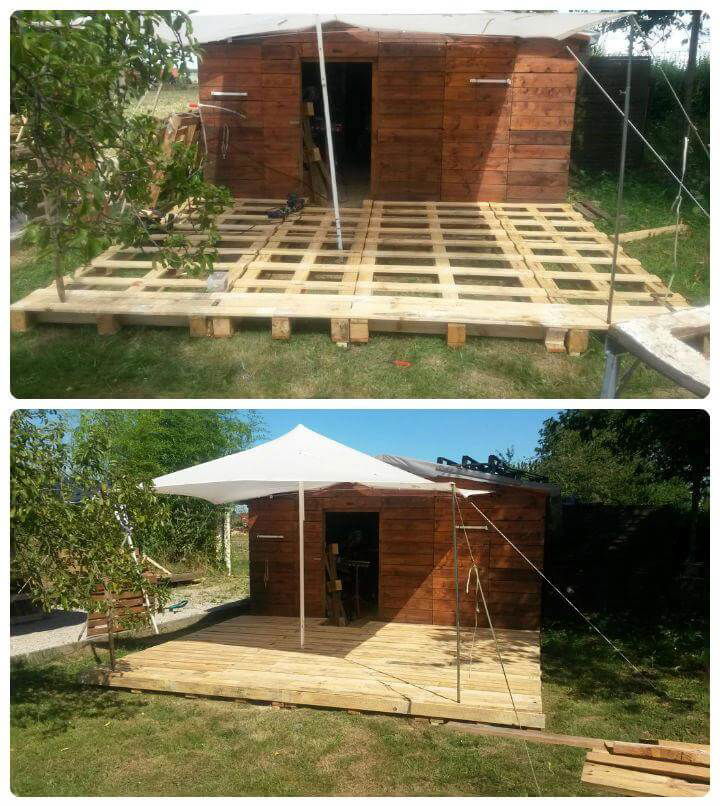 Willing to add more living space to your home? Do this outdoor pallet cabin and deck project with pallets, will cost you nothing and is sure to raise the fun of home and the resale value as well!
Fancy Pallet Playhouse with Slide: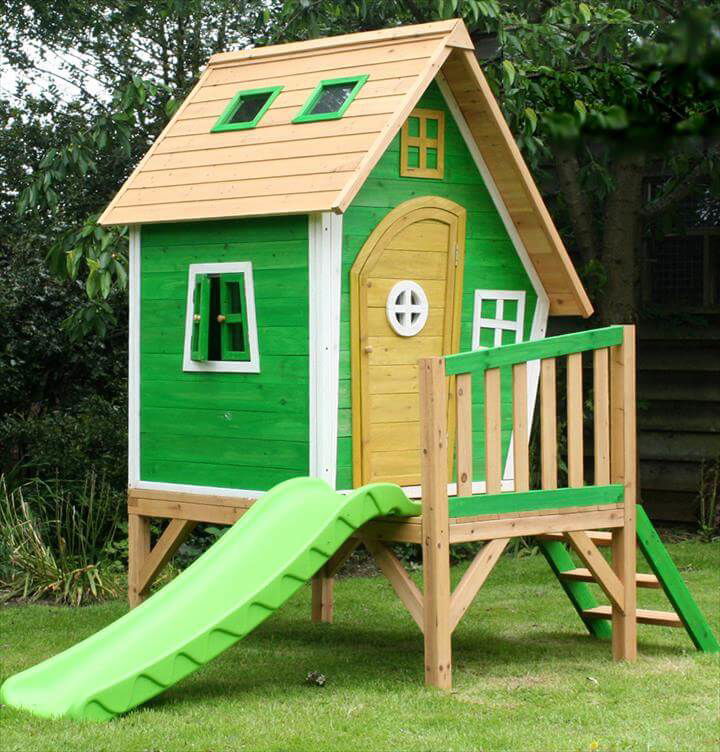 If you are thinking that while developing your outdoors or gardens, you have just ignored your child's interest, then this pallet playhouse is a beautiful idea to compensate, can be added to any outdoor to get it kids-friendly! Elevated design with slide and stairs and also with a mini extended front, can be used as a deck, just makes everyone inspired at very first look!
Black Stained Pallet Dining Set & Sofa Set: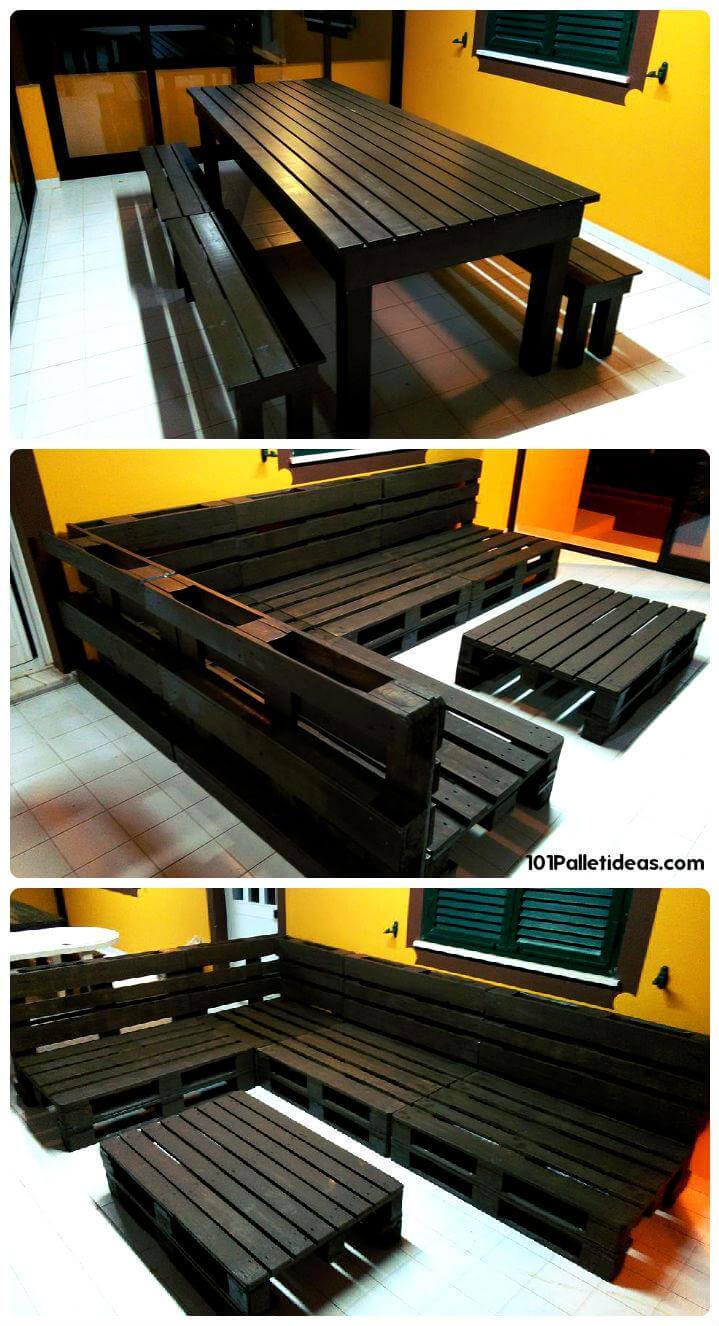 This not ends here, pallets are continue to surprise, to entertain well the occasional guest and friend gatherings in home, pallets have been recycled here for this XL sofa set and dining set, made of stacked pallets and has been stained in black for a bit more graceful appearance!
Wooden Pallet Bed with Chevron Accent Headboard: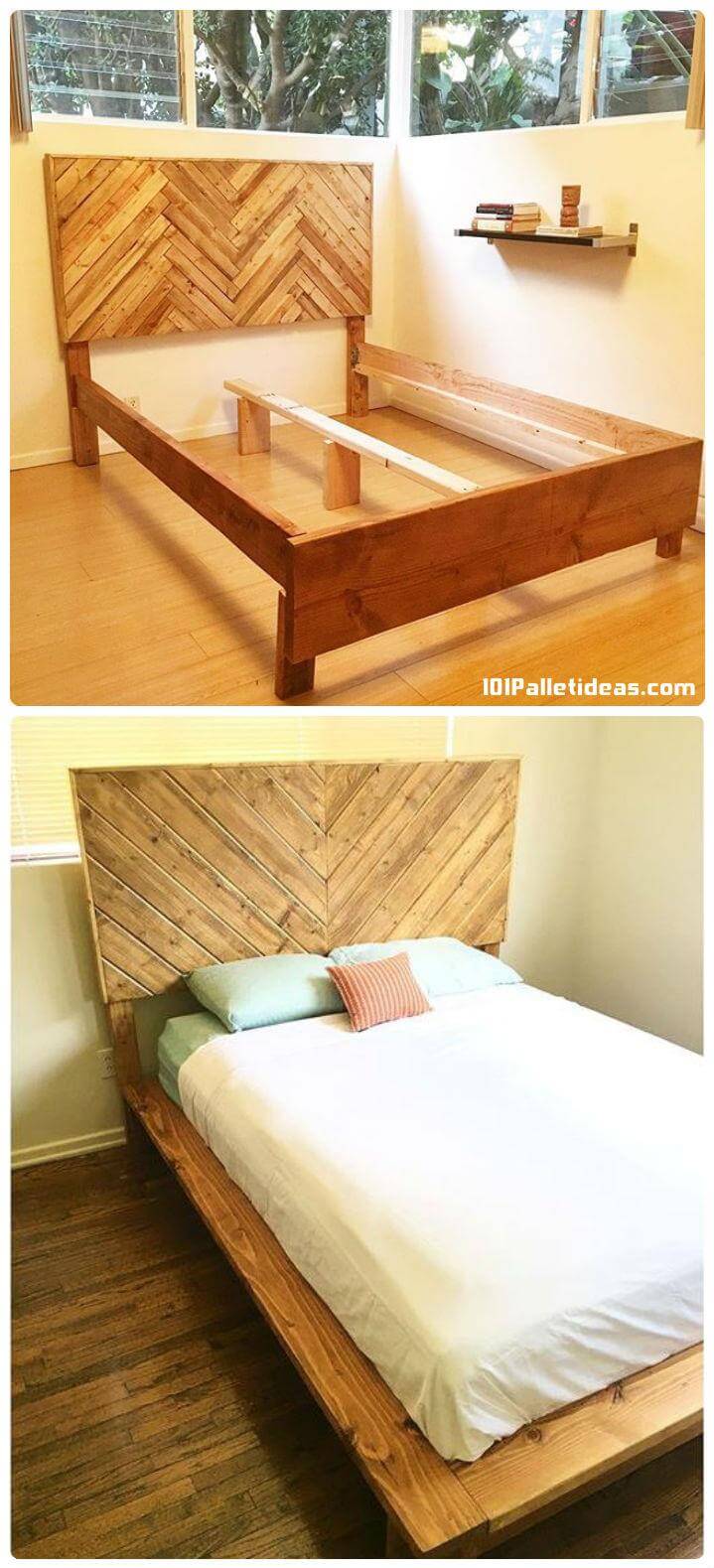 Live with style using pallets, you can do so by building all special kinds of furniture with pallets like this fancy and lasting longer 42 DIY Recycled Pallet Bed Frame Designs, comes with extra charming chevron headboard, comes in king size dimensions and has been given the smart features to make you feel special!
DIY Kitchen Cabinets – Pallet Kitchen Improvements: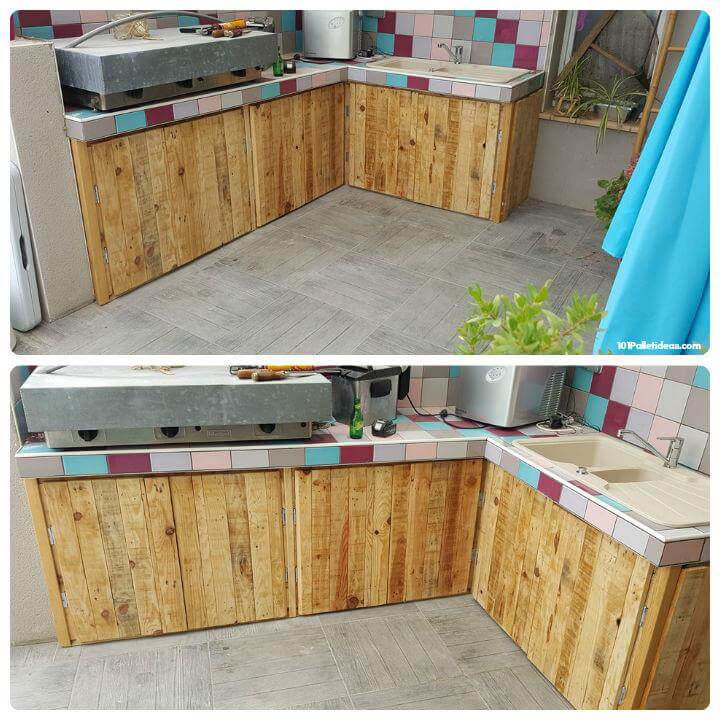 Solve the special cases of home improvements also with pallets, hire pallets for interior wall cladding, paneling and also custom renovations! Here a kitchen has been renovated with pallets, special kitchen cabinets have been made here using retired shipping skids as you can see!
Pallet Loft Bed for Kids: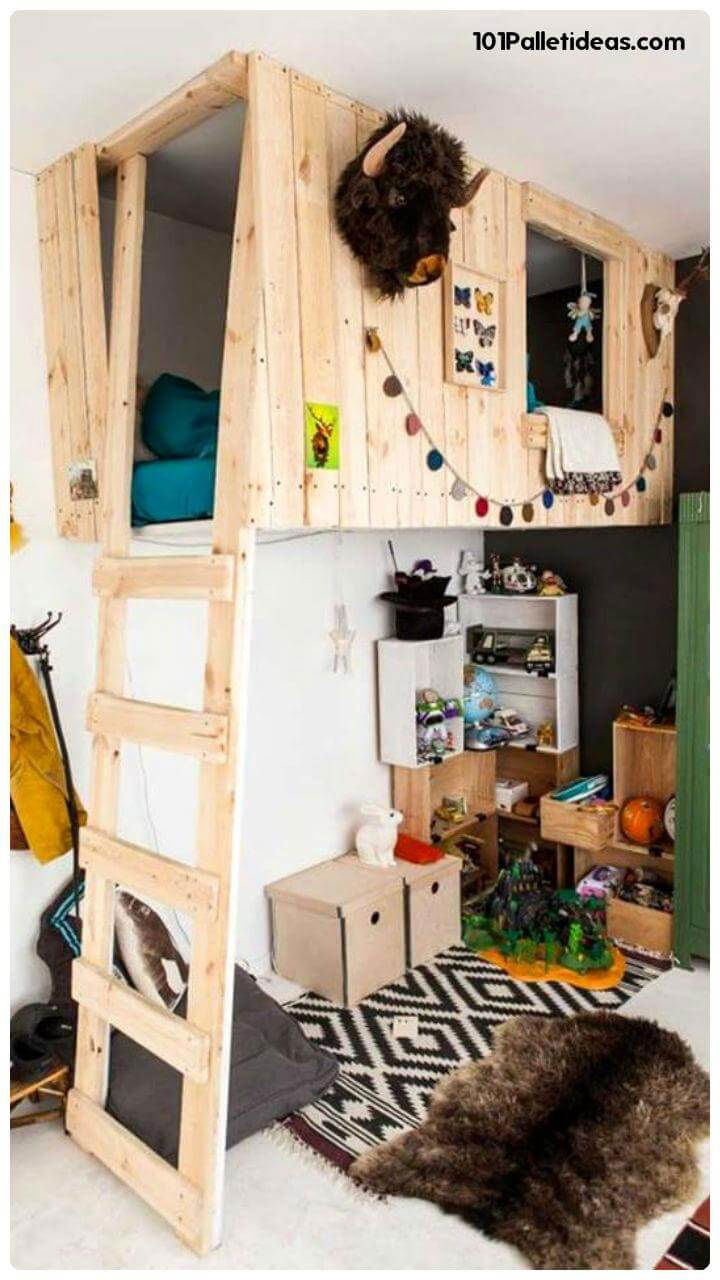 Organize the toddler and kids bedrooms smartly with pallets, get inspired of this special design of wooden loft bed, provides stairs to reach the elevated portions! A marvelous pallet composition! Pallet Bed or Kids Playhouse
Pallet Nightstand/End Table with 2 Drawers:

Get amazing solutions also from pallets for your custom furniture needs, checkout this beautiful mini sample of wooden nightstand or end table, made storage-friendly with addition of two drawers having metal accent handles!
Pallet Gate: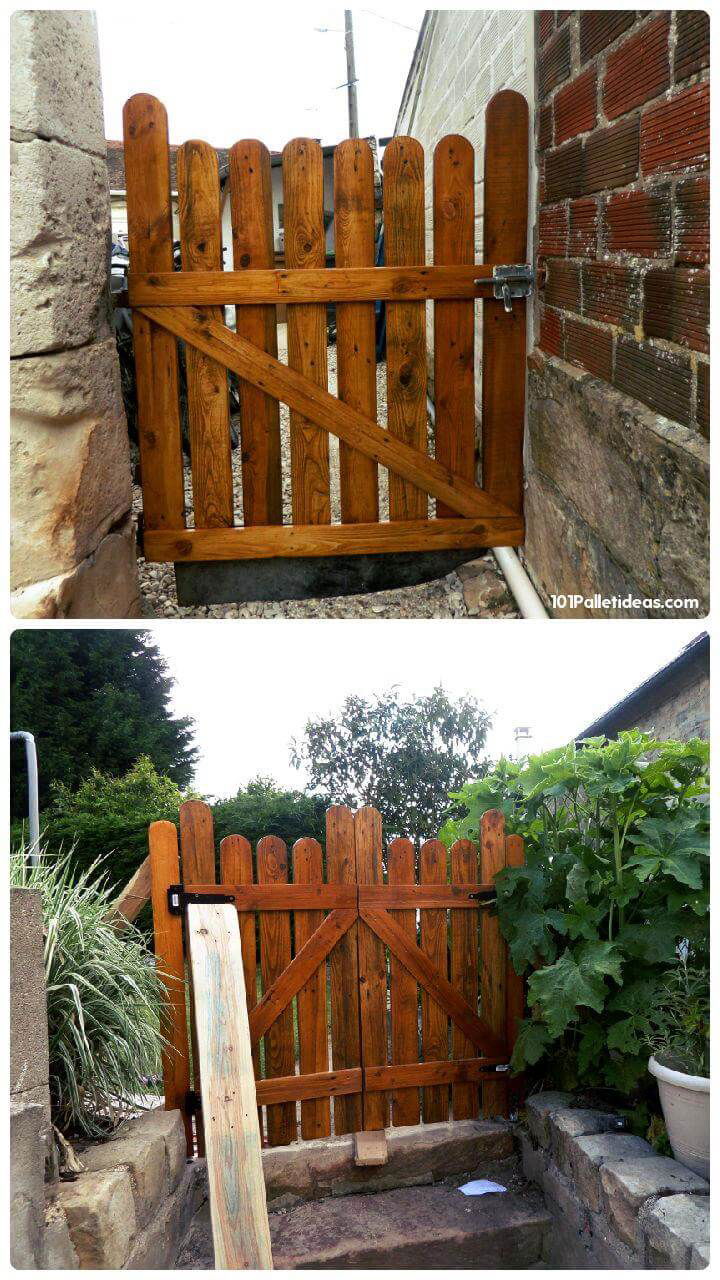 Improve the security of home and garden by installing custom-built wooden pallet gates to any decided area of your home or garden where you just want to block off the unexpected entries of kids and pets! In the same way you can also build the stylish baby gates!
Pallet Outdoor Loungers: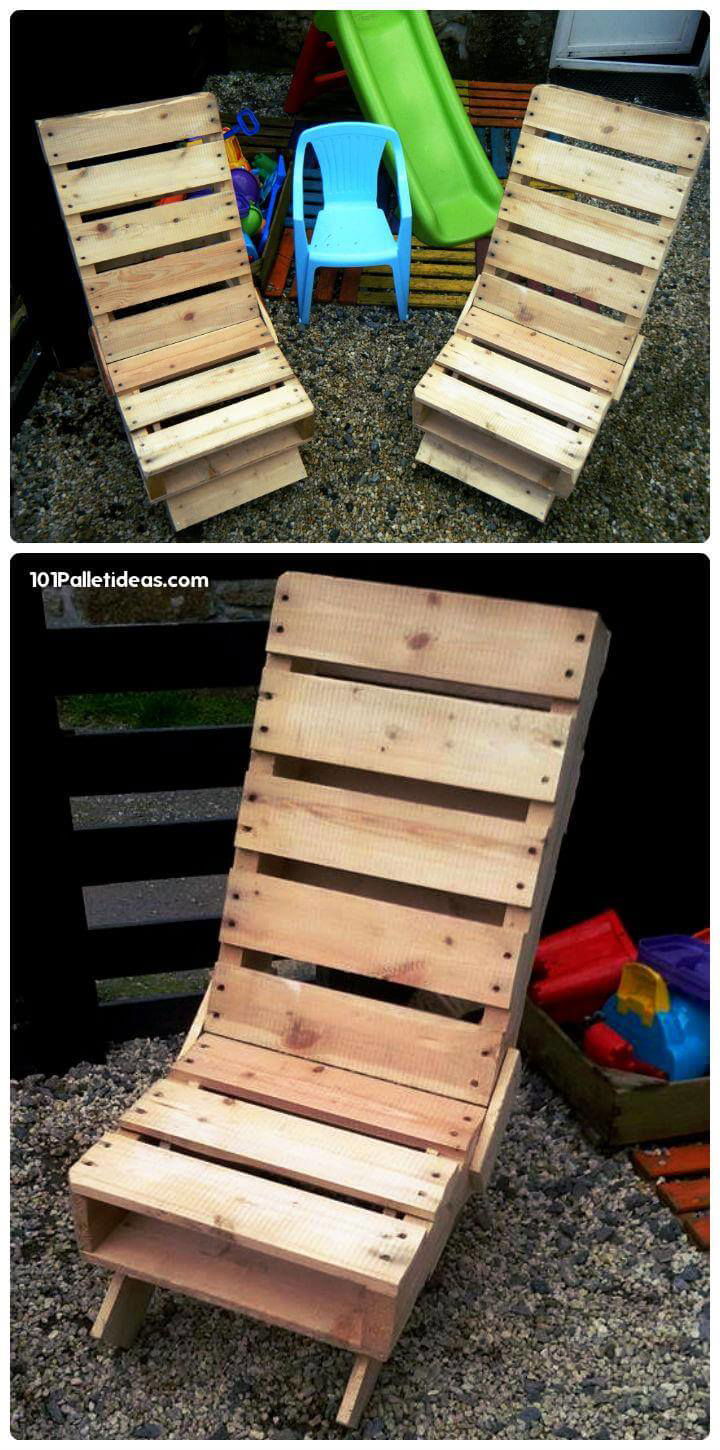 This is something very pretty has been designed with pallets, the stylish outdoor loungers, ready to give you super comfortable half layout position while being at a poolside or at a paved outdoor to enjoy the sun! Custom cut or trimmed down pallet sizes have been used to compose this beautiful design of pallet chair!
Pallet + Mason Jar Bottle Opener: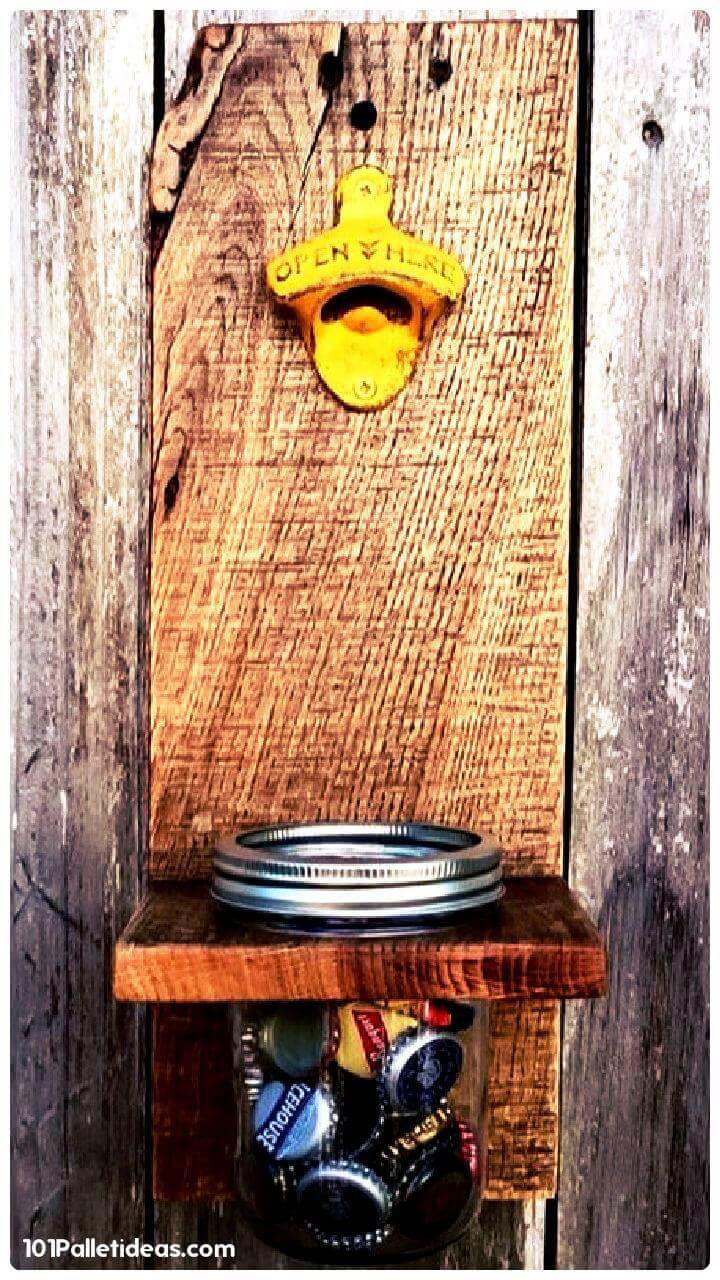 Fancy bottle opener, comes also with a reclaimed Mason jar fixed to bottom side as a bottle cap holder! Perfect item for your indoor or outdoor bar area!
Pallet Bar with 3 Matching Stools: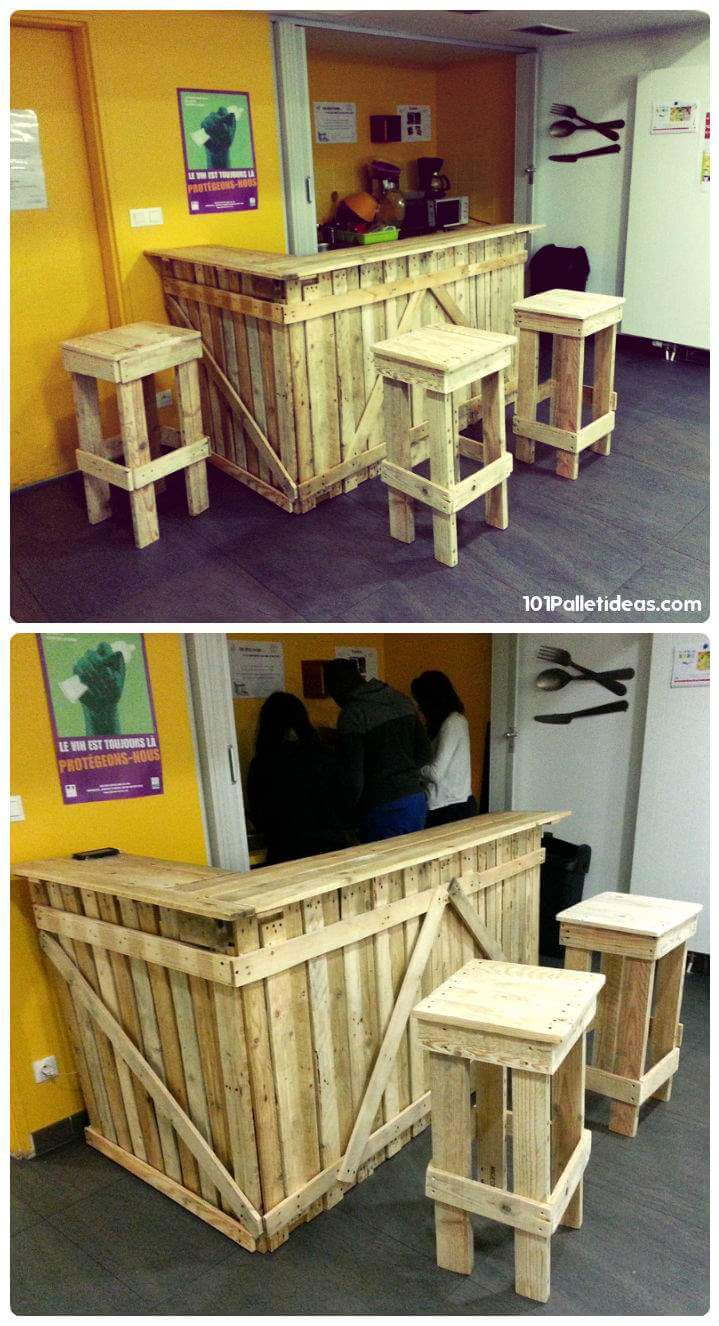 Willing to add a beverage station to your home interior or to outdoor portions of your home? Just get a big help from pallets, recycle them for building this precious bar and stool set, nicely composed and designed and will be a totally furniture to help you to install a bar area anywhere in your home, So here we have 50+ Best-loved Pallet Bar Ideas & Projects , you will surely love and appreciate these designs!
Pallet Home Office/Study Room Done with Pallets: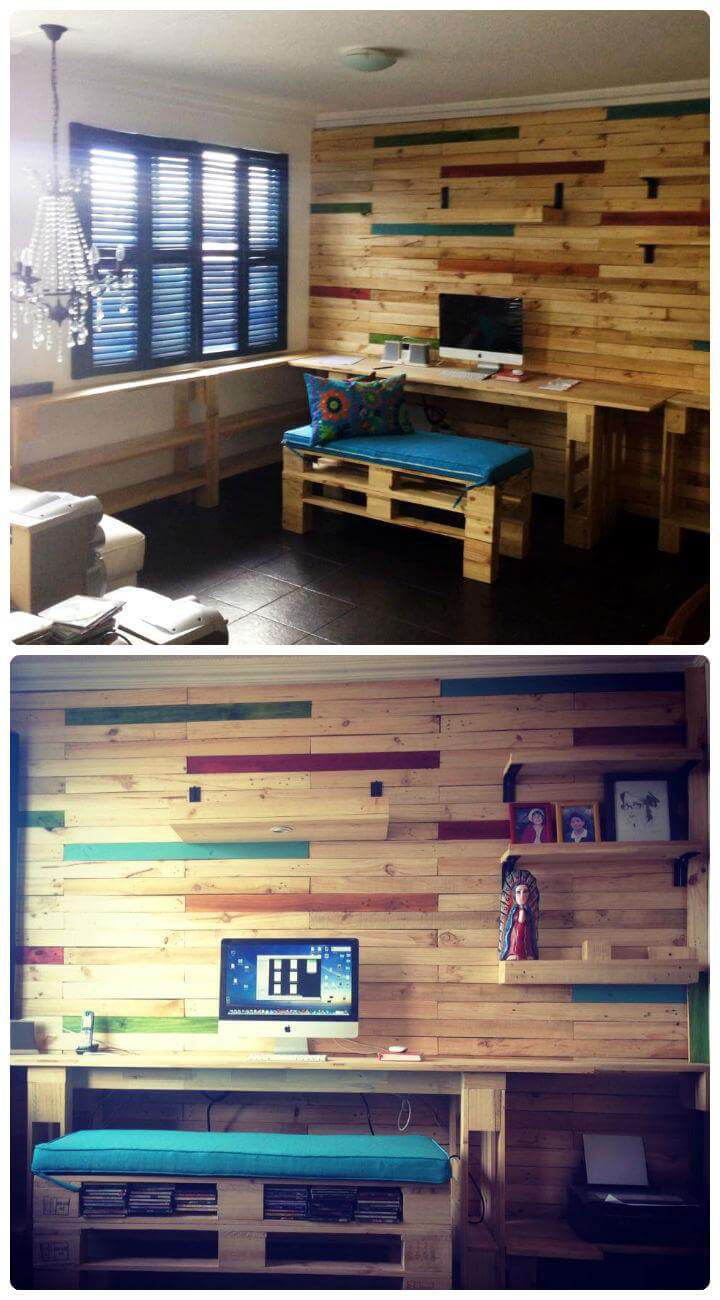 This project is all going to inspire the kids loving parents, a new amazing way to recycle pallets to develop the study rooms of kids to make the respective tasks there easy to do! Here a big pallet wall has been installed that provides lot of shelving levels, a long desk has made that come along this wooden wall and a matching blue cushioned bench also that make the user sit comfortable around the desk for study and computer operating purposes!
Pallet Multi-chevron Chest: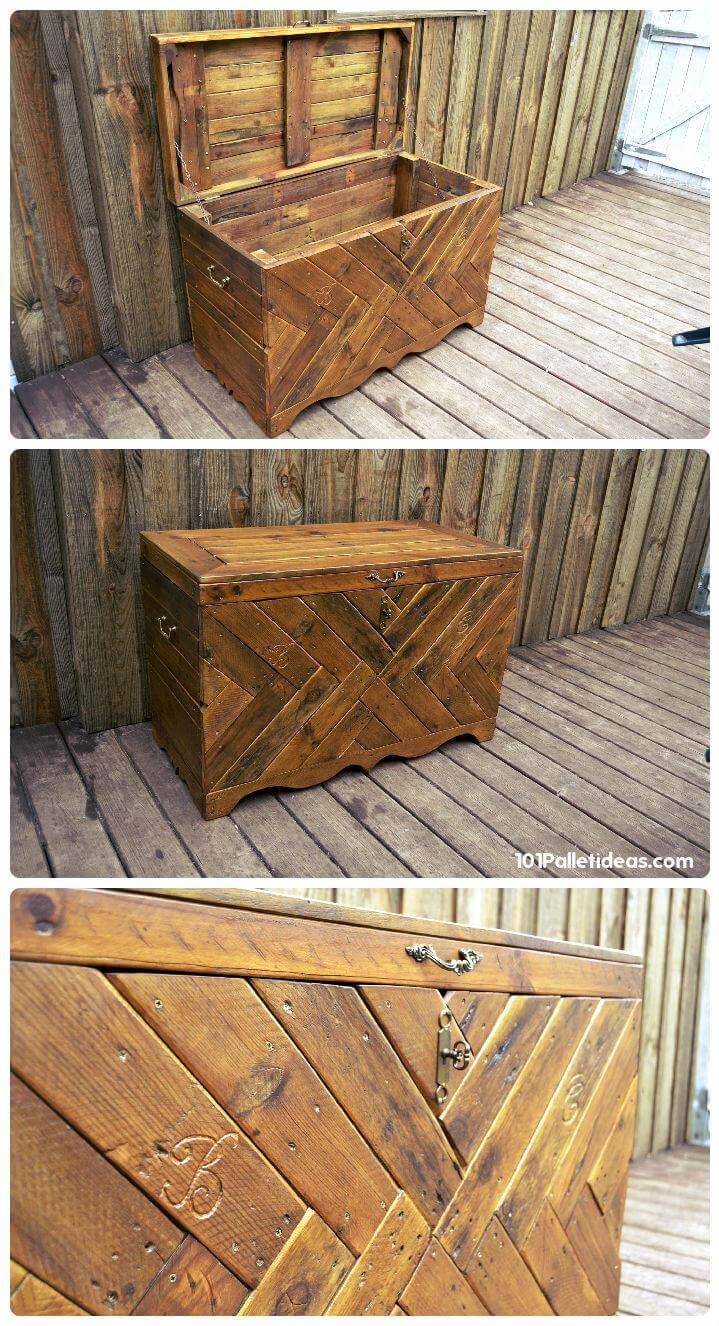 Here this is a grand wooden chest built to last, amaze and inspire, comes with stylish multi-chevron sides composed of pallet slats! Can be hired to store items you love to care for like the custom tools, jewelry items, gaming tools and also kids toys!