Instant bathroom emergencies can just spoil the party-fun while you are just enjoying a party at your outdoor located at a little distance from your home! You might also expect to go through this kind of emergencies while being busy in gardening or just cleaning and improving the animal shelters! For a better solution, this DIY pallet outdoor toilet cabin has been built by L'Home des Bois, a creative team of DIYers who just love to create unique objects out of pallets that suit best to modern human needs!
According to this team, this pallet project has taken 120 hours, more than 60 pallet boards have been consumed to compose the robust wooden build, 5000 nails have been removed while dismantling the pallets and almost 300 boards have been cut during the construction work! Finally the assembly has been done by using 3000 screws and more of attention has been given to artistic look of this pallet-made toilet, so it comes with a fancy cladding round side walls and with a glam chevron top!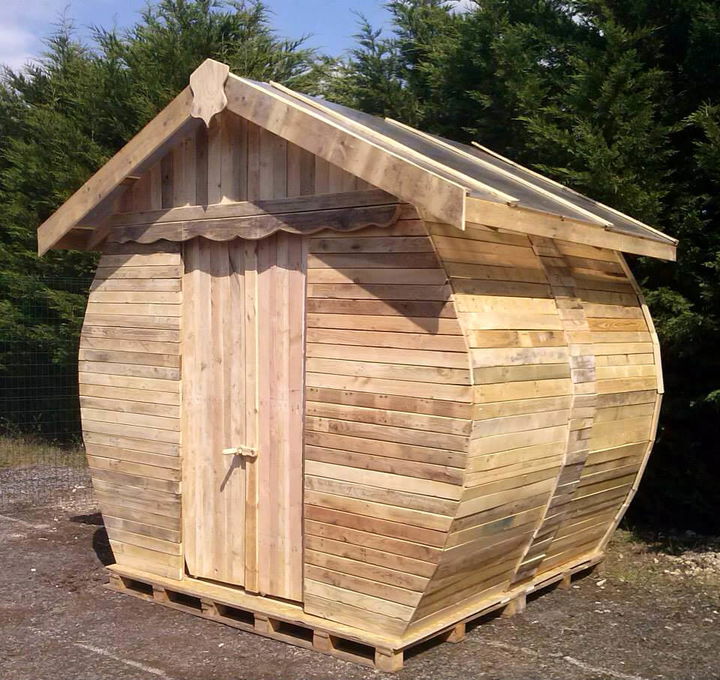 This outdoor pallet toilet would be a great facility for outdoor party lovers can even be added with a sink or basin inside for easy going of resting bathroom affairs!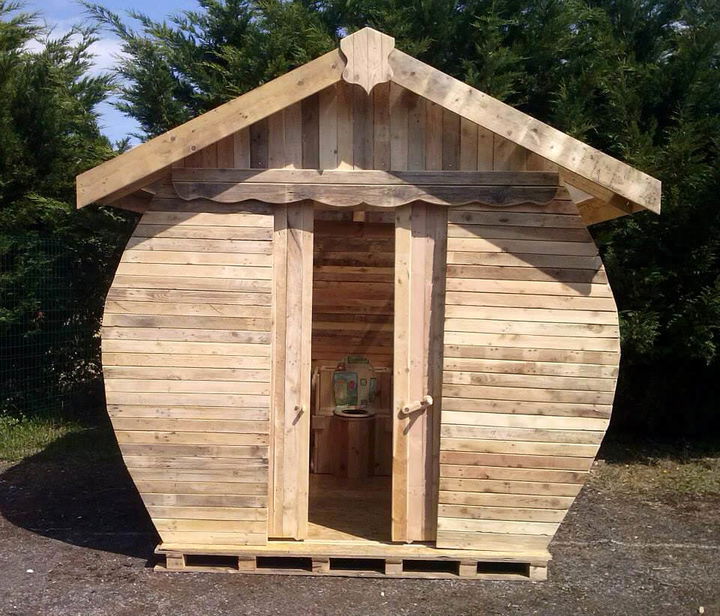 The building of this toilet is highly enchanting and artful, the round cladded walls create an eccentric look and the front sliding wooden gate is also one of the most prominent features of it that bring a unique style to it!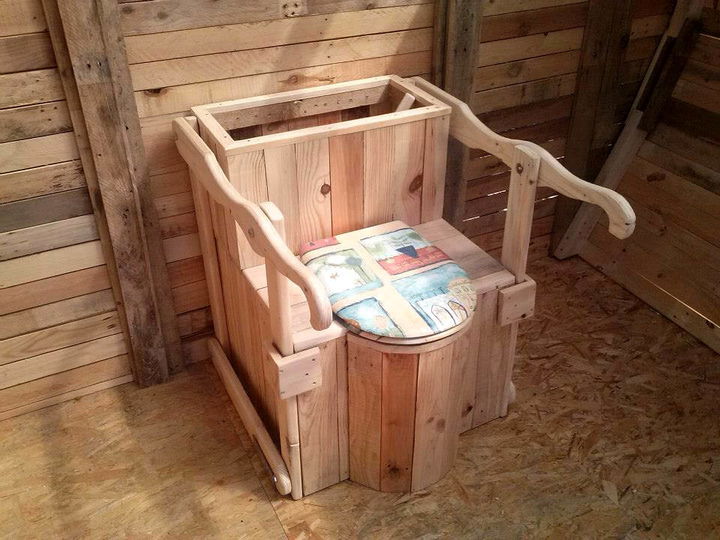 Chair for the toilet seat here, has also been made of pallets, comes with amazing artistic armrests and with a modified berth to fit the toilet seat in neatly! This pallet-made toilet seat has been assembled very cleverly using genius carpentry techniques!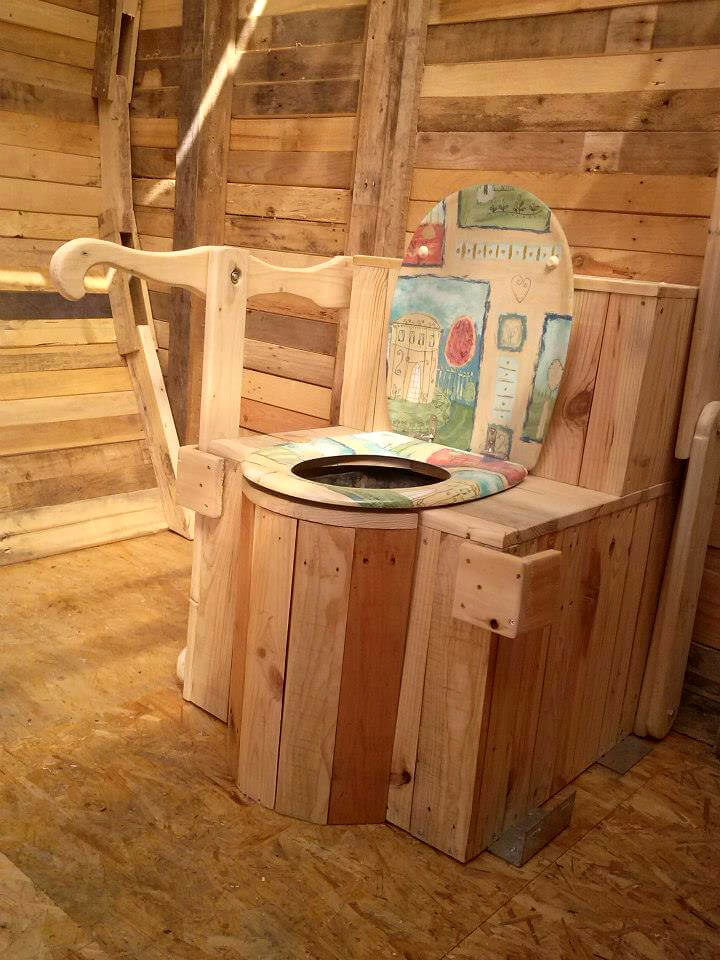 Here interior wooden floor of this toilet cabin has been made all look smooth and perfectly flat using plywood or chipboard sheets that sits beautifully on pallets for lasting wooden floor inside!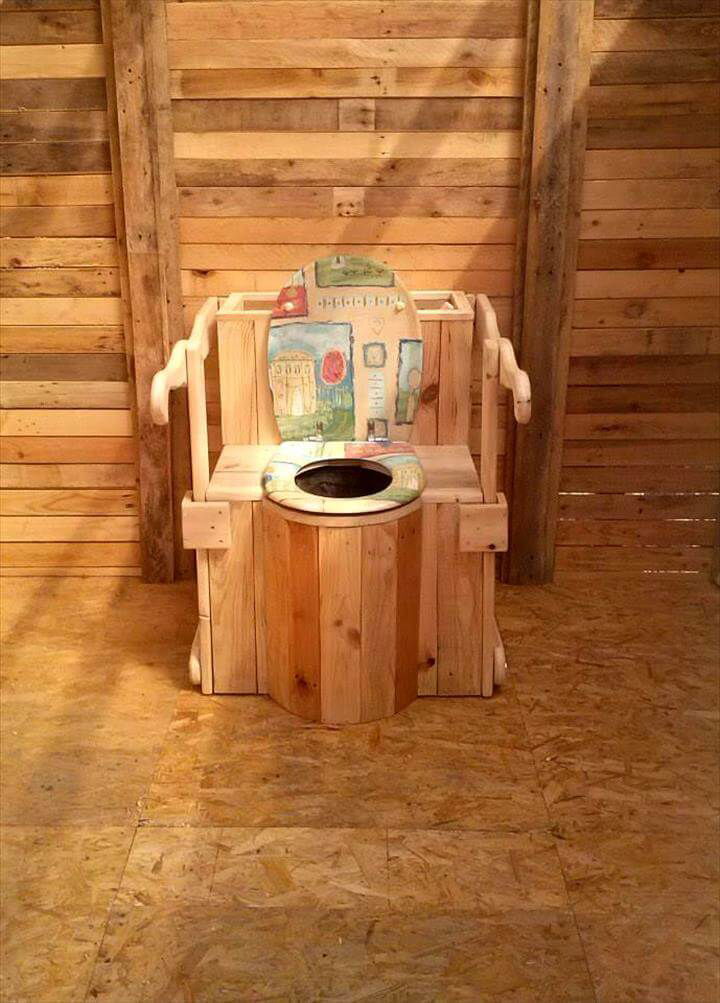 Add some lights to this toilet room interior and also make proper arrangements of water supply and sanitation! Now you can be at outdoor for a whole party time without any hesitation!
Made by: L'Home des Bois
It has been Made by L'Home des Bois {If you want this you can get Quotation on L'Home des Bois Facebook }