It is becoming all praiseworthy to select pallets for construction of excellent wooden houses, outhouses, summerhouses, playhouses and also for those wooden cabins that allow you to feel more close to nature and can be best refuges also avoid bitterness of weathers and outdoor climates! Take a look at this fancy wooden building of this DIY pallet cabin made by L'Home des Bois and will be visible at the park of Reims Champagne until 2 November 2016!
According to owner of this crazy cabin building, it has been made for a "Funny Cabins" exhibition and we guarantee it that this rare design of funny cabin will earn lot of respect, love and appreciation for the owner, a big best of luck from our whole team!
The fancy curved walls inspired of moon curves and waves create an outlandish and bizarre look of entire building, the multiple small and big chevron roofs bring an enchanting bungalow style to building and a faux wooden fireplace chimney is also there on the roof as an elegant feature of modern cozy homes!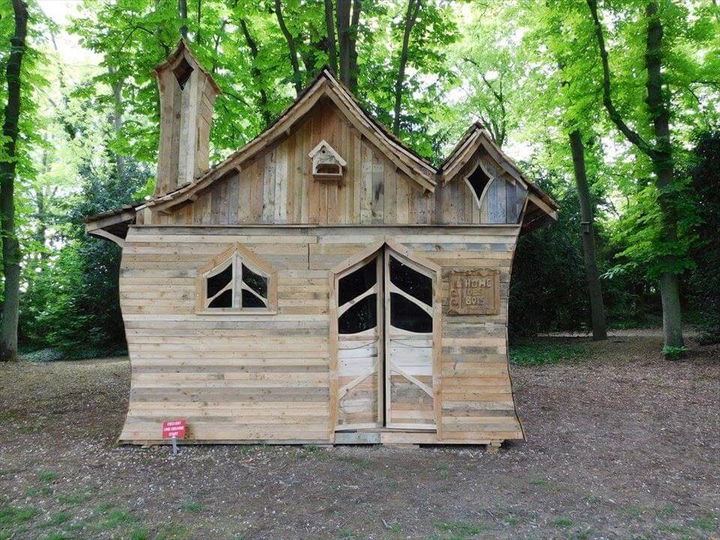 Here you can find something very prominent in this art style wooden building, are the amazing curves that gives the amazing artistic sensation to this entire pallet-cabin design!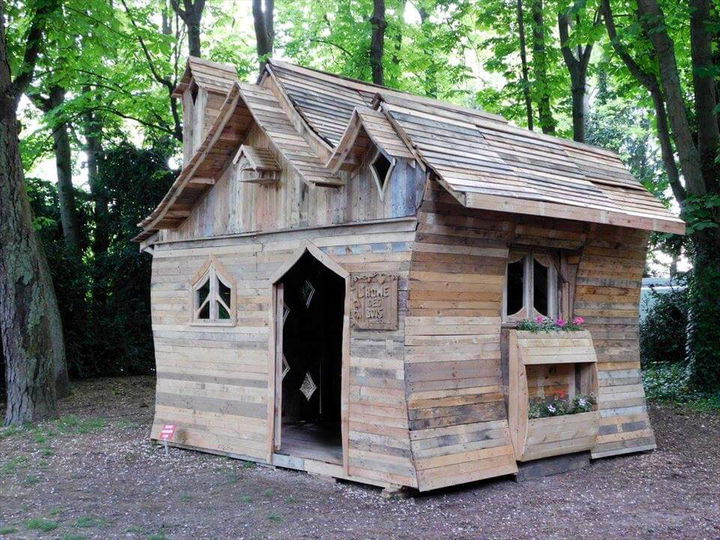 Extended rear part, the planters well-fitted to sides, the graceful entryway door, stylishly carved windows and multiple fancy chevron roofs are the fundamental features of this rare pallet house or cabin which has been made for a "Funny Cabins" exhibition!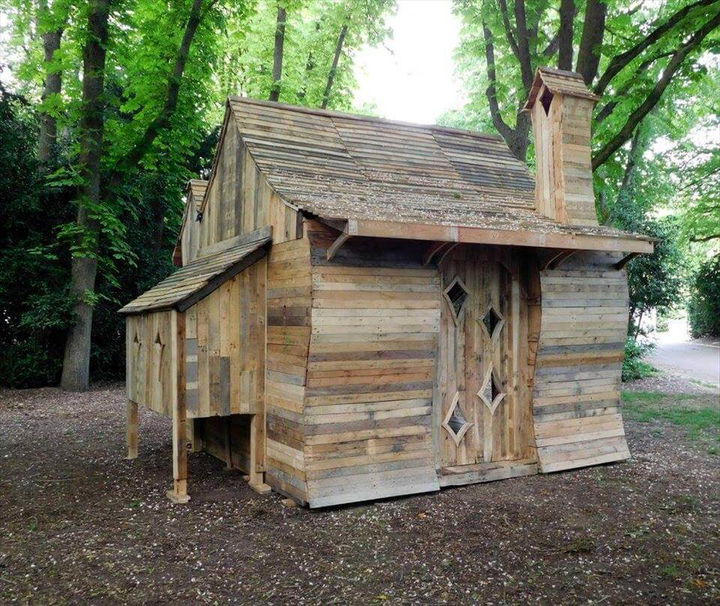 A door same like the front primary door, has also been installed to one side so this wooden cabin comes with multiple access points!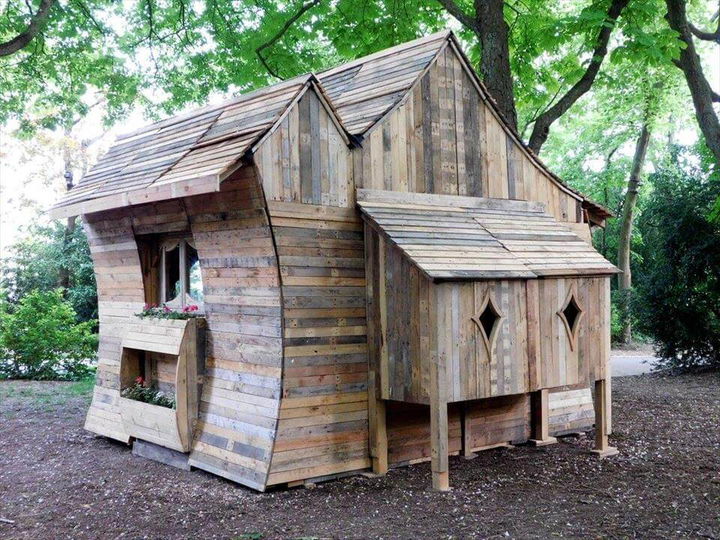 The extended rear back, that also stands on 4 additional wooden legs, gives amazing space to interior of this funny garden cabinet for mini bar installation, or just for little kitchen inside and also for various other uses of this type!

A little birdhouse has been projects with pallet wood remains and would really invite the chirping creates to nest inside of it so you can see them every morning!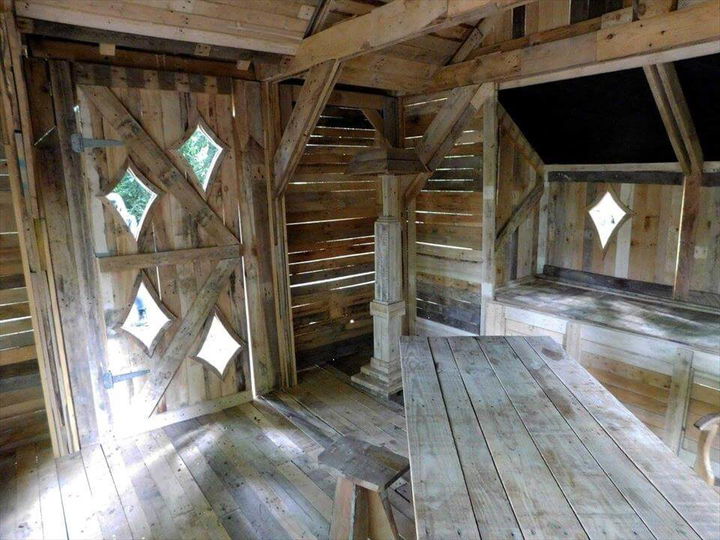 Interior of this cabin has been done through higher wood work skills and also with a little bit of creative engineering! Latest and heavy duty hardware has been used to lasting longer assembly of parts that is all the demand of this entire wooden house structure to avoid injurious collapsing!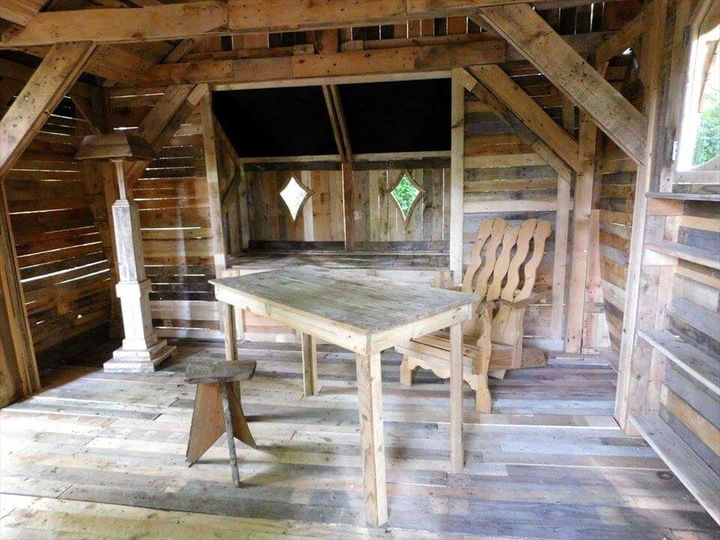 Interior cabin flooring and custom wall shelving has also been done with pallets and set of stool, chair and table has also been fabricated with spare supply of pallets to sit inside to read some books, to make gossips and also to make yourself calm down!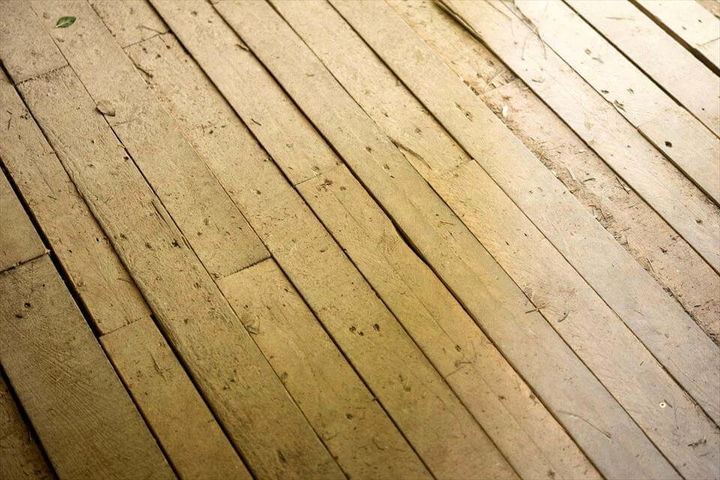 Put flat the pallet slats for accent interior flooring and also for exterior wall and chevron roof cladding! Get a big bunch of straight slats separated from pallet boards having in stock at that time!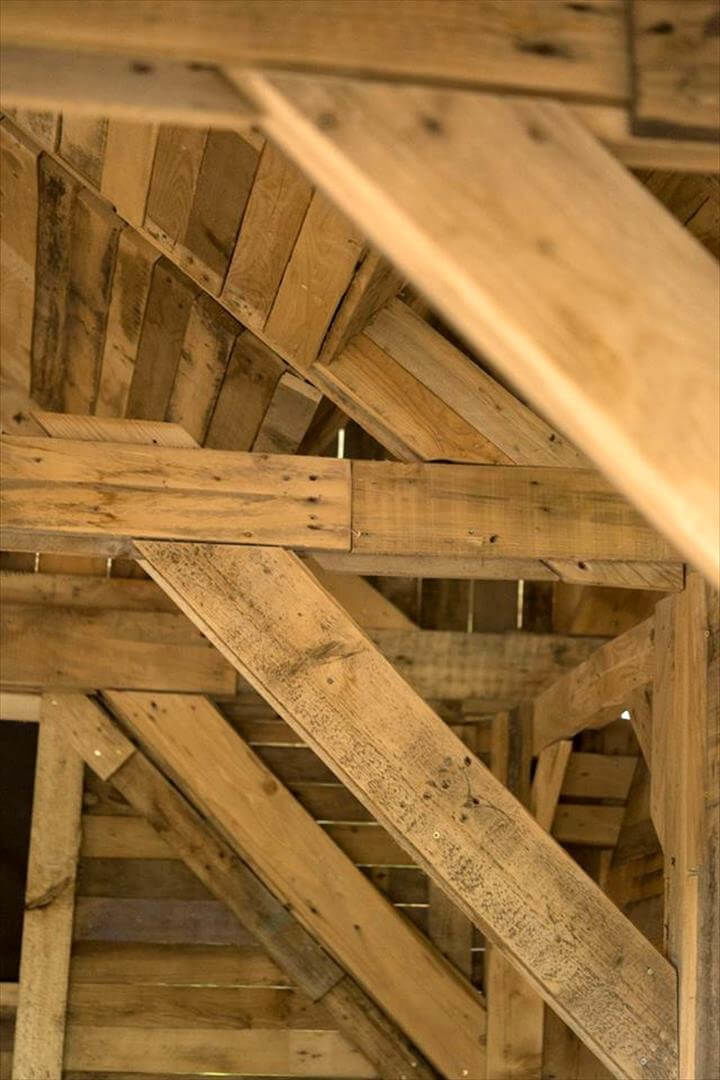 Give more of attention for safe and robust roof installation, strengthen the roof supporting parts like rafters and ridges more by installing extra wooden braces, secure installed supports with perfect hardware also!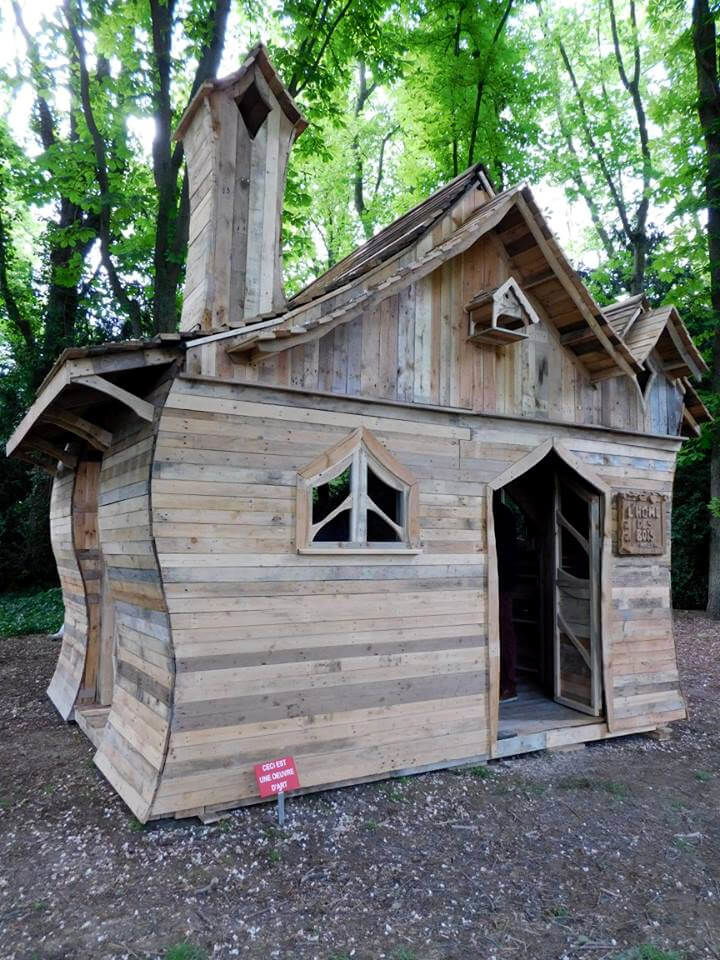 The side comes with wave like curves and has finally been cladded for filled and robust look, there is also a faux fire-place chimney installed that bring a modern sensation to entire design!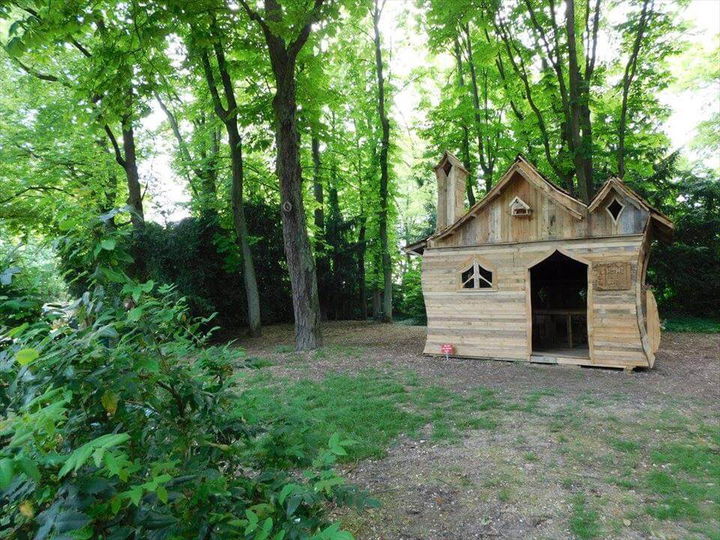 Multiple chevron roofs, create a bungalow style look of this fancy wooden building and one side of it comes with moon style curves that create a more unique and enchanting view of entire building of the house!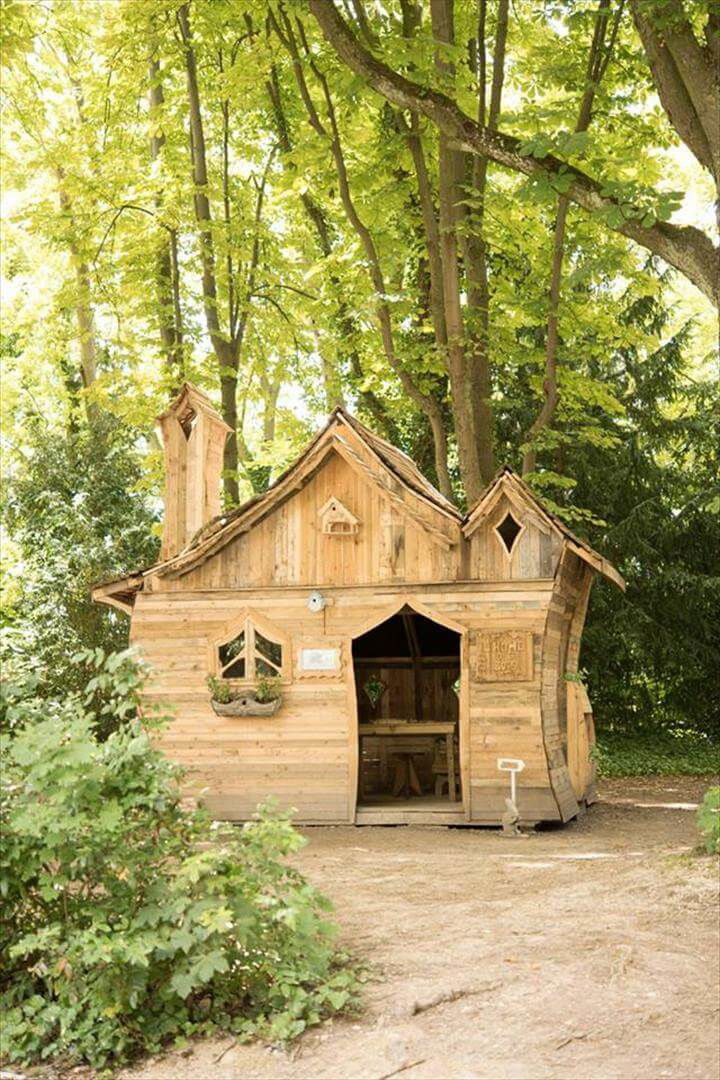 Front door, windows and holes in the window and door, also having artful shapes and boundaries! For a vibrant natural touch, a pallet planter with beautiful fancy shape has been installed to one side of the house!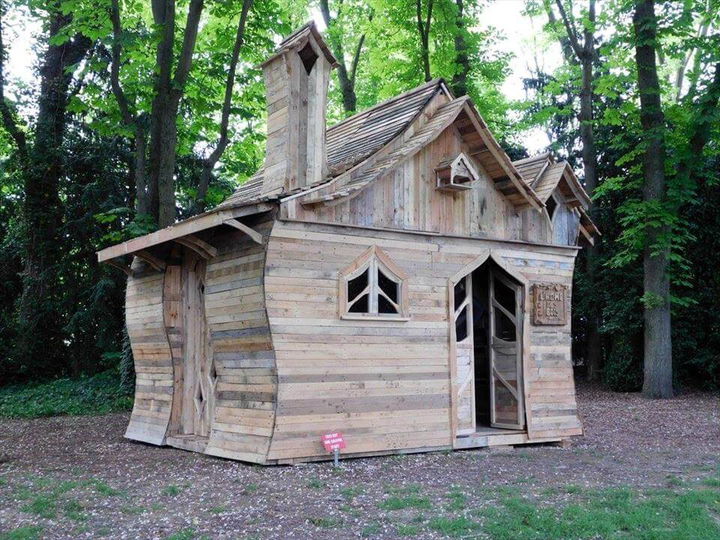 It would be a great outdoor residence to spend you summer vacations with lot of fun and it would also make a great playhouse for the kids to have fun in summer afternoons, get ready with lots of pallets in hands if you are intending to clone this wooden outhouse building!
Made by: L'Home des Bois
Tiny Pallet House or Cabin: DIY Tutorial
Note: {If you want this, you can get Quotation on "L'Home des Bois" Facebook }