Cubby houses are a way to indulge your kids in outdoor playing! They are specially built for autistic kids as they help them rehabilitate soon and the healing powers of outdoor climates shorten the rehabilitation period! Pallet Cubby houses are equally beneficial for normal kids to promote physical fitness in them along with some moral lesson and healthy mind!
So if you are all willing to gift a playhouse to your growing kids, then why not try this DIY pallet cubby house which can be built easily at home using little stock of free pallets, always lying around as useless wood waste! Here this precious wooden building of cubby house has been installed by starting from the base section which has been done using modified pallets, pallet stringer boards and separated pallet deck boards! Then a lattice frame has been installed for overall building including the door and window frames!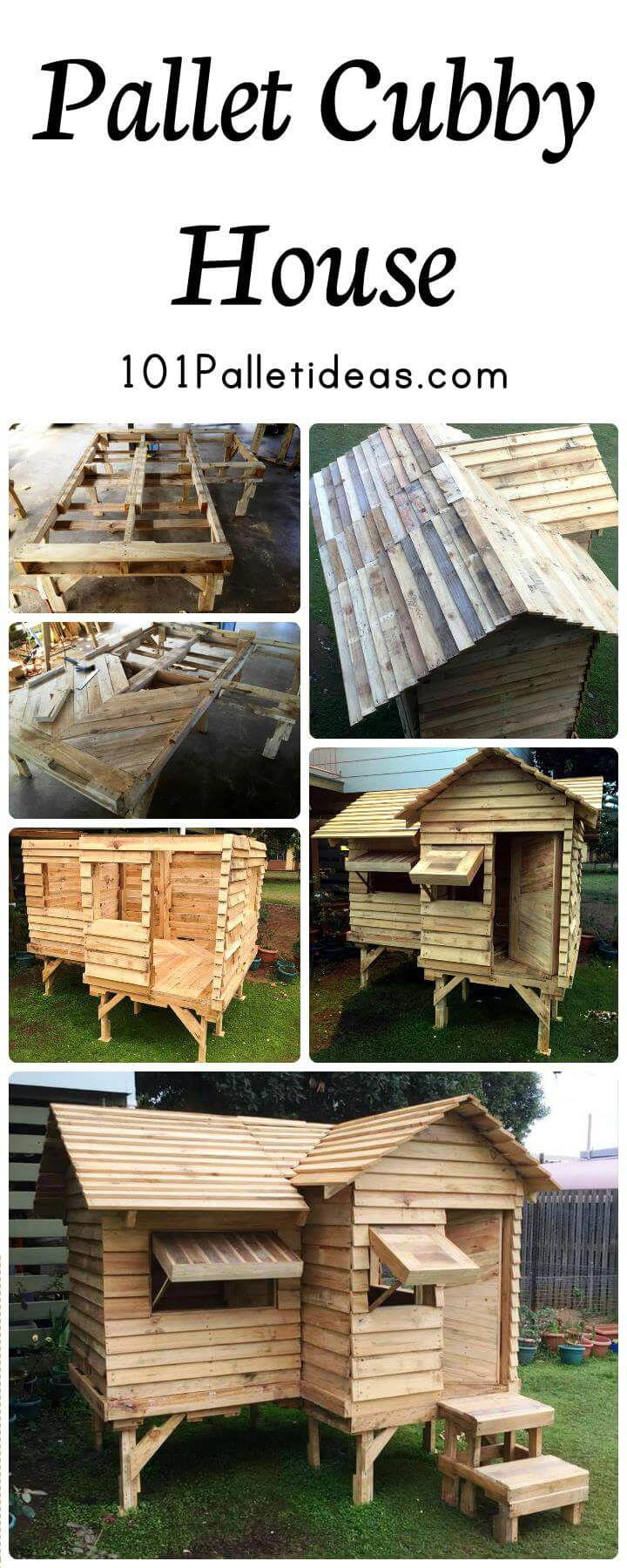 Finally the shingle style filling has been done to gain a beautiful wooden cubby house! Most challenging part would be to install the bungalow style chevron roof but you can get help by this given step by step tutorial which gives all the comprehensive details for entire cubby house construction!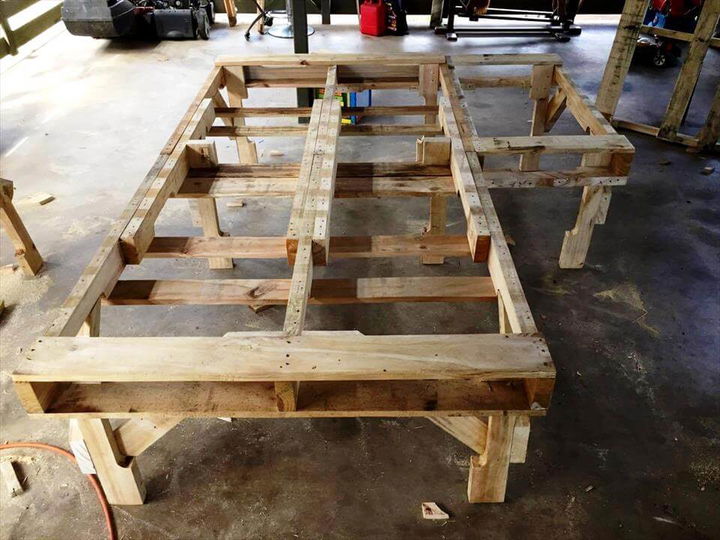 Figure out the dimension plan first!
Here the base of this pallet playhouse is going to be L-shape so here is how you can intermingle both modified pallets and their separated slats for building custom wooden base for the cubby house!
Removed stringer boards would be too sturdy to use as legs, here has been done the same!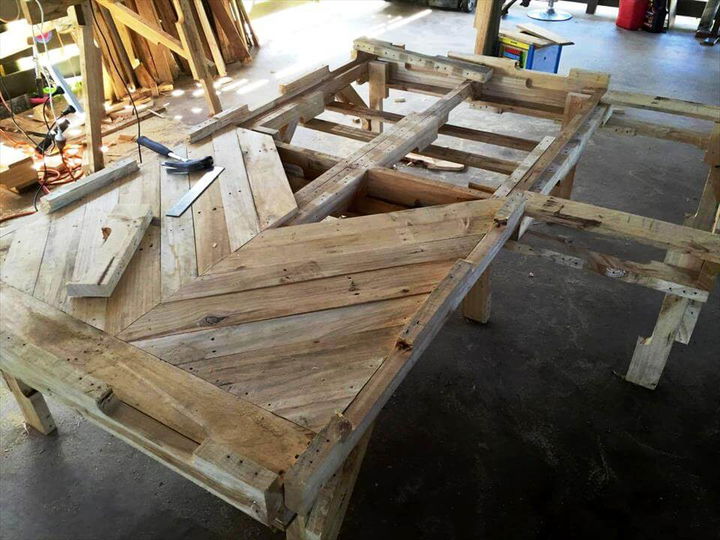 Top of the base has been decided to fill in chevron style as it will serve then as cubby house interior accent floor!
Here is how you can get started for chevron accent flooring, just put flat the resized pallet planks having edges cut sharp on an angle!
For perfect chevron pattern, you need to decide the mid point first, here the cross beam has been installed in the mid and also supports the entire chevron filling!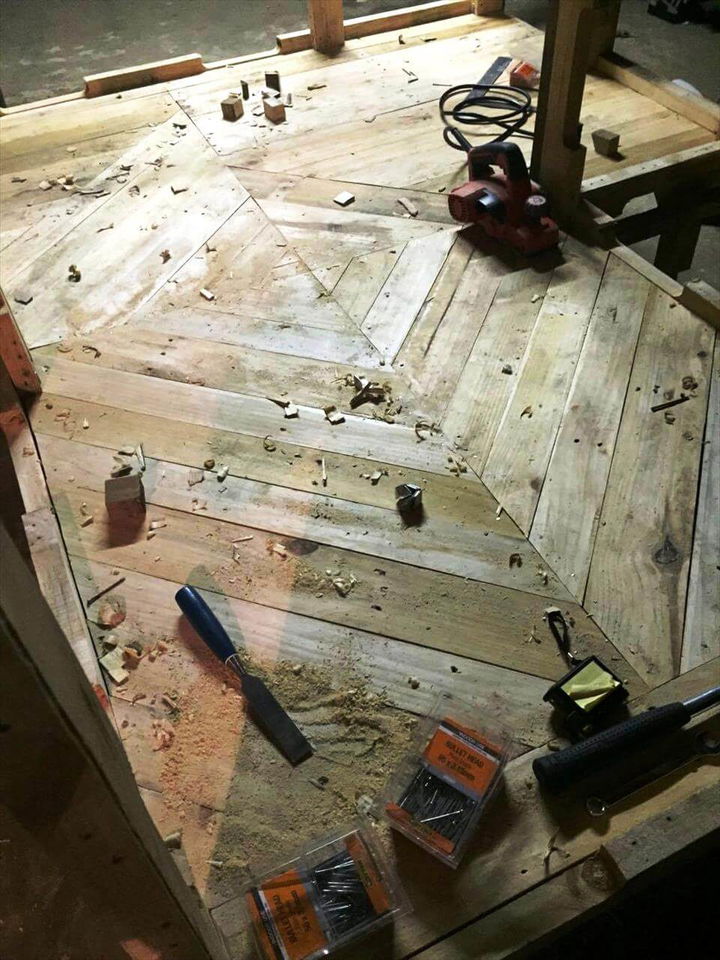 Each plank has been secured in place by adding a nail over its top! Half of the filling has been done in inverted chevron style, this gives a perfect diamond burst pattern as you can see!
Keep on gritting the surfaces so they can be splinter free and also more brighter, use power sanders if you can afford!
Finally add accent boundary all around the base, use the separated stringer boards to do this as they are comparatively more stale always!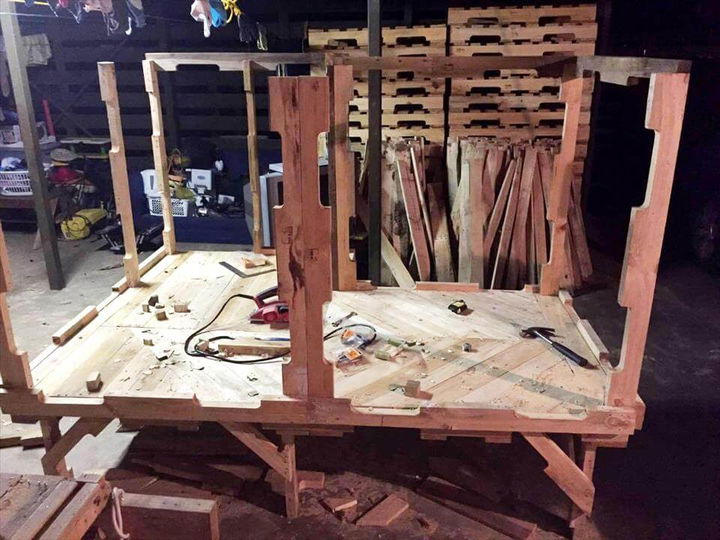 Use more stringer boards to install the overall frame for the bungalow style cubby house, see it here that how to install the lattice frame for cubby house wall and overall building using stringer boards only!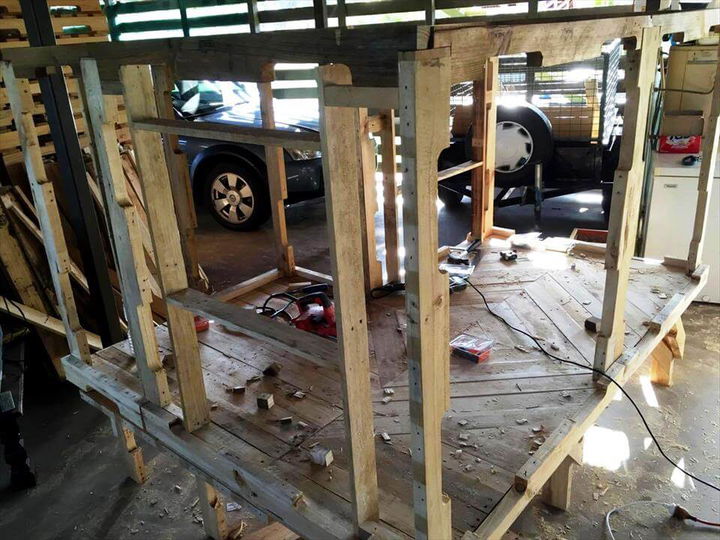 Prefer your favorite wooden joint-system and just secure the pillars, cross beams and top roof frame borders in place firmly!
This here the step when you can leave the space for windows and doors, so go wisely!
Glue will be a great choice to meet the adhesive demands!
Here most challenging part is to make the bottoms of pillars stable, raise a little boundaries around them to solve it, get great help from the preview here!
At the same do add braces to stabilize the legs more as they are going to support a lot of weight over!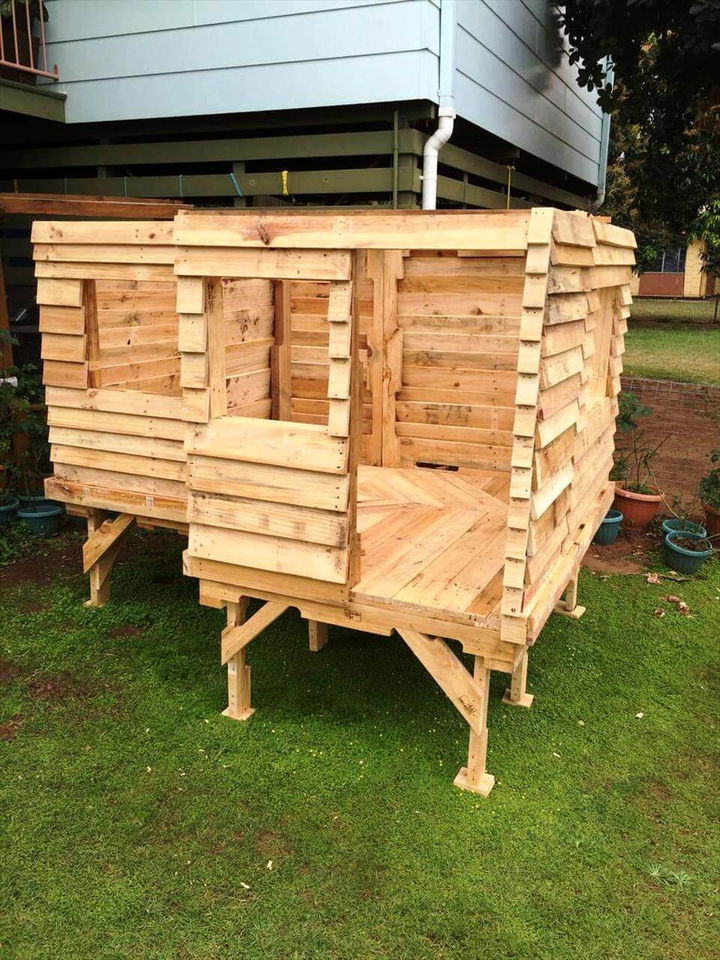 Now move forward and fill up the entire frame, here shingled filling has been done for more enchanting look cubby house! Grab the tiny pallet slats while giving a shingled touch to narrower borders or tiny corners!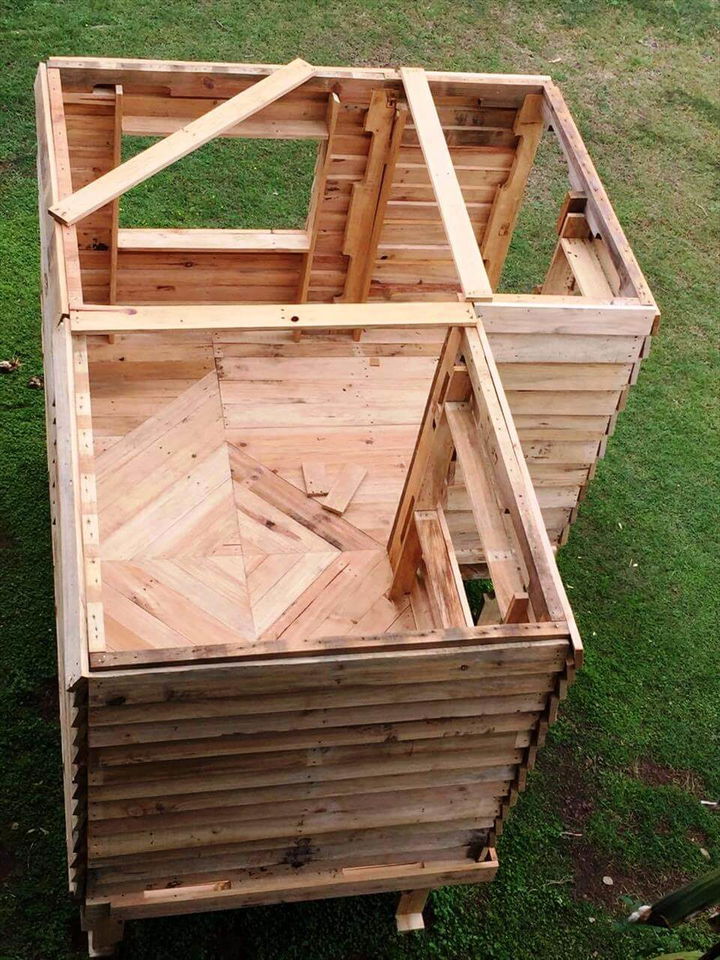 Here planning of roof frame will be a little tough but visual presentation of construction steps would make it all easy for you!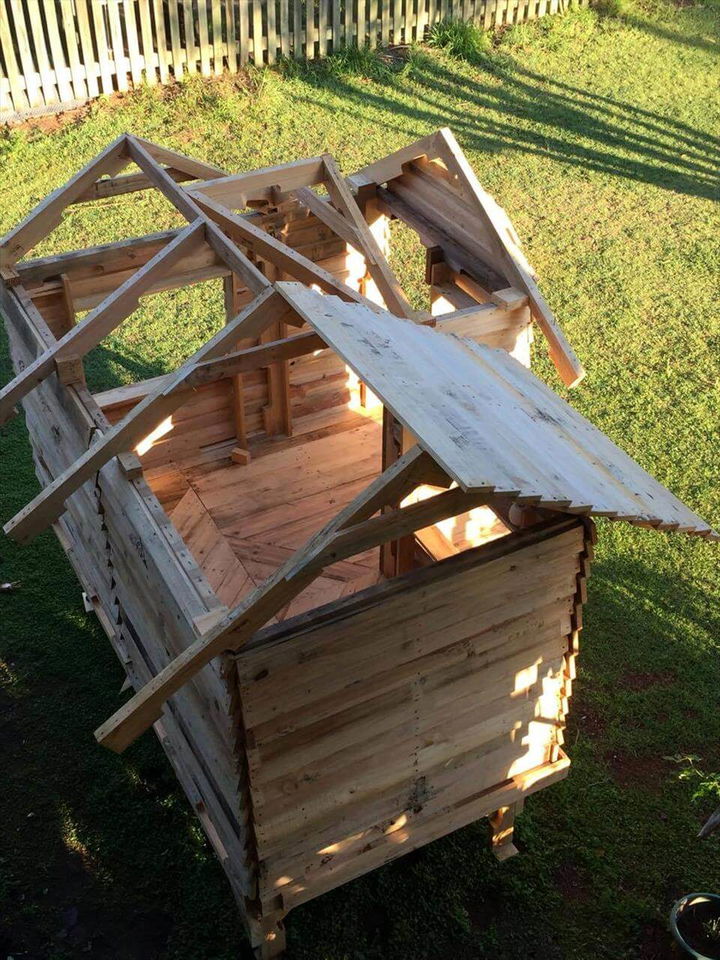 Decide the ridges, rafters and braces and here is the plan for the roof, just put them together as shown and just go for a shingled filling again!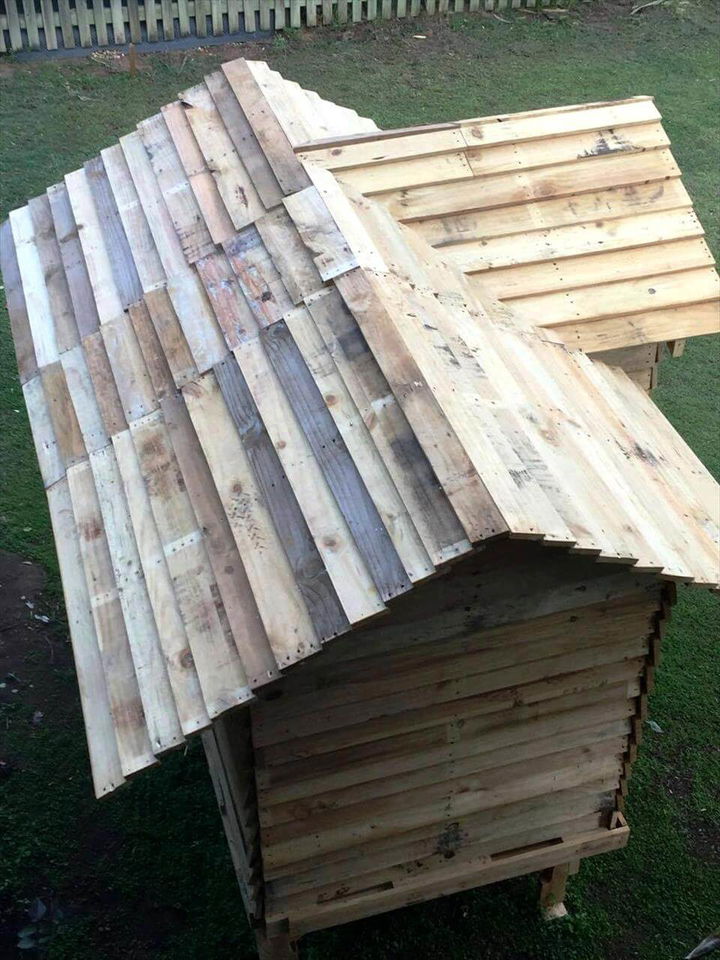 After getting completed the roof should look like this, 2 chevron roof have beautifully been merged for a stylish bungalow style chevron roof!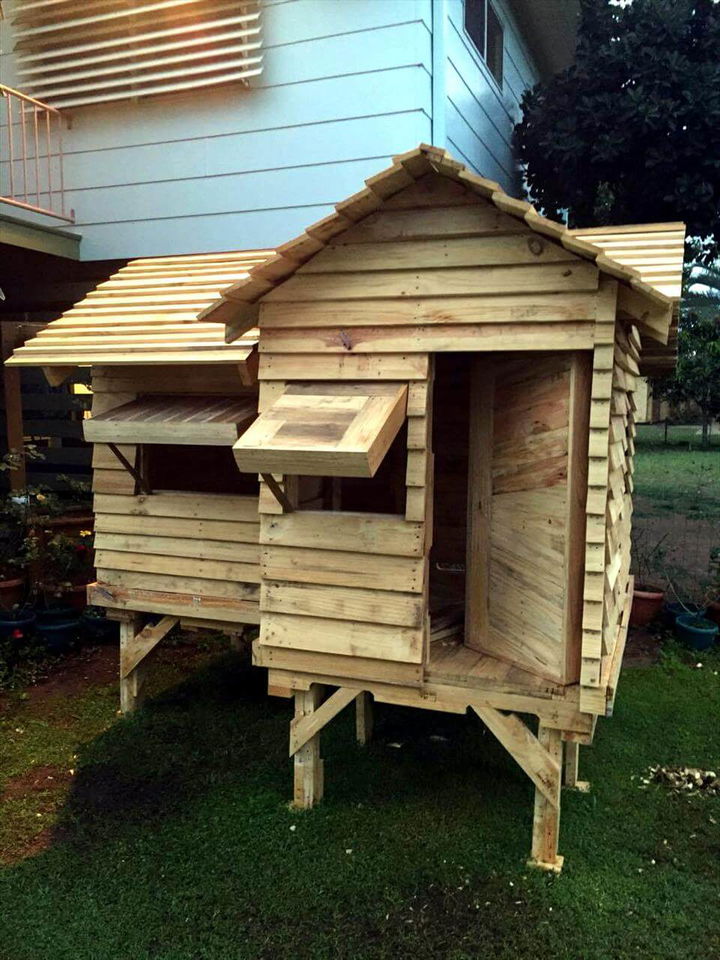 Add the window shutters and doors in the end, both can be made beautifully with pallets also!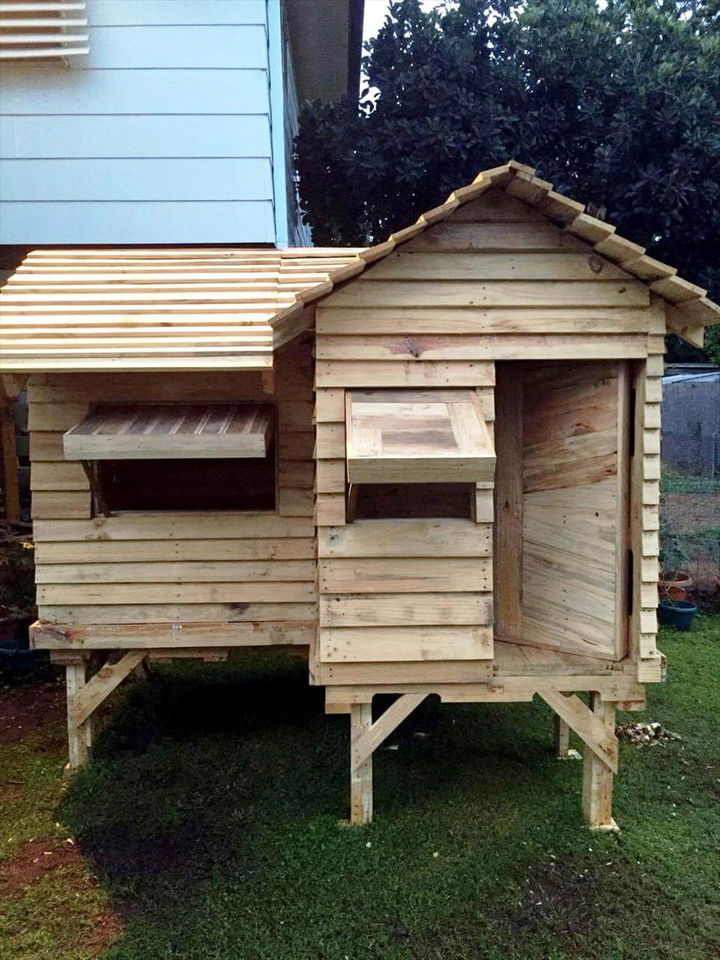 Add the supports also to window shutters to keep them opened!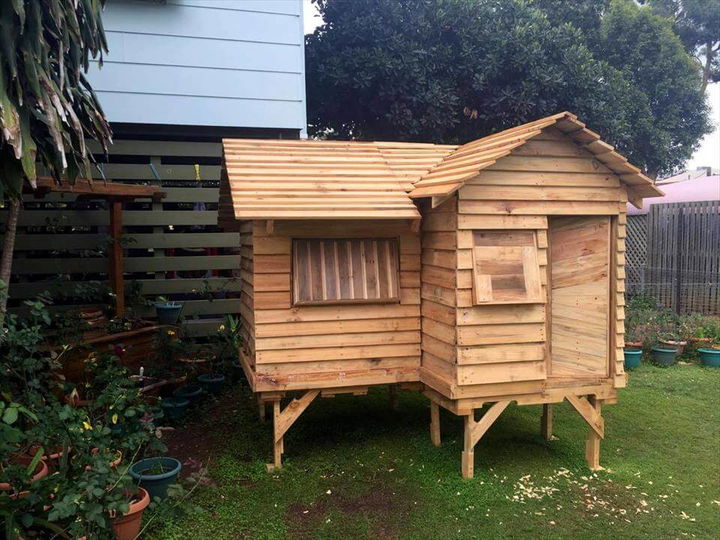 Finally a superb wooden cubby house is ready to gift to your kids!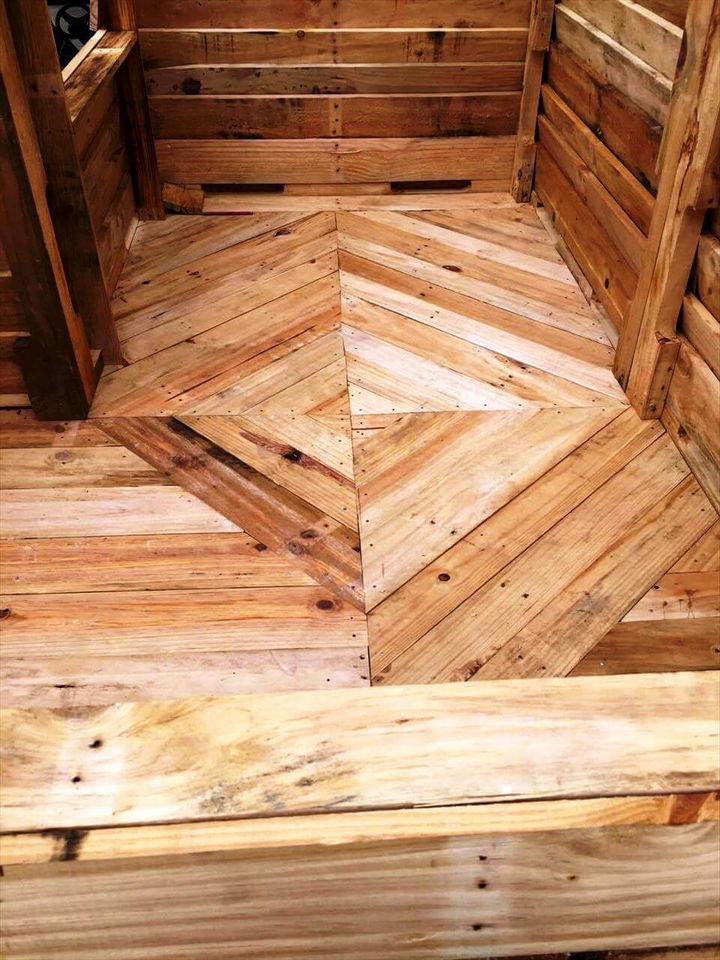 Interior flooring done in diamond burst style will have bigger impacts on overall beauty of the cubby house!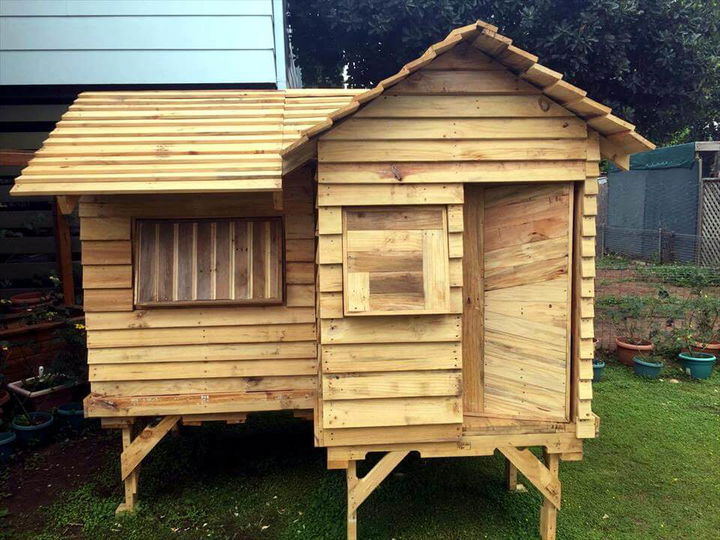 You need to dismantle a big stock of pallets to get the required supply of straight wooden slats and stringer boards with which this entire model has been composed!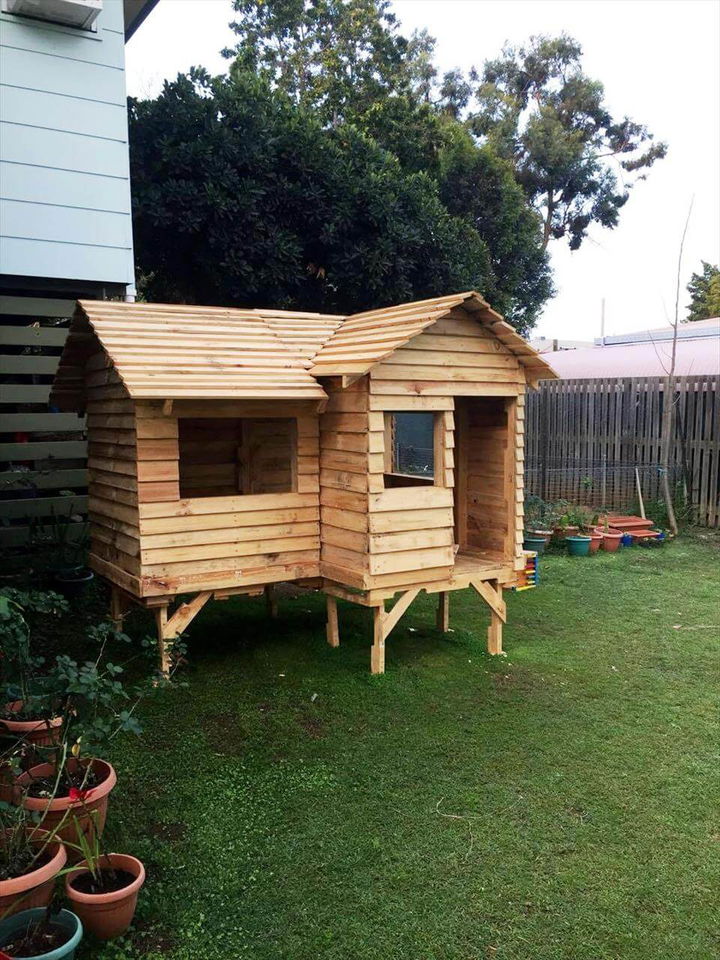 Grit well the surfaces, go for a complete overhaul and finally finish the wooden surfaces for lasting weather protection! Stain or paint and a popular wooden sealant will come in handy to do this!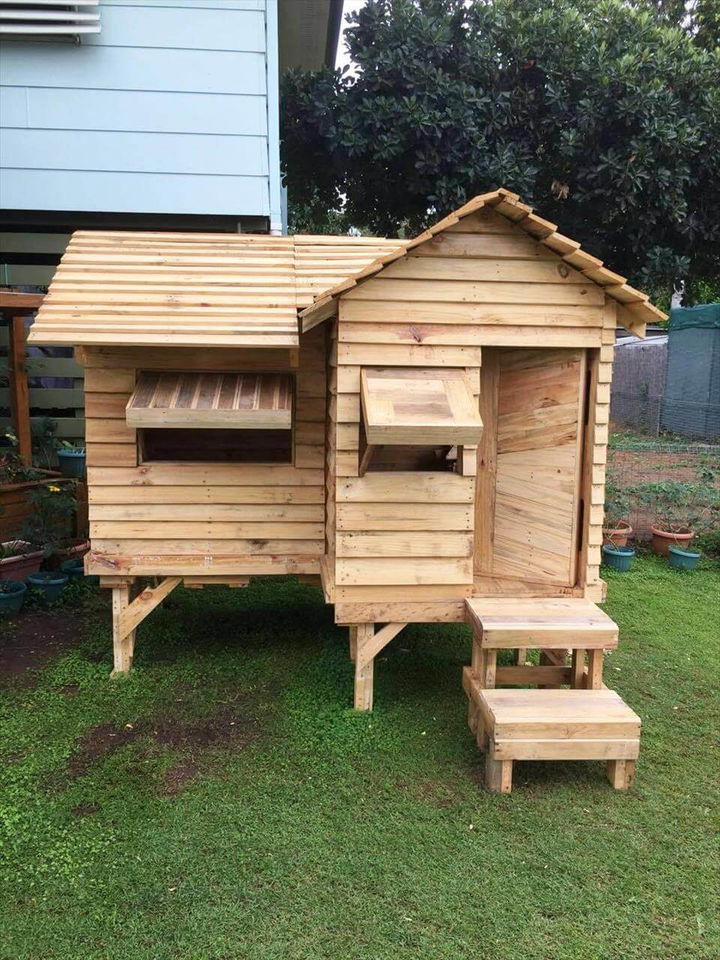 Just for an easy reach to this elevated bungalow style cubby house, 2 highly stable stair steps have been made from pallets and have been installed to front entrance!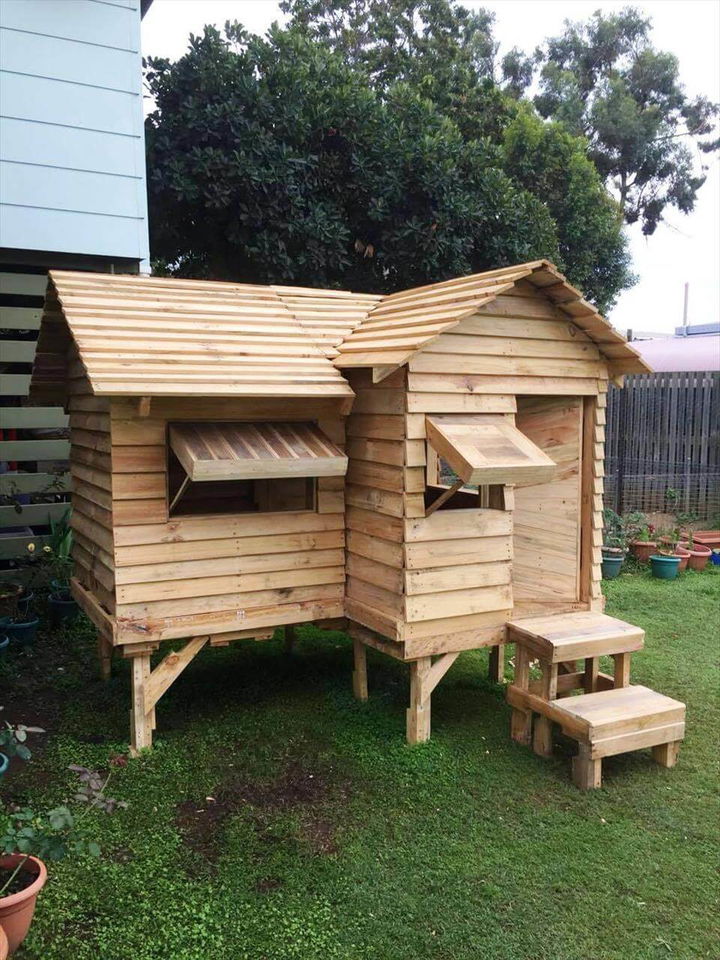 You can do too much more to fancy it up and to do you can select first the custom paint colors that held enchanting to your kids eyes and then custom accents and decors may come in handy to personalize it!
Made by: Longinus Benolo
Pallet Furniture Ideas and Projects:
Give a New Life to Pallets: