Extra outdoor housing has always been demanding too much! Try DIY options to create an outdoor man cave or residence having all those necessary features you may have even enjoyed in your own cozy home! This is the best option too to save a lot of your costs! Wooden pallets are always to access easily and have always been around you as industrial or shipping wood waste! They have become much more than just the shipping skids for creative DIYers and furniture builders! They are now a much useful resource of sturdier wood and can also be integrated to install a cozy outdoor house just like this DIY pallet cabin for summer, perfect to relax in open and friendly green environments and is just best to pass your free time in luxury and also in separation!
All you need to do to build it, is to have lots of pallets and some other tools and supplies to make the wood clean, well sanded, durably finished and also to cut and modify the wood to personal specifications! We have provided here a full guide and pallet house tutorial to give you the ease of installation and construction to build your own one at home! The person you are seeing in this entire framework is Jay Davies, the clever, smart and most creative minded person and fortunately our great friend, and also an extraordinary brilliant DIYer!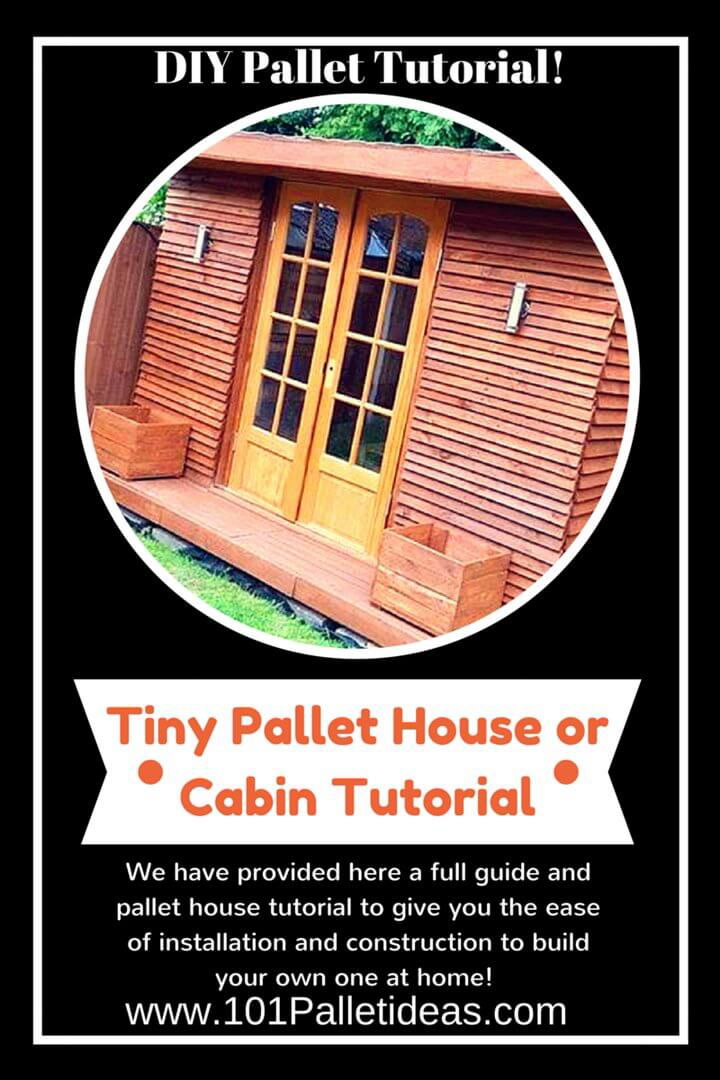 Material You Need for Cabin:
Wood Pallets ( Get Pallets for Free )
Concrete Blocks ( to make it off the ground)
Plywood
White Paint or White Wash
Varnish
Sealant
Beefy Wood Beams ( for roofing)
Lights
A Front Glass Paneled Door ( Optional)
Tools will Use:
Circular Saw
Screw Gun
Hand Drill
Hand Saw
Hammer
Sandpaper
Electrical Sander
Nails
Metal Angle Iron Brackets
Measuring Tape
Pry Bar or Pallet Breaker
How to:
Plan a visually attractive and plane area of landscape for this cozy installation! For safety's hazards, fix the concrete blocks to make it little bit off the ground to avoid the wood from getting influenced by the soft garden soil which mostly contain lot of wetness that can cause the wood to be damaged early!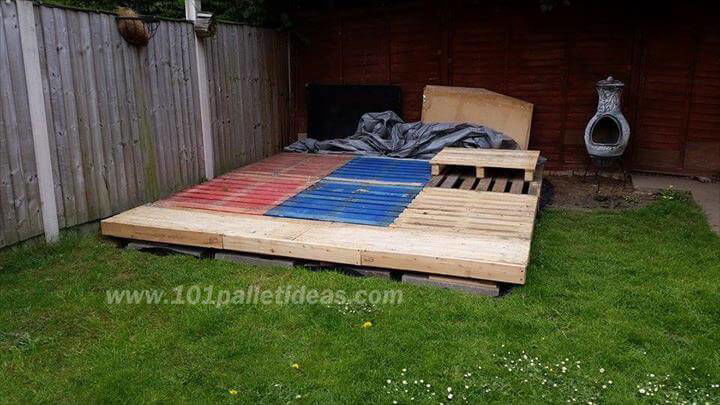 Add the top flooring to concrete blocks, pick up the whole pallets, thoroughly cleaned and washed, and just put them together in good balance! Keep on leveling after you put down each skid for flooring! If you can afford, make the floored pallets varnished or painted in order to create more stability!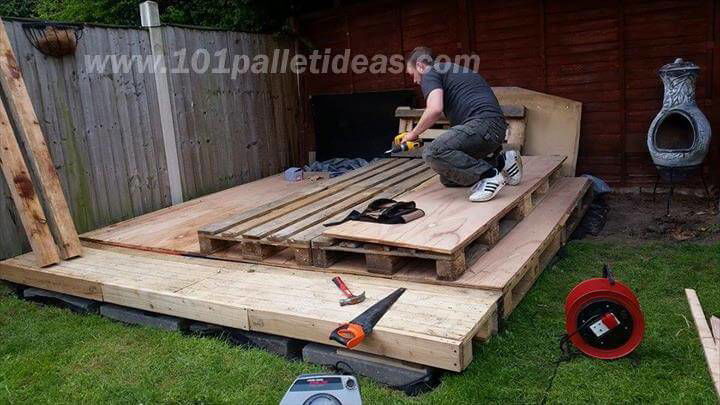 Use orbital or palm electrical sander to bring the wood in nice display by removing the popped up splinters and snags easily with it! This would also create a more enticing wood tone for visual attractiveness of overall design! So don't forget to sand and rub the wood!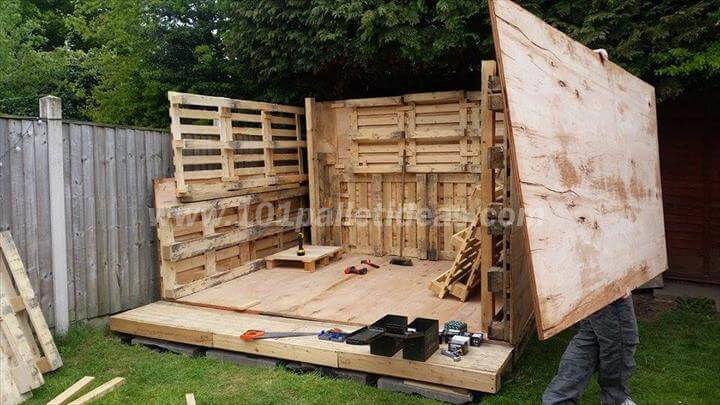 Now construction of side walls, it may a time taking one task as you always need to build them cleanly with lot of stability! There are some particular steps and techniques to build the walls in sturdiness! Join the pallet boards together with plywood at the back and raise them to height you want for you outdoor DIY pallet shed or this uniquely original pallet cabin! Make sure that pallets have been aligned just in vertical upright position to avoid any damage!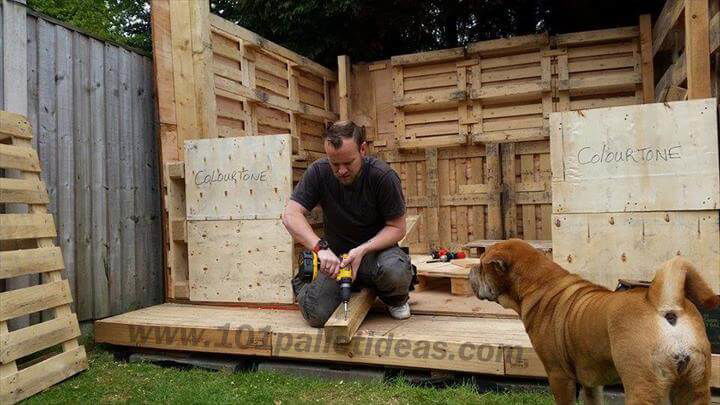 To create more stability heavier and thicker wooden beams have been used! To install them to side wall for stronger assemblage and grip pocket holes have been made to them using hand drill, an appreciated method to hold the wooden pieces together instead of layering the glue inside, glue can also be used for more brilliant results!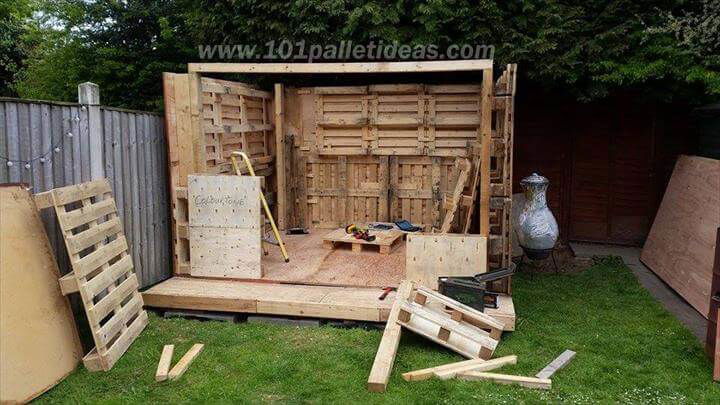 The entire construction uses the pallet + plywood units built in different according sizes and you can see their terrific use in constructing the side walls, back and this time the front of the cabin! A little bit white wash can make the wood to live last!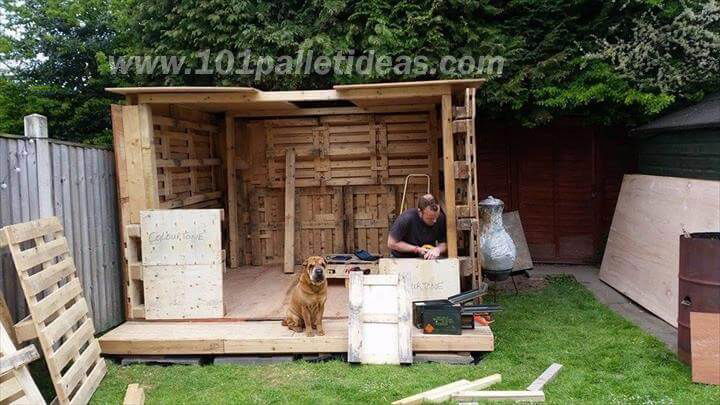 Precise measurements will save lot of time and also the material from wasting like wood and paint! Go with measurements to have a bold and well defined shape of your cabinet! Sand the wood wherever you see some popped up splinters and use the patina to fill up the cracks in wood to get it plane and smooth!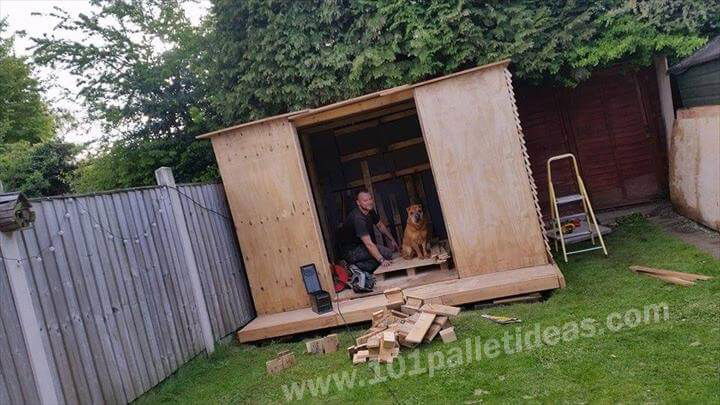 Just hide the random unpleasing wooden skeleton and rusticity of pallets with plywood sheets! The fabulous result of this plywood coverage, will be a smooth looking and charming edging all around and would be amazingly enticing to onlookers!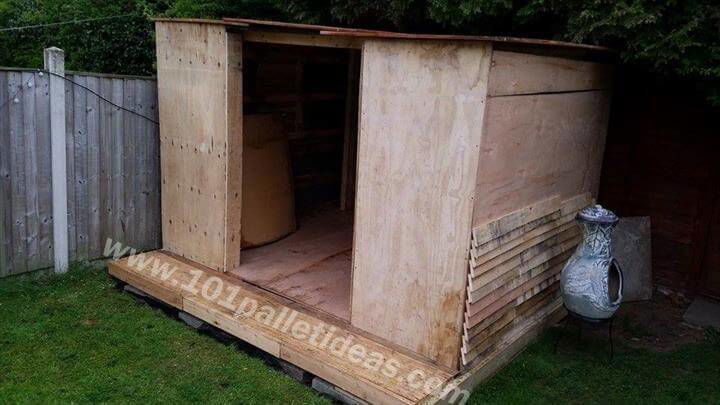 After you covered it all and there is no excess of edges outside the plywood sheet to disturb the overall smoothness and grace of cabin design, you can go for fringed wall pattern using the removed pallet slats! You will surely have to deconstruct lot of pallets to have a big heap of separated pallet planks and it may be really tough to do!
Use pallet breaker or try to lessen you work of pallet dismantling using the sawzall with which you don't even need to pluck up the slats one by one, just strip them up by cutting the nails bounding any two slats! This will be fastest ever solution to disassemble the pallets with much less danger of breakage!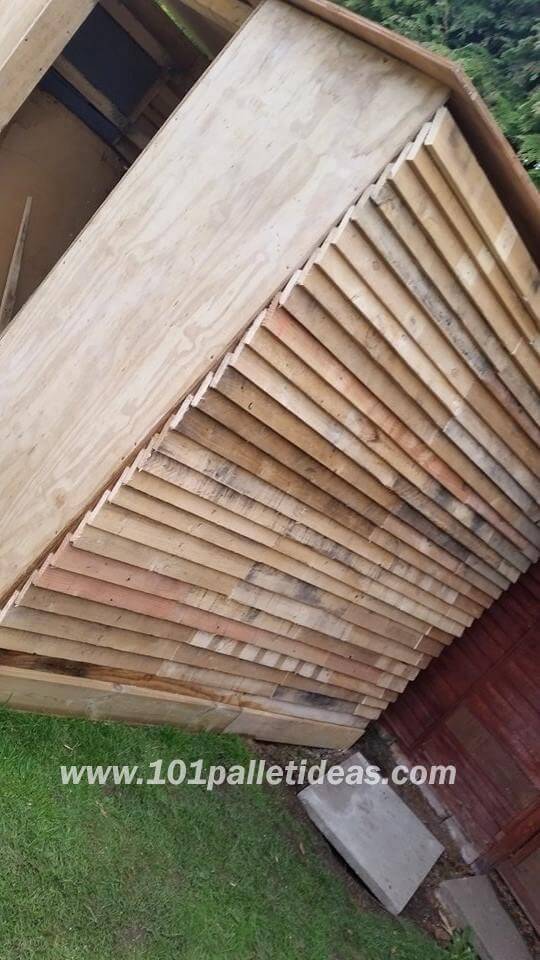 Here is how you can add wooden texture and some overwhelming cool effects to your design,. this fringed wall paneling is really to double up the stability would also be much pleasing to eyes! Just put one boards and nail to fix it in place, cover the entire wall section by repeating this process over and over again!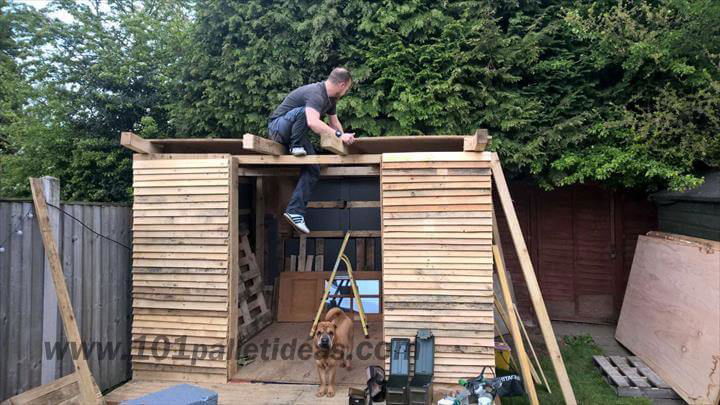 Now the most the amazing part of the construction which may be a toughest one for some DIYers who are afraid of getting higher! Just use the wooden beams, a little bit longer than the total length of this cabin, by dividing the roof area, align them lengthwise with equal distance between each pair of them! These just to use as roof beams and then add the plywood sheet cut down to sizes to cover cleanly the roof section!
Here are some optional things to do to personalize your design, you can turn the roof into a chevron style or can select a metal paneled roof to withstand rain water!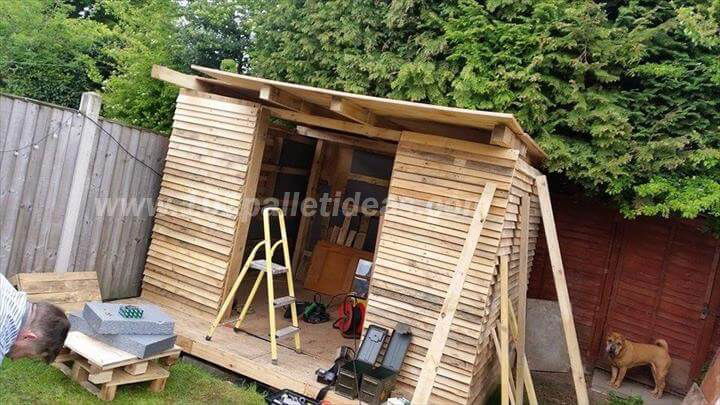 Keep on continuing the pallet fringed wall pattern to each side of this hand-built DIY pallet house and then just finish it with stain, varnish and some wooden sealant for more glow and shine on wood grains! There are still unlimited possibilities to decorate this sublime wooden residences, you can use your own creative brain to do this at home!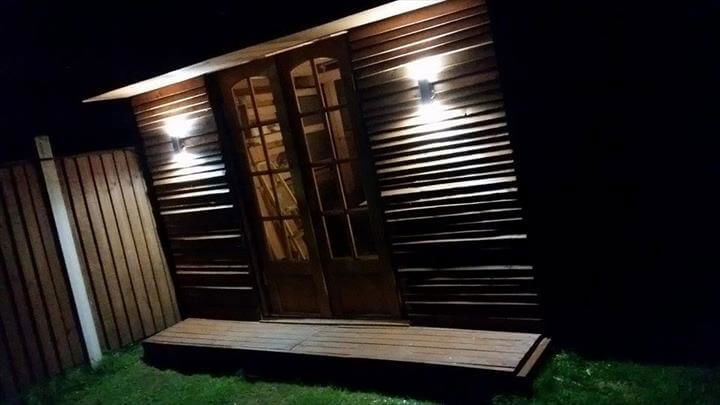 The design has been finished by fixing the glass paneled accent door at the primary entrance or access point to home! Two awesome light fixtures has also been added to both sides of the door to look sterling at night! Wood has been varnished, stained and also has been sealed with a popular wood sealant!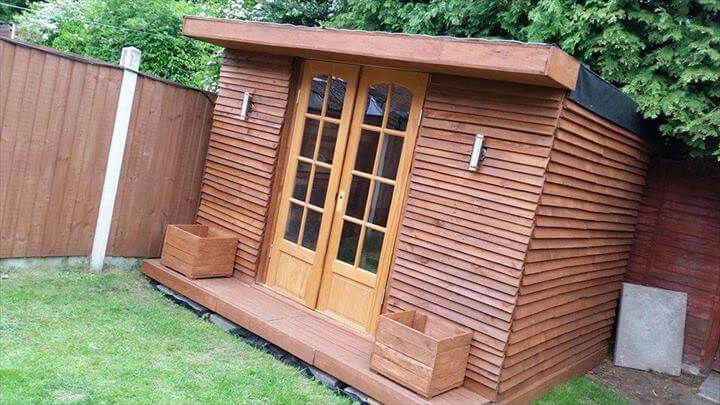 Pallet Cabin Tutorial – Part 2