If you just love building things in your free time or take great interest in creative pallet projects, then here is a great pallet creation to get your busy this weekend! Clone this DIY pallet dog house to earn more respect from your dog, the best ever pet friend! Tin sheets, pallets, glue and two different types of screw are the total supplies to clone this fantastic pet dog residence!
Built first a dog kennel, having box-like dimensions, you can start building it by putting a large pallet flat as base structure and then can raise the walls around it!
Add another pallet board in front, should have a comparatively small size, to serve as a base for the veranda!
Build the mini fence walls around the veranda-base-pallet and also install the 2 pillars for roof supporting to the same base-pallet decided for the veranda!
Build a frame for the roof using best-looking pallet slats and let the roof rafters come on the front wooden pillars having more height than the dog kennel!
Add dowels to raised front wooden pillars and let the rafters come over them with holes in them, use a power drill to drill instant holes in the roof frame rafters!
At the end, use tin sheets to reinforce the entire dog house building and also to cover up the roof! That's it!
You may also love these DIY dog house plans with step by step tutorial.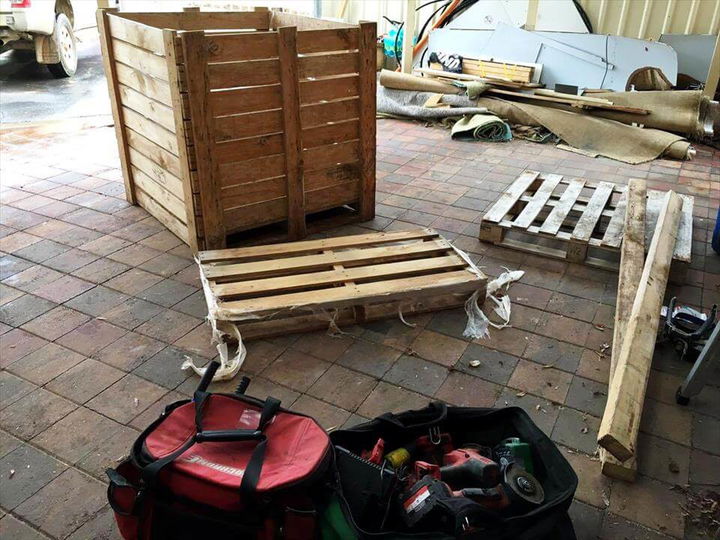 Take a start by building a box style dog house first, put the large pallets for base structure, take help of separated pallet pieces to install a big box with left space for the front entrance, will actually be the residence for you dog!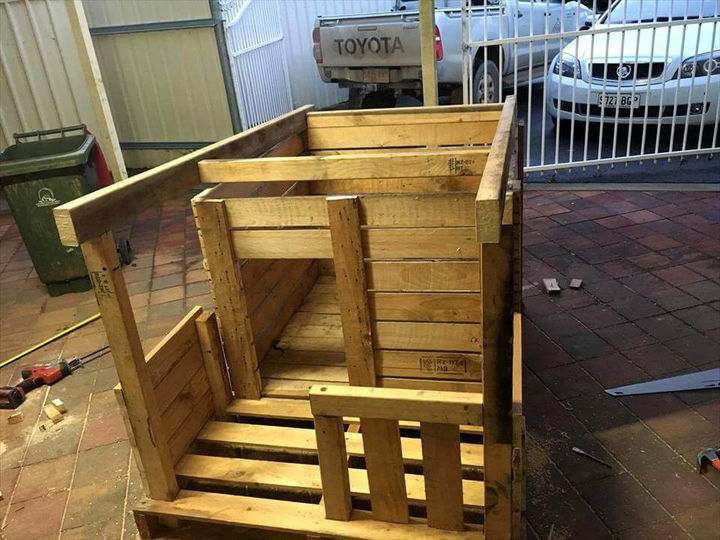 Here large pallet board has been decided as base of the dog house while mini pallet comes in front as base for the veranda as you can see here!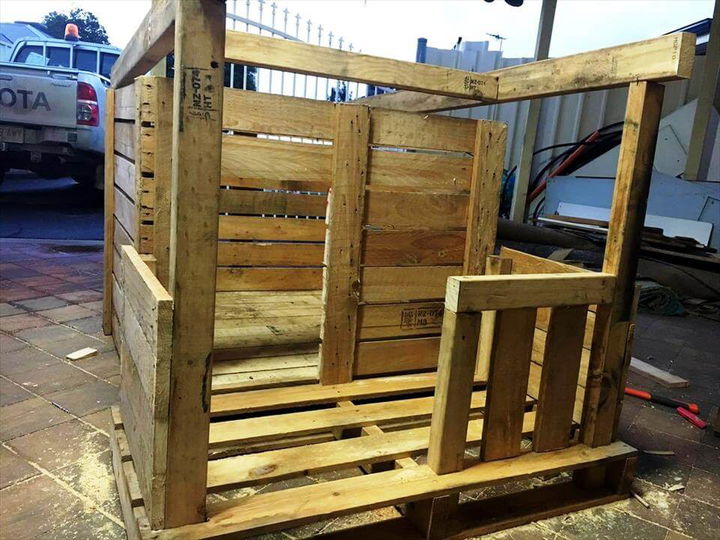 After installing base of veranda, you should give your first priority to build the roof which will not cover only the dog house but also the front veranda!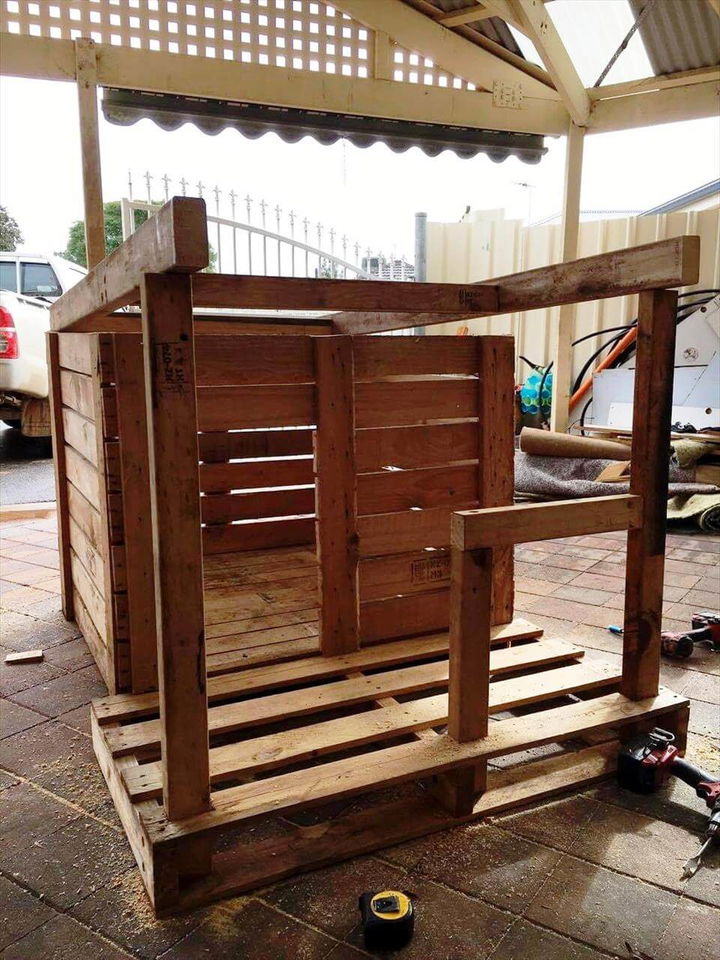 2 thicker pillars have been fixed in front of veranda base pallet, having a little bit more height than the dog house building, this will help you build a tilted or shed style roof!
Put the roof frame over these veranda pillars and just think for the best way to secure them both in place! Here pillars have been added with slim wooden dowels and some holes have been made in the roof frame rafters, so they sit beautifully on the lower dowels!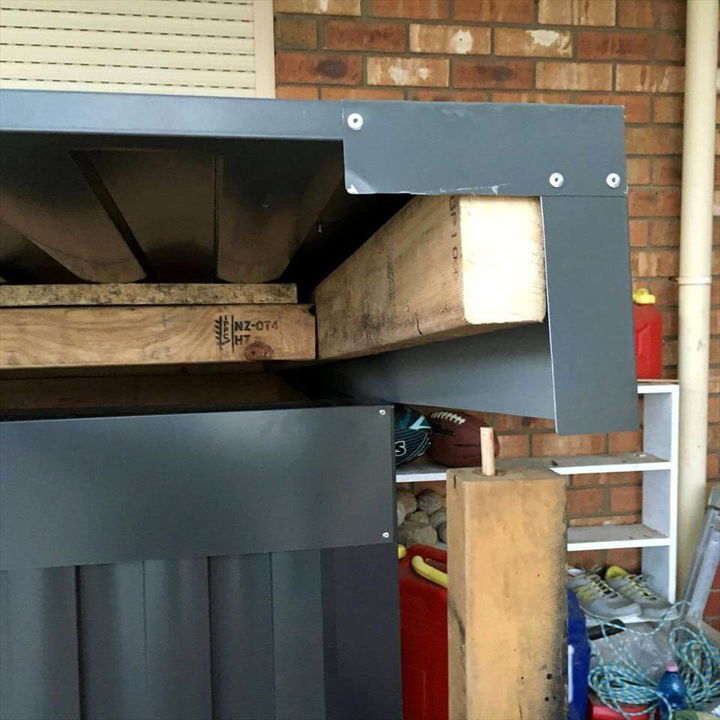 The sides and roof frame have been reinforced using metal sheet and enhancements, the dowel-hole formulation will also keep the veranda in place!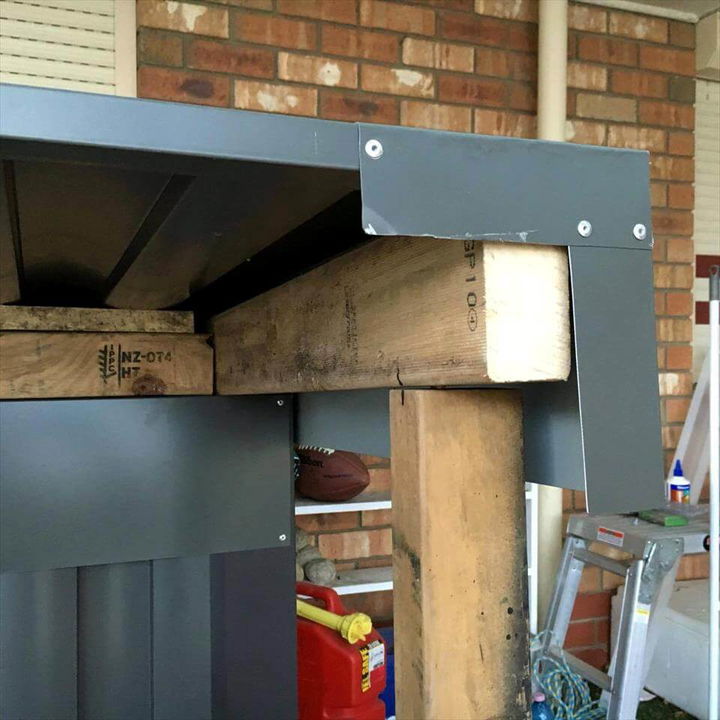 Here is how the roof rafter will sit on the dowels, a great idea for ever lasting joints, to create more stability, additional metal brackets or plates can also be added!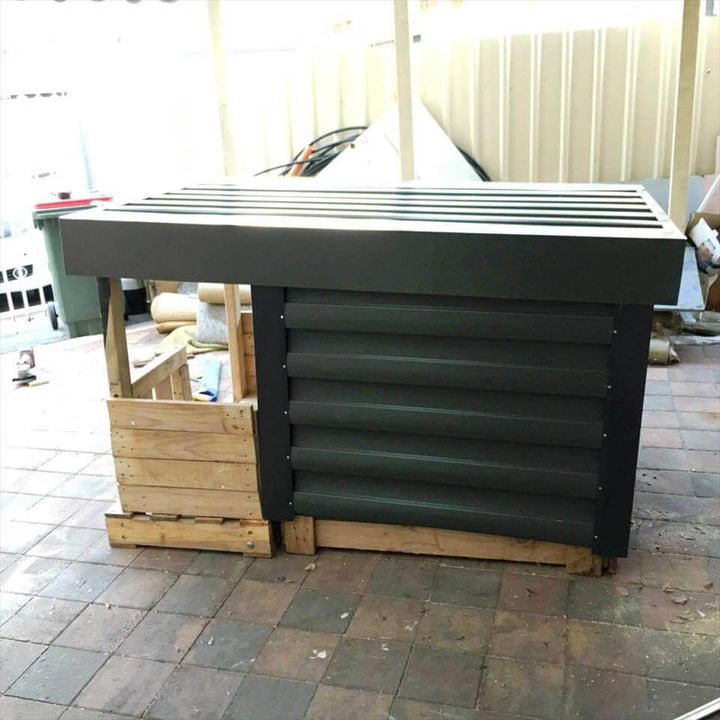 Here is how the entire kennel and roof has been strengthened and made solid with metal sheets and bars, will allow the entire dog house withstand the ever worst and harsh conditions of weather!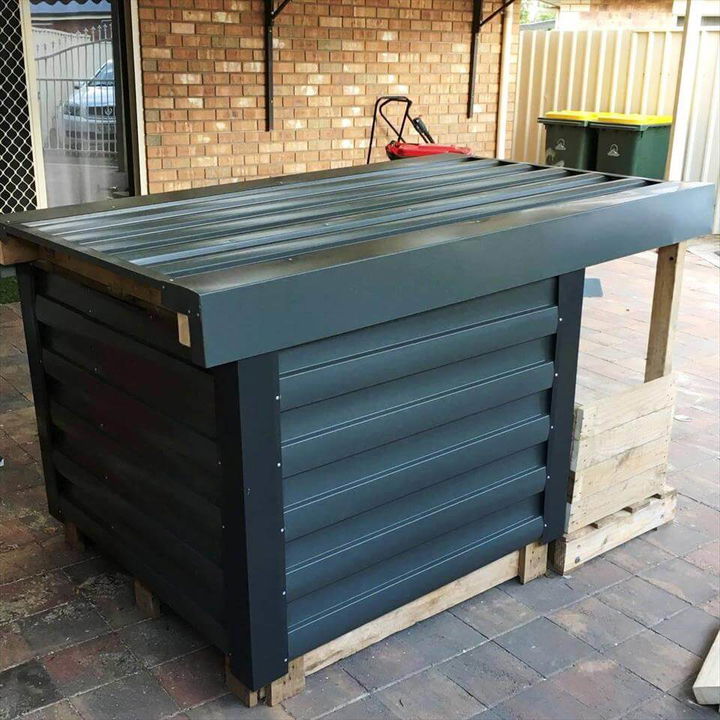 Corners comes with angle iron bars, fixed over the corners by putting screws in the holes already built in them! Black painted look of metal also gives a stimulating visual to entire design!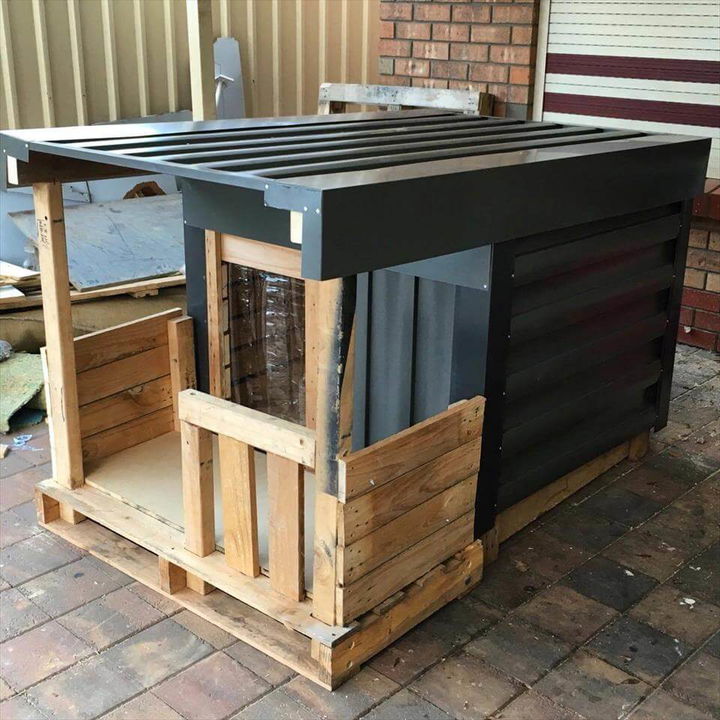 Veranda floor has been made extra smoother by putting a plywood sheet over, cut to required dimensions! You can also add some hooks to fasten the dog rope!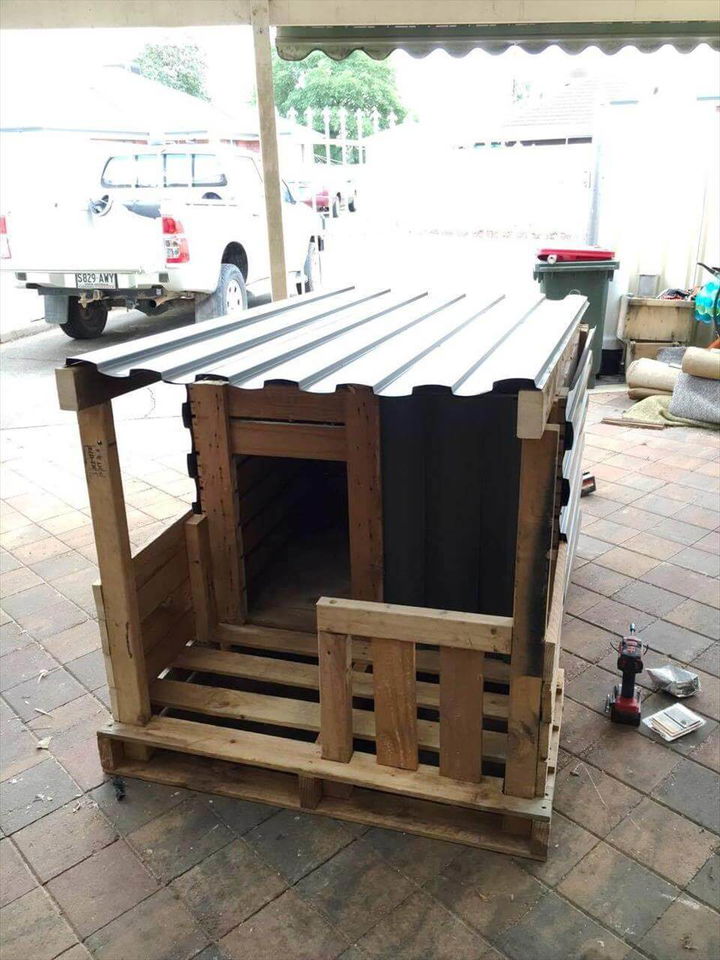 veranda is also having short wooden fence walls, built by using more planks of pallets! The mini fence all around the front also raise the overall aesthetics of the design!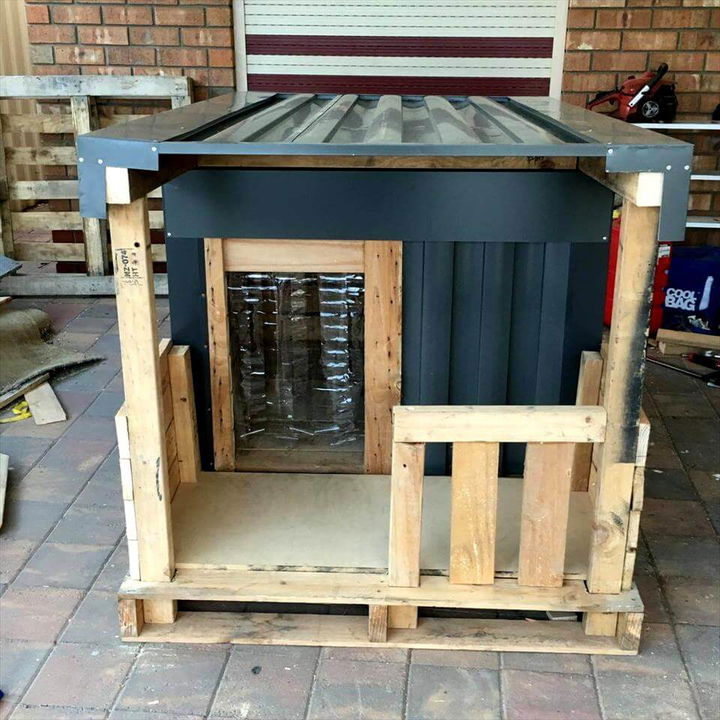 Now finish this cool dog residences by installing a custom door to front or main entrance, may be a wood-made, glass-made or plastic made!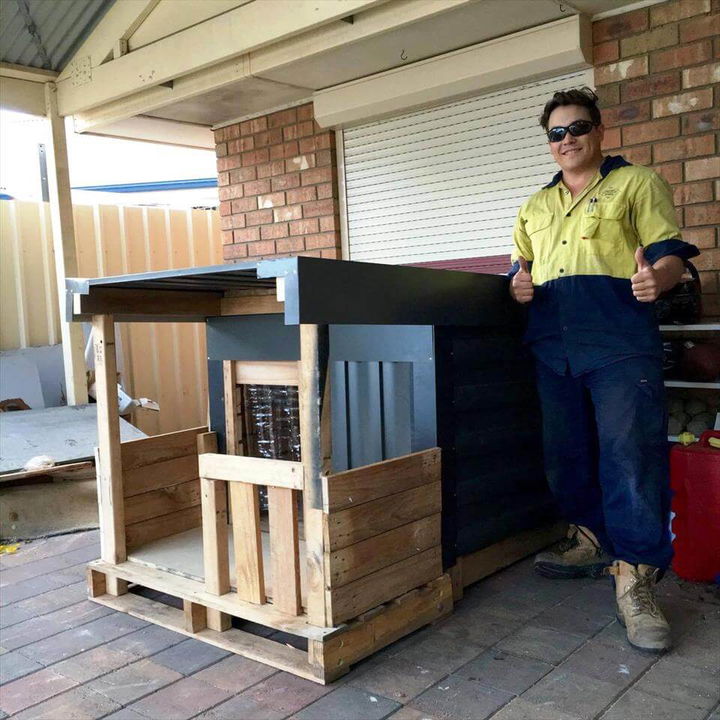 Tin sheets, coach screws and small screws (for tin sheets) is the total hardware used for this adorable dog kennel, adhesive demands have been fulfilled with glue, can select the best one available in the market!
This pallet god house project has been done in a budget-friendly way, total 50$ Aus is the total cost of the project which is equal to cost price of tin sheets bought in second hand!