Here a portion of outdoor, looking like a barren land, has been changed into a mini heaven with custom improvements with pallets! Developing your outdoors for sitting and custom fun activities, can enhance not only the look of your house but also the living and sitting space, and going handmade with pallets will all bring your expenditures to almost zero! See here the details of this outdoor pallet lounge furniture done with DIY pallets, looks as fancy as a magazine cover!
First of all the custom seats have been installed that give a stylish lounge sofa frame when combined, then custom sitting chair and table set has been made to enjoy eating there also! To handle the occasional gatherings and big rush of people, seats along the lounge fence walls have also been installed! Single pallet boards have been decided here to build a "pallet coffee table" and also a parasol table having a mini holes in the corner for parasol fitting!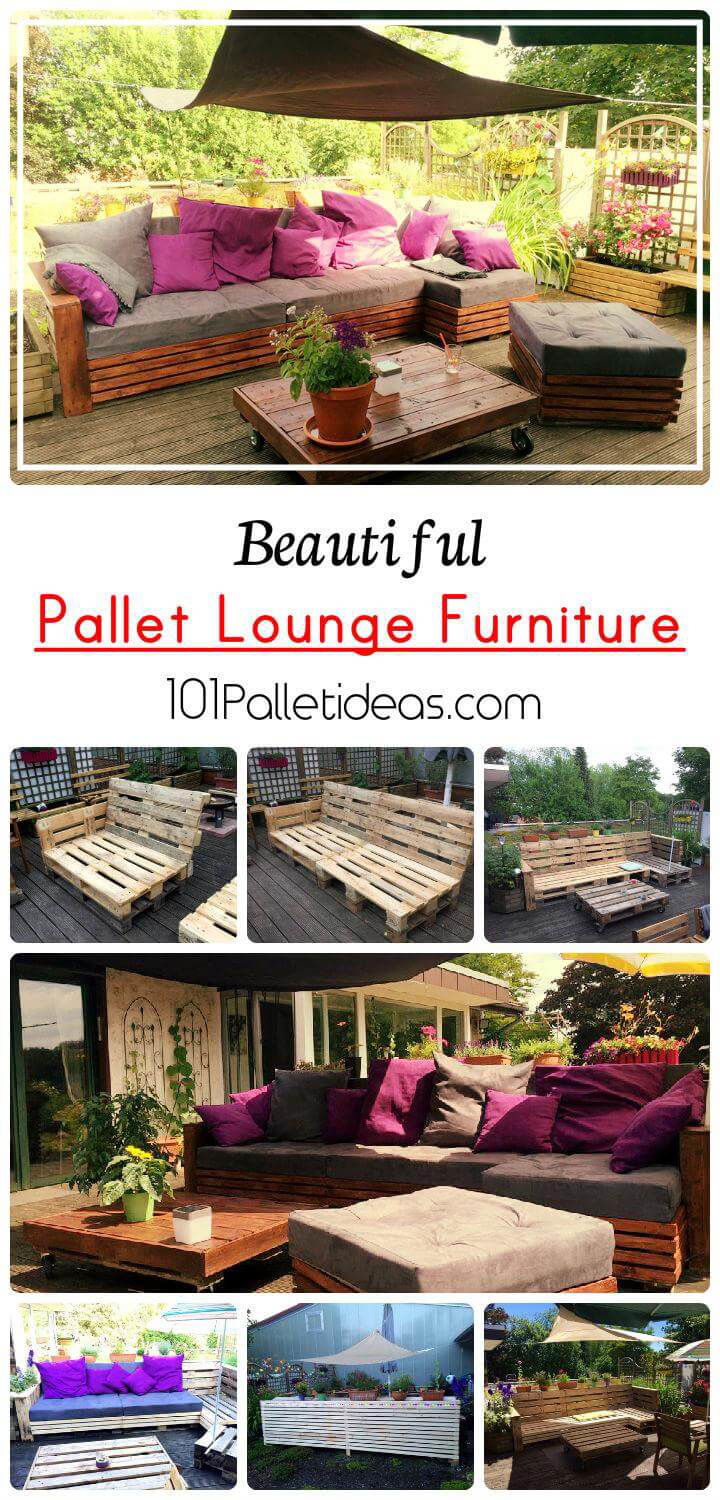 Entire lounge has been finished with custom stain coats that strengthen the wood, with custom lights that creates stunning party-friendly visual at night and also with foam cushions that bring high value comfort to entire pallet lounge!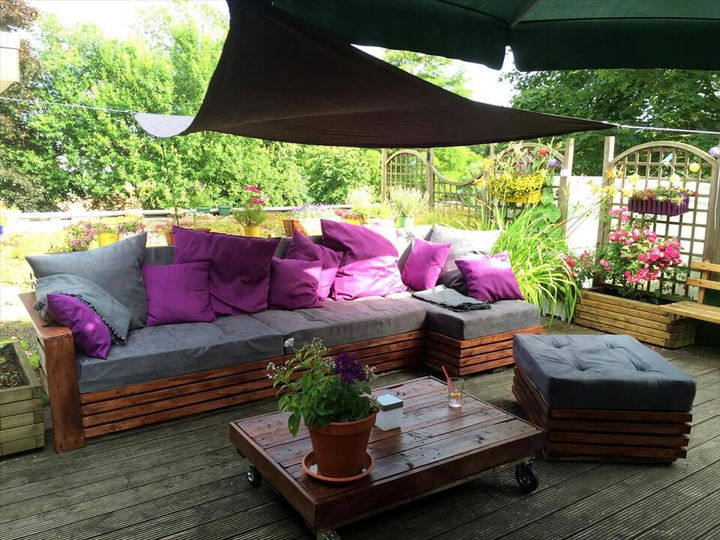 Clone this pallet-lounge project and build a small seating project to sooth your nerves in a spare time, would also be a perfect space for family fun!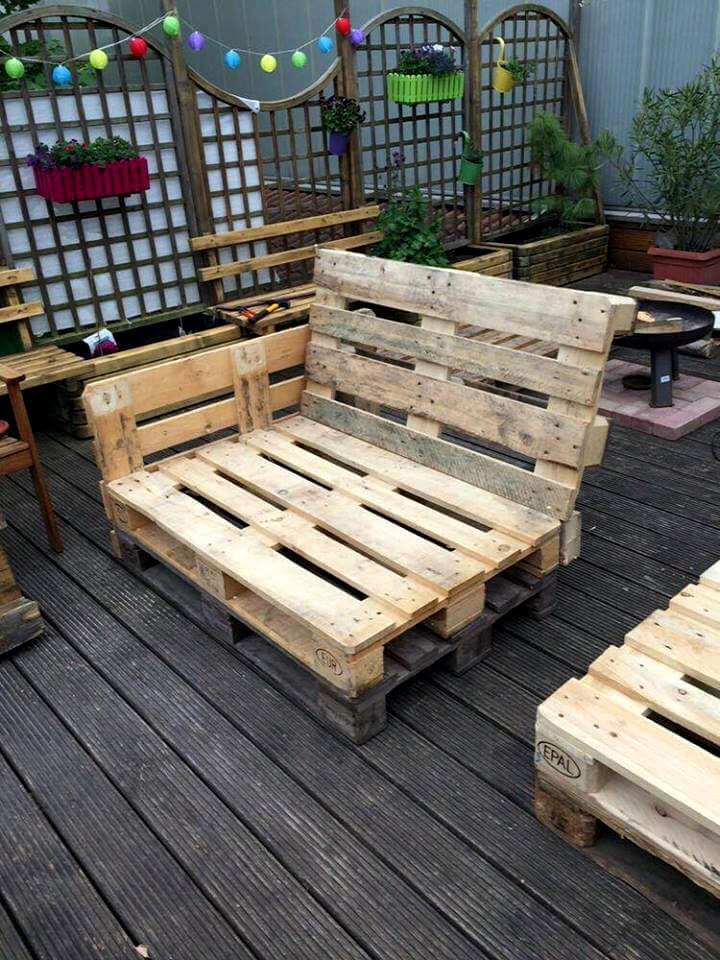 The larger lounge sofa is made of custom seats fabricated by stacking and creative fittings of whole pallet boards! See how beautifully the pallet boards have been held together for a beefy wooden design of seat!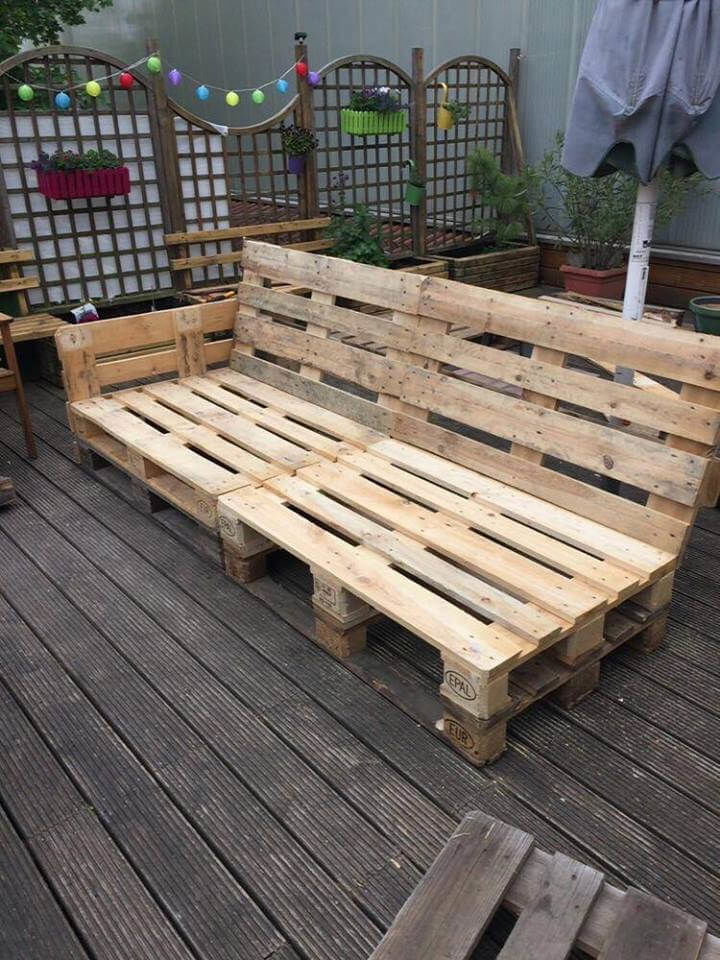 Now build one more 2 seater in the same style and just combine the both seats for a big lounge sofa frame! Construction style would all be pretty easy to underside even by a person who is all new to wood works or carpentry!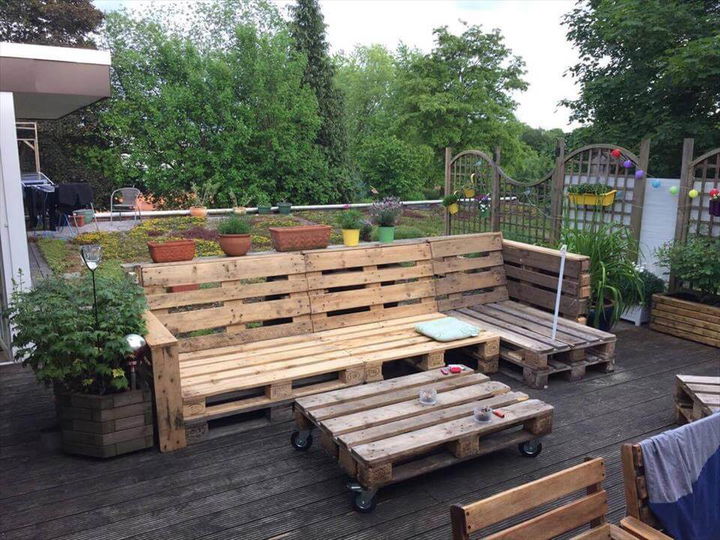 Finally add a pallet-made chaise lounge at the end and get a perfect L-shape lounge pallet sofa frame, decide one pallet for a coffee table on wheels also as shown!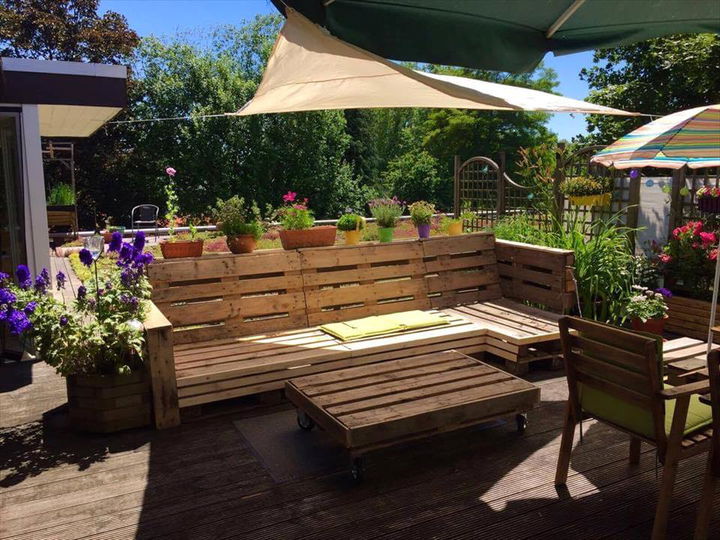 Here the lounge sofa frame has been made completed by accent refilling of pallet slats that gives the sharp boundary lines to entire sofa and also a precisely flat and smooth top to coffee table! Now the sofa is all ready to be cushioned to look cool and comfortable for bigger party fun!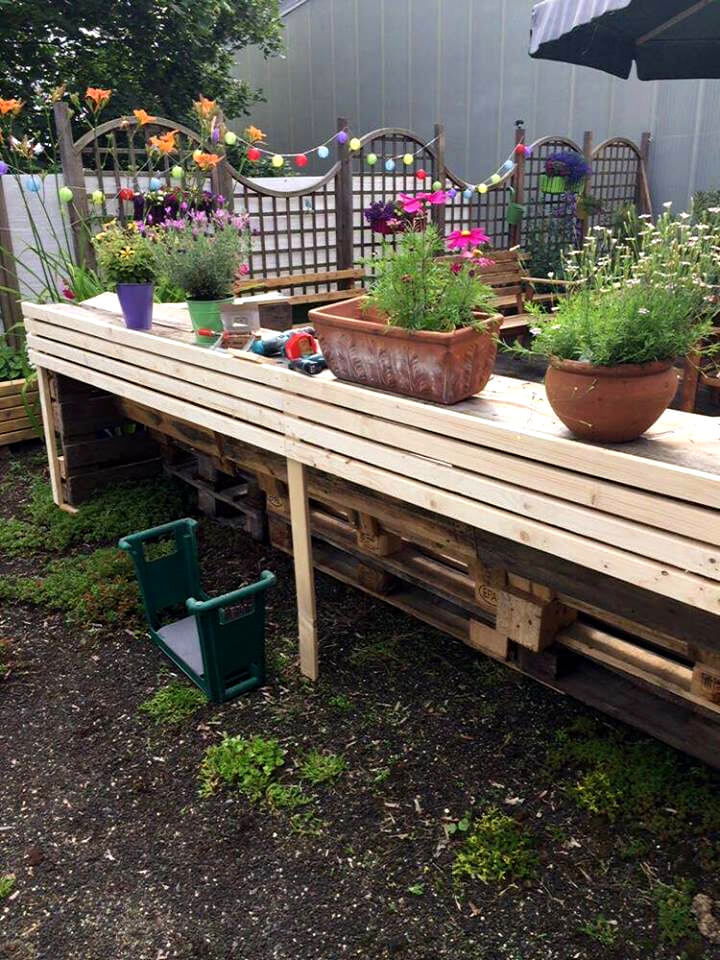 Just like the front accent filling of lounge sofa, the backside has also been intended to be extra stunning, so precisely resized, sanded smooth and splinter free slats have been hired for beautiful filled wooden cover to backside of sofa! See here how to do it!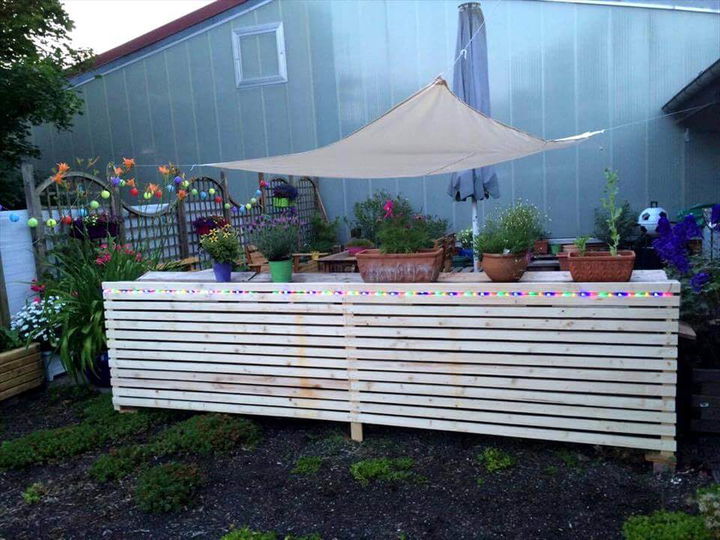 Here is finally finished accent backside of pallet lounge, comes with a line of colorful LED Lights that will make it look extra enchanting in the darkness at night!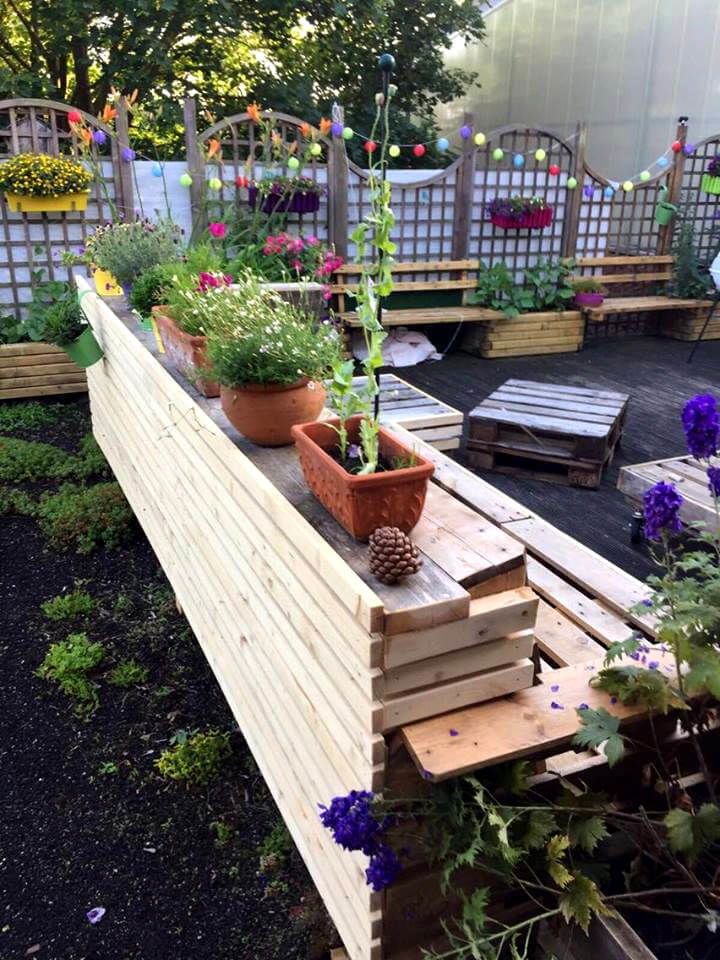 Natural garnishing of this entire party lounge has been done by using natural flower, herb or succulent pots and planters, that have been organized beautifully over the backrest of party lounge! You can choose planters from these 25 Inspiring DIY Pallet Planter Ideas to add more creativity in your seating and environments.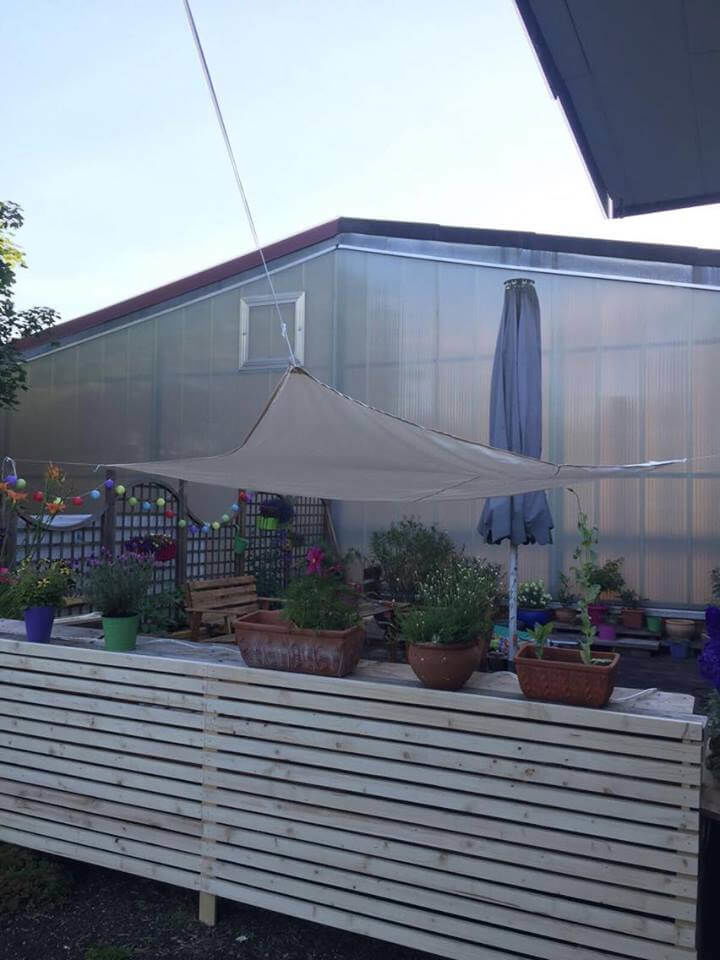 By taking help of surrounding metal fence wall a fabric roof has also bee installed that works great as a shelter! Furthermore, a big parasol has also been fixed in the center for amazing sun-protection!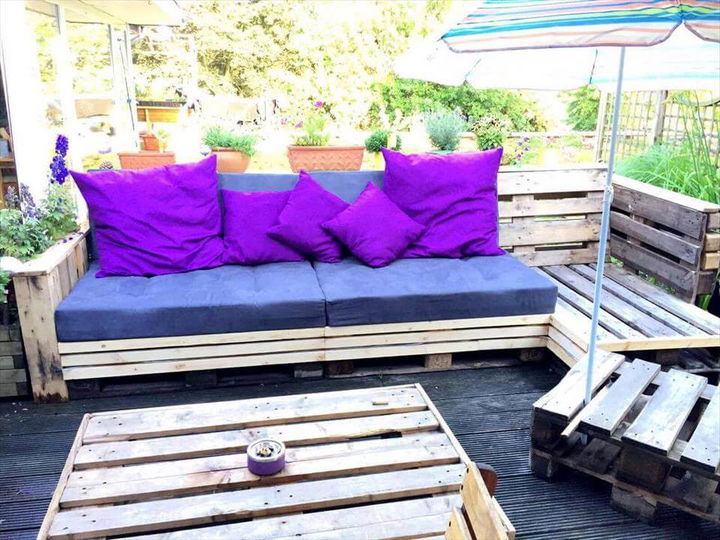 Now you can make the seats cushioned for amazing soft feel of comfort, use the highly dense foam sheets to make the seats upholstered or padded, custom cushion covers can be sewn at home if you are good at sewing! Here cushions covers have also been sewn at home!
Now all you need to finish this party lounge with for a personal theme based on a vintage, mid century or modern decors! Here a parasol table has also been made having hole at one corner to fit the parasol pole in!
You can also do something special for your kids like these Pallet Playhouses for Kids Creativity & Health Boost and you kids will surely appreciate.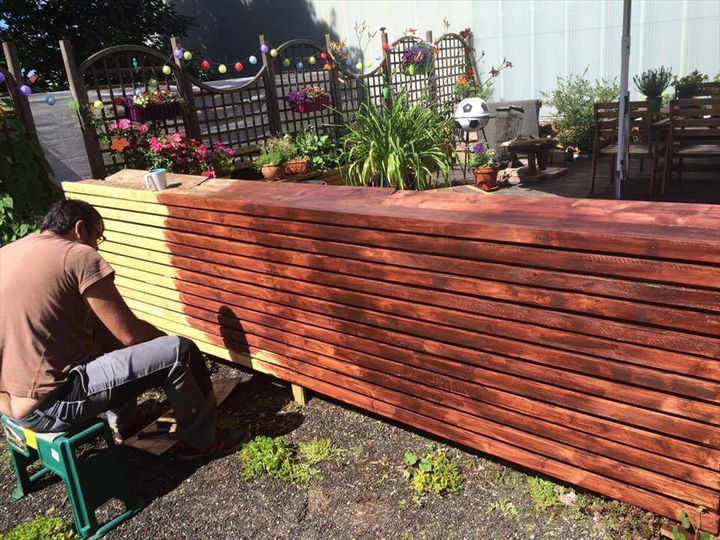 Here wooden surfaces have been decided to appear in alluring dark brown so respective stain coats have been applied that also make the wood stronger from inside!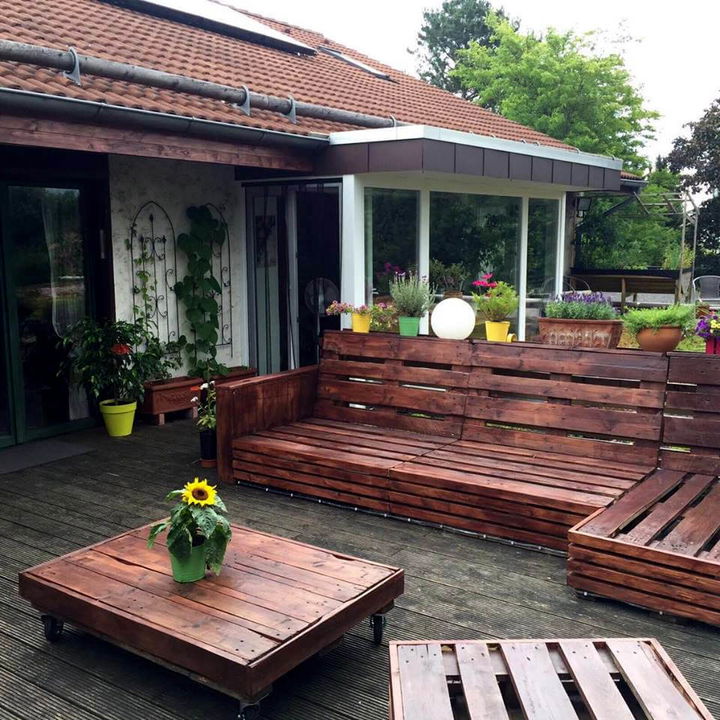 All the furniture assets of this party lounge have been stained to create more stability to them along with a stunning wooden visual! LED lights have also been installed across the bottom lines of sofa!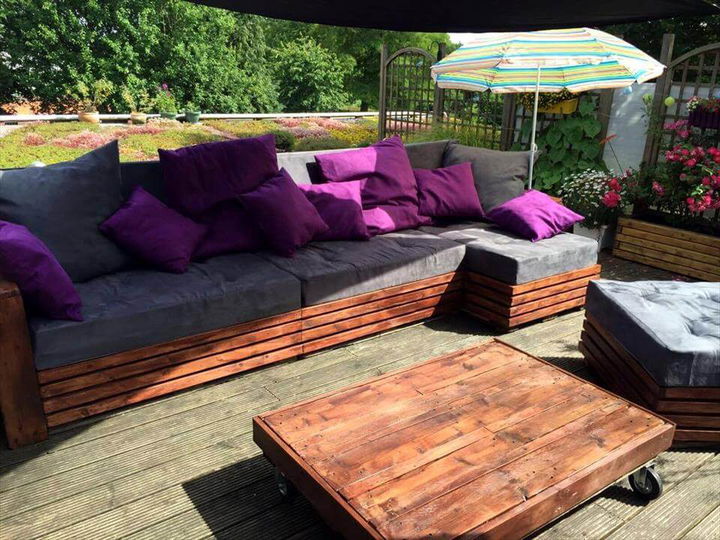 Party lounge is all ready now to enjoy the outdoor weather, to make fun with friends and with a whole family! Here is how you can change your barren outdoor portions into a mini heaven by going creative with pallets!
Custom different seats have been designed with pallets to fit to different portions of the space and for green natural vibe there, different flower pots and bucket planters have been hanged and placed over the backrest of pallet-made sofa!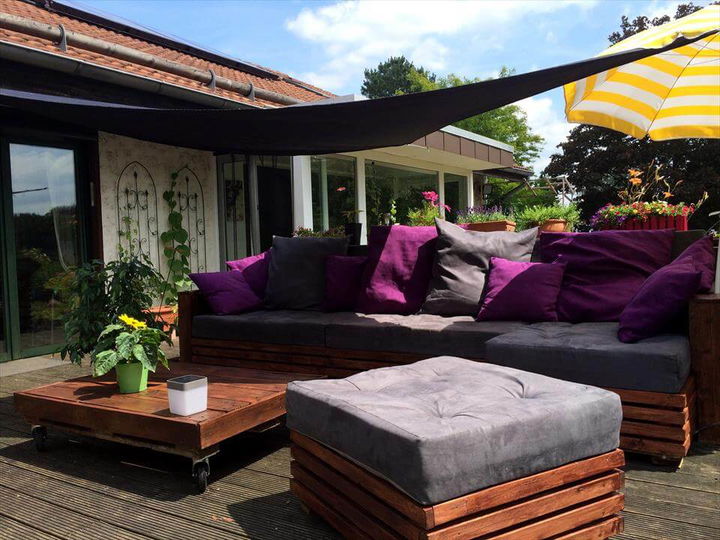 A slim low pallet coffee on wheels and a cushioned matching ottoman has also been made of pallets and the large sofa just provides a big comfort to entire lounge space!
You can love to build these pallet furniture inside the DIY Pallet Swimming Pool – Tutorial.
Made by: Uli Schmeißer