Here we are to share with you a custom garden renovation project done to gain an enchanting sitting spot in the garden where you can enjoy at any time with your family and friends! See the creative details here about this DIY pallet garden furniture projects, without going through any process of pallet cutting or dismantling, a fancy wooden L-shape sofa has been installed through creative piling and stacking of uncut but well-sanded pallet boards!
This entire Pallet Sofa set has been painted in white and the area where it has been placed also comes with an accent white floor done with white pebbles! To also enjoy the chilly winter evenings there, a fire-pit has also been made part of this outdoor sitting spot and has been built in the corner! There are solar lights fixed around the boundary that creates an ever beautiful view of this sitting area at night!

Finally the pallet-made sofa has been cushioned in black and the garnishing has been done by adding large accent planters to both corners of this sitting area!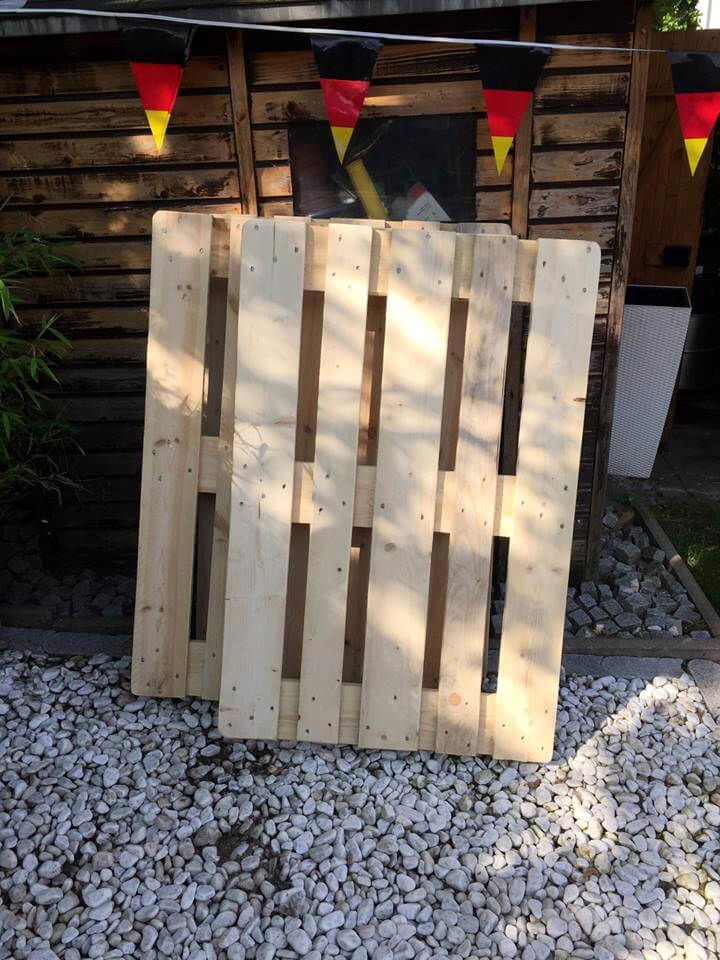 First of all the decided garden area has been dignified with a fill of white pebble stones and it has also been given a concrete boundary all around which will avoid the here and there scattering of stones in your green space!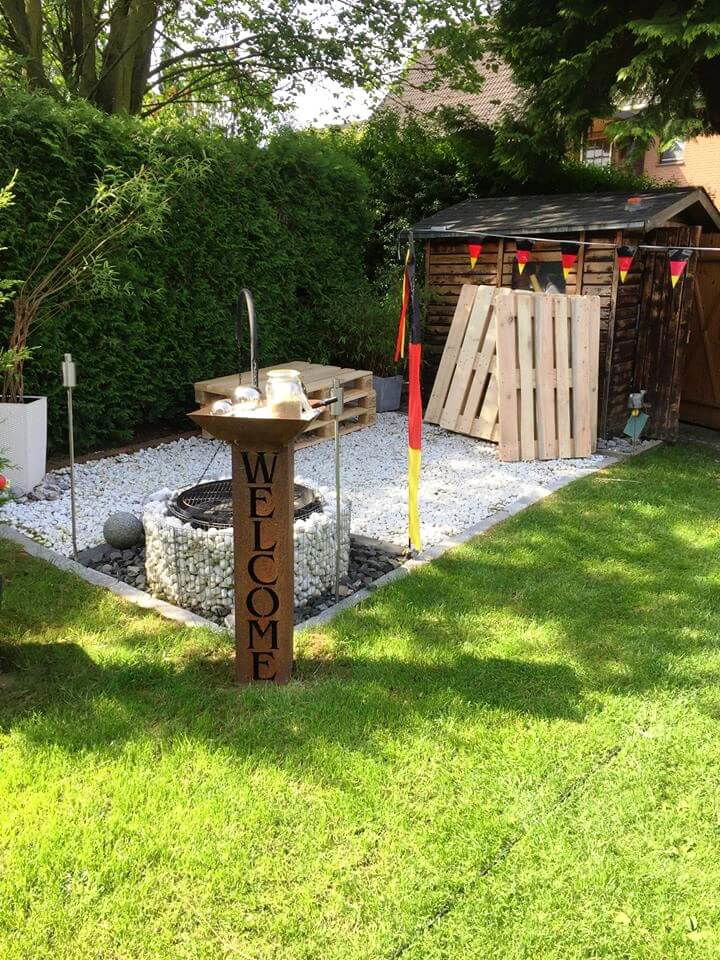 Here you can take a front preview of the garden portion that has been turned into an ever entertaining outdoor area through a cost effective DIY pallet projects!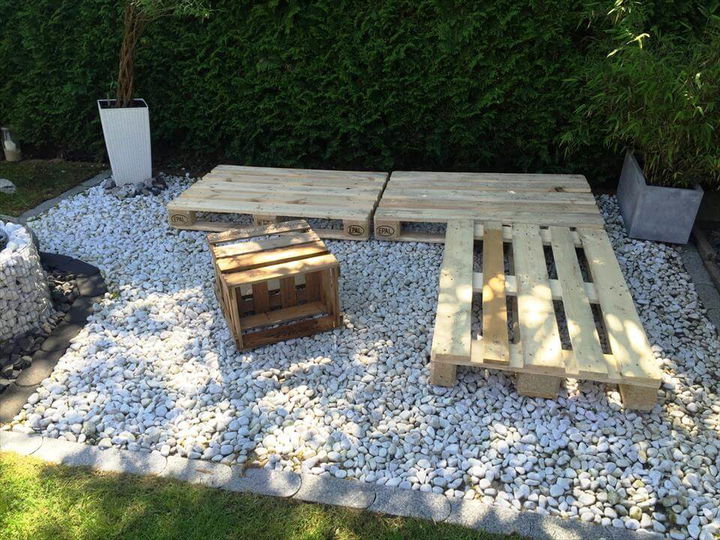 Floor up the well sanded pallet skids, arrange the pallets in L-shape if your going to gain an L-shape cozy sitting plan! Join 2 crates in bottom-to-bottom arrangements for a mini but storage friendly coffee table there!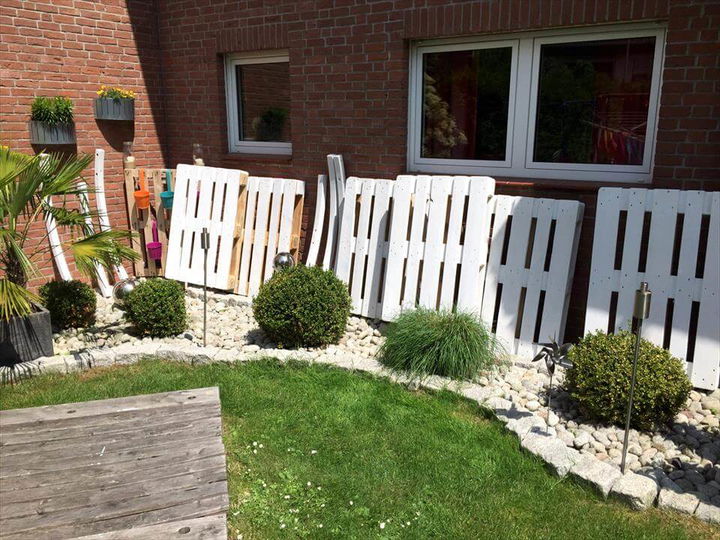 After making some creative trials or rough arrangements, you dislocate the pallets and can be paint them one by one to add some colors to your sitting set! Here pallet skids have been painted in white and has put vertically against the wall area facing the sun, so the paint coats will be dried quickly!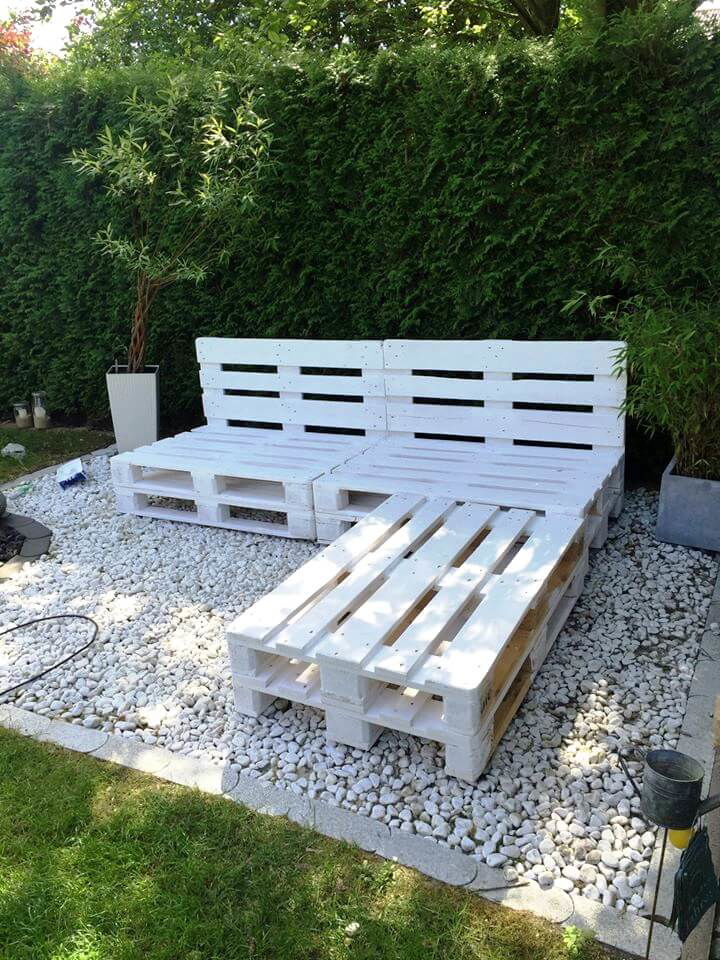 Rearrange the same pallets after paint and install the primary frame for your garden sitting plan! Here 6 pallets build the sturdy L-shape frame while 2 pallets with removed back portions have been added to backside as dominant backrest positions!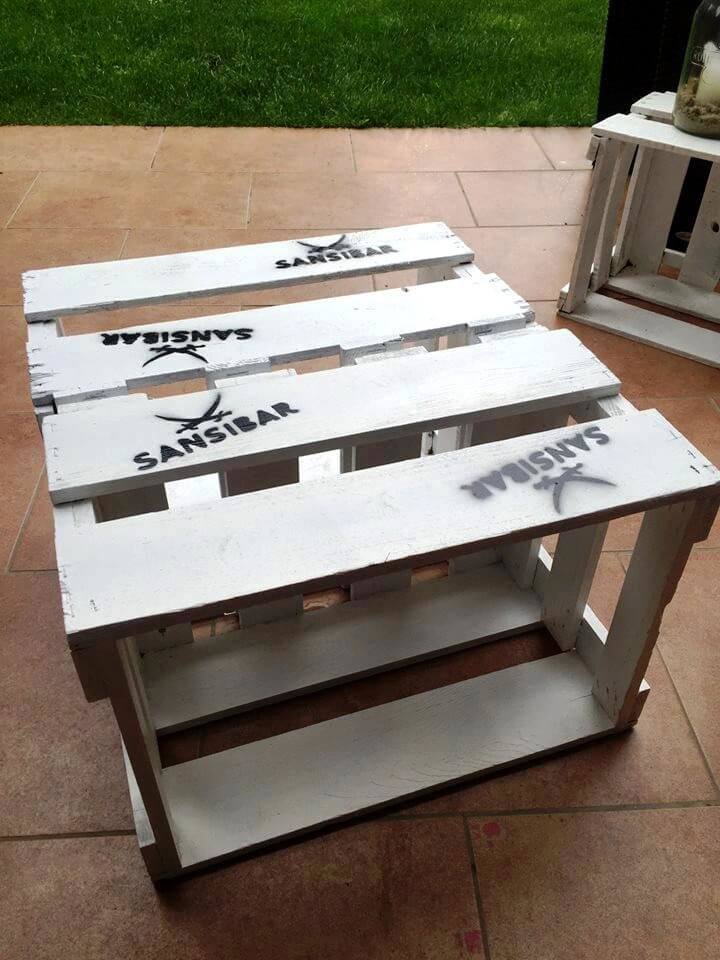 Coffee table has also been painted in white to match the entire sitting set and has been personalized with custom black spray painted logo!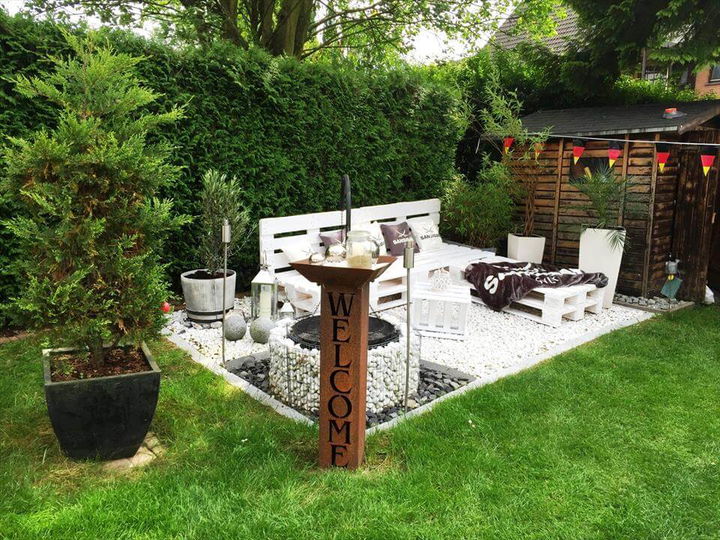 Lots of other things and decors have been added to turn this specific portion of garden into a mini heaven! The corner of the pebbled floor comes with fire-pit which is also having round exterior filled with white pebbles just for a perfect match!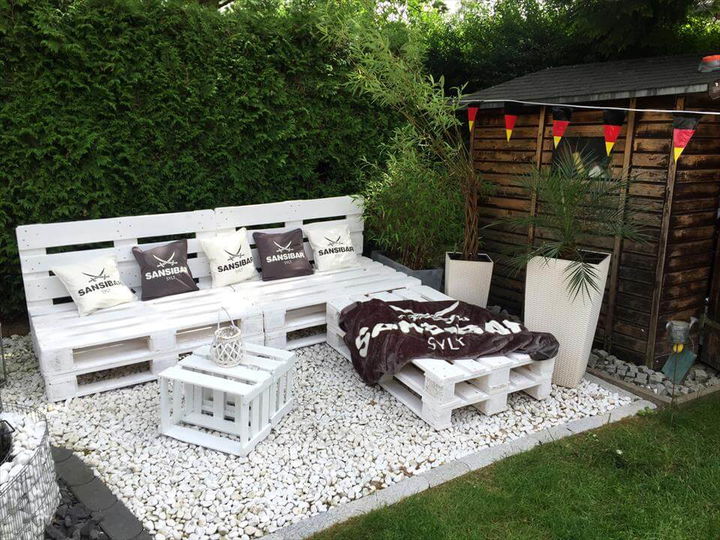 Finally you can add the custom pillows and cushions to replace the wooden hardness with comfort, here a white and black pillows with custom logo has been thrown over the seats!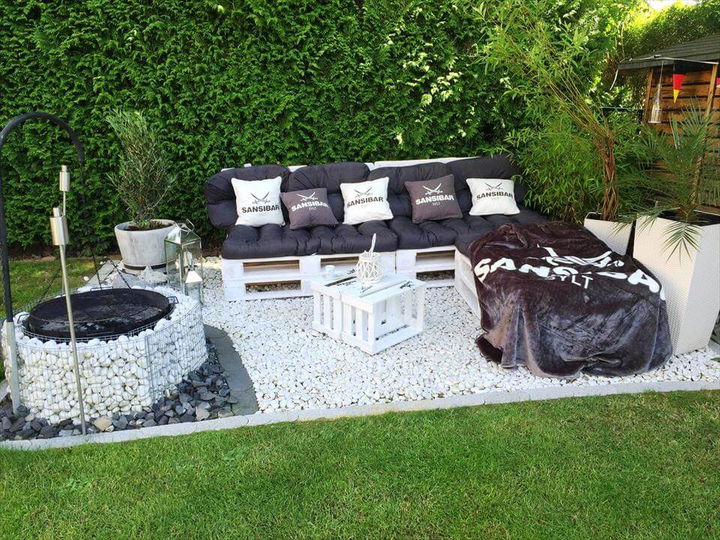 Seats have been cushioned in black for an amazing black & white theme of this entire sitting set! Fire-pit has also comes with additional metal fencing all around and overall garnishing of this entire garden sitting area has been done using awesome big white planters, placed to corner sides, and also with custom solar lights fixed across the boundary!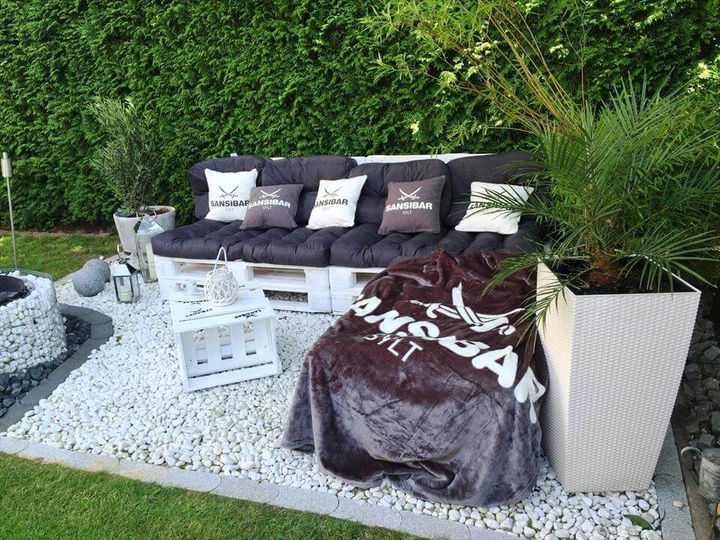 Chic white appeal of this entire garden sitting lounge, blends in amazingly to surrounding garden greenery but you can prefer your own favorite paint colors!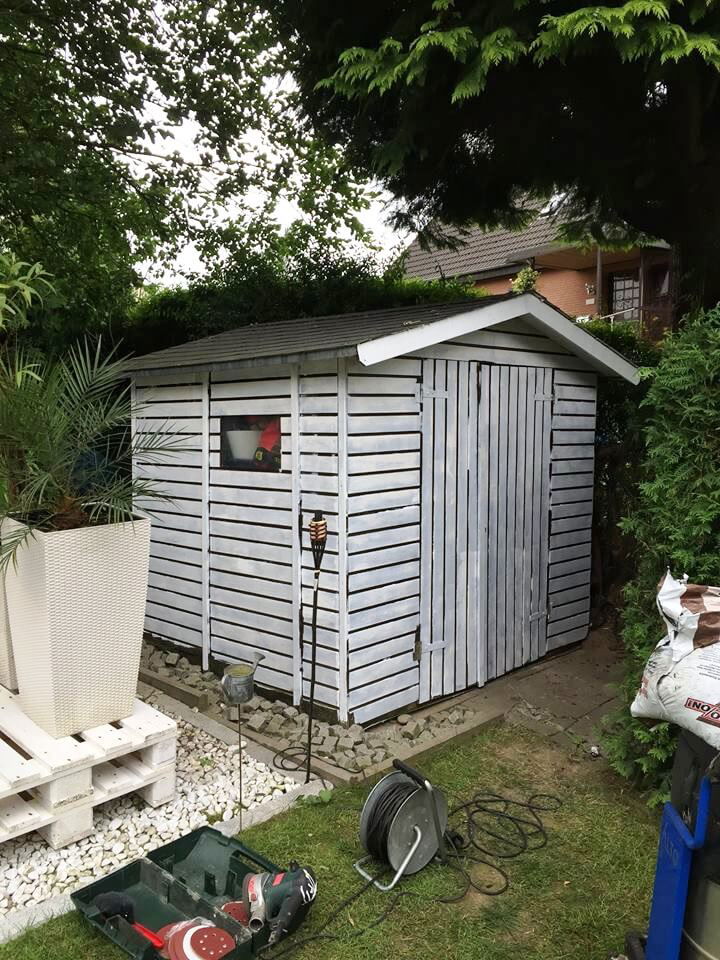 This entire sitting set has been done in sides of already made garden shed which is also made of pallets has a beautiful chevron roof!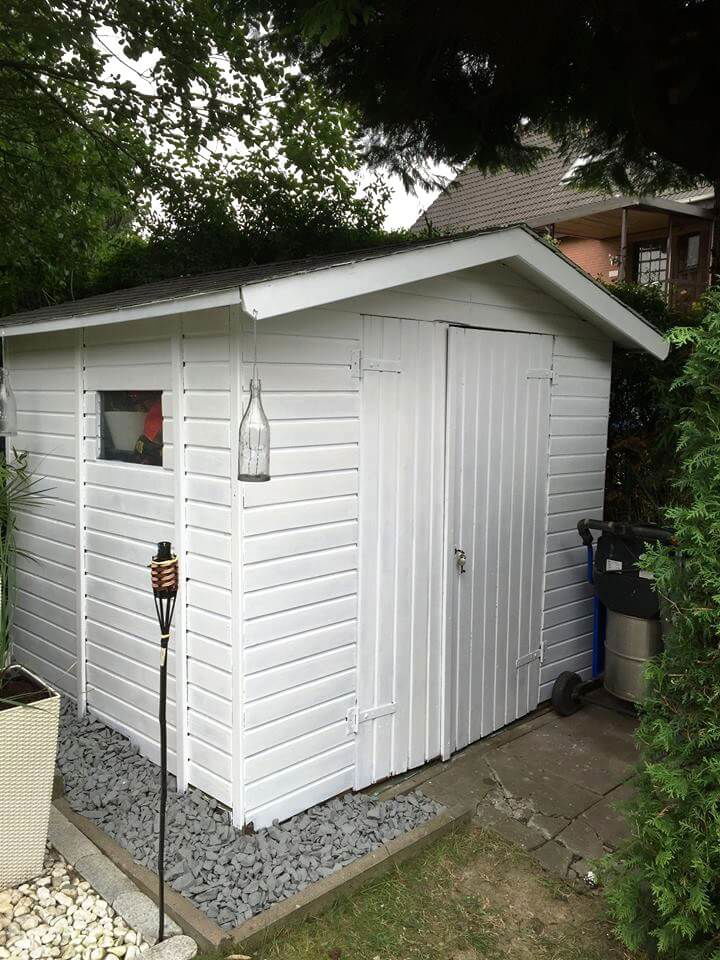 Entire shed has also been painted in white and comes with old glass bottle lamps hanged to its corner surfaces, another scrap material of home reused creatively!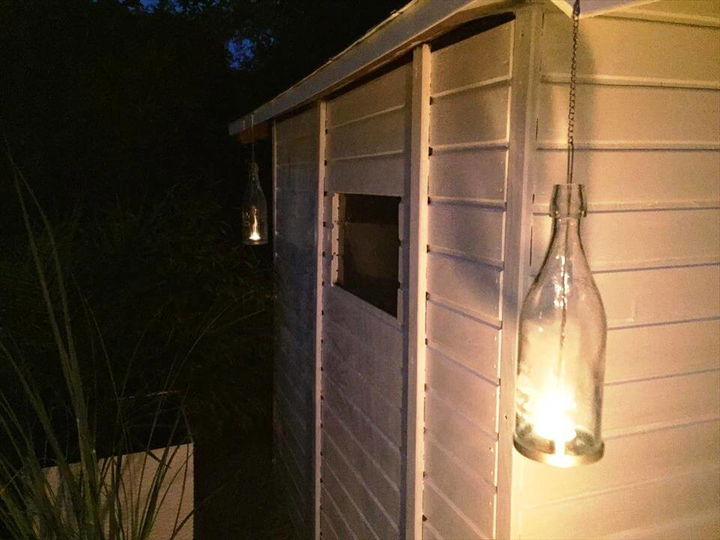 Here is how the hanging glass bottle lamps will look at night while being illuminated!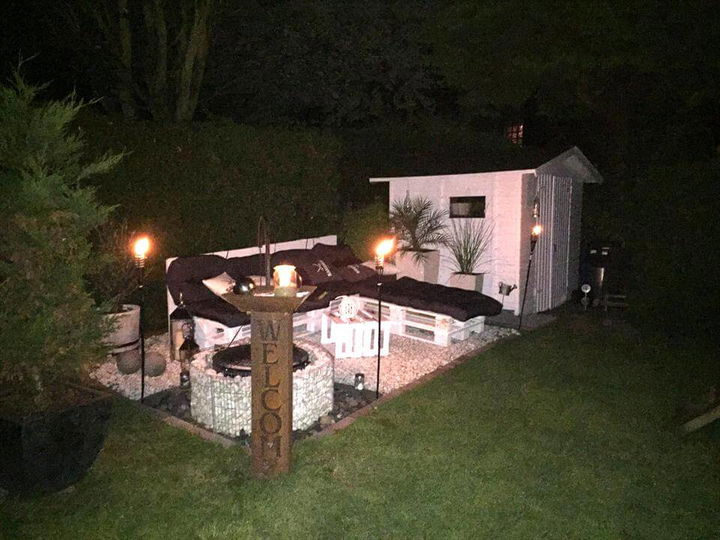 Here is a whole night preview of garden sitting lounge, solar lights give the soft light glow at night which makes the entire sitting area look romantic! This perfect garden sitting lounge can be planned for both summer and winter parties!
Made by: Timo Gross