A coffee table is the piece of furniture of top priority while you are making some of your spaces ready for gossips and sitting affairs! After the chairs, sofa and benches a coffee table is always the final addition that creates a well organized look of every outdoor or indoor sitting environment! If you just love to be special in case of coffee tables then we have brought here a praiseworthy DIY inspiration for you! Just take a little review of this DIY pallet coffee table, is an entire composition of pallet wood, comes on flat legs that ends with sharp cuts, it raises the aesthetic value of design to peak for sure!
There are also many other mind-blowing features that make it a rare piece of furniture like its grand size help more people to be around it, its robust legs making it stand stably and finally the lower shelf help the user to organize his all spare items during the sitting period or session!
For extra stunning and totally unique appearance, this coffee table has been dignified with custom wooden accents like one mounted on the top side and 2nd is the wooden dowels locking the legs together and ends with accent hardware heads! See more about construction given below!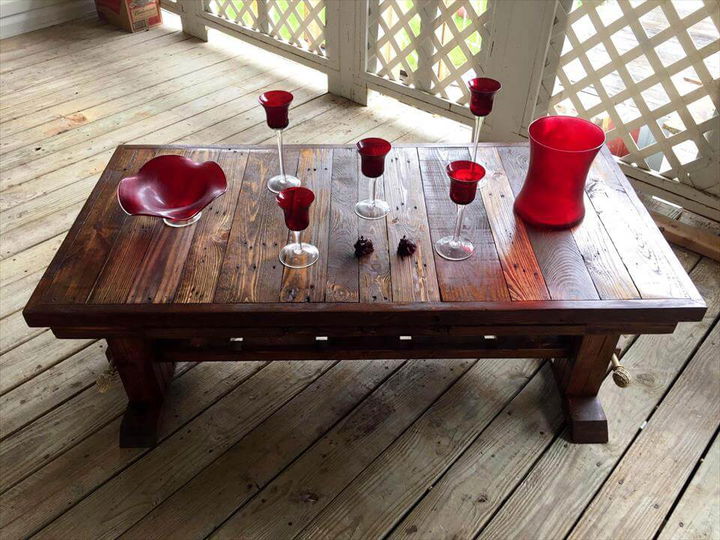 This featured model of wooden coffee table is something we can call a marvelous pallet creations, comes with every thing stylish and finely built!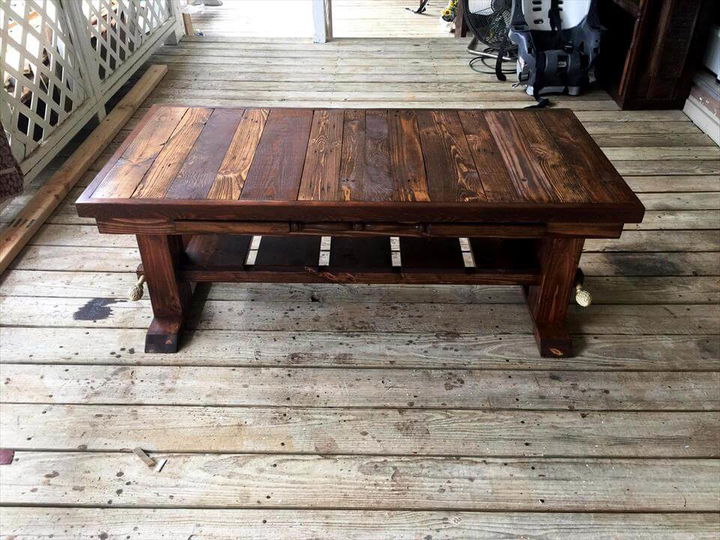 Plan the base frame first, here it is made of pallet stringer boards, removed thicker slats and those of separated pallet deck boards!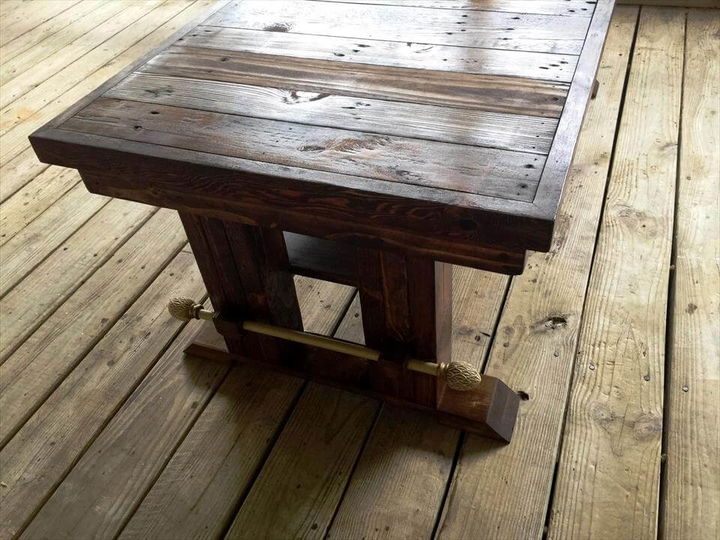 A bundle of 3 or 4 short pallet lengths serve as 1 solid leg, both one side legs stands on a flat wooden plank that has been given sharp edges, this is a big compliment here to artistic appearance of coffee table!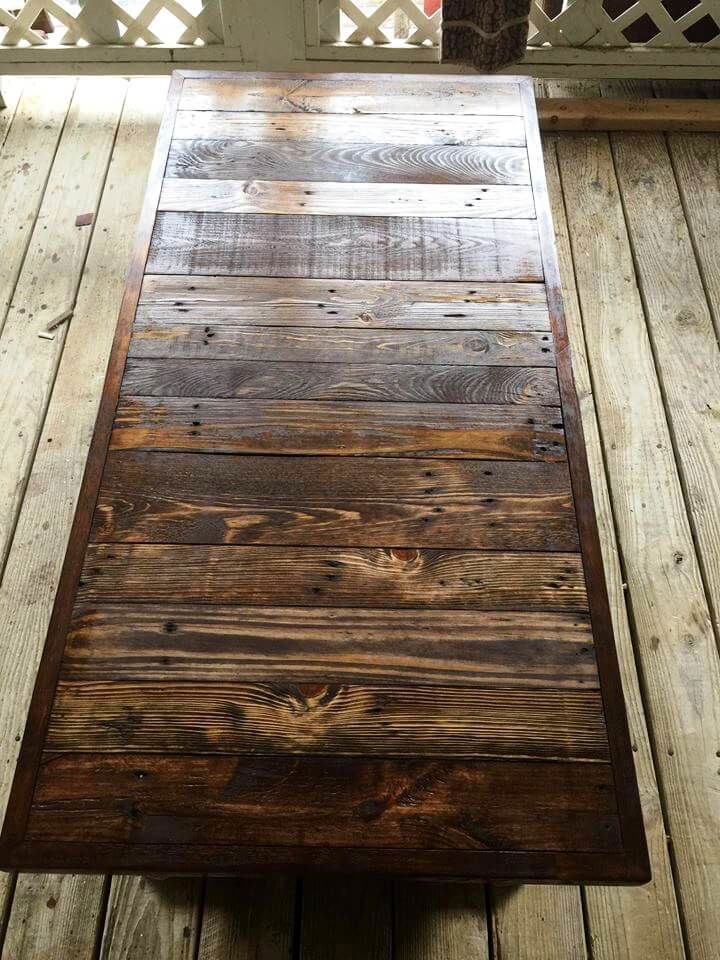 Top of the table has been made larger here, by going with flat cross alignments of pallet slats, the base frame has been filled for a solid top, side trimming of top has been done with an additional wooden border!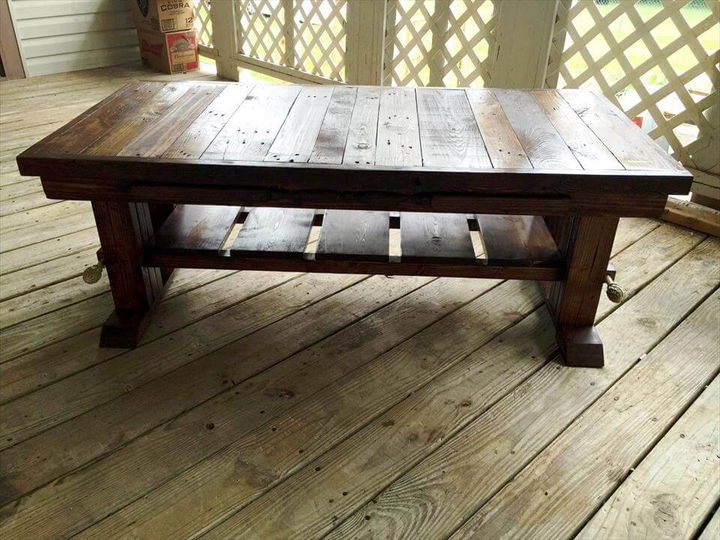 Here the installation of lower shelf to table is a bigger creative twist, custom long wooden lengths have been passed through the legs which ends on the other side of the legs and are having custom holes in them!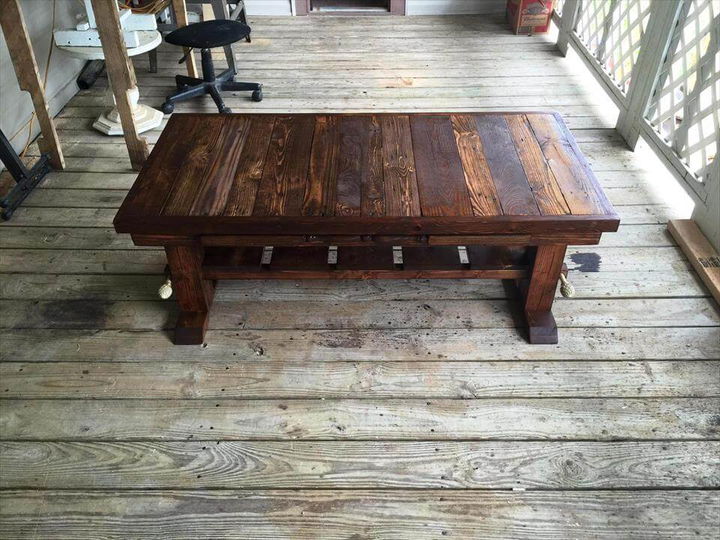 This holes been made for addition of custom wooden dowel sticks through them that not only lock the legs together but also ends with accent hardware heads on both sides that spice up the entire artful look of the table!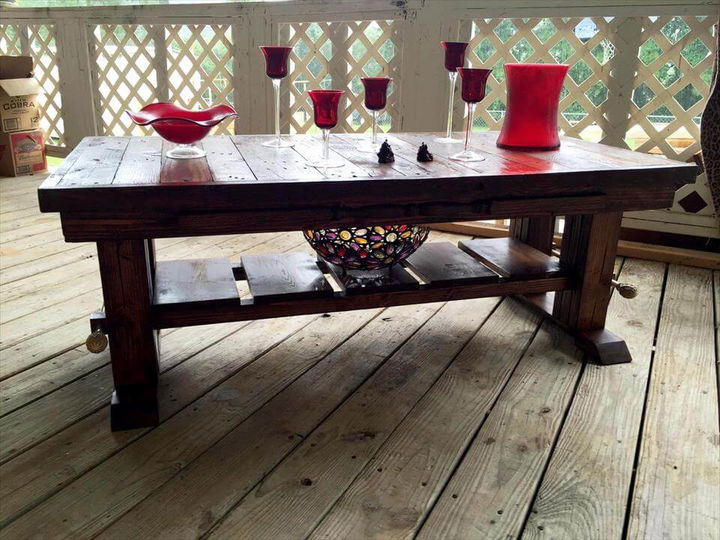 The longer sides of the table dignified with custom wooden accents that have been mounted amazingly there using glue and hardware, this is how the table gains a one-of-kind eyeful look!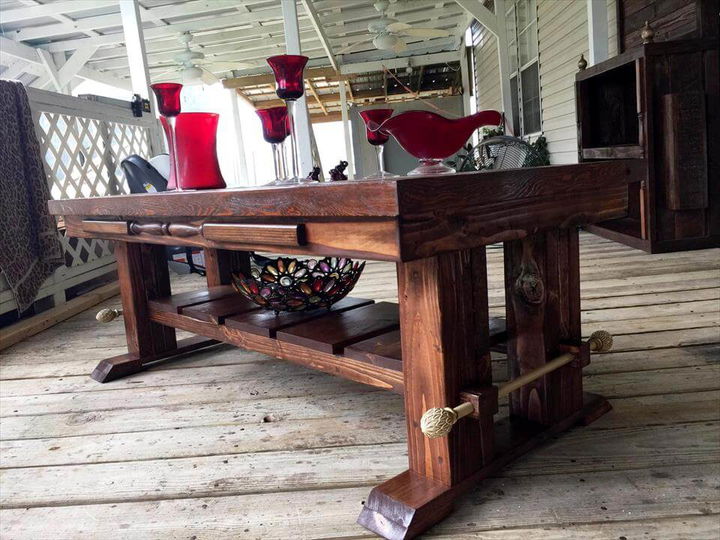 Then the wooden rails built at very bottom side of the table has been turned into a shelf by adding pallet slats one of one in a simple straight and flat manner as you can see! Outside accent cross dowel supports really give the legs extra strength to be more lasting along with a glam finishing touch!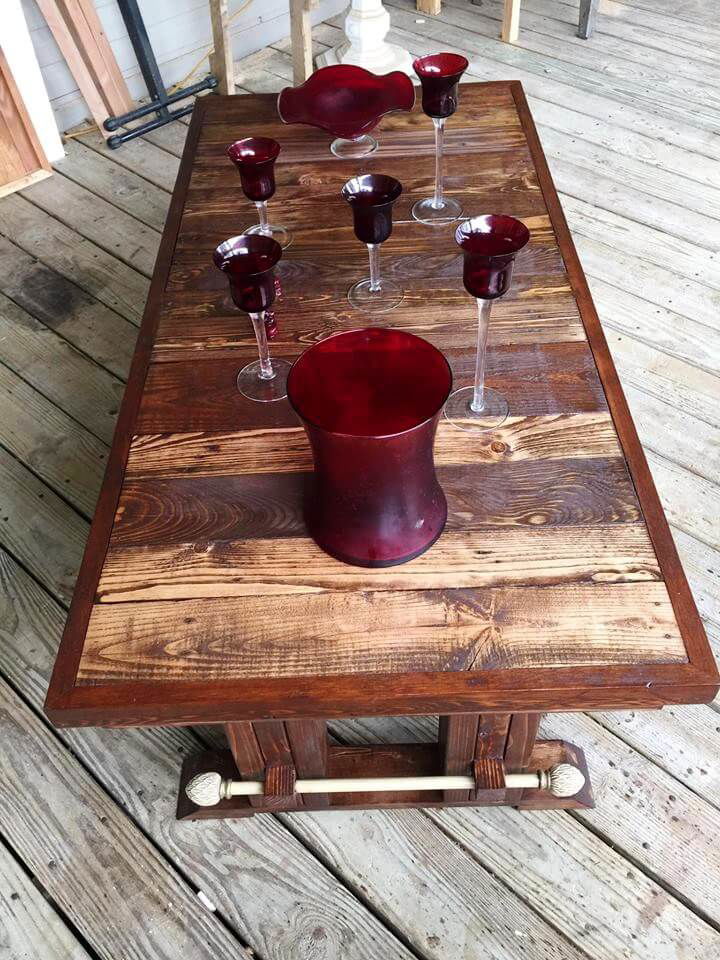 Bring alluring spark to wood grains by finishing this wooden table with a stain and wooden sealant, vary stain shades to vary the wooden look of the table and do the same using paint also!
Made by: David-Wanda Wicker