Sometime we just want to get the wall functional for some exclusive purposes like for display some decors, to hang some items over the wall area and also to store some items of interest to that particular wall area, this DIY rustic pallet coat rack with shelf can beautifully be made to perform for all these special purposes at one time!
The overall wooden structure of it, is actually a modified and finely cut apart bottom of a pallet board, made capable to meet your instant hanging needs with a fine assortment of 5 double metal hooks! For a boost to rustic appeal, the random paint brush strokes have been given to wooden surfaces of it! One awesome storage shelf and a top decorative mantle, have been achieved by just filling up the openings using extra wood!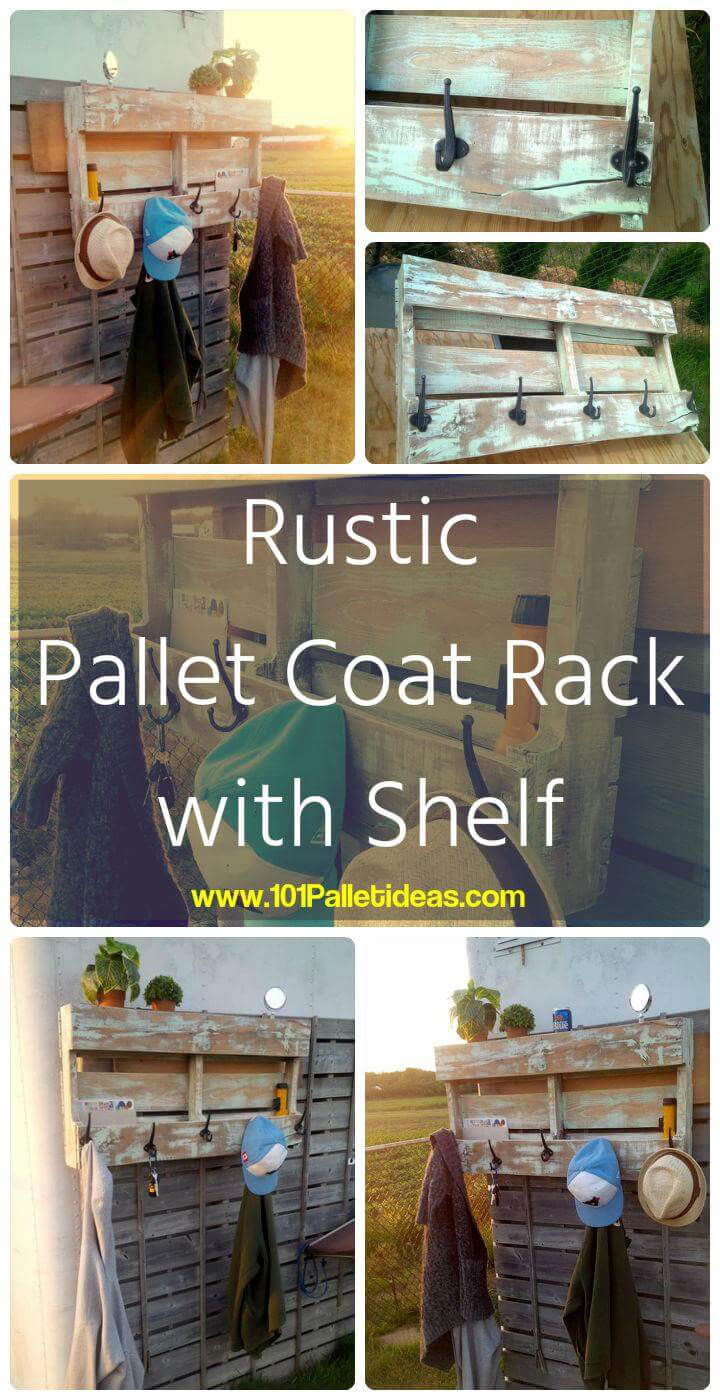 It can be painted in any nice paint color for a distinguished or matching visual and can even be left blank or in this rustic wooden appearance for a glam antique touch to that particular wall area!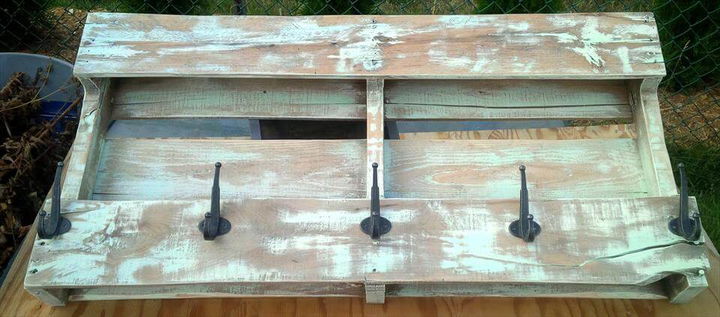 1st method: the shapes just like of this wooden coat rack, are already made in pallets, this is actually a very bottom part of a pallet board cut down apart to serve for a rack purpose! So you make it directly by separating apart the lower portions of pallet boards!

2nd Method: It is pretty simple to assemble this wooden rack model using the wooden slats and wooden stringer boards from deconstructed pallets!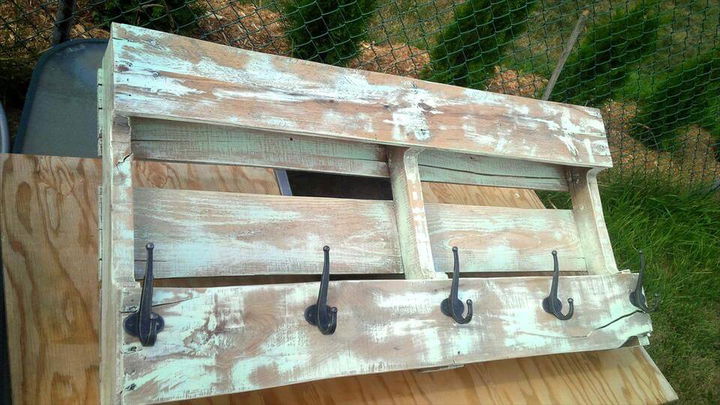 Through custom paint brush strokes, the appearance of this coat rack has been made perfectly rustic, distressed white paint coats would make it look shabby chic!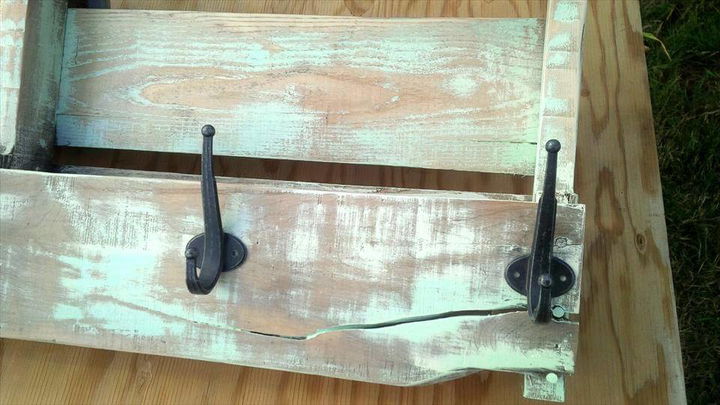 Finally the double metal hooks have been assorted in a line to very bottom of this wooden rack, screwed in to stay last over the wood even when you will hang some weight on them!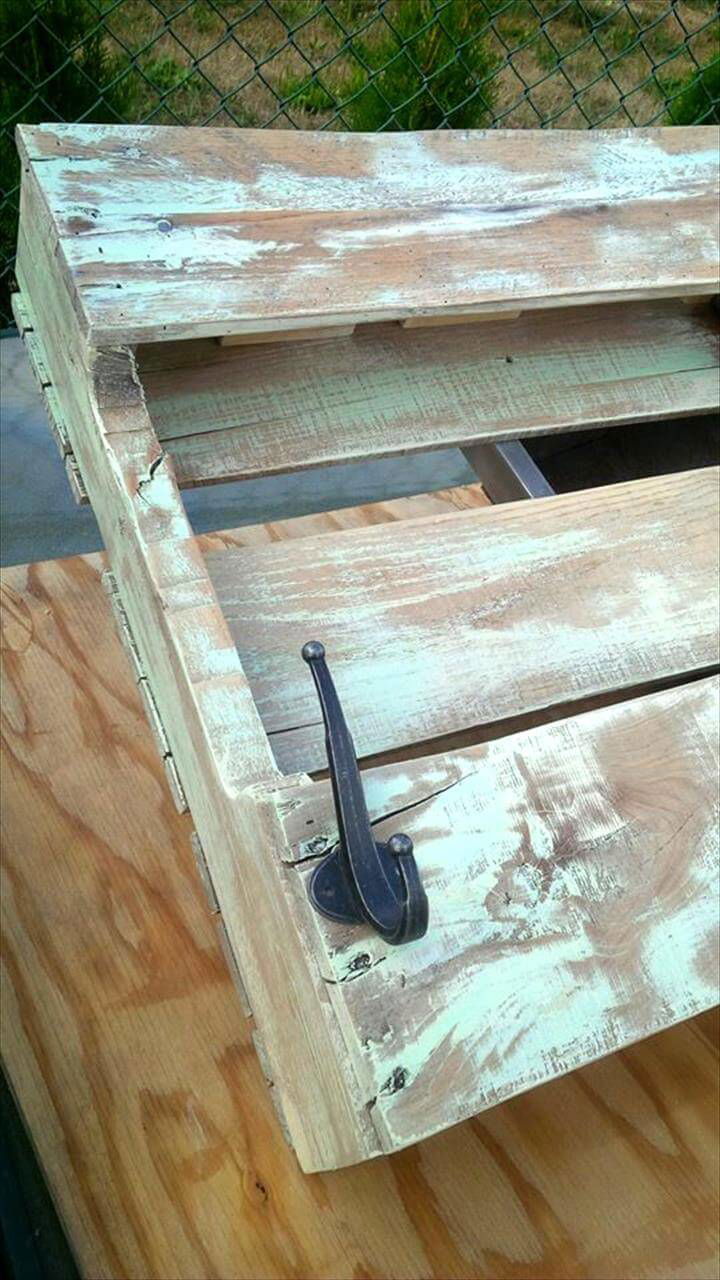 Now just turn the openings in this wooden rack into shelves or holding by using extra wooden for their coverage and enjoy a dual functionality of it!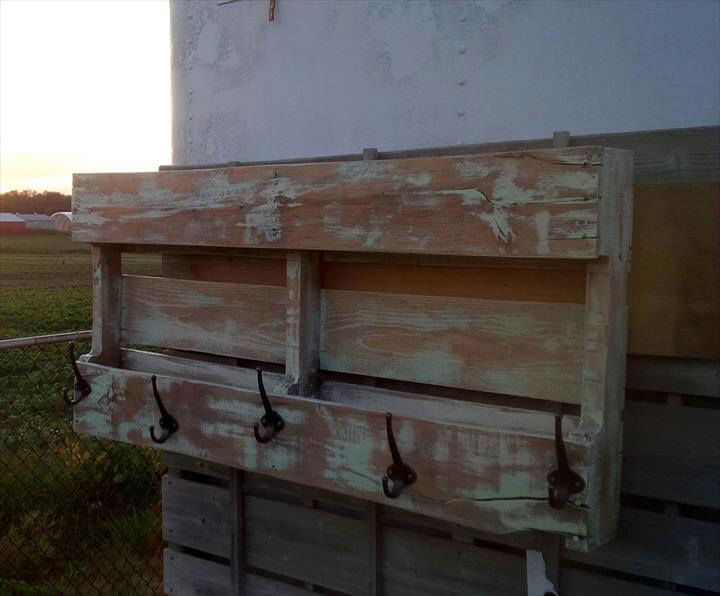 Here this pallet coat rack with shelf, has been installed to an outdoor wall and will serve as a perfect organizer, hanging station and also as a display station!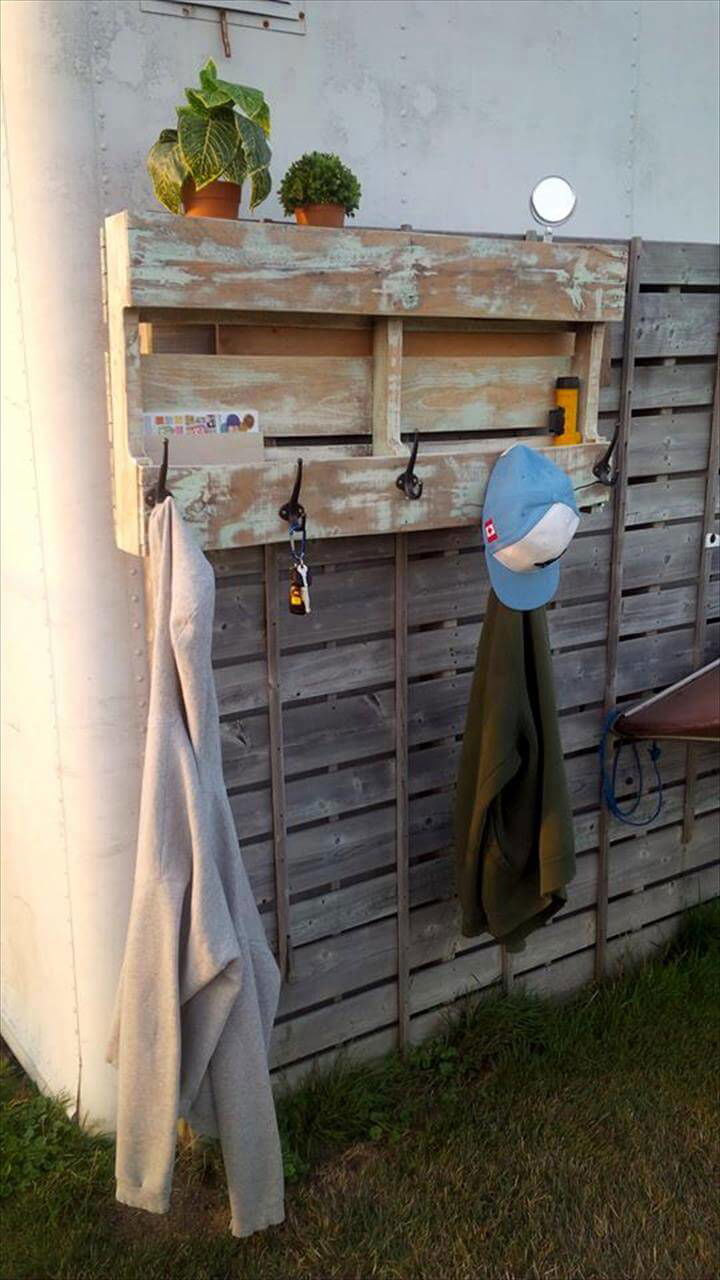 Here is a little storage plan, at one time, you can hang your hats and coats on it, can store the night torches and books in it and can also display your garden pots over the top shelf of it!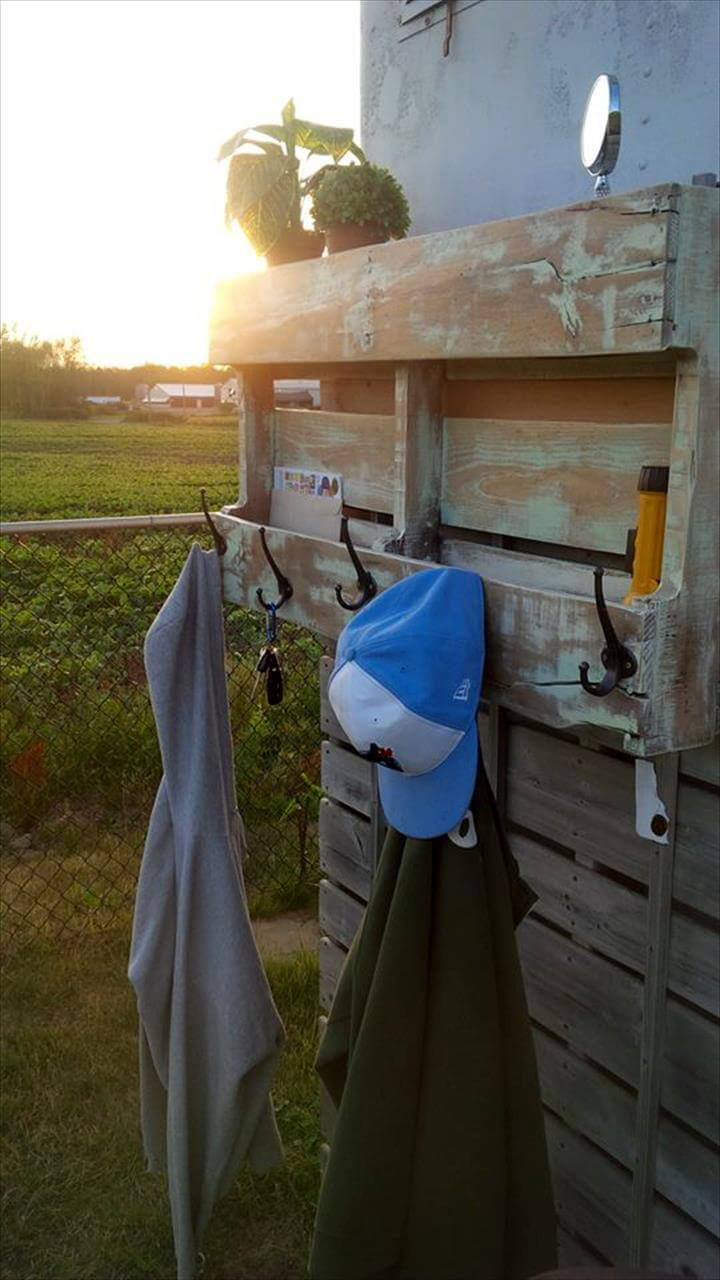 One rack with a shelf and a decorative mantle, a great way to reuse leftover pieces of pallets and lower parts! Construction of this wall organizer is really no-sweat and no-cost!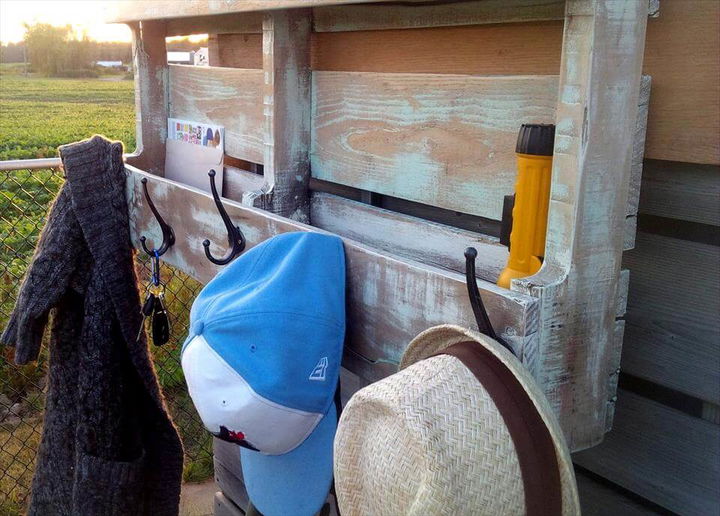 Can be hanged on your entryway wall as a perfect organizer to take good care of your immediate items like keys!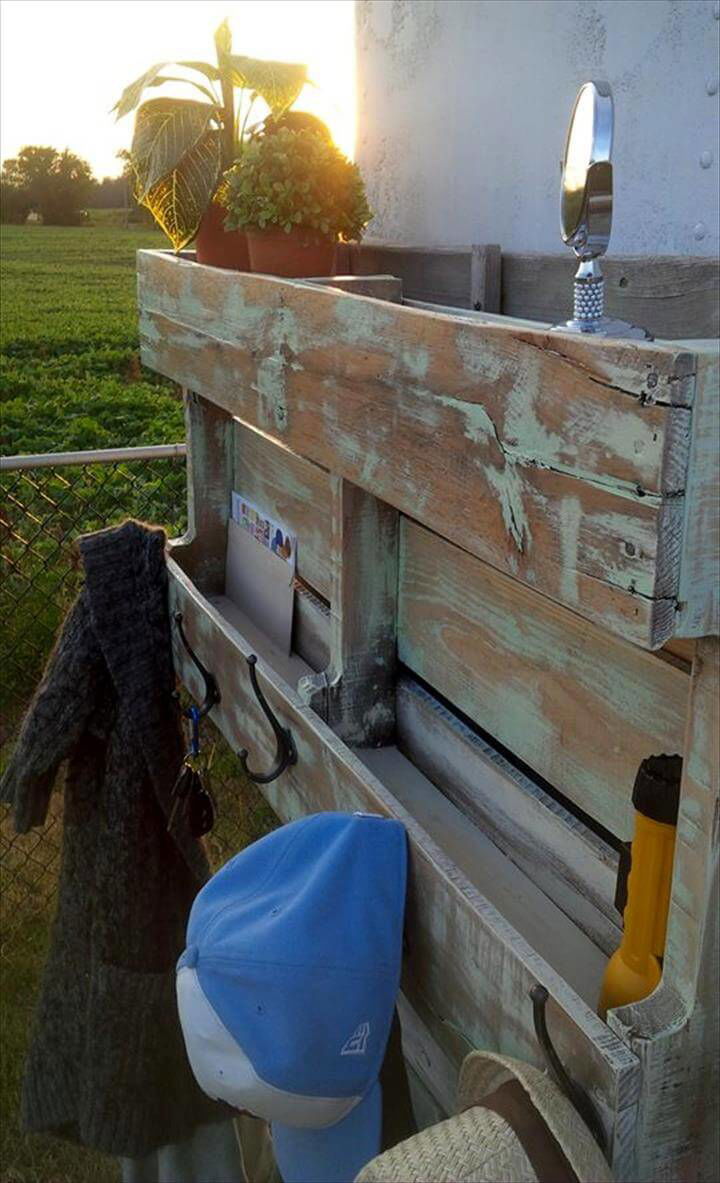 Store all in built-in pocket from beverage bottles to books to custom items of interest!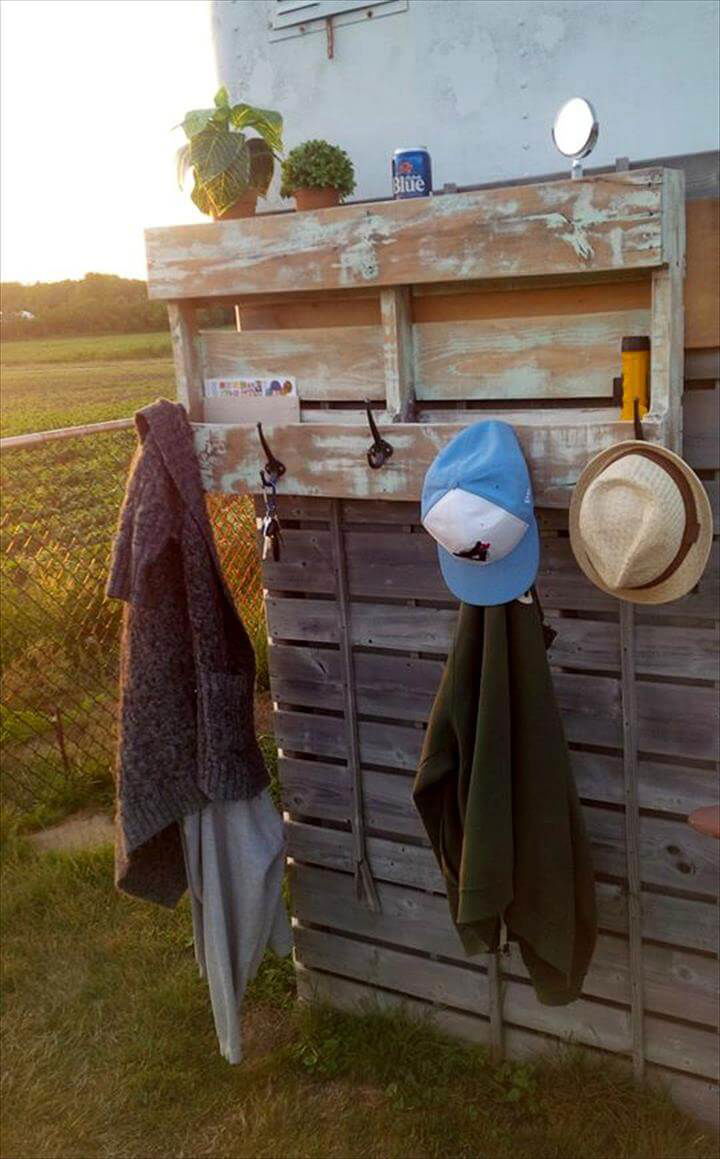 It will also work like a charm on a bathroom wall, would be ideal there to store the toiletries and also to hang the clothes as well!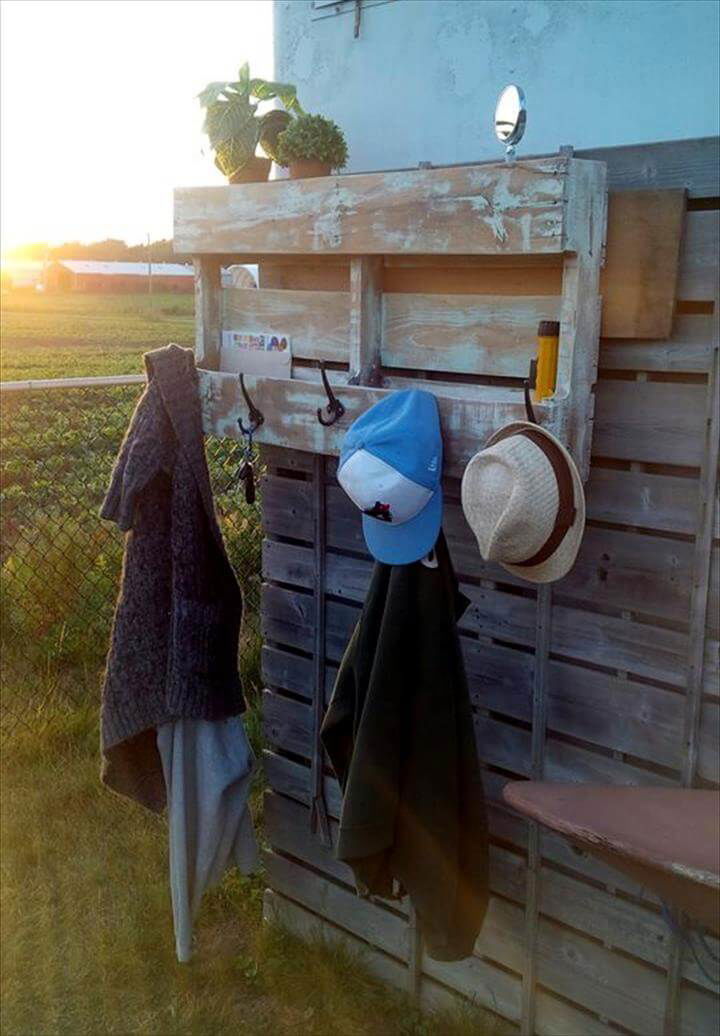 It is really an ideal pallet wall organizer that gives the storage and hanging space at the same time to organize your respective items of interest! Above all, it is having cost-price equal to zero!
Made by: Stevensville Pallet Project {you can purchase it through them on Facebook}