Firewood stockpiles can be seen around the houses as people just tend to stock the dry firewood for later use in the indoor fireplaces and also in outdoor fire-pits! Most of people prefer the metal or wood made sheds for storage of dry firewood which prevents the wood from rainwater and also from rotting! Install lasting wooden sheds now using retired shipping skids, the pallets! Why pallets are ideal candidate for building firewood sheds you can just see it in this DIY pallet firewood shed project, done to provide weather protection to firewood!
Pallet have been spacing in them that cause amazing air-circulation in the shed letting the wood dry early! Pallets are made of hardwoods, it ensures the lasting stability of the entire shed and above all, retired pallets are free to grab also that is main reason behind that this pallet firewood shed has been done at no-cost budget plan! Just fold back your sleeves and get ready for the super easy construction of this wood shed if you are all willing to secure a pile of firewood at outdoor!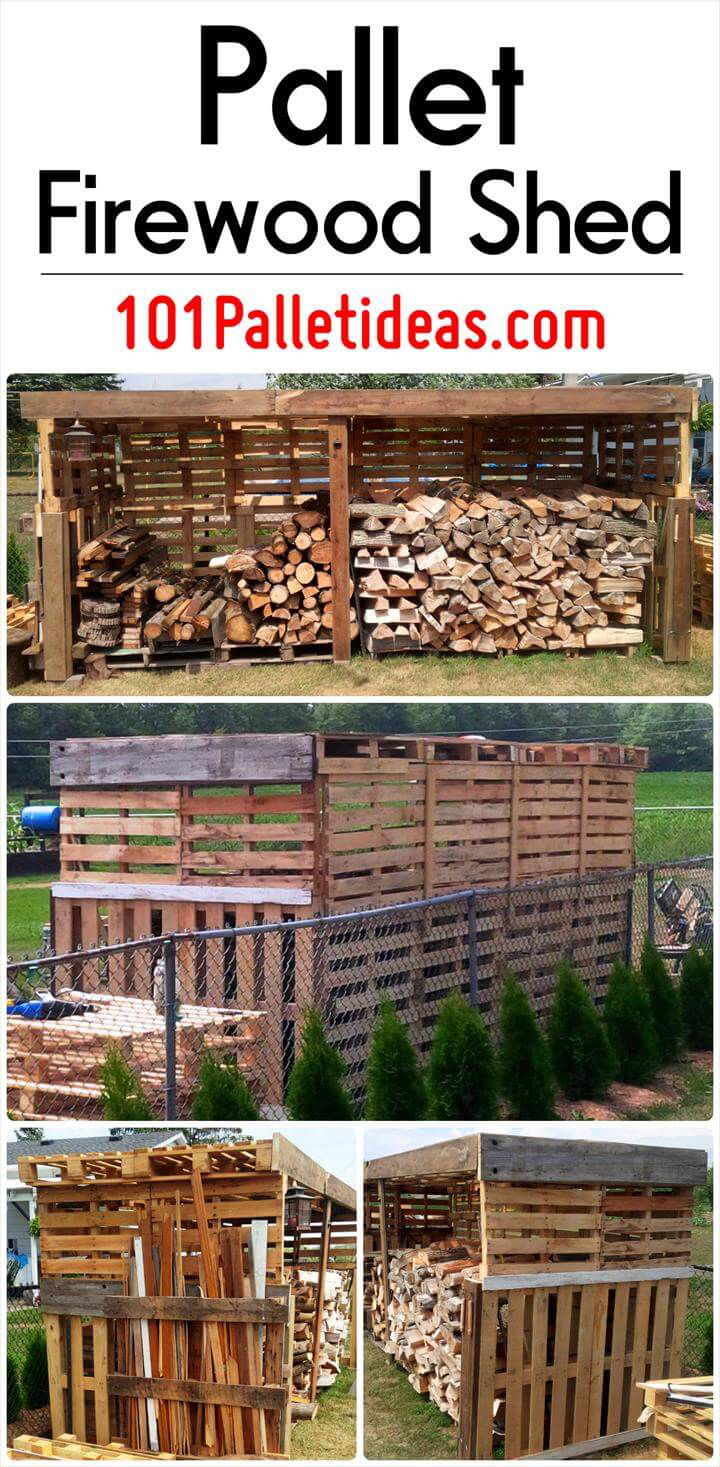 This project is all about a guidance and a little creative advice to recycle pallets for personal benefits, while stockpiling firewood we always tend to keep it dry as dry wood is always friendly to fire flame, so an easy burning of wood starts! This shed is a perfect way to keep your wood dry longer and entire pallet project is also budget-friendly, so there is nothing to stop you to get this!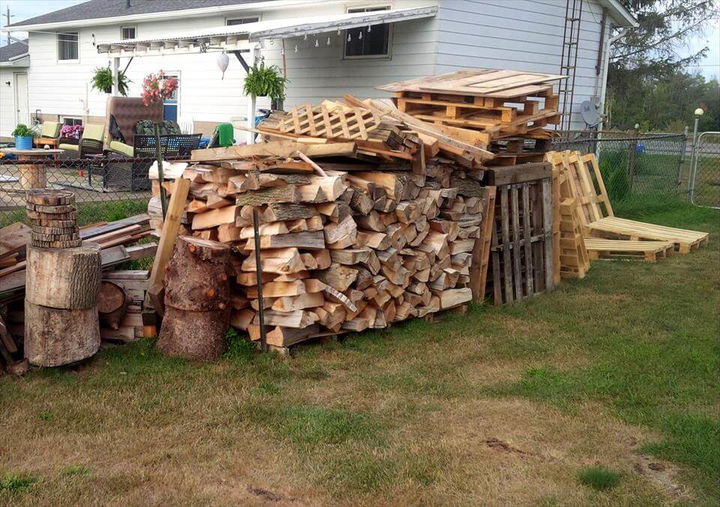 Here it has been decided to keep the firewood off the ground level so it will be dry always for instant burning! Being off the ground also reduces the danger of insect attacks, sometime the real enemy of wood!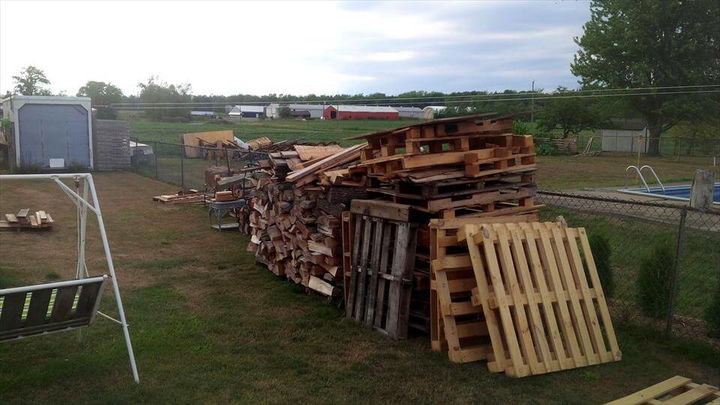 This here the very first or before before preview of pallets and firewood, here firewood is all open to outdoor weathers, so to prevent the early rotting of firewood a shed was a crucial demand!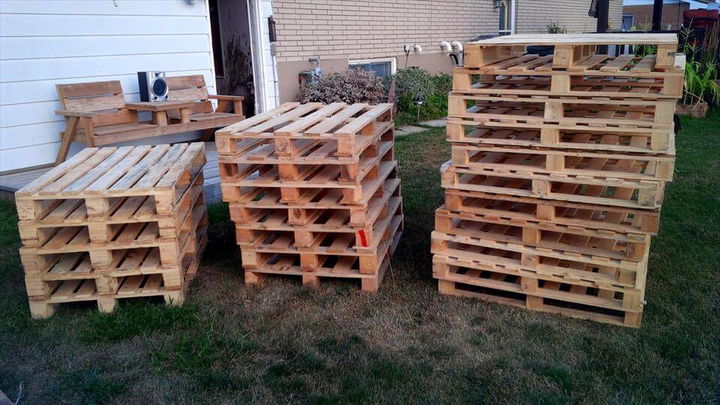 Pallet skids have been decided here as beefy units for entire shed construction just like the bricks for a building! You can plan a soapy wash or and also some primary operations like sanding if your pallets are looking ugly due to gunk layers and also due to lot of splinters!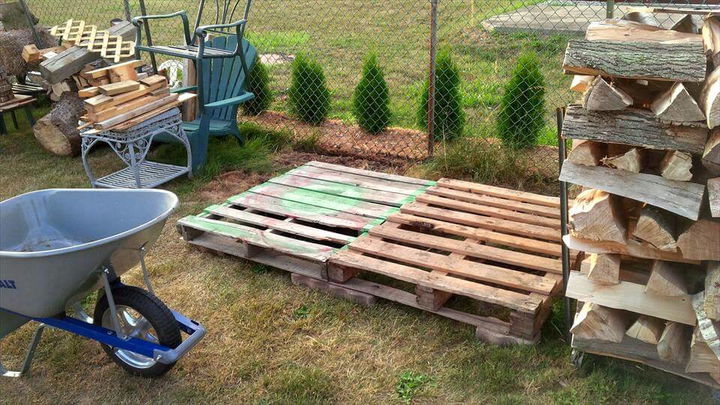 Here first step is to setup a lasting wooden floor first which will keep the firewood off the ground, so pallet have been put together in side to side arrangements, for leveling of floor, concrete tile supports have been fixed under! Here whole intention is to add more space for storage of firewood and a secure building to prevent rainwater damages to wood!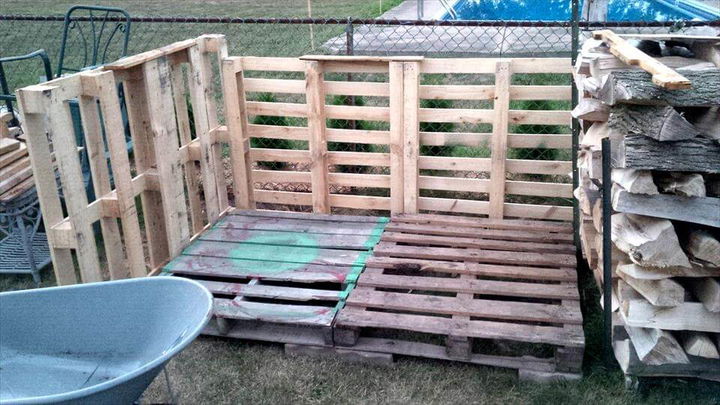 Here already stored firewood is as it is while additional walls have been built around it as you can see! The inside metal dividers will help you to store 2 different types of firewood at the same time in this firewood shed!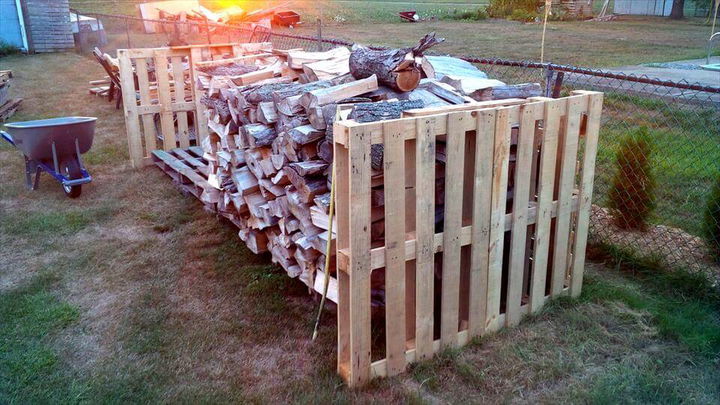 Just put pallets vertically around the firewood and just add 2nd layer of pallets in the same way to raise the walls more to decided height!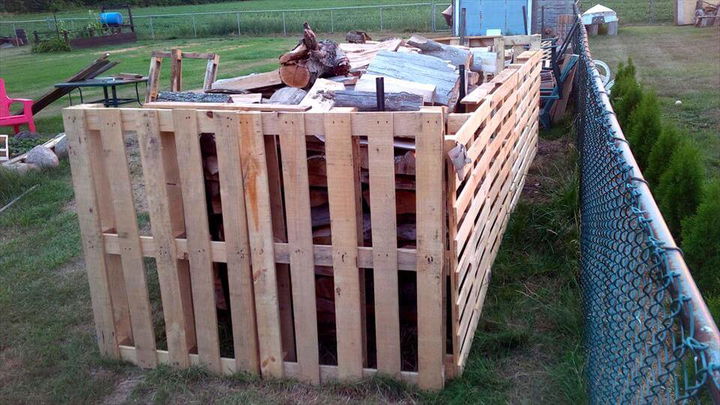 Here challenging part wood be to assemble the corners of pallet-made shed walls together, but you can easily manage it by using the recommended and latest hardware!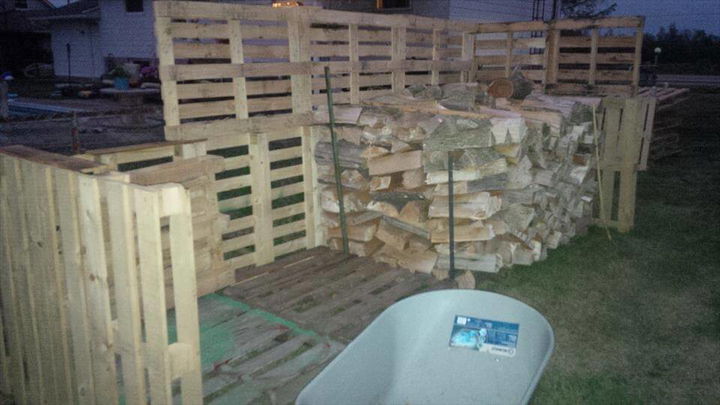 Adding 2nd layer of pallets will demand you to keep patience as it may be a little tough by with a little outside help, you can make it done quickly and precisely!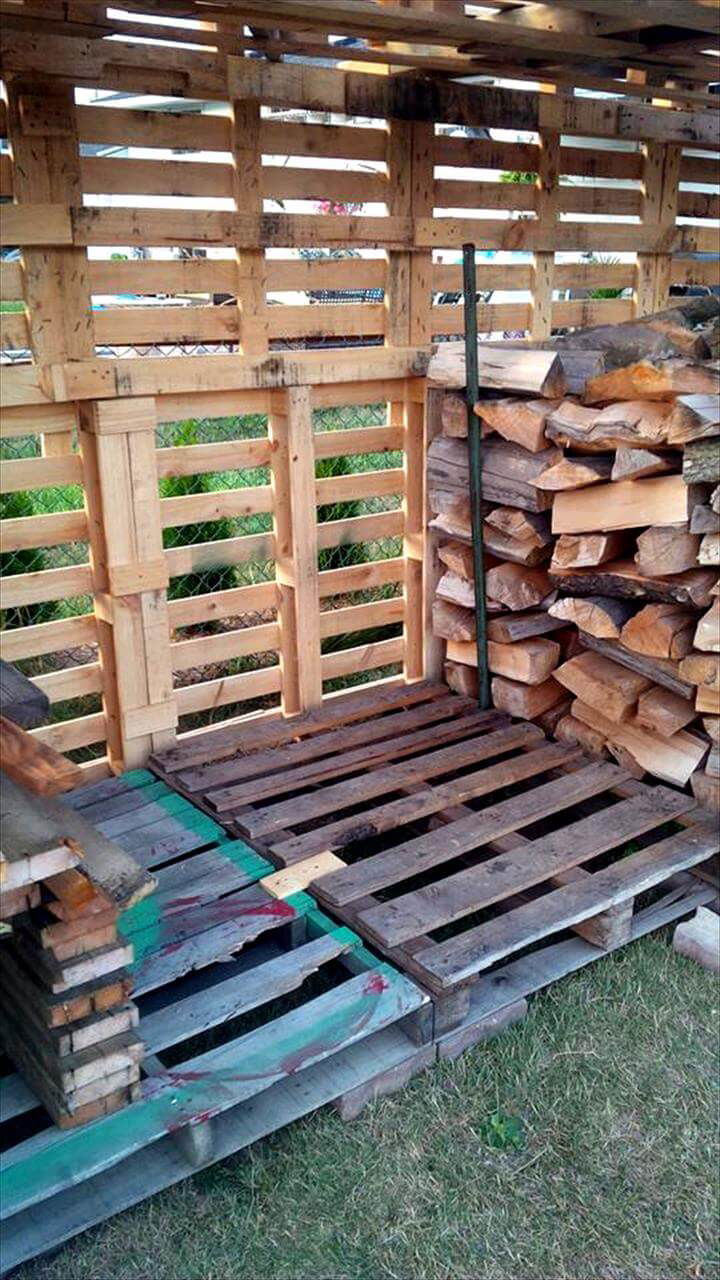 Add the pallet boards one by one and fasten them tight with hardware after getting fixed to targeted position, the line of junction of two pallet layers should be strengthened more with extra wood and hardware otherwise it may result into an injurious collapsing of entire shed!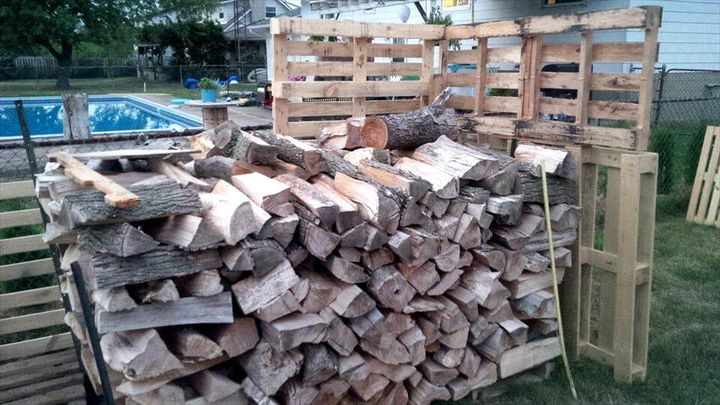 Fasten the pallets together and also with bottom layer, better assemblage and fittings will make your get with better results for sure!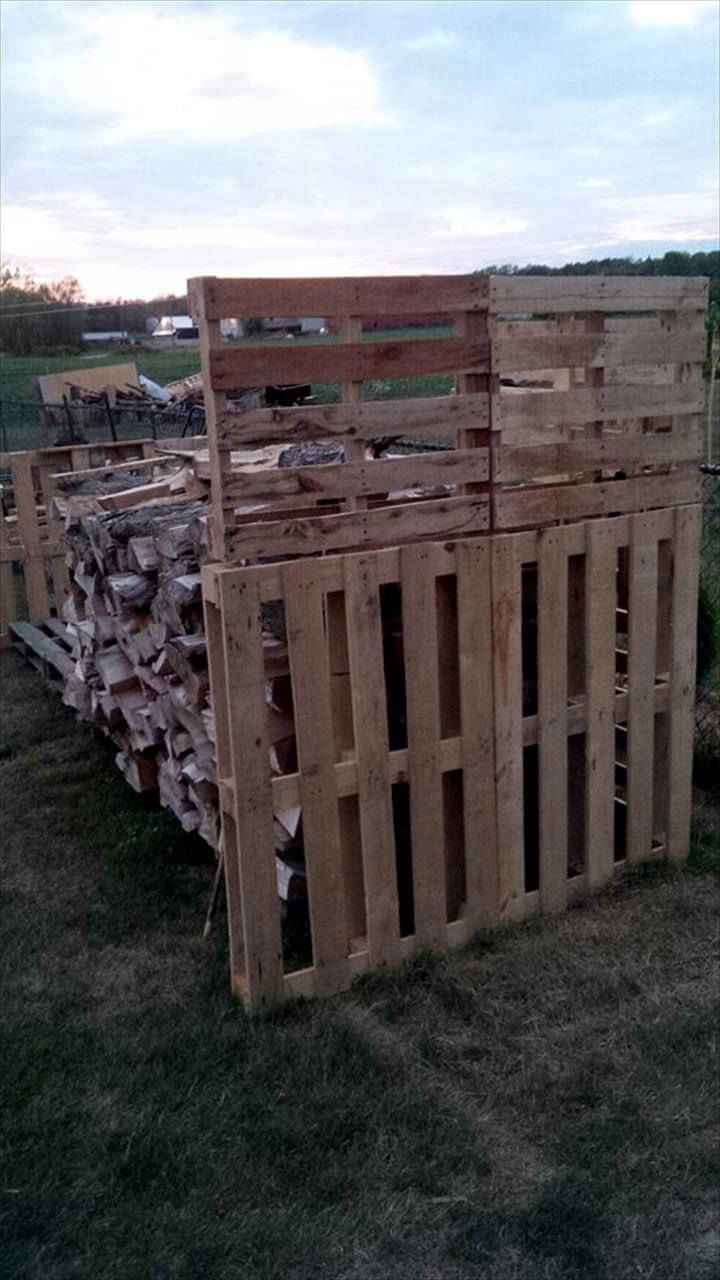 Here installation of 2nd pallet layer has been started from one corner as you can see and you will have to reach the other corner by going in the same way!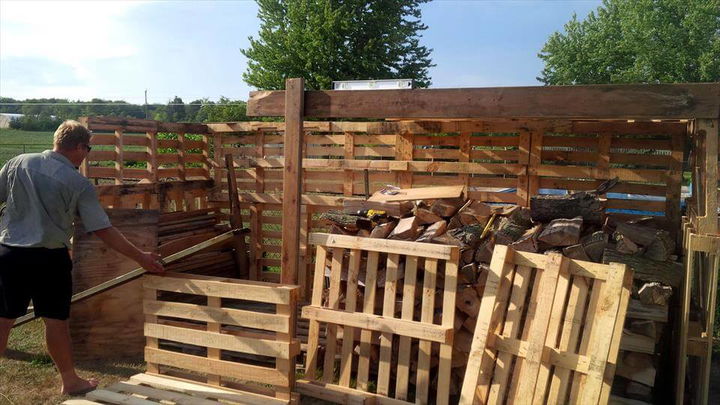 Installation of roof panels would be next after you just finish the shed wall constructions, install the frame first to support the roof and then you can make the final roof settled down easily! Modify extra pallet boards to install the roof panels, here it has also been done the same!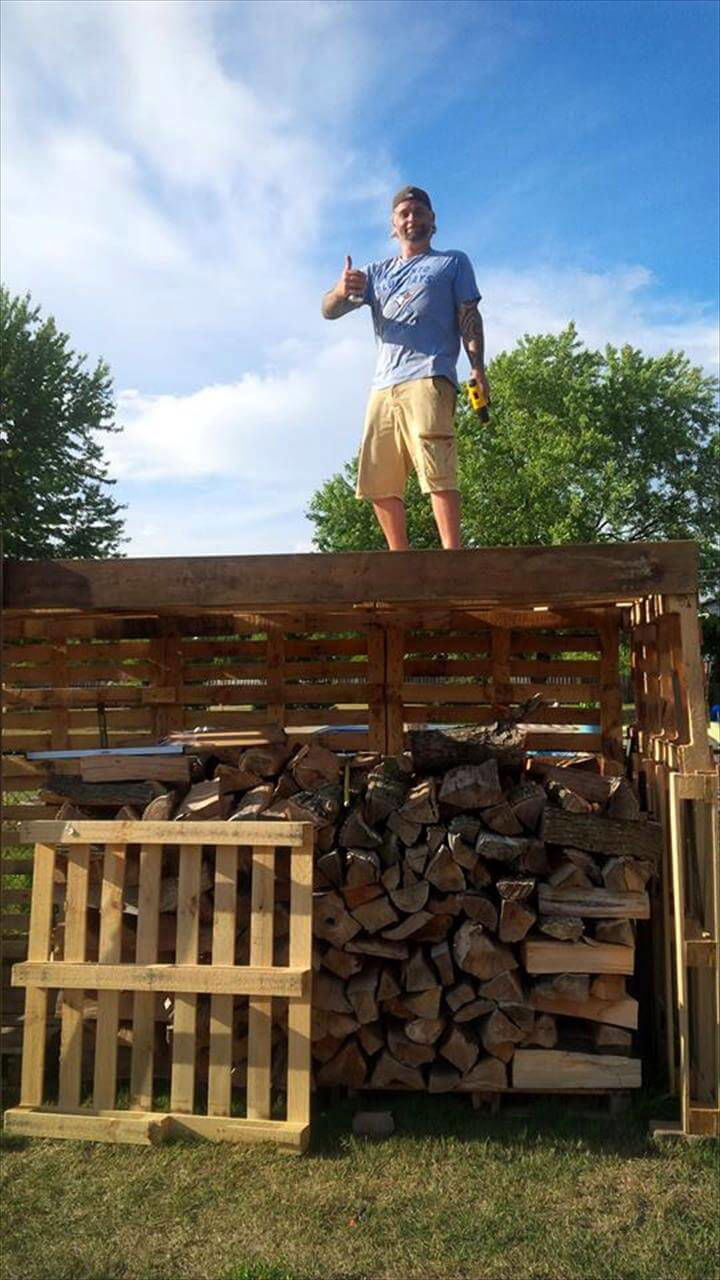 Finish up the roof and use extra wooden slats to make the roof sides look solid, it would be a total trimming of roof you are to do here! Here roof of this firewood shed is too beefy that can hold a weight of mature person, see our fan and great crafter "Adam Burton owner of Stevensville Pallet Project" standing on it!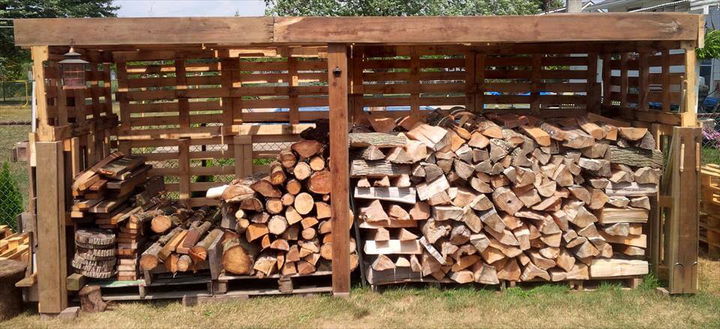 Extra wooden pillars can be decided to hold well the weighty wooden roof, here one wooden pillar has been added to support the mid of roof, comes with a bottle opener, so you can enjoy your favorite drinks there when standing in sides of this firewood shed for a review!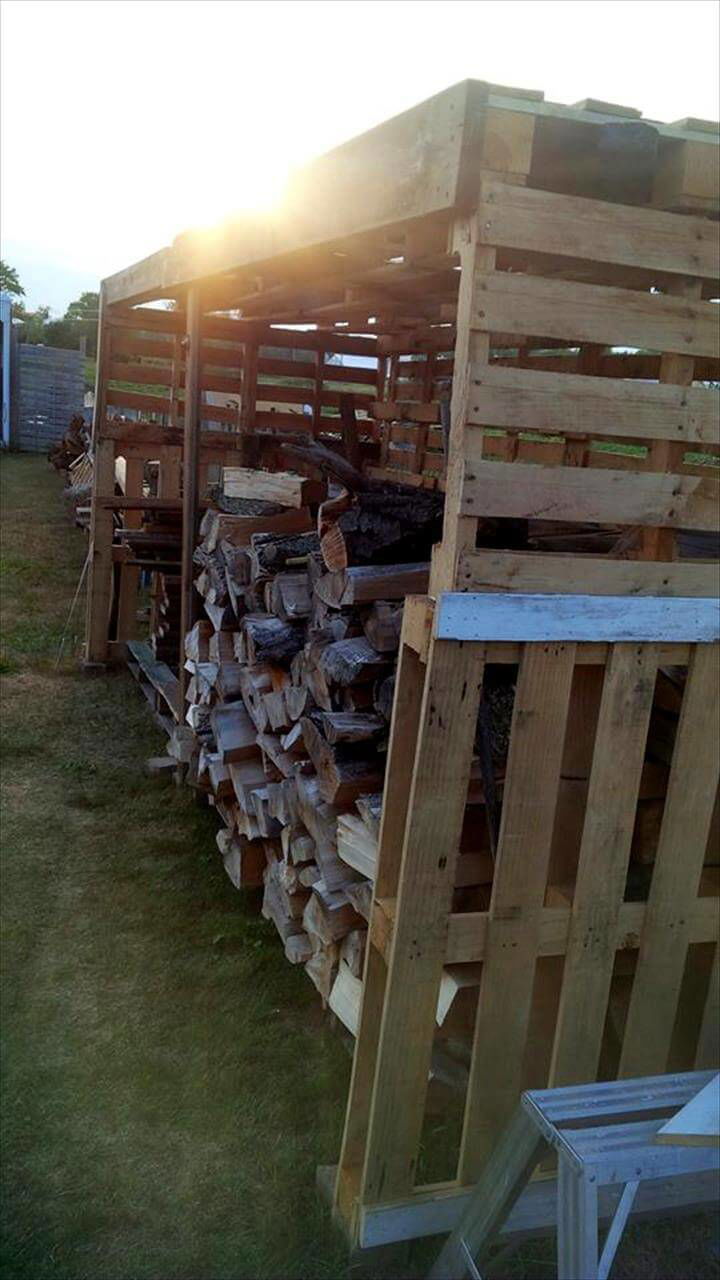 Do make a little inspection of joints and and overall assembly of the shed, after a complete overhaul the shed would be all ready to serve for the purpose!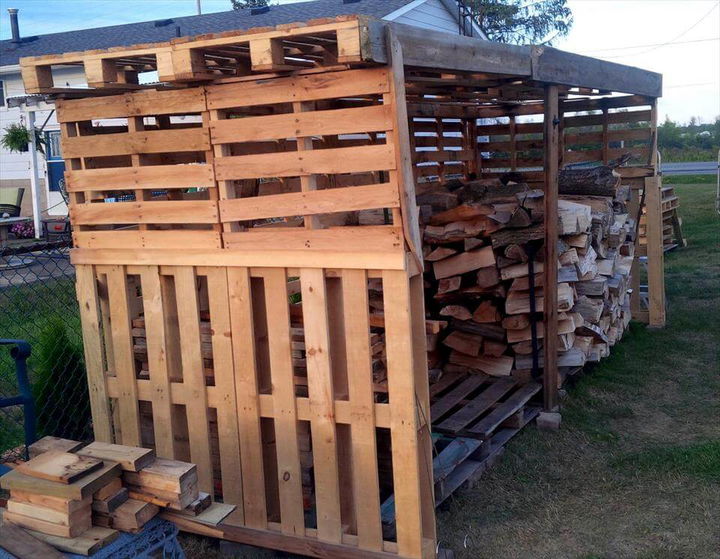 The spacing in pallets would be all awesome for air-circulation inside that will keep the wood dry all the time! This makes the pallet boards best candidates for this firewood installation!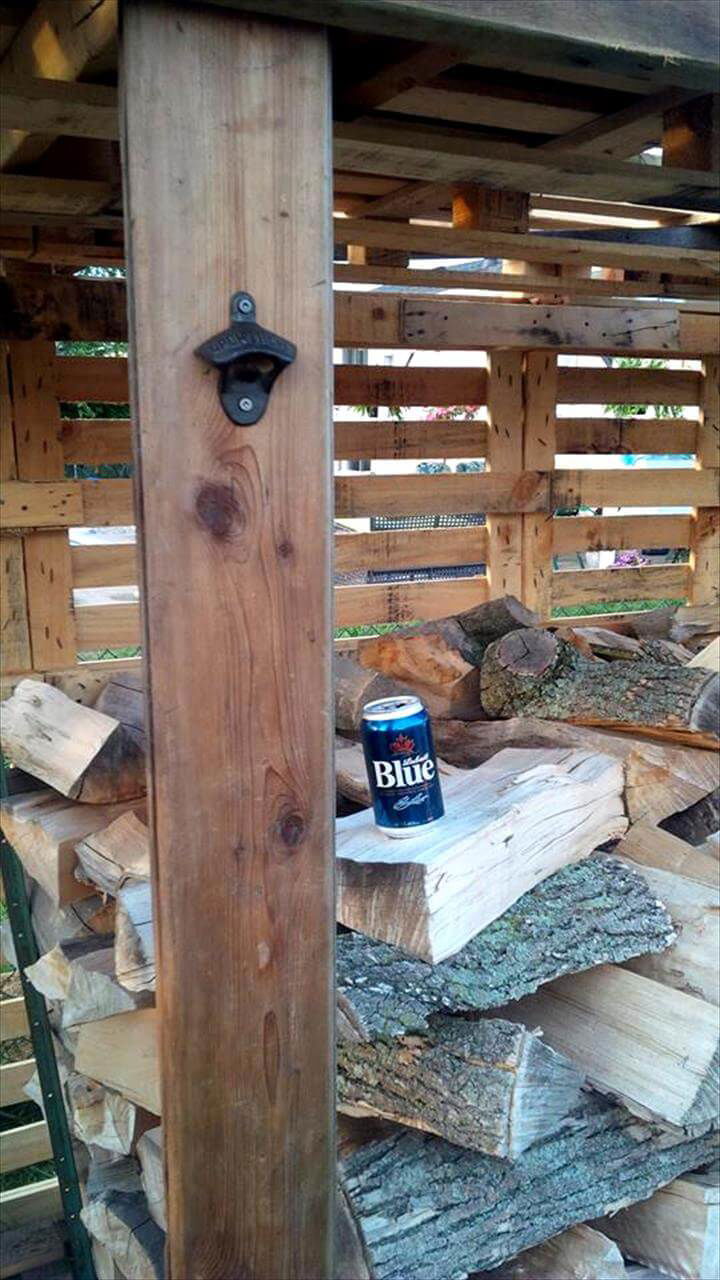 Along with antique pallet bottle opener, you can reuse many wood accents from home trash store to magnify the overall appearance of this wooden shed!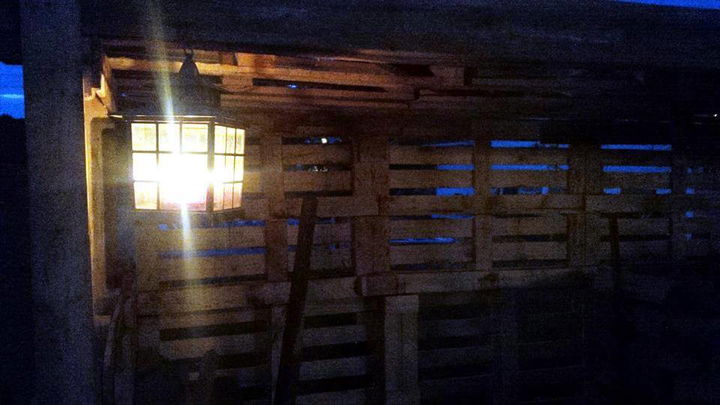 Just to make it visible at night when the darkness prevails on everything, custom hanging lights have been added to one side of it as you can see!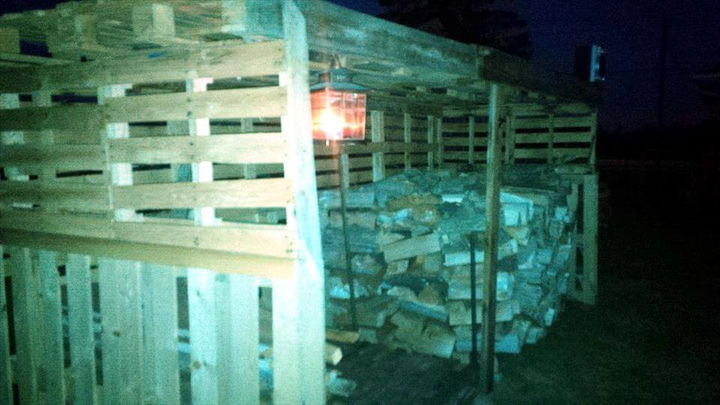 This is also here the preview of this firewood shed captured at night, in the same way by going handmade with pallets, one can also install the awesome shelters for his pets at outdoor!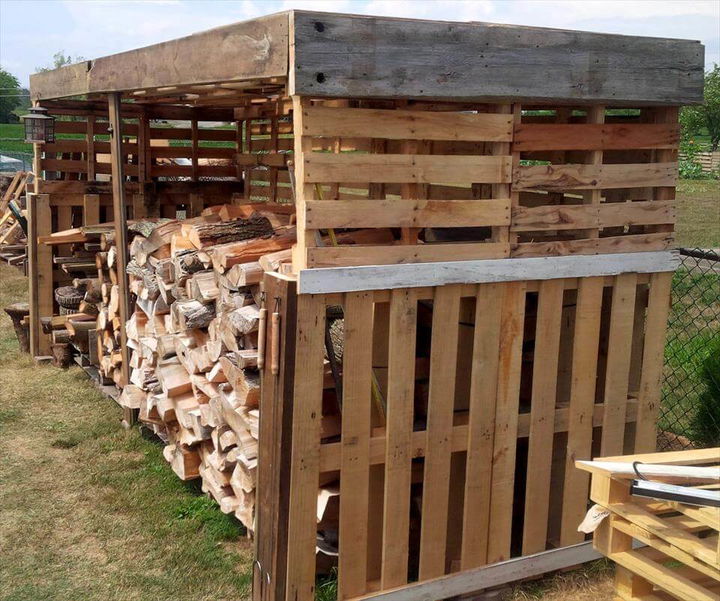 One side comes with 2 metal hooks fixed tight there in the wood, these hooks will all make it easy to hang the custom firewood tools as you can see!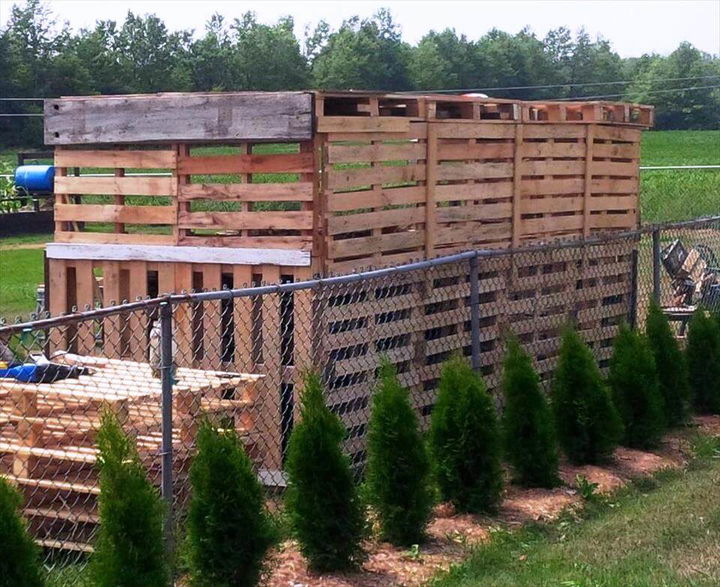 Backside of the shed has also been done nicely with pallets, roof can be set to an angle also which will help the rainwater to flow downward without getting retained there or to leaked to wood!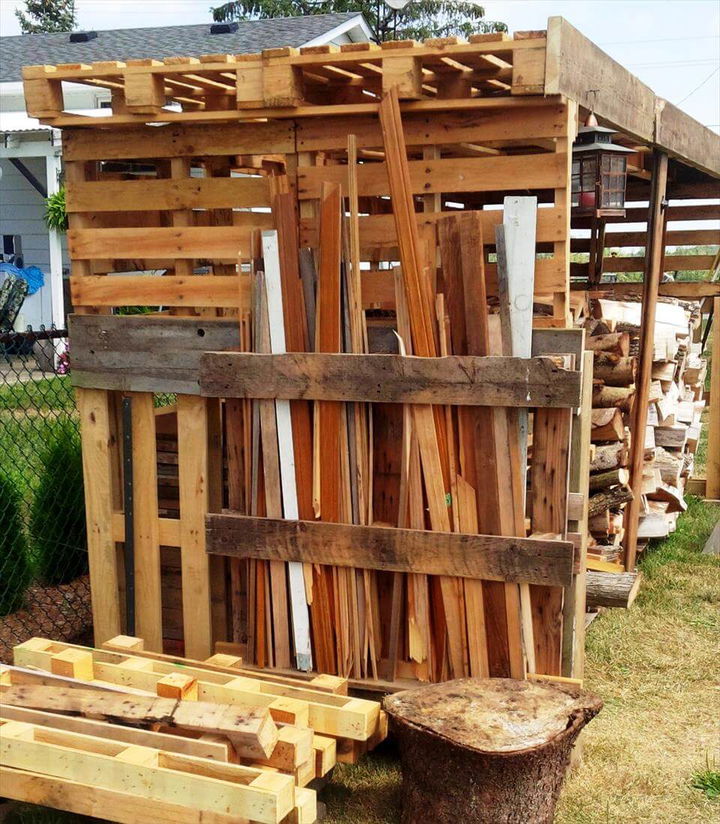 The opening in pallets can serve you here as amazing pockets or already built racks where you can safely adjust type of your stuff like these thin straight wooden lengths!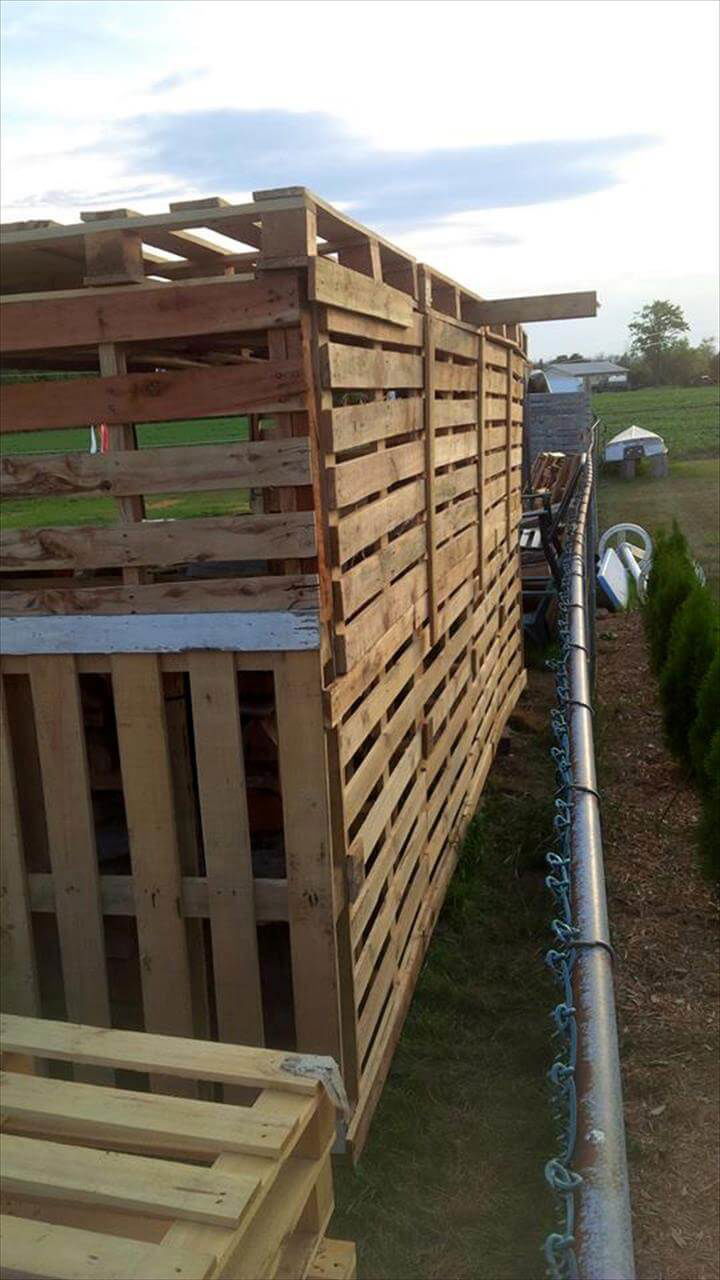 You can choose the larger wooden beams as roof rafters and ridges, make the roof frame ready in such way that may able to put flat pallet boards easily to cover the entire roof!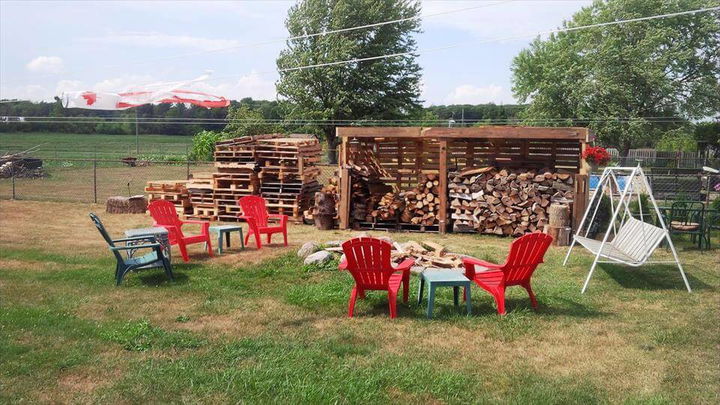 Here is how this firewood shed will look like in your garden or backyard! The added portion will help you to store different kind of wood, may be the uncut wood logs!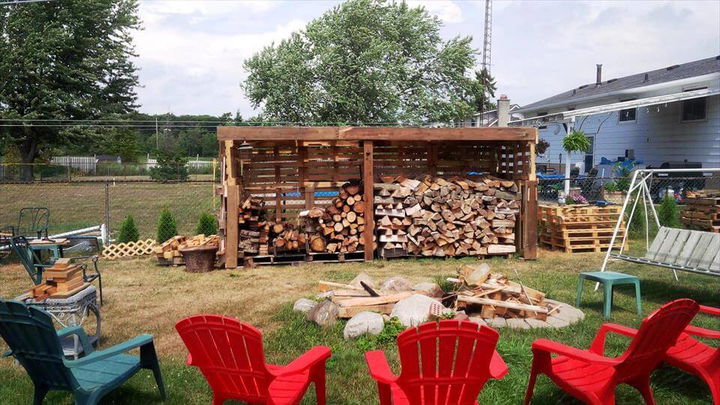 This firewood shed inspiration can help you to install also other outdoor structures of this kind like the wooden barns, garden sheds, outdoor cabins, pet shelters and also amazing horse stables!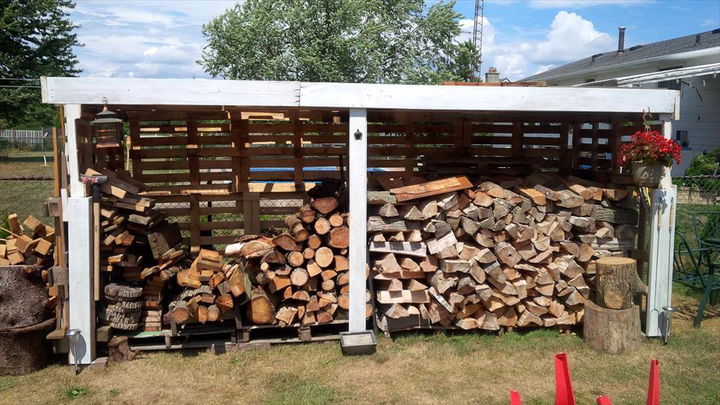 To make your shed prettier, here are few cool suggestions, first of all use the paint to deliver an enchanting appeal of shed to onlookers, here only the front of the shed has been made look white as you can see!


2nd brilliant suggestion would be to hang a flower pot to top corner of shed, this will really make the shed look decorative and special! Add solar lights where you need as decors and also to make the shed visible at night!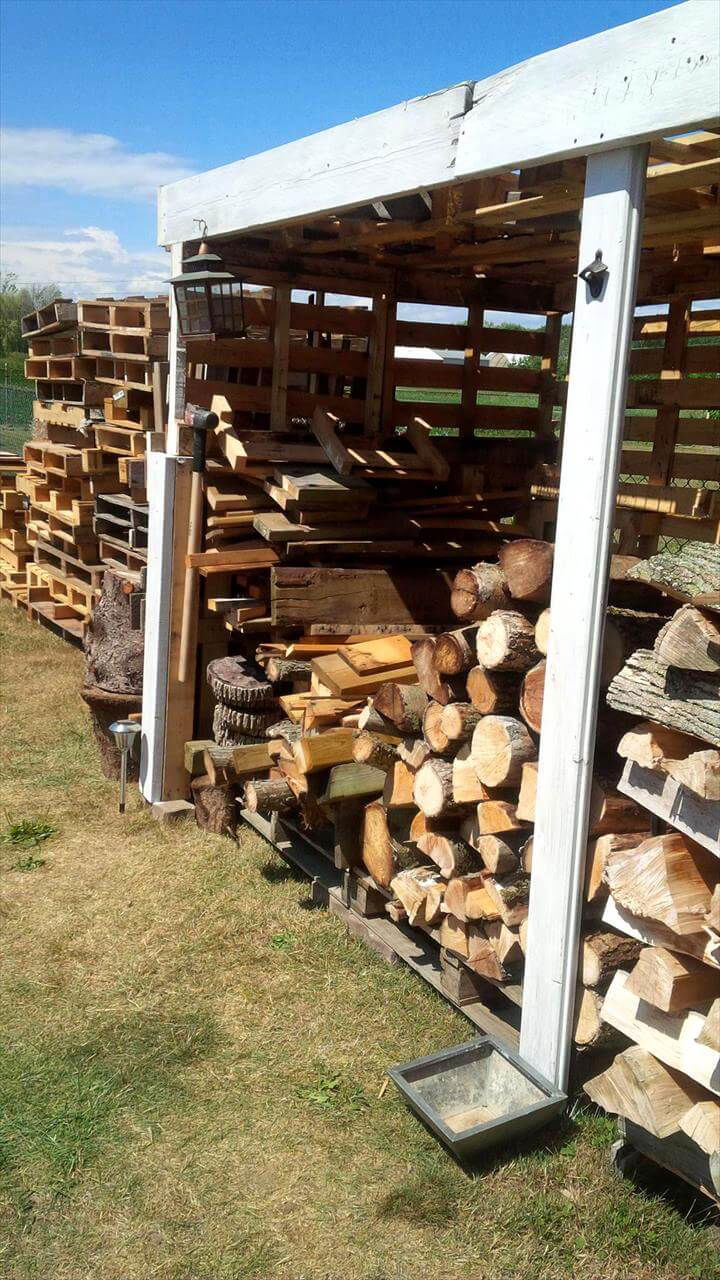 A bottle opener hangs on the mid pole or pillar of the shed and its bottom side comes with a little box or container that will collect the bottle caps!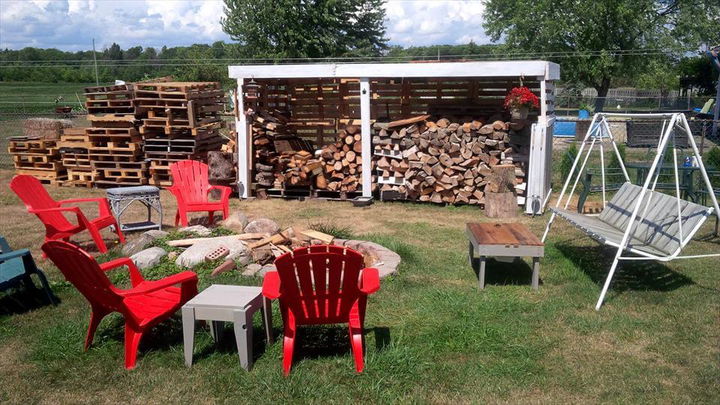 This firewood shed has been built just near to an outdoor fire-pit so will help you to get instant supply of firewood while you are sitting around the fire-pit in chilly summer nights with a group of friends or whole family!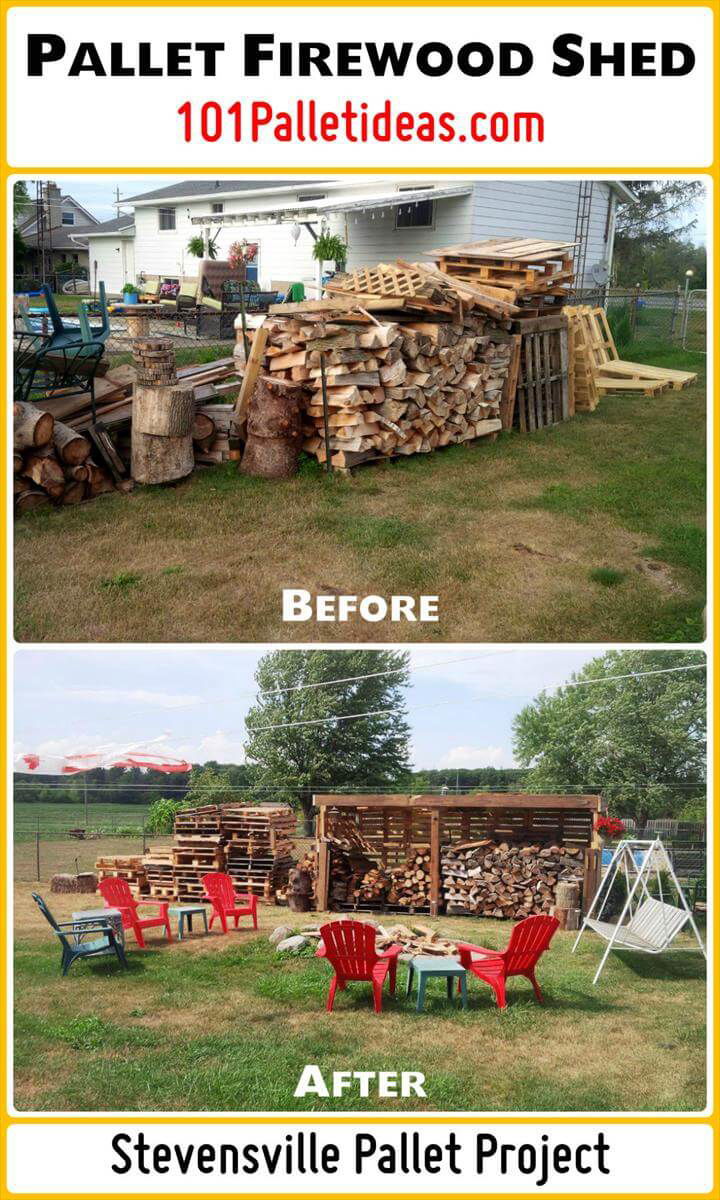 Here are the before and after previews showing us that what Stevensville Pallet Project have achieved just by going handmade with a pile of rustic pallets! On behalf of Stevensville Pallet Project, we would like to say a big thanks to Adam without him this achievement was not able to show you his wonderful creation, a huge thanks to his efforts and guidance!
Here we have more 125 Awesome DIY Pallet Furniture Ideas to get more from old pallets.