Some Important Points to be Noted Before You Paint a Pallet:
Painting of pallets is important if you want to get your finally finished pallet product to match your interior decor styles! Paint and stain both come in handy while creating a distressed, shabby chic, vintage or mid century inspired look of your recovered furniture pieces from pallets! It becomes really important to know about some basic steps, tools, instructions, and nature of paint and stain to change the look or hue of your pallets into any of your favorite!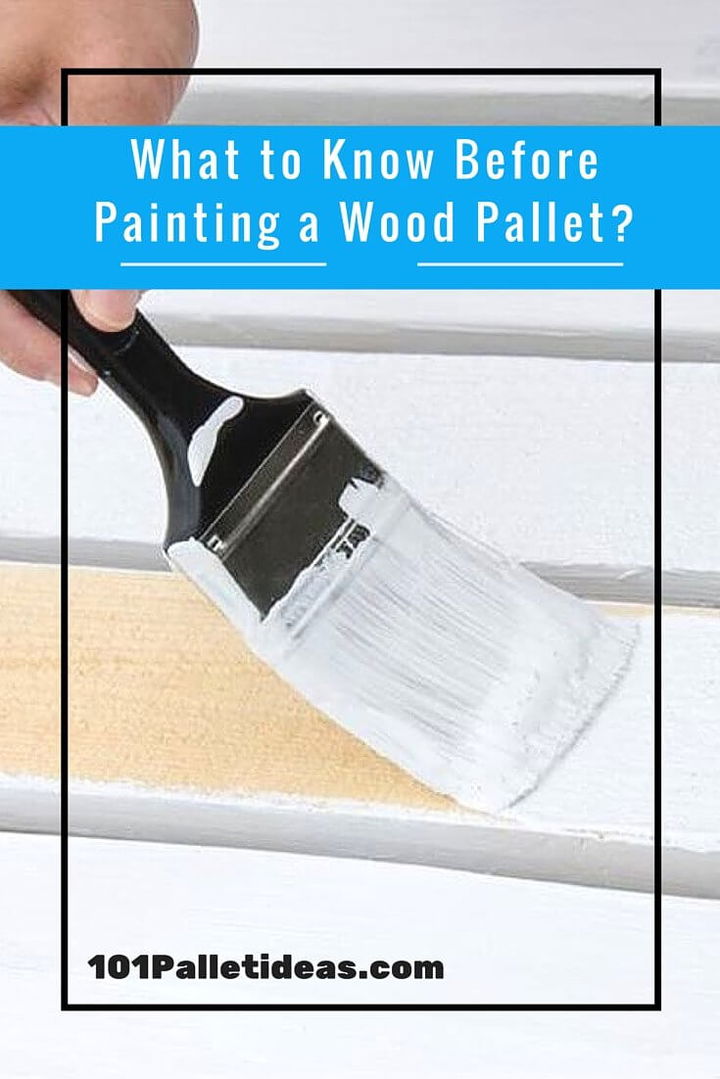 The pallet is made of different wood species like that of

oak, pine, timber, and mahogany

, all these wood species are not equally compatible to paint they all take paint in different quantities! So be careful while you are using 2 or 3 different kinds of pallets in any of your pallet projects!
Remove the gunk layer with a soapy wash if you have got some ugly looking free pallets, also sand the edges and surfaces smooth by rooting up all splinters and snags and also those of ugly spots! Don't go for too much while gritting the wood as wooden dings, nail holes and wooden imperfections really give the rustic character to wood!
Remove all the tiny wooden particles resulted from sanding using a wet washcloth; one may also select the TSP! Just make the wood well enough to take or receive the paint layer nicely!
Chip brush is the most recommended to paint the wood surfaces but there are much more available in the market and you may go with anyone you find the ease with!
Pallet wood really contains lots of wooden dings and imperfections that result into the uneven wooden surface and the nature of pallets is already porous, so go with priming if you want a clean, visually

attractive and plane wooden surface

before you go for a paint coat!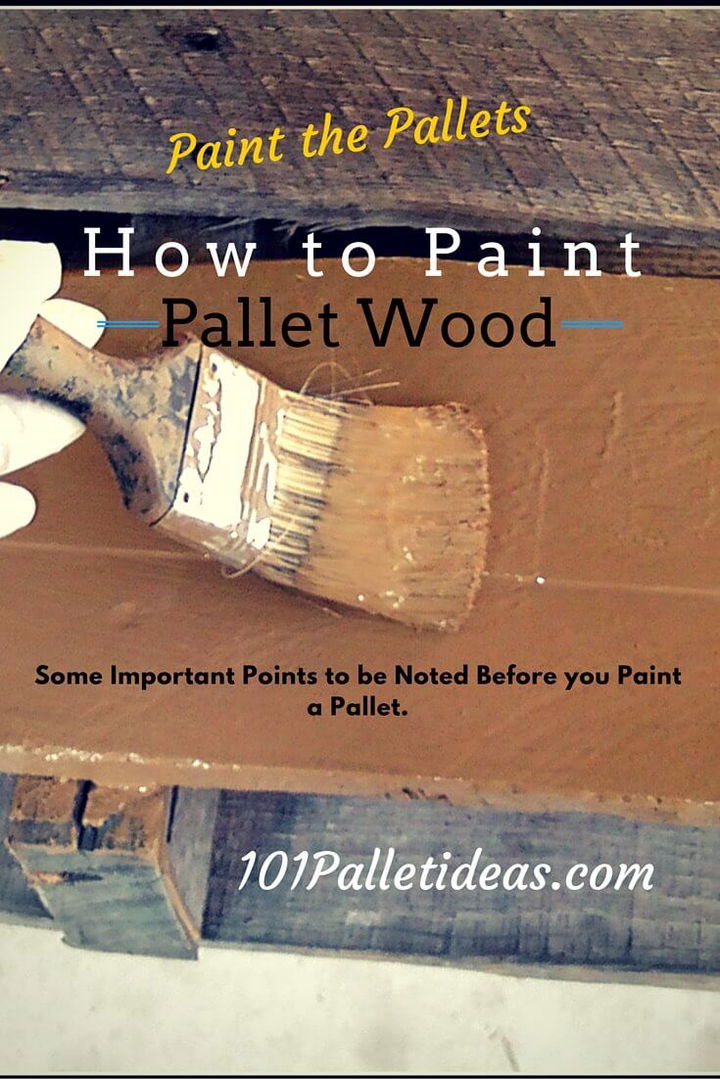 Skip priming if you want to enjoy a

whole rustic look

with imperfect and uneven wooden surfaces.
Sometimes we choose a chic color combination to give a personal look to our finished pallet product! If you are using a lot of colors for this purpose then start with the lightest one color first otherwise you may have to change your brush!
You can give more paint coats or paint layers depending on what type of look you want! A thin coat with wooden medium clear through it would work great to create a distressed look! Add 2nd coat after the 1st one is dried completely, you can limit the paint coat between 1-4 for each pallet-made product!
One coat will be enough if you want a vintage-inspired look and do sand the wood again after a paint coat! You can conceptualize various light color mixtures to get that final enchanting and ravishing visual!
If are a follower modern chic style of decors and also want your final product to give also that fashionable and chic look then add 3 or 4 coats of your desired paint coat and skip sanding after each coat!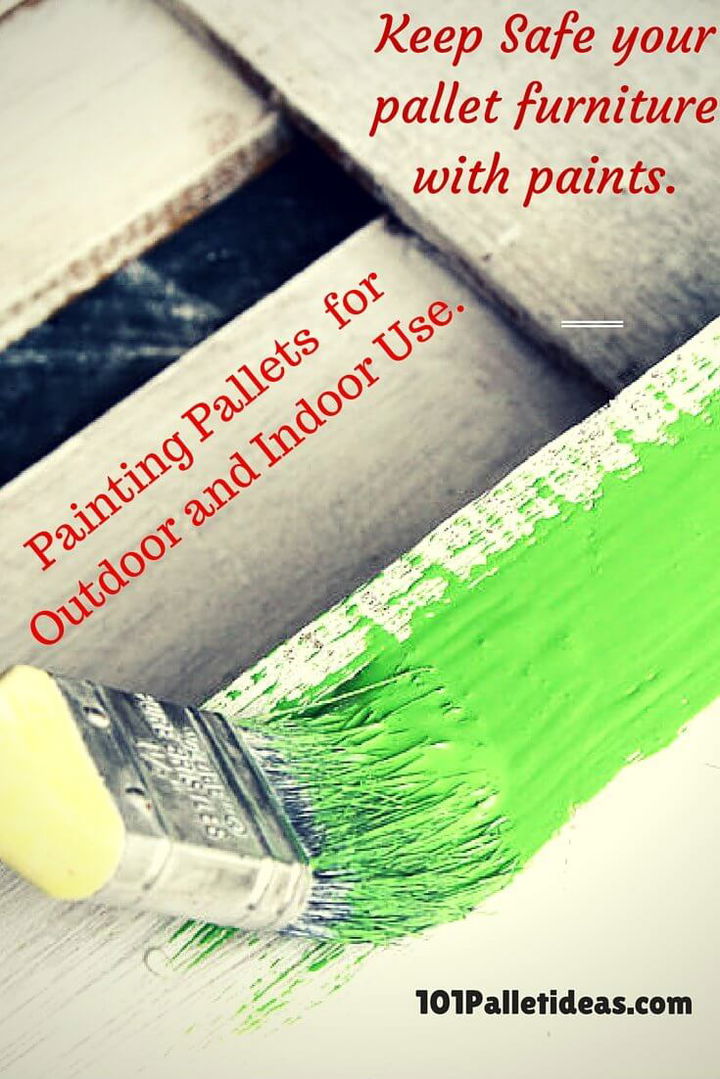 For

sanding purposes

, low, medium and higher grits of sandpaper are available to grit as much wood as you want, but sandpaper with 80 grit works great for all kinds of wooden surfaces!
One can use the latex or acrylic paints to paint those rustic wooden surfaces, both these paint types have their own specification, stability criteria and capacity to withstand the weather and water! You can go with any of both these two depending on budget, weather conditions and wooden species! One can also mix some modern new colors for a fab paint mixture!
As we have said it earlier that it is better to sand the wood again after a paint coat! So, if you want this paint coat to really live longer with being influenced by the weathered early then it would be better to lock or secure it with additional wax or stain coat! There is a great variety of stains available in the market and also with the according to tools and paintbrushes, so choose wisely to get better!
Mostly the pallet wood species become darker with dark stain coats so avoid dark shades such as dark walnut stain and go with those brighter ones that really make the wood more visible and pleasing to eyes!
The stain really create more stability to wood and can lock the wooden integrity for a whole lifetime so stain the entire structure of your finally finished design of pallet furniture to make it lasting and live longer!
After a stain coat, don't let the stain particles stay on the wooden surfaces just wipe them using a piece of old cloth!
After paint or stain, use the clear coats or polish the wood for a shine on the wood grains! Polyurethane would also be special treatment for a semi-gloss finish!