Time to grab the best ever pallet gift, if you are going to celebrate that bonfire event, will all facilitate you to store your drinks for bonfire party night, this special DIY bonfire pallet cooler has been designed which can hold almost 8 drink tin cans at one time would be sufficient for 2 people to carry on the party all over the night! A Dollar Store garbage bin, some old window shutter hinges and bottle opener, have been mixed with pallet wood to gain this bonfire party cooler!
The bin can surprisingly come out to remove the water easily and if you are just making the preparations for the bonfire night, the bin can also be pre-loaded and can fit again in the wooden holding when you are ready for the party fun!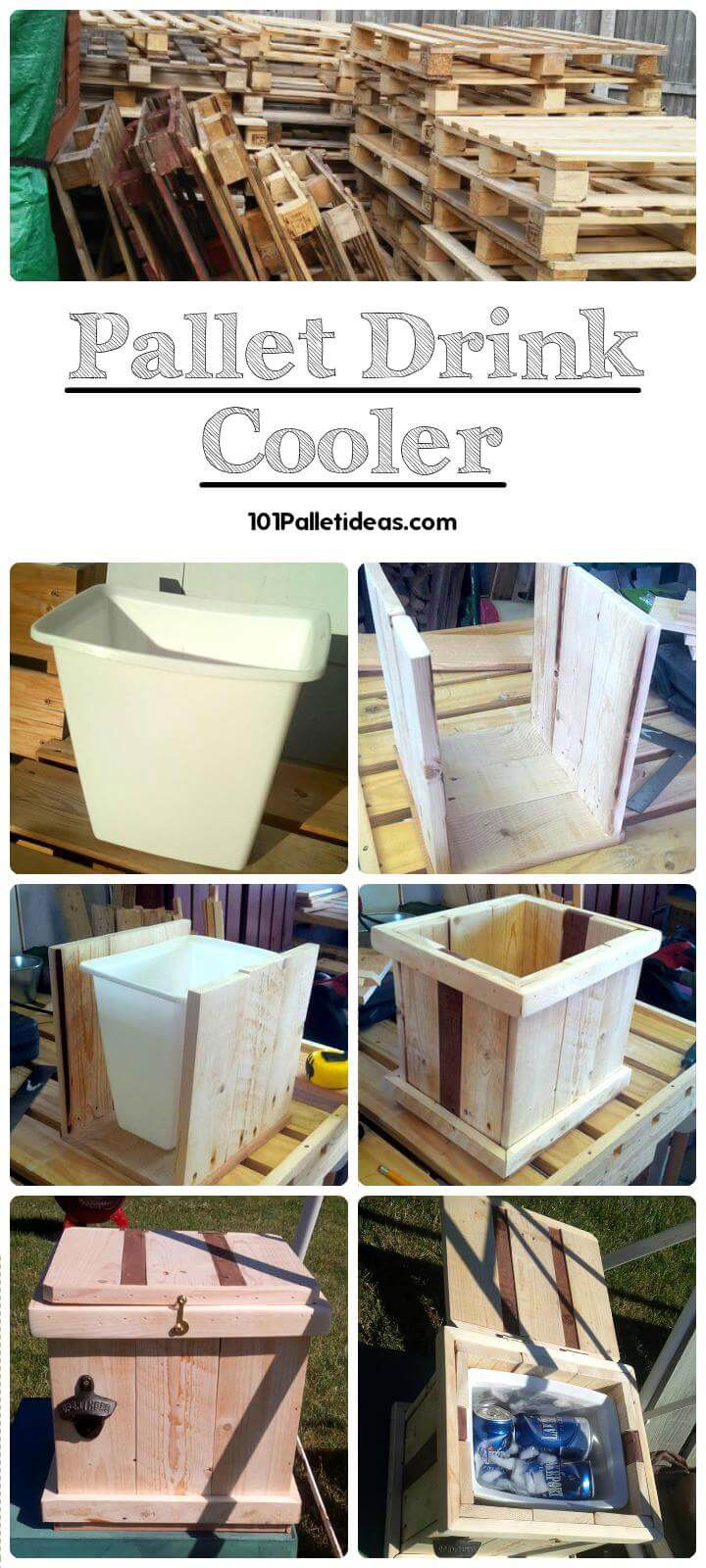 Wooden holding would help the drinks to stay cold longer so make your enjoy the cool sips of beverage while having fun with those marshmallows and other confections and sweet delicacies at that party night!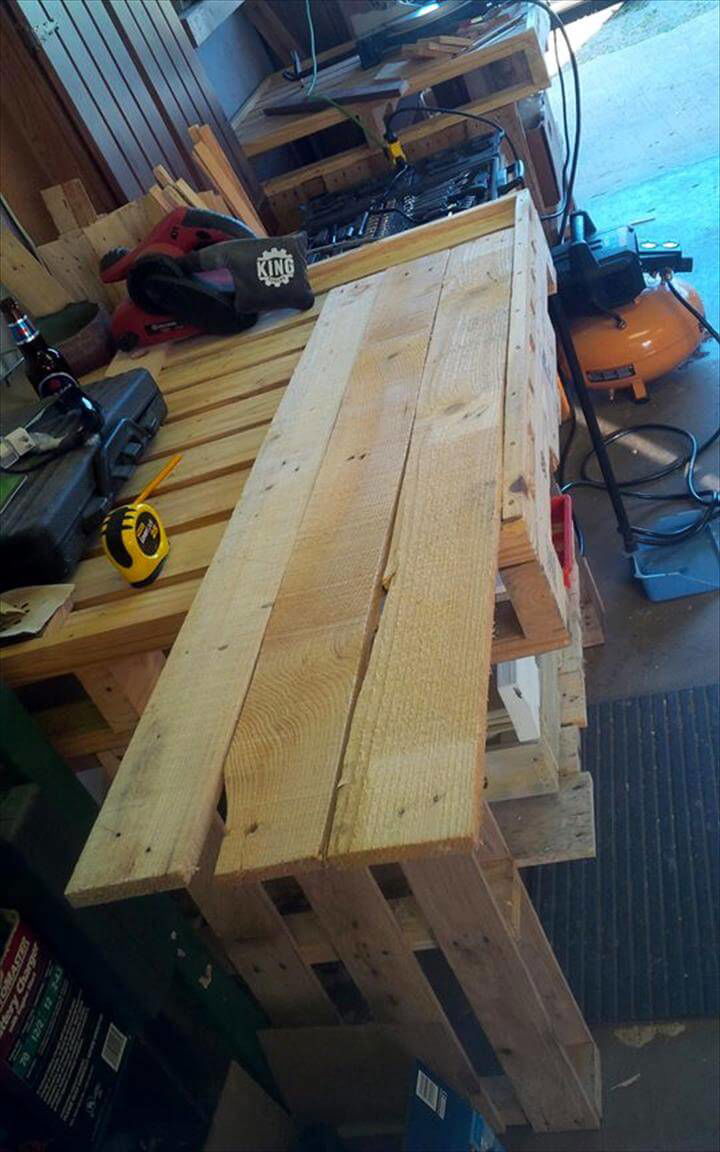 First choose a convenient work-space for easy handling of your all construction affairs, here the work surface has also been installed with pallet wood!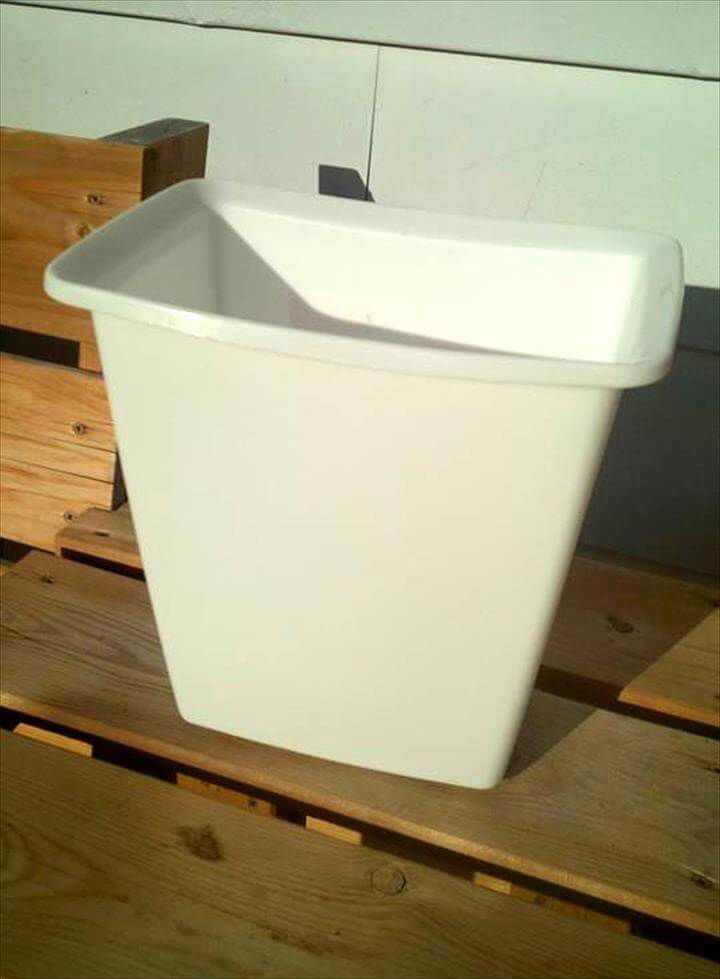 Buy a plastic mini garbage bin ( you can choose a larger one also to suit your needs) from a Dollar Store, it is to serve here as main container for drink cans or bottles!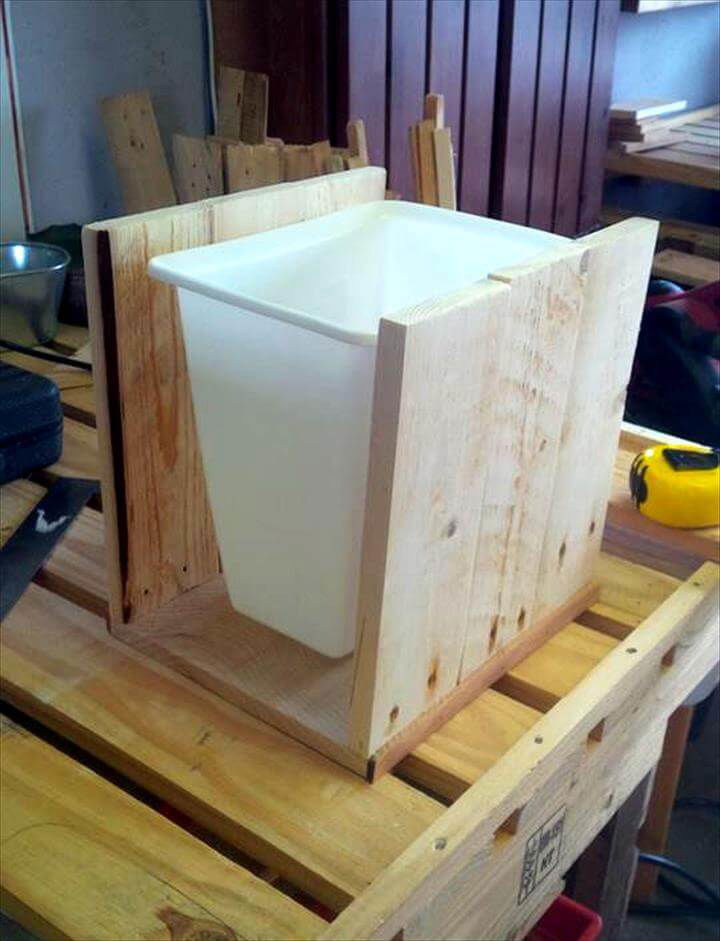 Provide it a wooden housing, would all make it possible to retain the coldness longer inside as to be a bad conductor of heat and current is one of the major properties of wood, here it is key point for this entire project!
Don't let the ruler and measuring tape let go from your hand as building better wooden housing for holding plastic bin inside is too much precision taking step here in the entire construction!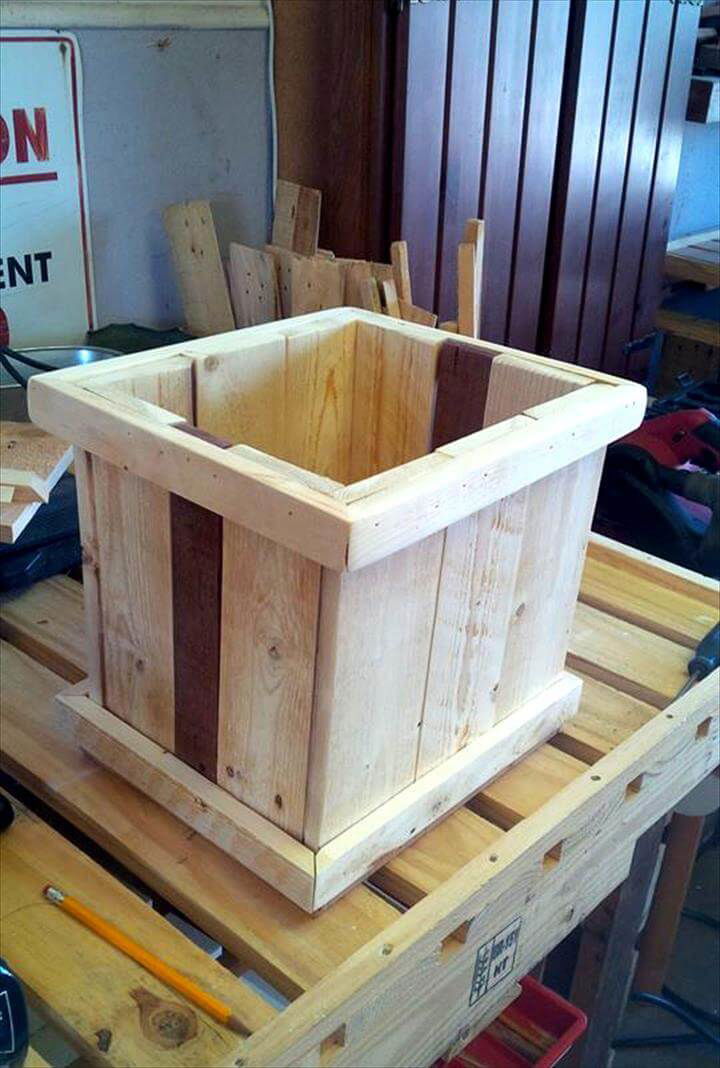 Don't build the sides of this wooden holding before you get satisfied about the fitting of plastic bin inside of it, after complete it would look like this!
A air tight lid would be must here to add on the top otherwise the cooler would not be able to keep your drink can cold longer!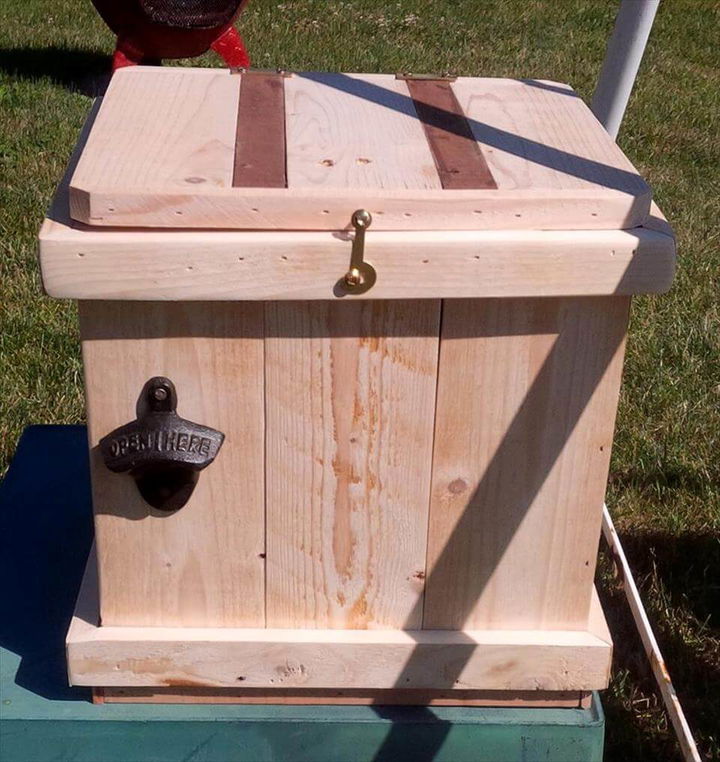 Work on pallet pieces again to build the lid and let it come flat over the wooden holding covering the entire opened space in a nice way! Here shutter hinges have been used to install the top lid, a little lock system has also been installed, would keep the lid closed until you don't wish to open it!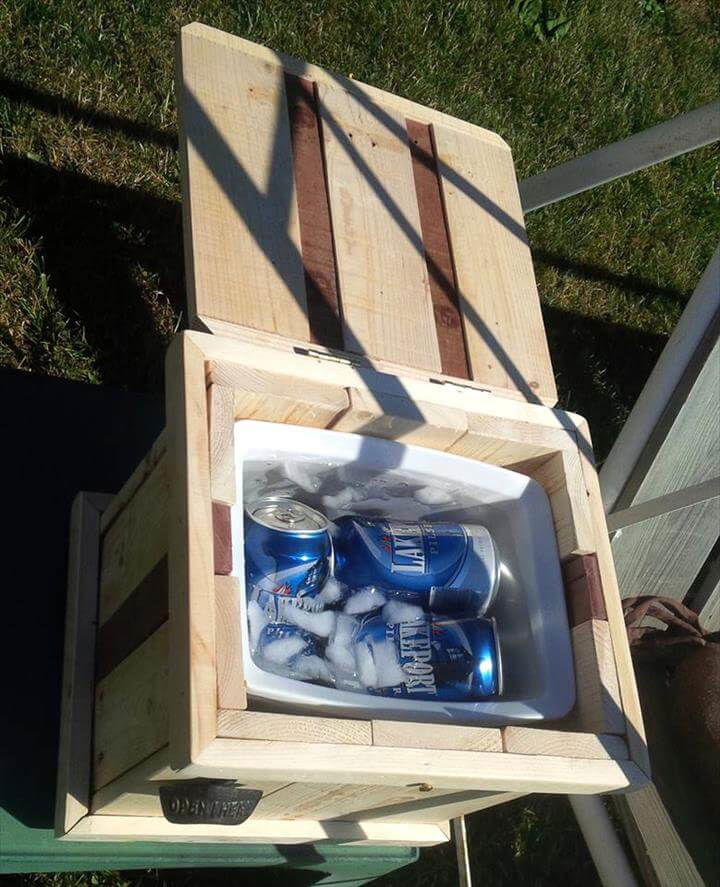 Now just put plastic bin inside this wooden housing, may be pre-laoded, and carry it with you for the whole night party fun!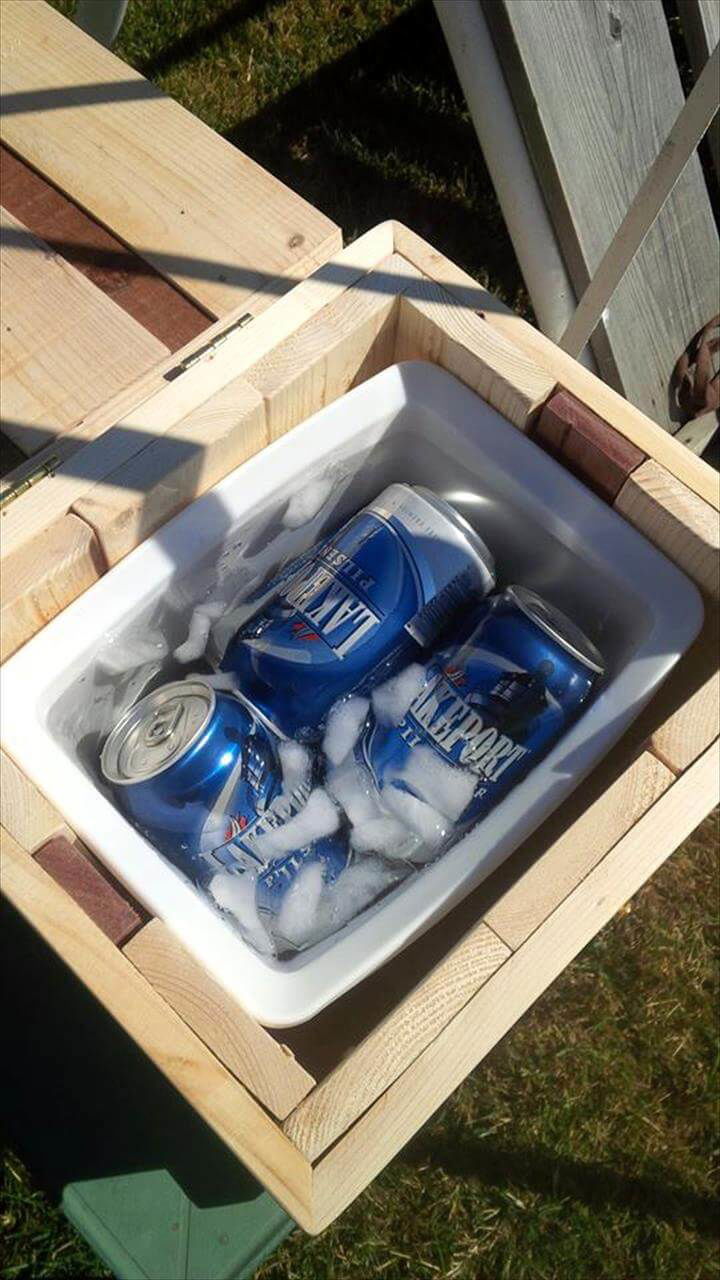 It would all be a perfect gift for 2 people bon-fire party!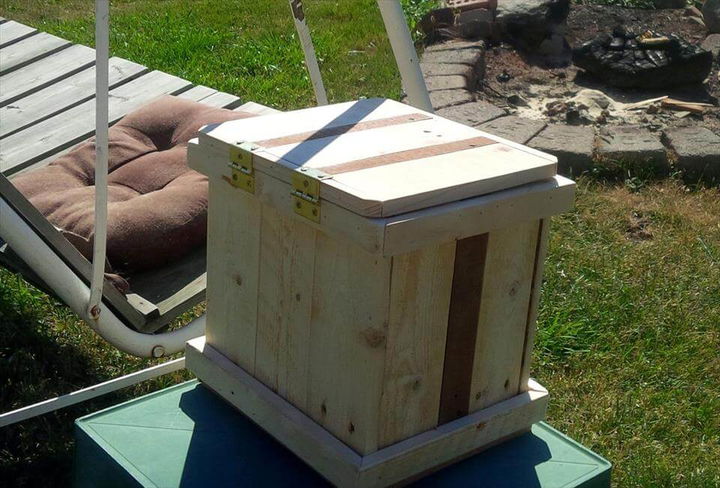 The mini dimensions reduces the weight of it and makes its carriage easy!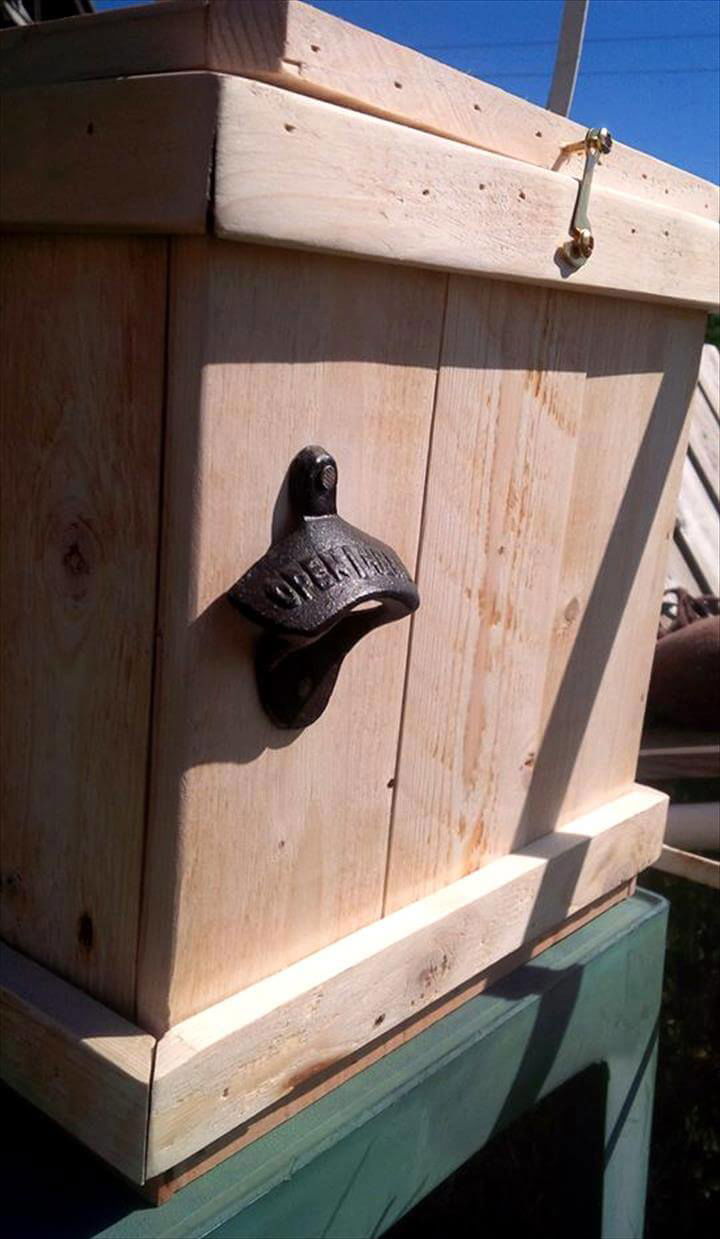 Just to make your avoid injure your teeth, a bottle opener has also been installed to one side of it!
Beveled edges of top lid enhance the visual more…….and one can go with paint also for a colorful personal and sensational look of it!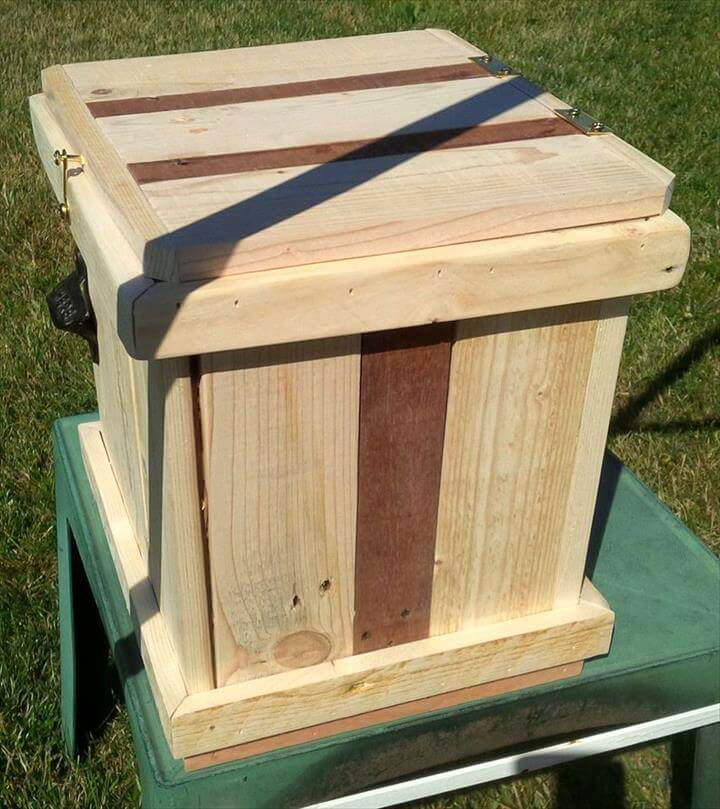 It can even be hired to play some other functional roles like would make a perfect composite bin, a rocking mini garbage bin and also charming clothesline pin holder! 130+ Inspired Wood Pallet Projects and Ideas
Made by: Stevensville Pallet Project