Do you think about the ways to save the wooden pallets? Then look no further and go with these DIY Wooden Pallets Ideas that will help get better living in a fun and economical way. Pallets are the type of wood available for free and quite something easy to the source. With the natural rustic wood appeal due to being exposed to the elements for longer periods of time, they become the best type of wood to do rustic DIY home decor projects. Need new ideas and inspirations to recycle, reclaim, and upcycle pallets for life luxuries? Then go with these 45 DIY wooden Pallets Ideas that are unique and creative and involve both indoor and outdoor home improvements.
If you take a tour of these pallets ideas, you will be able to spice up the home decor game with pallets in an impressive. You will learn the new innovative ways to boost your outdoor entertainments and finally you can be delighted with amazing indoor and outdoor pallet furniture discoveries.
It involves mostly a few tools to work with pallets as they are already modified and well-built wooden units. Use a pry bar or other power tools like a Sawzall to quickly dismantle pallets to have large stockpiles of wood slats. Next, build anything with them you want. Repurpose the whole pallets also to build functional organizers, sitting furniture sets, shoe racks, loungers, and much more. So, just be on this list of DIY Pallet Projects to see how you can improve your life more with wooden pallets.
1. How to Build a Pallet Coffee Table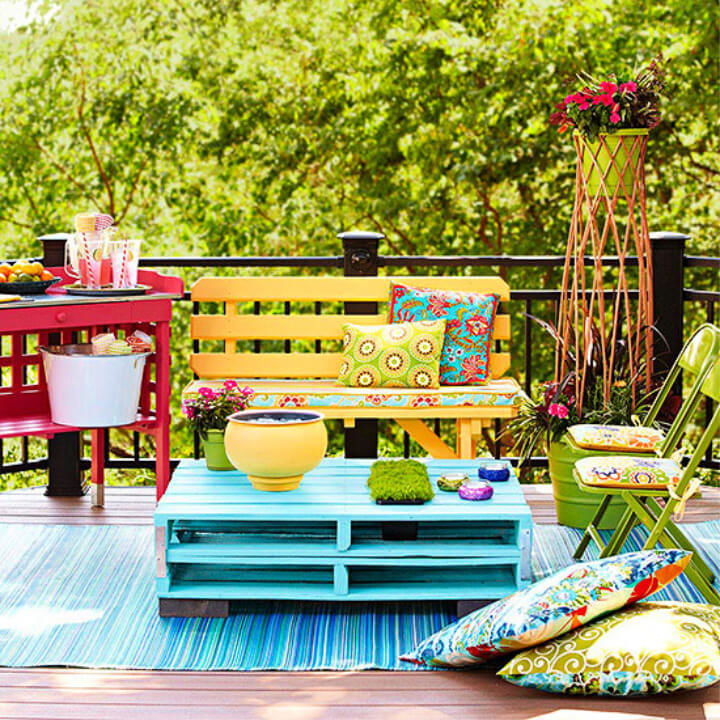 Establish sophistication to your outdoor sitting plans using this wooden pallet coffee table. Make it with 2 pallets, and further, you need eight mending plates, 24 screws, half concrete blocks, primer, exterior paint, and a drill. This pallet coffee table design is storage-friendly and will complete in no time. bhg
2. DIY Pallet Sectional Outdoor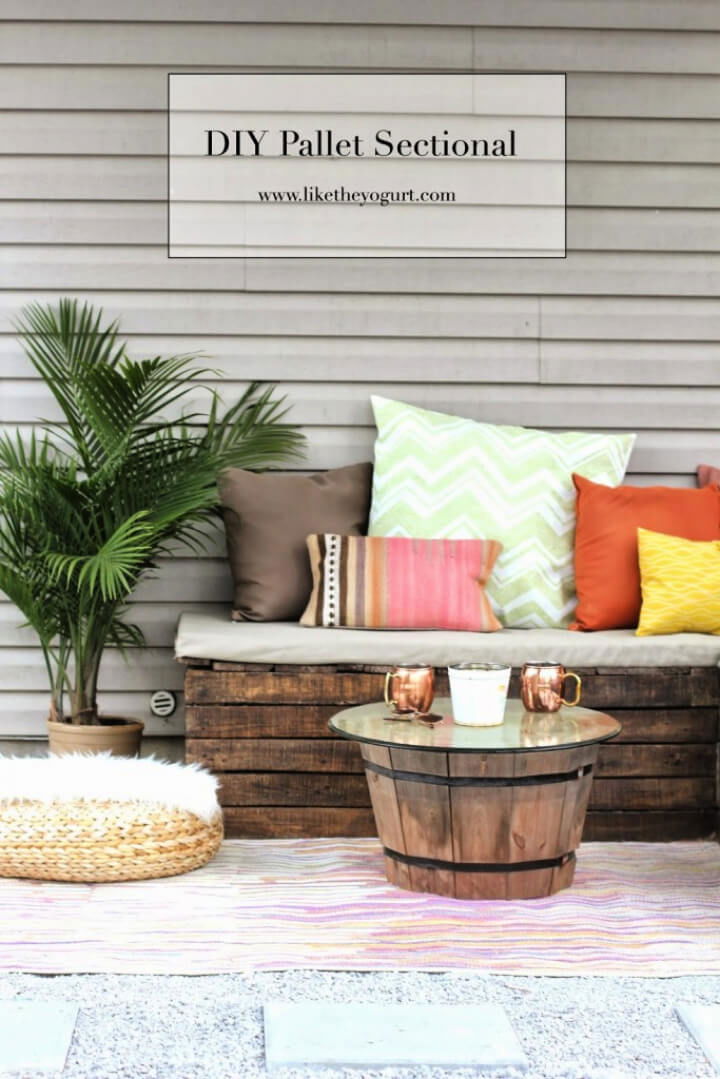 Organize your decks and any outdoor with this wooden pallet sectional sofa. Just take the pallets into pieces and build an L-shape box with hinged lid. Next, add the seats up with foam and outdoor fabric to get the comfy seats. This wooden pallet corner sofa design allows storage in the seats. liketheyogurt
3. DIY Outdoor Pallet Couch

Do you lack some comfy chairs, couches, and seats outdoor? Then time to enjoy the summers with this wooden pallet outdoor couch. Make it using 6 pallets of equal sizes. Stack 3 pallets for the seat, let 2 comes as sides and set a painted one on an angle to gain a lovely backrest. Finish by cushioning up the seats. hellocreativefamily
4. Turn Pallets Into TV Stand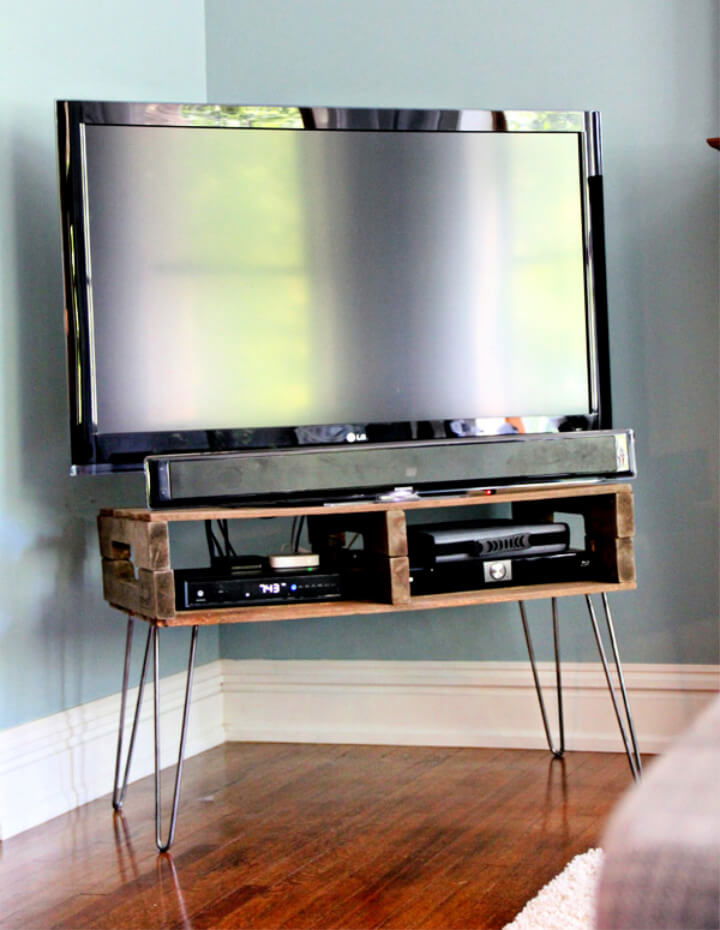 Update your living room with this fine-looking media console, will complete super quickly. Grab two well-stained pallets, put them together in the bottom to bottom arrangements, and the finish with 16" brushed metal legs. This industrial wooden pallet TV stand will nicely hold your screen. Details here preparingforpeanut
5. Recycled Pallet Planter Box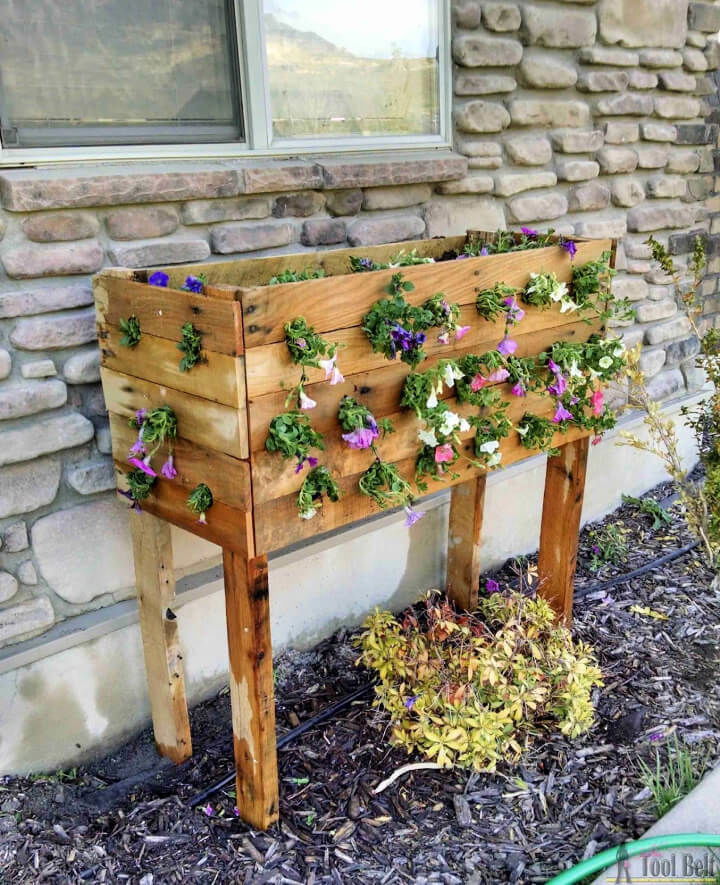 A bigger attribute to creative pallet wood recycling, a lovely raised planter box. Make it with separated apart pallet wood slats and cut out holes in all sides for the flowers or plants to come out enchantingly. The height will add extra safety to your plants. Opt for this pallet planter box for growing strawberries. hertoolbelt
6. DIY Pallet Primitive Snowman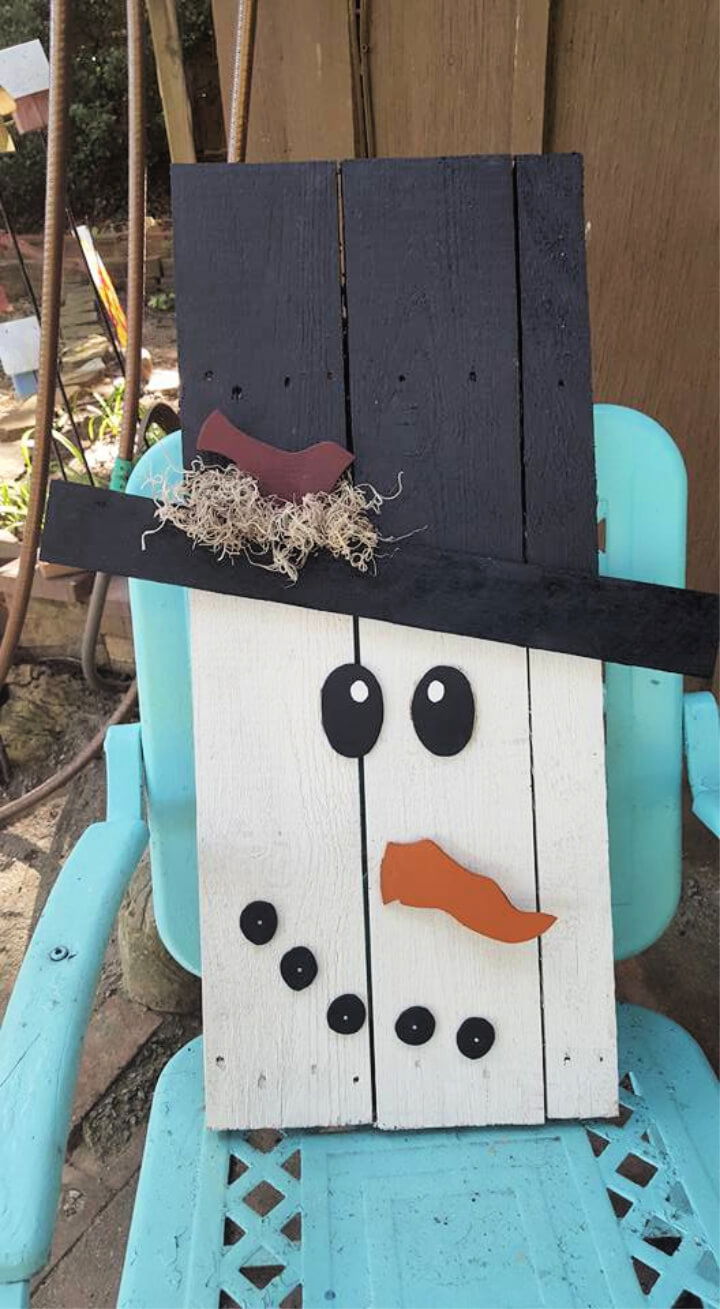 Make this gorgeous rustic snowman out of a few recycled slats of pallets. Just put together two slats and one slime as a brace at an angle, this will make a hat of the snowman. Next, use a printed out template and cut out snowman face features out of very thin plywood. Glue them on the snowman. Details here hometalk
7. Make Pallet Wood Shoe Rack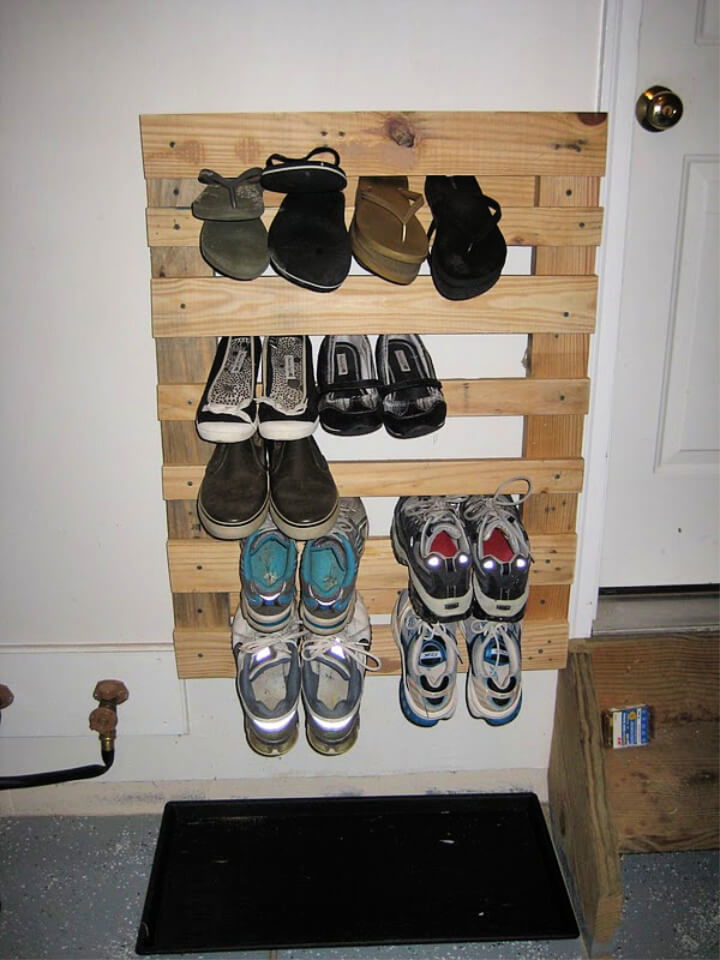 Get a pallet with sufficient space in the deck board or just build a pallet with these details. Remove the back dice section, give it a stable wall mount and gain a wooden pallet shoe rack. So, plan the pallets for instant shoe organization too. Paint or stain it for a custom wood tone or look. lovelacefiles
8. Build Pallet Lemonade Stand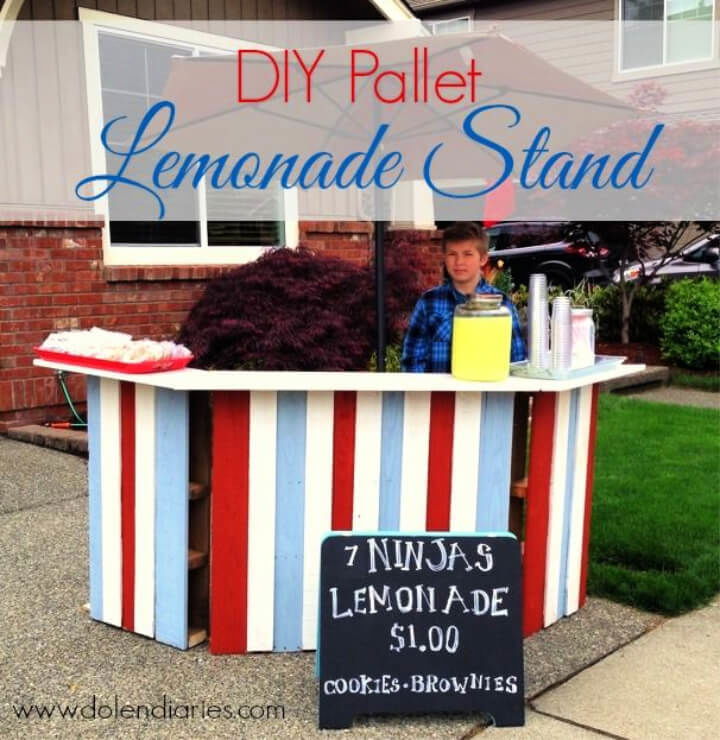 Encourage your kids to open a small business and earn money by building this wooden pallet lemonade stand, a whole pallet wood creation. Just take a pallet in halves and put both halves insides of an uncut pallet at an angle. Next, install a curved top and install a parasol to build a lovely lemonade stand. Paint in the way you like. dolendiaries
9. Garden Sun Lounger from 2 Pallets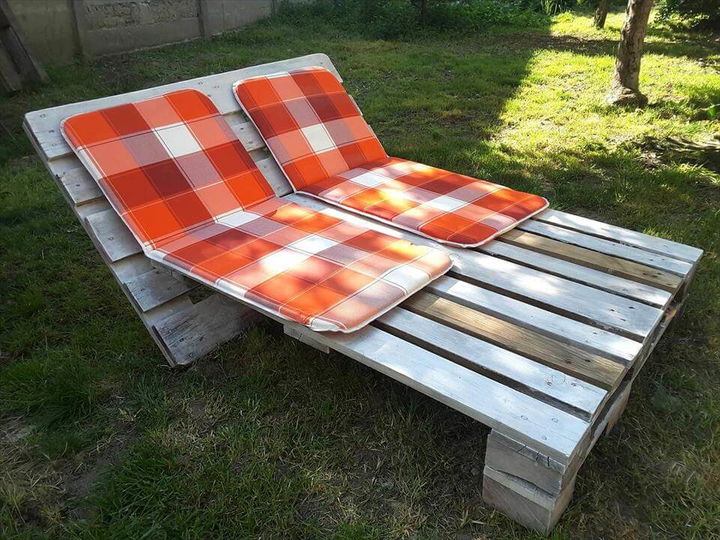 Expose yourself more to the sun this summer using this garden sun lounger. Make it with 2 pallets, and for the angled backrest, use the pallets with removed dice sections. cushion up the seat and enjoy the sun and greenery all around. This sitting lounger will also rock for a poolside.
10. Pallet Coffee Table with Planter Centerpiece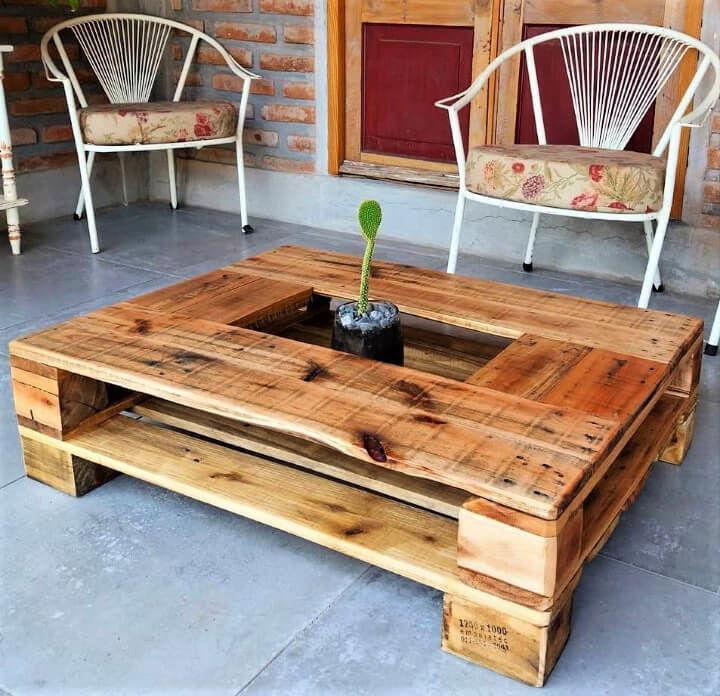 This pallet coffee table will play both a functional and a decorative role beautifully. Make it using two bigger square pallets and cut out a big square hole in the center to add a planter. And doing so will transform your coffee table into a gorgeous centerpiece. Details here
11. Outdoor Bench Made from Pallet Wood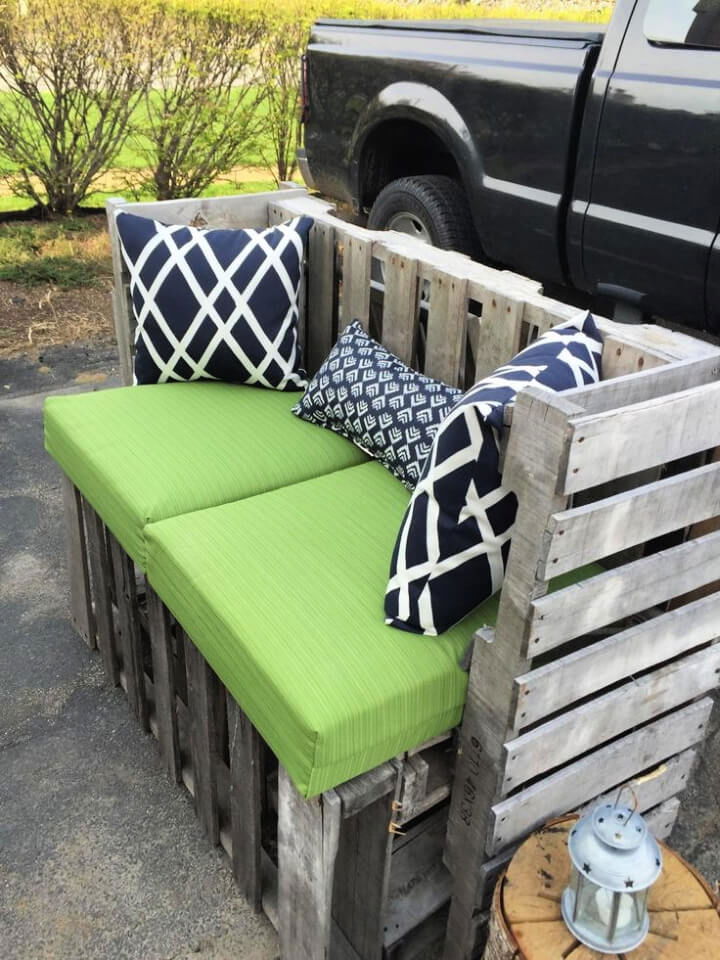 The very required furniture will be there for you in no time if having a good stock of pallets. Stack a few pallets and let a few come vertically around the stack, making a lovely pallet outdoor bench. Cushion and paint in the way you like for maximum outdoor entertainment. Details here
12. Pallet Bar Table and Stools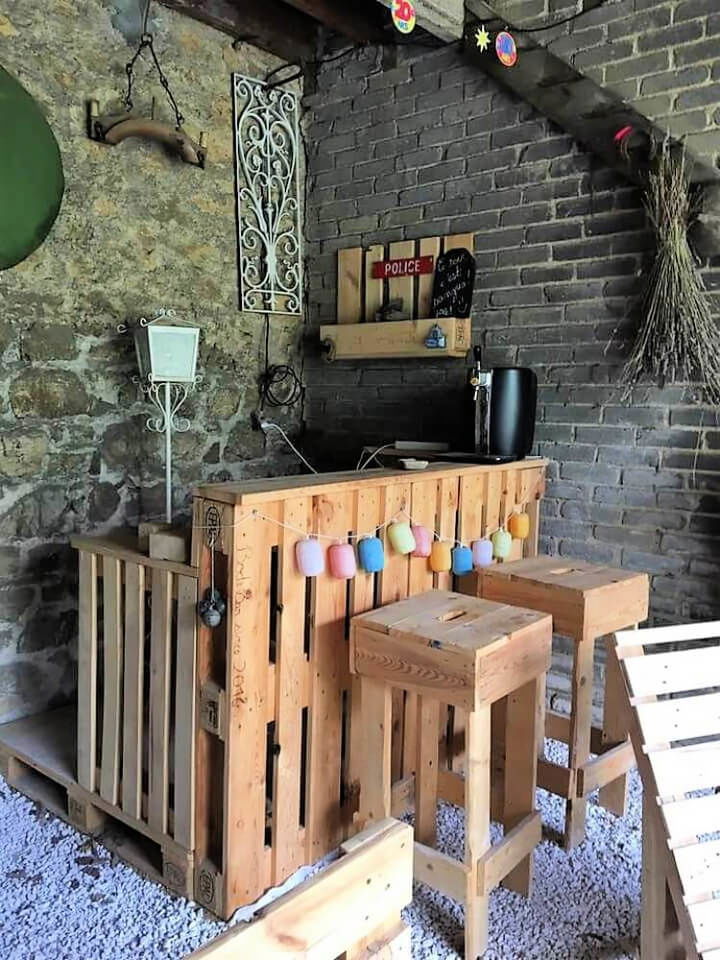 Build your free wooden bar with pallets. This will be a great idea to start your own business with no investment. Moreover, building a bar will boost your outdoor entertainments too. Take two giant size pallets into L-shape and add two cut pieces in sides and skirt the top to get a bar counter. Build stools manually with pallets.
13. Wooden Pallet Daybed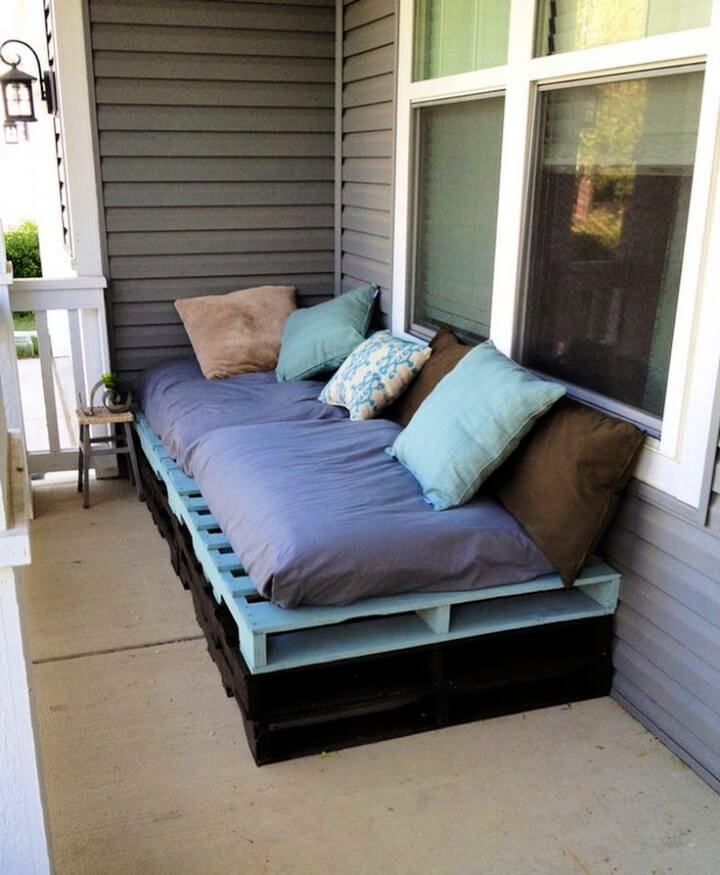 The perfect sleeping and readying nook, a gorgeous setting of pallets appearing as pallet couch. Stack a few painted pallet skids and then cushion them up nice to gain a quick daybed. Make sure you are doing it against a wall, so you no need for an additional backrest.
14. Fabulous Pallet Patio Sofa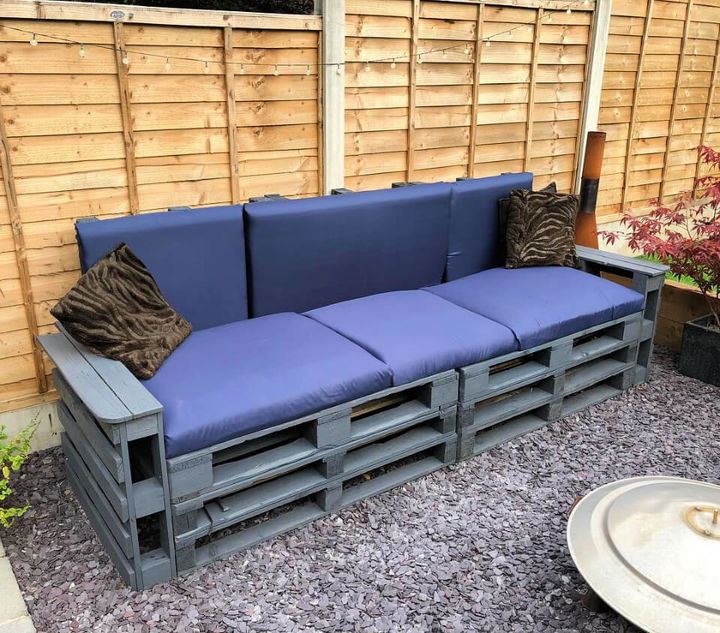 Raise the aesthetics of your garden or any outdoor by building this fabulous wooden pallet sofa. Rearrange your stocks of pallets to gain a longer stack. Put a pallet vertically to both sides of stacked pallets to gain a patio sofa. Add the vertical sides with armrests. Don't forget to add a sweet cushion.
15. Outdoor Furniture from Wood Pallets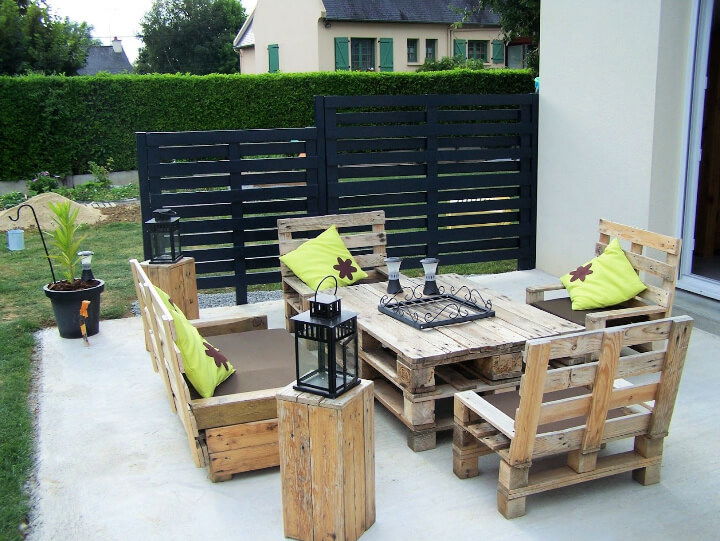 Build easily, and quickly the Pallet outdoor furniture set and utilize them to organize your deck, patio, and any outdoor area. Pile up 2 pallets and add a pallet angled backrest and armrests to build a chair, build the sofa in the same way but in large dimensions. Stack the pallets directly to build a central coffee table.
16. Outdoor Corner Lounge using Pallets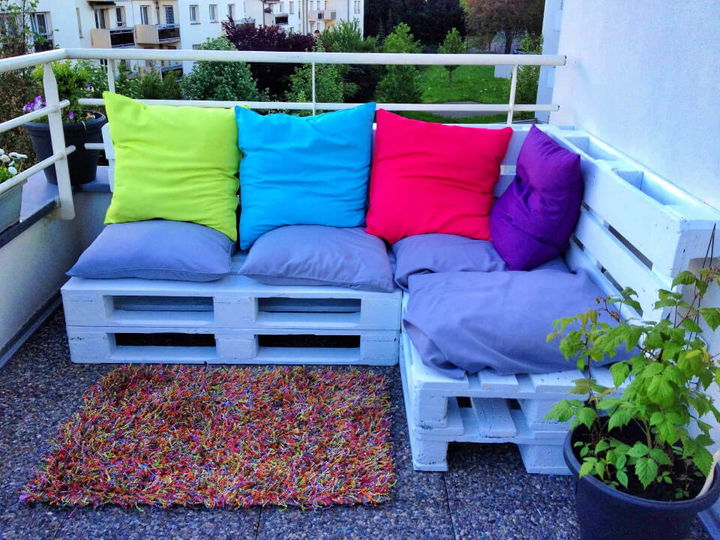 Organize a balcony or any terrace space using this wooden corner lounge. Build it with free painted pallets, and it will get a nice corner fit. Stack white or blue painted pallets in L-shape and then cushion them up to gain a sweet comfy corner lounge.
17. Build an Outdoor Pallet Bar Cart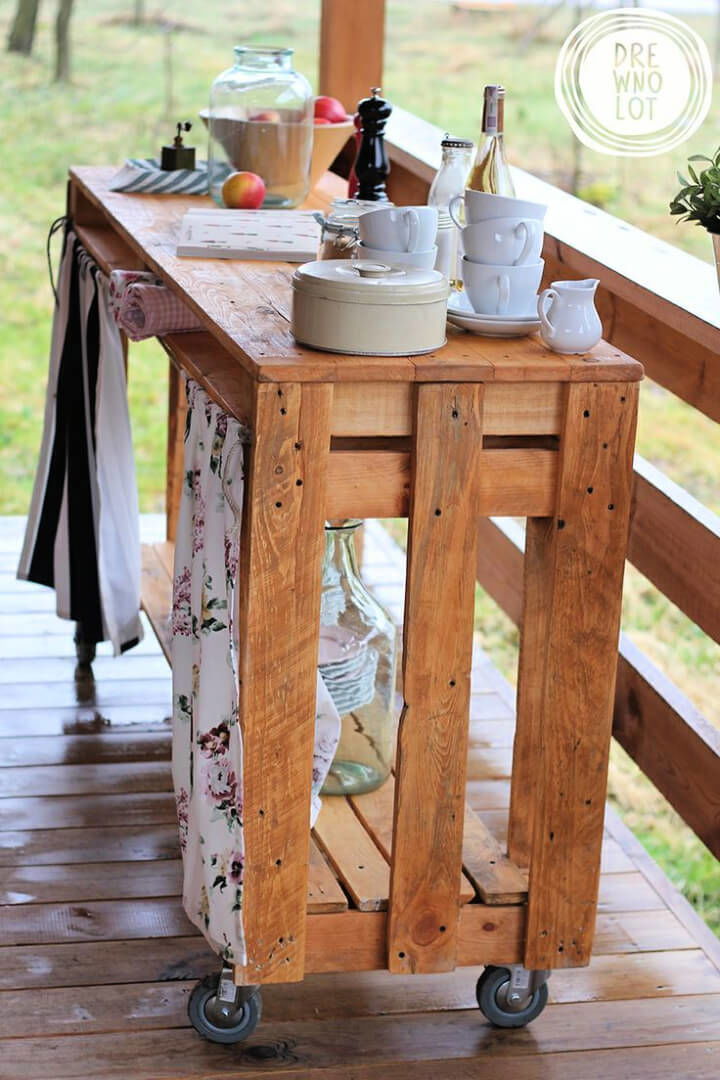 Use only 2 or 3 pallets to build this outdoor pallet bar cart, will provide million-dollar entertainments. Add up a whole pallet with separated slats legs, then with a bottom shelf, and here you go. Finish your pallet bar cart with rolling casters getting a rolling wooden pallet bar. Details here
18. Recycling Pallet Mud Kitchen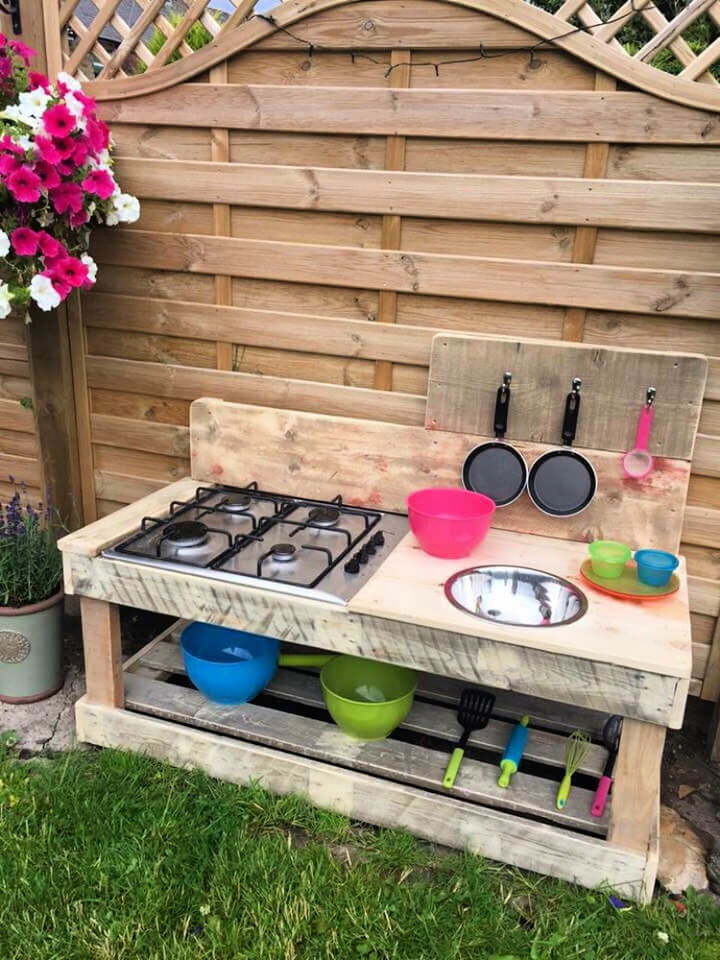 How to make a mud kitchen for your kids? Try this Pallet Mud Kitchen. Add skirt pieces to 2 clone sizes of pallets and gain them in tiered arrangements using 4 vertical pallet slats or lengths. Finish the top panel with a faux stove, sink, and other kitchen features and get a play kitchen out of free pallets. Use discarded wood panels to add as a raised back panel.
19. Pallet Coffee Table With Mini Garden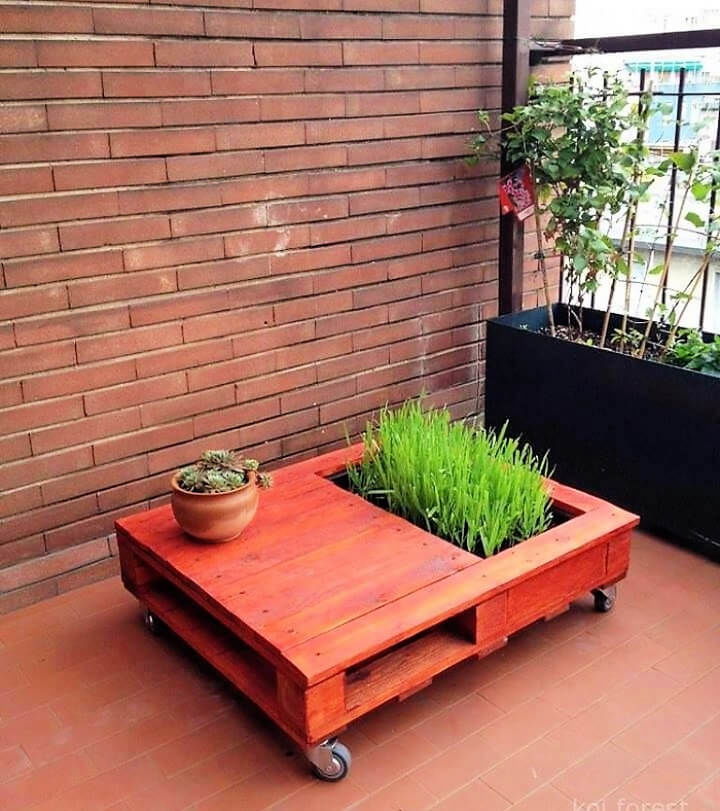 If you love looking at the greenery or your garden while taking tea. Then must make this wooden pallet coffee table with a mini garden, will freshen you up every morning. Stain and paint a skid of pallets to make this low rolling coffee table. Cut a little portion out of one side to build a garden there.
20. Floating Artistic Pallet Rack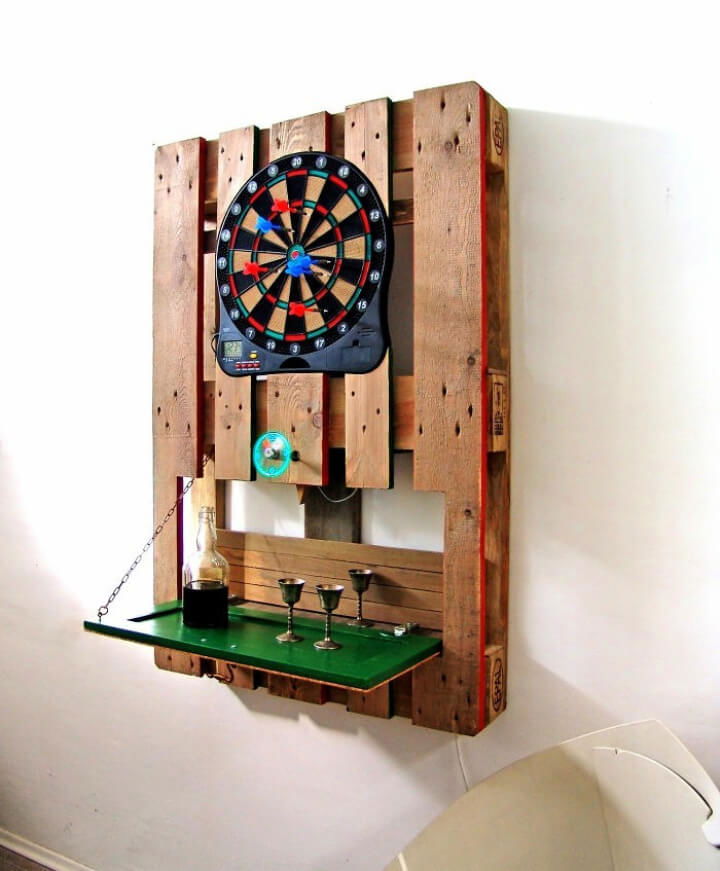 Get inspired by this one more pallet creation, a floating artistic wooden pallet rack. Fix a dartboard on the top of pallets and add up the bottom of pallets with a folding mini surface to build a mini bar there. Adorn the folding surface in the way you like and support it in place with the metal chain.
21. DIY Pallet Wardrobe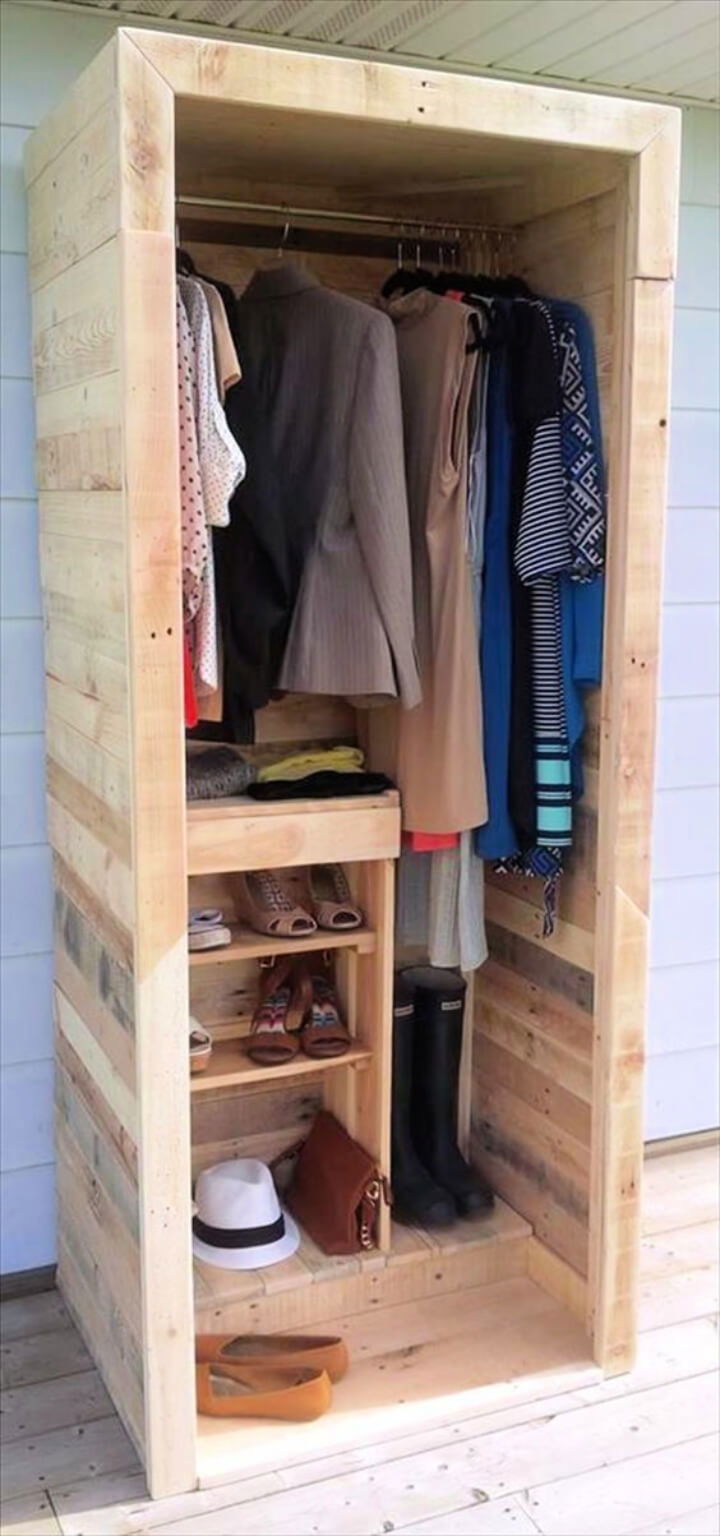 Do manual wood constructions with pallets. Take the wood slats to custom lengths and sizes and build this wooden pallet wardrobe. It comes with a built-in section to organize the shoes and also with a metal pipe to serve as a clothing rack. Finish it up with a front door if you like.
22. Pallet Room Divider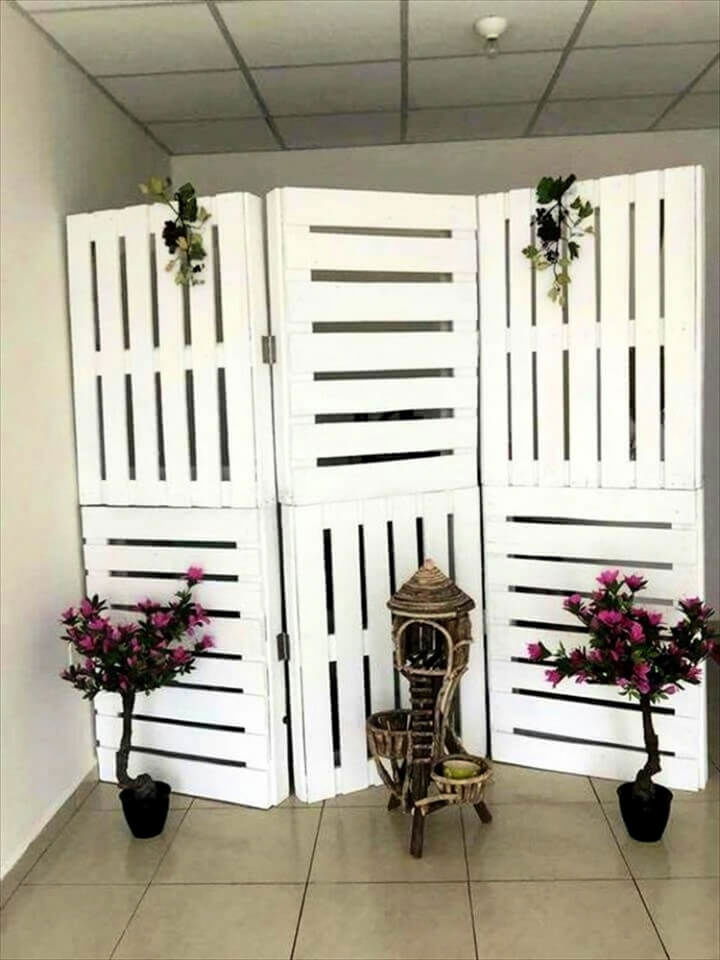 Pallets for there for quick serves too where you need to partition your room or any office space. Just stack the pallets vertically and hinge the pieces together to build this folding pallet room divider. Garnish it more by placing planters and pots on the front side.
23. Pallet Photo Booth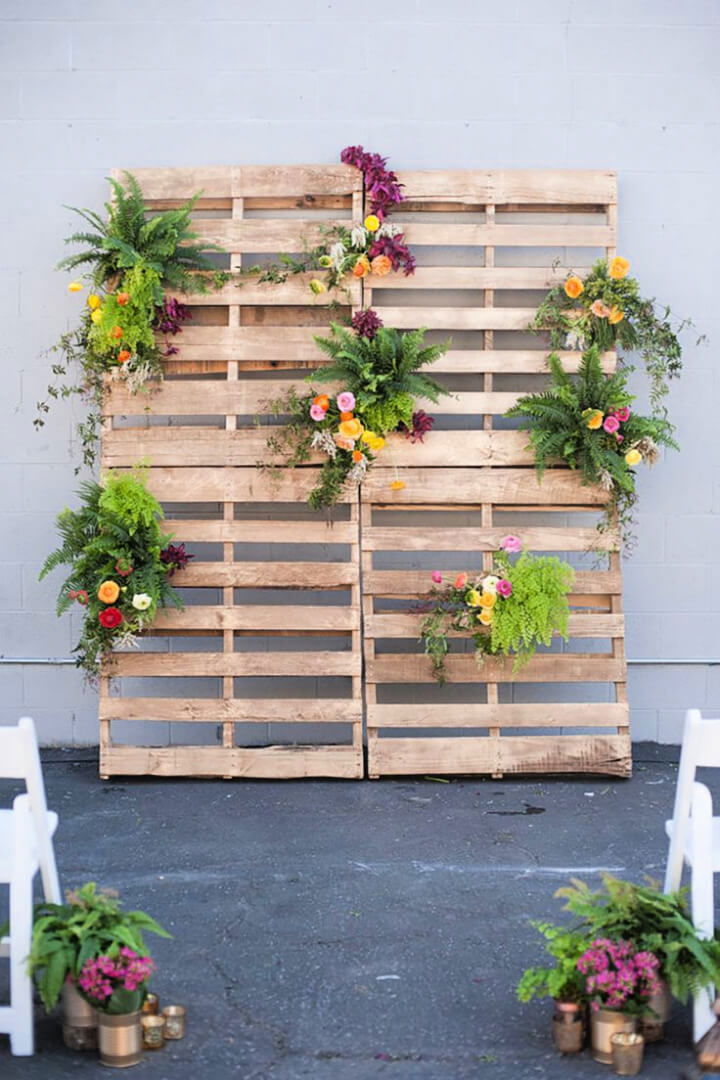 One of the creative reuses of pallets to build a photo booth. Just build a big wooden background by stacking the pallets vertically. Then load faux greenery and flowers and gain a beautiful looking pallet photo booth. Use durable hardware to tie the pallets together nicely and tightly.
24. Pallet Bathroom Mirror with Shelf

Elevate the look of your bathroom with this handsome looking wooden bathroom mirror shelf. A sweet pallet wood creation, super quick to build. Just frame up a mirror and add up with a bottom box to gain a lovely bathroom mirror shelf. Hang it up on the wall using recommend hardware hanging systems.
25. Pallet Bed Side Table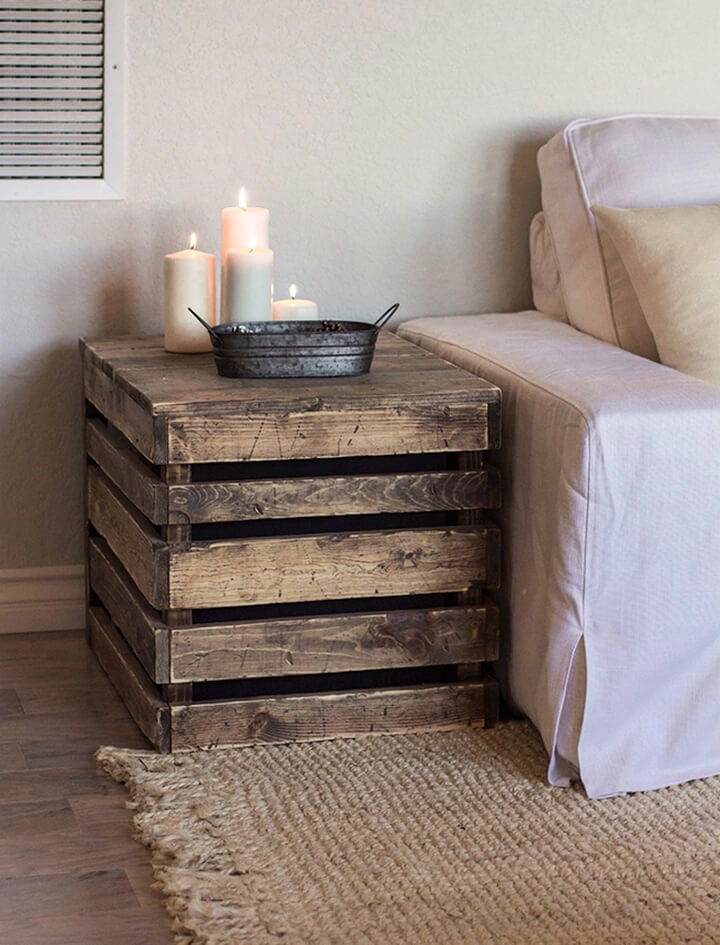 Put the pallet slats together to build this lasting longer rustic wooden side table. It looks like a sweet slatted box and can easily hold the night lamps and night supports on its top if used as a nightstand. It will rock insides of a couch, too, to serve as a sweet side or end table.
26. Shelves from Pallets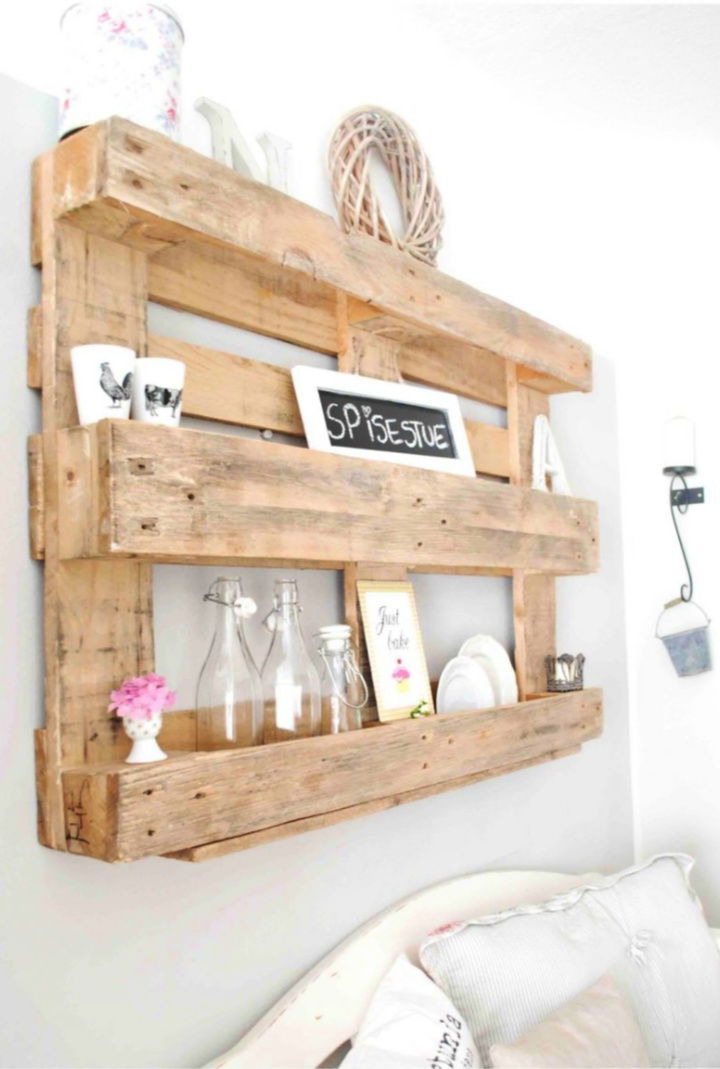 Take a mini pallet size and use extra wood to transform the back dice section into cute holdings or pallet shelves. Next, just display your art, mural frames, and other items of decors on the shelf to gain a whole beautiful beauty station on the wall. A perfect rustic pallet shelf. Details here
27. Stools Out of Pallets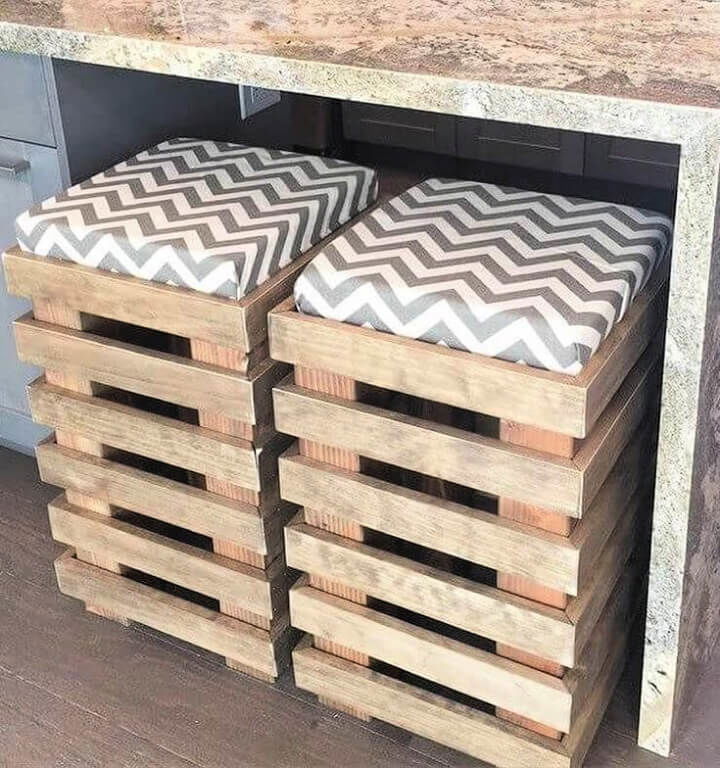 Lacking sitting space in your kitchen or in an indoor bar? Then consider building durable stools out of pallets. Again you have to use a bunch of separated apart pallet wood slats to build these stools out of pallets. Finish the stools with cushioned tops and accomplish your sitting space desires.
28. Recycled Pallet Planter Garden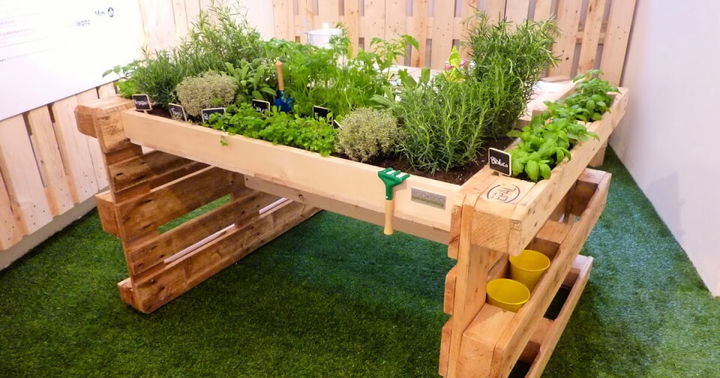 Check out here a whole beautiful DIY herb garden made out of wooden pallets, a pallet garden bed that is portable too. It comes with two pallets building the sides that also help store and organize your stuff sweetly. A big tray top is filled with potting soil to plant herbs, flowers, and veggies.
29. Pallet Fed Frame

So let's have a look at this DIY Pallet Bed with Headboard and Lights that have gorgeous design and underneath storage!
30. Pallet Garden Furniture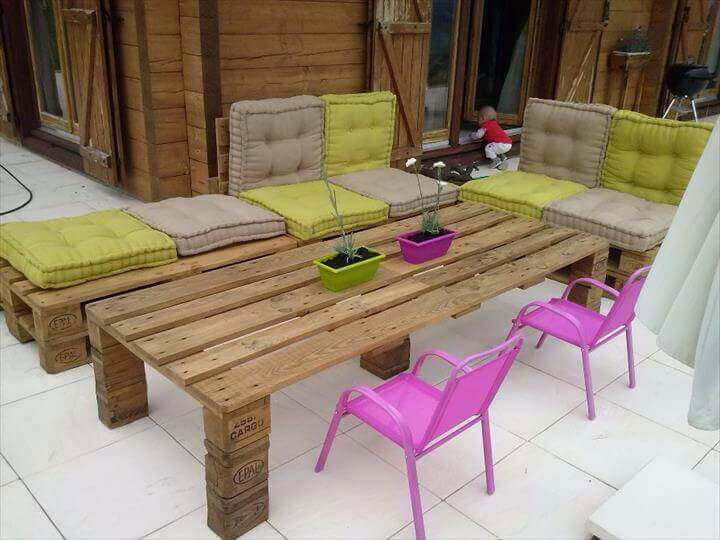 31. Build Shipping Pallet Dog Bed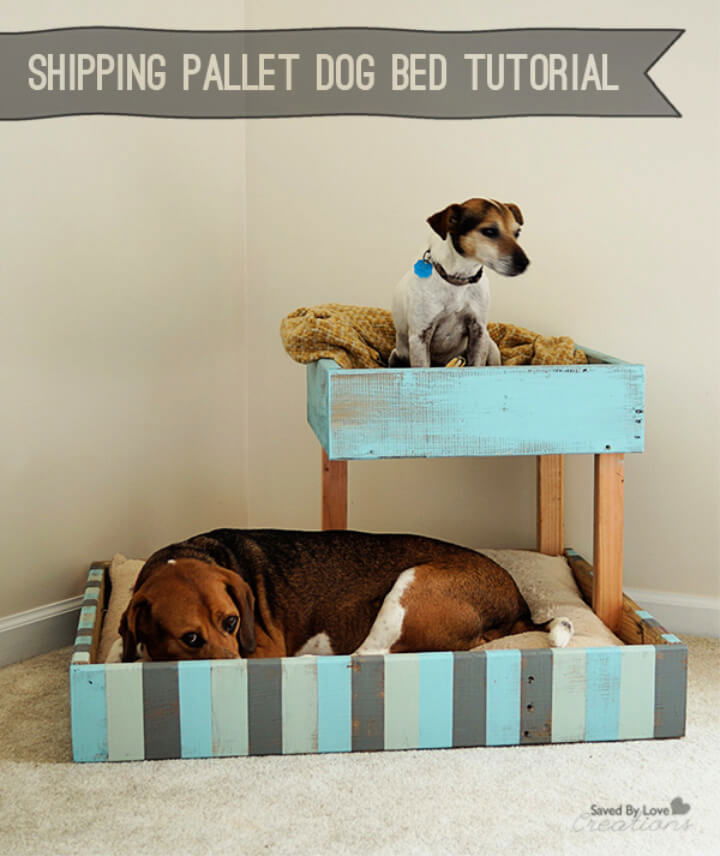 Spice up your pet keeping game with this double storey dog bed. A bigger pallet dog bed comes attached with a miniature elevated puppy bed. Both have been cushioned for an ultimate sleeping comfort. Here you need the pallets and ½″ plywood sheet to build this unique pet bed. savedbylovecreations
32. DIY Pallet Coffee Table and Bench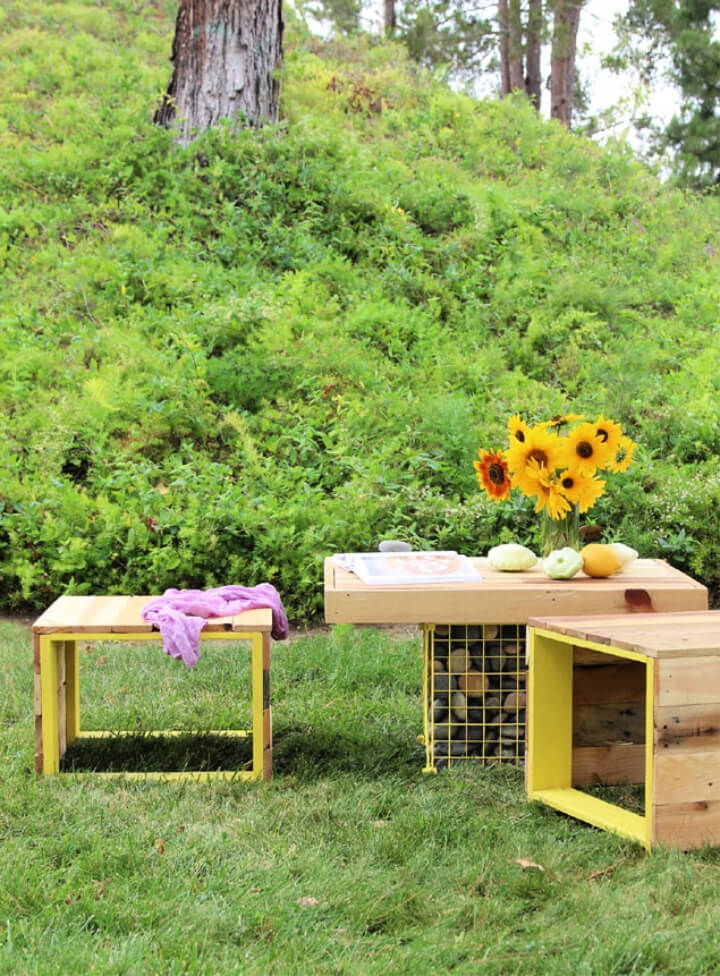 Boost your outdoor entertainments with this wooden pallet coffee table and bench set. Here you need pallets, kreg jig, a cage filled with rocks, acrylic paint and other wood working and painting tools to do this project. The big hollow box style benches and a one-leg coffee table fitting in an cage of rocks are the total assets and features of this sitting furniture set. apieceofrainbow
33. Sawhorse Coffee Table Out Of Pallet Wood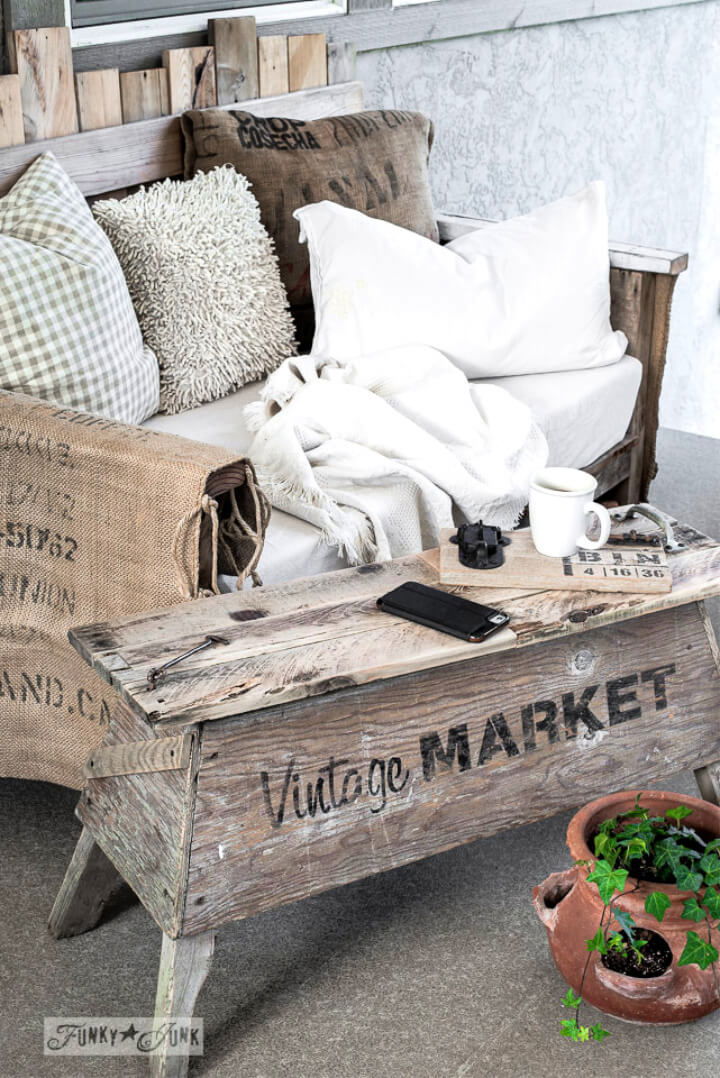 Bring the vintage vibes to your outdoor sitting space using this sawhorse coffee table. A great pallet wood recovery. A little edged top, angle outward stretched legs and stenciled front are the main features of this sawhorse coffee table. Give it also as a quick handmade gift to someone special! funkyjunkinteriors
34. Home is Where the Heart is Pallet Sign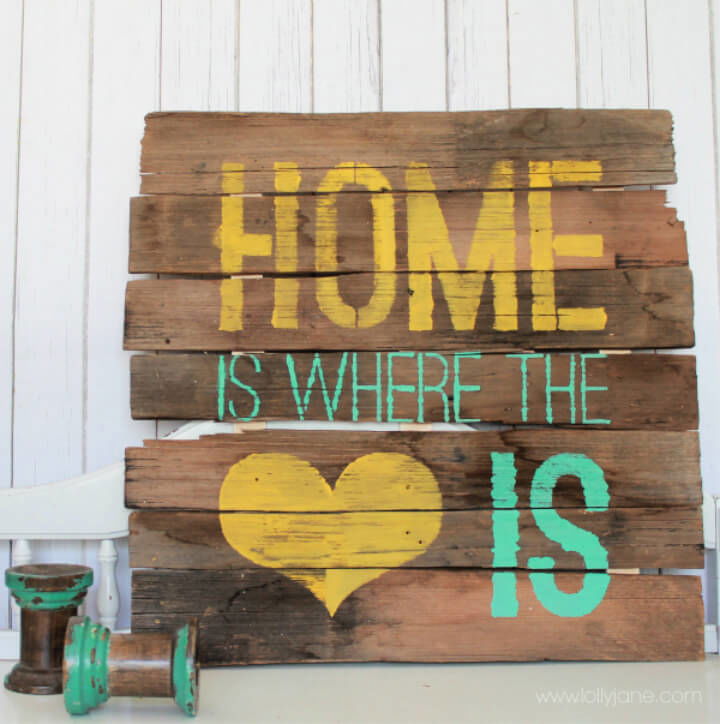 Grab the pallet wood slats to make the rough frame for the pallet wood sign. And next stencil them for a gorgeous painted art, will definitely make a great handmade gift. For this project, use the wood slats, shingles, screws and stencil to make this "Where the Heart is Pallet Sign". Details here lollyjane
35. Crates Out of Repurposed Wood Pallets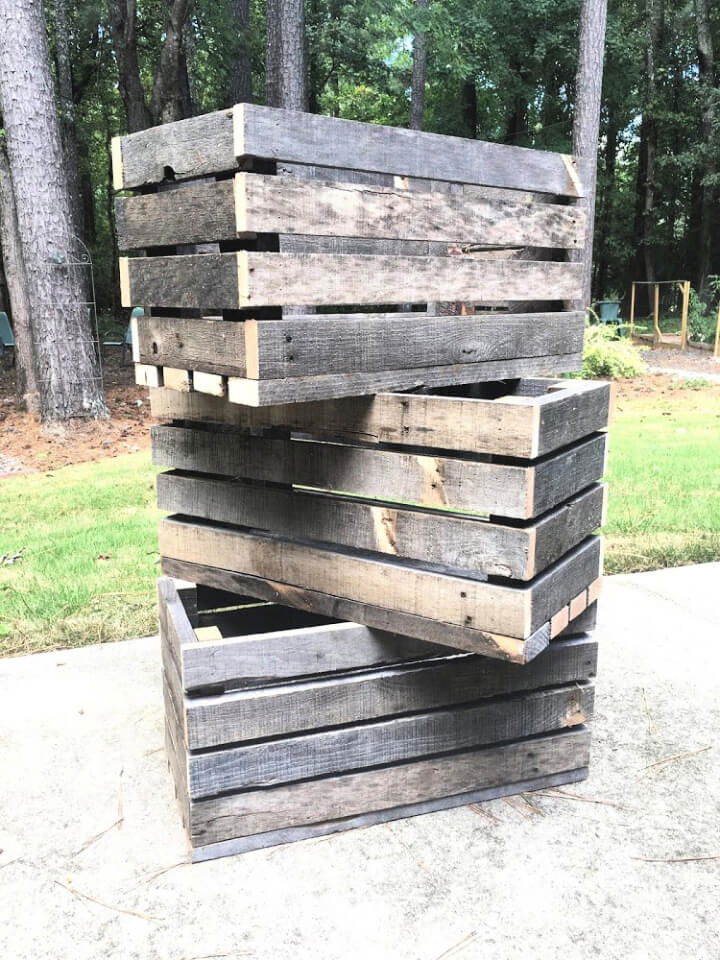 The crates are always to add to your home as great storage options. You use them also to pack the goods and things. So, make durable wooden crates too out of pallets, will cost you nothing. Just separate apart the pallet slats and then put them together making durable wooden boxes. Details here buildingourrez
36. DIY Painted Pallet Porch Sign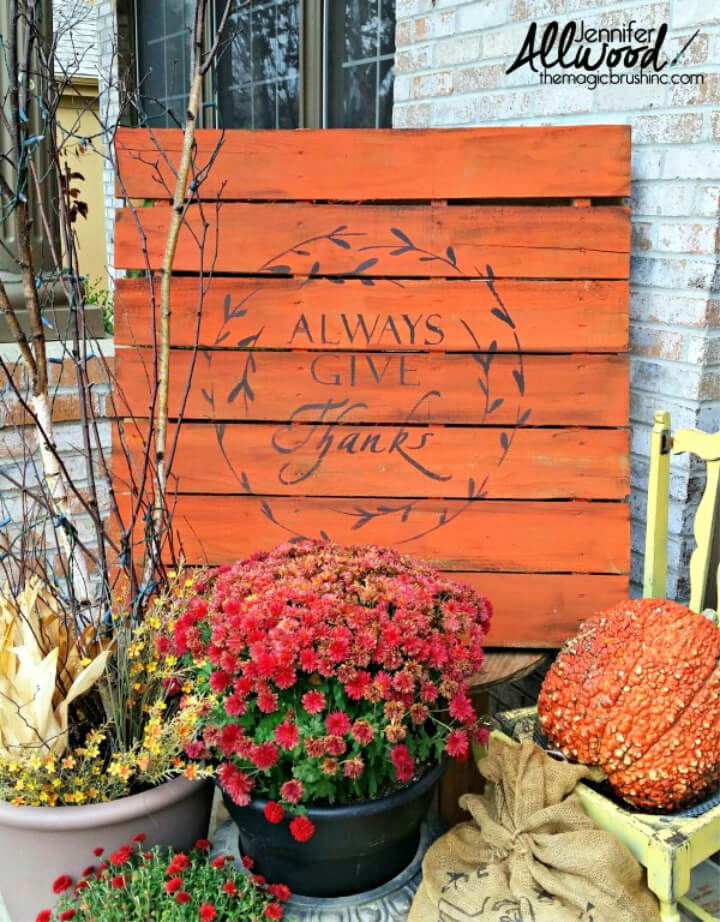 Rock your porch decors using this wooden pallet painted sign, will make a cool handmade gift too. Make a fine looking rectangular or square sign using pallet wood slats and back braces. Next, paint it in orange and stencil for a custom art and quotes. Details here remodelaholic
37. How to Build Pallet Shed / Pallet Cabin / Pallet House

Make also the garden management super easy by building a shed in the garden. Use the dozens of pallets to build this wooden pallet shed or pallet cabin. Build the frame with pallets and sheath the frame with chipboard. Finish your shed with corrugated tin roof, will be loved dearly by all.
38. DIY Pallet Countertop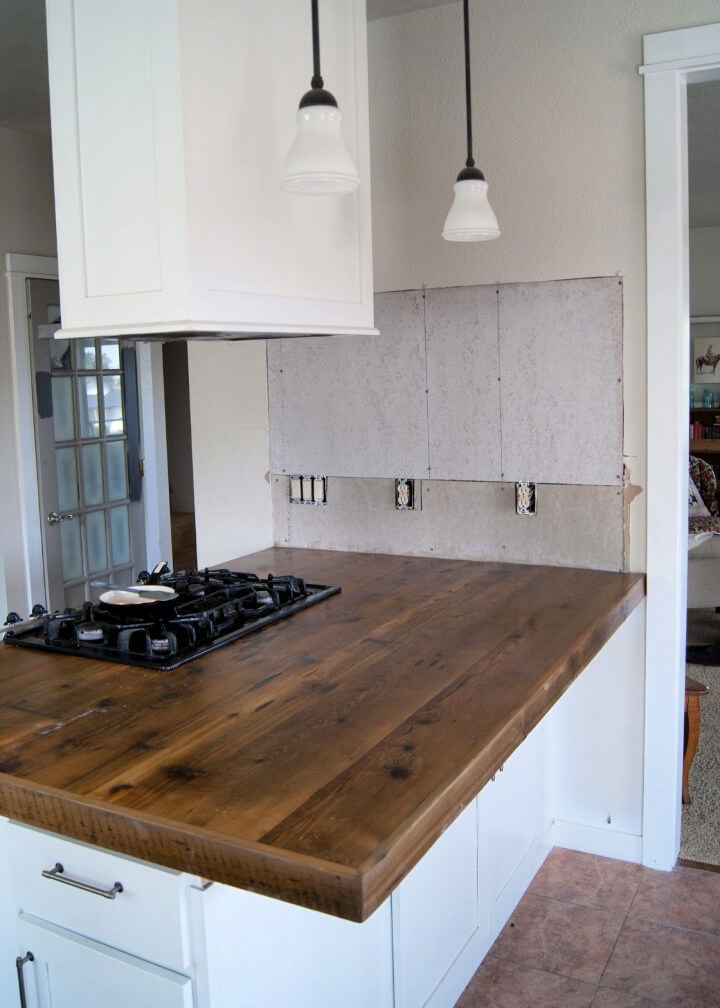 Use the pallet wood to do a quick decorative makeover of your kitchen countertops. This will help bring the wooden warmth back into the kitchen in a graceful way. Just remove the old tops, keep the frame, install the MDF underlay sheet and then add pallet wood slats over it. Details here averielane
39. DIY Pallet Daybed on Wheels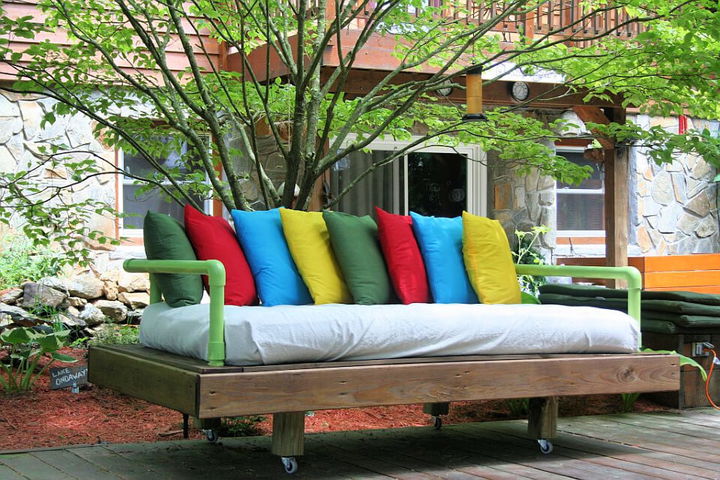 How to make a pallet sofa for the garden? Combine two pallets to build the bigger base of the daybed, install the 4x4s wooden post legs ending up with caster wheels. Install skirt board for accent side trimming and make the PVC rail to attach as the lovely backrest. Next, just cushion up the pallet sofa and gain a gorgeous wooden pallet daybed. Details here ondawaytosomewhere
40. Pallet Sand Box with Built-in Seats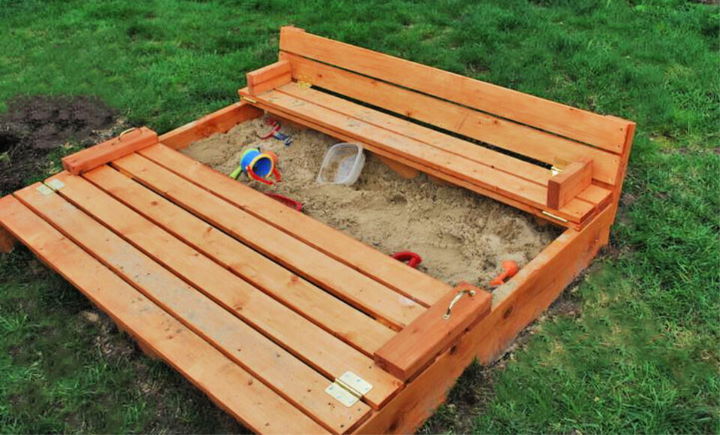 Get here free instructions about how to build a durable and sturdy wooden sand box with built-in seat using free pallets. Playing with sands is the best summer outdoor entertainment, so you can make thi sand box to get your kids at outdoor for better immunity. Here is how to make it ana white
41. Paracord Laced Pallet Hanging Chair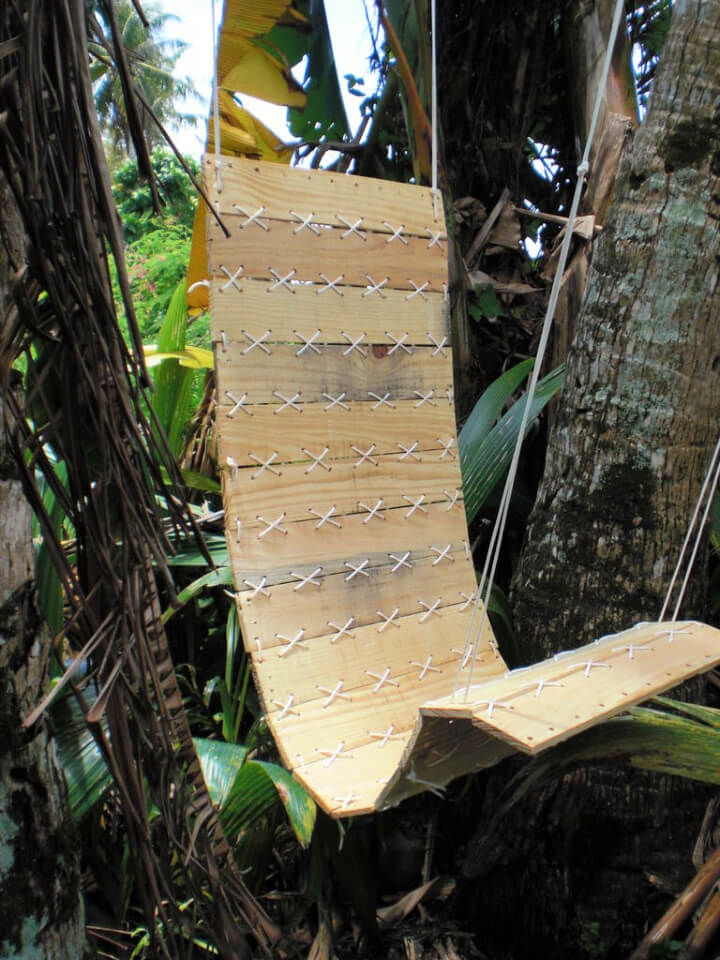 Use the sawzall for quick dismantling of pallets and grab the pallet slats of equal lengths and thickness. Make lines of holes in both sides of planks and lace them together using paracord making this wooden pallet hanging chair. The perfect swing chair to make you enjoy book reading and daydreaming. instructables
42. Pallet Gardening Table on Budget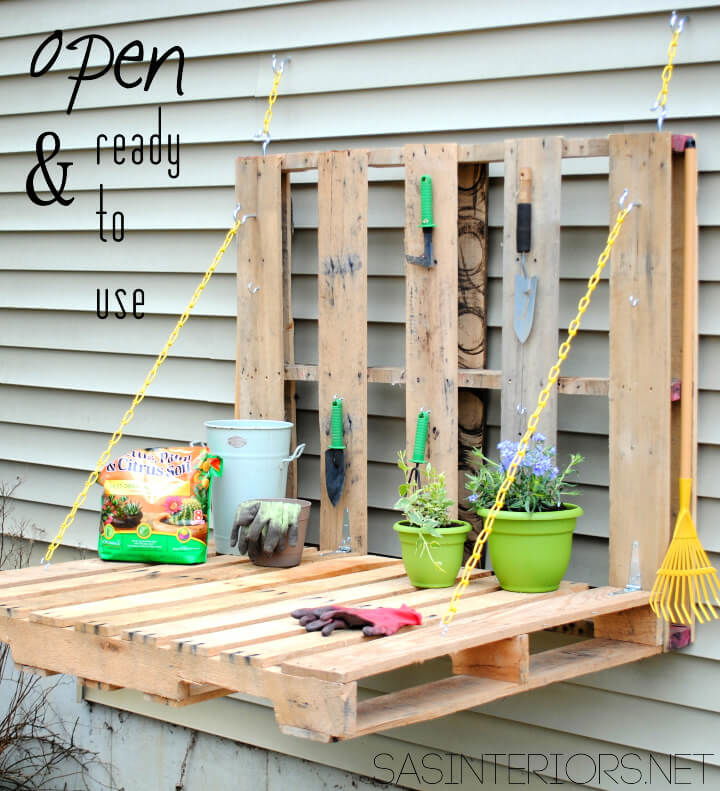 Build this wooden gardening table using only 2 pallets. Use the 4″ strap hinges and bring the pallets into an L-shape on the wall. Support the folding pallet with metal chains and start using it as a perfect potting bench. Add custom hooks in sides and on the wall-mounted panel for easy tool hanging. jennaburger
43. Playhouse for Kids using Pallet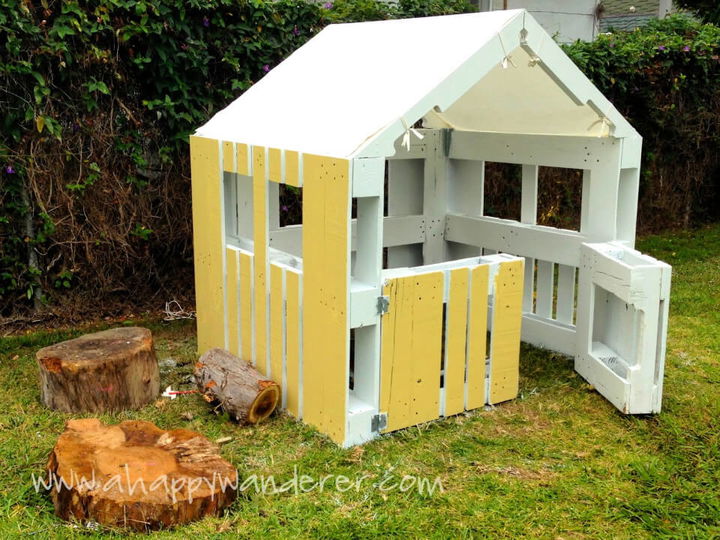 One of the best gifts ever to build for the kids using free pallets, a lovely wooden pallet playhouse. Just plan the whole pallets to build the sidewalls, excluding the front. Use mini or cut to size pallet skids to build the front gate and plan the separated apart pallet stringers to install roof rafters. Details here ahappywanderer
44. Simple DIY Vertical Pallet Garden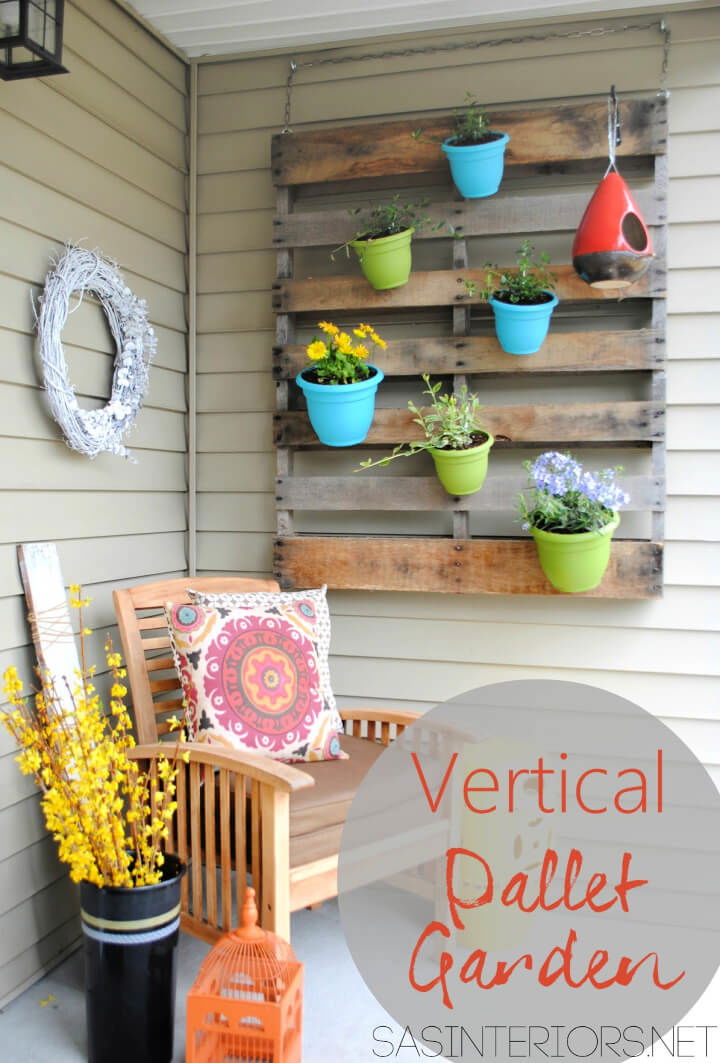 Add up a rustic pallet with top eye-hooks and then fasten the heavy-duty rope to them to hang the pallet on the wall. Next, add up this pallet with custom hooks and plant holding clamps so it can hold there a variety of colorful pots. So, finally, you have gain a vertical pallet garden mounted on the wall. jennaburger
45. Pallet Console Table for Entry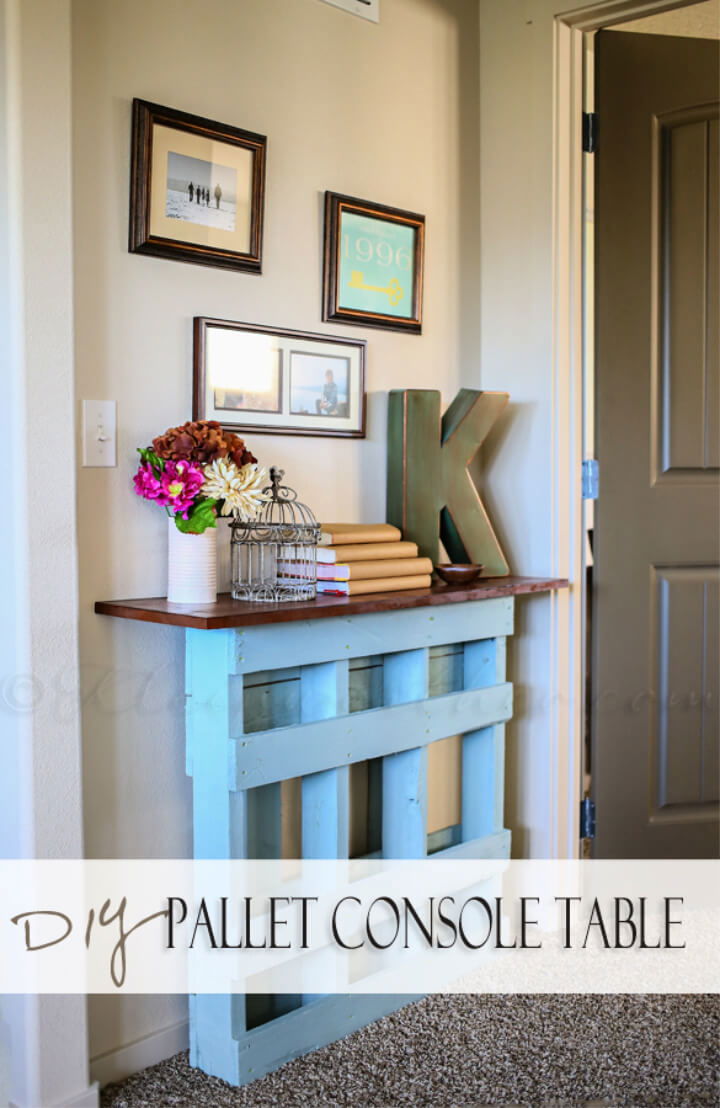 Rock your entryway with this wooden pallet console table, will rock any entryway. Paint a pallet and make it stand vertically. Next, add it up with a flat wooden top and gain a wooden pallet console table. This console table will rock to feature your art and mural frames. Details here kleinworthco