There are many of us who feel it pleasure to be at outdoor! Such an outdoor addicts tend to all the routines activities at outdoor while weather is friendly and pleasant! So to help your to organize outdoor dinners, to make you sit at outdoor with a whole family at one place and also to organize your outdoor fire-pot places, we have brought here this collection of DIY pallet outdoor furniture ideas which are all latest, creative and inspiring! By cloning these ideas, you can get the stylish outdoor chairs to sit in your garden or at patio and also the amazingly low-cost and sturdy dining sets for summer night dinners at outdoor!
Get the pallet outdoor furniture ideas here to build special fire-pit chairs with pallets inspired of Adirondack chair style and also learn here to build the stylish muli-tiered accent planters with pallets, will rock for decorative edging of your deck space and also to bring a garden like sensation to any of your sitting plan! The most amazing idea in this given collection is the pallet-made bench which offers awesome storage space built-in the seat!
Pallet Bench with Storage in the Seat:
In the list of these creative idea, this storage-friendly bench comes at the top, has secret stash built in the seat! It has been well sanded and finally has been finished with dark walnut stain coats while inside of berth is still having a natural bright tone of wood!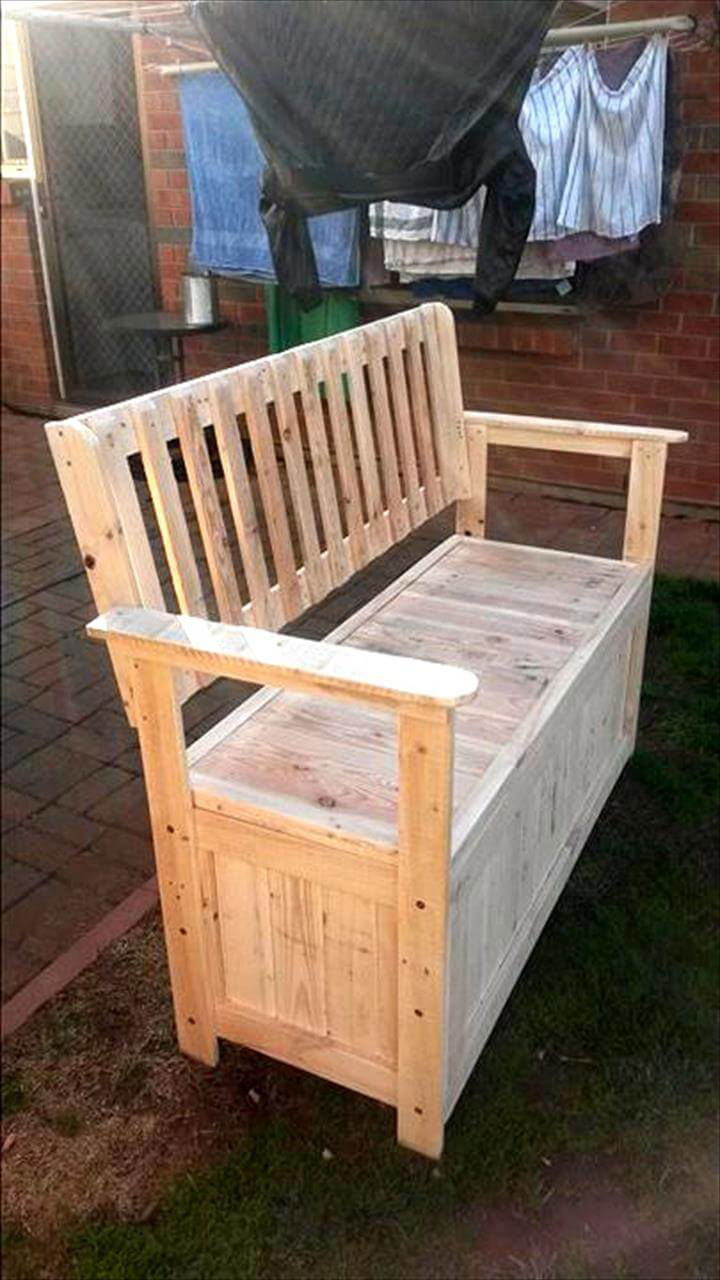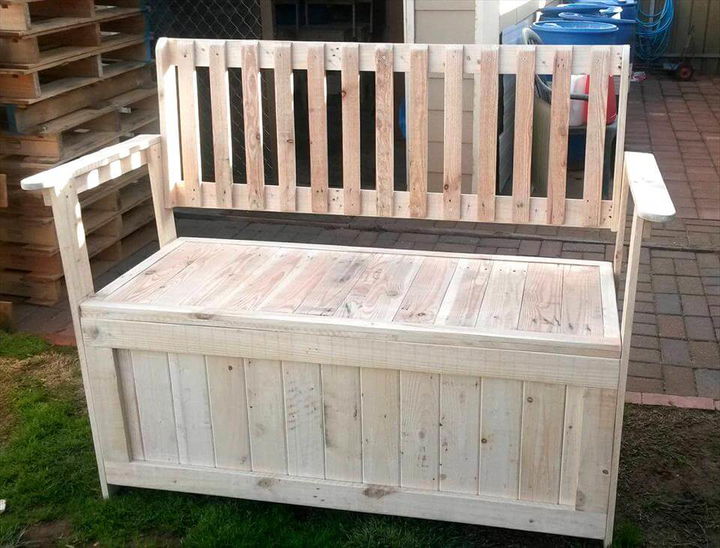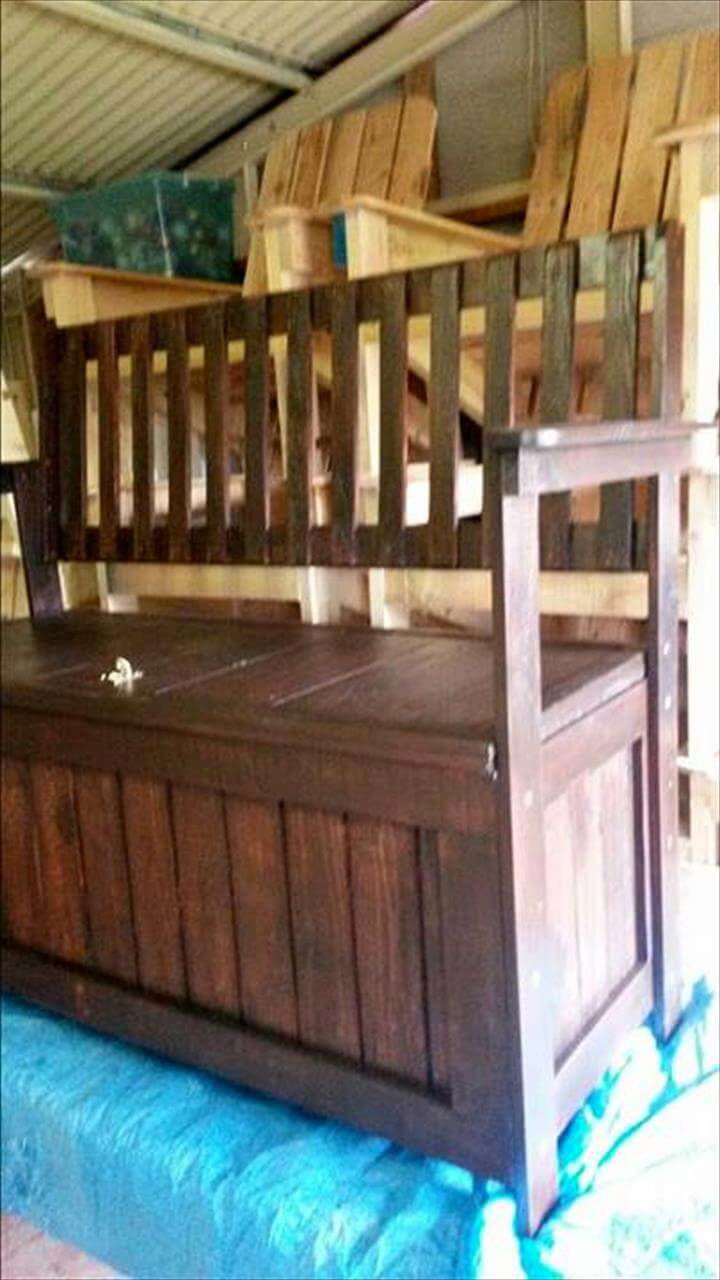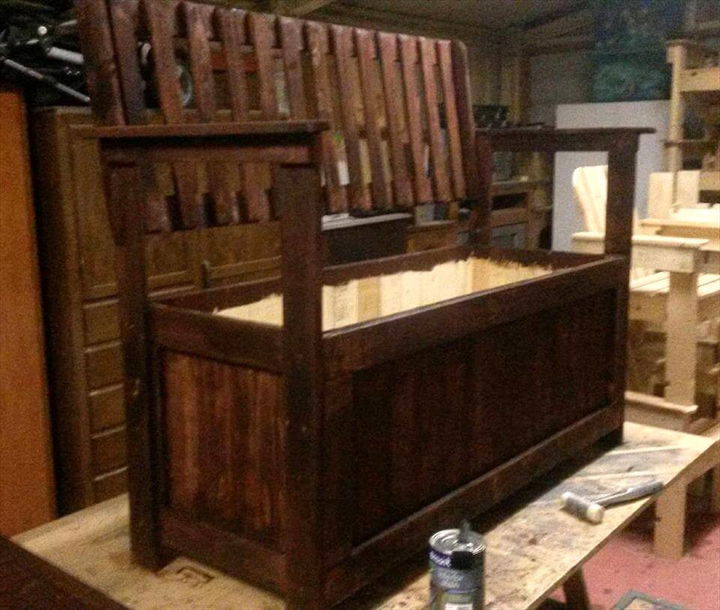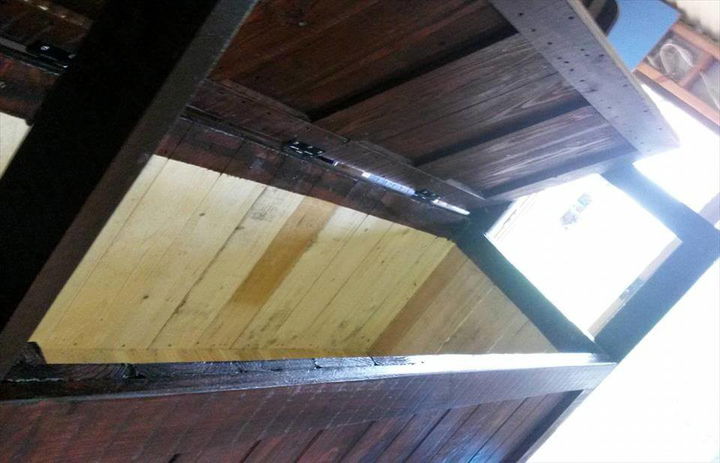 3 Tiered Pallet Planters:
Here 3 sizes different sizes of pallet-made cubbies or wooden holdings have been packed for this brilliant 3 tiered wooden planter, size increases consistently while going downward! These planters would be just mind blowing to put around the boundary of a deck or sitting plan for natural garden like sensation, so can be got for natural garnishing of any of your indoor or outdoor sitting space!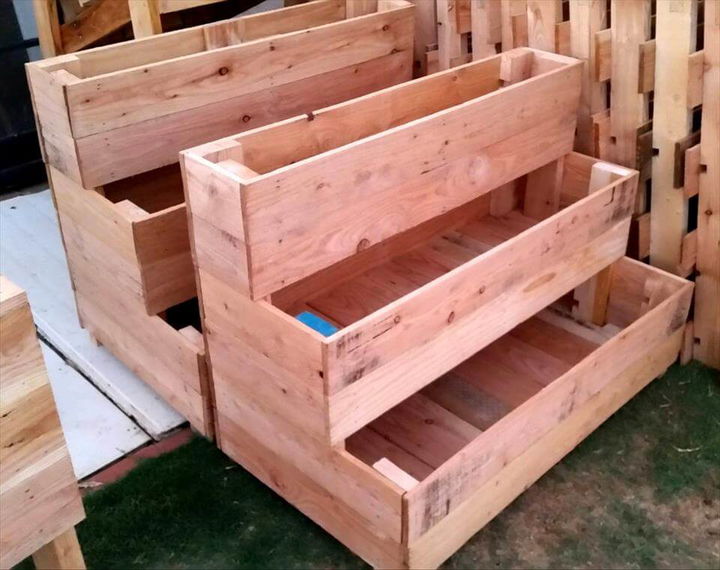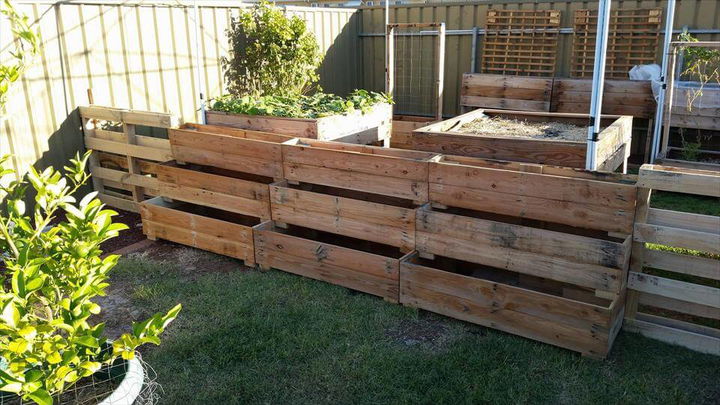 Pallet Patio/Fire-pit Chairs Set with Table:
Here some custom wooden chairs have been built out of pallets, having design all suitable to enjoy outdoor climates and scenes and can also be planned to sit around the outdoor fire-pits! You can get a set of these chairs to start the family conversations anywhere at your outdoor!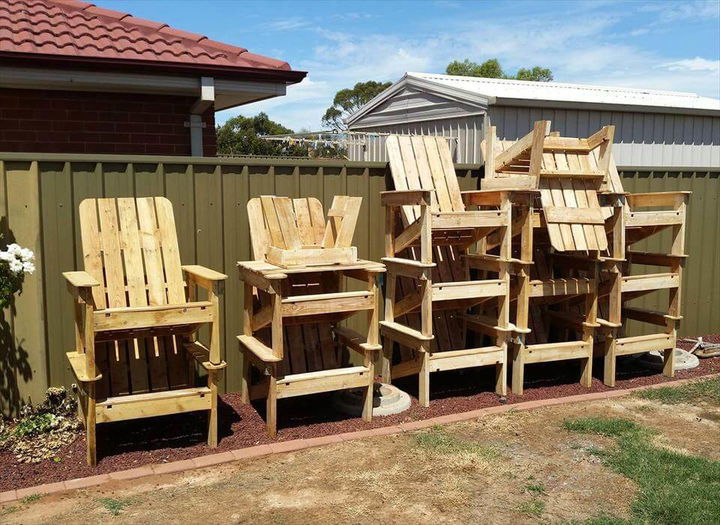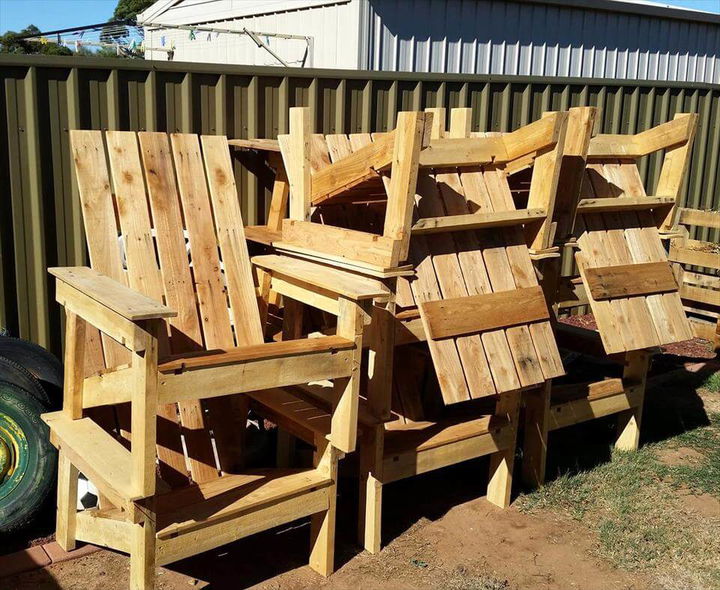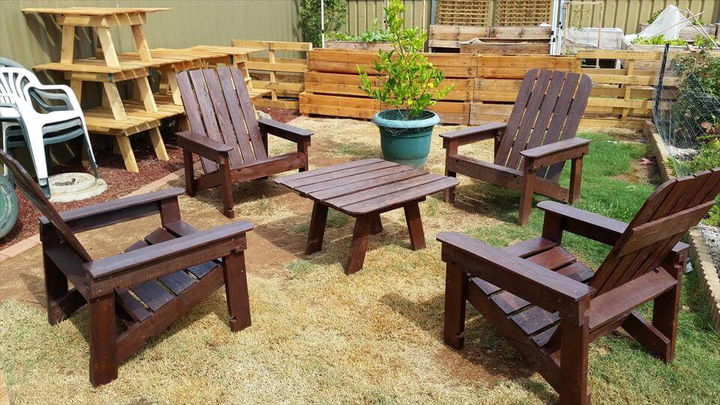 Dining Table and Chairs Made of Pallets:
Here a custom wooden dining set has been manufactured with pallets, first of all a large dining table with thicker legs and slatted top, has been composed of pallets and then the matching dining chairs have been installed with those same removed pallet slats to sit around the dining table! Robust and visually attractive wooden 8 people dining set built at home!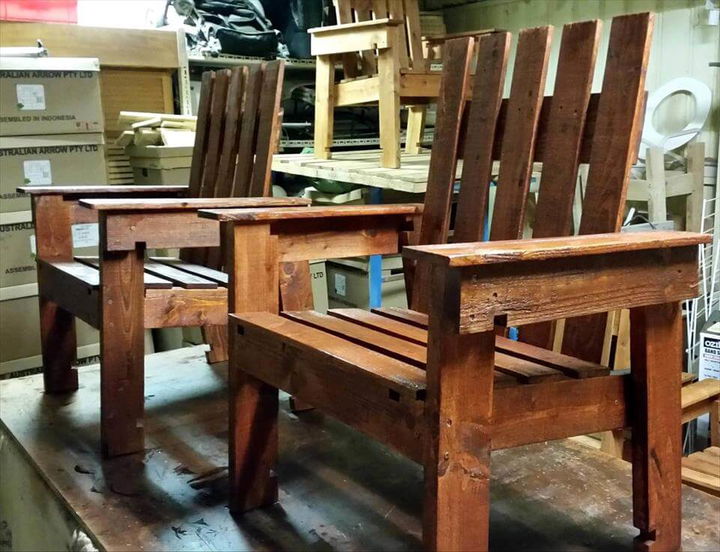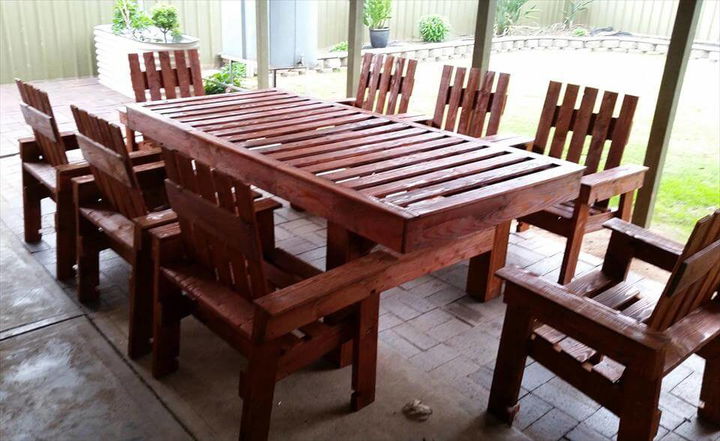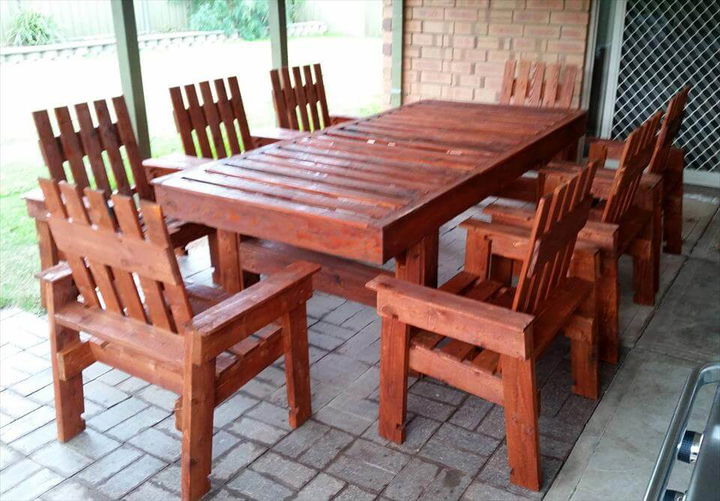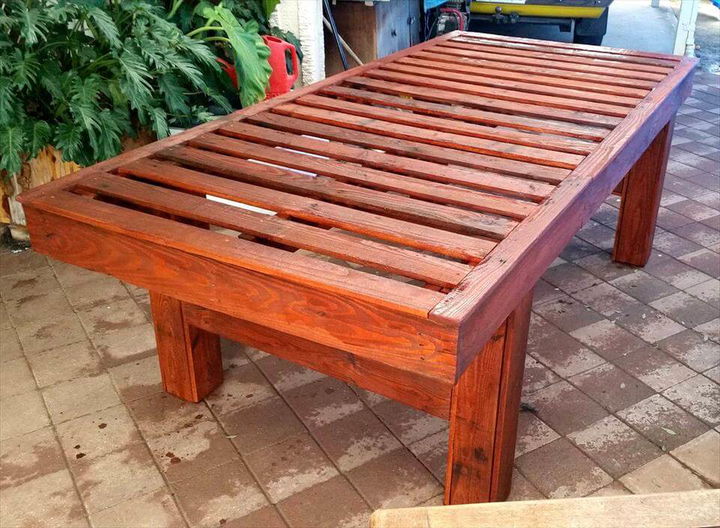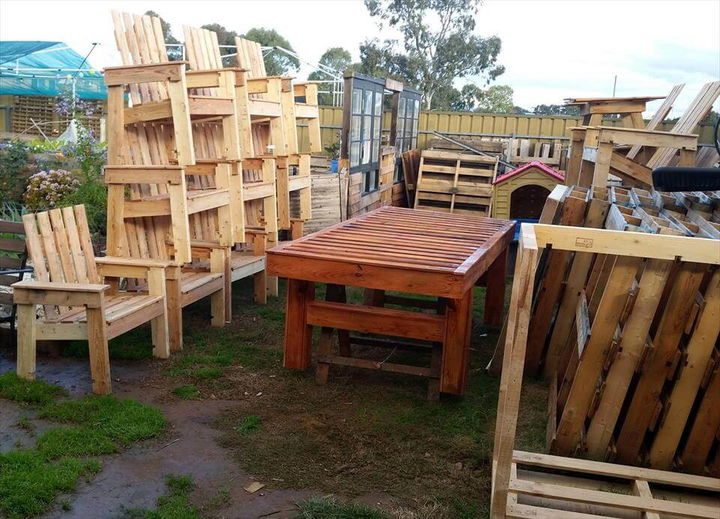 Made by Dave Hemer