We typically like to spare more of our time at outdoor in summers! People also tend to go to their backyard and garden places for natural fresh environment and cool breeze to sooth their nerves. Sometime while being in outdoor summer night parties we mostly need a washbasin or a toilet room and it may be most immediate need for outdoor lovers! If you really want to install a toilet room or bathroom at exterior home portions or in your garden or backyard place then you may also select the pallets again!
This DIY pallet outdoor or garden toilet room is really here to inspire you and you can imitate or copy the construction to have your own charming one! A nice small wooden room has been build with chevron roof and has been made a little bit off the ground by using some supports and concrete blocks. The interior lining and construction of this room has been done according to personal requirements and a toilet seat has been fitted in the corner!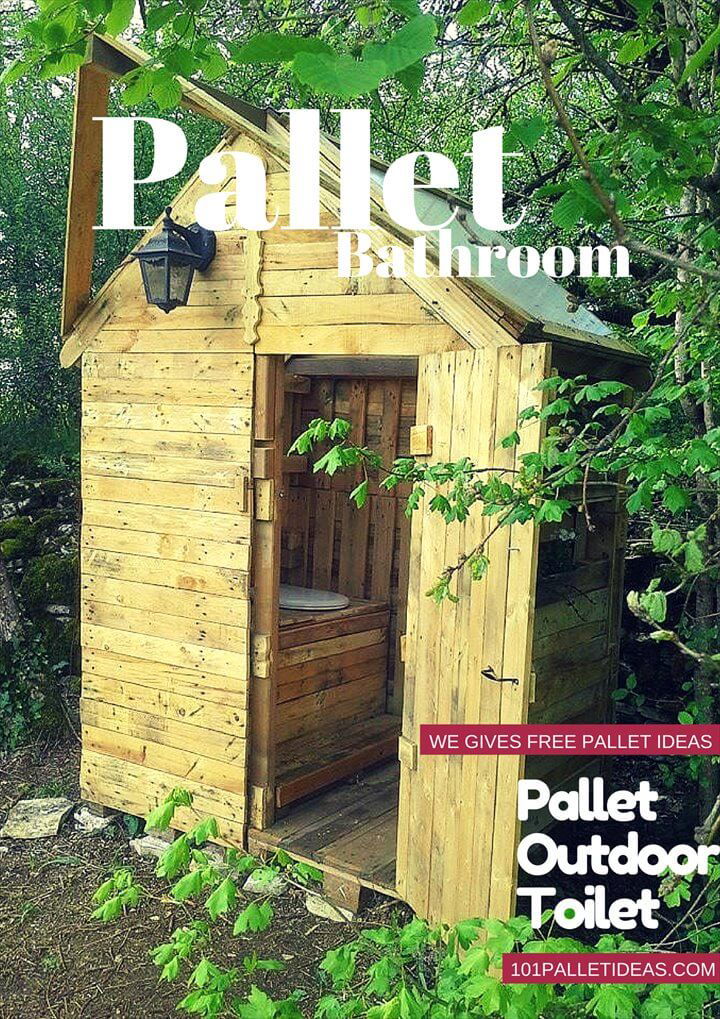 The outer wall of this toiler room has been accentuated with two DIY pallet planters that are visually attractive part of entire design.
Instructions, Tools And Material: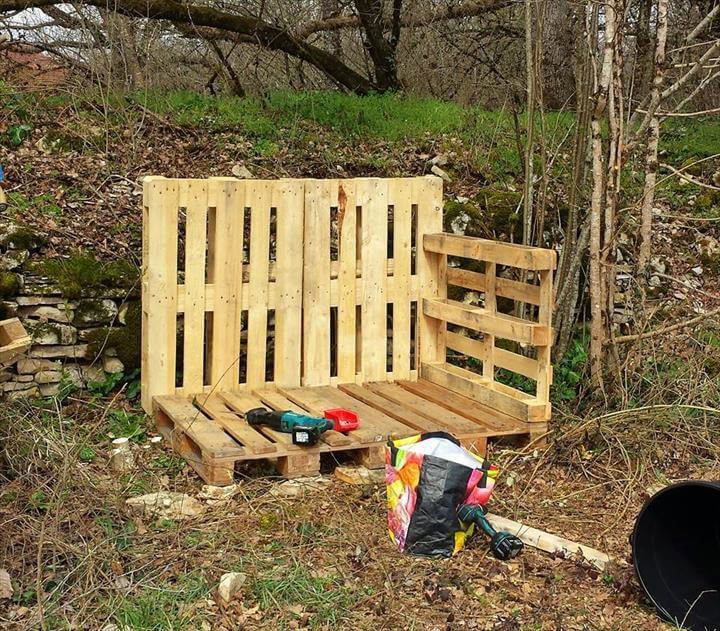 First you need to plan the space for your toilet room, select a plane and suitable location of your outdoor or backyard! Raise the base pallet skids on some concrete block to be off the ground or add stones for a balanced level!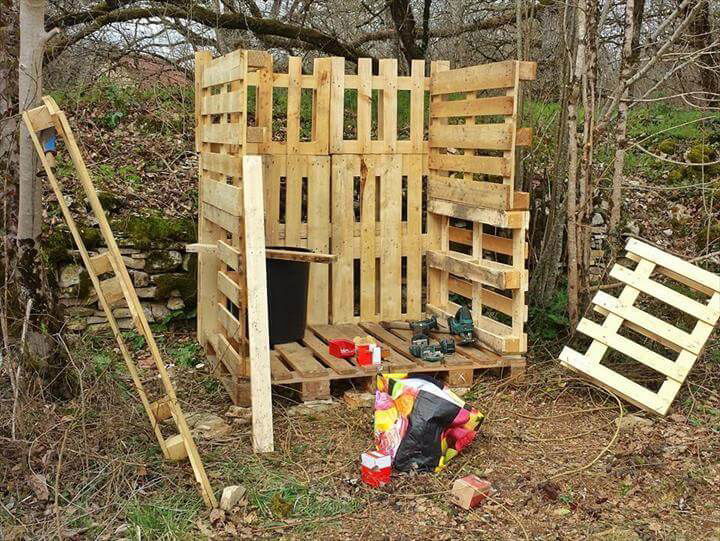 After you prepare the base portion, move forward to install the DIY pallet walls of room. For this purpose simply stack the pallets on each other vertically and use metal brackets or use nuts and bolt formula to hold them tightly in place!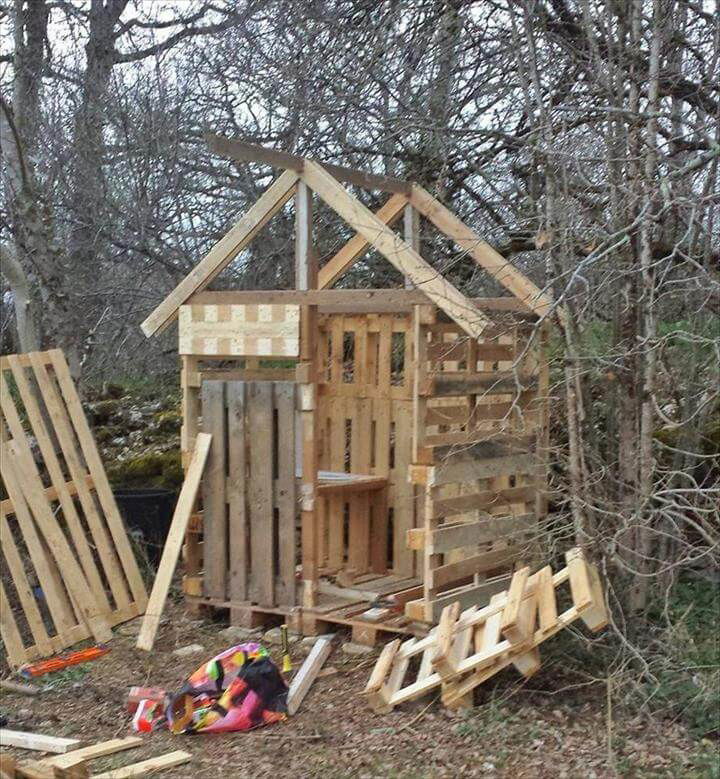 Build all the sides for a enclosed room area, specify the portion for you toilet seat and also fix firmly the chevron wooden bars for a charming chevron roof panel! Just copy the roof skeleton for ease of roof construction!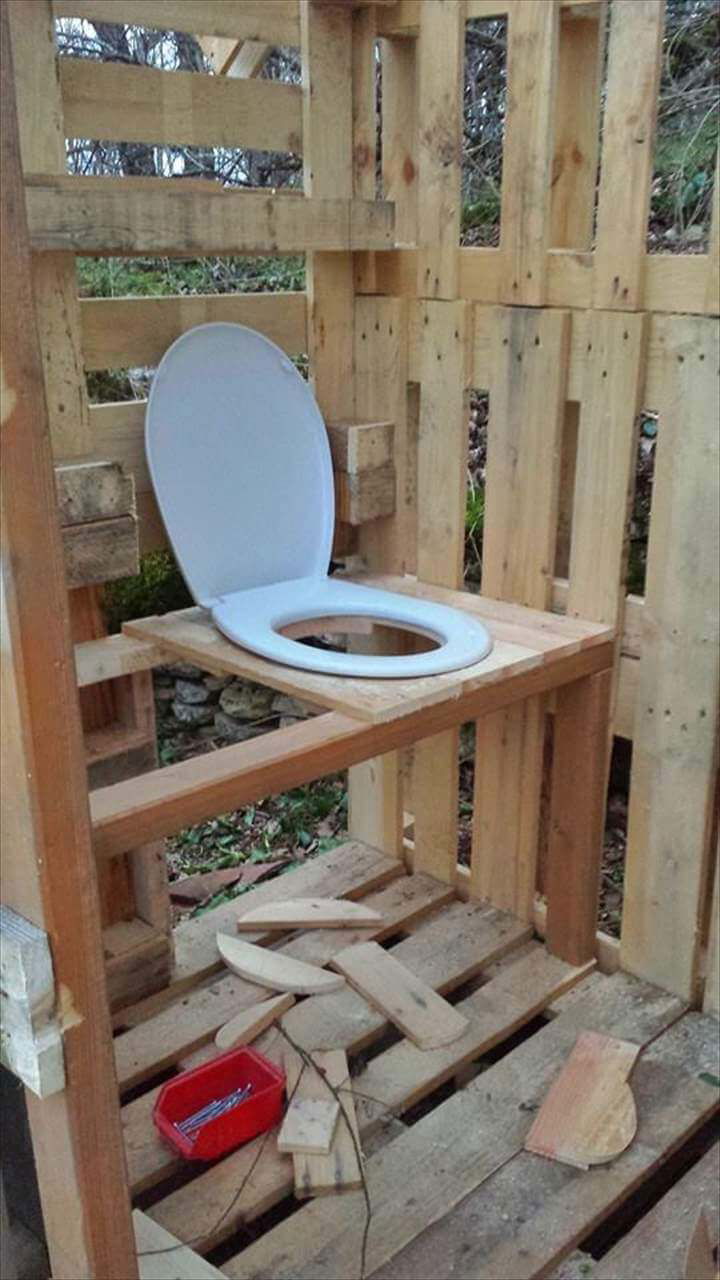 Here is how you can plan the space for toilet seat and how you can fix it, add nails for a lasting assemblage of all parts! Steel nails would really work great and would be safe from getting rusty!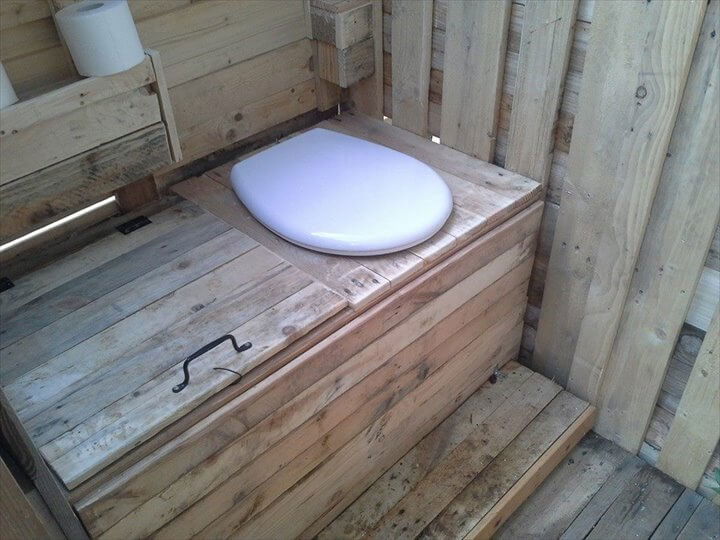 Here comes you outdoor toilet seat with a side storage section to store your clothes, toiletries and even the toilet paper rolls. A hinged top has been provided to the storage section and comes with a metallic pull or handle for ease of opening and closing!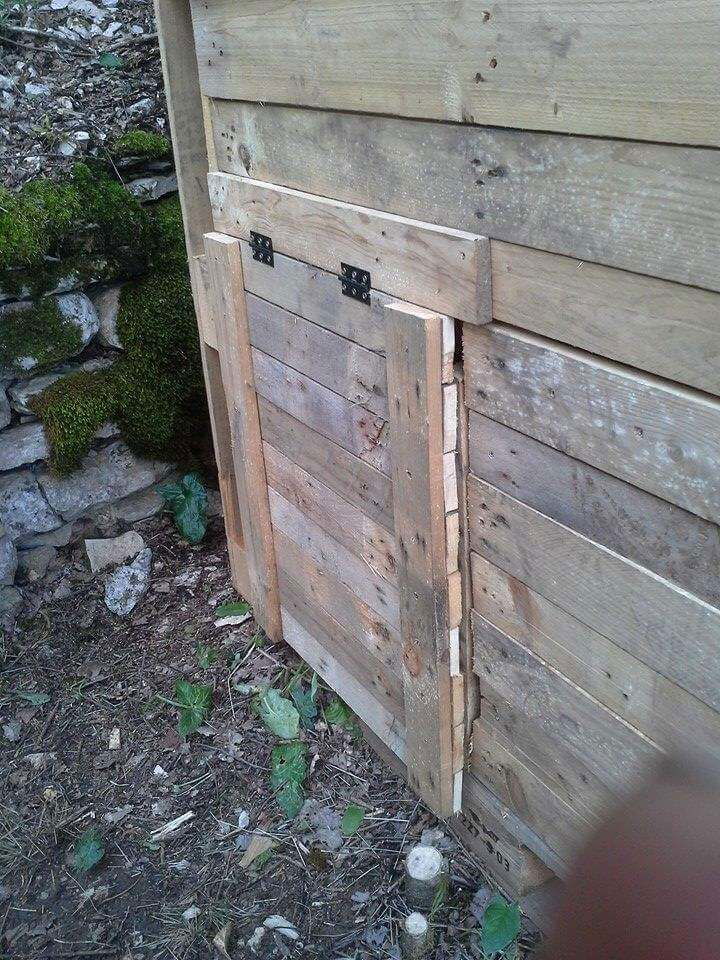 A back door and drainage section has also been added to handle the waste! You can even build outdoor DIY pallet houses, barns and sheds with pallets just like this outdoor toilet room!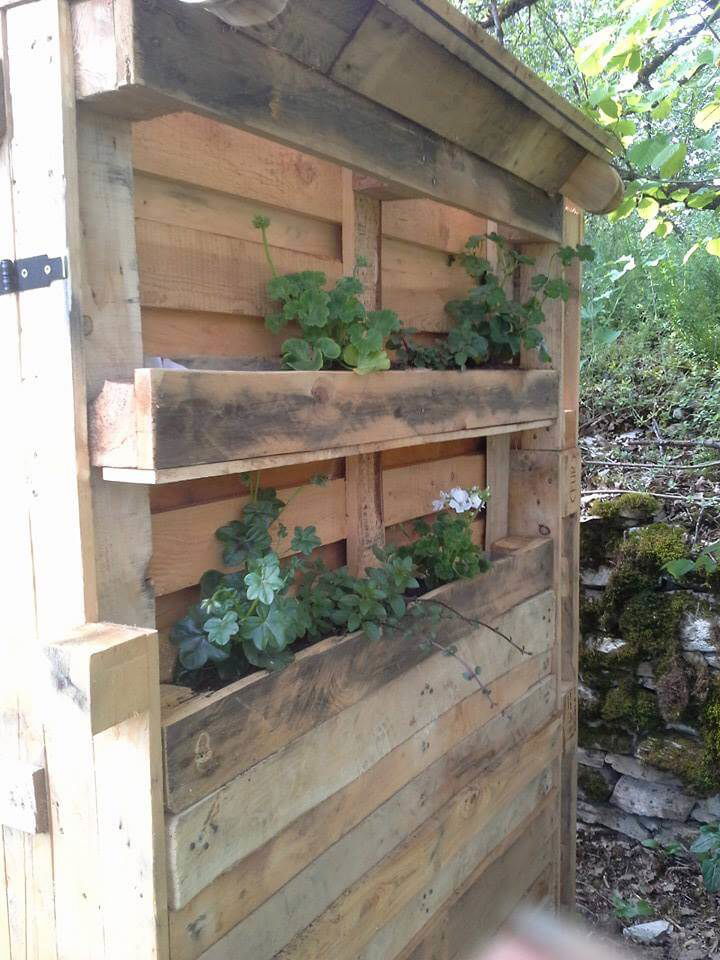 The side wall of the room came up with plenty of openings which have been turned into amazing accent  herb planters by filling the potting soil to them, is not it a cool way to use the openings in pallet boards?

The chevron top has been finished with a solar panel inlay to get some electric supply for bulbs and lamps fixed to it! Be careful while doing the entire construction, adjust the solar panel in such a way that it should receive maximum intensity of sun rays!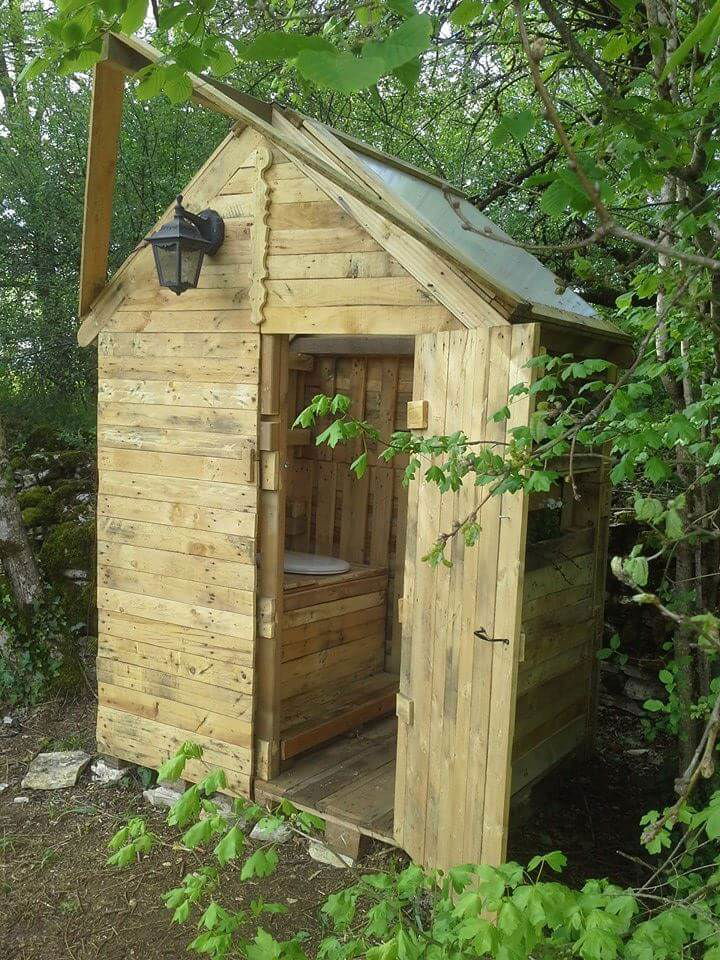 For night usage, a light lamp has been fixed at the front wall that also beatifies the wooden tone with galvanized black metal touch! Do copy this brilliant framework and make you backyard more comfortable for you family, visitors and guests. After you have it, there is nothing that can stop you to enjoy the summer after night parties and fun!
Tiny Pallet House or Cabin: DIY Tutorial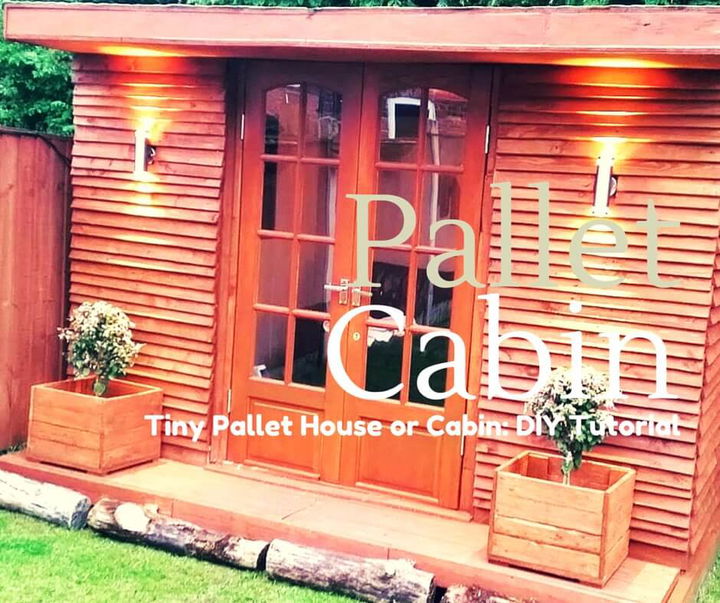 Full Instructions Here: DIY Tutorial