Checkout here this amazing outdoor sofa set built on an ever friendly budget plan! All the robust wooden structure and the upholstering here has been done at a very low-cost! So you can understand about the construction of this DIY pallet lounge sofa before you clone it for your lounge, newly built pallet deck or for paved patio! The structure of this lounge furniture set has 3 separate modules and which can be set apart also to move individually!
Pallet have first been dismantled using proper tools, then has been resized using power cutting tools and has finally been gritted using angle sander! Slats which are to pack for the lounge set model, have been finished with oil also for more sturdiness! Finally the design has been given distressed white look and cushioned in black this gives the ultimate glam and extra charming black & white appearance to entire lounge set!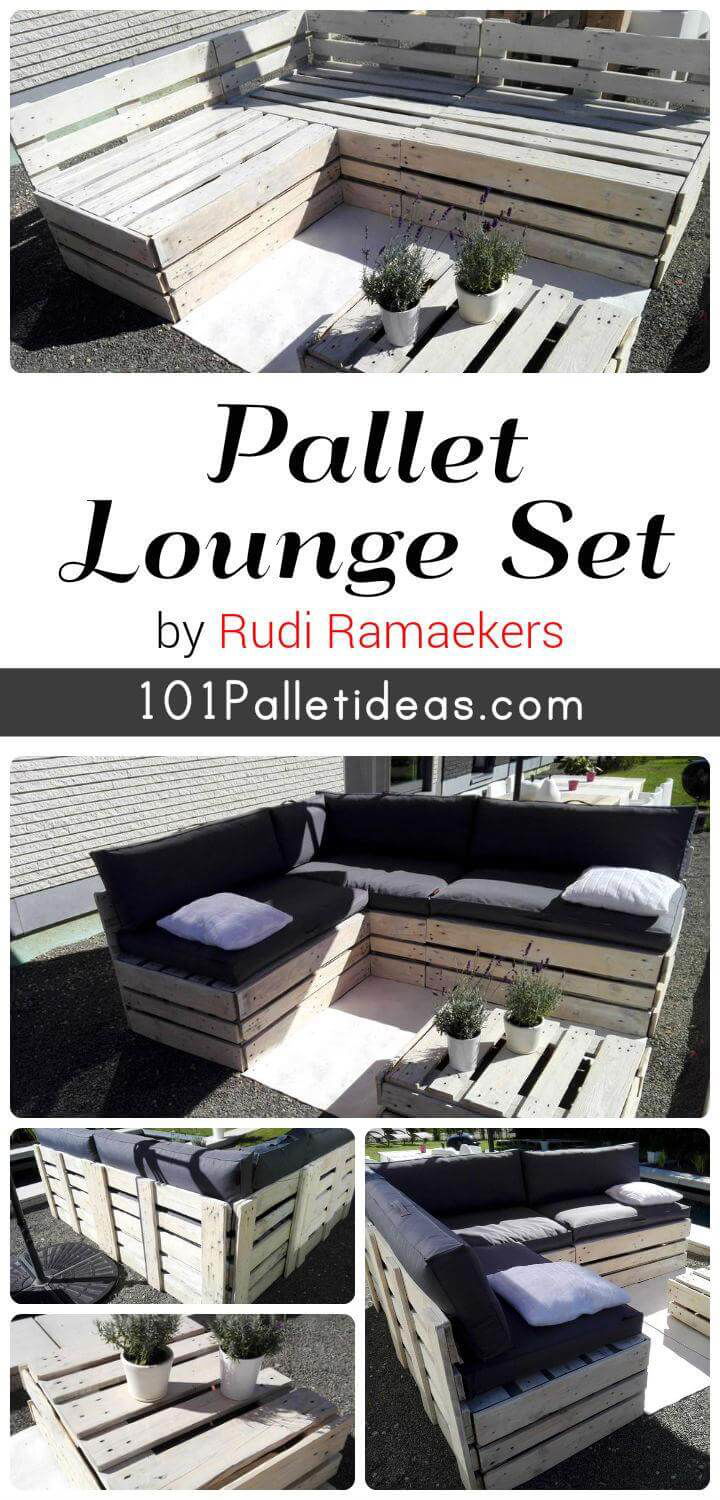 Can be cloned for outdoor guest entertainment purposes and also for friendly gossips in open natural climates!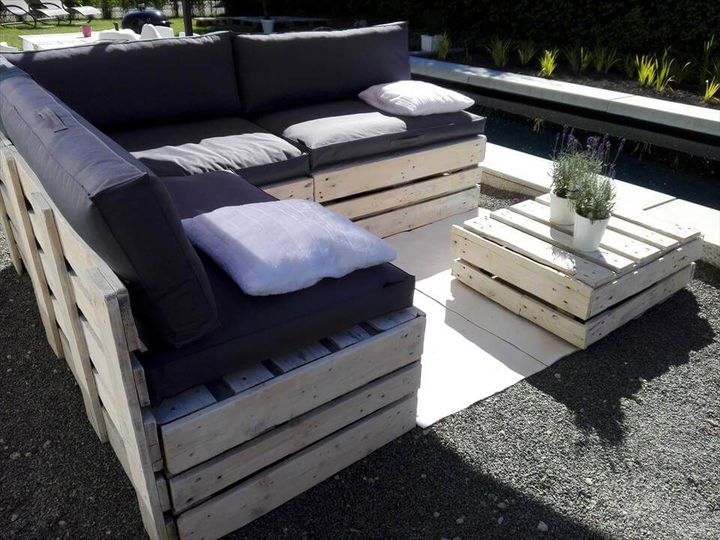 First of all you can stack rustic pallet boards for the rough frames of lounge sofa and then it can be filled solid with accurately cut pallet wood lengths for a glam look! Same has been done in this case of sofa!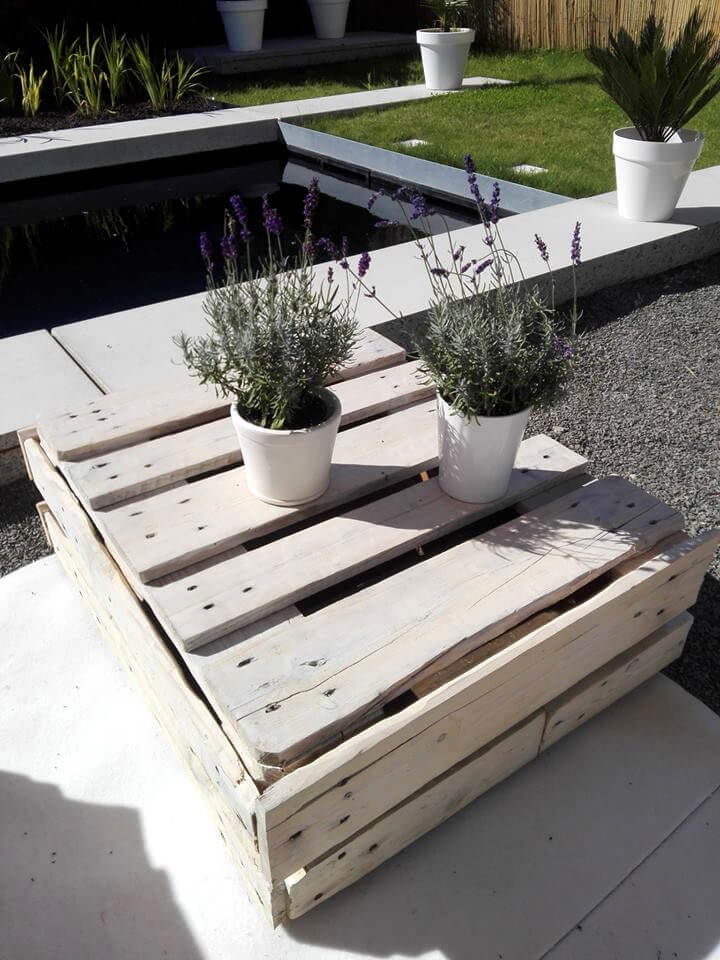 Follow the easy slatted attachments of resized pallet single lengths and build also a lasting wooden coffee table that can be put in front for a complete look of lounge sitting set!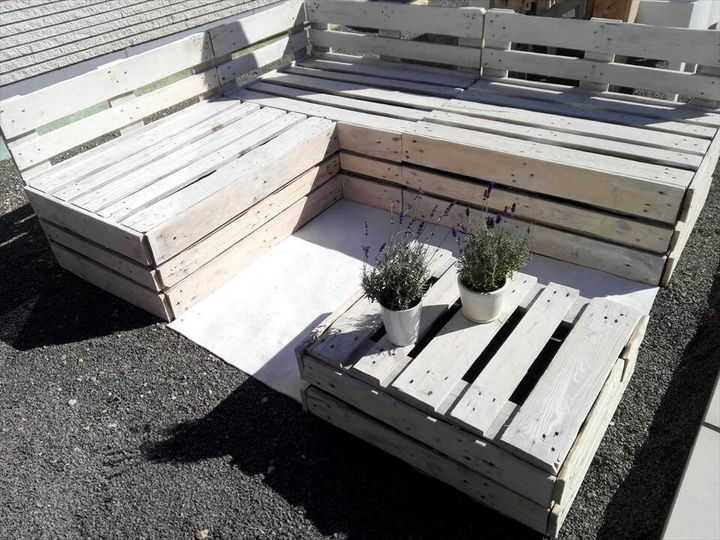 This lounge sofa is composed of 3 separately built seats which can be detached to serve also as individual seats, this is work great while you are to organize custom outdoor spaces!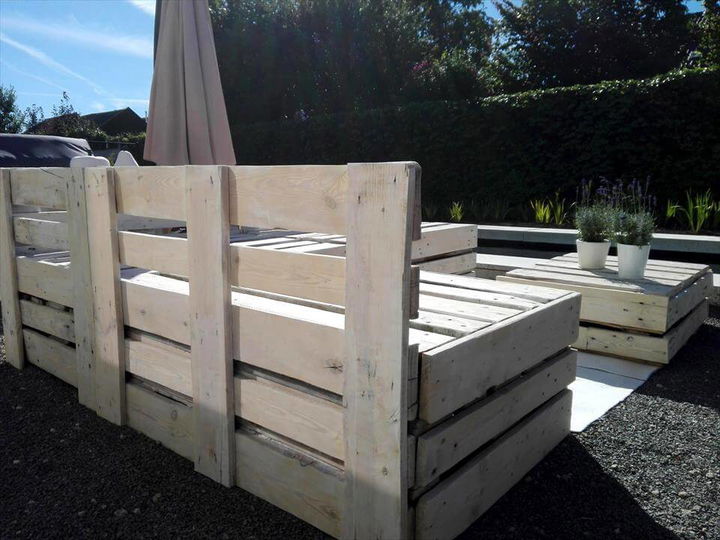 Trimmed down pallet boards with precisely removed back portions, have been aligned vertically behind the sofa to install the backrest positions of the sofa! A bunch of pallet board have been dismantled to get the planks required to fill the whole lounge sofa frame solid!
Finally the best black cushions and mattresses have been put over the seats to make the entire lounge sofa a big pleasure to sit on, makes you feel soft and warm!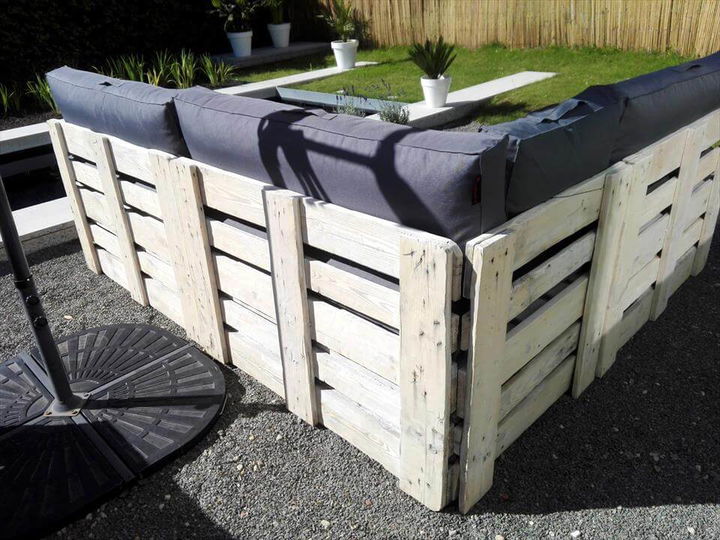 Entire L-shape sofa frame has been given a custom finished for a distressed white appearance, look friendly to outdoor climates, you can use the whitewash or white chalk paint to do so easily!
Made by our Respected Fan: Rudi Ramaekers
Here we have more Top 104 Unique DIY Pallet Sofa Ideas for your home outdoor garden areas, patio, terraces, indoor living room, bedroom and dining room area.