Boost summer entertainments with pallets, will be pretty easy to do as pallets are much doable for stunning summer fun projects like building this DIY wood pallet bar, having a closed shape just like a mini room and gets dignified with pyramid style antique roof or shelter! It was a demand of newly build deck area to have a beverage corner or station, so by going handmade with dismantled pallets, this bar has been installed which comes with awesome exclusive features!
Just like building a garden cabin or shed, this wooden bar has been installed, having most of composition done with separated straight pallet wood stripes! Mora than 1 counter tops, have been included to this robust wooden bar so this bar can entertain more people than the ordinary bar mass produced!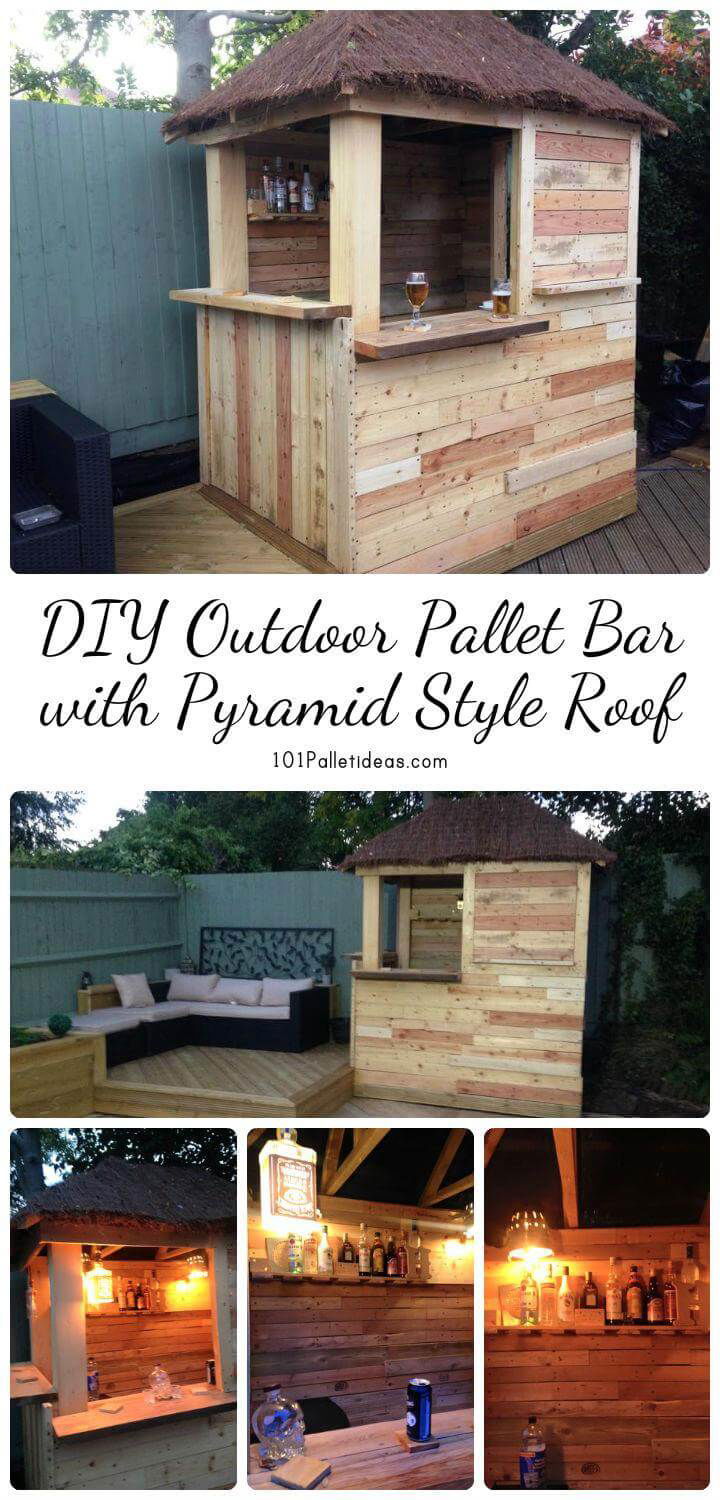 Here roof has been done by installing the lattice frame using straight thicker wooden lengths and has mainly been supported by the thicker wooden pillars that stands on front counter top!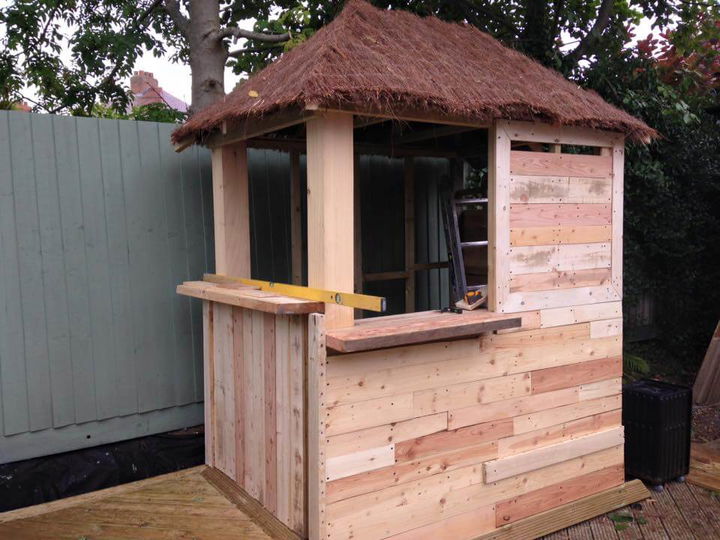 Awesome wooden bar has been made from pallets to establish a beverage point or corner just insides of a newly built pallet deck!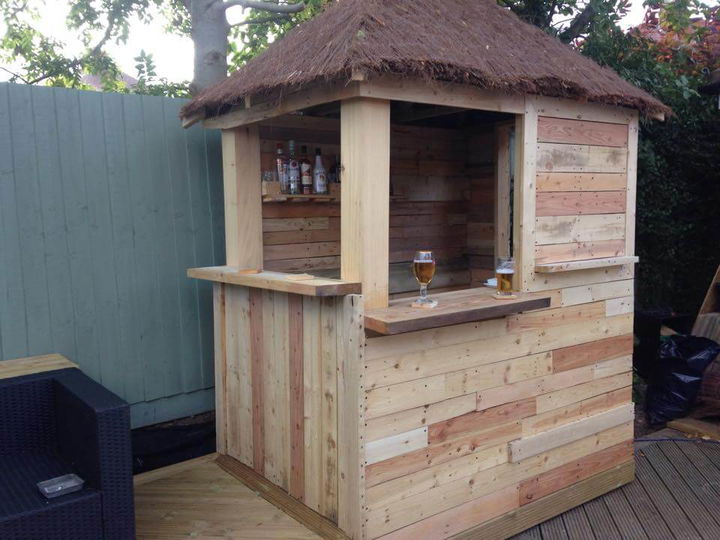 Torn apart slat of pallets have been packed tight to build highly stable walls and overall building of this wooden bar!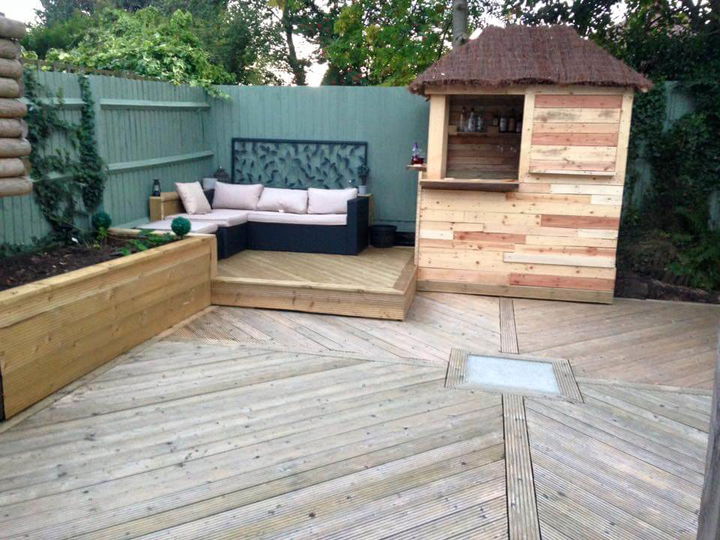 Here this accent deck with multiple elevated levels or platforms, has also been done with rustic pallets!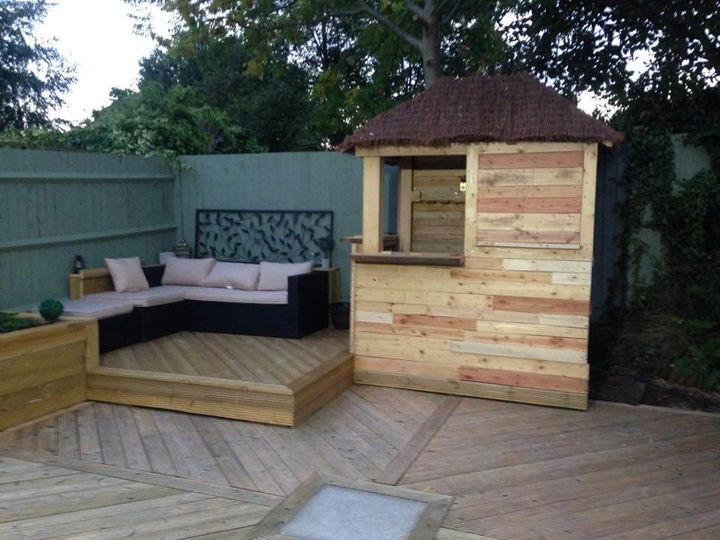 The Main floor has been done in multi-chevron style while sitting platform has been completed by following the diagonal filling of pallet slats!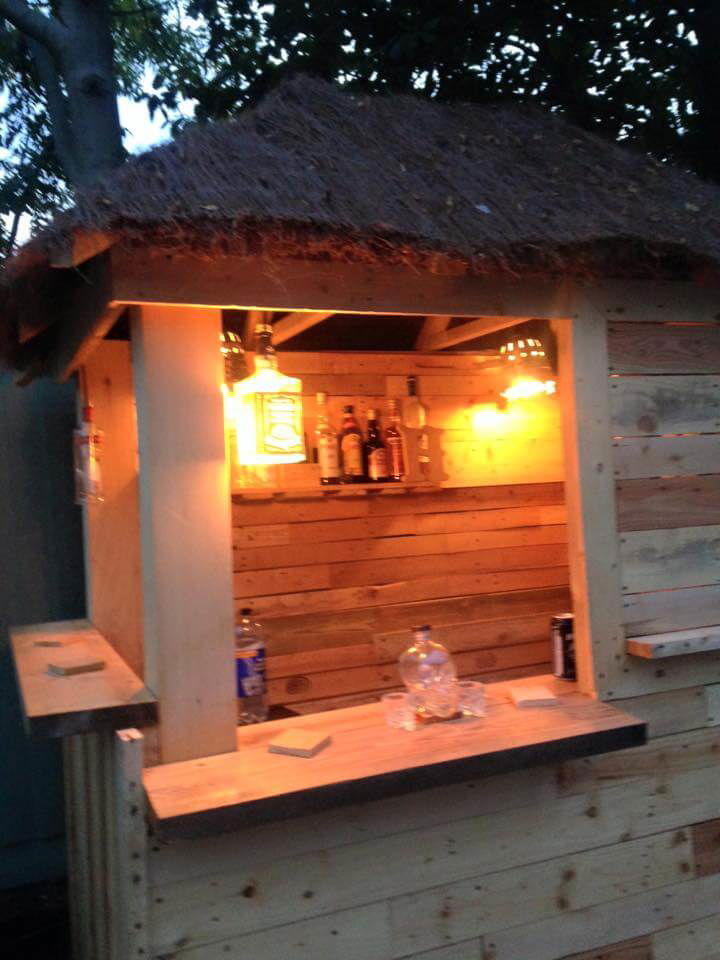 For better management and working in this bar at night, lights have been added to inside of it!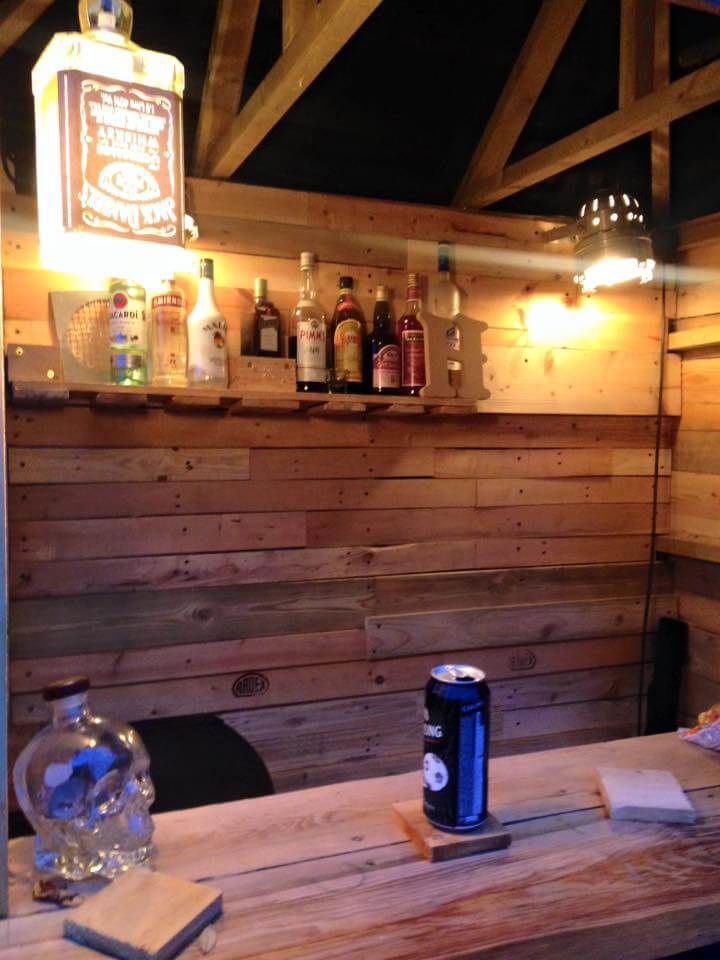 Here one light is reclaimed disco light while other is a self-made hanging lamp done by using an old glass bottle and a light bulb!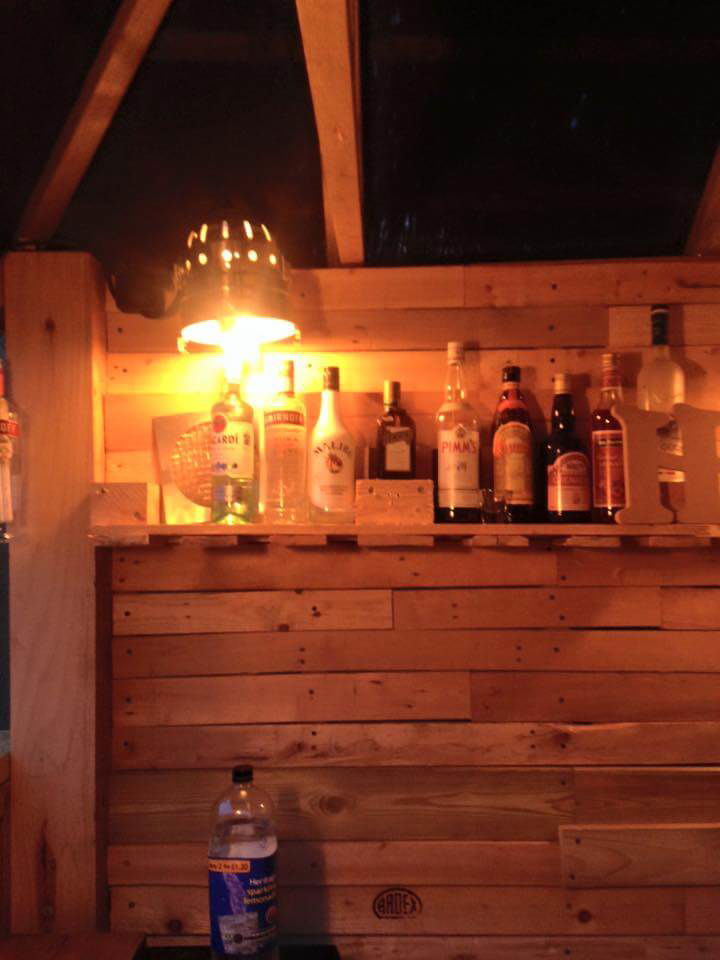 The disco light has been fixed over the liquor shelf so gives the user an ease to pick his favorite drink at night along with a party environment there!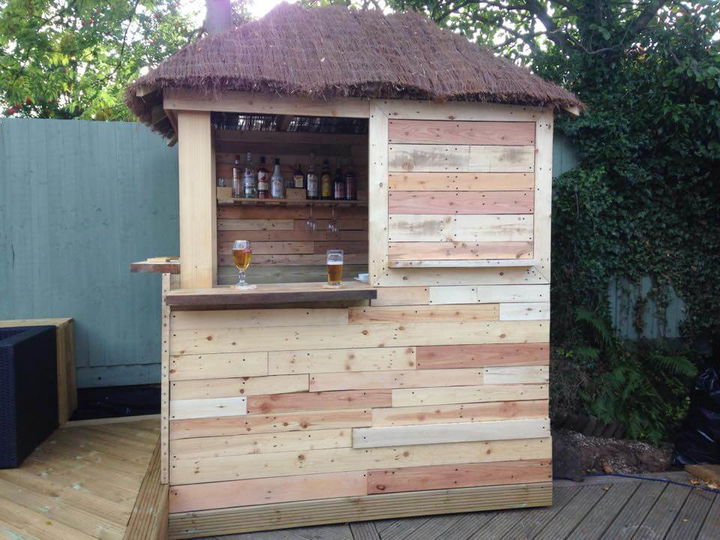 Pyramid style roof creates the overall unique and stunning look of the bar along with a dignified rustic touch!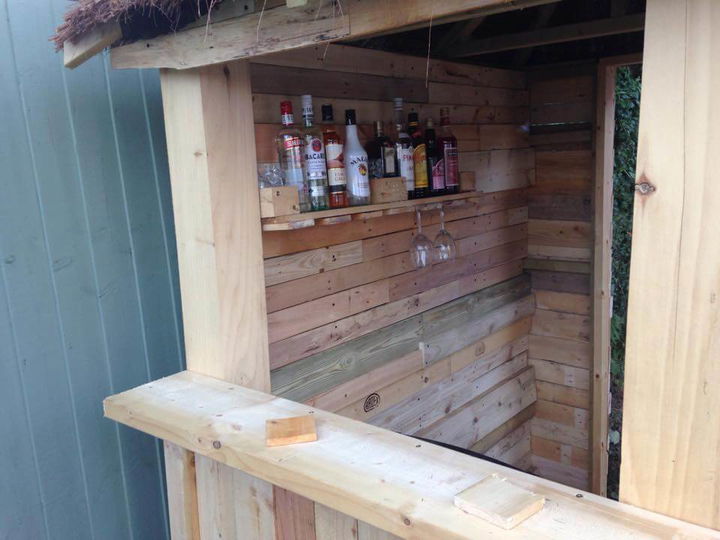 The counter tops are wisely integrated thicker slats of wood that has been gritted and rubbed well and then has been polished!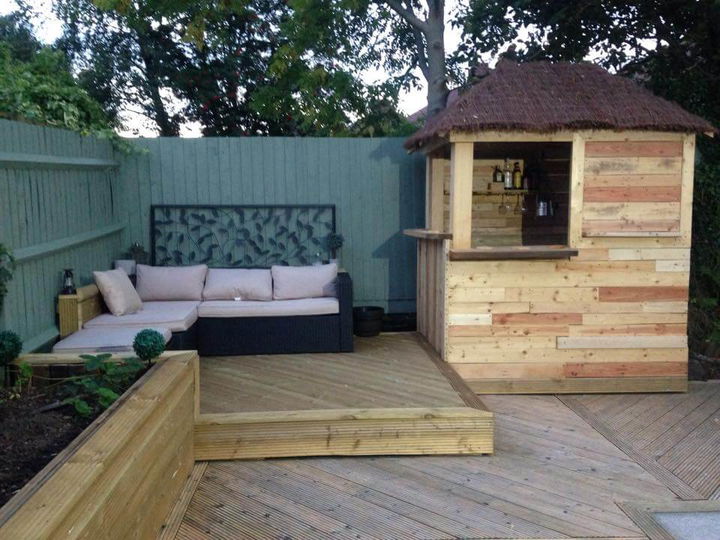 This fully remodeled wooden deck with a beverage bar in sides, would not less than a mini heaven for you, so do clone it to enjoy this summer season more!
Made By: Element Leisure