You will love the ideas here that all help to turn the rustic pallets into ever functional furniture objects, we always use in home! We have brought here a list of DIY pallet projects finished recently and would help you to gain more knowledge about genius crafting or recycling of pallets! Here hand-picked pallet slats have been fastened with heavy duty hardware to give the stylish pallet shoe rack and same single pallet slats have also been combined here with old mason jars for all stylish wall organizers or accessory holders!
Find here the enchanting set of living room tables involving coffee table and end tables, build with pallets and you can also get yourself inspired of given wall shelves and beverage bottle racks made of pallets! Giving the custom alignments and attachments to pallet slats you can also be able to build stylish wooden console tables and islands for your home, see cool example 130+ Inspired Wood Pallet Projects and Ideas! Do recycle pallet remains to craft custom chalkboard, wall art pieces and custom wall signs!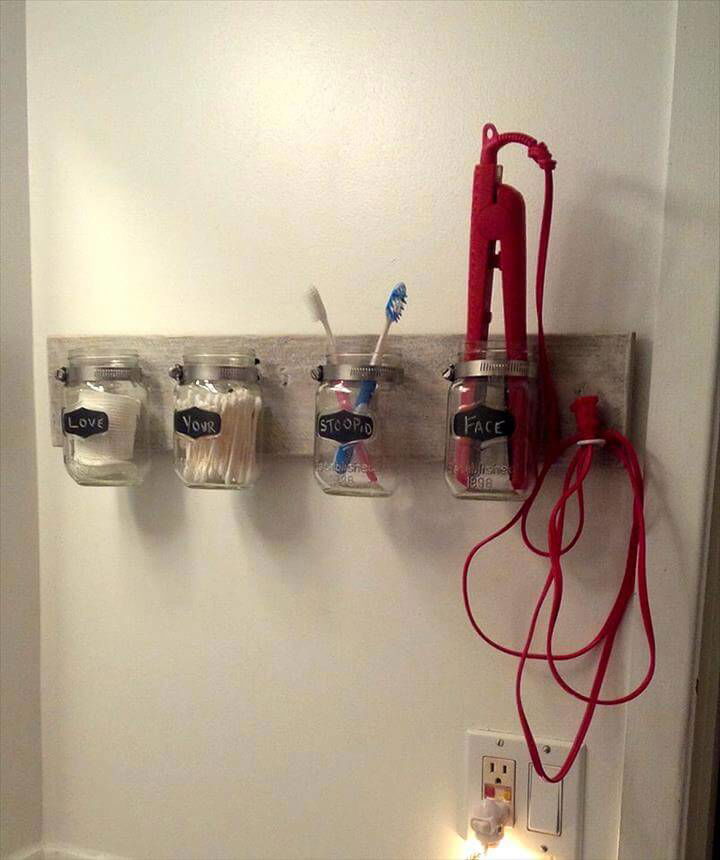 Perfect bathroom storage idea, use old Mason jars and a stronger wooden pallet slat to build this custom wall organizer, hardware pot hangers have been used here to hold the Mason jars!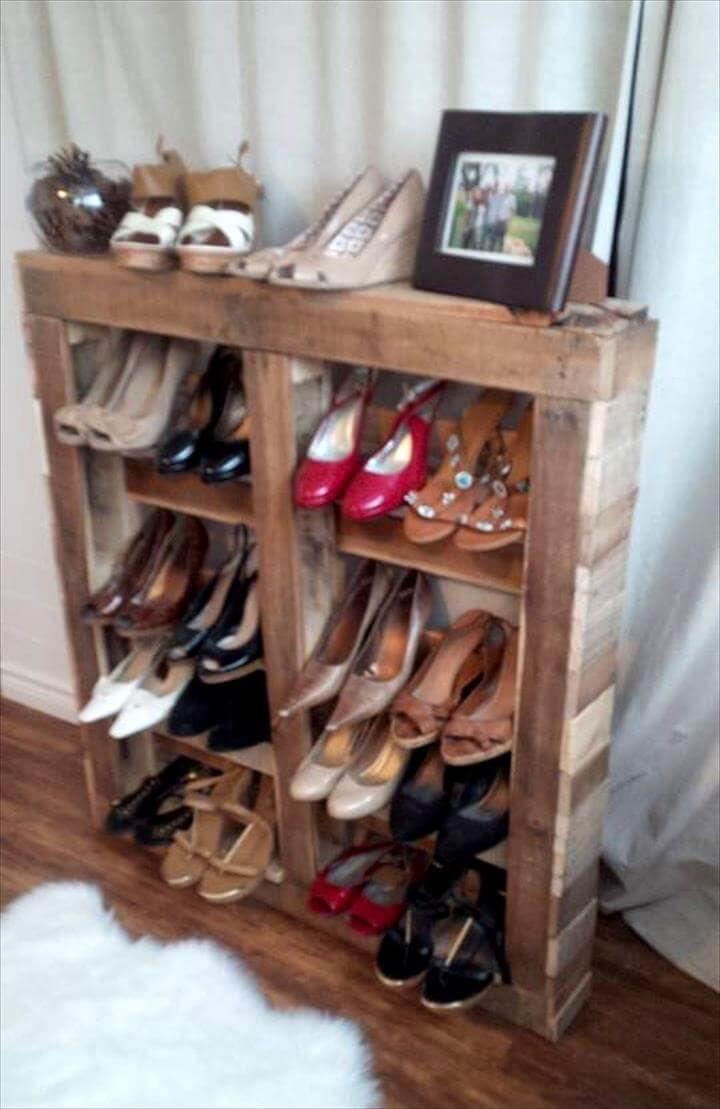 Perfect idea for shoes storage, the custom design of shoes rack made out of pallets, the slim top of it can hold the accent mural frame while being at you entryway!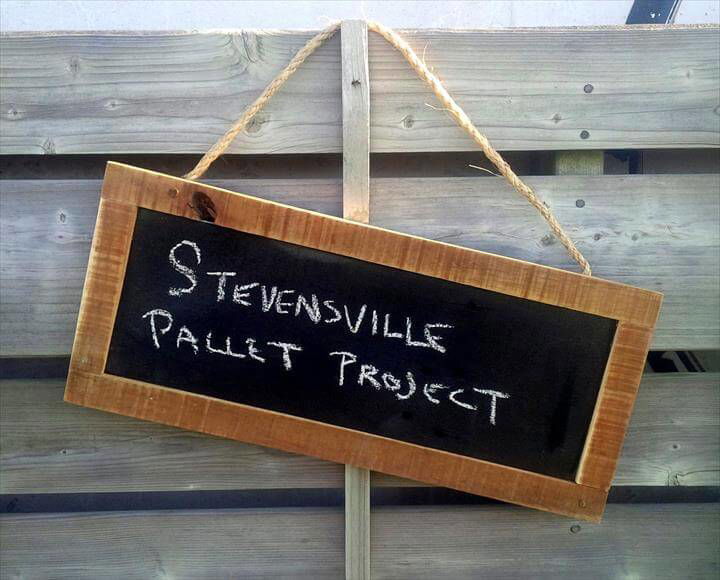 Would be an amazing chalkboard wall sign to read custom quotes everyday for family or for your lovers, can also mounted or hanged on any wall support as a noticeboard!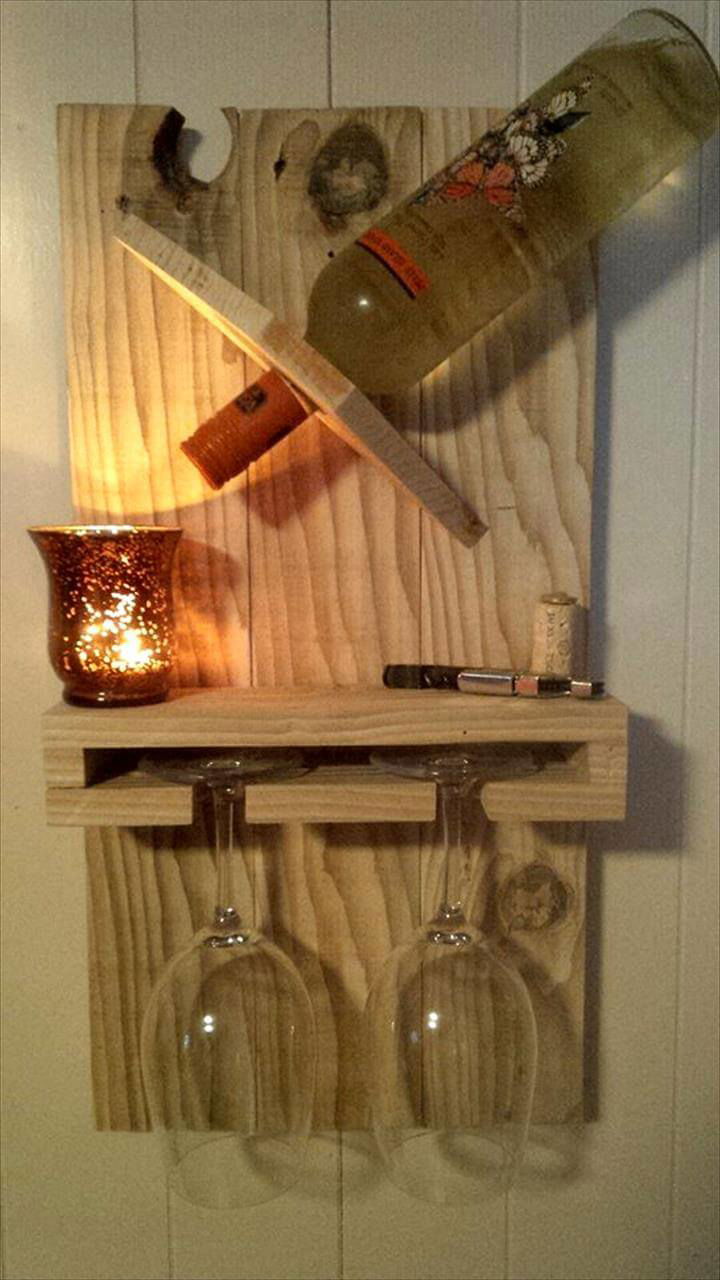 Ingenious recycling of pallets, a perfect beverage bottle rack with glass rack also! The bottle fits stylishly to wooden holder that hangs also with a style there!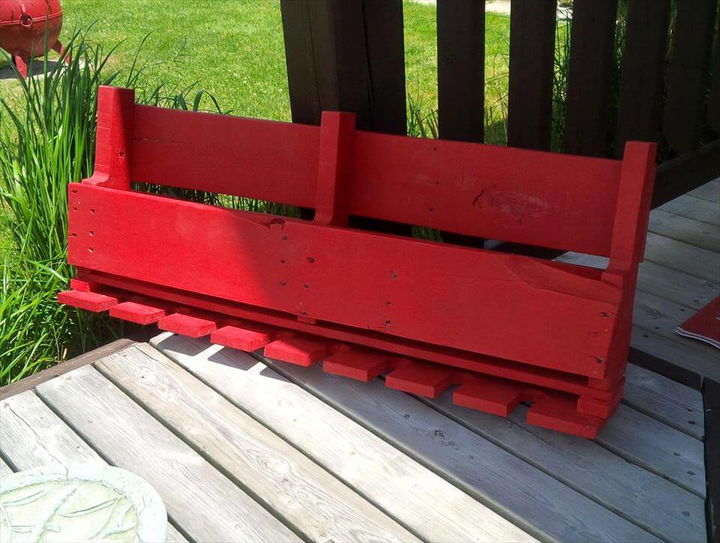 Chalk painted red beverage bottle rack, has custom cuts in the bottom side where beverage glasses can be hanged beautiful to get all at one place, a big pallet surprise to beverage lovers!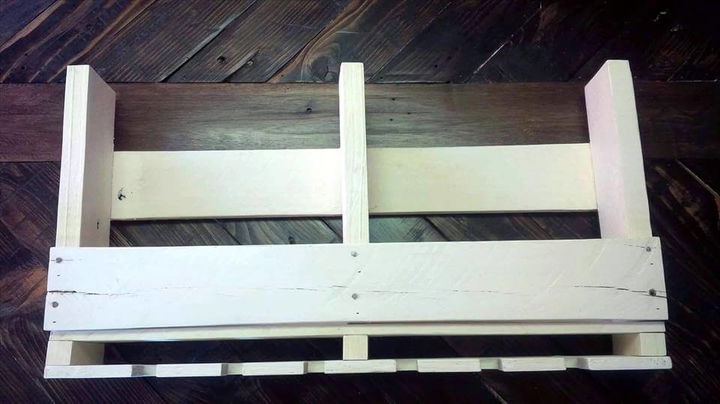 Chalk painted chic white beverage bottle & glass rack, would raise the character of your indoor bar, would be all easy to mount on a all using special hardware hanging systems!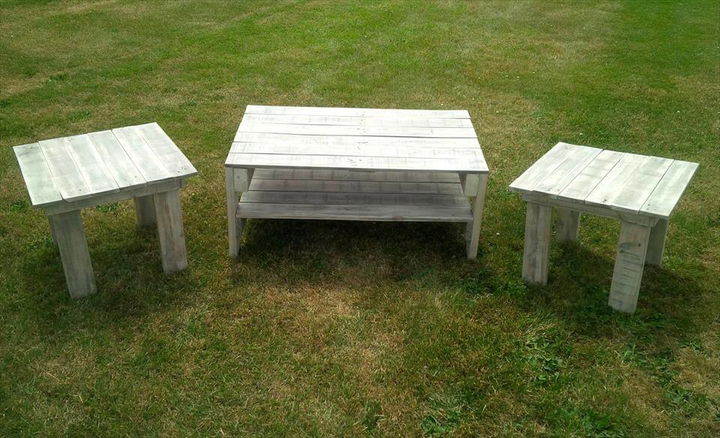 White shabby set of living room table, done with rustic wooden pallets, a coffee table and two end tables have been built and have been finished with thin white paint coats!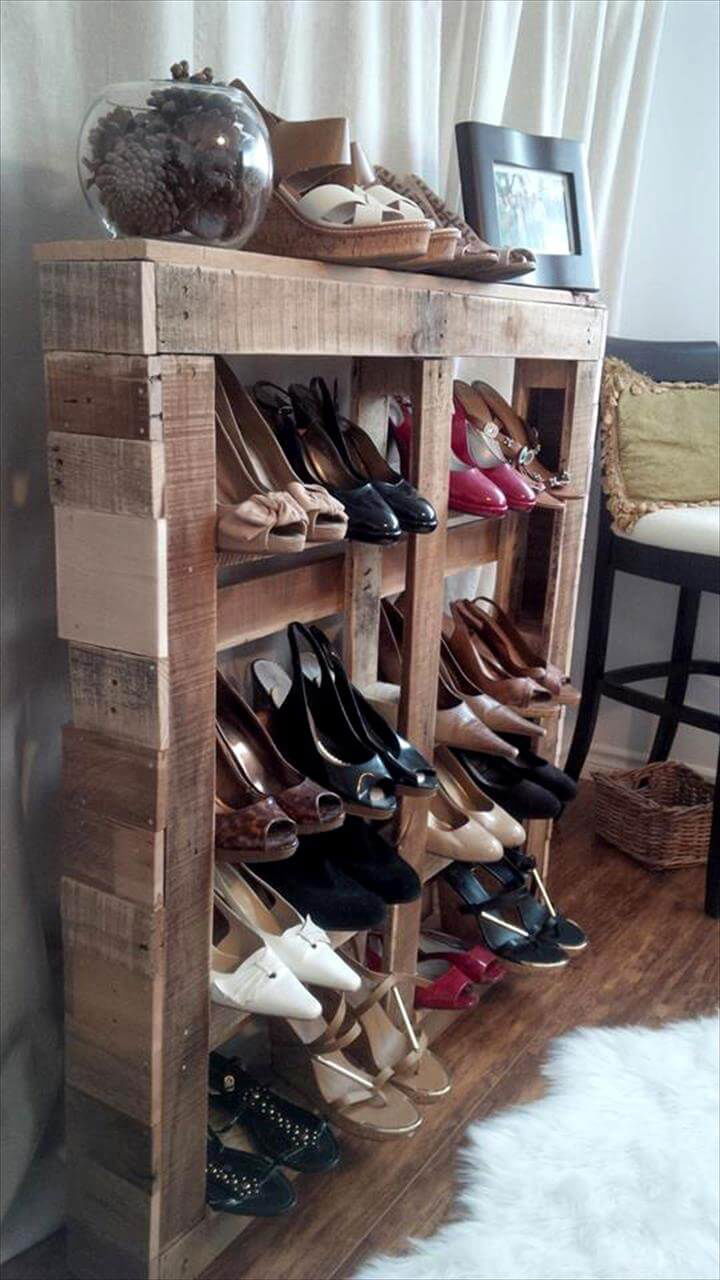 Shoes rack has been left blank and looks awesome in natural wood tone, but you can prefer paint if need to gain a modern visual of it for amazing spell!

Here some old Mason jars and a double sided metal hook have been installed to a pallet lengths, this results into a beautiful storage solution for kitchen and bathroom walls!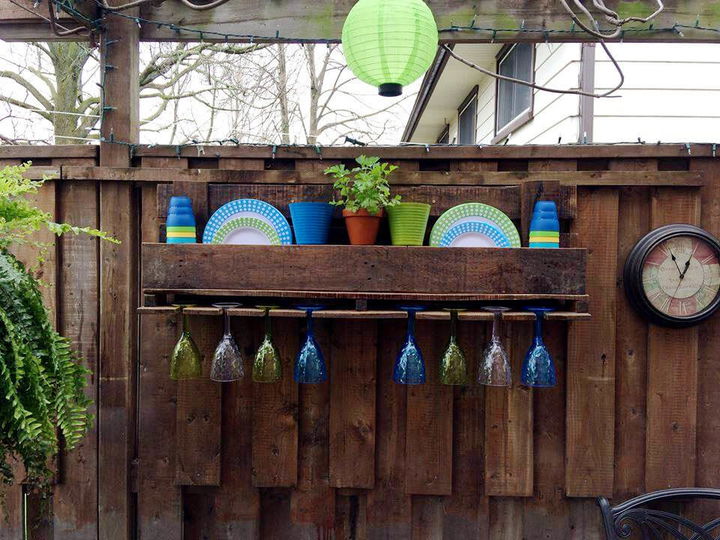 See here the custom dual functional behavior of this pallet shelf made of rustic pallet pieces, bottom comes with mini cuts and gives a glass rack while upper wooden shelf can hold dishes along with accent natural garden pots!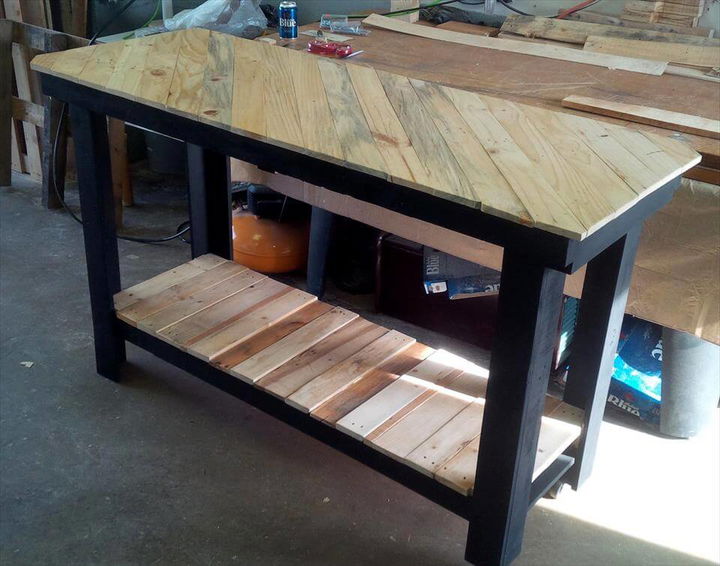 Perfect custom pallet console table or pallet kitchen island , having finely filled surfaces and top has been installed by diagonal filling of pallet pieces! The lower shelf and top comes with natural wooden look but rest of frame has been chalk painted for a dominant black look!
Made by: Stevensville Pallet Project {If you are not DIY then follow Stevensville on Facebook for more updates and prices}