Here we are with a backyard, well developed and organized for beverage parties and the most amazing news is that it has been given Halloween decor theme! First of all for a beverage station at backyard for Halloween decoration, the DIY pallet Halloween bar project has been composed with pallets, made solid from counter to bottom using extra pallet wood! An amazing shelter has also been installed using pallet wood and thicker wood pillars, will protect the person standing inside from hot sun!
For a awesome manifestation of Halloween decoration and to make the entire backyard area ghosted, a human skeleton stature along with a Halloween pumpkin has been made sit on the bar counter! The black skull flag and rusticity of pallets also boost the horror impact of bar! Moreover, a relaxing backyard swing, a robust wooden 2 seater, planter for decorative edging and also a swing with Halloween flag, have also been added to boost the fun character of the backyard!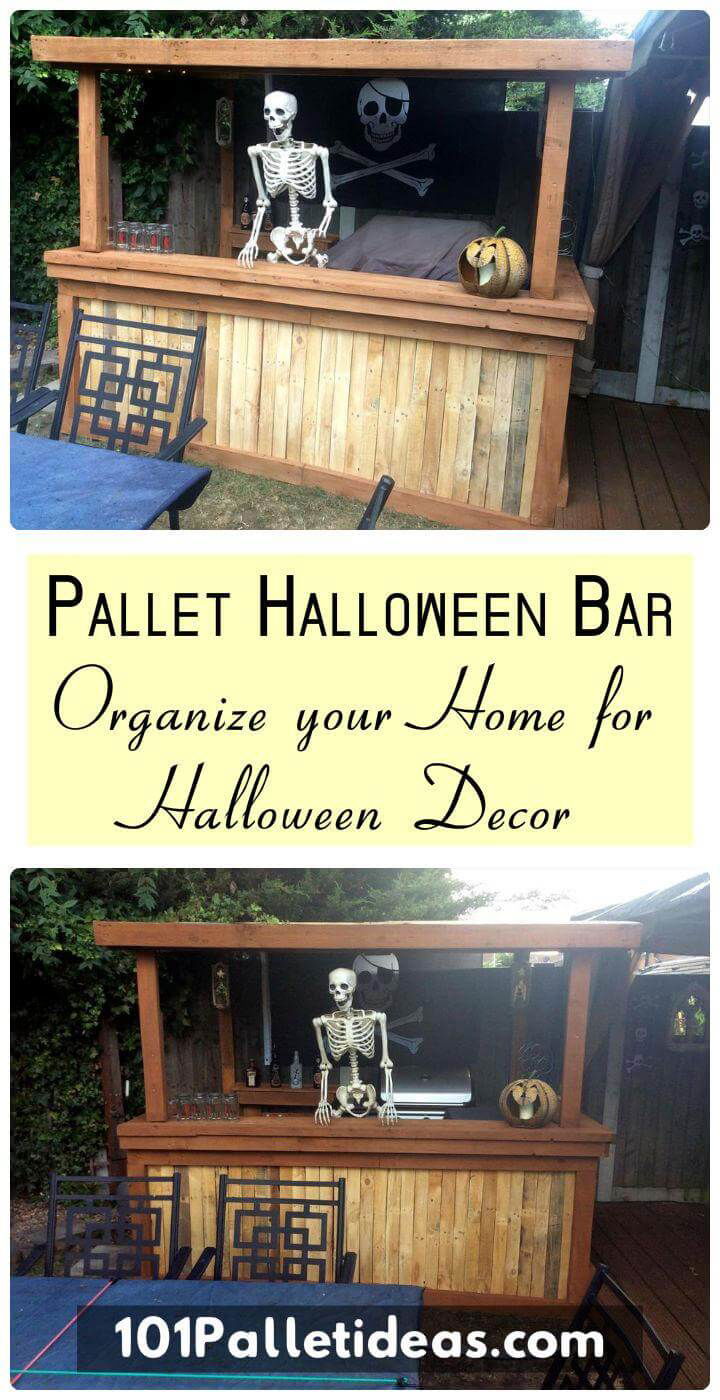 This project can be done to turn any outdoor into a fancy heaven! If there is not a Halloween, you can follow any custom theme of decors for enchanting view of your bar!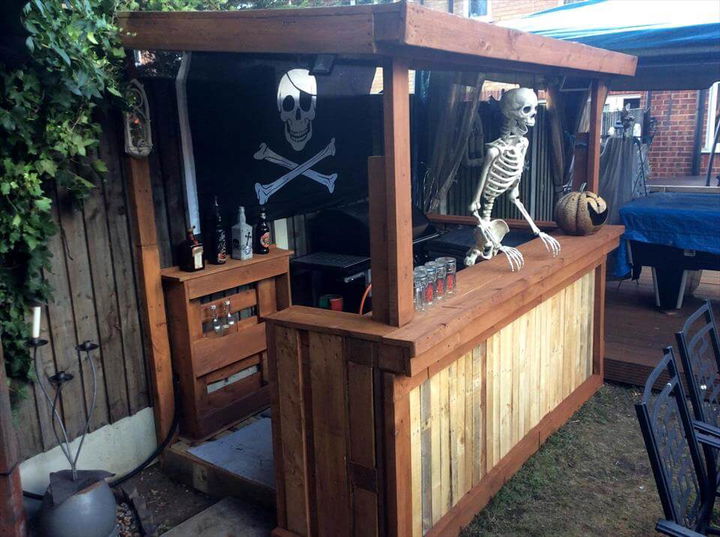 Sometime you wish to organize the Halloween parties at you backyard, so this here the best way to get the free-of-cost stuff you need to get your backyard party-friendly! Recycling of some free pallets will all make it possible for you! This Halloween bar has been built first to prepare the party drink there in the backyard!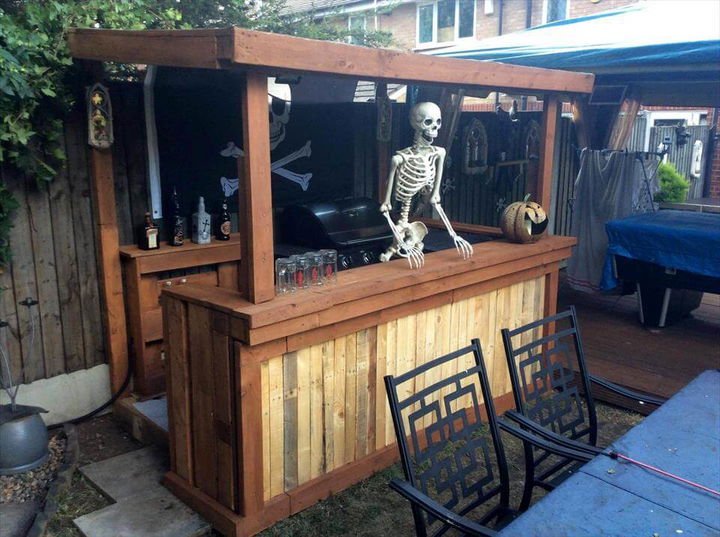 A Halloween pumpkin and a human skeleton sits on the counter top of the bar to let it appear ghosted! The entire bar, liquor cabinets and bar shelter, all have been composed of pallets gained for free!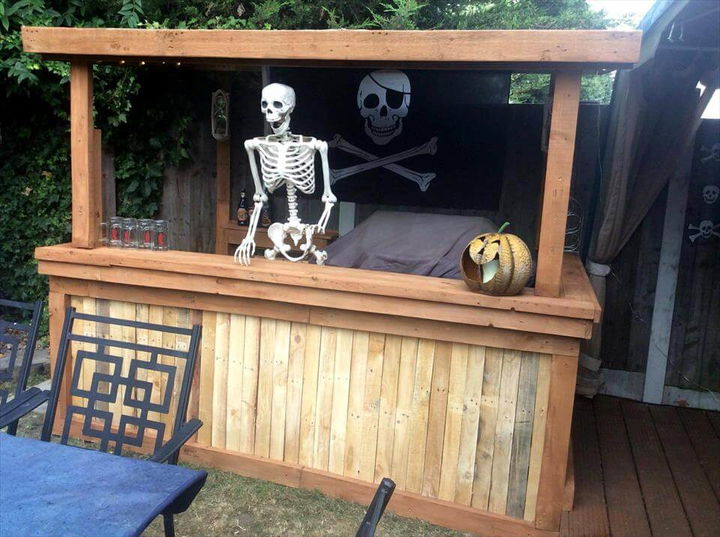 Here only the slatted alignments of pallet slats give this robust wooden model of bar, filled and make solid later using extra wooden slats!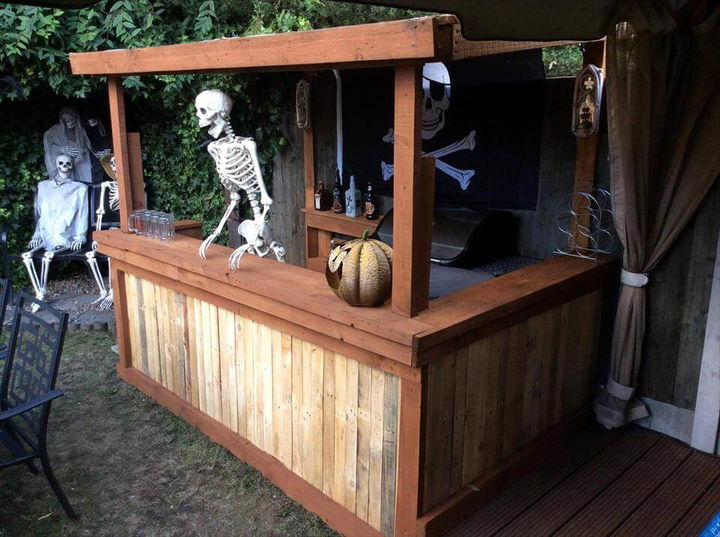 A black skull flag has also been mounted on interior bar wall to highlight the Halloween festival! You can do a lot more for a festival vibe to this backyard bar!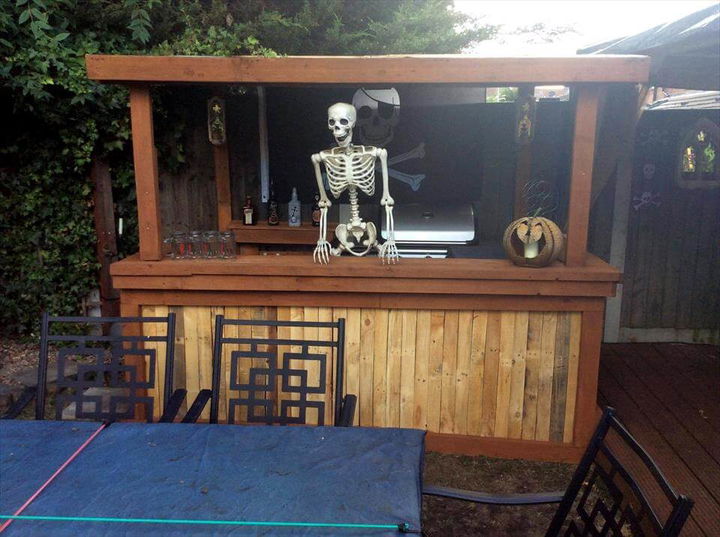 Dismantle the pallet for lot of wooden stripes, straight lengths or slats and you can also use the beefy old wooden pillars from home to install the bar, pretty easy to build at home!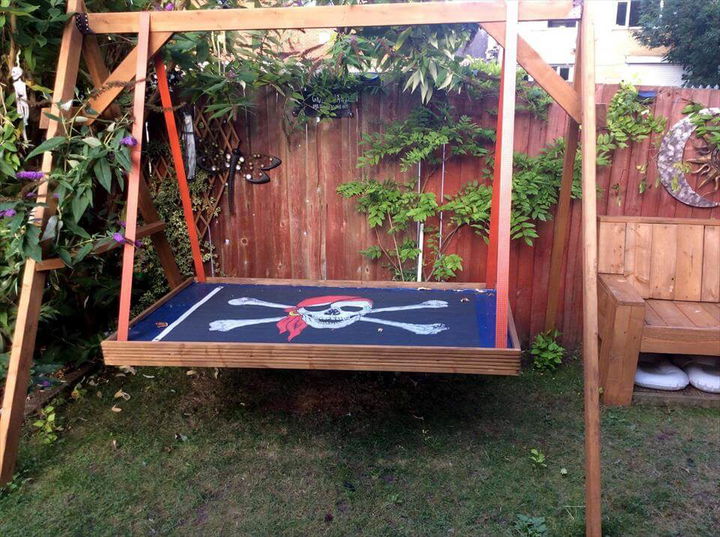 For more fun at your backyard, a Halloween swing has also been installed, comes with painted ghost skull over the swing seat! This has also been done with pallets!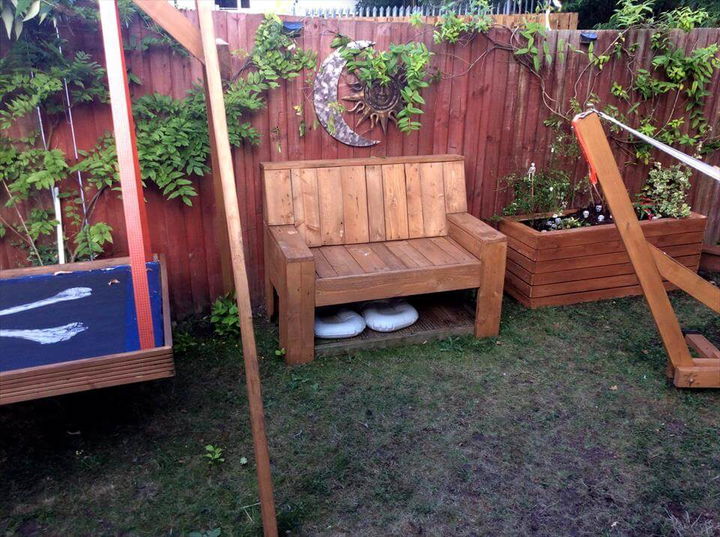 Here a totally backyard has been organized with pallets, here is the custom bench added for the couples to enjoy sitting and the sun as well!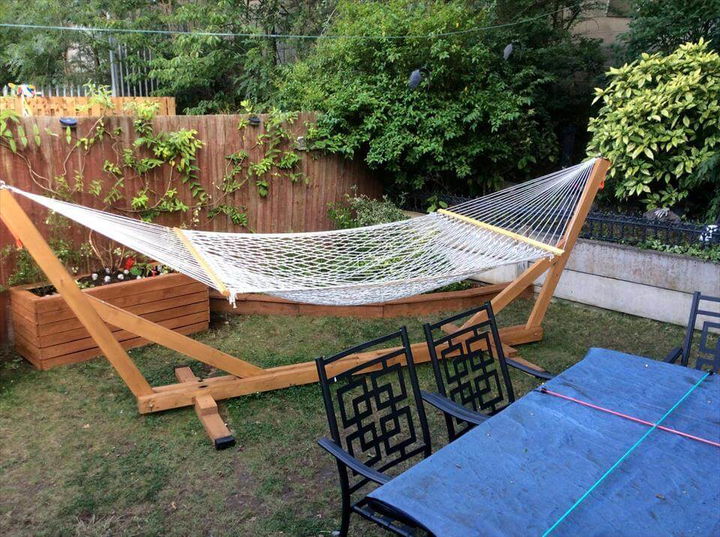 Clone also this DIY pallet hammock, the most creative items here built for this entire backyard furniture! Would be all amazing for those who just love to read books by sitting in natural environments!
Here we have more 50+ Best-loved Pallet Bar Ideas & Projects to decorate your home backyard, garden area and indoor anyway.
Made by: Gary Tyler