Beds come always on the top of our priority list of luxurious home furniture items! Being so expensive, the modern manufactured versions are beyond the budget limits of a common person! But no need to worry about it, incredible pallet ideas can still help you live a luxury, bypass the luxury beds through pallet projects, go with easy attachments and stacking of pallet boards and clone this DIY toddler pallet bed with lights, having a headboard made of one pallet also and personalized with custom stencil patterns!
Cubbies and openings in pallet boards have been selected for holding LED lights which makes the whole bed charmingly illuminated at night! The entire bed construction is all about to build an L-frame with whole pallets which contains an additional long cushioned tray to use as snug sleeping section! There is a nightstand also to hold your night supports and pallet headboard also provides a decorative mantle to display your bedroom decors!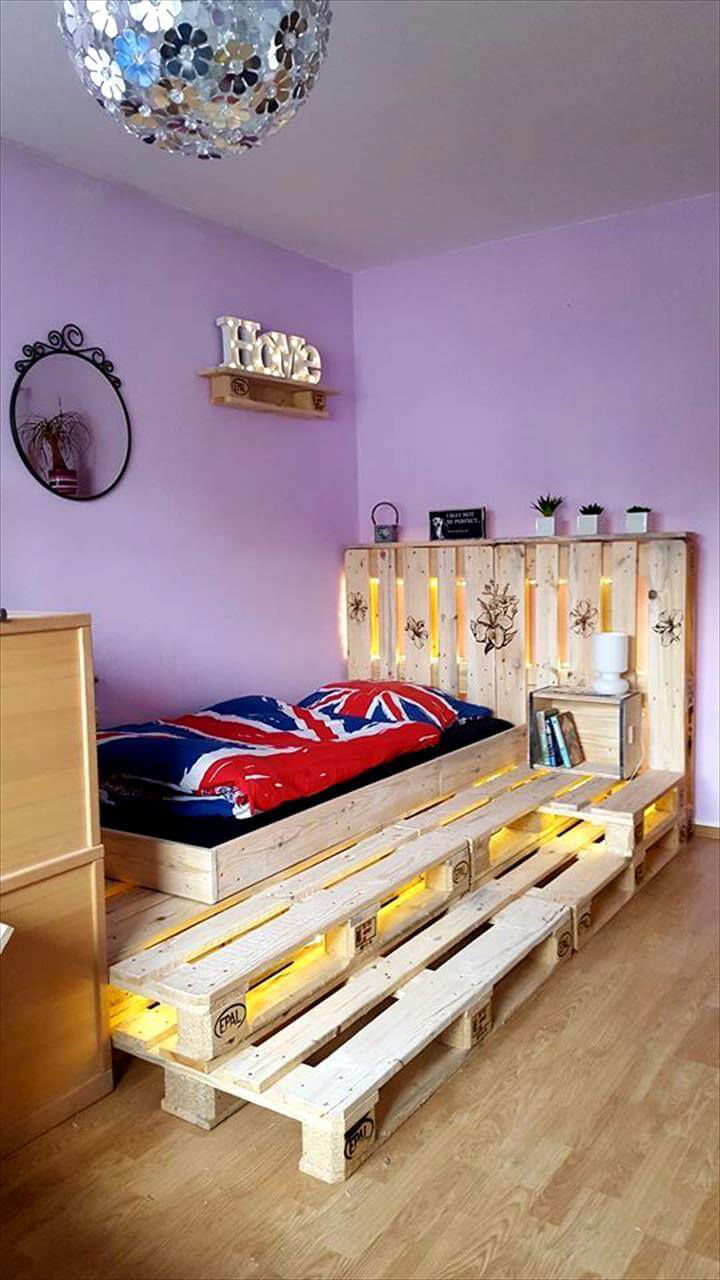 Here pallets have been decided to build a fully featured model of a toddler bed, so you can see here pallets playing different roles for decorative and functional statements of bed!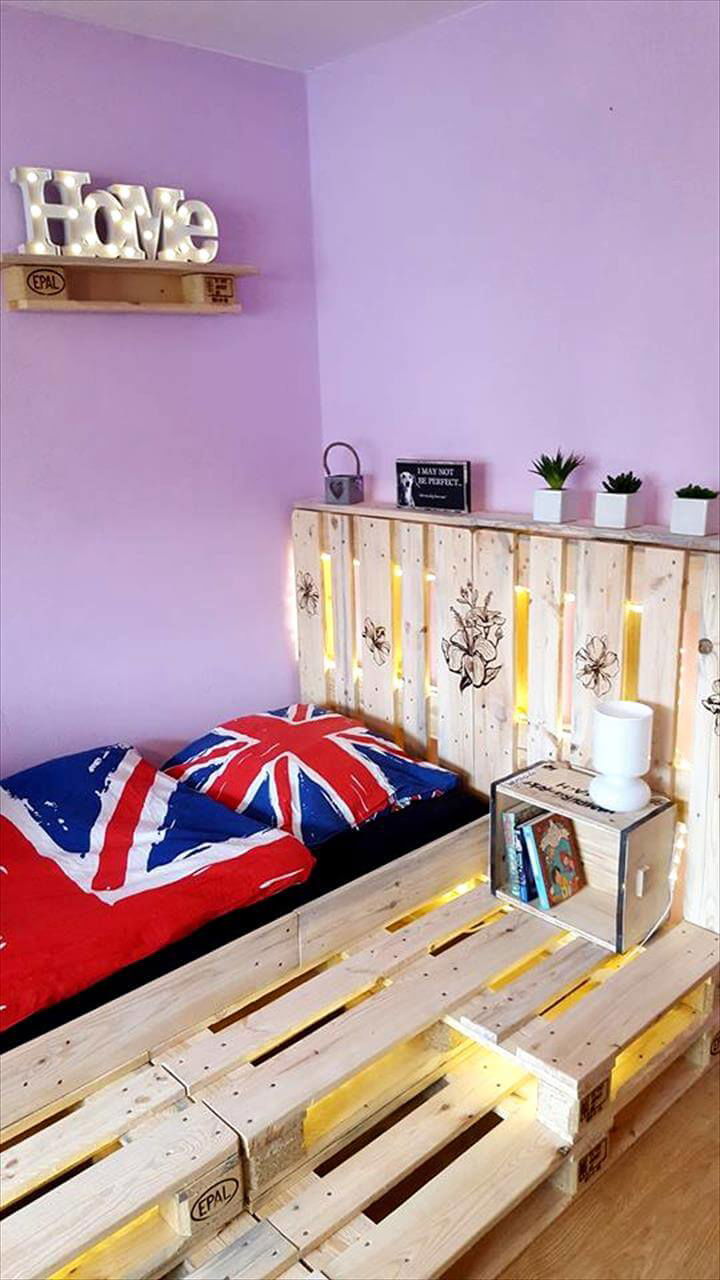 A mini crate has been installed with pallets, put in one side as a nightstand and one complete pallets with lights inside, give the accent robust headboard!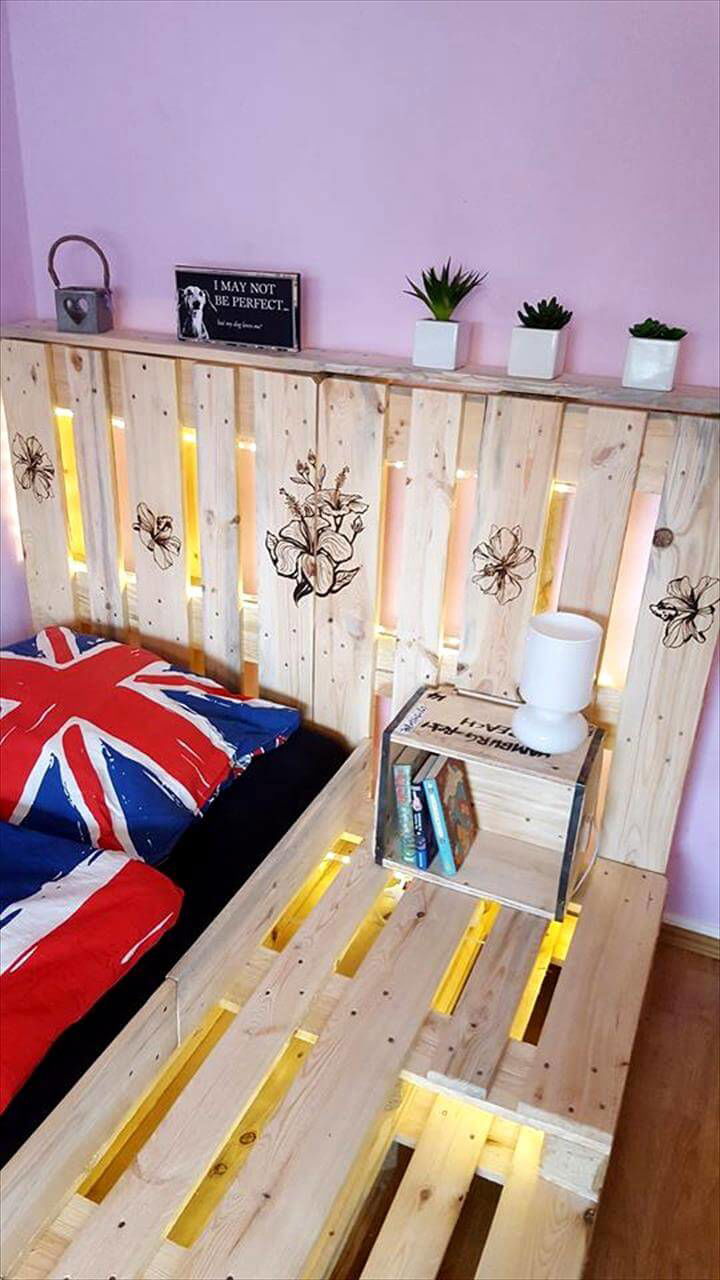 Small vases and art signs have been placed over the headboard mantle to boost aesthetics of the bed and this has also been done by addition of lights, using the flower stencil patterns and by adding custom letters to nightstand top, If your are woodworker, love pallets then we here to give you these easy to do, fantastic 42 DIY Recycled Pallet Bed Frame Designs for your bedroom, kids room etc!
Made by: Eva Puma