With so many options for function and design, it's no wonder backyard sheds continue to grow in popularity with homeowners. Gone are the days when sheds were built solely to house lawnmowers or provide a playhouse for kids. From home offices and art studios to man caves and backyard pubs, sheds are being built to supplement storage and living space in a variety of ways.
But no matter how simple or elaborate your vision for your backyard shed, there are a number of steps you should take before you even start to break ground.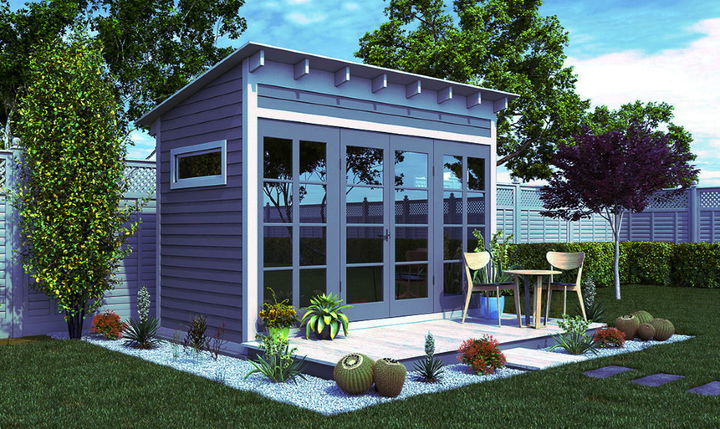 1. Codes
Before taking any other steps, it's a good idea to learn what codes and regulations might apply to construct a shed in your backyard. Check with your local government as well as your HOA, if applicable, to learn what is allowed in your neighborhood.
Codes can affect the design and style of your shed, as well as its location, so it's important to research requirements before beginning your shed project. Failure to educate yourself about what codes or restrictions might apply to your project could end up costing you if you're forced to tear down or relocate your shed.
2. Function
Once you've determined what permits are required, think about the function of your shed. This is an important step to take before settling on a design. Most backyard sheds are used for storage, including lawnmowers, garden tools, outdoor sports equipment, bicycles, Christmas decorations, and other bulky items.
But a growing number of homeowners are using backyard sheds in other ways, such as children's playhouse, hobby or art studio, man cave, or she-shed. Some homeowners are even using a shed to expand their entertainment space with a "backyard pub." Once you've figured out your shed's function, you can better determine your shed's size and style.
3. Size and style
Once you've reviewed any codes or restrictions that apply, and decided how you will use your building, you can determine what size and style of a shed will fit your budget and needs. When considering a style, decide if you want your shed to have some of the characteristics of your home, such as a similar color or architectural feature.
Size is a function of your budget, available space, and the shed's purpose. You will need to strike a balance so that you don't end up adding new storage, only to have it fall short of accommodating what it should. On the other hand, additional square footage is going to add to your budget. Finally, consider the available space in your yard and how much you are willing to give up to accommodate your shed.
4. Budget
The cost of building a shed can vary widely. The more elaborate your design and the larger your building, the more you can expect to spend. The cost of construction is also dependent upon the materials chosen. If you want your shed to last for many years to come, you may have to spend more on materials upfront to ensure your shed can weather the elements long term.
In addition to materials, you might have the added expense of tools, permit costs, and, if necessary, hired labor or the help of a professional. Sheds can vary in price from a few hundred to several thousand, so be sure your concept fits your budget.
5. Location
Once you've figured out your shed's function, it's time to determine the location. Look at the available space in your yard, then think about how you want to use your shed. While the shed may seem less obtrusive if it's in a back corner, it may spell inconvenience for someone using it on a daily basis and possibly more costly for installing power.
You'll also want to check the proposed build site for debris such as wires, tree branches, and anything else that might interfere with the building process. While the site doesn't need to be completely flat, look for an area that appears that way. Avoid low spots, for obvious reasons.
6. Permitting
Just as you looked into what codes apply to your shed, you'll also want to determine what permits may be required once you've settled on a design and location. This is an important step to take before you break ground. One of the easiest ways to start figuring out what permits are necessary for your area is to use an online shed permit search tool. In some areas, a building permit is required for any freestanding structure, but in other areas, permits are only required for structures larger than a certain size.
7. Power
Not all sheds require power. If you're primarily using the shed for storage and don't expect to need to access the items at night, you should be able to get by with just natural light from the door or window, particularly if your shed isn't that large.
On the other hand, if you plan to spend time in the shed by using it as a home office or hobby shop or entertainment space, you're going to need power. For budget and planning purposes, it's helpful to speak with an electrician before you start your project. Not only will this provide you with more accurate numbers for budgeting purposes, but you may get some tips on the location that end up saving you a few dollars.
8. Features
As you think about design, you'll want to determine what special features your shed will have, such as windows, shelving, ramp, and type of door. Check out this fully equipped shed plan if you want a complete look. Windows can add cost, but also allow for natural light and ventilation, depending on your shed's purpose. Here is a good
Of course, you'll need a door. But, do you need a simple utility door or a double door that enables you to store larger items like lawnmowers, utility carts, or a motorcycle? If you need a double door, will it be hinged or sliding?
The same holds true when you decide if your shed needs a ramp or just some steps. If you are going to store equipment like a mower or bike, you'll want to install a ramp. But, if the primary purpose is extending your living space, steps should do.
Building a backyard shed is a great way to add some storage or living space to your home. But, before you ever break ground, it's a good idea to get the preliminary steps out of the way to avoid wasting time and resources.