Pergolas, garden arbors and gazebos are the small little buildings to install to your outdoor for plenty of different purposes like to train the climbing plans, to sit at outdoor with plenty of breezes making you relaxed and also to widen up the home living and sitting space! To allow you to sit in open natural and green environments comfortably, here this no-cost DIY pallet pergola has been built that comes with having a restricted building with roof and sides but can even modified to be unfettered! This pallet pergola project cost you nothing big as it is having most of building projects with pallets!
The side window with metal frame has also been reclaimed from home scrap piles! This pergola has been established on paved outdoor just near to garden greenery, for outdoor relaxation and recreation! The interior of this wooden pallet pergola has been organized with a sofa and curtains have been added just to create some privacy inside and also to moderate the weather conditions! Main entrance also comes with two accent wooden boxes or holding built along the wall and has been filled with pebbles, give a fab finishing touch to entire pergola!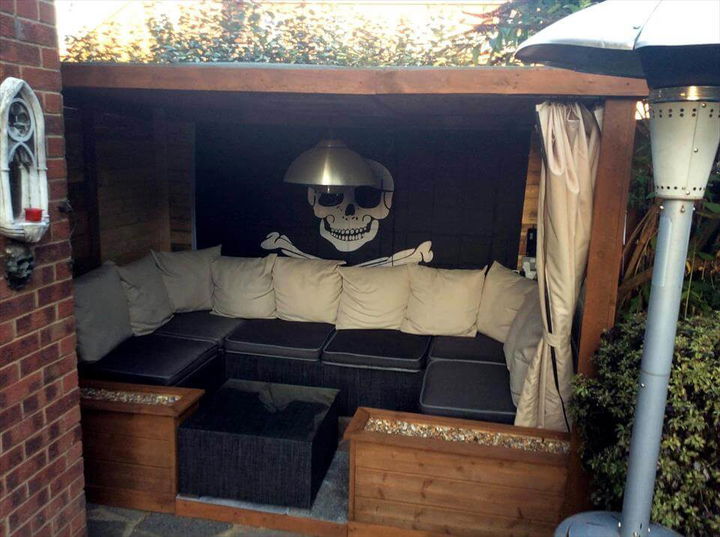 If you are living in a region where weather is mostly hot then pergolas can be best addition to your outdoors to feel less hot as they are mostly built open or unfettered to invite the cool winds!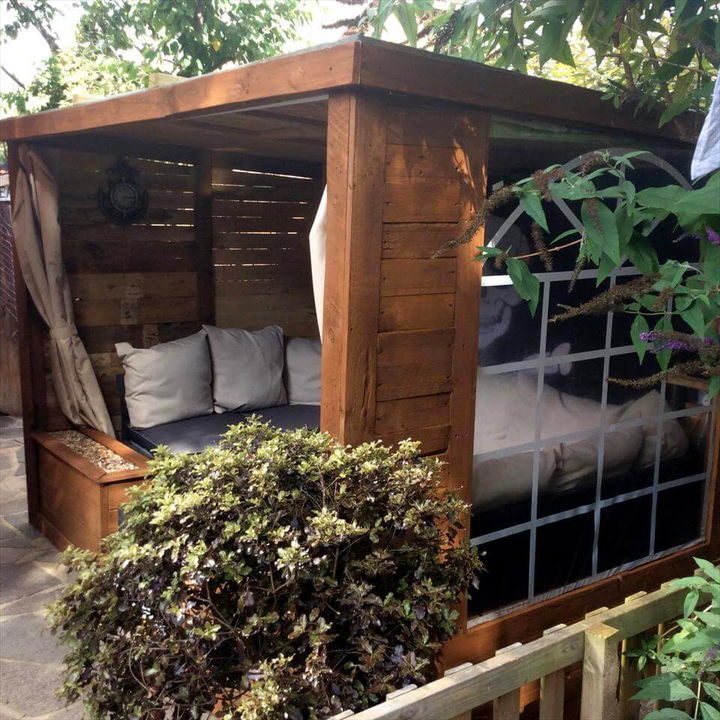 This wooden pergola is a free of cost pallet creation, build just in sides of a green outdoor, has been gained as a better outdoor refuge to enjoy with couple of friends!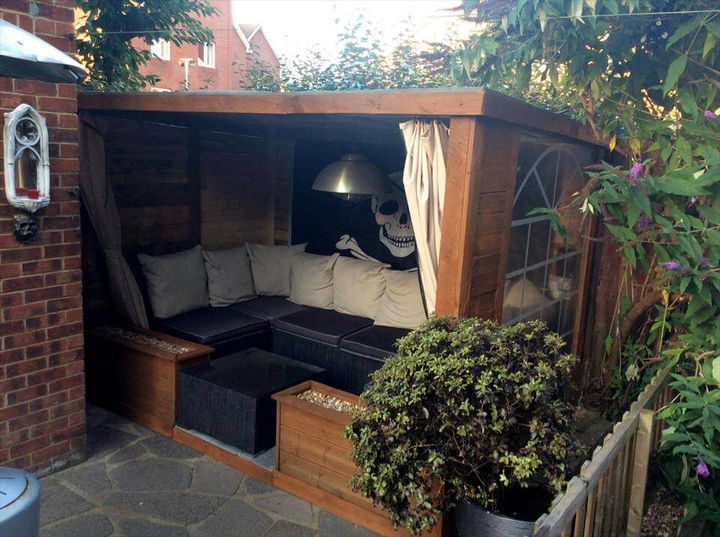 The pergola building has been installed over a paved flower, you can take a start by installing the floor first around which then wall can be build and then the roof!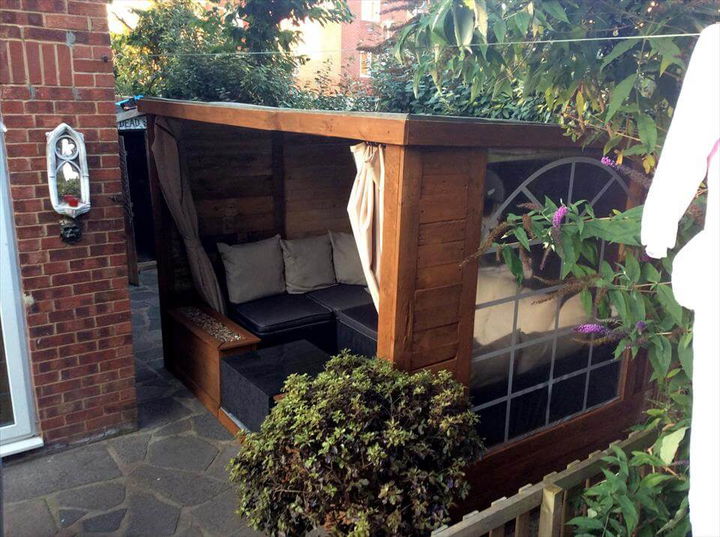 It is just like a mini wooden room built at outdoor and has been organized with a sofa to have great time with friends there! You should move ahead while construction this pergola step by step!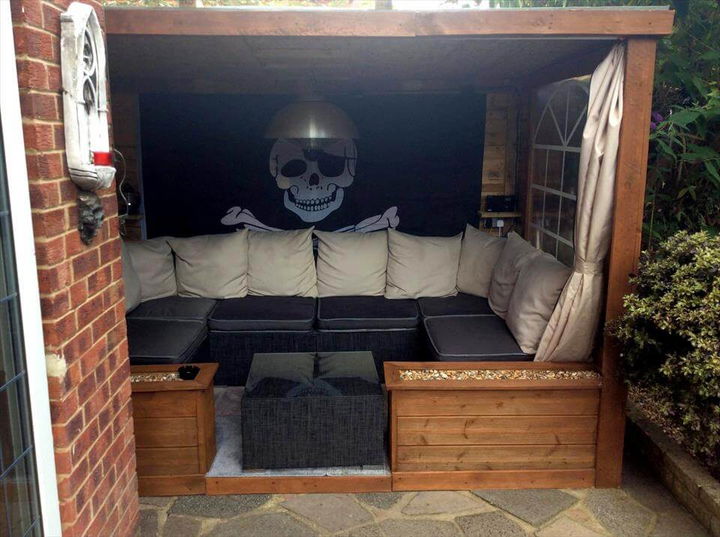 Same has been done in this wooden pergola, given a horror theme, the black skull flag would make it Halloween special for sure!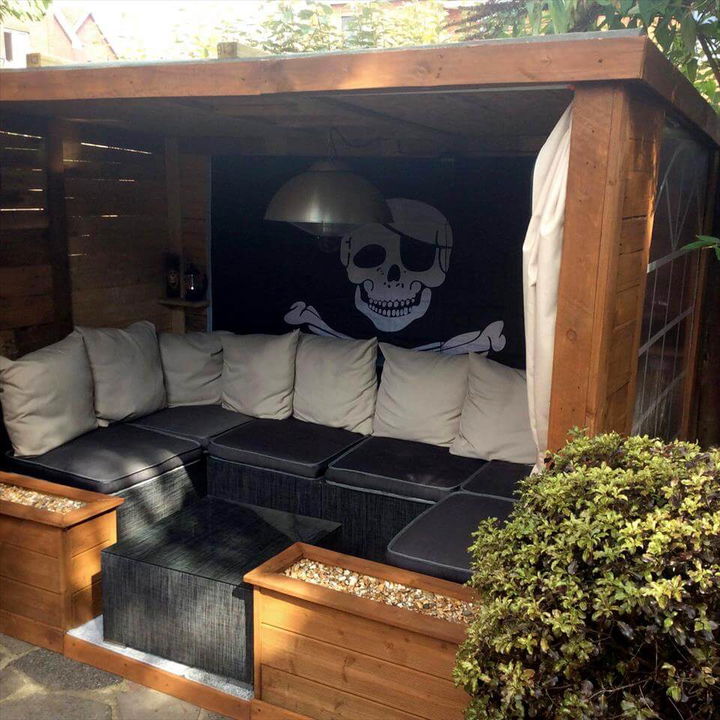 There is also a pendant light inside hanged to roof of this pergola, would enlighten the entire interior at night, so you can play carom their and also other games like cards!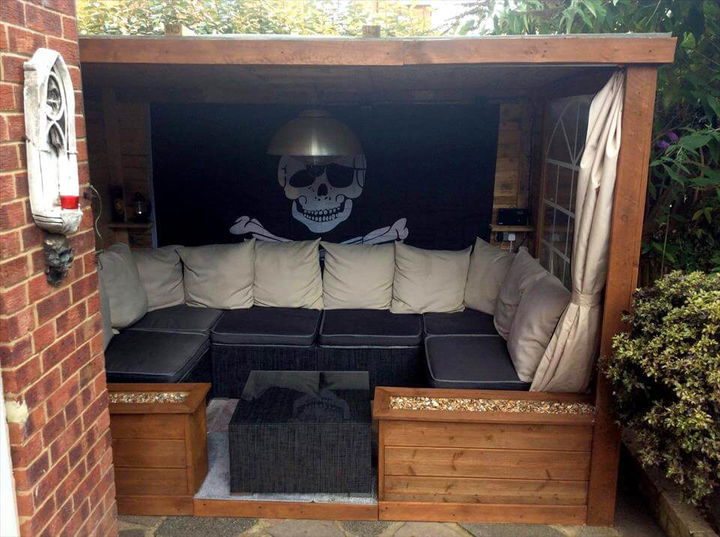 By getting inspired of this pallet pergola, you can also build custom garden shed, barns, shelters, gazebos and also amazing outdoor cabins!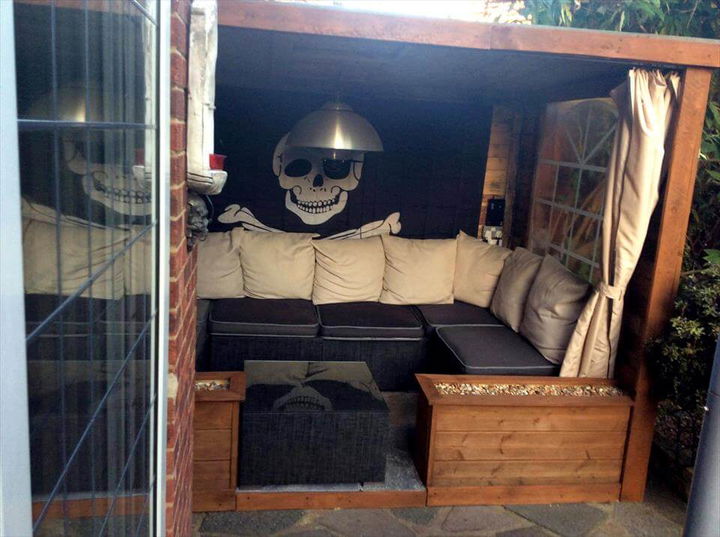 This is how pallet can make you live better at outdoor and can help you to lower down the intensity of weather! Entire project is too much friendly to your wallet, so you can go ahead with pallets in hands without any hesitation!
Made by: Gary Tyler