A family, media or living room is not completed if it is missing a media entertainment center or a media console table! It is a table that holds your display screen to enjoy your movies, music in buffer sound and your favorite games etc. We are here to let you know some easy tricks and tip to install a media table your own at home! This is not merely a discussion, you can do so conveniently by stacking the rustic pallet boards up into tangible and creative configurations! Here is how you can use the rusticity of pallets into your modern chic interior with great fashionable and decorative statements!
This DIY pallet media console table / TV stand is a comprehensive explanation of our all above discussion is also a most enjoyable component of furniture to enjoy at no-cost! Design comes with a vertically upright back panel to hold your LCD TV and a functional bottom with lots of drawers and storage sections! This table is also much women-friendly and they can use it as a pallet dresser table and LCD screen can be replaced with a big mirror and storage sections and drawers can also provide an ample storage space to your make up tools, handbags and high heels instead of media item storage!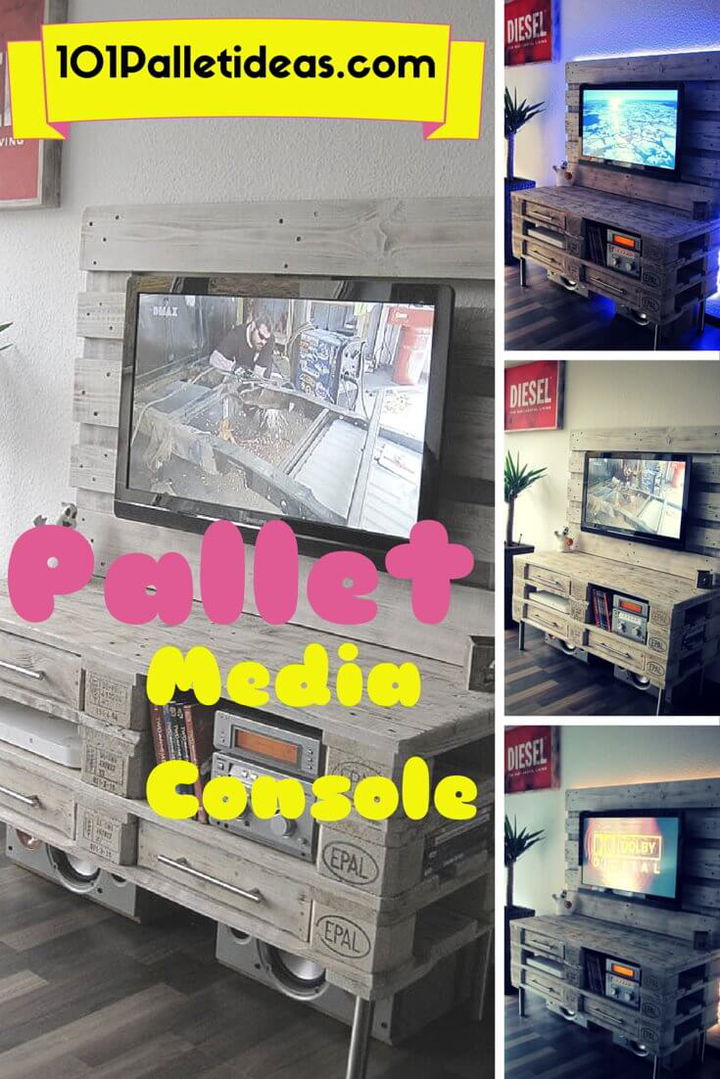 Table has been finished with short industrial metal pipe legs for a chic metal touch! Tapered hairpin metal legs, three post hairpin metal legs or hardware rolling casters and wheels can also be used for an charming industrial look of table!
Material:
5-6 Sturdy Euro Pallets
A Small Quantity of Plywood ( For Drawer Making )
Hardware Stainless Steel Drawer Pulls
Metal Hardware Caster or Wheels
Metal Hooks or Saw-Tooth Picture Hangers
Metal Brackets and Steel Plates
Nails & Nail Gun
Screws & Screwdriver
Metal Short Hairpin Legs
Sandpaper or Electrical Sanding Tools ( Palm or Orbital Sander )
Metal Floor Flanges ( For Leg Attachments )
Paint ( Optional )
Stain ( Optional )