Coffee lovers will want to start the day with a fresh cup of brewed coffee. If you must have your cup of beverage in the morning, then you will certainly want a coffee maker and accessories at home. But true coffee lovers will want more than that. They need a coffee station indoor with a coffee bar shelf, mugs, pods, and so many other things. Coffee is a huge part of the lives of so many people from around the world. Why not go that extra mile and set up a mini coffee bar? It is certainly worth it.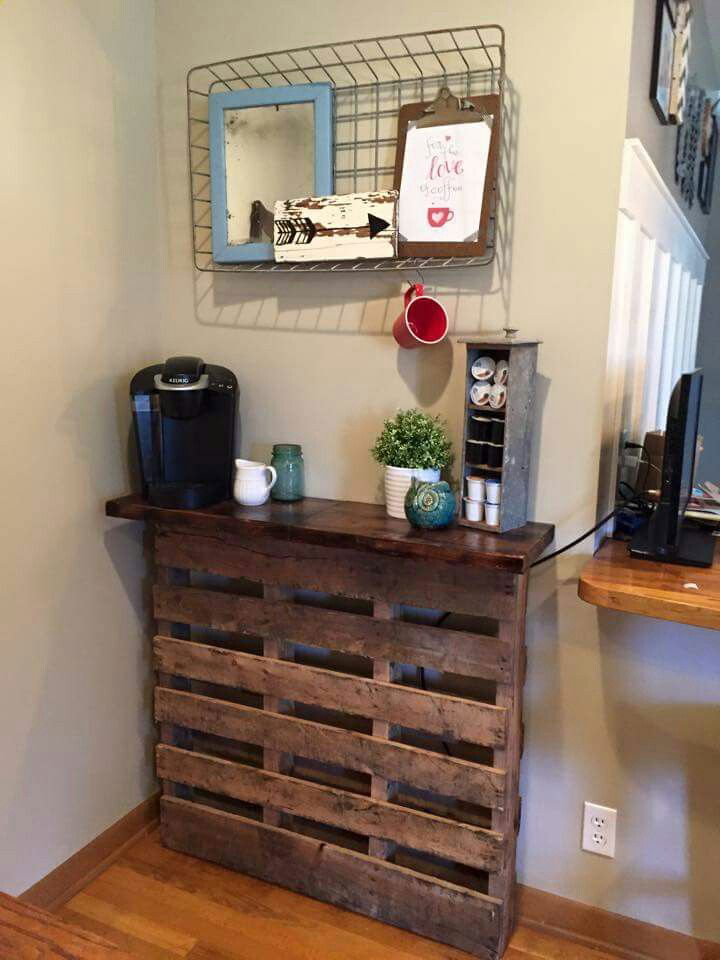 You can easily make a wood pallet coffee bar in your home. In this guide, you will get many awesome ideas of making your own corner for coffee, made from a pallet. You can have it just like you want – it can be a modern design, it can be in the classic farmhouse style, it can be simple and practical, or it may even sport an industrial look.
Drinking coffee is always in style. Carve out a place in your home and get everything for a morning, afternoon, or evening brew. Check out these amazing pallet ideas for coffee bar.
How to Build a Coffee Bar Pallet?
A DIY pallet coffee bar is a great furniture idea for the home. You will be able to entertain your friends and family, and of course, you will feel good to have a place in your dining room or somewhere else just for your favorite hot or cold beverage. The wooden pallet coffee bar will not just help you serve coffee. You will also be able to serve tea and other drinks if you want.
You don't have to get something expensive. You can make it yourself with a little careful planning. When you make it yourself, you will also be able to tailor-make a pallet wood coffee bar that fits your precise needs. It is sure to fit into your space.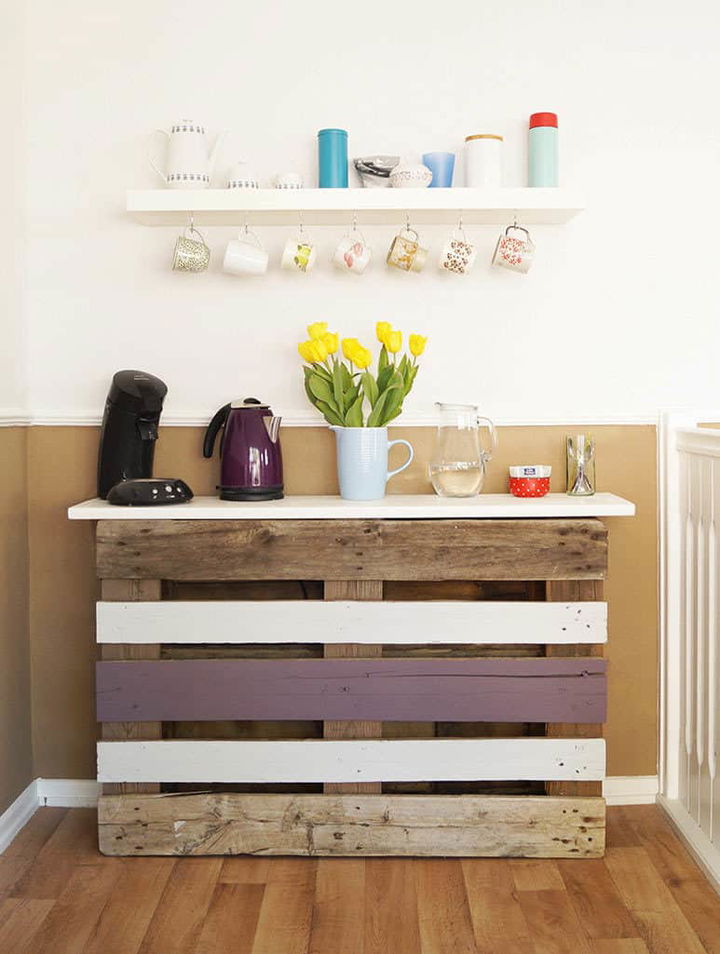 Here's how you can build a coffee bar pallet all by yourself –
1. Find the right place
Where do you want to set it up? You have to decide this first. It can be a coffee area in the kitchen, or you can also have it in your dining room. Another place could be the media room or a hobby room. You don't need a lot of place too. You can just customize a tray or add a simple shelf above the coffee maker. Of course, your coffee bar can also be much more elaborate. You can add a designer element to it if you want.
2. Stock the items
You will need everything for the coffee area. There are so many things you can have, depending on the available space. You can have pods for coffee maker, coffee mugs, coffee beans, and even the coffee maker. You can also keep your coffee grinder, napkins, spoons, the creamer, tray, canisters or bowls, and some pieces of cinnamon. Create a list of items you need for your coffee station and get them from the shop.
3. Get the pallets
Of course, you must get the pallets too. Many people are now using pallet wood for making original furniture. People are making all kinds of things with them. Pallet wood isn't just rotting away anymore or being used in the living room fireplace. There is wood pallet recycling that is giving the pallets a new life. Find out how to get these reclaimed pallets at a cheap price.
4. Personalize your place
You now have everything you need. It is time to start your DIY project. Add a special touch. Customize your coffee bar. You can do this by framing a cute quote or adding monogrammed napkins. Think of unique ideas.
How to Build an Armoire Coffee Bar with Pallet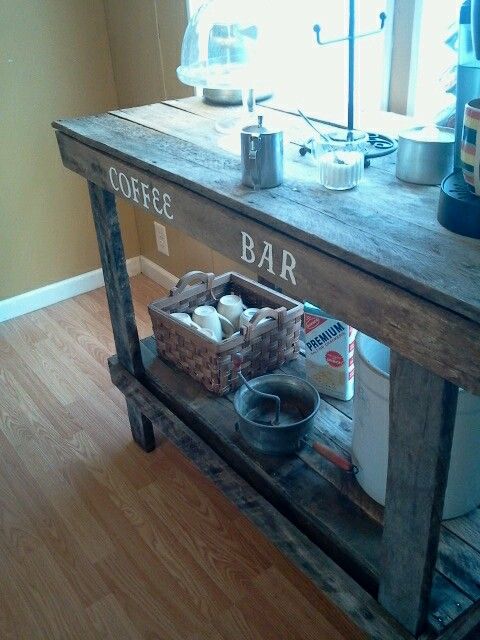 What is an armoire? It is a wardrobe or a cupboard, one that is typically antique or ornate. Your dining room or kitchen coffee bar can be in any style – you can go for a modern or traditional design. Or, you can design one to look like an antique or armoire piece. Look at pictures to get ideas.
You can turn an old or new bookshelf into a bar for displaying your collections. You can use a bookshelf table or a cubicle organizer from Ikea. A tiered tray is also a great idea. You will be able to store the supplies. If you have an armoire that doesn't house the TV, then you can create the coffee bar inside this. You can also turn any hutch, used for storing dishes, into your storage cabinet. All you have to do is just drill a hole at the backside so that you can hide the coffee maker's cord.
Another idea would be to remove the doors of your antique armoire and paint the other parts in an attractive color that matches your décor.
Coffee Bar With Pallet Cup Holder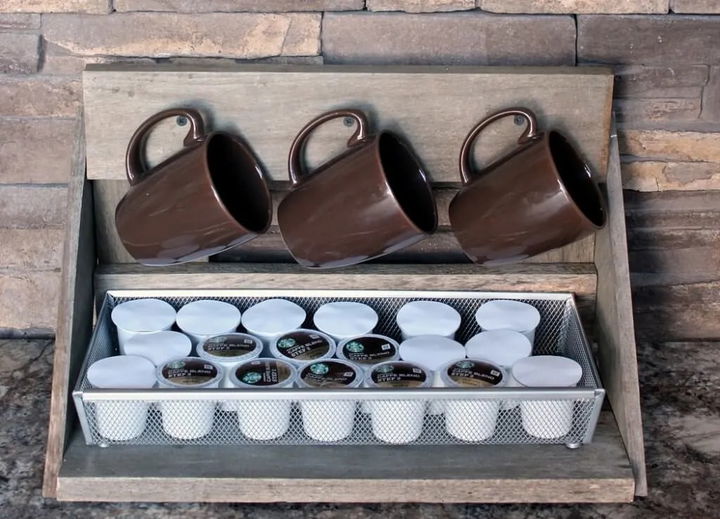 Most coffee lovers are also collectors of coffee mugs. Yes, you can always store them in your cabinet, but it would be so much fun to display them prominently in your pallet bar. Make a coffee cup holder and hang them so that everyone can see these cups and mugs. Plus, the holder will also give you more space, great news, especially if you have a lot of things to display.
To make one, you will need wooden pallet or pallet boards that you can use, screws, hooks, letter stencils, paint, a sponge brush, sandpaper, tape or ruler measure, a right-angle ruler, a pencil, circular saw, safety glasses, a screwdriver, and a cordless drill.
Power wash the pallet before you start off. Saw the parts, assemble and nail them together, and decorate with coffee details. You will find many creative and fun details on pinterest.
How to Build a Coffee Bar Pallet With Doors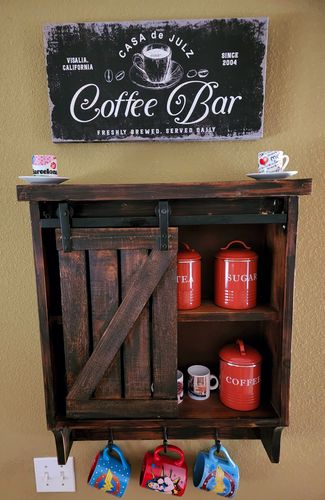 Sliding barn-style doors will give the pallet bar a farmhouse look. It will look so inviting and warm. If you want to plug a coffee machine, make sure that your station is close to an outlet. Alternatively, you can cut a hole at the backside panel so that there is space for the wire to go in. You will then be able to conceal the cables and still prepare the brew.
Pallet Coffee Bar Ideas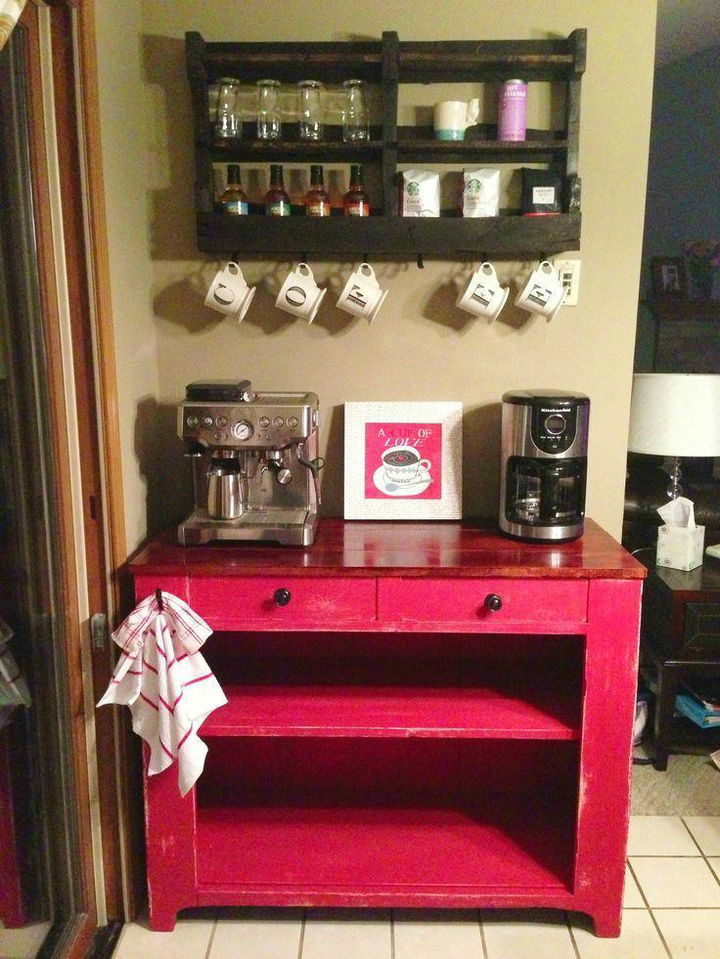 There are so many home coffee station ideas and even coffee bar ideas made from a pallet. For example, you can make one with coffee signs, add small plants, while still having space for mugs, and other coffee essentials. You can repurpose items headed to the junk yard in creative ways. You can also give it a rustic, yet sophisticated look. Or, you can add a fresh twist by keeping space for cookies, napkins, and marshmallows.