Owing a bar area is something that can creates bundles of excitement, especially in summers when all the people love to chill up with friends with their favorite drinks in hand or on the bar table! Here we are with an exclusive hack of pallet wood idea which helps you to install an instant bar area for free anywhere in our out of your home! Get all the necessary detail from this DIY pallet bar project in which much needed construction steps have been shown to avoid you from mistakes or complications while cloning this bar unit at home!
Uncut pallet boards have been got smoother and soft to touch using power sander and then have been trimmed down to specific sizes to build the base and sides of the bar! There would be so many choices while building the top of the bar unit as it can be made with concrete tiles, with plywood, with chipboard and also with removed pallet slats! Here has been got in alluring sleek black look for a gorgeous visual of the entire bar unit! Finally this bar unit has been finished with stain and stickers!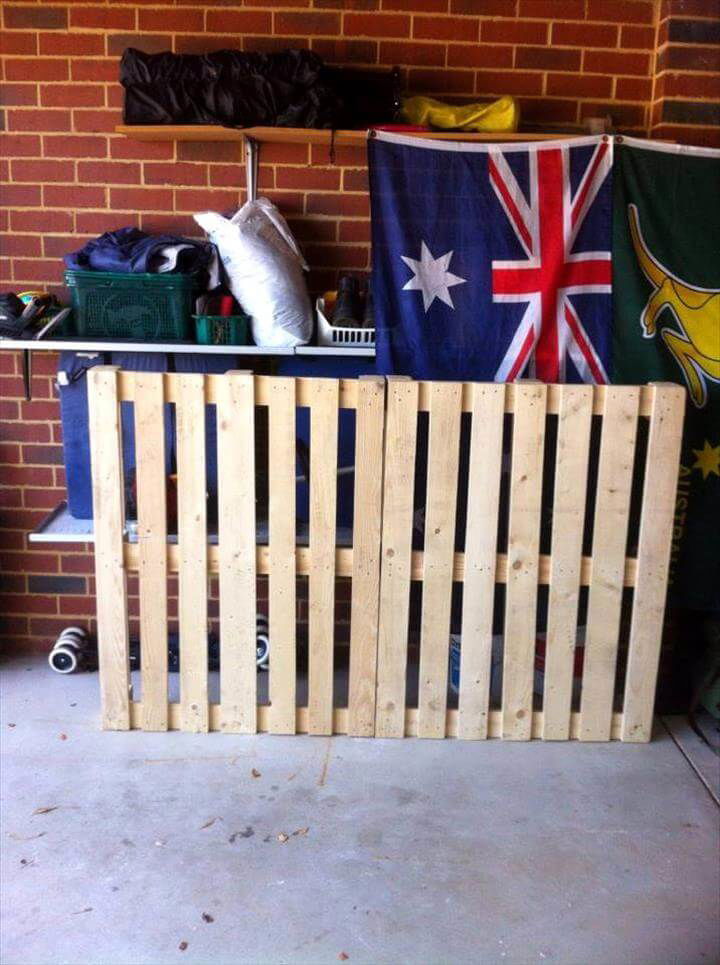 Here the whole pallet boards have been thought to serve as base of the bar unit. so one can put the well sanded wooden pallet planks together for study base of the bar!
Extend the base with custom modified sizes of pallets and get the sides of the bar, here you need to assemble the all pallet pieces in a clean and lasting way so this will result in a lasting wooden bar design!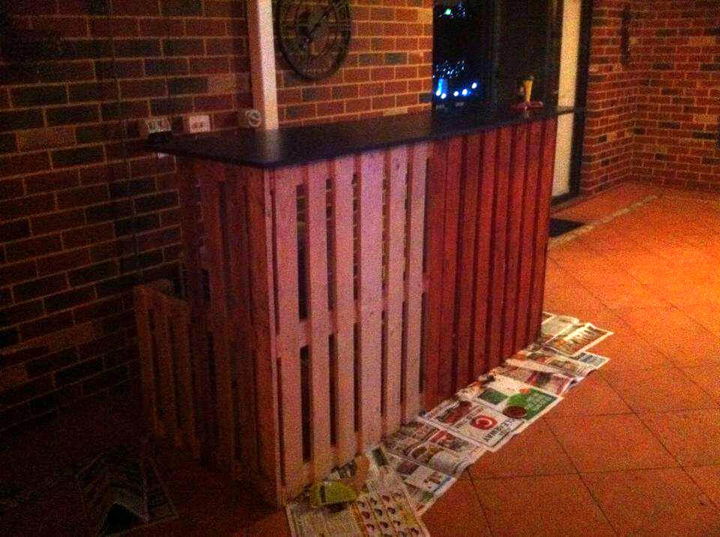 After getting the pallets installed to required positions they have been stained for an alluring brown wood tone and also for graceful spark on wood grains!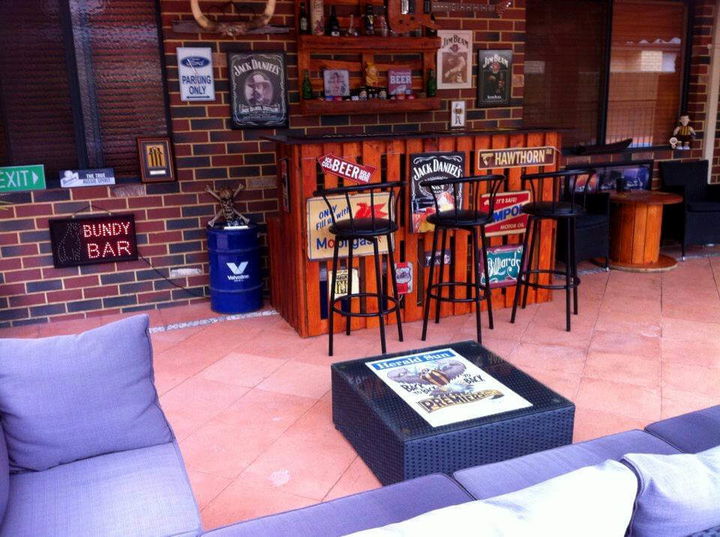 This custom wooden pallet bar has been given a sleek black counter top which contrasts beautifully with rest of wood medium! Dual tone appearance makes its visual highly spell binding!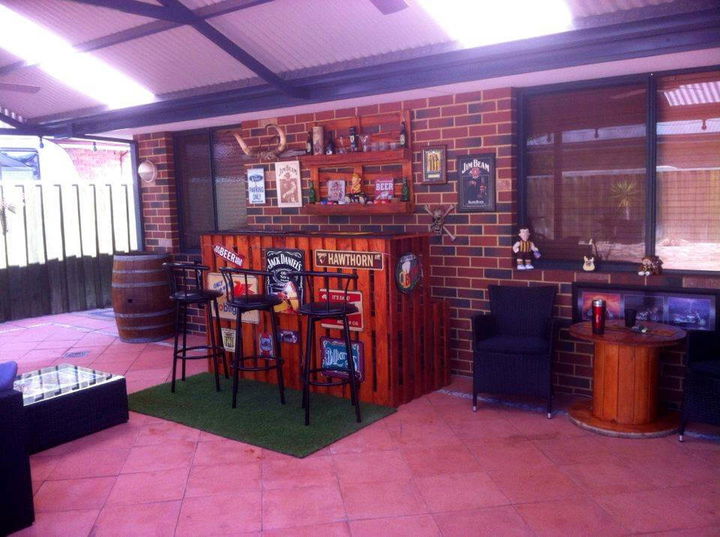 After the stain coats the whole bar unit has been personalized with custom stickers, logos and custom name letters, it also comes with a bottle opener fixed to one side of it!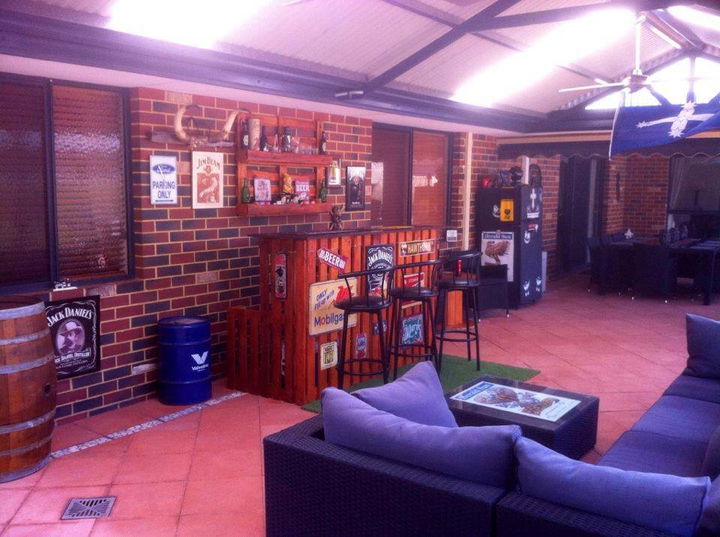 Remaining pallet wood has been reclaimed to build a lovely wall rack that hangs on the wall just behind the bar unit, can targeted to store different kinds of bar stuff!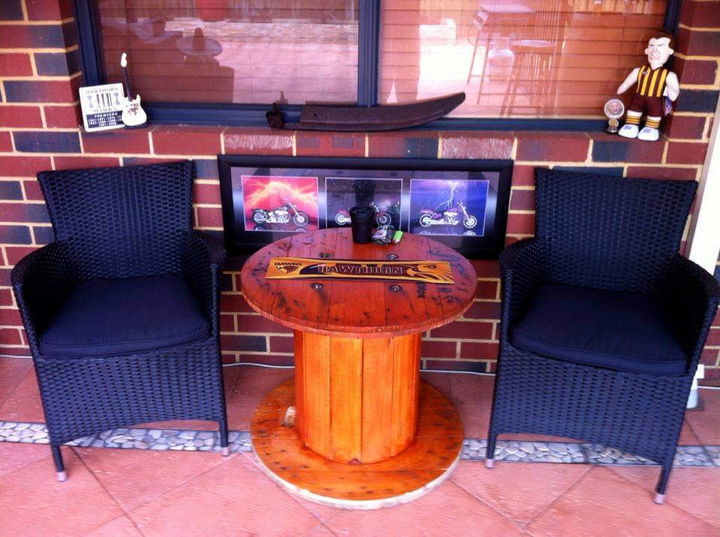 Here actually the whole bar area has been organized using old woods like the rustic pallets and old wood spools, here one empty cable spool has been reconditioned and personalized with a logo and serves as a perfect table for two people!
Made by Ben Richards