Garden lovers just try their best to own a beautiful garden shed! If you are pet lovers too at the same time then some custom animal shelters and houses becomes compulsory to add to the same outdoor! Once can do amazing construction projects with pallets to gain all these super budget-friendly way! We would try to inspire you with some mind-blowing practical examples!
So, checkout here this DIY pallet garden shed and U-shape outdoor sofa project, is just mind-blowing! See a bunch of other amazing Constructions with Pallets also which are made of remaining pallets! Floor up pallets to install the base of the shed and make use of concrete blocks for precise balancing of shed-base! Put together the pallets vertically to install the shed walls! Keep on using the latest hardware at the same time to secure each pallet in place! Install the custom shed roof by installing first the lattice roof frame and that's it! Using rest of pallets, here a u-shape outdoor sofa set has been installed!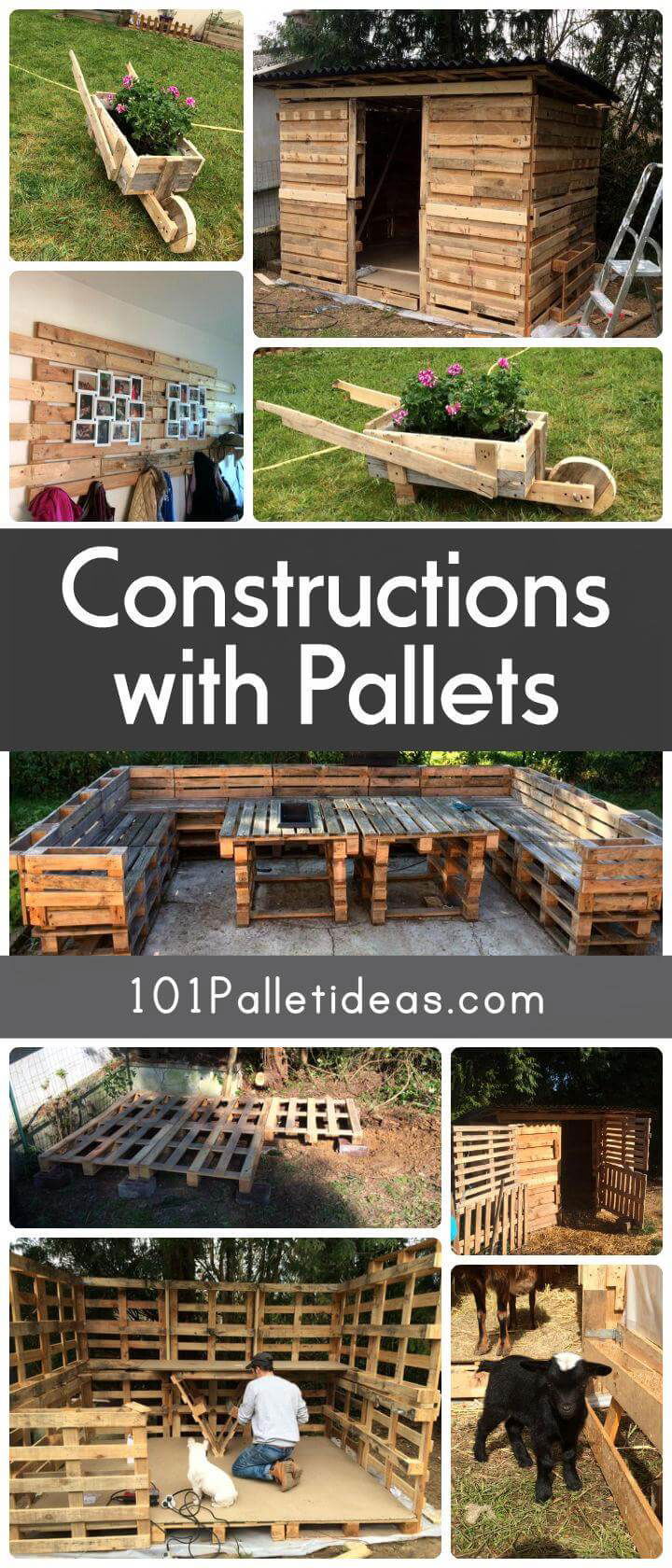 Moreover, the leftover pallet slats have been turned into a fetching headboard, into a precious wall photo frame which is a coat rack too at the same time and also into a wheelbarrow garden pallet planter! You can find more ideas here: pallet projects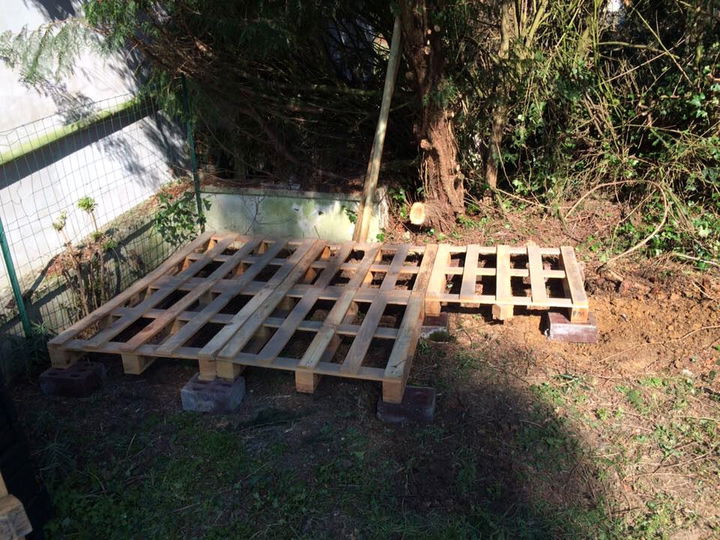 Get the selected ground level balanced before you take steps for base installation! Once your level up the ground you can start flooring up the pallets for base! Here concrete block have been used as base supports and also make the base a little off the ground surface!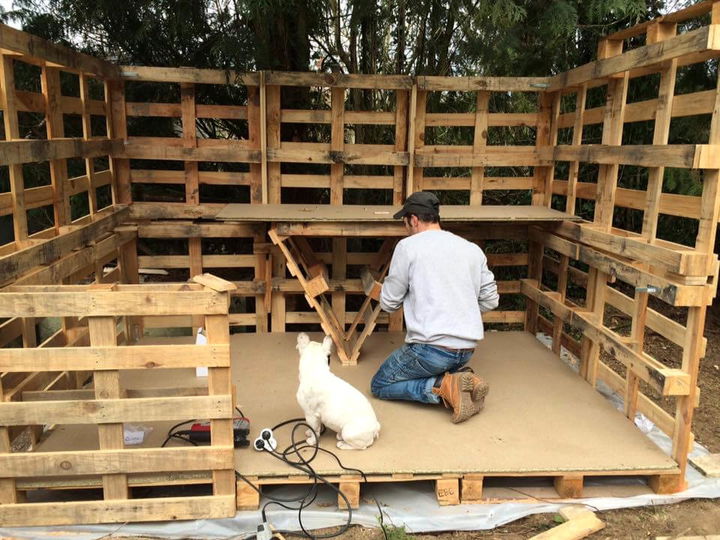 Add plywood or chipboard overlay to floored up pallets and get a smooth floor for your shed interior! Use modified pallet sizes combined with plywood to install the inside shelves also! Will come in handy to organize garden tools and stuff!
For making the construction quick, make use of power tools like nail gun, screw gun, power wood saw and power sander!
Load the pallets vertical over each other to install the walls of the shed! Here most challenging would to hold the vertical pallets in place! Get help from the latest and heavy duty hardware to do so!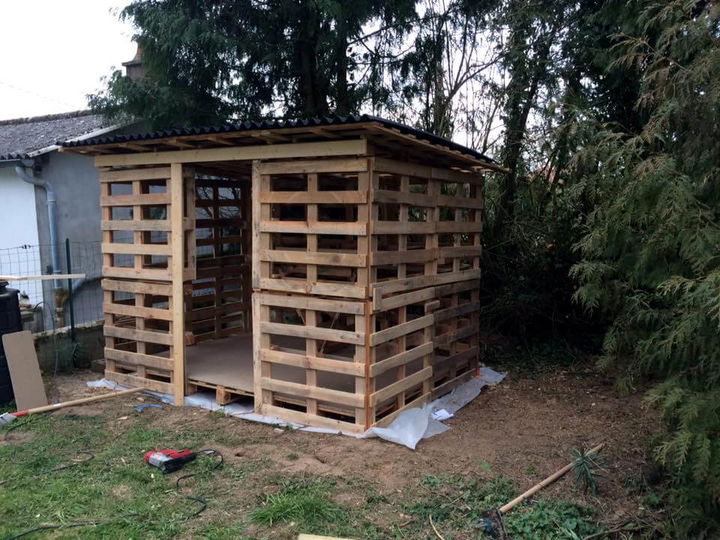 Install the roof frame over the installed walls, it is going to be like a lattice! Use bigger wooden rafters and beans if you can afford!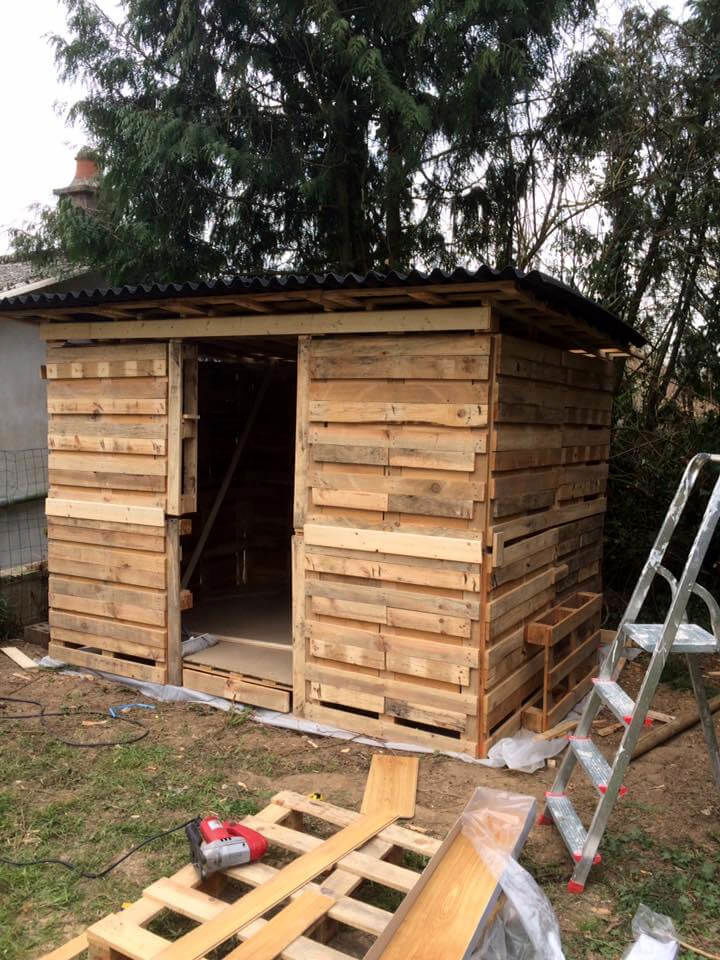 Buy a metal roof and put it over the roof frame for a waterproof and extra durable shed-roof!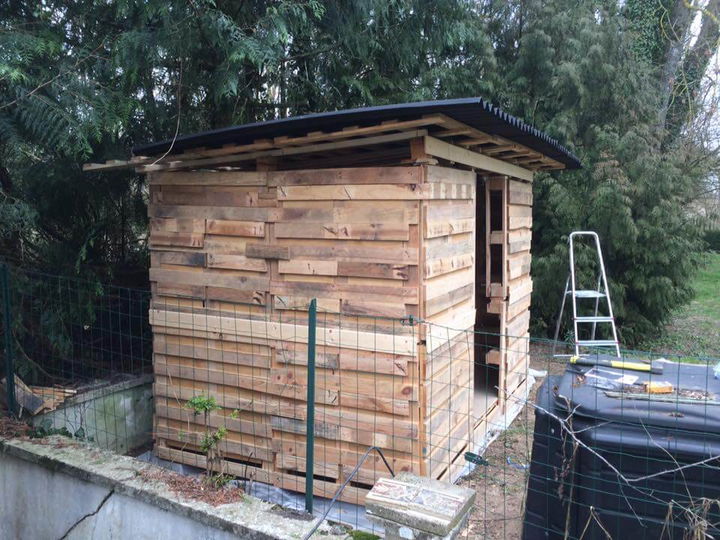 Fill the wall solid, try to gain them as shingled for more powerful and attractive views! Elevate the front of the roof a little and set the roof as sloped, this will not let the rainwater stay over the roof!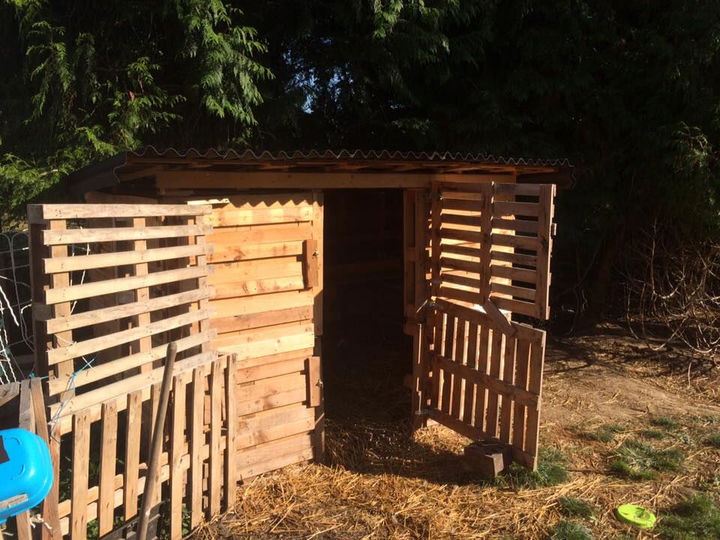 Add the gates to your shed and also the custom hardware locks for security of our shed! Here remaining pallets have been used to install an animal fence that come along the sides of the shed!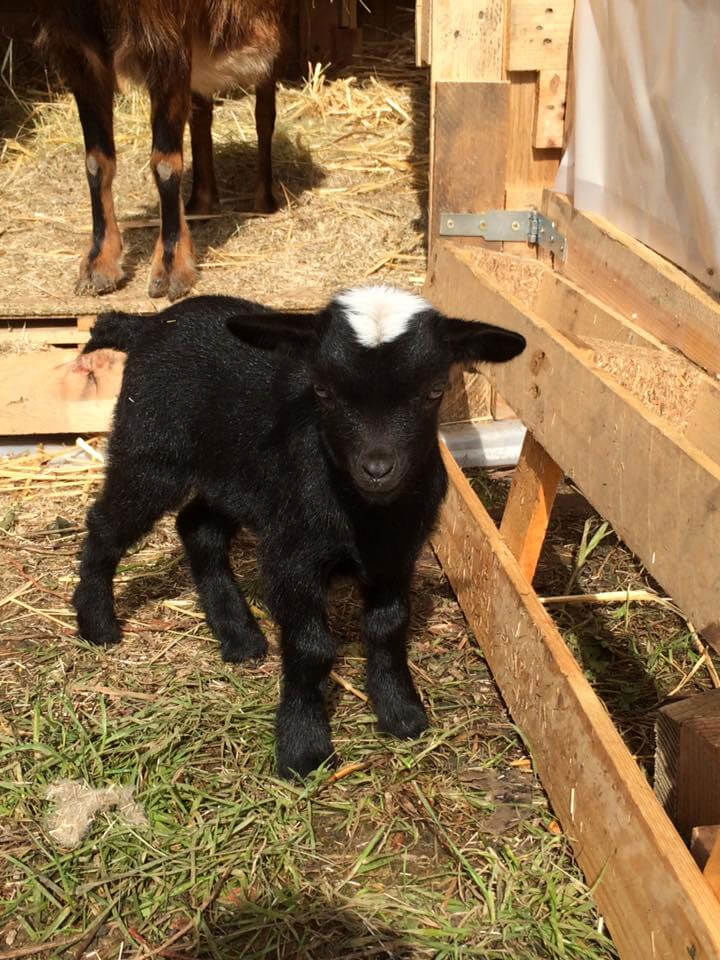 So here is how to use the pallets for protection of pets you love so much!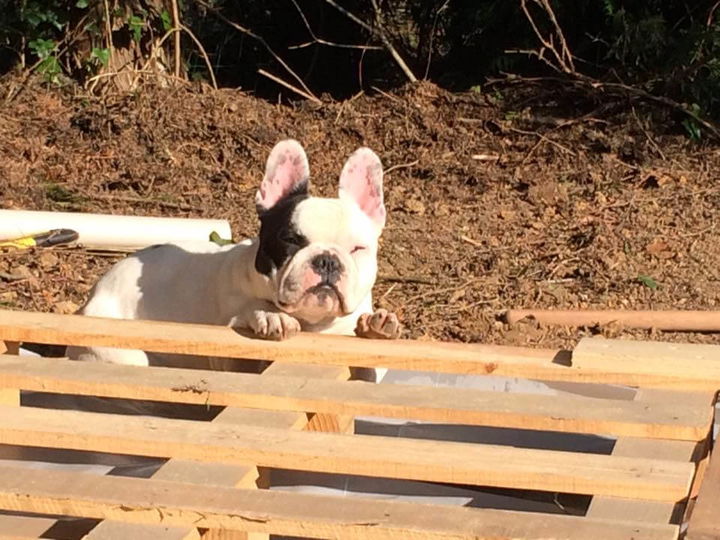 Take help of your well trained dog pet to help you during the construction work!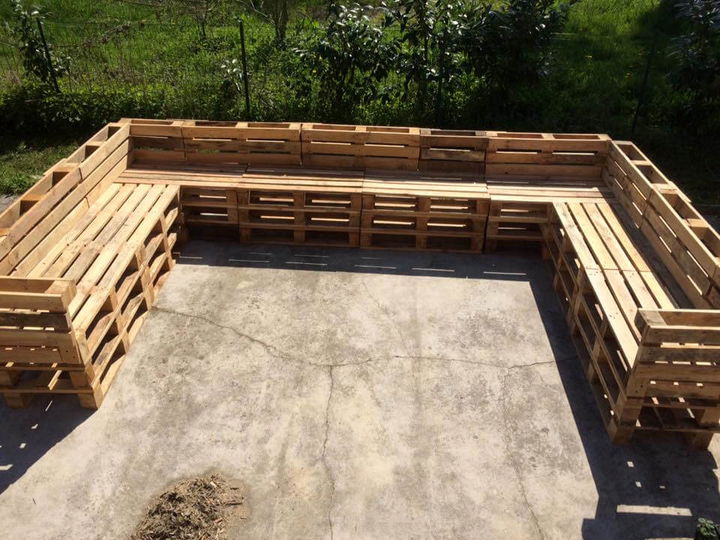 Remaining stack of pallets have been used to install a precious sitting spot at the same outdoor!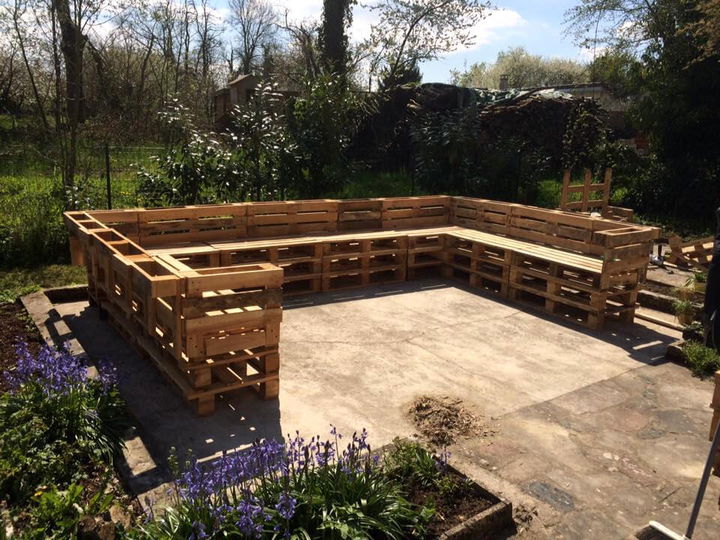 Take a look here to see how beautifully the pallets have been stacked after to install a splendid and lasting U-shape sofa!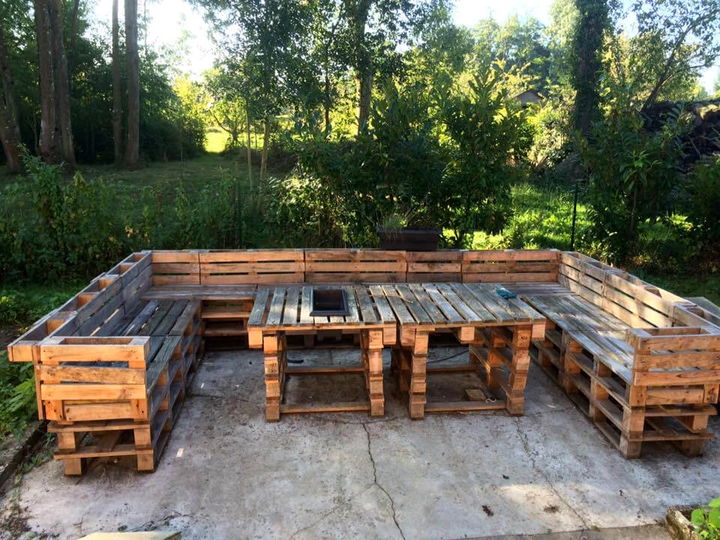 To get the entire sitting plan or u-shape sofa look sophisticated, 2 beautiful tables have been placed in the center as coffee tables! Make them also with pallets!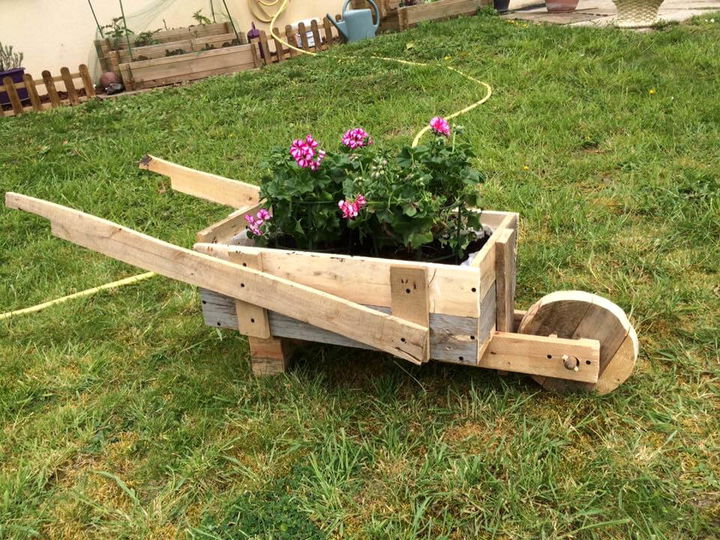 Brainstorming what to do with those pallet leftovers? Here is the perfect solution! Rebuild them into amazing garden wheelbarrow planters!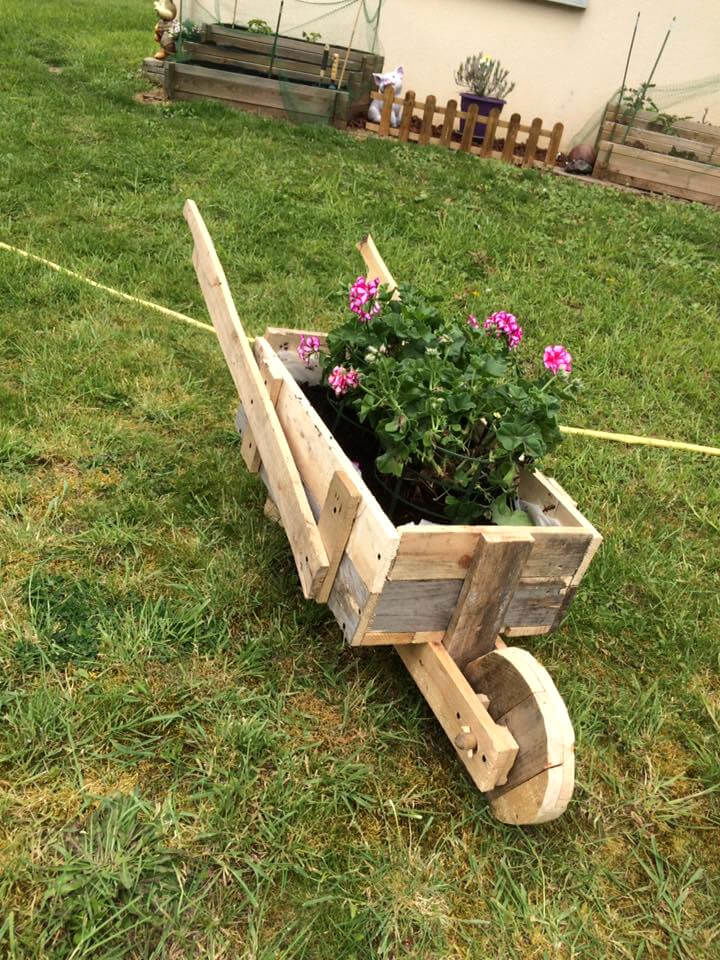 So this pallet-made wheelbarrow planter is going to be a perfect decor for your garden! Use pallets for both outdoor landscaping and garden decors!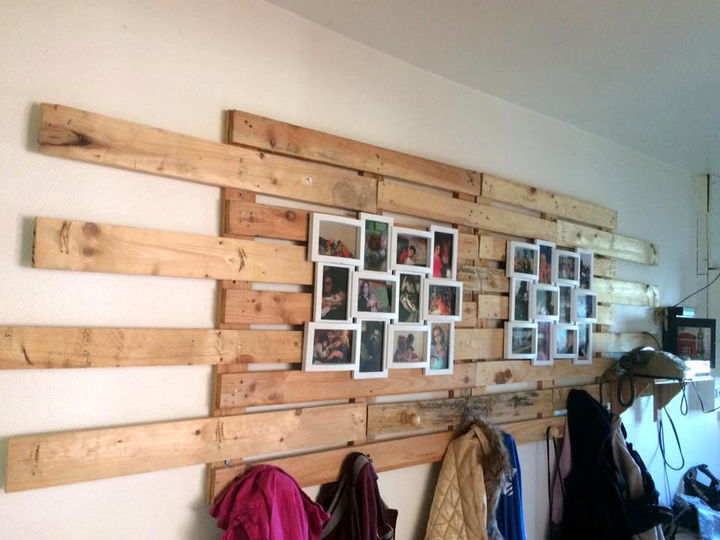 Here is another mind-boggling strategy to DIY the pallet leftovers! Mount them on wall as coat racks and also as cool backgrounds for your photo frames!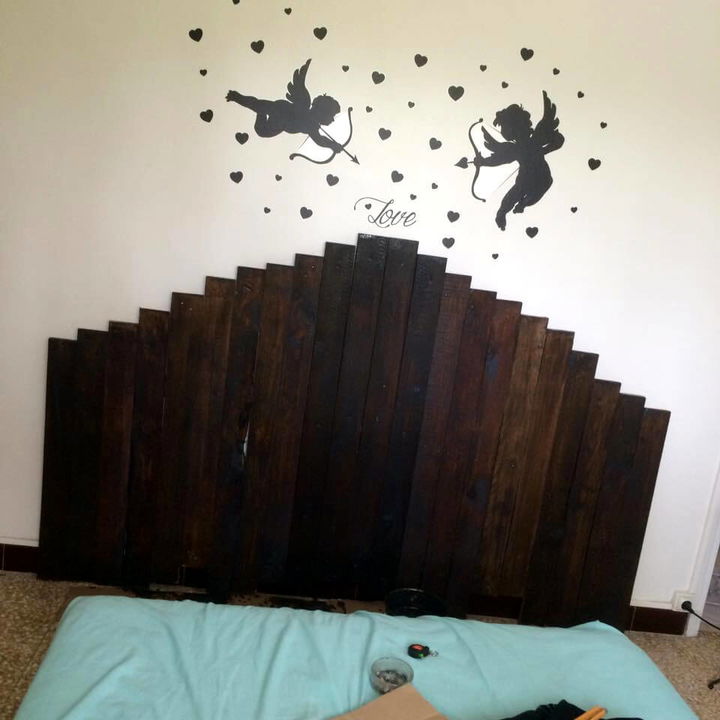 This love themed pallet headboard is another great idea to repurpose the pallet wood remains! Beautiful stepped headboard, it's something you can call smartly creative!
Made by: Xavier Galewski