The first rule when choosing a rug is that rugs are available in a limited array of colours, paint is available in almost any colour you can think of. Whether you choose to mix it yourself or have the professionals do it, you'll find it's comparatively easy to match the colour of your walls to a rug. It's not so easy to do it the other way round. That's why rugs should ideally be chosen before wall paint.
Having established the color needs to be chosen first, you'll need to consider the following points to ensure your rug suits your room.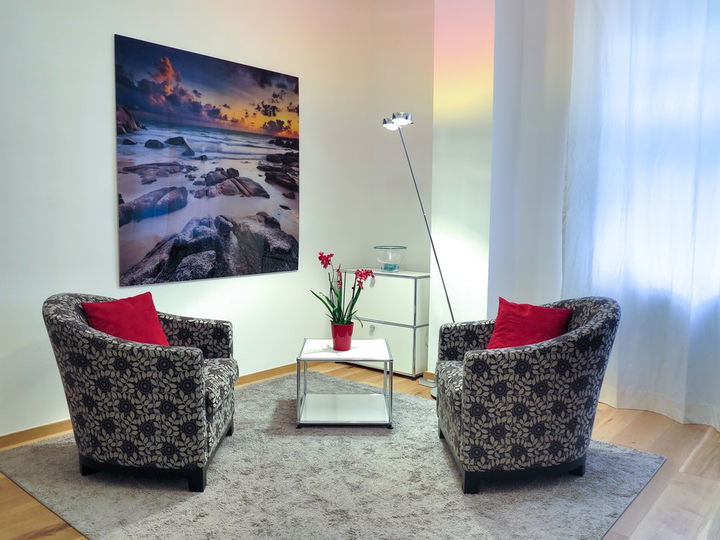 Size Of The Rug
The first thing to consider is the size of the rug you need. It is never a good idea to get a rug the same size as your room, that's generally referred to as a carpet. While there are plenty of large rugs available (you can read here to know more), you need to make sure they leave a walkway sized gap around the edge of your room. That's the maximum size.
Of course, you can opt for much smaller rugs. The general rule in a room is that the rug either needs to be large enough for all the furniture to sit on it, or you need to have the front legs of all the furniture on it. This assumes your furniture isn't against the walls which is sometimes the only option.
When considering the size you also need to consider the existing layout of the room and whether this will be kept. It's important that your rug helps guide people through the space or tells them that this is a relaxing area. It can't do both.
Colour
The next step in choosing the rug colour is to look at the actual colour of your rug. Brightly coloured rugs will make the room feel warmer and brighter. Equally, a light-colored rug will make the space feel larger, especially if accompanied by light walls.
But, darker colours, such as green, deep blue, and even purple offer a rich and calming feel. That could make them perfect for a bedroom or any stress-free environment.
You should also note that bright colors make a room feel more energetic. When considering the rug colour it's important to think about the existing colour scheme, it needs to balance with each other.
Of course, if you're planning on redecorating then you simply need to choose the rug you love the most and build the rest of your room around it.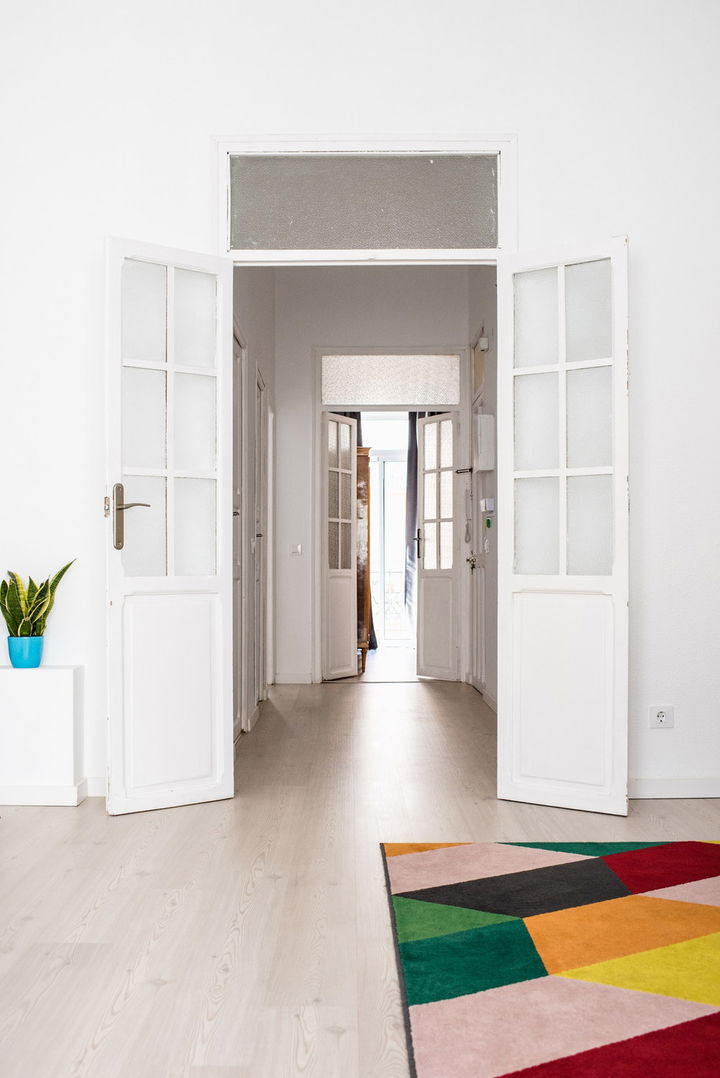 Material
Rugs come in a wide variety of shapes, sizes, and materials. The type of material affects the color options and it can alter how well the colour lasts. Don't forget, brighter colors will fade faster in the sun. If your room has plenty of sun then you may want to choose a lighter colour that will appear to fadeless.
The material is important as it also helps you understand how durable the rug is. Tougher rugs are better for high-traffic areas. If your rug is destined for a high traffic area you don't just want to choose a synthetic material. You also need to consider the color based on what type of traffic will be crossing it.
For example, if it's near the entrance is it going to have to put up with road grime attached to shoes? If so the rug needs to be darker to help it hide the dirt between cleans.
Your Existing Furniture
Even if you are redecorating your room there is likely to be one piece of furniture that you want to hold onto. That means, before you buy a rug or choose a colour, you need to consider the existing furniture and what, if any, items will be changed.
Your rug needs to fit with the furniture. That either means adopting a similar color tone, or it goes from the opposite. This ensures your rug stands out and the contrast between your rug and your furniture enhances the room.
It can be difficult to picture the rug and the right colour, that's why you'll find many places that offer color swatches to help you decide if it's the right rug for you or not.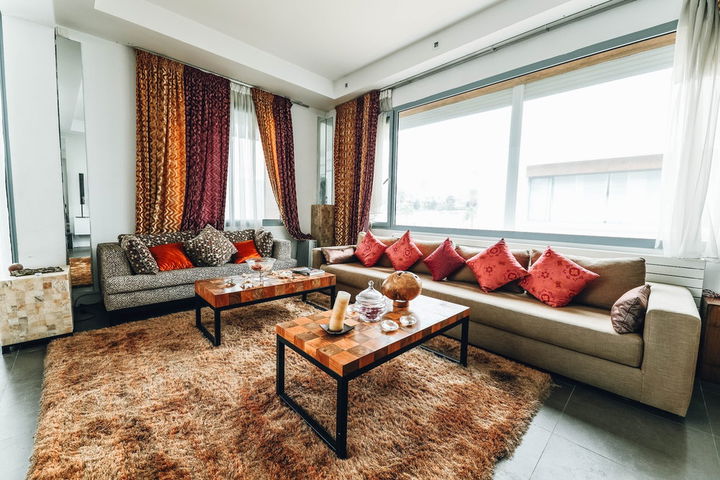 Room Focal Point
Don't forget that every room has a focal point. T could be a feature wall, an impressive television, a fireplace, or even your rug. If you want to draw attention to the rug it needs to sit in an open area of the room and it needs to be bold.
That means you either need to choose a bright colour, or you can choose a pattern and texture that makes it stand out. People will naturally look toward the rug and it becomes the focal point.
Darker colours and plainer more neutral options are less likely to be a focal point. They should be used if you have an existing focal point that you want to keep.
Consider The Future
It is worth noting that bright rugs are harder to match to existing furniture and wall colours. While that isn't an issue if you start with the rug and work around it, what about if you want to change the room in a year or two?
If it's likely that you'll be redecorating soon then you'll need to consider whether you want to replace the rug or not. If the answer is likely to be no the rug should remain relatively neutral, making it easier for the rest of the room to be redecorated as and when needed.
Don't forget to consider the maintenance of your rug, darker colours tend to hide dirt and stains better!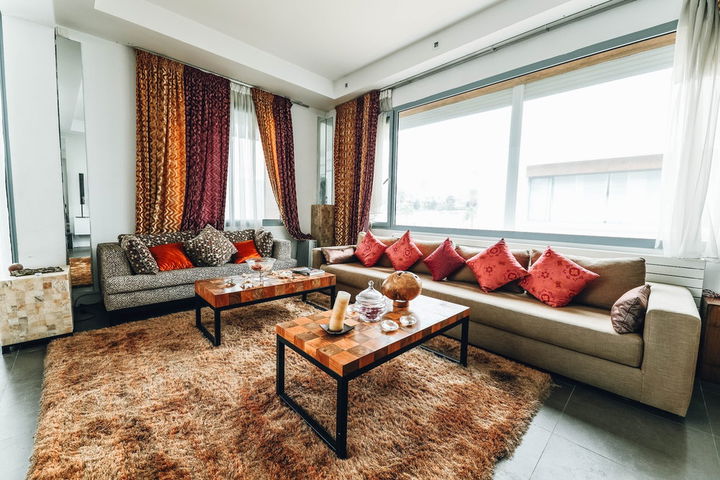 Final Thoughts
The bottom line when choosing the colour of a rug is that the decision is personal. You are the one spending your money and you have to live with the rug on a daily basis. That means you should consider the rug you like the most, that you can live with.
That's the right rug for you and your home, the rest will simply fall into place.