Here we are with a clever chair design which is having entire composition done with the old and useless types of woods like pallets! You will have to take a look at the first of this DIY pallet outdoor chair if you want to know why this chair is special for outdoor sitting! It is having a design inspired by an Adirondack chair so comes with an art style backrest, robust tilted berth and stand only on front legs! There are two armrests too that makes you feel like a dominant boss like personality while being seated in the chair!
Chair holds you well and sets your body to a unique position that makes you all comfortable to take a deep view surrounding natural environments even of that blue umbrella! Here the very first task would be to build the base frame of the chair that comes with a titled berth and front legs, would be pretty easy to install if one goes with a flat-packed and slatted filling of pallet slats! Then you can build a flat longboard out of pallet resized and separated pallet lengths which will fit in the berth as a stylish back of the chair!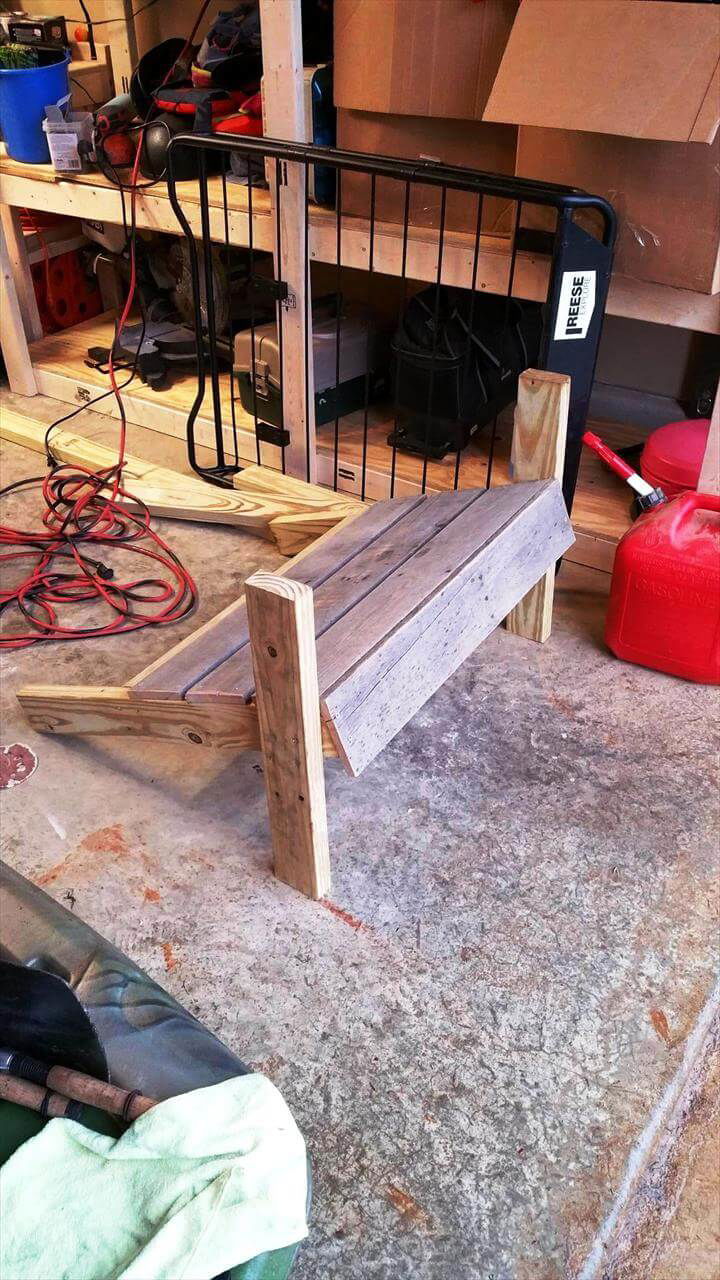 Building base may be the trickiest part of the construction but if you go with a plan in mind it would just be a child's play to do for sure!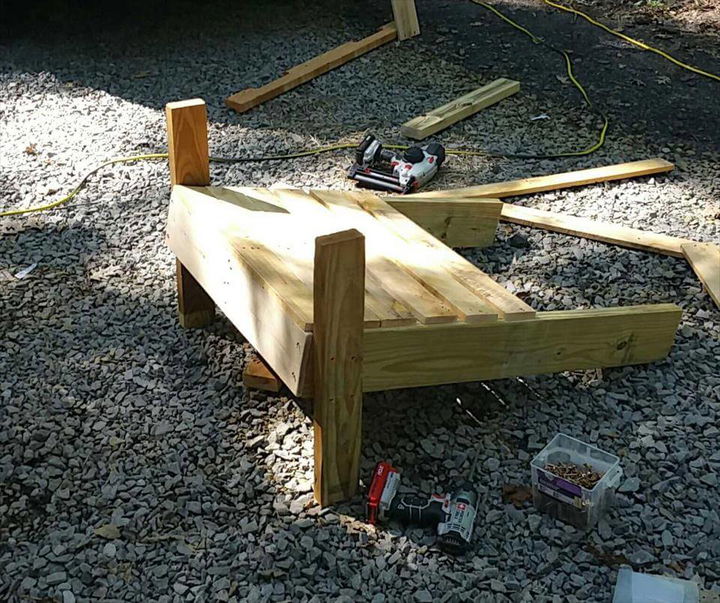 Build U-shape frame and just fill it with slatted filling of pallets, now just fix it between the legs as shown, here all you need to gain first are the slats of pallets so deconstruction of pallets would be must step here!
Use nail gun and screw gun and other power tools to make the construction faster and quicker! Give more preference to better hardware and overall assembly of the chair!
Plan a one more set of pallet slats to build the backrest, resize the removed pallet lengths and reinstall them for a flat wooden board, would serve as a backrest! After you get the wooden back, just fix it in the base frame of the chair by adding custom wooden supports first as shown!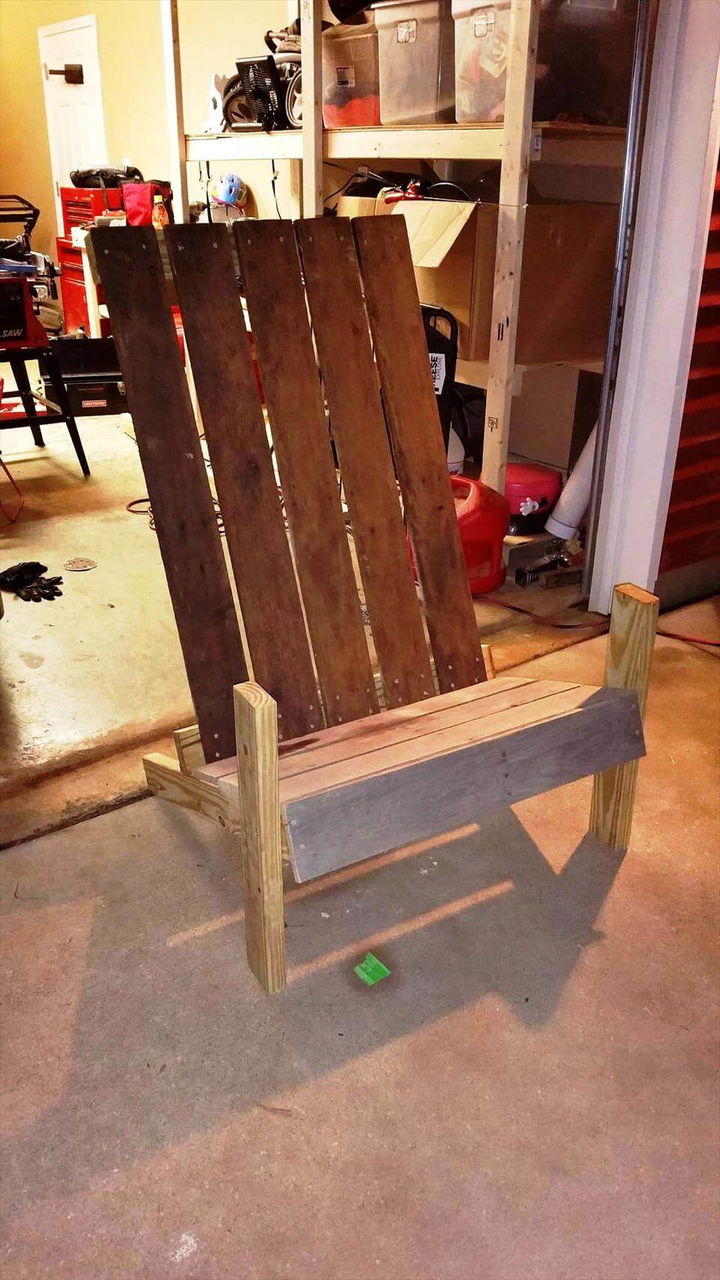 Add multiple nails and screws as backrest should be extra stable as it is going to bear a lot of weight while being in use! Try to build the backrest frame stronger!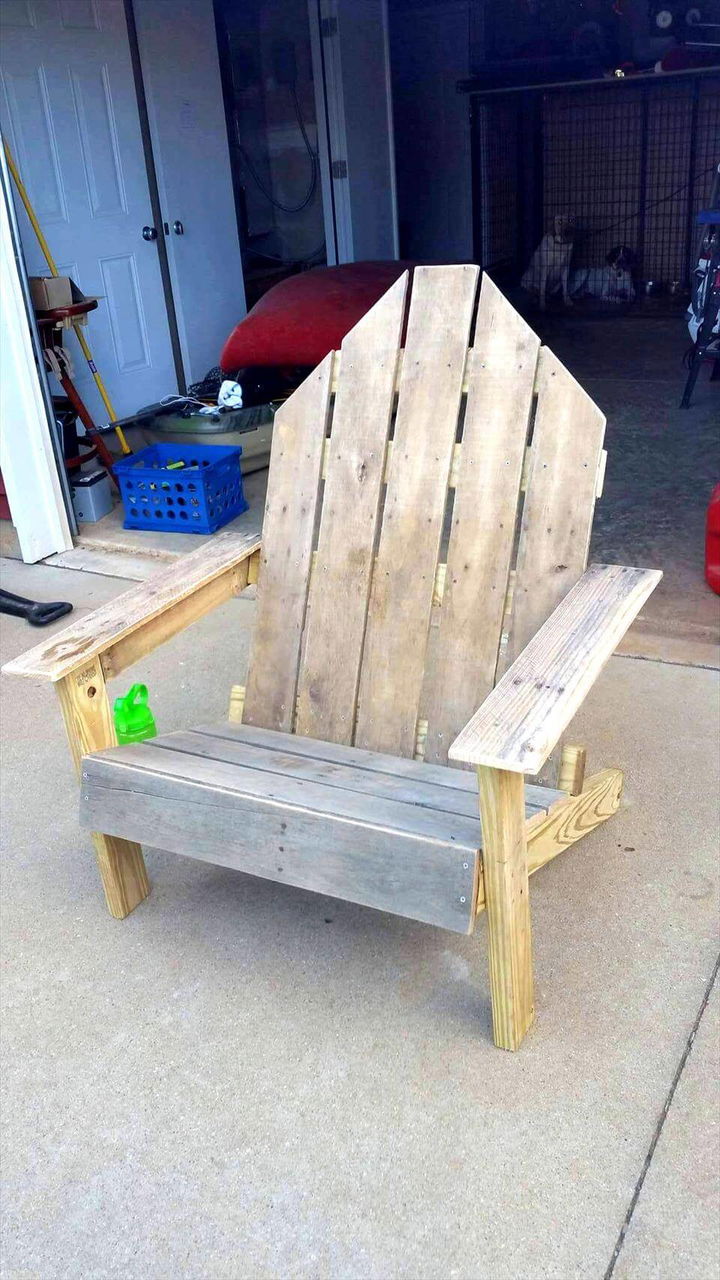 Install the armrests and also the upper cross support to backrest, these are the final steps you need to do before you paint or stain the chair!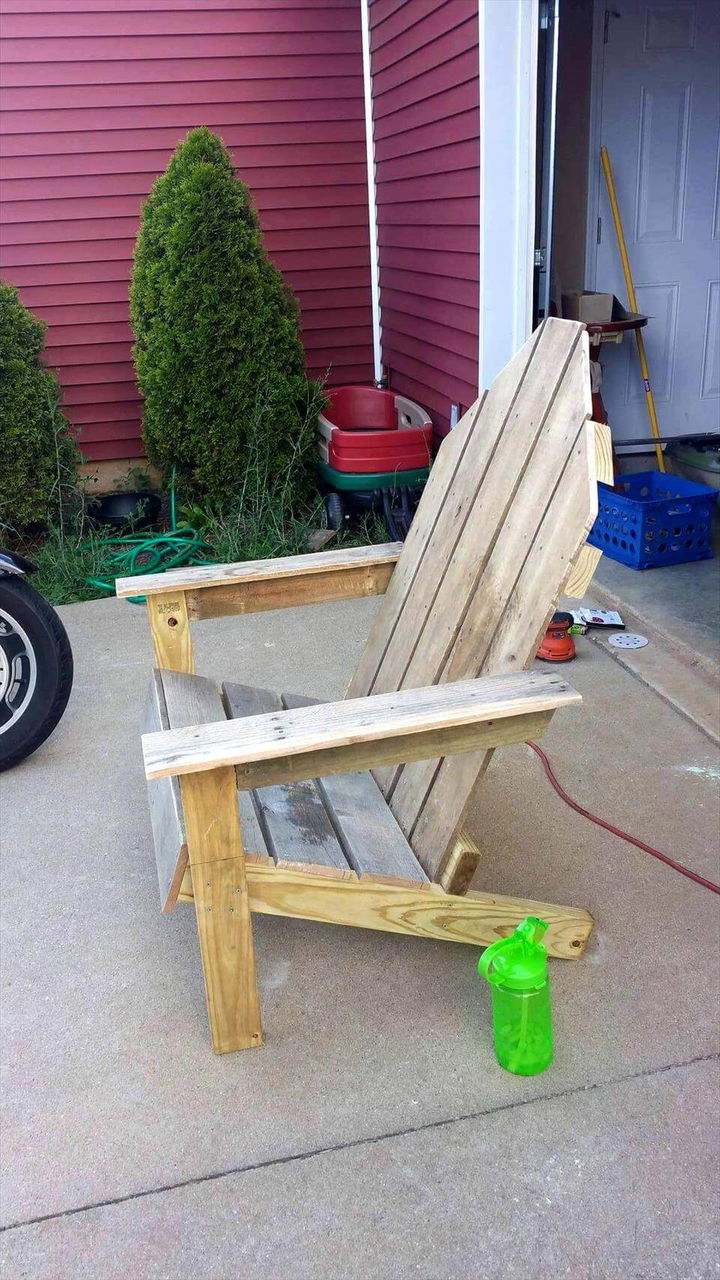 Here backrest position has been made artistic by giving angled cuts so comes with beveled edges! This make the chair look extra cool!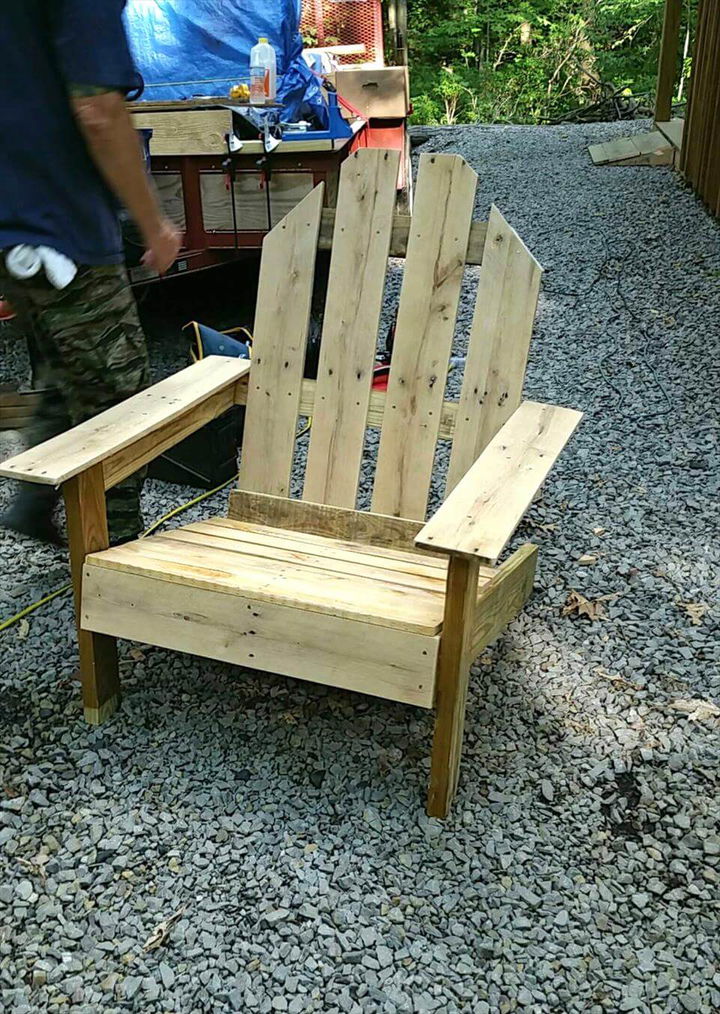 Before you cushion or paint the chair go for a complete inspection of assembly and also sand the surfaces down as this will make the paint layers perfectly settled down to wood surfaces!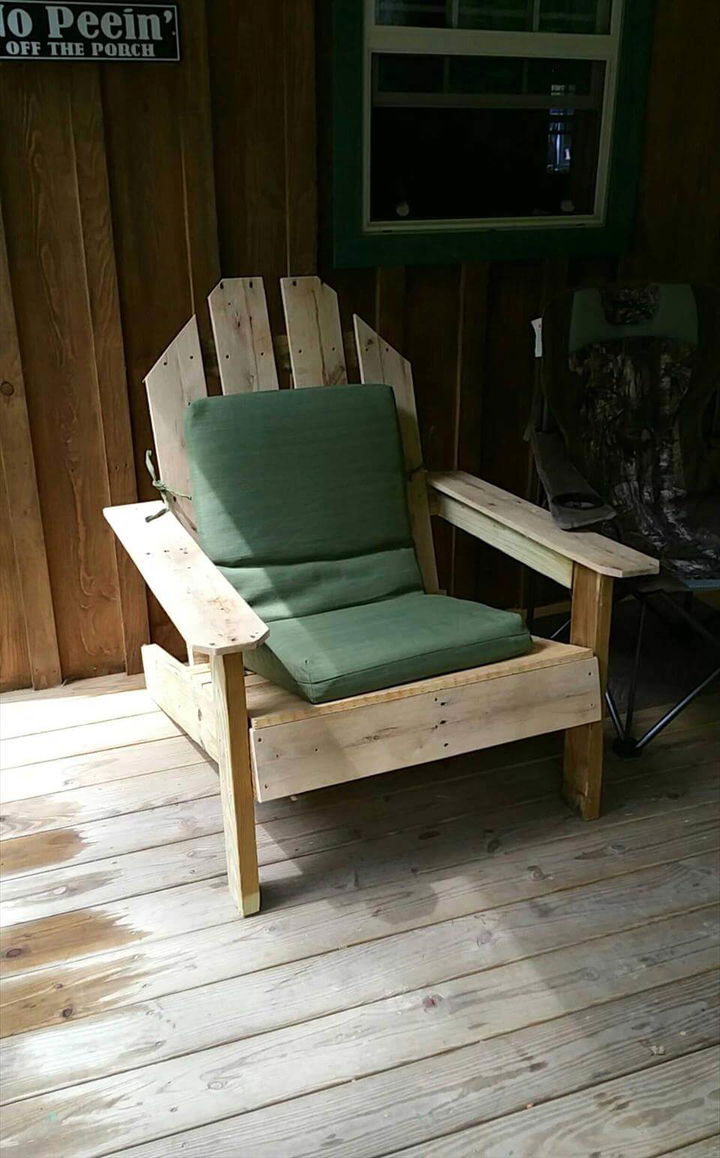 Use the old cushions from home if have any, to comfy up this outdoor chair for soft and warm type of sitting!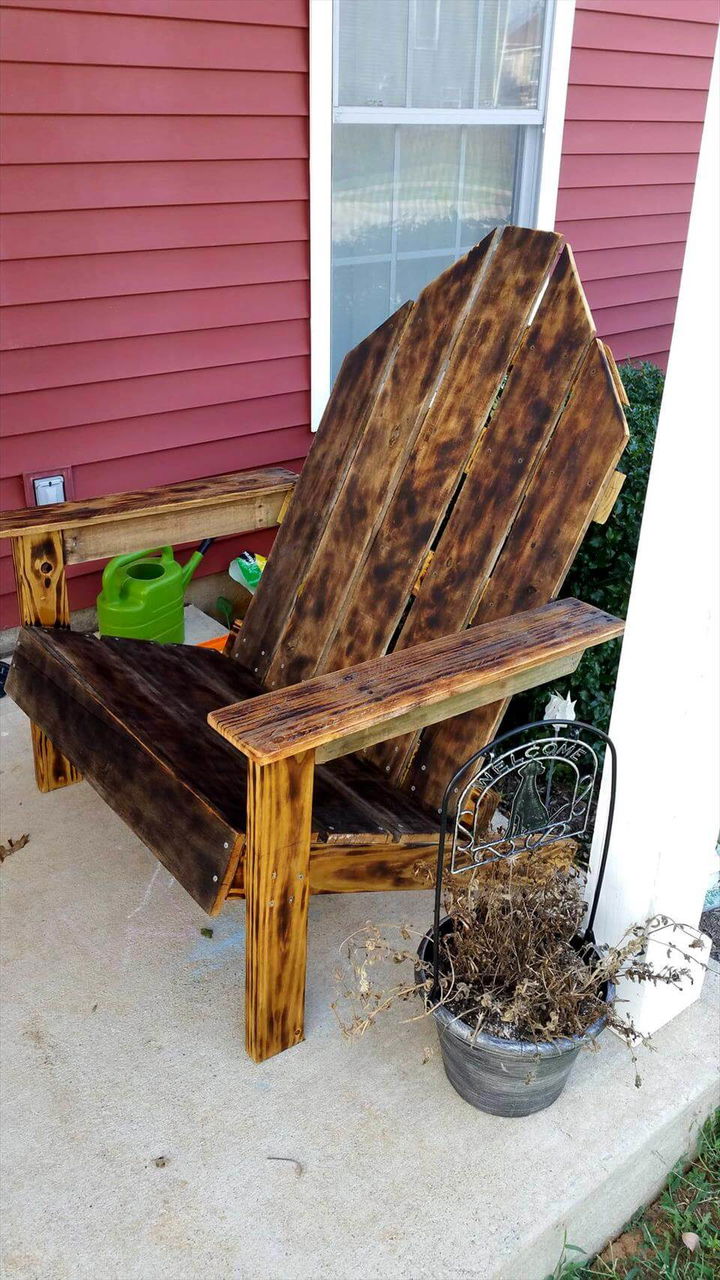 Also get the wooden surfaces scorched by treating them with hot fire flame if you are willing to get an extra rustic or vintage look of the chair!
Made by Corrie Bigelow