With so many different bathroom design ideas out there, settling on a style can be difficult. Using wood in bathrooms is a popular choice for many, and there are loads of stylish and unique ways to incorporate this trend when designing your bathroom. Here, we will take a look at 14 stunning ways to use this natural material in your bathroom, which are sure to inspire you to give creating a wood bathroom a go.
At first, wood might seem like a poor choice of material to use in the bathroom as it is easily damaged if it becomes wet. However, it is easy to find waterproof wooden products for use in the bathroom. The main reason for choosing to add wooden elements to the bathroom is for aesthetic purposes. Whilst all woods are different, they have a few things in common which makes them pleasing to the eye, such as the natural lines and patterns within the grain. Tonally, wood is warm, so it creates an inviting and welcoming feeling in the room, which is another reason why it remains a popular material in interior design.
Why Use Wood in the Bathroom?
Physically, wood makes a good choice because it is durable, which is definitely a worthwhile factor given how much time is typically spend in the bathroom each day. Finally, wooden elements can be incorporated into just about any style, whether it is something traditional or more modern, it can be tailored to suit.
Wooden Bathroom Flooring
One of the easiest and most popular ways to bring this natural material into the bathroom is through the flooring. There are many advantages to choosing a wooden floor for the bathroom – first off, it is quite affordable when compared to other options such as tiles. Also, it comes in many different styles and colors, so there is something to suit all bathroom designs and themes. Wooden flooring is fully waterproof, as it is typically coated with polyurethane, which makes it very easy to wipe clean and dry, and prevents water from permeating the surface.
Pallet Flooring looks great in the bathroom. A darker colour like the one on the right would be more suited towards a large bathroom whereas a lighter colour can make the room appear much bigger.
Wood Walls
If you'd like to try something a little different from wooden flooring in your bathroom, you might instead be wondering which is the best wood for bathroom walls. In fact, the easiest way to achieve this look isn't through using real wood, but rather wooden-effect panels, which give a similar aesthetic but are much easier to care for – they're a lot more practical than using natural wood.
Cladding panels are designed for use in the bathroom and so are waterproof and easy to clean and won't get moldy. Such panels are available in a range of colors and styles, so there is sure to be something to fit in with the theme and color scheme of your new bathroom.
Look at this photo on the left from user Yann Putod. His use of pallet walls looks fantastic. F
The farmHouse Industrial Chic light bulb looks fantastic when lit.
I'm a big fan of designs like this because the rustic look makes the room feel very warm and comforting.
Wooden Bathroom Furniture
Whilst there are many materials used in the manufacture of bathroom furniture, wood is a great choice. All good bathroom stores will have a selection of wooden bathroom furniture sets and individual pieces, such as those found at Bella Bathrooms. It's possible to find all types of bathroom furniture made from wood, and there are different colors and styles to fit all looks and tastes, whether you are going for a contemporary or a traditional feel.
Wooden Bathroom Cabinets
One of the simplest ways to incorporate wood into the bathroom is through the installation of new cabinets. This is a great option if you're not looking to redesign the entire bathroom, and can be a budget-friendly way to get this look. Again, there are many different tones and styles to choose from, so no matter whether you are going for a modern or a traditional look, there is sure to be something suitable. So long as the wood is properly waterproofed, wooden cabinets work well in all bathrooms. This is a good place to start if you are not sure about using too much wood in the bathroom, for example by choosing wooden walls or floors.
Wood Shower Walls
If you like the idea of using wood for the bathroom walls but are not sure about doing the whole room in this style, why not consider equipping the shower area walls with wood instead? This can make the shower the statement piece of the bathroom and gives it a cozy, relaxing, spa-like feel. Again, wooden-effect tongue and groove panels are the easiest way to achieve this look – they are designed to resist water damage unlike natural, untreated wood, and are easy to wipe clean after showering.
Contrasting Materials
Mixing materials and different textures can be difficult to get right, often looking too 'busy' when done incorrectly. However, when done well, the results are outstanding. Adding wooden elements is a sure way to make this trend look great – it adds coziness and warmth when used in combination with cooler tones and different patterns.
Wooden Accent Pieces
It can look great to use a little wood along with other textures and materials in the bathroom. Wood can be used as the main material, or instead, choose to add subtle touches to add interest to the space. For example, it could be something simple like a plant pot, frame or even a small shelf to add contrast. This is a very good way to approach this trend without giving the bathroom a complete overhaul and is budget-friendly and simple to do.
Natural Wood Accessories
Wooden accessories can bring a natural, bohemian feel to the bathroom, and are another subtle way to bring this trend into your home. Interesting pieces such a tree stump can be functional as well as visually interesting in the bathroom. They can be used as a table-top or a stool, and also add interesting texture to the bathroom. This is an interesting way to add coziness and warmth to a bathroom which might otherwise be somewhat uninspired.
Wooden Ledges
Another simple and subtle way to bring wood into the bathroom is through well-placed ledges. A narrow strip behind the sink can break up an otherwise quite plain wall, as well as providing storage space for bathing products or displaying other interesting pieces such as ornaments or small potted plants for example. Wooden floating shelves also work well to give this look and feel.
Vanity Shelves
Rather than choosing a traditional-style vanity unit, why not consider thick pieces of wood to achieve a look which is equally practical yet much more stylish. Use one around the sink and another underneath, for storage and display of towels and other necessities. You can choose wood with a nice tone and pattern to really make your sink pop as the focal point of the bathroom.
Wooden Pallets in Bathrooms
If you are looking for something even more unique than the ideas suggested so far, perhaps it's worth considering pallet ideas for bathroom – this a great project for DIY lovers! Many of us who enjoy DIY projects will appreciate the usefulness of a pallet, and even better, they tend to be free or very cheap, so they are great for doing a bathroom redesign on a budget. The possibilities are endless when it comes to pallet bathroom ideas – they can be used to make just about anything you might need and can be finished in a variety of ways to suit any interior style.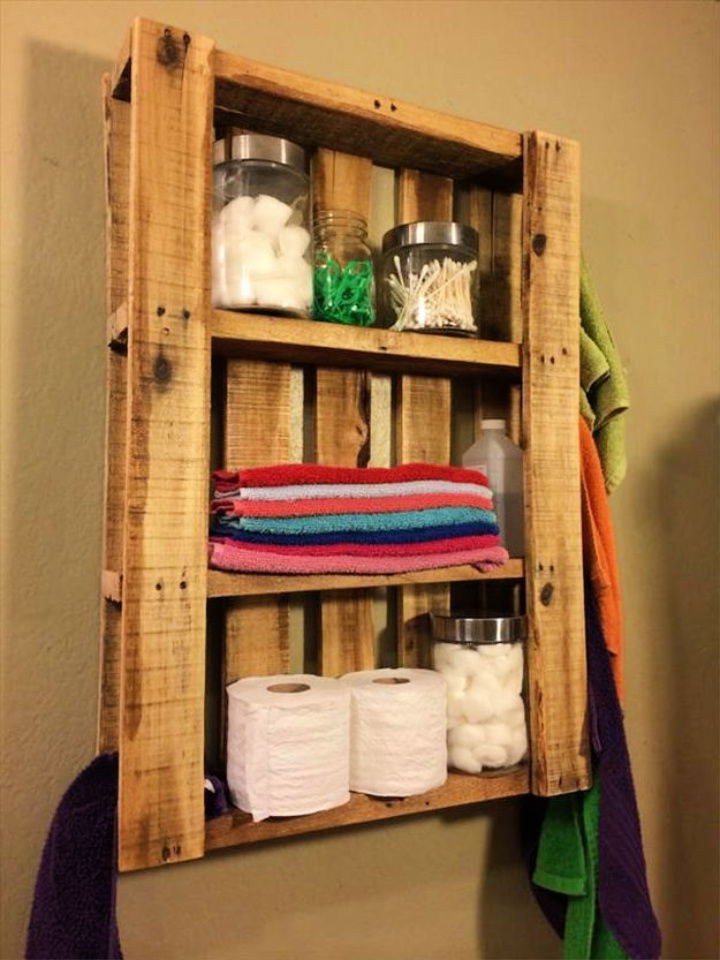 DIY Pallet Ideas for the Bathroom
Let's now take a look at some of the ways in which a pallet can be used to make attractive and practical pieces for the bathroom. If you prefer to start off with something small and simple, an over-bath tray is a great project. Some similarly easy projects might be a shelving unit, a frame for a mirror, or perhaps adding some hooks to pallet wood to keep towels and bathrobes hung up neatly.
For those who prefer more of a challenge, there are loads of other ways to use pallets to give your bathroom an entirely new look and feel. Pallet wood can be used to cover an entire wall, or could be used to make a full-sized vanity unit. These are great projects for advanced DIYers to enjoy and are an excellent way to give your bathroom an overhaul at a much lower cost compared to visiting a bathroom specialist.
Conclusion
There are loads of traditional and modern ways to bring this natural material into your bathroom, whether you are looking to add some subtle accessories or to give your bathroom a whole new look. Wooden walls and floors are always stylish, but using pallets is a fun way to bring a shabby-chic look to your bathroom too. The possibilities are endless, and there is a wooden bathroom idea to suit every home, and every budget.