Being short on space, it can be a challenge to decorate and furnish the home so that it is stylish, cozy, and optimized. Wrong choices can result in an apartment feeling overwhelmed and cluttered. Below we gathered 7 design tricks so that even non-designer can create a home that feels surprisingly spacious and open. Check them out!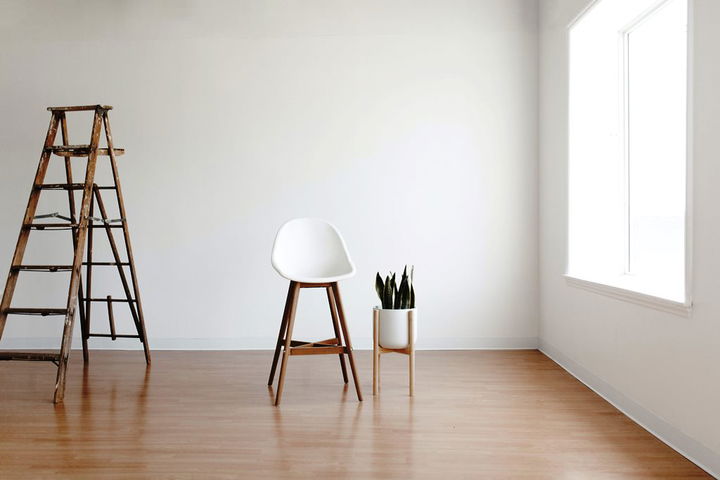 1. Color Palette Makes A Difference
Colors create a mood and can dramatically change a space. Choose colors carefully. It's better to opt for a light color palette because they make a place feel more roomy and spacious. Paint walls in light (or even white) and then add some bright and accentual items like pillows, decorations, and so on. It will help to add stylish contrast and break the space up. All left to do is to pick the color palette you like most of all.
Does it sound too complex? Nothing of the kind! Using such a color tool as VistaCreate it's much easier than you think. No professional skills are needed. There you can use either premade palettes, or create your own. Just follow the tips and get fantastic results.
One more tip: use color to differentiate each space. It should be the colors of the same palette to make it feel cohesive, yet, accentuate different areas to make it stylish.
2. Lighting Does Matter
When it comes to small spaces, it's crucial not to rely on a traditional and single overhead light that is placed in the middle of the space. Forget it in case your goal is the creation of a balanced space. Different table/floor lamps can not only give the illusion of a bigger space but help to create a cozy environment. Also, you can replace a few floors and/or table lamps with wall lights to free up valuable floor space and effectively use wall space.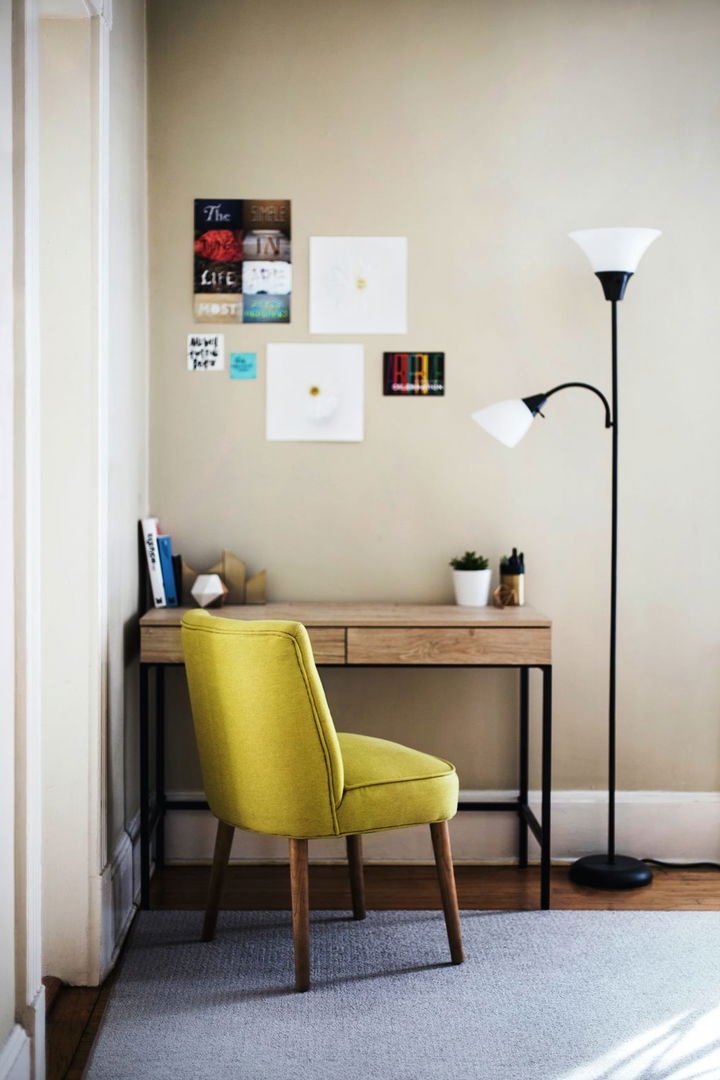 3. Declutter Is A Must
Having limited space, you are to rid of some items that no longer fit your new look and atmosphere. What's more, it's better to opt for clever storage to optimize some certain items like keys, various charges for phones and other gadgets, and so on that just can't be thrown away. Today, there are tons of solutions that are made for hiding these needed items while adding style to the overall design.
4. Furnish It Right
One of the most challenging points of room decorating is furnishing. Wrong choices can bring to naught all your efforts. So, here are a few tips for optimization of your space:
It can be a true surprise, but small furnishings can actually make a space look uncoordinated and much smaller, and too large furniture makes it feel cramped. Thus, a happy medium is what you need — just match the furniture with the size of your room. Slim, sleek, and floating furniture is the best decision for small spaces to keep them airy.
Choose furnishings that serve multiple purposes: sofas featured with a storage ottoman, nesting tables, and so on.
Floor-to-ceiling built-ins.
Take advantage of your vertical space — use the floor-to-ceiling built-ins like bookcases, wardrobes, and others. In such a way your room will feel larger and the ceiling taller.
They offer you much more storage options and save precious floor space. Fill in the gaps around the wardrobes by boxing out the space with plasterboard to create a seamless look, making your wardrobes blend almost invisibly into your room. Paint them out to match the walls so as not to even notice them and give the illusion of more space.
5. Floor-To-Ceiling Approach
Don't just think horizontally but go vertically. It's an effective way to create and optimize space. You can use non-standard doors and curtains. Here are 2 effective tricks to bear in mind:
Full height doors to give the illusion of a really tall ceiling. Warning, it's not a budget solution that involves some building work. Yet, the result is worth that.
Wall-to-wall curtains make the window feel much bigger and accentuate the floor-to-ceiling height of the room. However, don't add too much detail, and opt for simplicity and texture.
6. Mirrors and Artworks Do Miracles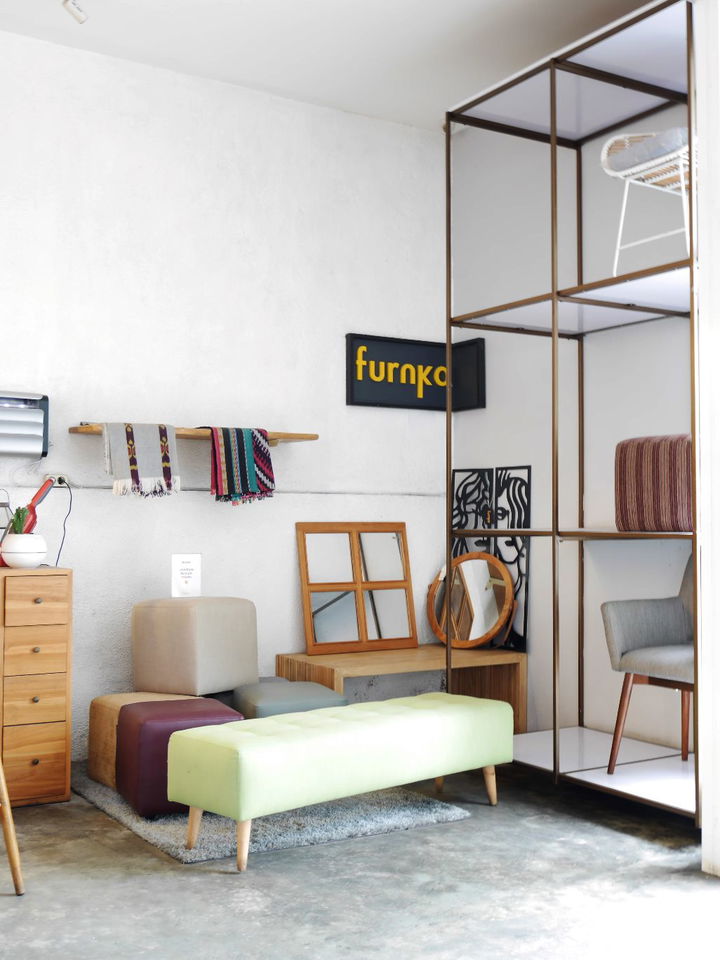 One of the simplest methods to make a small space feel larger is to use mirrors. Feel free to use mirrors of any shape and size to fit the style of your house/apartment. Yet, the longer and the wider it is, the better.
One more way to make your room larger is to clad some walls with a mirror instead of an individual standing item:
You get more floor space;
Reflection instantly doubles the feeling of space and light.
Don't neglect artworks on the walls. Not only can they add a specific mood and style to your space but give the illusion of a tall ceiling. Just hang paintings and other framed pieces as high as possible to get the expected result.
7. Glazed Doors and Walls Do Work Well
Create the illusion of a larger space by replacing solid walls and doors with glazed versions. It's also a way to create a cozier vibe in your apartment/house. Also, you can use a sliding door between living spaces instead of a traditional swing one. It takes up less space, maintains the feeling of open space whether open or closed. Yet, mind that it's more likely that a fire-rated glass is required so that the house/apartment was still safe. What's more, a consultation with the management company is needed before making any alterations.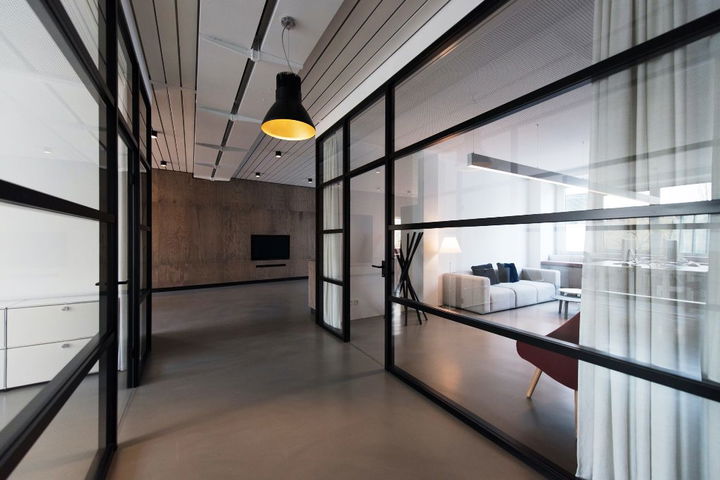 Takeaways
Small space is not doom. Following the tips described above, you can not only optimize your apartment but make it really stylish and functional. Use the right color palette, lighting, furniture, doors, and wall decorations to optimize small spaces and make them feel and look bigger.