Sky is the limit for the ideas to make this wooden bar personal! First of all you can vary its wood tone using numerous different and easily available stain shades which will help you to show this wooden bar in any custom avatar you may prefer either for your indoor bar or for an outdoor one! After stain, the paint would be all best options to personalize the hue of entire bar model, will all help you to create single color dominant look or a rainbow avatar of the bar!
You can design the personal logos if you are obtaining it for a bar shop and if you have intended it to gift to someone special, then logos can be replaced with the name letters of the receiver! Use also the custom symbols, metal accents, and also make the artistic cutouts in the front of the bar for more delightful views of it! using LED lights across the boundary and mini bulbs buntings all around the counter would also, would also be a decent way to make the entire bar illuminated nicely at night for a distinctive decorative look!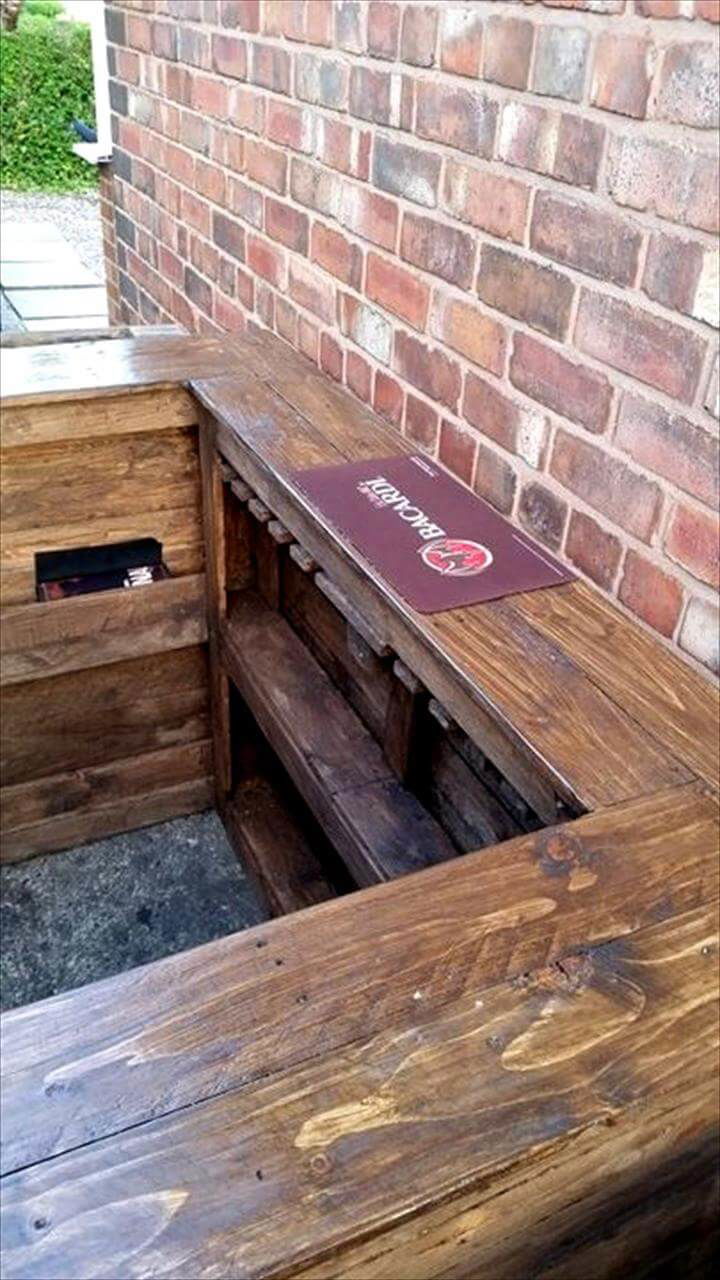 Now this bar table is all ready to grab for an indoor bar installation, as here it has to be used at outdoor, so a shelter or mini roof is also must to add to it to avoid the sun rays to burn your skin while being standing in the bar!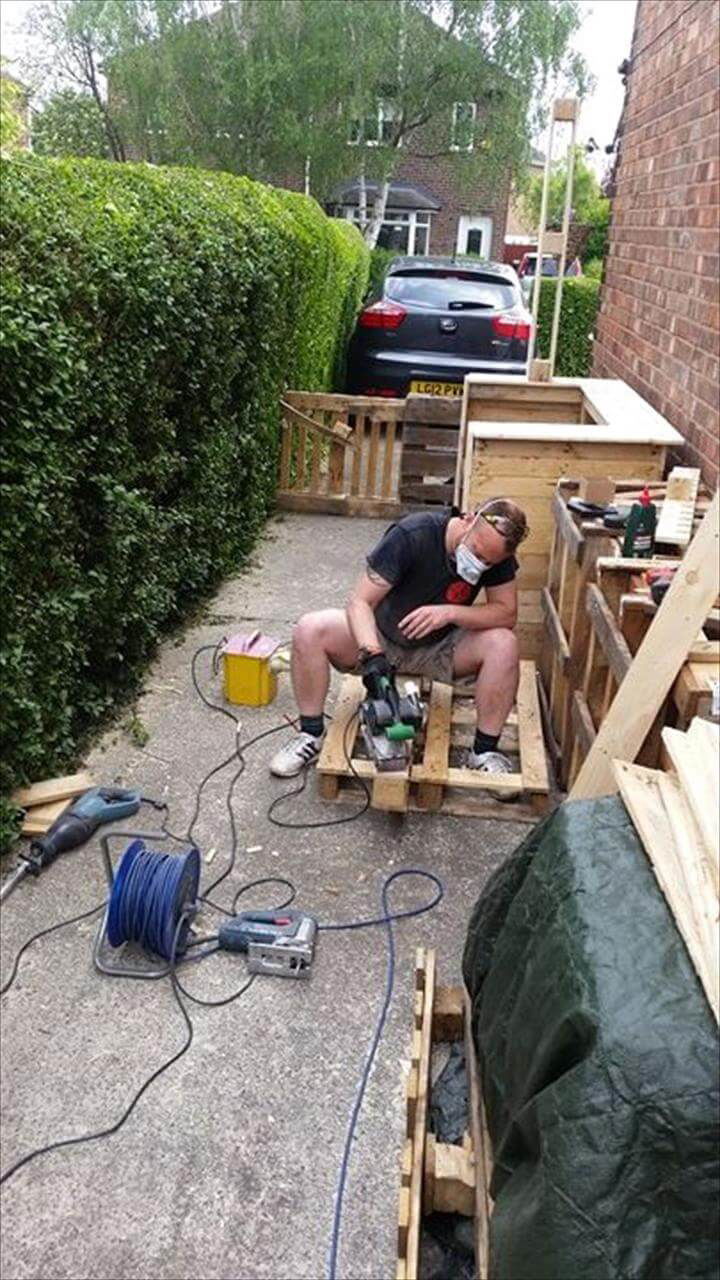 Have some more pallets in hand and just separate the dice sections from them as they are all to serve as pillars for the roof here, two healthy and robust looking dice sections would be all awesome to install the roof or shelter to this wooden bar!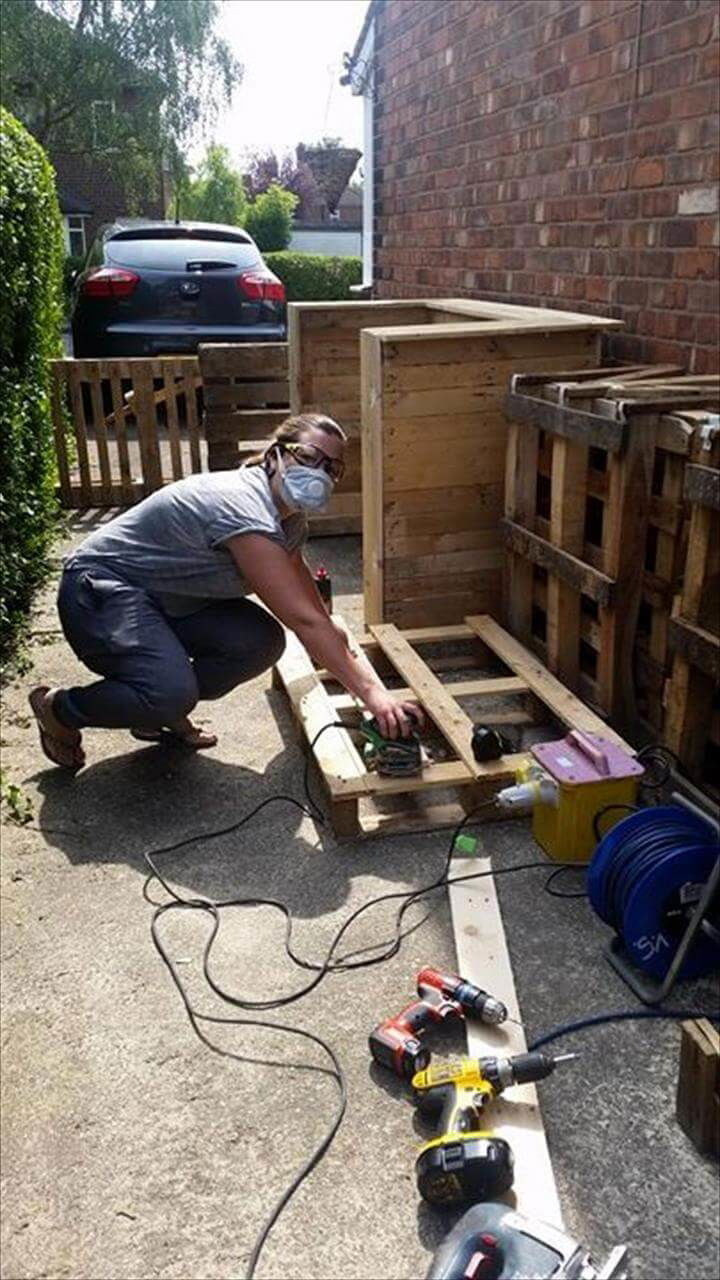 Again the sand the pallets to make the dice sections in them all splinter free and just make the fine cuts to separate them from the pallet wood frames!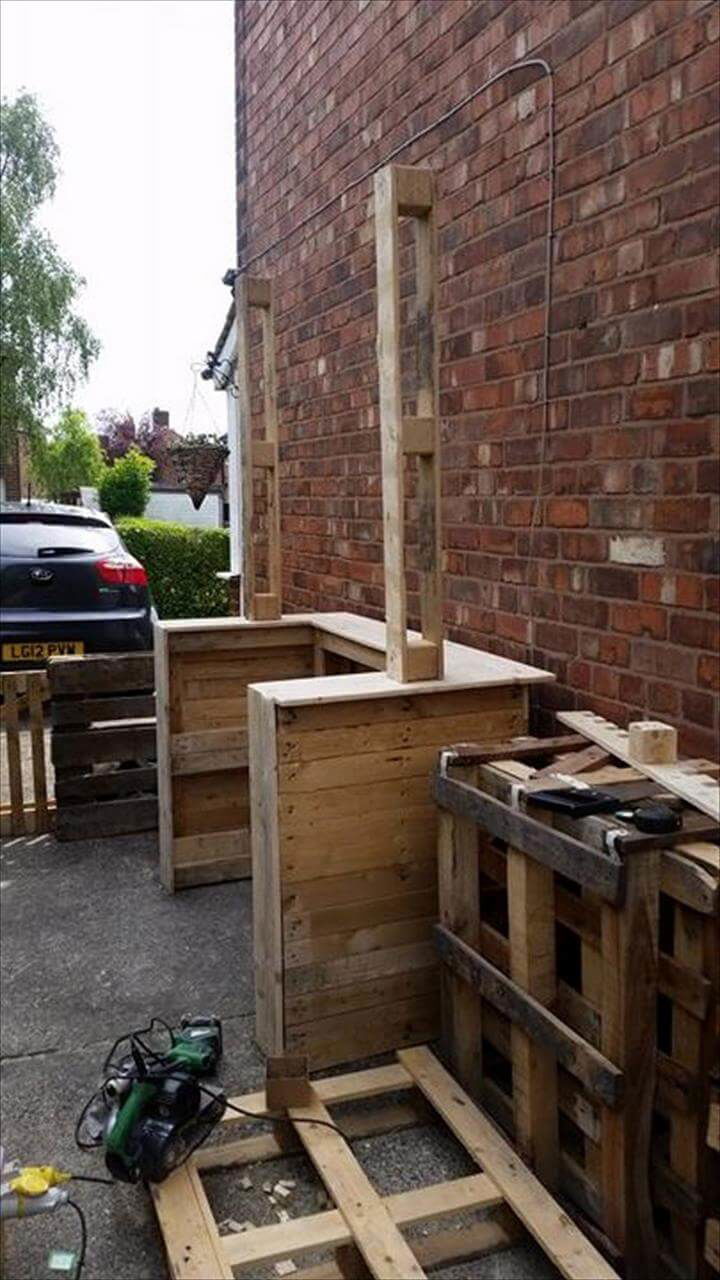 Here is plan that how this pallet dice section would serve as beefy pillars for entire roof installation, do make sure that selected dice sections are clone to each other or have the same length, height and width as a little difference in size of pillars can cause a sudden injurious fall of the shelter!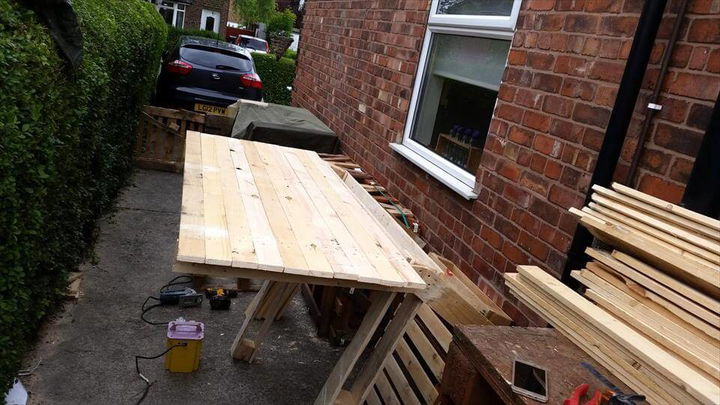 Hold together both these dice sections by installing an extra wooden cross beam support which should have the length equal to total bar length! This cross support would serve as the central ridge for the chevron roof! Also install the frames for chevron roof wings and just go fill them up by putting together pallet slats flat over them as you can see!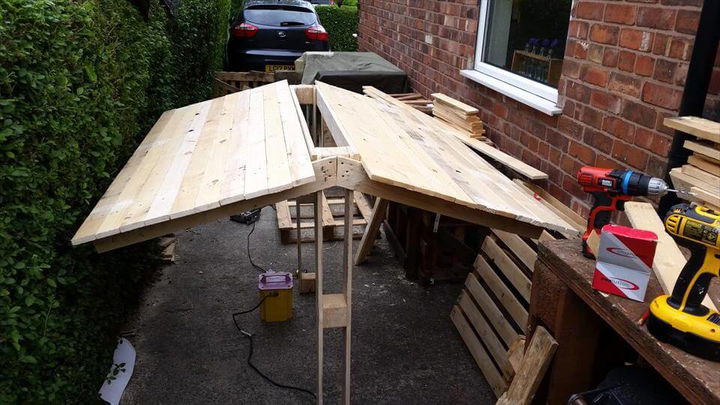 Fill the other side and a perfect chevron roof like shelter is all ready to install to your bar counter for sun protection, installation of this shelter is all here a most precision taking task in entire project!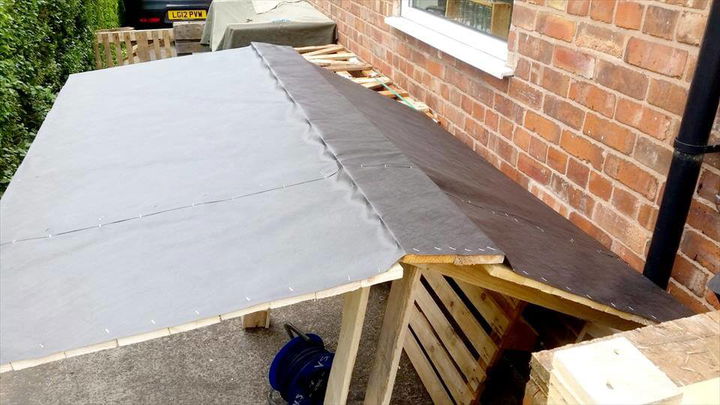 Rainwater may cause a big disturbance sometime so roof has been intended to cover with waterproof fabric and after spreading the fabric well over the roof without any crease, the sides of it has been stapled to wooden borders for an all tight and lasting fix of it!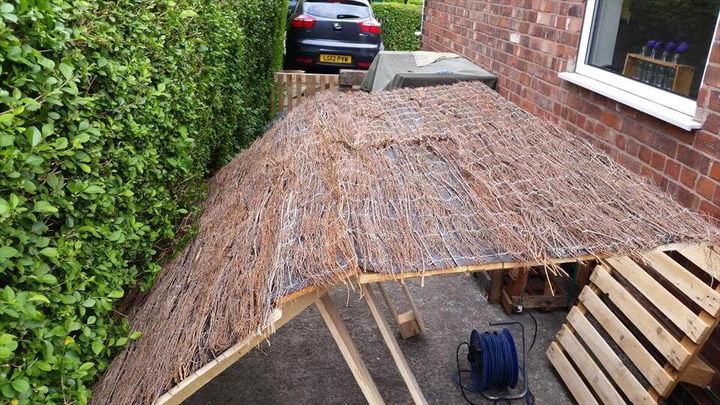 The roof overlay is a straw sheet cover which all gives a fancy antique touch to this shelter and hence to entire handmade bar model, is sure to create bigger statements of decors if you are to use this bar in your backyard space!
Roof is all ready now you can have to take lot of care while lifting it up to bar counter top, just make a grip to pillars while lifting it over, don't touch the chevron roof wings!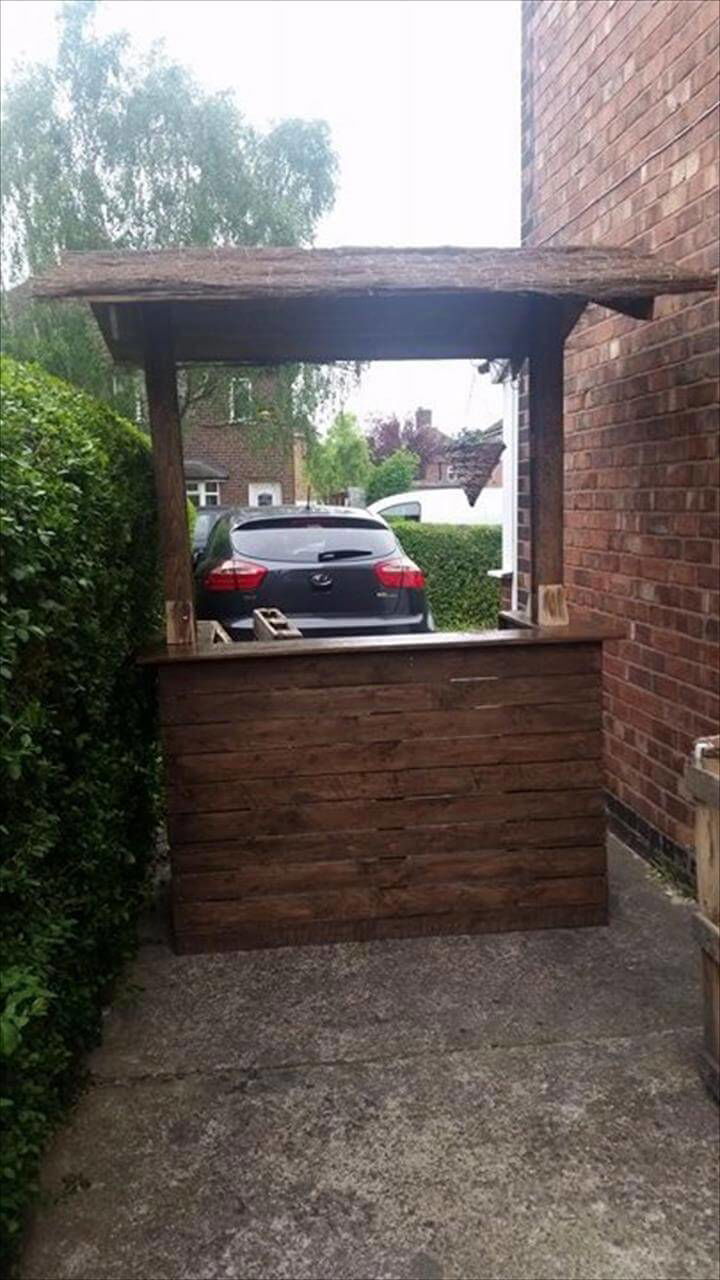 Use the triangular wooden supports to hold the bottoms of roof pillars tightly over the bar counter and grab a no-cost bar to organize your patio, garden and backyard for spare time beverage parties!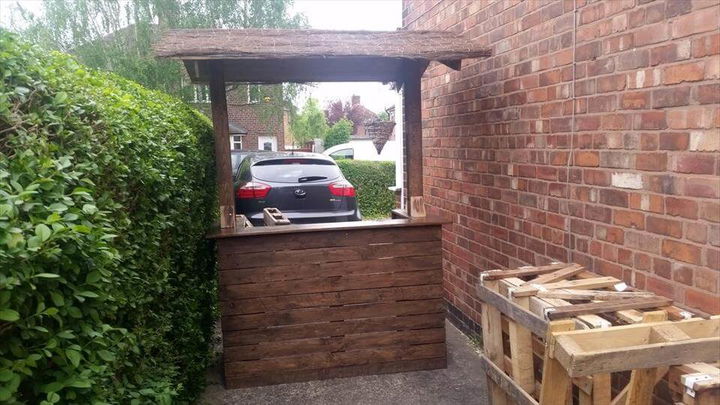 Do stain the roof for a perfect match and you can make the pocket holes to fix tight the triangular roof bottom supports over the counter top, here using of latest hardware is all recommended!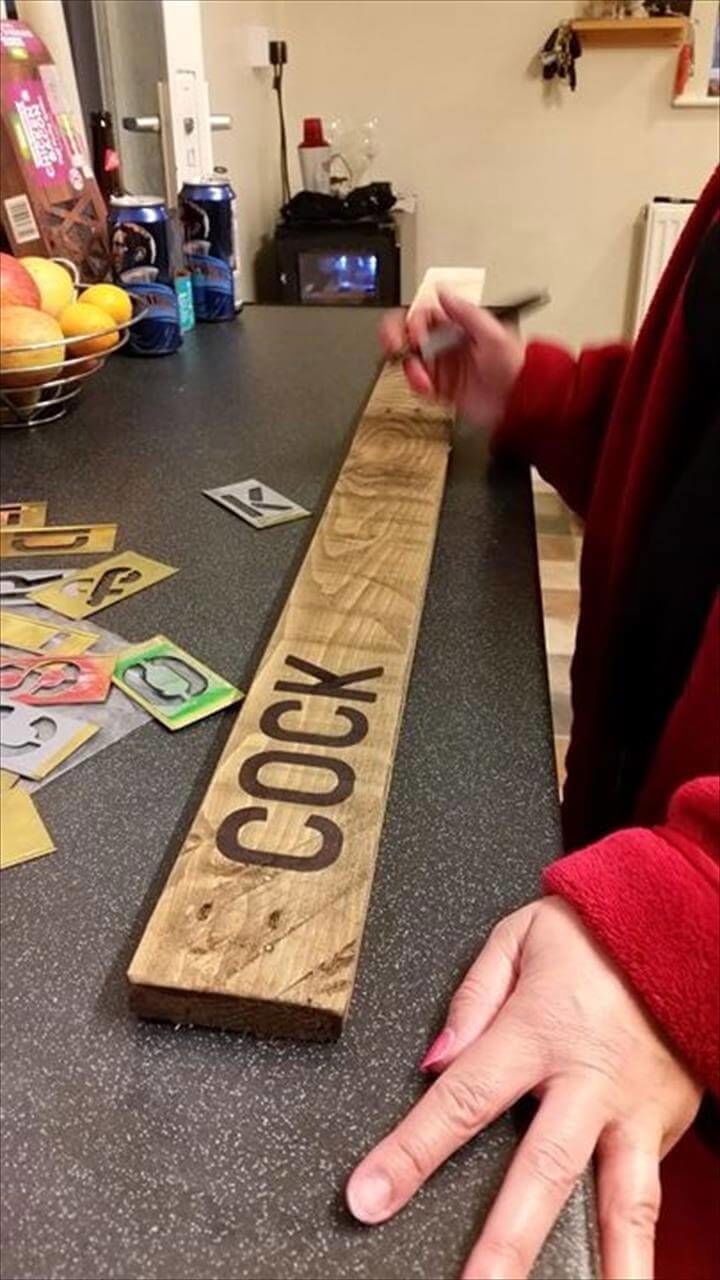 Now time to make the entire bar personal, there may be too much to do in this respect, but here an only name plate has been decided to mount on the bar-front, and this name plate is made of single pallet slat and custom letters have been written over it using stencil letters and black paint!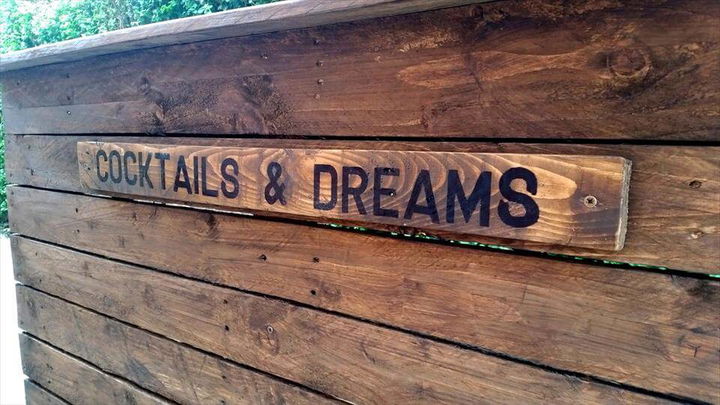 By putting the screws straight through both ends of name plate to bar front wall, the name plate with "COCKTAILS & DREAMS" written over, has been mounted over and you can also go with custom logos, metal accents and lights while making this entire handmade bar personal! Paint would also be a good choice for a totally changed modern and colorful avatar of it!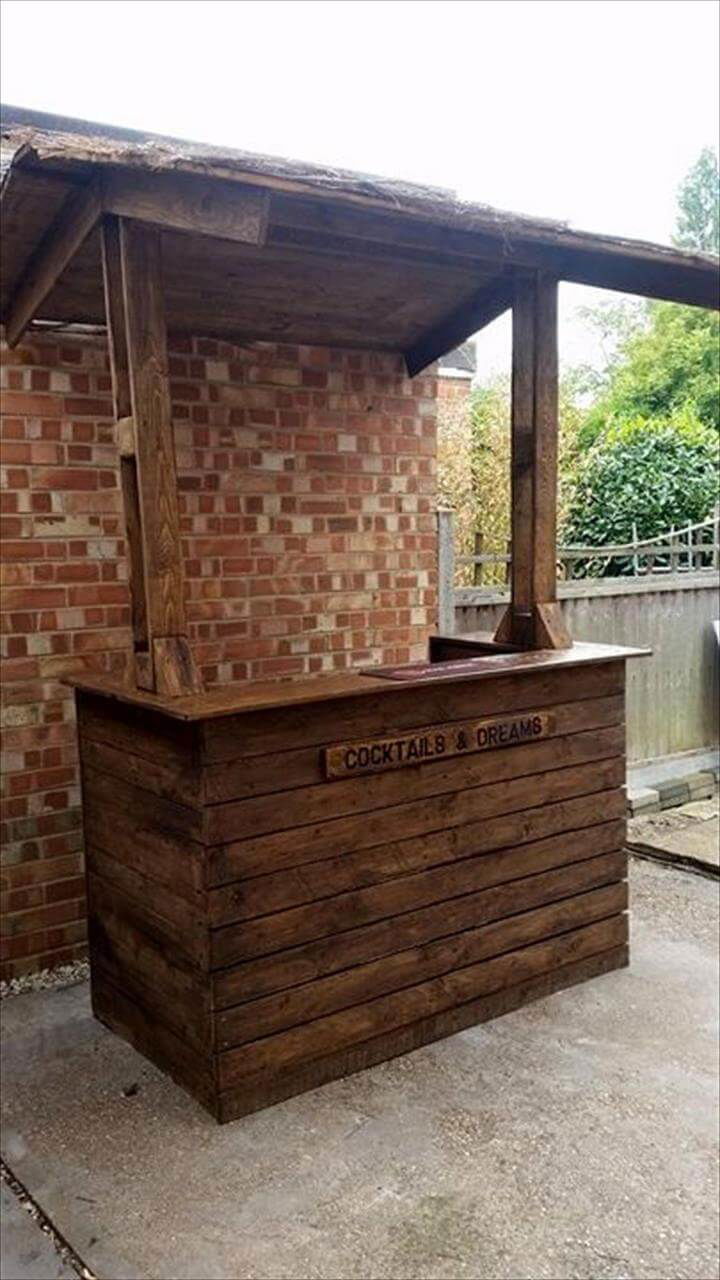 The finally finished, weather protected and personalized pallet bar design with shelter, is all ready to add to to your outdoor bar shop or to backyard drink corner! It would also make an all pleasing Father's Day gift and due to being handmade would earn more praising comments for you!
Made by: Jay Davies