You can make the outdoor bars look different from the indoor ones, the outdoor bards much come with the shelters or roofs while will not allow the sun rays to roast your skins! And there may be incredible different suggestion to install custom roofs to your finally finished bar designs! First of all you can prefer the old home metal pipes which can be fixed to very corners spaces of bar counters and can help to support the chevron or tilted bar roofs!
Second way is to install the wooden pillars which can even be made by laying the longer pallet slats together as show in some of suggestions! Using woven straw covers can also give a more antique and rustic appearance to your bar which would all look decent in your backyard! One can even use the bottle wooden corks and metal bottle caps to give mind-blowing variations, patterns and textures to bar counter tops and you can see some of interesting examples about this listed in this given collection!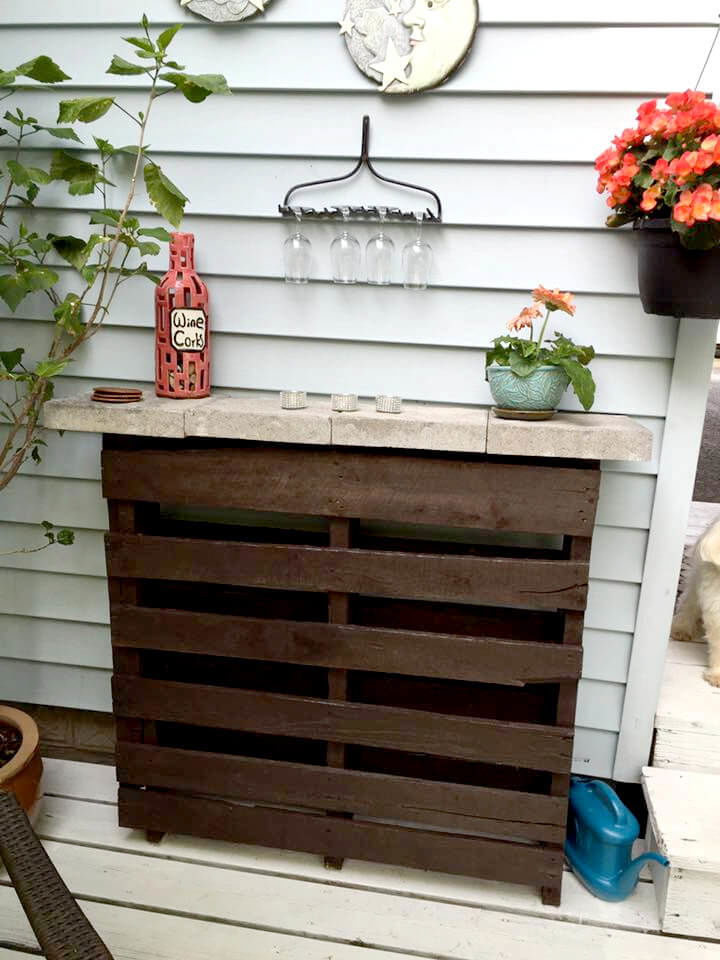 One choco painted or dark stained pallet board here that is also having short wooden legs, have been given a fab lasting top by putting together 4 concrete tiles, this gives a slim bar design that can be fit to any narrower space also! An old head of a garden rake has been mounted over the wall to give a fab beverage glass rack!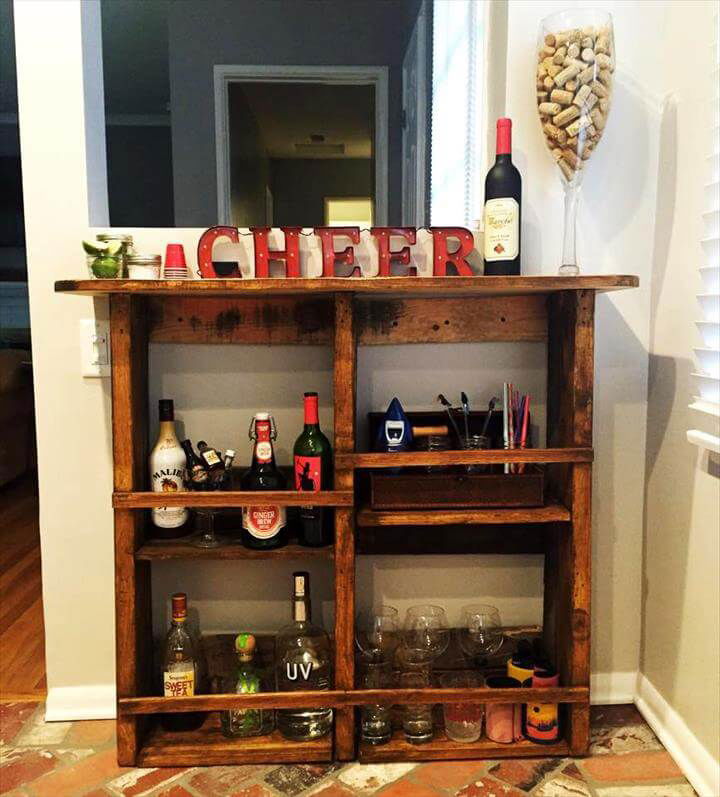 There may be tons of choices to build custom bar tables out of pallets, this is here another great one having built-in storage shelves or compartments for beverage glass and beverage bottle storage and there is raised edged counter to prepare your drinks by standing in front of it!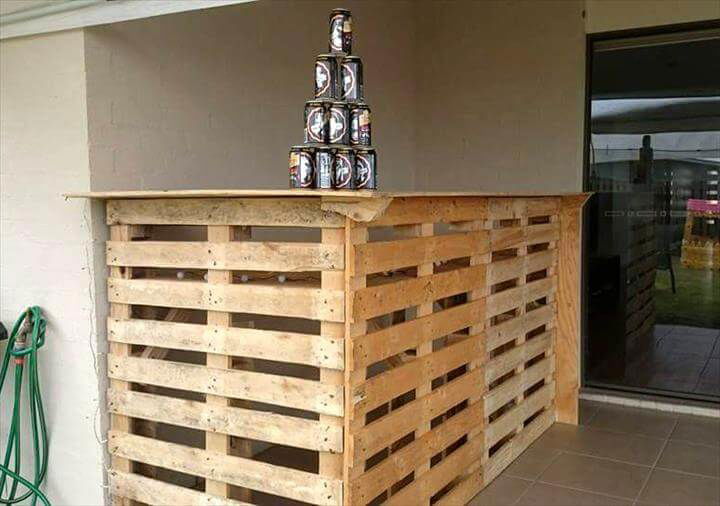 Going handmade with pallets also gives you an extra bonus which is that you can built your bar design is any custom dimensions according to measured area of your targeted space! Here is an larger self-made design of pallet bard having a little in between spacing that makes it more visually attractive!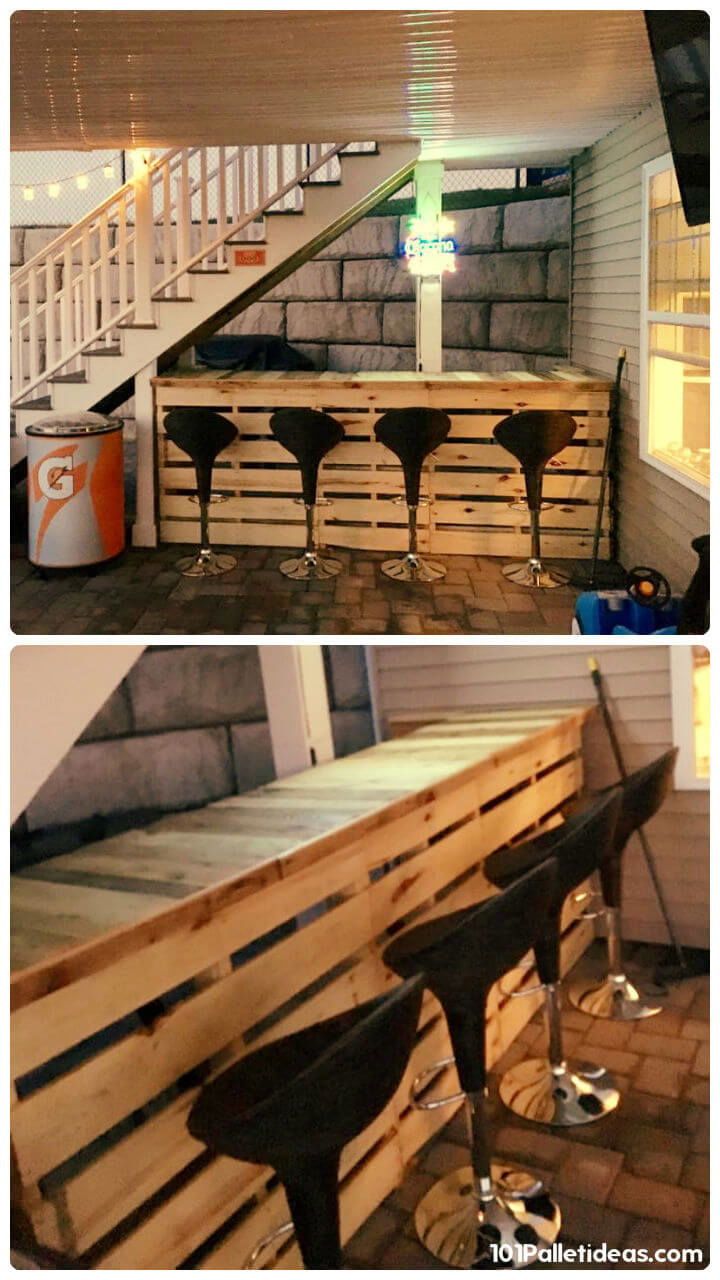 Here area under-stairs has been decided to install a bar and custom bar table has been crafted with pallet to fit best to decided area under-stairs! Tight filling of pallet pieces have been done for robust wooden top! Paint it or mount over the custom logos and signs if you want to make it personalized cleverly!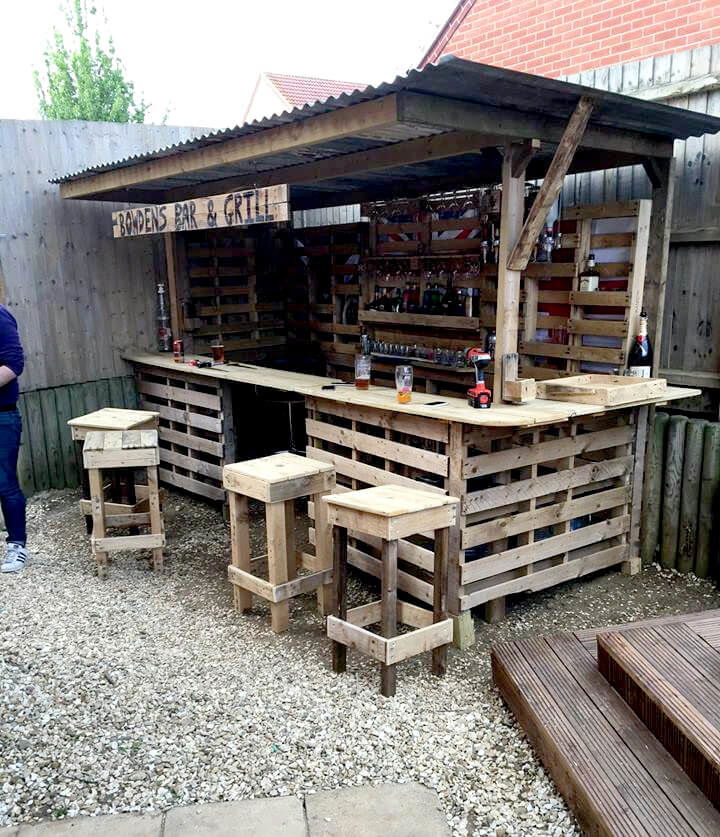 This is here a fully featured garden bar having a big bar counter and custom beverage bottle racks fitted tightly over the inside walls! This bar has been installed to get all at one place so is having extra ordinary storage features and there is also a roof for protection against sunshine!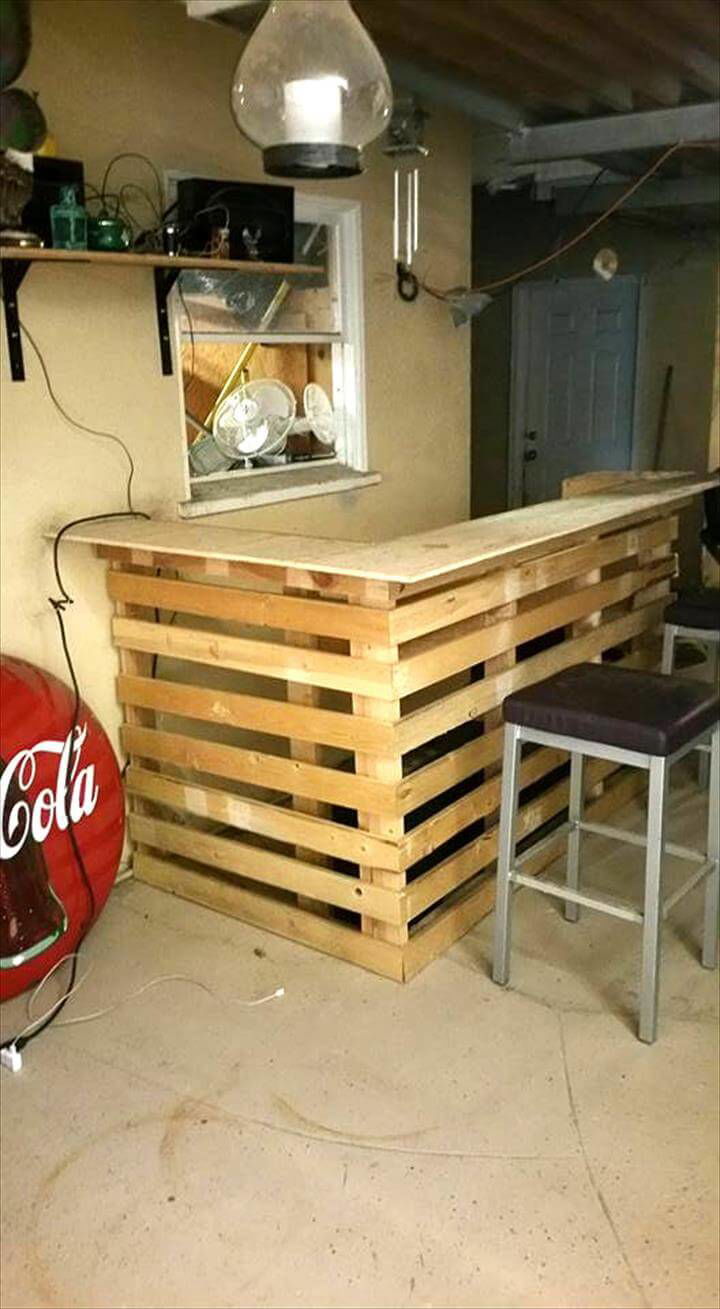 This is also something self-made, a pure wooden and beefy bar, having a precious L-design and comes with a super smooth and slim counter top made a little bit edged just to give it modern furniture elegance! It is all waiting for additional paint coats to look modern if you want!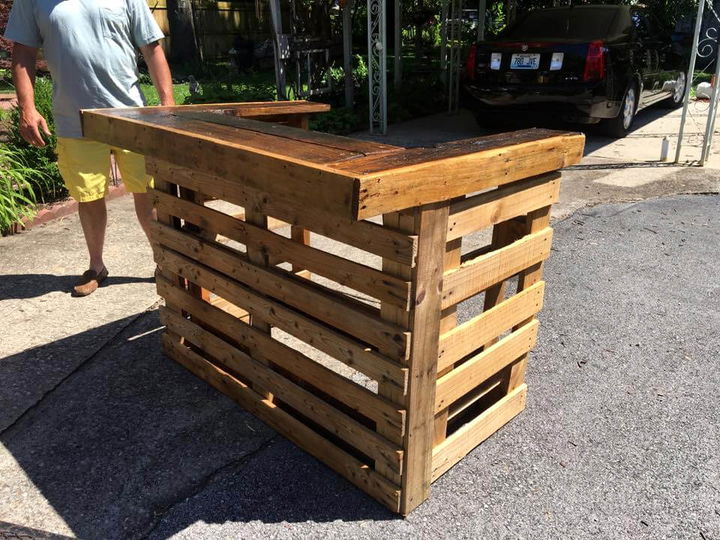 Boost your outdoor fun affairs by installing this custom handmade beefy bar there, having all thick counter top which has been finished with wood oil for a stunning sparkling appearance! You can get it there at your outdoor for preparing beverage glasses for on going outdoor parties!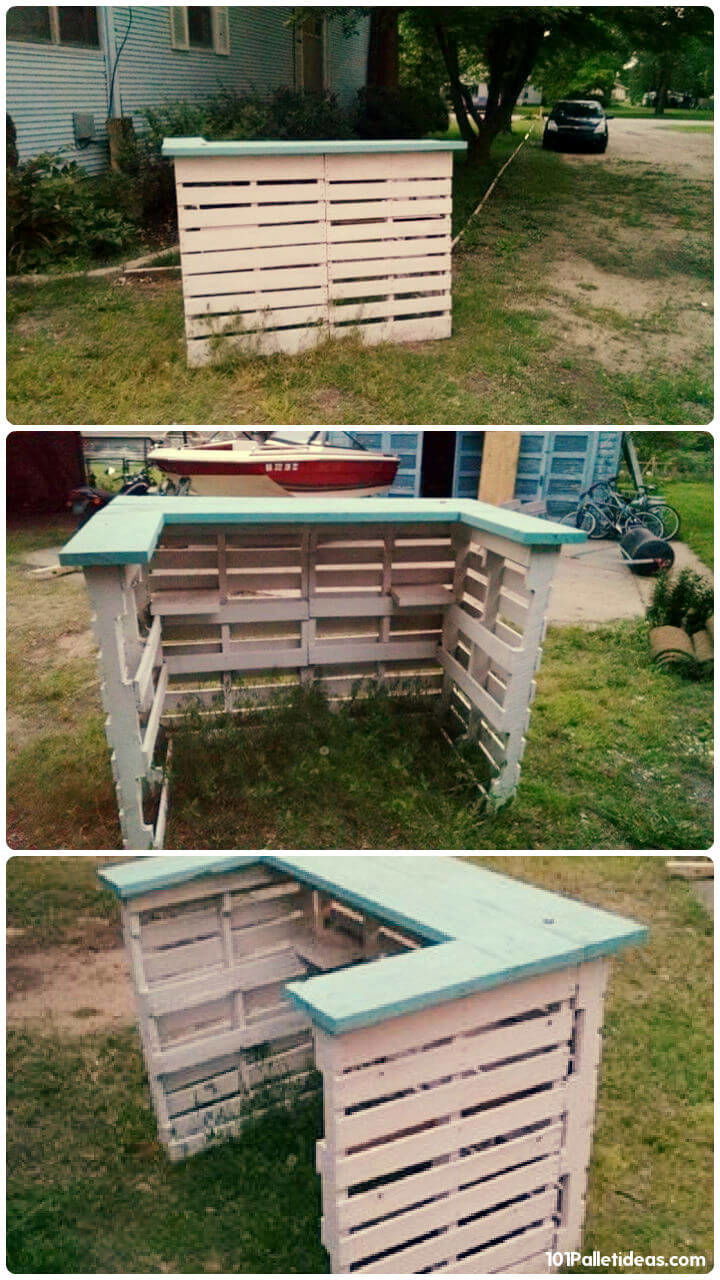 If you just love colors then this creamy white bar with turquoise counter is sure to go deep in your heart, all designed at home using nothing but rustic and retired pallet skids! There little shelves inside to organize the respective material also!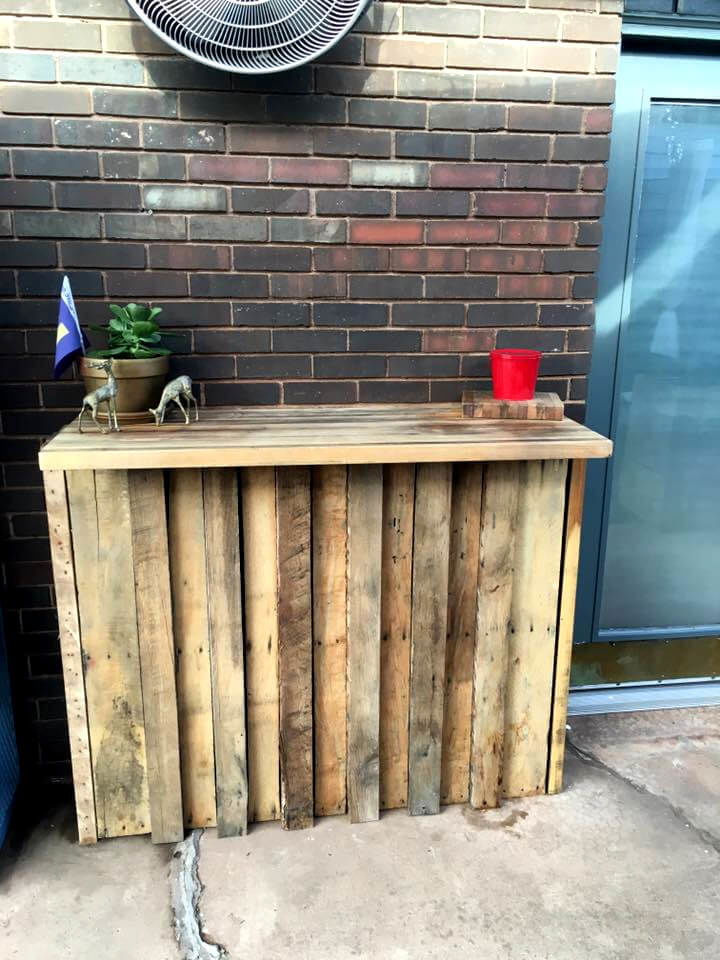 Really want something extraordinary to give an super antique touch to any of your living space, this wooden pallet bar is sure to rock for it, besides of it basic functions it hold some centerpieces at its top for amazing decorative statements, so would also make a decorative console along with a beverage point!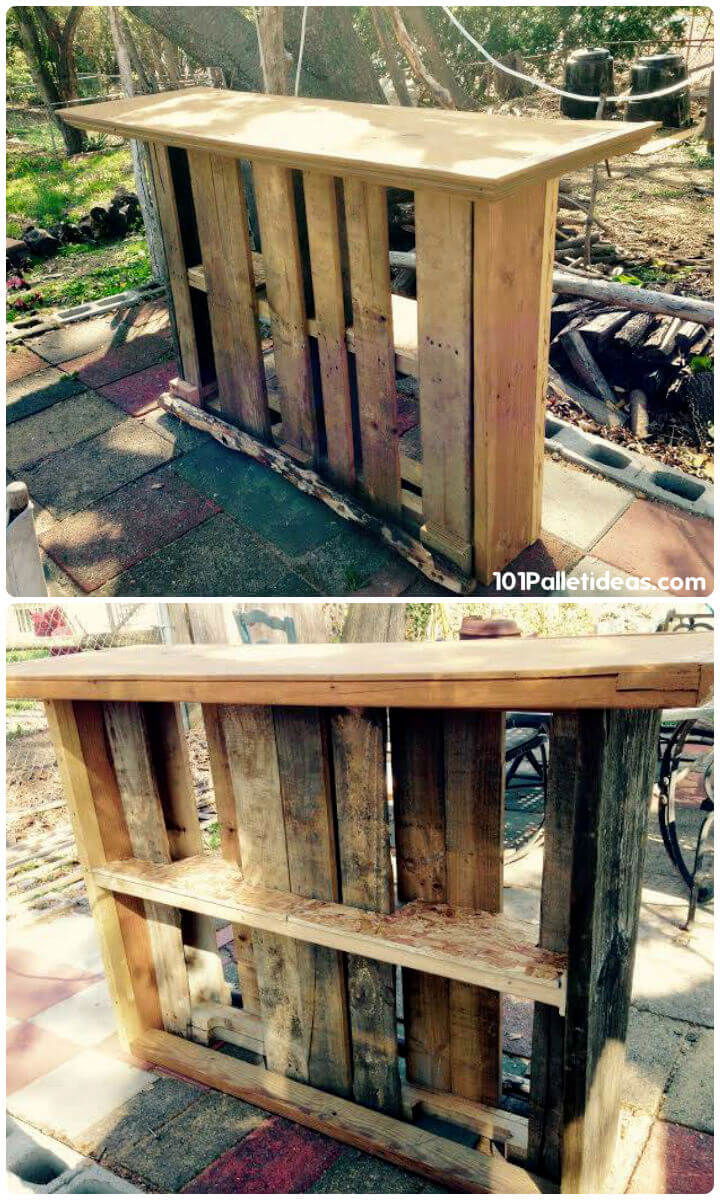 This is here the slimmest pallet bar design made of one pallet board only and also by using little odds and ends of plywood making the built in shelf smooth and eye-captivating! Can be sanded well and then can also be stained and painted for any other particular look than this rustic one!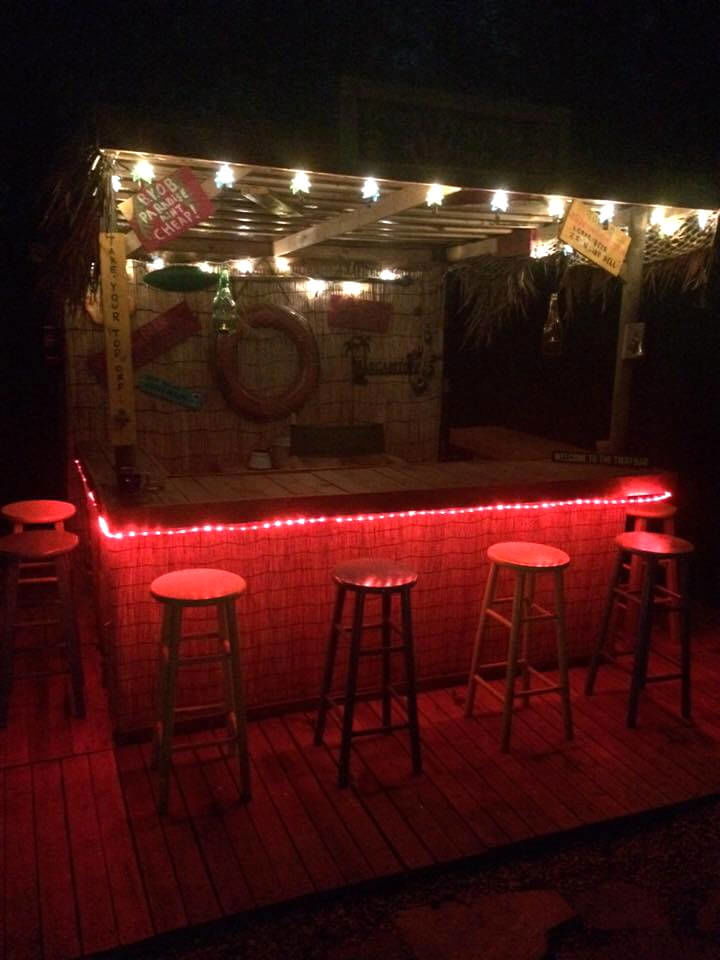 Something you can call super stunning and glamorous in wood medium, may be this rocking wooden pallet bar dignified with red border lighting done using little LEDs, there are woven straw mats wrapped around the wooden bar for a more distinguished antique look! Do use the old stuff as perfect embellishments to beautify this bar interior!
Sometime while sitting at your patio, the guest may demand for some cold drinks or for other beverages they so it would be all better to clone this mini pallet bar that can easily be put in sides of patio sitting plans or sitting sets as you can see!
Here it comes the mind-blowing patriotic version of handmade wooden pallet rack, having painted country flag in front just as a prominent logo! Having a dignified smooth counter while sturdy base has been installed using rustic pallet boards only, better hardware has been used to assemble the entire structure tight!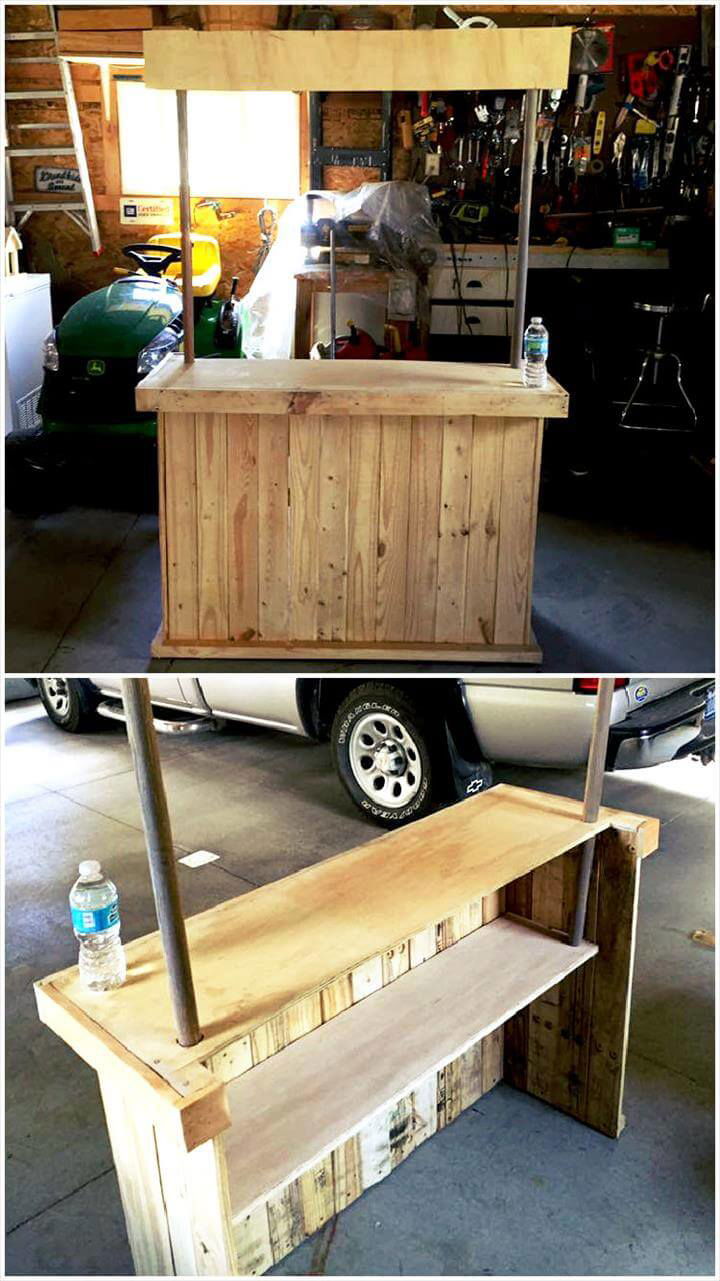 There are never ending possibilities to craft the pallets for ever unique and custom bar designs, here is one more highly rare one, having fixed metal pipe in the corners of top counter that help to install the overhead shelter or roof, would keep you all safe from getting roasted by the hot sun! It would be all special to put at your outdoor, in your garden and also in your backyard to start the party fun!