Sky is the limit to personalize these pallet made bards! You can integrate the fish tanks and aquariums in your finally finished bar designs that will make superb eyepiece for onlookers! Using custom metal signs, handcrafted or carved out wooden logos and using vinyl lettering would also be something to give the amazing personal touch to your complete pallet bard designs!
You may use the decorative buntings, baubles and trinkets for an instant festival decor vibe to your bar and using lights would be an all mound-blowing ideas to make your bar design appear in brilliantly at night! You can even prefer to install custom storage options inside the bards to organize and store the basic and primary concerns there! Using stencil patterns, custom sketches and multiple paint colors is also what that can make your final design look out of ordinary and you can learn about pallet bar personalization by taking a roundup of all clever given suggestions!
Going this way would make you more genius in your neighbor's eyes, a pallet-made bar model is having here an aquarium inlay! The fish tank has perfectly been integrated there in the center of wooden bar for an all stunning display, to serve people in the party there is a concrete tile top counter!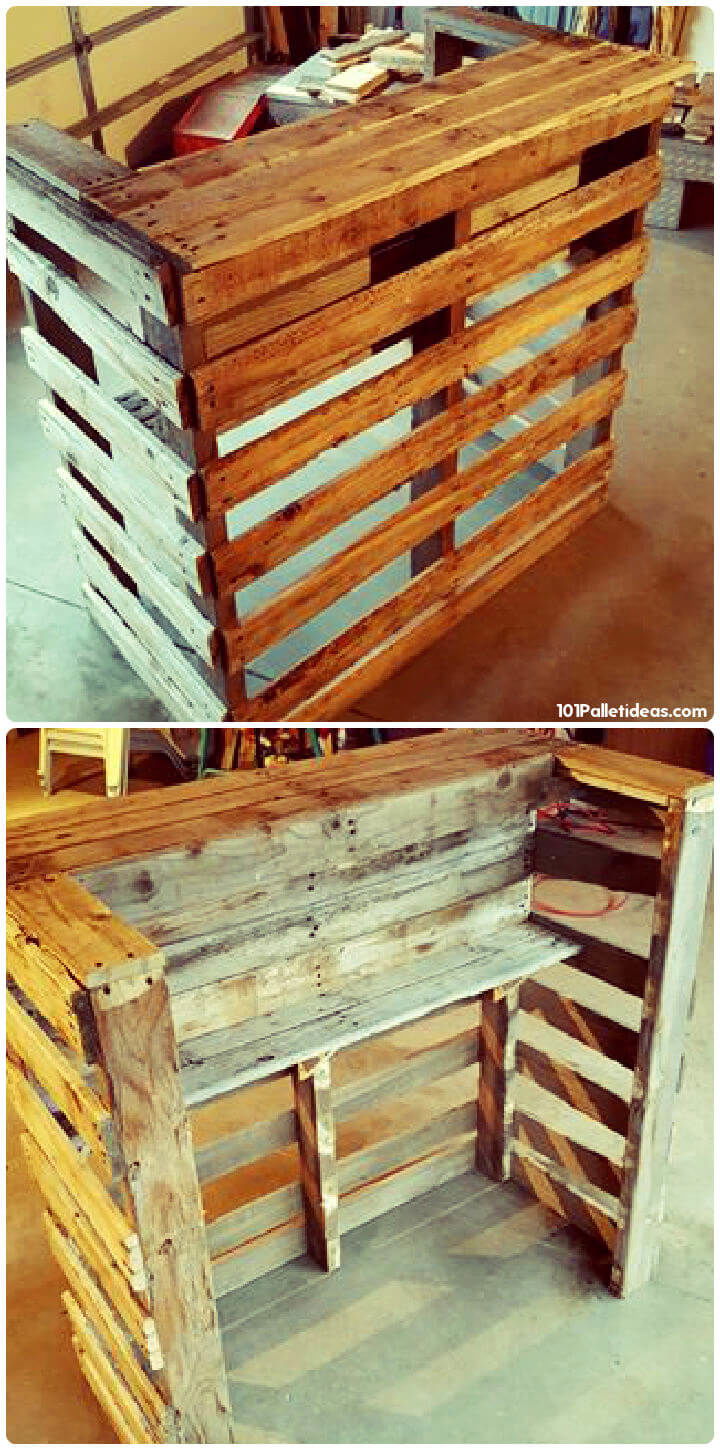 Why not get this wooden bar made of timeworn and ultra rustic pallets, for your farmhouse or cottage, rustic wooden appearance would be highly suiting to all types of antique interior environments and it would also be all fabulous to use at open outdoors for party fun!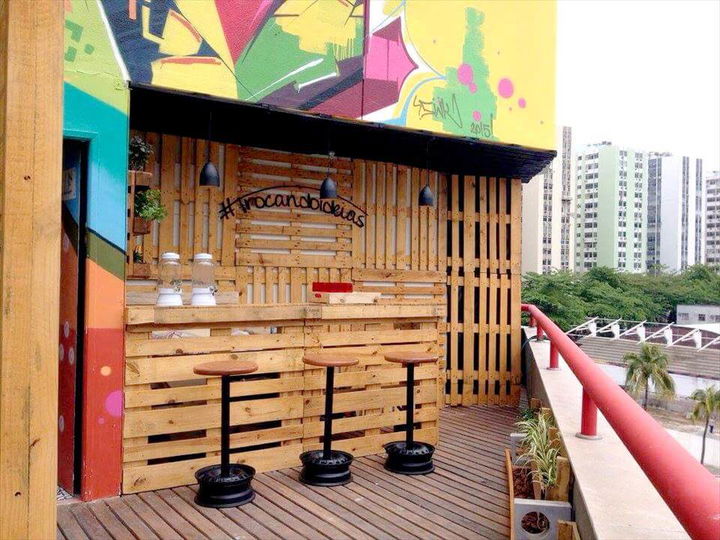 This wooden bar has been installed to a terrace space, along with a bar counter or table, it is also having a background wooden accent wall displaying the custom logo! Copy this project if you need to gain a beverage corner at your terrace space!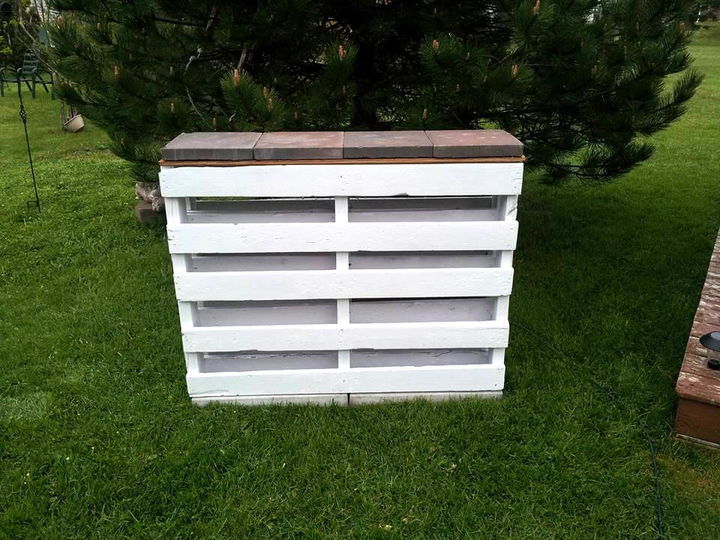 Go with one or two pallet boards and 4 mini concrete tiles in hands if you want to clone this visually captivating design of bar table, can be added to a balcony space or a porch area to prepare your favorite drinks this sips of which will all make you relaxed!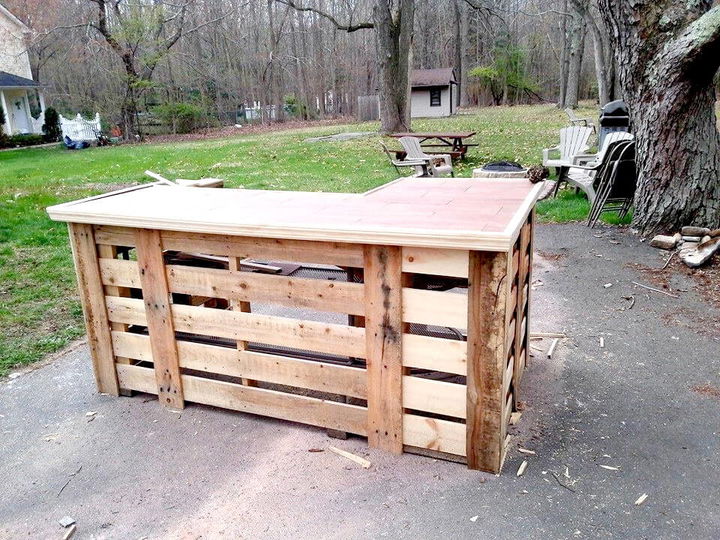 Another sectional layout of wooden bar, fabricated with pallet slats only and has been given a robust wooden top having an eyeful texture, top has also been trimmed down with accent wooden boundary just for a super stunning and gorgeous appeal!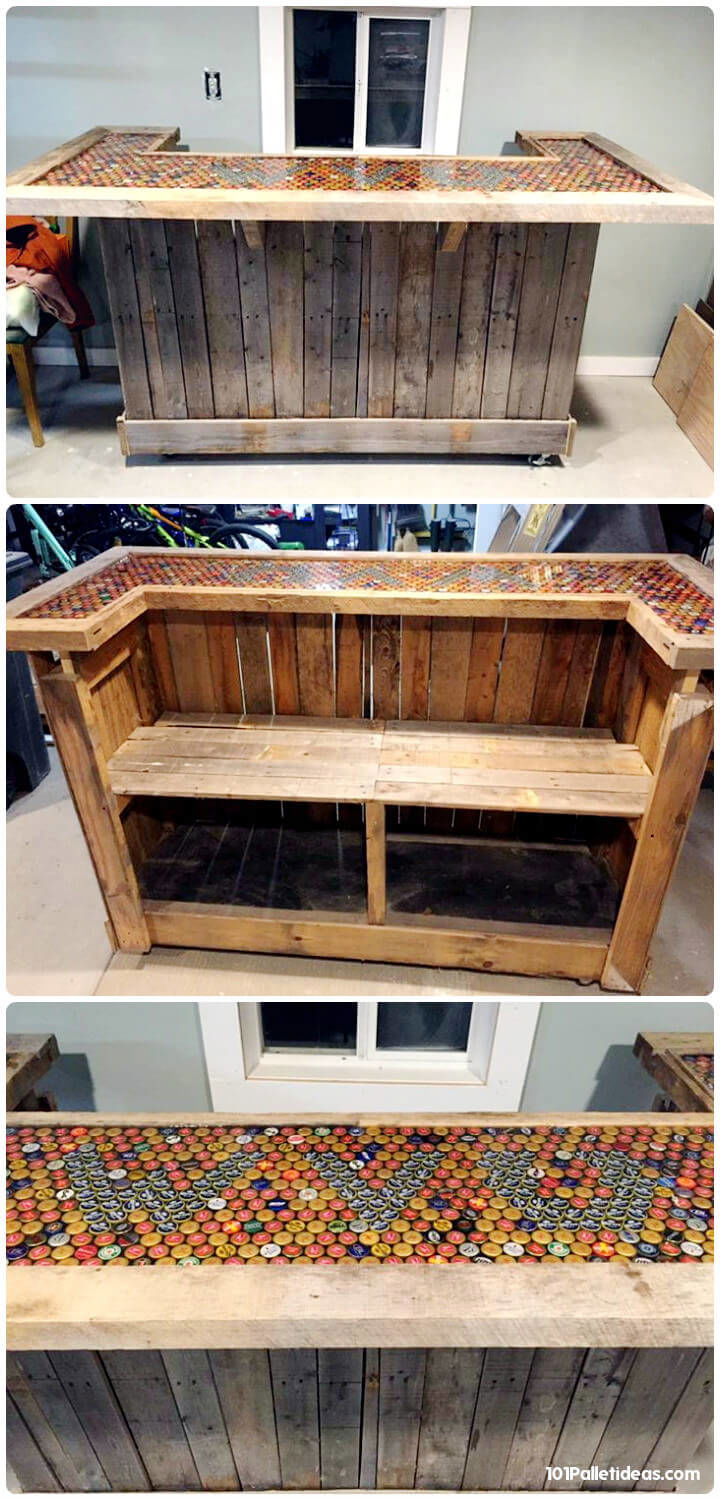 Tryout this one-of-a-kind wooden bar design built at home, here old bottle caps have been put together tight for a colorful top which makes the entire design eccentric and extraordinary, patterned arrangements of old bottle caps also forms a custom "WVU" logo! There are also built-in storage compartments making it look more functional and storage-friendly!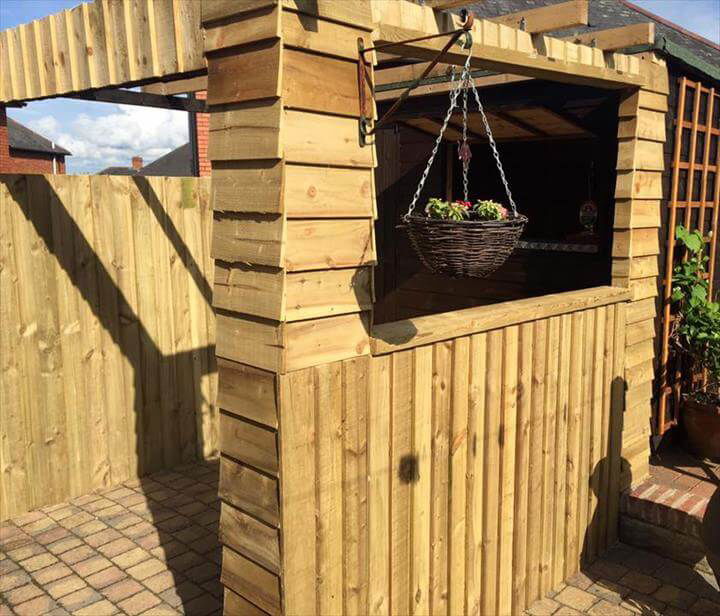 This wooden bar with shelter will be all fab addition to your paved outdoors, having accent shingled boundary while walls have been filled up with wooden slats packed tight and nailed! There are wooden roof beam to support the wooden chevron or metal roof while there are build in counter surfaces inside to prepare your drinks!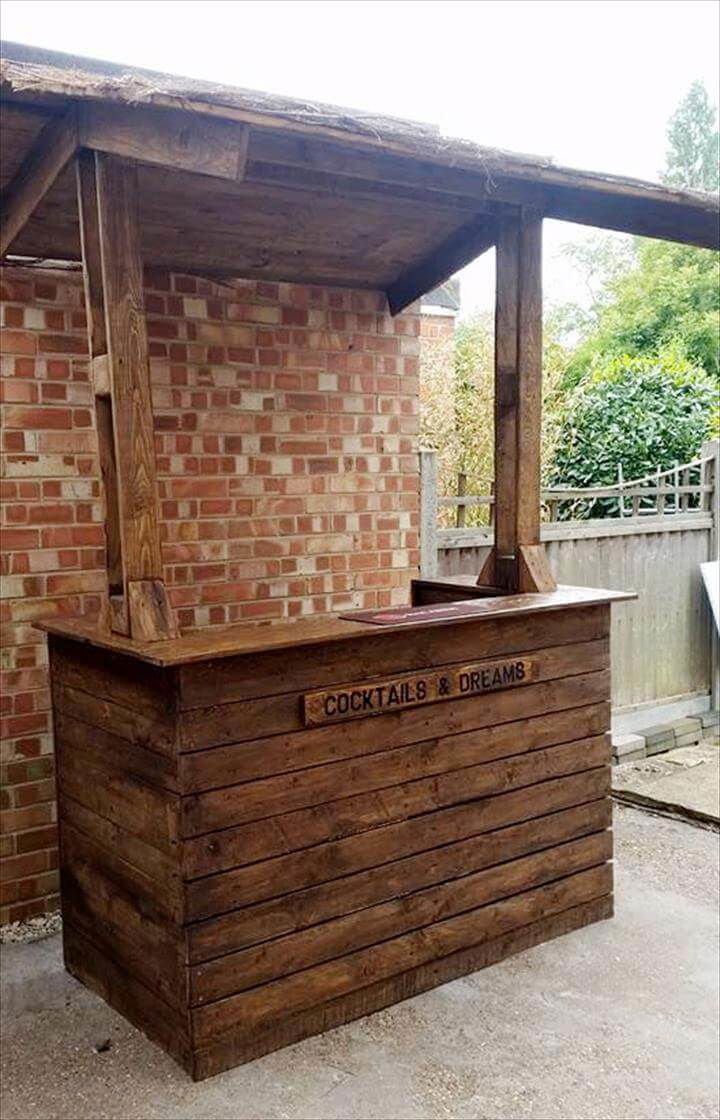 This is here another custom wooden bar layout for your outdoors, having a usual wooden bar design but there is a chevron roof or shelter making it all rare and fanciful and also one-of-kind piece! Final coats of wood oil has been applied to provide all wooden surfaces lasting weather and water protection!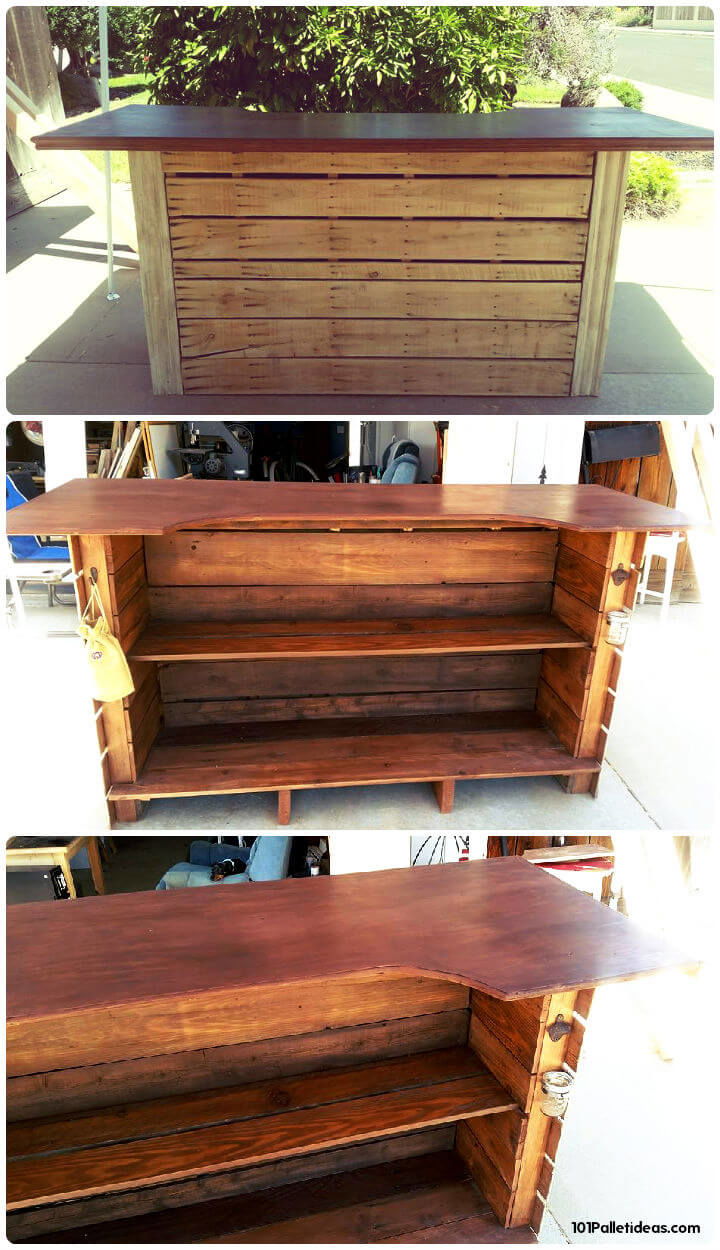 Here is another glam and super cool pallet-bar edition, having artistic top counter made smoother with thin plywood sheets! To store the bar concerns there is a large shelf built-in and there is also a bottle opener installed to very right corner of the bar table!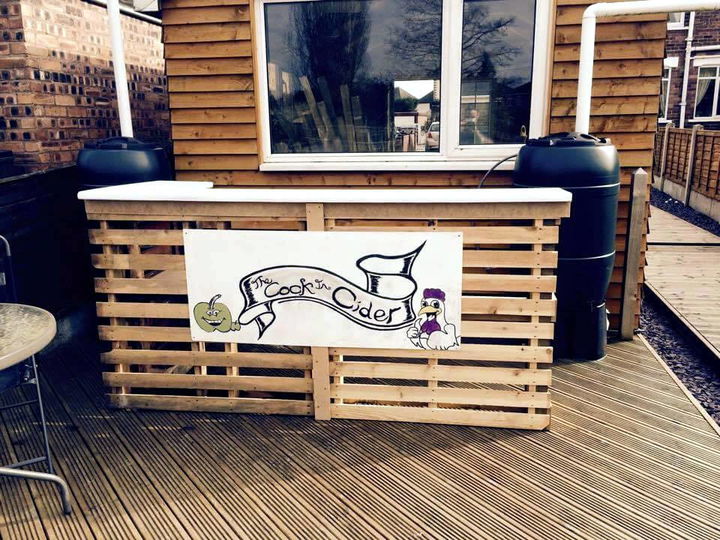 Want to build something cool enough out of pallets? It may be this bar design, having base all installed with pallets and having a personalized front with a custom banner having painted logo and there is a white concrete top counter giving it an all precious and stunning look!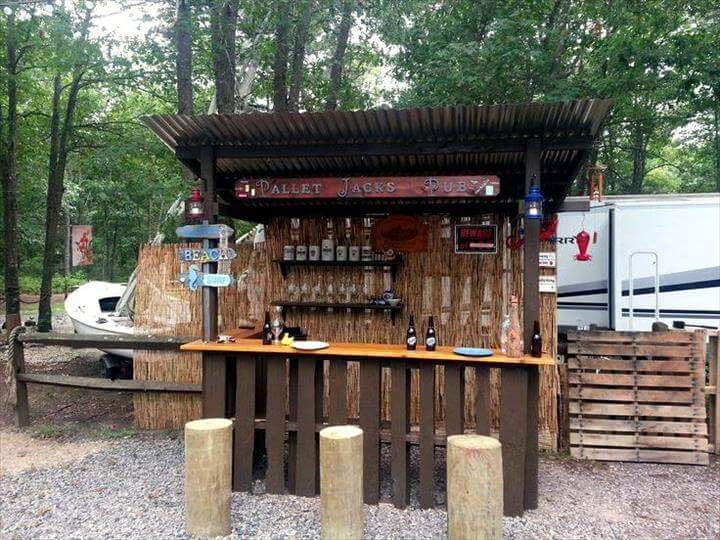 This mini beverage shop or beverage point has been installed in a backyard area and is having a longer bar table having choco and light brown tones of wooden, bar counter comes with two tightly fixed pillars also that supports the entire metal roof and there are also wooden cross beams to support the roof more!
Also try out this Pallet Swimming Pool to do more fun and enjoyment with your friends and family.