Free availability of pallet wood just eliminates the limits for you, you can use any amount of pallet wood to install bigger garden bars which also comes with roofs and shelters, fenced sitting areas and custom accent walls inside, get inspired of given first sample here! Go with flat packing of pallet slats if you need to gain a lasting and robust bar model and do prefer the tight and narrow filling of pallets for super stable bar designs like given creamy white and turquoise painted one that is also having 3 matching stools! L-shape bar layouts are all common and most recommended one to select while you need to install indoor bards as fit best to indoor corner spaces!
For more fun and enjoyment try to do this Build a Swimming Pool Out Of 40 Pallets for your home outdoor or in the garden.
You can even use the leftover pallets to install matching stools, wall hanging beverage bottle racks and also beverage glass racks as shown in given samples! You will also learn here tons of different suggestions to personalize these wooden bars by using custom embellishments, signs and symbols!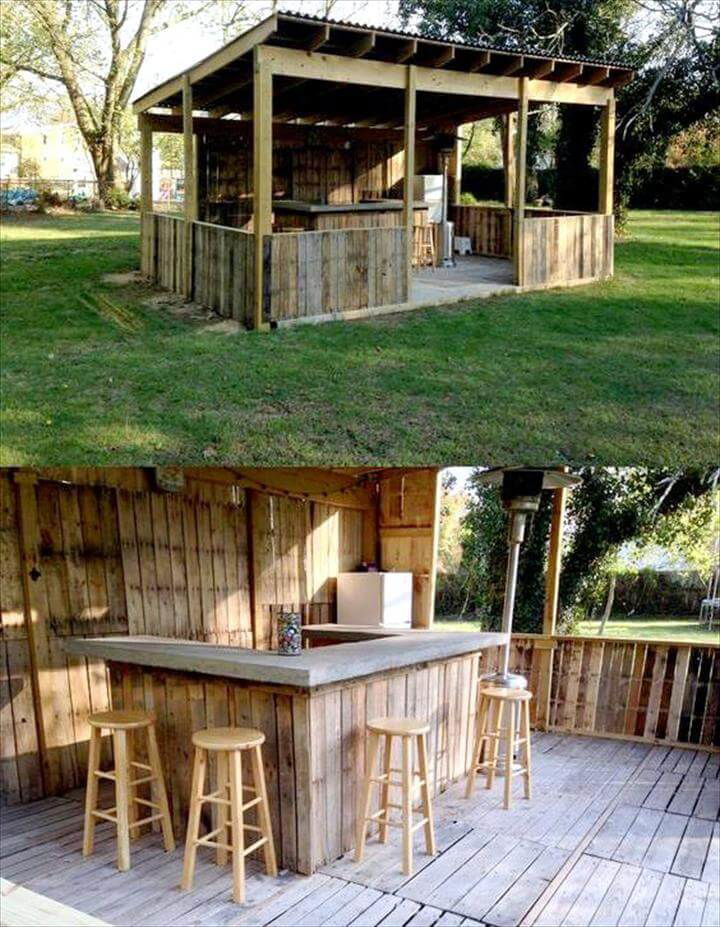 Time to get extra out of pallets, here a lovely garden bar has been installed that is also having a perfect metal roof and fenced wooden floor to add those party sitting sets! Here bar counter has also been made of concrete!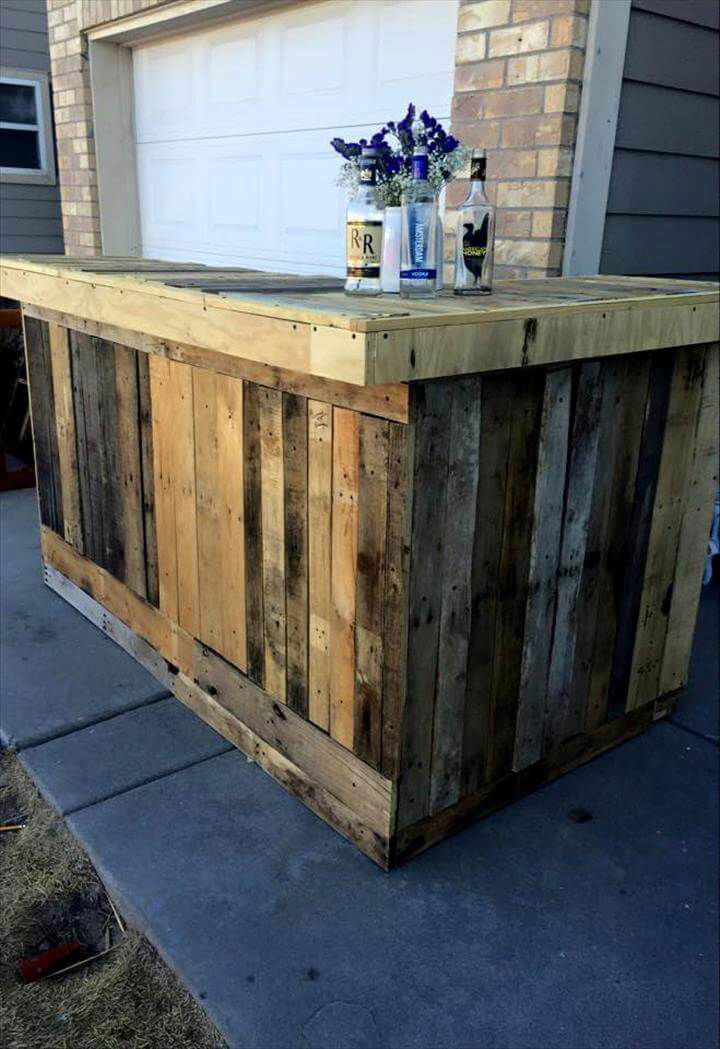 A perfectly flat and edged counter top and a sturdy base section are what that every functional model of bar should have, you can simple install custom wooden bar models by getting crafty with pallets, here pallet slats have been filled flat and pack tight for this lovely and robust bar table output! All awesome to decide as a party time party space!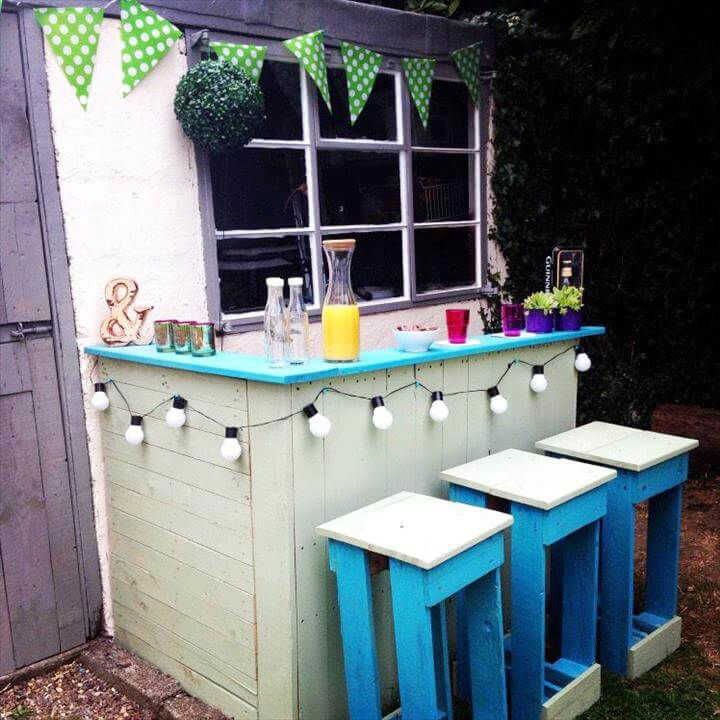 Just to suit your modern and shabby chic indoors, this creamy white and blue painted wooden pallet bar would all make an awesome choice, having 3 matching stools to sit around and there are also light bulbs to make it charmingly illuminated at night!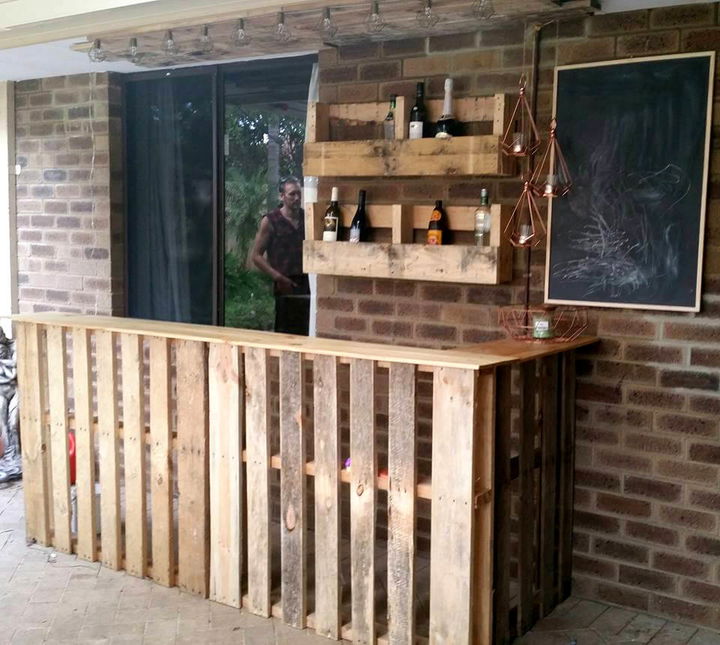 This incredible wooden L-shape layout of bar can also be awesome to prefer for patio or porch parties, there is a large slim counter having little outward edges and here a leftover pallet skid has been turned into a beverage bottle rack that perfectly hangs on a wall behind the bar table!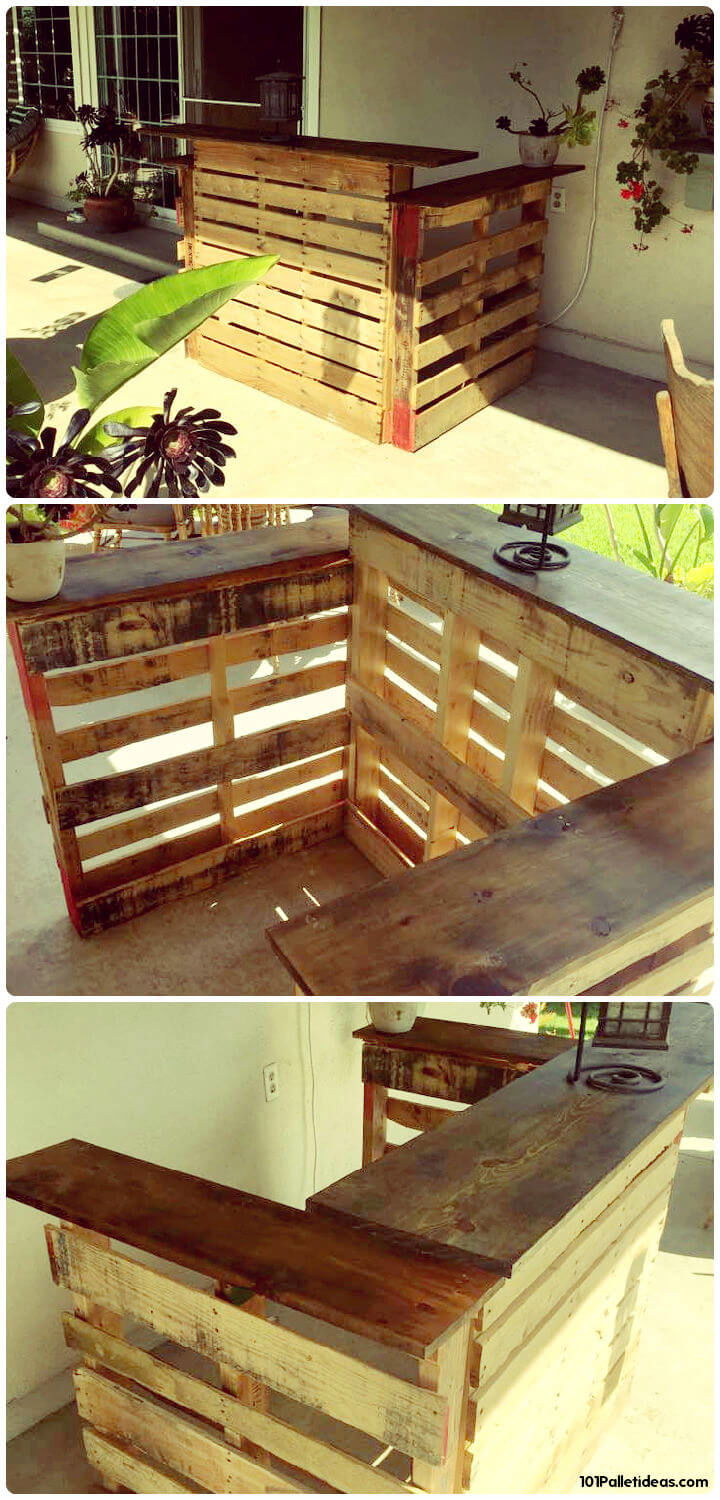 Another fascinating combination of pallet and old wood, giving a fancy wooden bar output having distressed creamy base while top is having an ultra rustic appearance! A lasting bar table for your outdoors!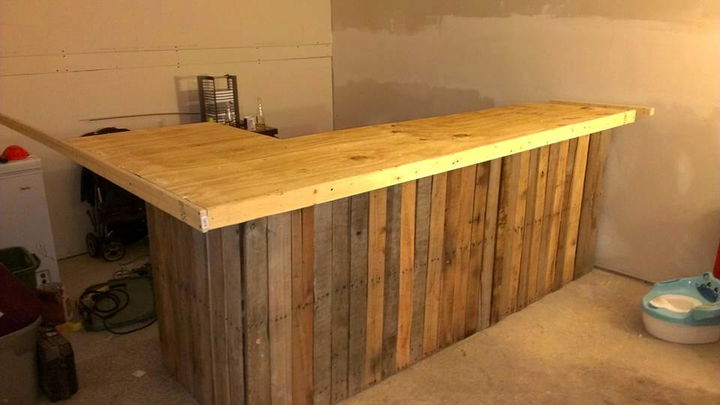 This design has been installed to fit to corner space of your indoor bar, having a robust L-shape counter and sturdy base all installed of pallet slats packed in vertically but tight manner!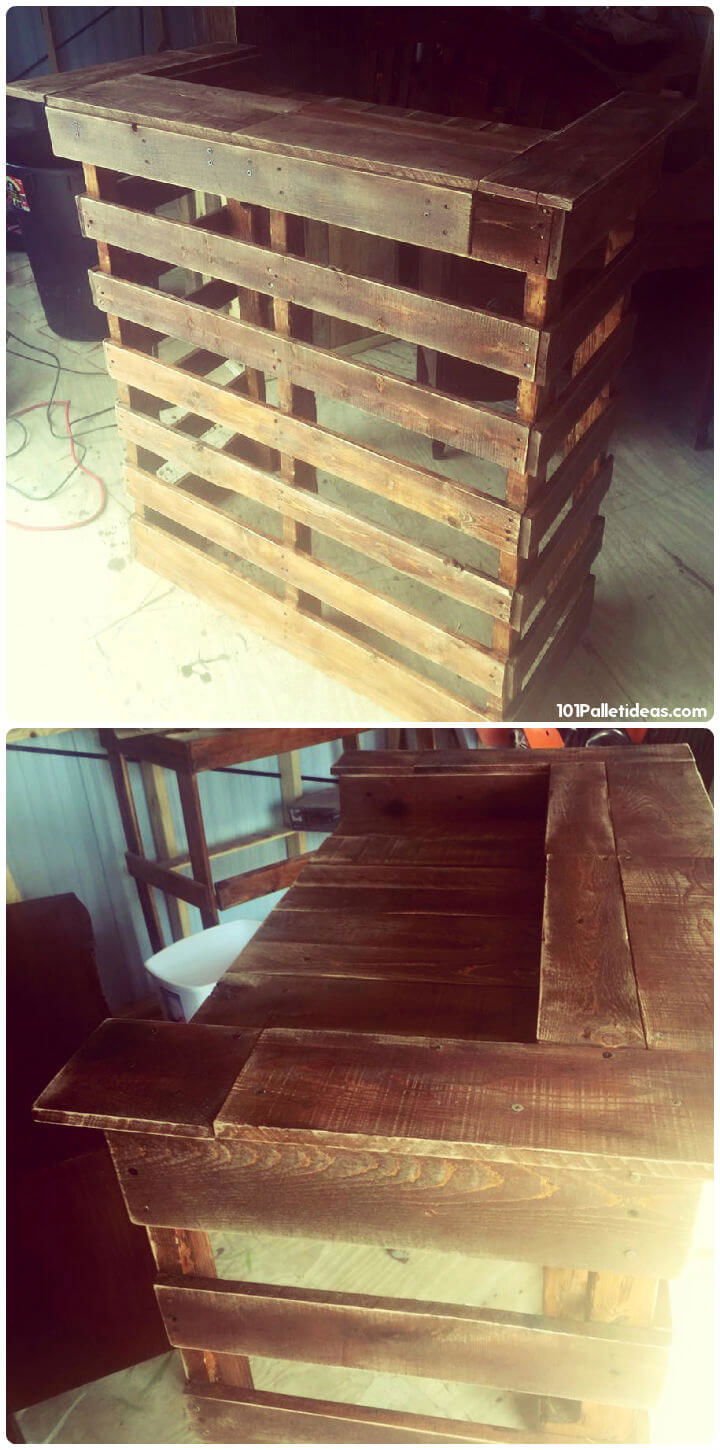 Need a raised one bar to suit your space, here is a raised pallet bar model made of all slatted arrangements of those dismantled straight wooden lengths! Rustic avatar of it would really rock in farmhouse and cottage styled interiors, however it can even be painted for a precious modern appearance!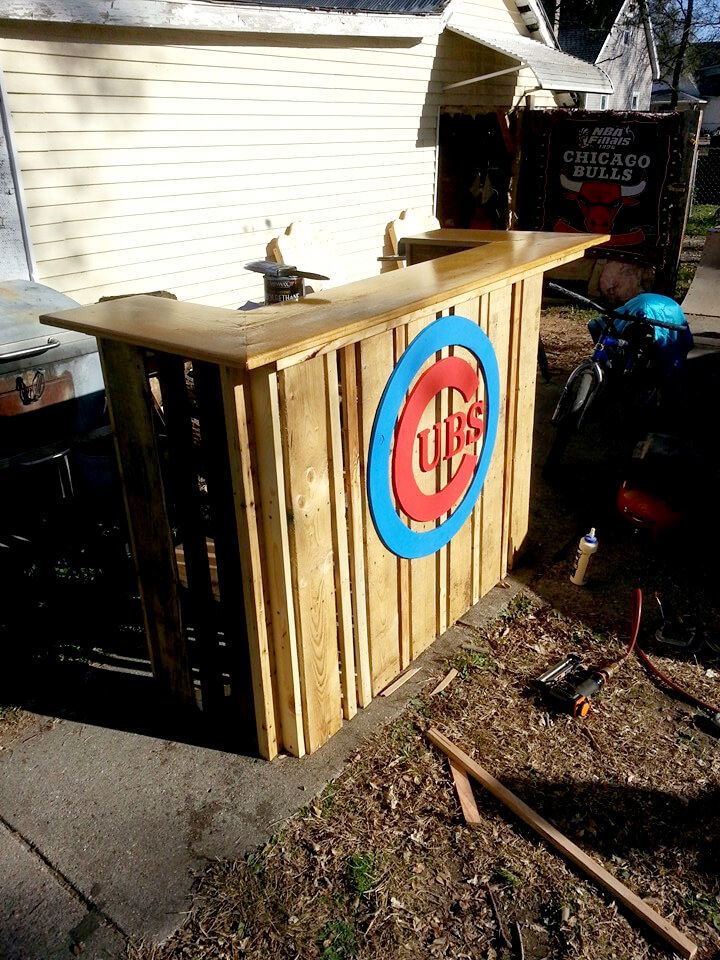 This one is also same like the ordinary pallet-made mass of wooden bards but there is a logo size mounted on front of it make it all unique and fabulous, this would be a great way to display the name of bar shop or that of owner!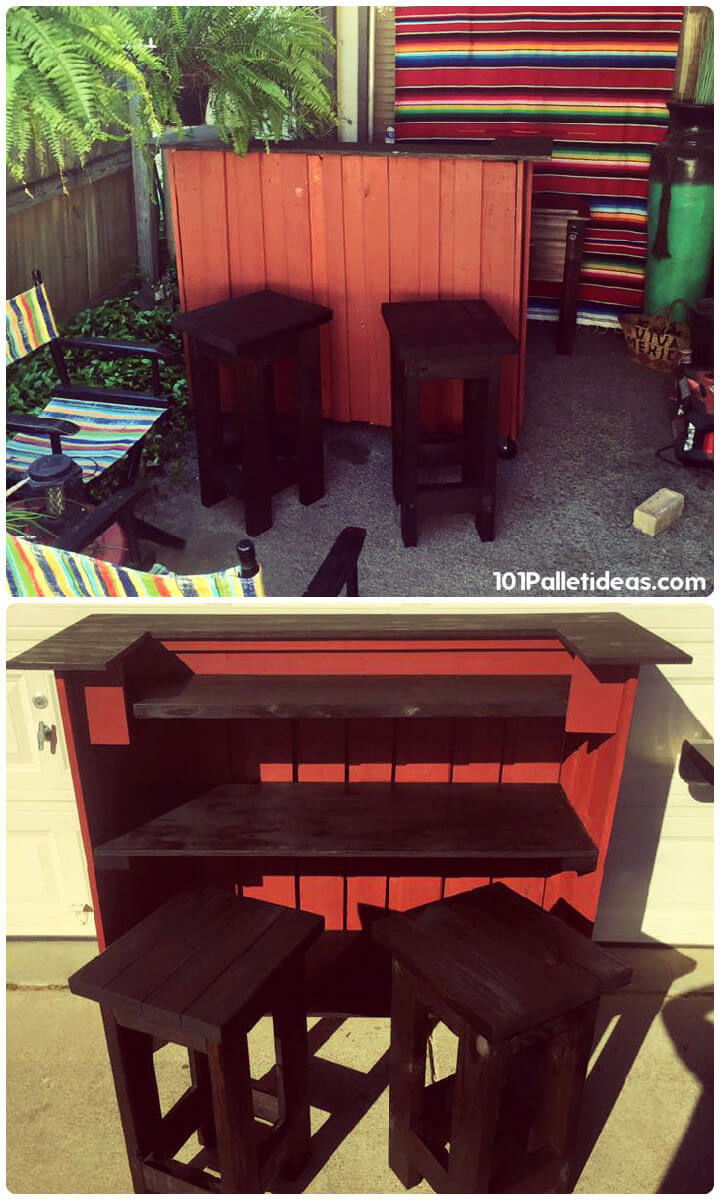 Again here a raised wooden bar model having reddish and choco appeal and is having 3 build in shelves also along with a wide counter top! Two matching stools have also been made to sit around the bar while need to taste your favorite beverages! Would be all best for a terrace space and outdoor garden!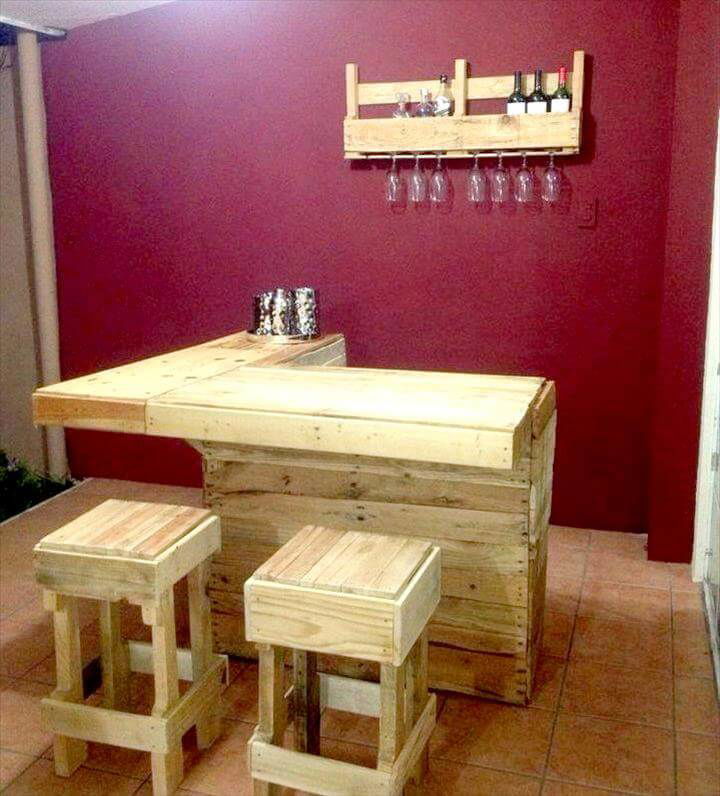 Grab this pallet-made wooden bar set for indoor bar installation having a sectional bar table design and two stool having matching fab wooden appearance! A very lower part of a leftover pallet board have been got here as a beverage bottle rack as you can see it hanging on the wall!