Choosing pallets to build custom bars gives you additional plenty of benefits the most amazing benefit is that all pallet-made bars are free and super easy to build by everyone even by a beginner! All you need is to install a sturdy base first and then to add the counter-top which may be more worthy and bewitching if made sleek!
You can choose the different shades of stain for all preferred multi-color wooden appearance like the given reddish and choco bar design and the paint would be the final choice for any other look than the wooden one! You can treat counter with wooden oil to brings shine to them and using concrete tiles counter tops would also be mind-blowing ideas for sure! You can even make 2 pallets stand vertically for slim bar design that would rock at your porch, some interesting samples have been show below! After applying the final coats of paint and stain you may also seal them to avoid early weathering!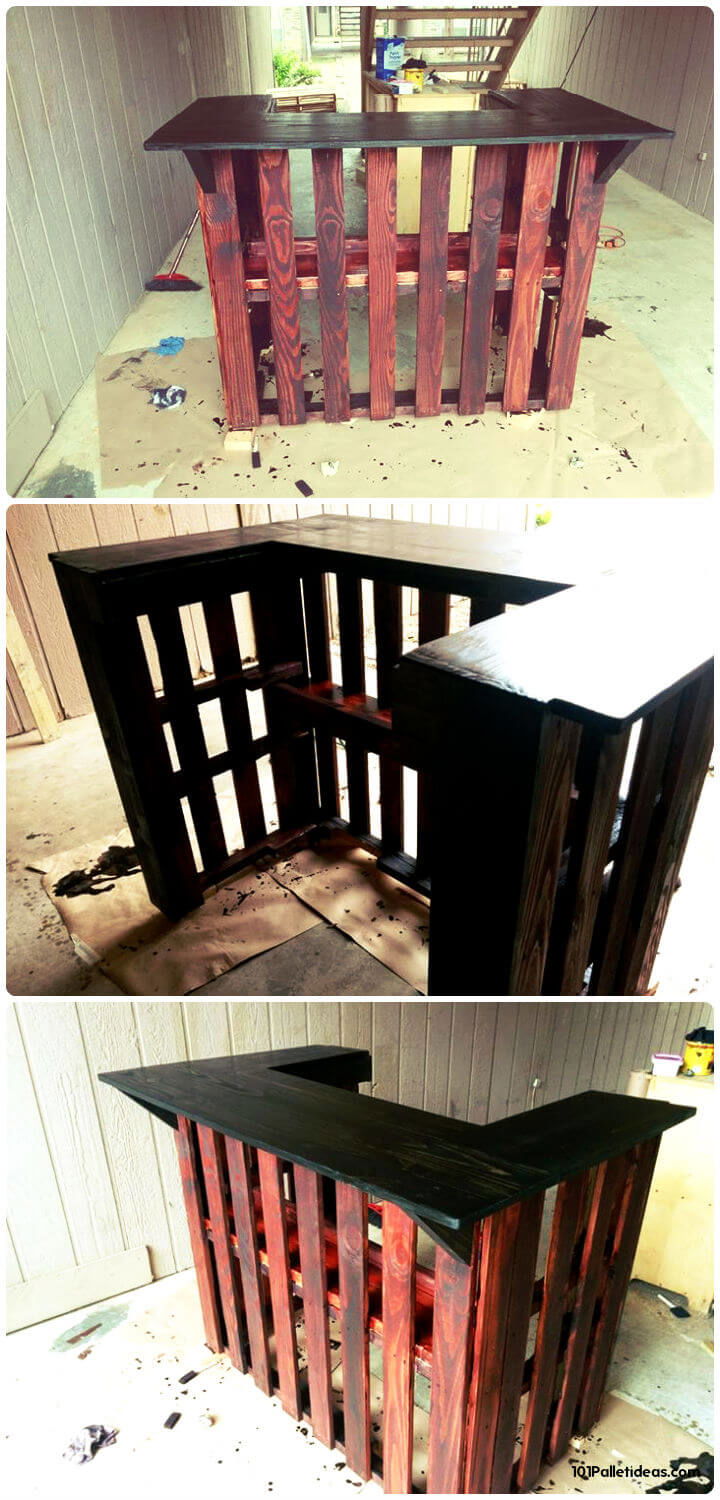 Clone this awesome piece of wooden bar table with a little supply of pallet wood, fancy up with reddish and darker choco shades of stained and comes with a lasting edged counter! Dual tone appearance gives it the necessary focal stimulation!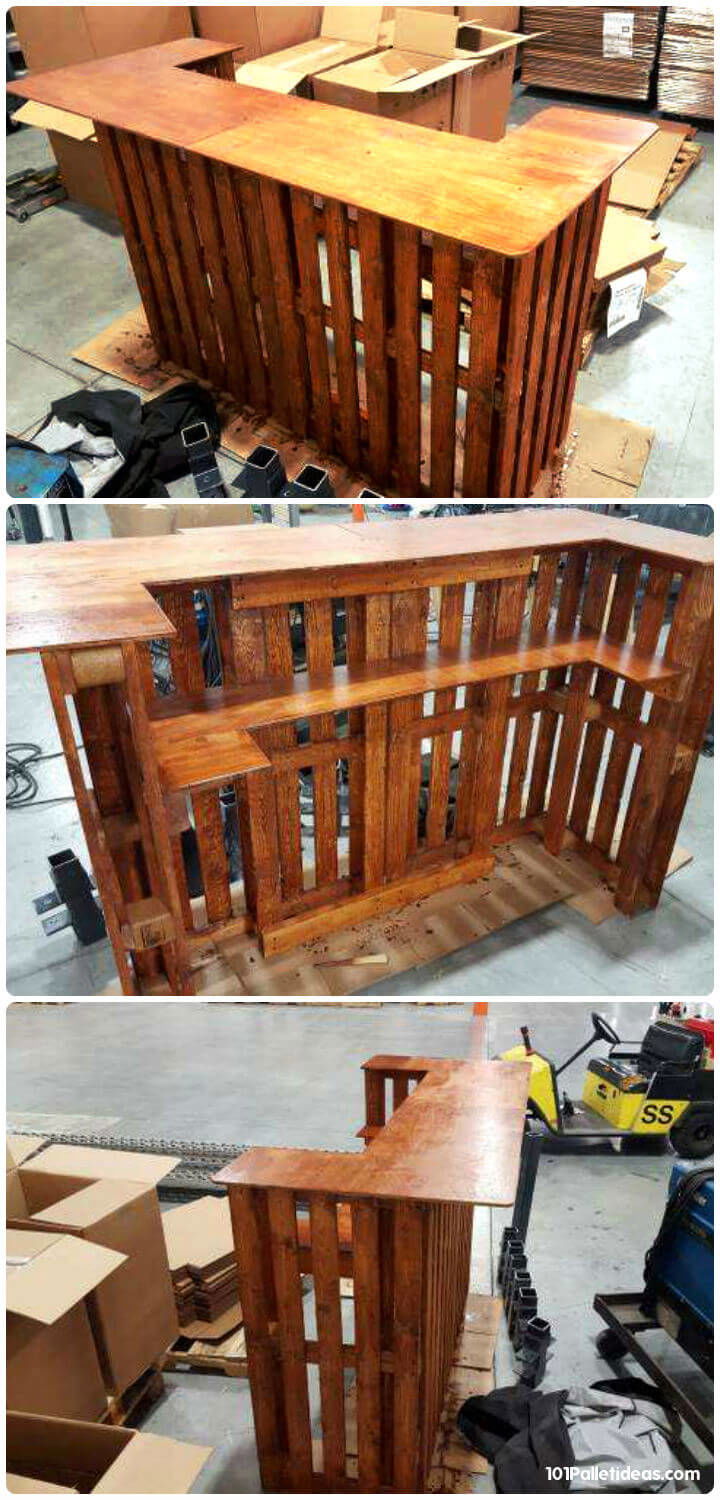 This handcrafted bar model would really be aesthetically pleasing addition to any bar shop or you indoor home bar, purely constructed with retired and old pallet skids and has also been given a nice finish for sleek appearance! Do give it a few coats of sealant that will keep the counter safe from getting damaged by the beverage spills!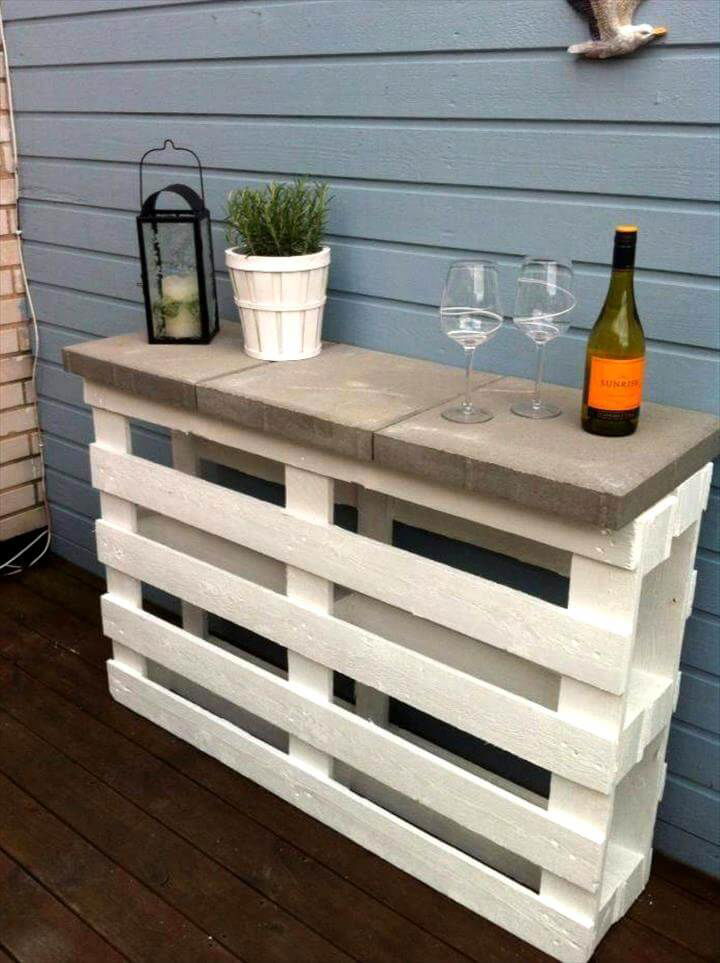 It will not demand you every time to cut and dismantle the pallet boards while need to get a specific bar table design, you can even install a fully functional bar design using original uncut pallet skids, checkout  the practical sample here having a concrete tile counter!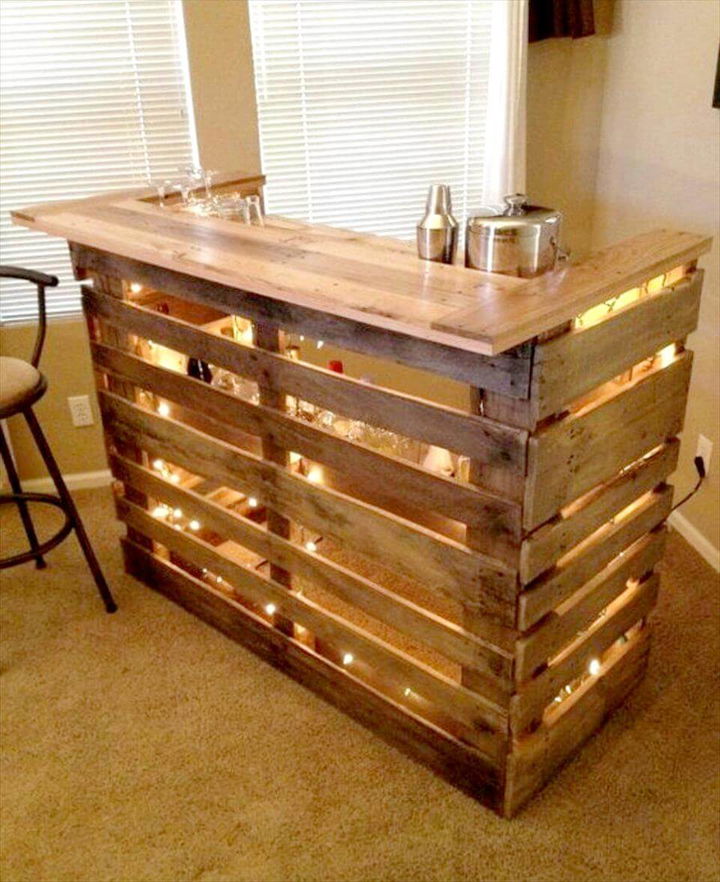 This custom hand-built style of wooden bar will also rock if you need to setup a part time beverage party station at you indoor! For lovely demonstrations at night, the white LED lights have been installed that will really make it illuminated in a charming way!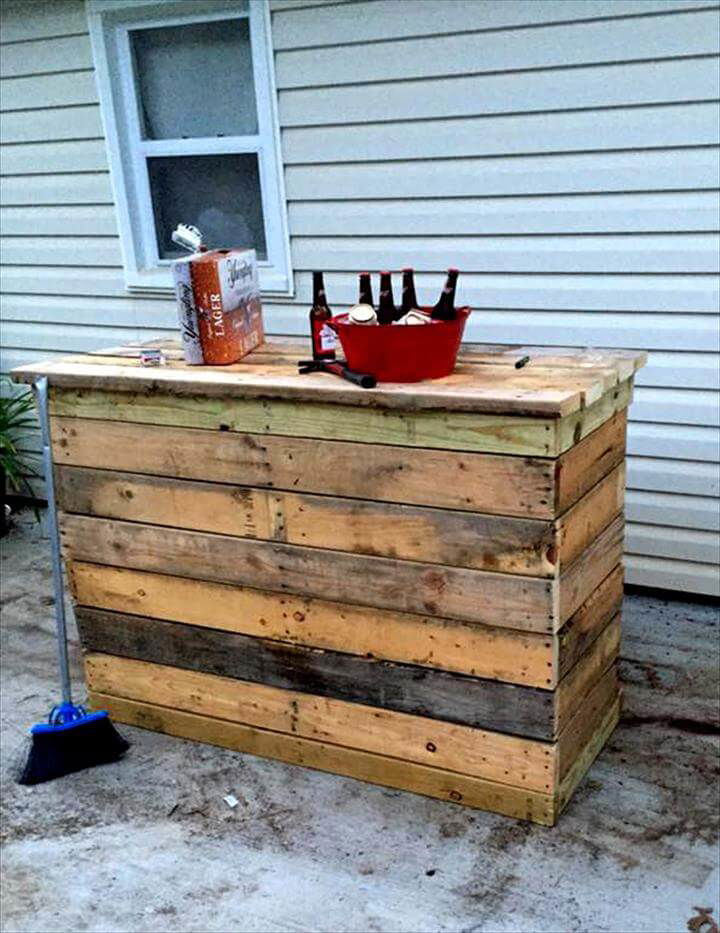 You can even prefer this robust and filled version of wooden bar, integrated with pallet slats having different wood tones that gives it an enchanting final wooden appeal! 5 pallet planks build the robust flat counter of this bar table!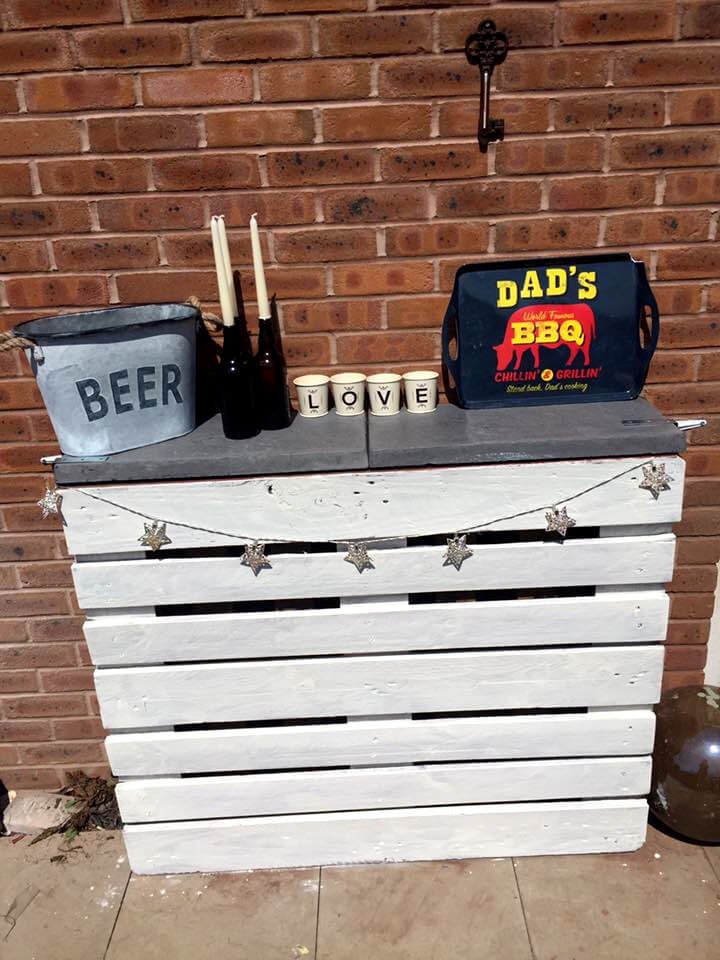 For your any short space party area, this slim model of white painted pallet bar would just make an outstanding choice, dignified with star accent bunting and having a lasting counter made of 2 concrete tiles!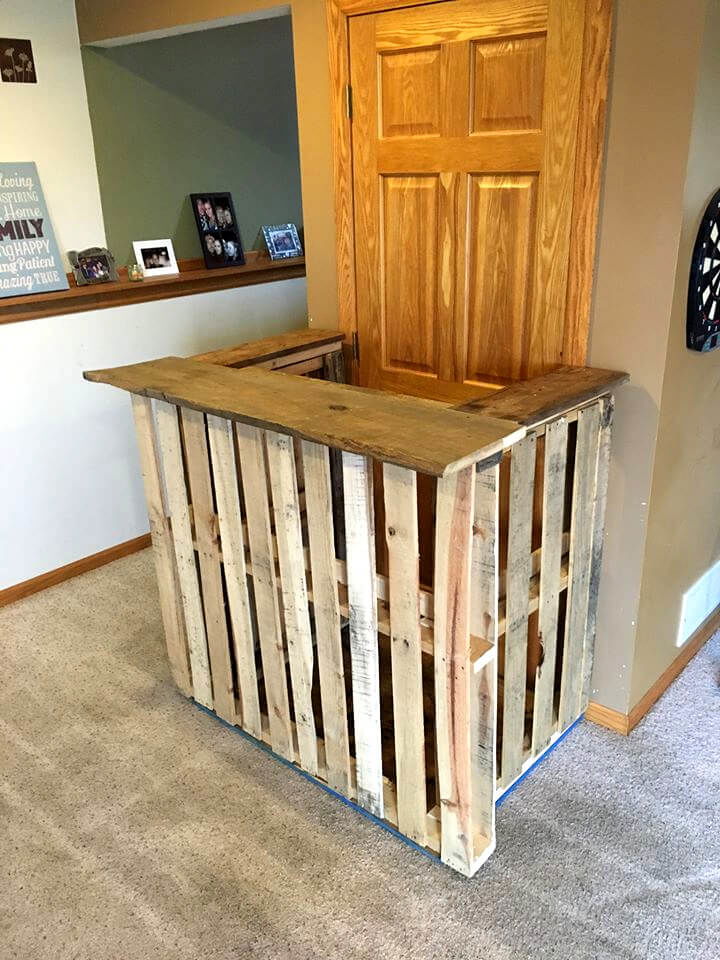 Copy this custom edition of pallet-made bar for your minimal space bar area, trimmed down pallet sizes build the robust base while wide reclaimed old wooden lengths build the sturdy counter made a little edged outward!
If you need to entertain a little bit big number of your friends then this handcrafted bar with 4 matching stools would really rock! Given a party-friendly look by adding the buntings across the counter boundary and also the LED lights!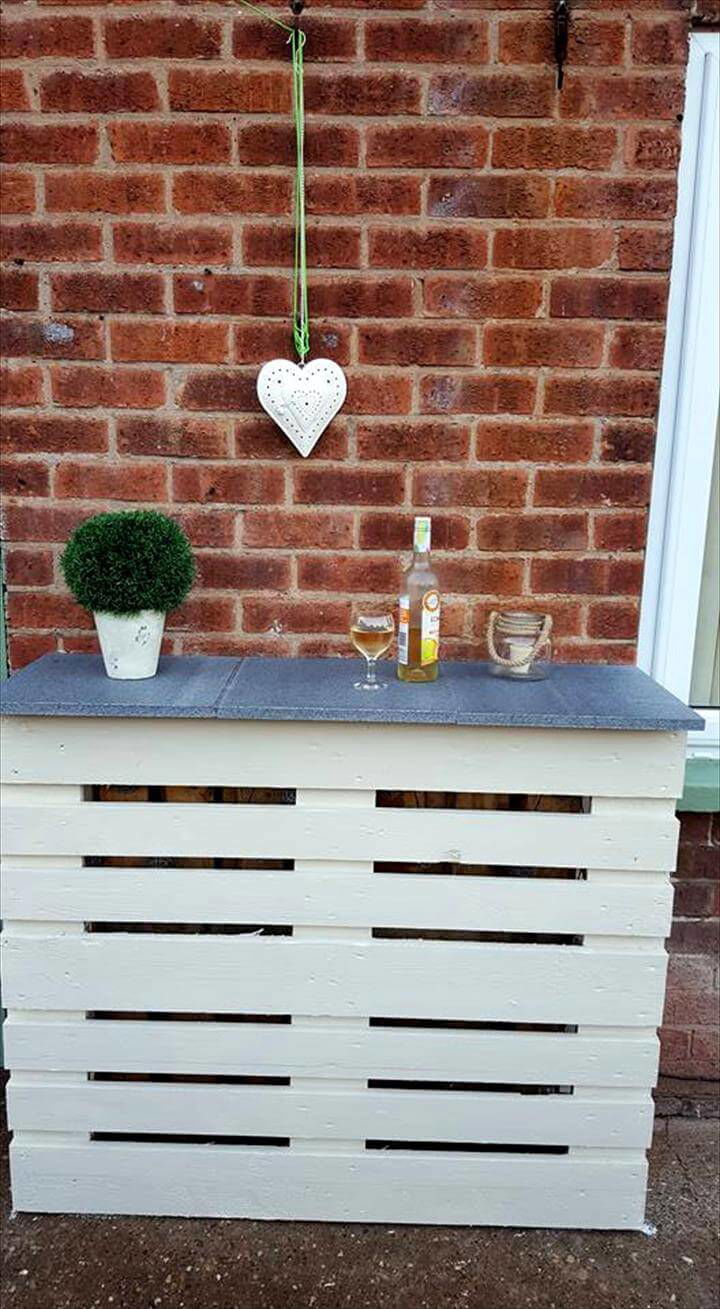 Join 2 pallet board in a vertical manner and let them hold a few of concrete tiles over its top, a stylish slim bar design is ready for the party time, you can paint the lower in custom colors for more evident and bewitching visual like here it has been given a glam white look!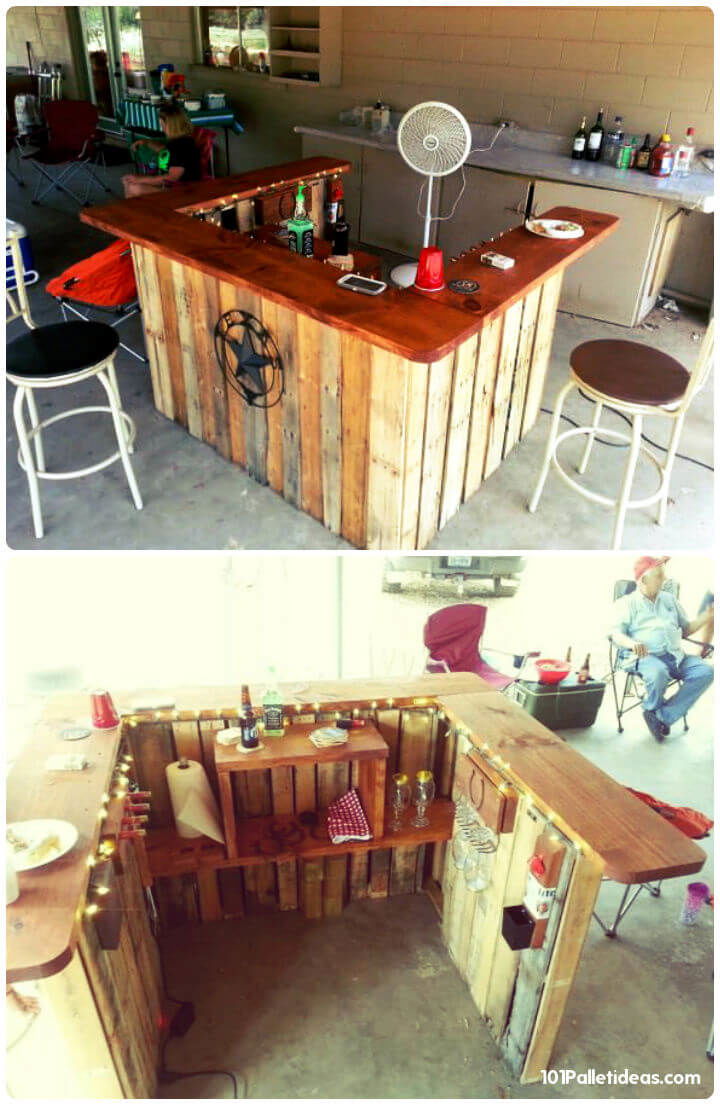 Here is another U-shape wooden bar design made perfectly user-oriented by adding inside shelving levels, beverage glass racks and also the bottle opening apparatus! Lights have been added to make it appear more lovely at night! The counter surfaces are also having perfect round edges for a glam and stimulating look!
You'll also appreciate this wonderful Pallets Garden Party Lounge for your home outdoor fun.